15 Epic and Best Things to do in Sedona, Arizona (+Map, Tips and Tricks)
Are you looking for the very best things to do in Sedona? There are so many fun things to do in Sedona you will never get bored! All of these Sedona activities and attractions are the absolute best places to go in Sedona.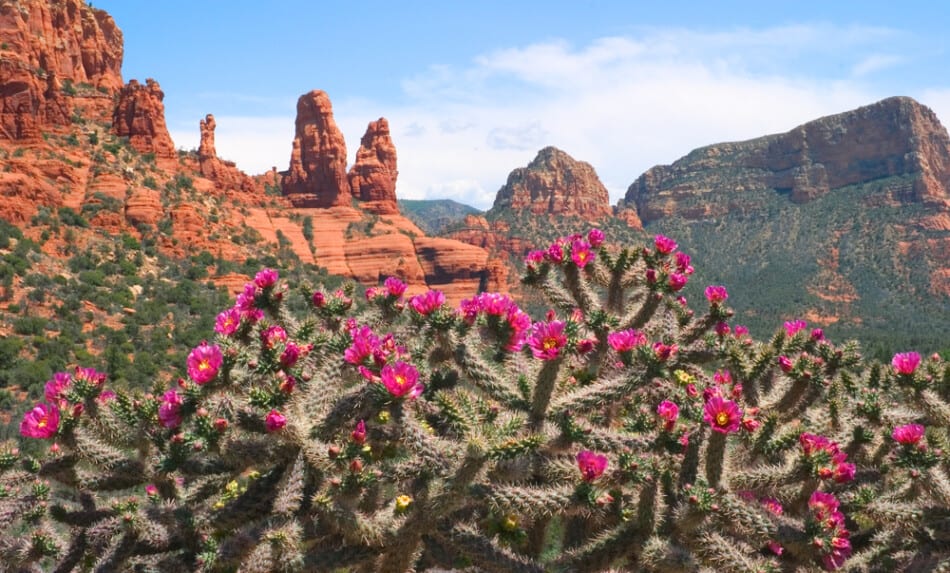 Why Visit Sedona?
The city of Sedona is considered as one of Arizona's premier tourism, recreation, art centers, and a lot more. But what makes Sedona so special that a lot of tourists visit it every year?
Undeniably, Sedona has a natural beauty of its red rock formation that will really mesmerize your eyes and will blow you away.
But aside from that, Sedona has become a well-known haven for spiritual wellness because of its numerous energy vortexes that many believe surround the region. If you are still not quite convinced why you should plan that trip and visit Sedona.
However, if hiking is one of your least favorite things to do, you can check out some tours that will give you an ultimate experience. There are helicopter tours in Sedona that allow you to soar above and enjoy some of its rock formations.
And if you are a history junkie, Sedona is a paradise for people who are into arts and history. Sedona has more than 500 artists and 80 unique shops and galleries that are waiting for you to explore. They also have specialty and souvenir items and artwork such as Kachina dolls, hand-made pottery, sculptures, Native American jewelry, and a lot more. 
Thank you for supporting this website written by an American. This post may contain affiliate links. This means I earn a small commission on these links at no extra cost to you.
Tips for Renting a car for Sedona
It's awfully hard to get to Sedona without a car. The closest airport is Phoenix and you can use Discover Cars to rent a car for your travels. You'll be able to pick up a car at any airport or in your hometown.
Check availability and get a quote for a rental car for your trip here.
15 Top Attractions in Sedona You Won't Want to Miss
1. Take a Pink Jeep Tour
I love Pink Jeep Tours and think they are a great way to see Sedona. With its hot, dry climate and jaw-dropping natural beauty, Sedona is a popular travel destination for international and US tourists. One of the best ways to see the natural rock formations in Sedona, Arizona, is by booking a jeep tour.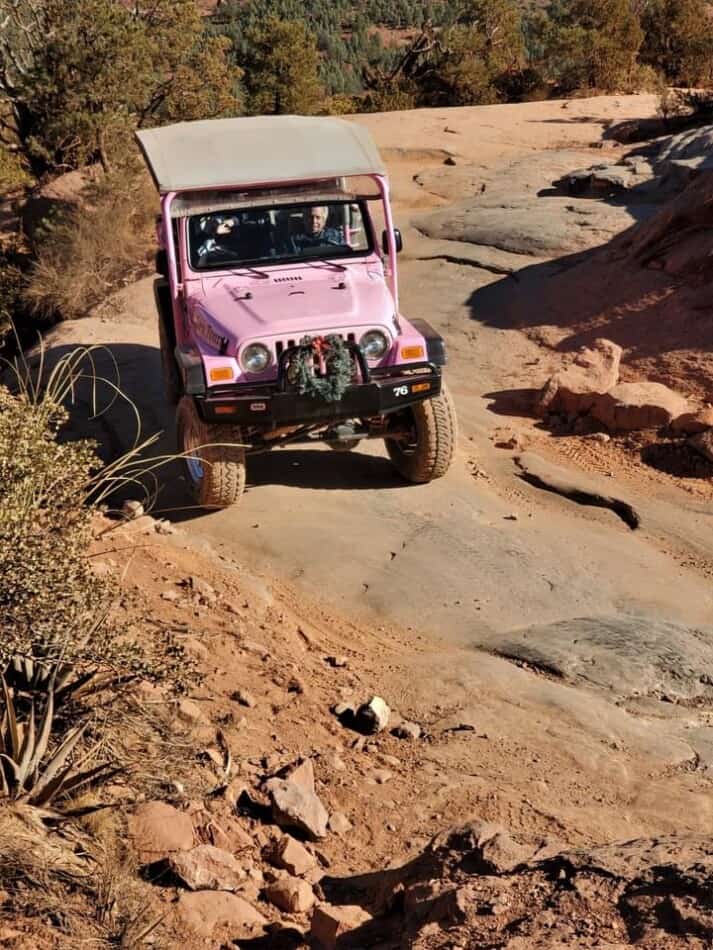 The most popular Pink Jeep Tour is the Broken Arrow Tour. Enjoy off-roading on an adventurous jeep ride through the countryside of Sedona. Stops on this tour include Chicken Point, The Road of No Return, and Submarine Rock. Your guide will mention many points of interest along the way.
If you have a full day and really want to see a lot of the scenery around Sedona, check out the Broken Arrow and Scenic Rim Tour.
If you want to see it all and find adventure while doing it, this is an excellent Sedona tour. It is perfect if you can't decide between just an upper or lower tour experience. These pink jeeps climb to the top of Mogollon Rim, where you can overlook the lowlands and Ponderosa pine forests from 2,000 ft above.
I have an entire post comparing the different Pink Jeep Tours so you can choose the best tour for you.
2. Cathedral Rock
Sedona is famous for its rocky formations and stunning views of nature and one of the best ways to get a glimpse of what Sedona can offer is taking a hike to Cathedral Rock.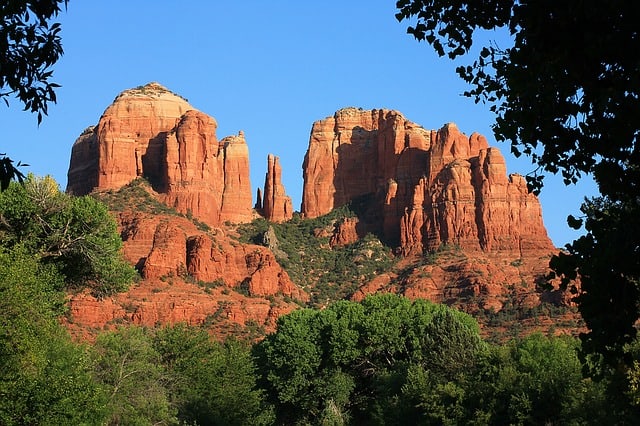 The total hike to Cathedral Rock is only a mile long and you'll cross the junction between Cathedral Rock Trail and Easy Breezy Trail before you begin your ascent.
The initial climb is fairly easy but occasionally you will encounter staircases of rocks. And just before you reach the junction of Cathedral Rock Trail and Templeton Trail, you will arrive at a plateau where you can rest for a bit and savor the breathtaking view of Sedona. 
When you reach the second plateau, this is where most hikers get some rest and you will also see how close you are to the summit. A sign at the top stating "End of Trail" will greet you and it is the indication that you have reached the summit. And prepare your eyes to be mesmerized with Sedona's natural beauty.
Check out my post on all the Best Hikes in Sedona for more information on the best hikes and the best views.
3. Do a Vortex Hike like Airport Mesa
The Airport Mesa Loop trail offers jaw-dropping and awe-inspiring views of Sedona Vortex and Red Rock formations.
There is no other hike in Sedona that will give you a 260-degree panoramic view of almost every red rock landmark at an elevation of 4,500 feet.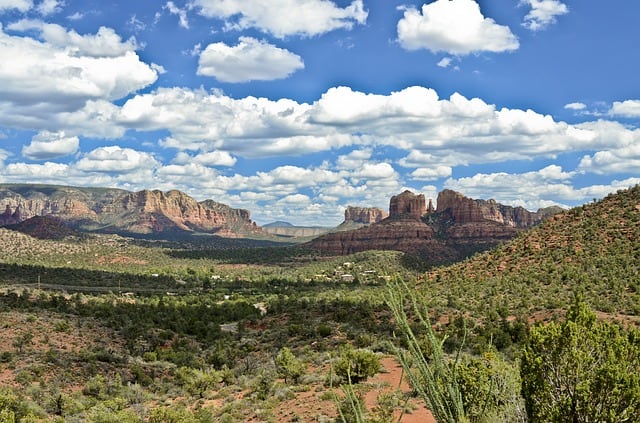 It is called a vortex hike because it is believed that the trees at these magical sites often exhibit swirling or twisting of their trunks because of the powerful vortex energy at the core of a Sedona Vortex.
But before you embark on your journey at Sedona's Vortexes, you need to visit first the Red Rock Visitor Center where you will buy and secure your Red Rock Pass. You will also get all the necessary information and advice from Sedona experts.
To get to the top of the Airport Mesa Vortex, it involves hiking straight up, but the views from the top are astounding in all directions. You will see a lot of twisted trees and you will also experience one of Sedona's energy centers. 
4. Visit the chapel of Holy Cross
The Chapel of the Holy Cross is a very popular stop among people who are visiting Sedona. It is a very unique place because believe it or not, it sits among the surrounding red rock formations. The chapel perfectly blends into the environment.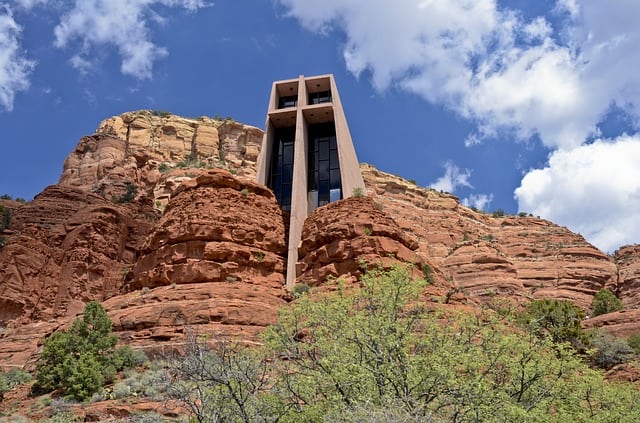 Because it is a very popular stop among tourists and visitors, you need to be early when you go there to avoid overcrowding.
The parking space is very limited and the surrounding areas do not have any parking space available. It is highly suggested that you go there right when they open so you can see some fog rolling out in the colder months which adds a layer of charisma. 
There is also a gift shop in the area that is open daily from 10:00 am to 5:00 pm and it is located on the lower floor of the building. A lot of items that you can find in the gift shop are made and produced by local artists.
5. Devil's Bridge Hike
Aside from Cathedral Rock, one of the most popular trails that you can hike in Sedona is the Devil's Bridge. But don't be afraid or intimidated by the name "Devil" because Devil's Bridge is a wonderful hike in Sedona.
This hike is actually on top of the list of many tourists and visitors to Sedona because of its easy hiking trail and mesmerizing rock scenery.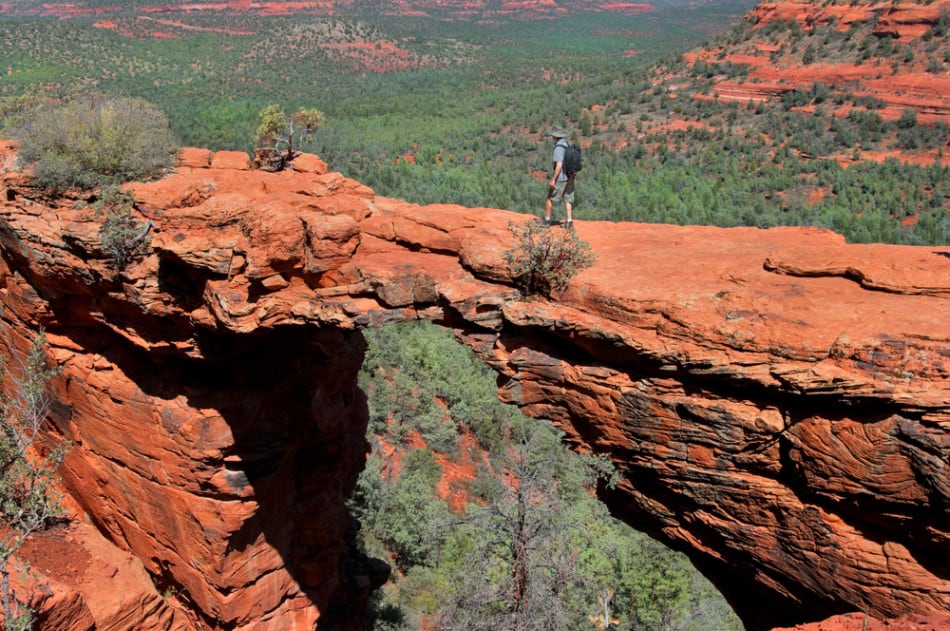 A lot of visitors take this hike because it is just a short but steep hike. The official trailhead starts off the unpaved portion of Dry Creek Road but you need to secure a high clearance vehicle to access it, only then you are allowed to park at the Dry Creek Road trailhead at the paved section. 
And about 3/4 mile from the parking area the trail will come to a fork and you will turn left, and you'll end up at the base of the bridge. Then you will continue up a natural rock staircase from which you will witness beautiful views of Sedona.
But if you are afraid of heights, this place might trigger your fear. But the good thing is that you need not to hike going to the bridge, you can just take lots of pictures around the area.
Devil's Bridge is a fairly easy hike and you can check out my other recommendations for easy hikes in Sedona.
6. Oak Creek Canyon hike
One of the many things that you will see at Oak Creek Canyon are the towering red canyon walls and a rushing creek and lush forest.
And no matter what time of the year you visit Oak Creek Canyon, it is still a striking sight to see. People don't come here just to get a glimpse of nature and its wonders, but also to experience the ultimate relaxation.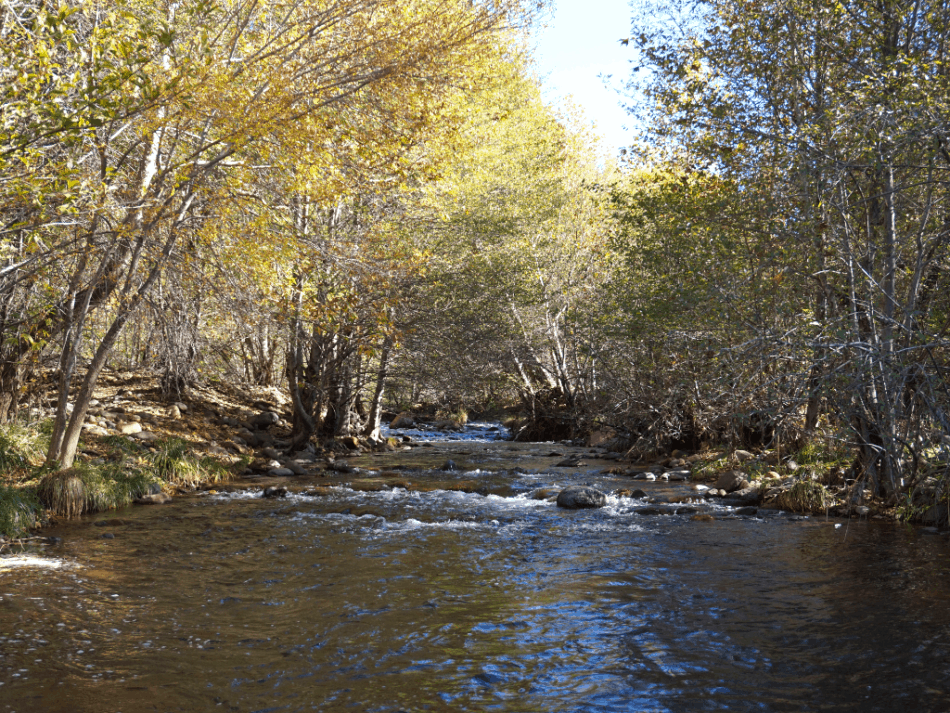 The trail to Oak Creek Canyon is relatively easy for a casual hiker. As a tip, wear water shoes so that you can walk through the rocky creeks.
7. Tlaquepaque Arts and Shopping Village
To complete your Sedona experience, you must pay a visit at the internationally renowned shopping area Tlaquepaque, Sedona's Arts and Crafts Village.
Tlaquepaque (pronounced as T-la-keh-pah-keh) is the most distinctive Sedona shopping experience that you can find in the Southwest. It has been a Sedona landmark since the 1970's.
Even if you don't want to shop, this is still a beautiful place to stop. The architectural buildings and settings will take you to another place and you will feel transported to a small village. There are a lot of places to dine and shop ranging from various medium of art and knicknacks.
8. Ride the Sedona Trolley
Sedona Trolley has been running since 1993. Not many people know about the trolley but it is a fun ride on one of the four trolley cars named Bob, Cathy, Snoopy, and Lucy.
They claim this is the best first thing to do in Sedona because their one hour tours give you an intro to the city. There are two tours to choose from for the Trolley.
Tour A is a narrated tour, where you will experience the South side of Sedona, passing by Tlaquepaque's Art district, and onto amazing vista views and a 15 minute visit at the famous Chapel of the Holy Cross.
Tour B is a fully narrated tour, where you will experience the West side of Sedona, passing well-known formations such as Thunder Mountain and Chimney Rock and into the towering red rock walls of Sedona's Canyons located within the Coconino National Forrest.
9. Boyton Canyon
Deadman's Pass is a great trail and an easy hike in Sedona. Expect large crowds on this popular hike.  The hike is about 3 miles long and you will start near Enchantment Resort.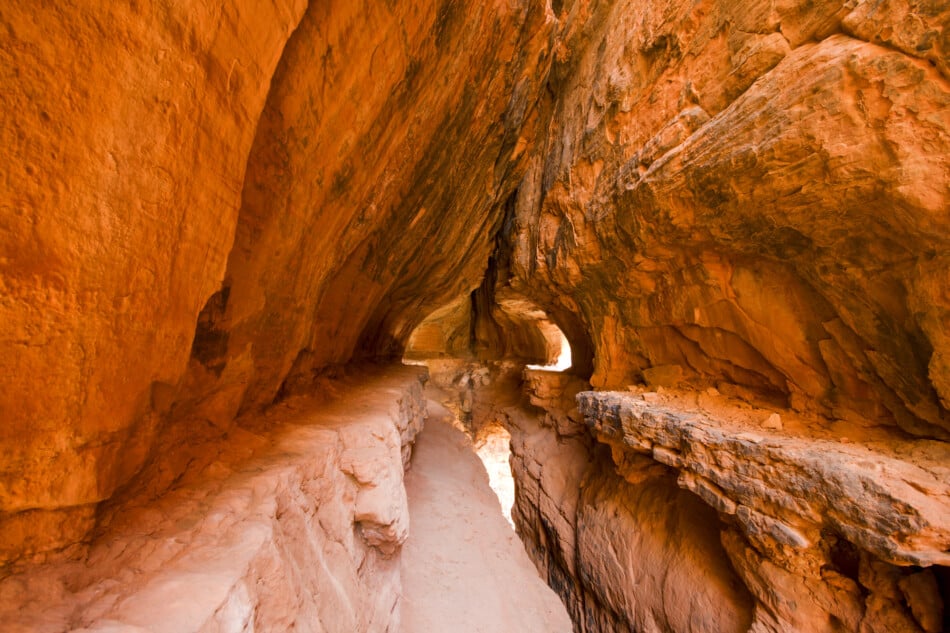 This trail goes through several destinations of the Sedona vortex. This vortex has both feminine and masculine energies.
You'll pass the Deadman's Pass and Boyton Spires while walking here. There is lots of vegetation here that turns beautiful and rich in the Autumn months. You will encounter many great places to stop and eat if you have packed food. Relax and stay awhile!
10. Slide Rock State Park
Slide Rock State Park is a beautiful natural refuge located in the heart of Oak Creek Canyon. A 43-acre apple farm and a historic homestead are located within the park. Hike through the woods or race down the popular Slide Rock water slide.
The park's name comes from the popular Slide Rock, which is the park's main attraction. This 80-foot (24.3-meter) stretch of slick creekbed serves as a natural barrier.
Slide Rock State Park is also a great spot for fishing, swimming, and hiking. In Oak Creek, you can catch rainbow trout. Two short and easy hiking trails are available in the park. One follows the river, while the other follows the canyon's edge through the jungle. Native animals including white-tailed deer and bald eagles can be seen.
If you need to cool off while visiting Sedona, check out my post on the Best Swimming Holes in Sedona.
11. Visit the Wineries in the Verde Valley
Did you know there are vineyards in Arizona? Verde Valley is located in Northern Arizona or the area near Sedona.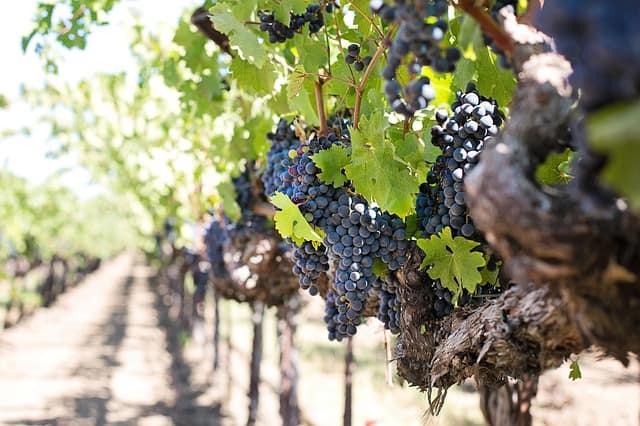 Burning Tree Cellars successfully makes their wines different and unique to other wineries – they do this by specializing in smaller batches and ensuring that their wines remain to only be available through their winery and tasting room.
They don't distribute their wines to chained supermarkets or local restaurants – rather ensuring that their special wines remain home at their vineyards.
Although they don't distribute their wines to be sold any place else, online orders are open for those who don't live locally but still want to enjoy their wines. Like many other wineries, Burning Tree has a wine club in which members get early access to new wines, invitations to special events, and many bottles of wine directly shipped to your home a few times a year.
Burning Tree is located in the central Arizona town of Cottonwood near Sedona.
Passion Cellars, alongside their partner Salvatore Vineyards began out of the true love of Arizona wine and the passion to be a part of an ever growing and fabulous industry. The founder, Jason Domanico dedicated his wine business to his grandfather, Salvator Ligammari who just like his grandson was a lover of wine and a wine maker himself.
Under both the Passion and Salvator names, Jason Domanico has produced many of the best wines in the region and has won many awards for producing divine, balanced and complex wines.
Passion Cellars is also located in the central Arizona town of Jerome near Sedona. You can read my post on Arizona Wineries for more options.
12. Eat all the food!
Tamaliza (to try tamales)
Tamaliza Cade is a small restaurant in Sedona that has a cafeteria style. They claim to have the best food and atmosphere in Sedona. And of course, you shouldn't miss to try on their famous tamales supreme with non-gmo organic ingredients.
Red Rock Cafe
Red Rock cafe is considered as Sedona's premier cafe. They offer a diverse menu using the freshest ingredients. They quickly became a local favorite for breakfast and lunch, and guests who come to dine at this place always have a positive experience with them. And you should definitely try their all day breakfast and their famous giant Cinnamon Roll.
Casa Sedona Restaurant
Casa Sedona Restaurant serves breakfast only from 7:00 to 10:00 am daily. And if you are not staying at their Inn, you may need to secure a reservation first. When you dine at Casa Sedona, you can eat outdoors beneath crystal blue skies with magnificent red rocks as your view in the morning sun.
Their guests rave about their hearty signature breakfast entrees using the freshest local and organic ingredients available. You shouldn't miss to try out their Sedona style Eggs Benedict, Truffled Brie Scrambled Eggs, Signature Cinnamon, Ham & Cheese Savory Waffles, to name a few.
Coffee Pot Restaurant
Coffee Pot Restaurant is one of the most popular places to dine in all of Red Rock Country. The overall ambiance of the restaurant is informal and comfortable. They feature a delicious variety of menu items such as their extensive breakfast selection including Eggs Benedict, Belgium waffles, Huevos Rancheros, and a choice of 101 omelettes.
13. Bell Rock is another Sedona Vortex Hike
This scenic trail is 1.75 miles in length and follows along the northern face of Bell Rock. The Bell Rock Pathway is one of the easiest and most fun hikes you will encounter in Sedona. The Bell Rock got its name because it resembles the shape of a bell.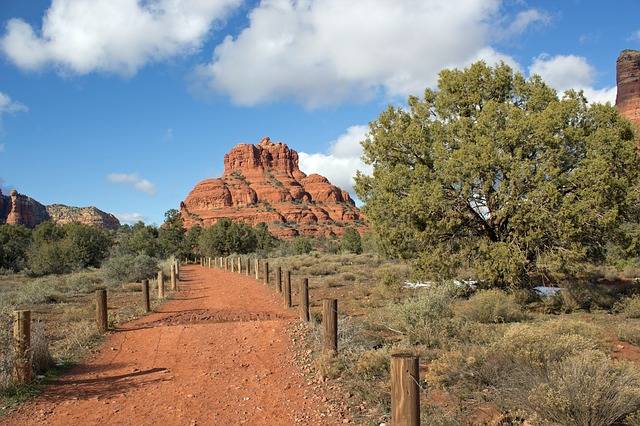 You are able to climb the rock as high as you are able and enjoy the breathtaking view. Many consider it to be a fairly easy hike with lots to see. There are many hikers, joggers, and cyclists on this path so it can get very crowded.
There are several easy Sedona Hiking Trails that you can try while visiting Sedona.
14. Hike to the Birthing Caves
This hike is a bit of a hidden gem in Sedona. The hike is easy enough but there are very few parking spots at Long Canyon Trailhead. One of the easiest hikes we did in Sedona was the Birthing Cave trail. The trail was broad and flat, with beautiful scenery in every direction.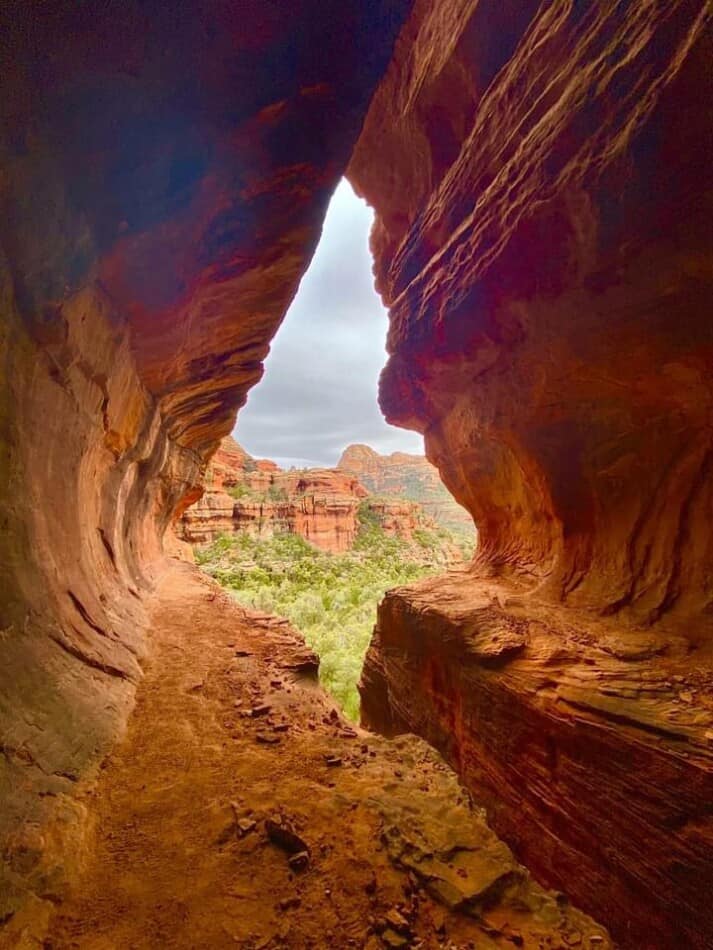 To find the caves you will come to a fork in the road after around 0.6 miles on the road. The main trail went straight ahead (right), and a smaller trail to the left was obscured by brush and branches. Take the fork to the left to the red rock cliffs.
Follow the path for half a mile and then you will see the cave up in the red rocks. The Birthing Cave is a wide, shallow cave nestled into the edge of a cliff. From afar, it appears to be in the form of a heart, with the cave ceiling curving into a point and the cave base also coming to a point.
There are several awesome Caves in Arizona that you can visit in Sedona.
15. Plan a day trip
There are so many great places within reach from Sedona that it makes good sense to spend a day taking a day trip. The Grand Canyon, Horseshoe Bend, and Antelope Canyon are the most popular day trips.
I really enjoyed this day trip from Sedona to Horseshoe Bend and Antelope Canyon. Both of these sites are amazing and well worth a trip to Page. The tour leaves from Sedona and your day begins with a scenic and narrated ride from the Red Rocks of Sedona to Flagstaff. You will travel through Oak Creek Canyon, named one of the top 10 scenic drives in the US, then through the towering Ponderosa Pines.
The Grand Canyon is another popular day trip. This Grand Canyon Tour gives you time to explore historic buildings, see majestic views at Grand Canyon Village and enjoy lunch on your own. Your guide will make sure that you see some of the widest and deepest scenic views of the Grand Canyon and the mighty Colorado River.
Map of Top Things to do in Sedona, Arizona
Where to stay in Sedona
Sedona makes for a great weekend escape. Fresh air, beautiful scenery and being in nature does a world of good for the soul. I recommend staying a few nights and even treating yourself with a cabin with a spa pool to relax at night.
There are lots of fantastic Airbnbs in Sedona. There are many beautiful places to stay and this allows you to spend most of your time experiencing Sedona. There are a lot of great places to stay with friends.
I stayed at the Amara Resort & Spa This is one of the best Sedona Hotels and it has amazing amenities and is close to everything.
Tips for Visiting Sedona:
You'll want to spend a few days in Sedona. There is so much to see and do there. Sedona gets very busy on the weekend so it is best to go during the week. It also gets very hot in the summer.
Red Rock Pass – you'll need a Red Rock Pass to park at the trailheads. It costs $5 per day or a weekly pass is $15
Plenty of water – I have a life straw water bottle that filters water. I also carry a gallon of water in the car so we can refill our bottles when we go back to the car.
Your camera – get ready for some epic views! You'll want to bring your camera. I like to travel with a budget action camera but you can also check out my list of the best cameras under $300 with even a few under $200.
Sunscreen – I always carry sunscreen so I can reapply but as I mentioned before most of these hikes do not have any shade so it is important to wear sunscreen and a hat.
Hiking Sandals – I like to wear hiking sandals when I hike. I wrote about choosing between Chacos vs Tevas which are two of the best hiking sandals.
I hope this article was helpful forn sedona what to do, sedona travel blog, sedona sites, sedona things to do, things to do in sedona area, things to do sedona, sedona arizona things to do and see, sedona az things to do, sedona area attractions, things to do in sedona with family, sedona family activities, things to do in sedona for kids, things to do at night in sedona, and map of sedona attractions.
Recent Posts