15 Fun Things to do in Tucson, Arizona
Attractions Tucson: Are you looking for fun things to do in Tucson, AZ? There are so many fun activities in Tucson and I've included them all on this list of fun things to do in Tucson Arizona including all the best Tucson activities.
There are lots of Tucson Tourist Attractions and it is known for its guest ranches, horseback rides, and cattle drives, this city has a lot to offer to its locals and visitors especially. Here, It also has a hub of spas, resort hotels, golf courses, and of course trend-setting restaurants – so much stuff to do in Tucson.
In fact, Tucson was given the recognition of World City of Gastronomy by the UNESCO or United Nations Educational, Scientific, and Cultural Organization. There is so much in Tucson to do and see.
In addition to that, Tucson is also thriving when it comes to the visual and performing arts scene and respected galleries and museums. It is like a mini mecca for the arts. In fact, their local artists draw inspiration from Tucson's unique and vibrant culture. And if you want to unleash or improve your art skills, you can sign up for classes and workshops where you can create your own masterpieces.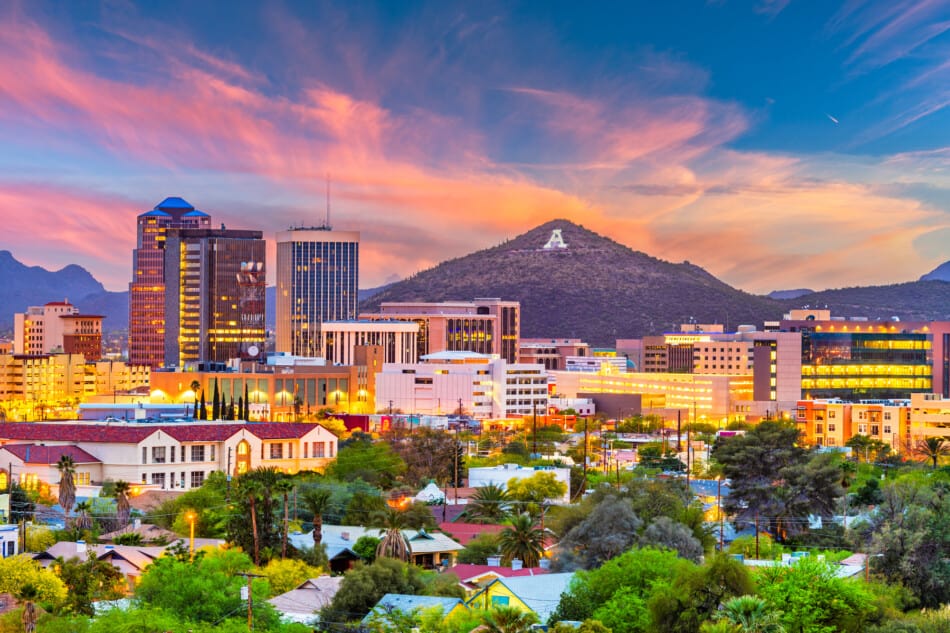 Thank you for supporting this website written by an American. This post may contain affiliate links. This means I earn a small commission on these links at no extra cost to you.
I recommend using Booking .com for all of your hotel bookings. I find they have the best prices on hotels and the more you book with them the more of a discount you get on your bookings. Also, they have free cancellations which is priceless if you need to change your plans.
If you are looking for an Airbnb, check out my post on the 15 Best Airbnbs in Tucson, Arizona 2021 Ultimate Guide
Tips for Renting a car for your road trip
It's awfully hard to get around Tucson without a car. The closest airport is Tucson and you can use Discover Cars to rent a car for your travels. You'll be able to pick up a car at any airport or in your hometown.
Check availability and get a quote for a rental car for your trip here.
15 Epic Things to do in Tucson – top things to do in Tucson, AZ
Sabino Canyon
The Sabino Canyon is located between the Santa Catalina Mountains and the Coronado National Forest, just north of Tucson. Beautiful routes, breathtaking vistas, and hiking and trekking options abound in the canyon.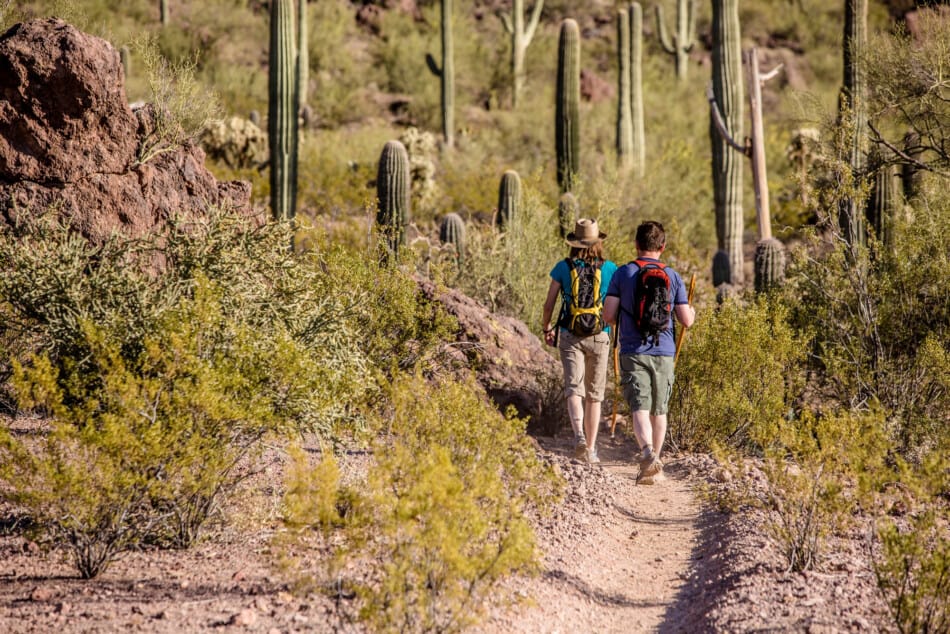 This is one of the most spectacular natural formations in the state. When you visit the Sabino Canyon, you will be astounded by its immense size and beauty. For anyone who enjoys nature, it is one of the best places to visit
Hiking in the Sabino Canyon allows you to fully immerse yourself in the Tucson environment, from the air to the flora. All of the vegetation, including the cactus, can be seen in amazing detail.
Surprisingly, given the canyon's location in the desert, there is also Sabino Creek nearby, which has waterfalls that may be admired and bridges that can be crossed. There is a tram that runs across the canyon with nine stations for those who don't want to climb.
In addition to hiking and equestrian riding, the Sabino Canyon Tram stops at trailheads, tranquil picnic sites, and spectacular overlooks.
Saguaro National Park
Saguaro National Park offers an easy opportunity to see and experience the Sonoran Desert, east and west of Tucson. The trademark saguaro cactus, which is the tallest plant in North America, may be seen here.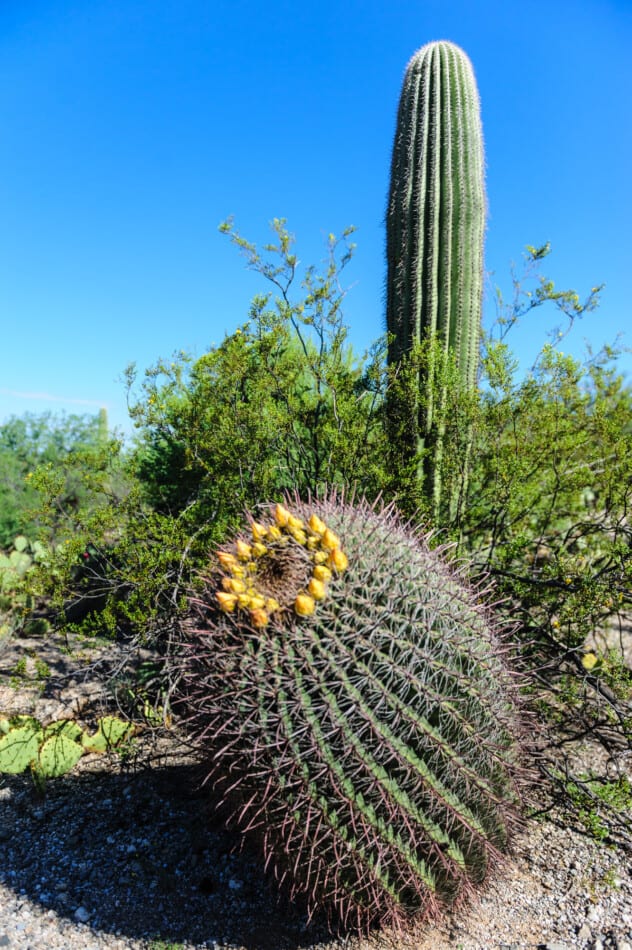 Hiking routes wind their way through the park, providing an excellent opportunity to see animals. Gila woodpeckers, cactus wrens, desert tortoises, jackrabbits, and Gila monsters are some of the creatures and reptiles that live in the desert (lizards).
The name "saguaro" was given to the park after the name of an indigenous cactus that grows there, and visitors can see these cacti up close on one of the park's many hikes. Long and short hiking paths are designated and available for all levels of fitness and stamina, though park officials warn tourists not to undertake long hikes in the park's more isolated areas during the summer months when temperatures soar dramatically.
Saguaro East – Rincon Mountain District and Saguaro West – Tucson Mountain District are the two most popular portions of the park. Each region is unique in its own way. Saguaro East is a wonderful, paved, rolling, picturesque drive with small hikes that are easily accessible.
The picturesque drives are on gravel roads, while Saguaro West retains more of the rough scenery and includes longer and more magnificent treks. If you're looking for a place to camp, the Gilbert Ray Campground is a superb choice.
Your purchased entrance or park pass is valid in both areas, and the trip between them takes roughly an hour.
This is one of the greatest Tucson attractions and an experience you should never forget.
Tucson Botanical Garden
Tucson Botanical Gardens, a big compound made up of 16 individual gardens, is a great place for those who want to take a walk in the woods. The 5-acre garden complex is noted for providing a peaceful reprieve from the city's sometimes frenetic pace.
The gardens, which include a children's garden, a Zen garden, and a butterfly garden, are organized to promote the best of Arizona flora to tourists.
Within the complex, there is also a gallery featuring a series of changing exhibitions and installations on various subjects related to botanical interest in Arizona, including desert flora. It's a haven for individuals looking for the kind of peace that only comes from interacting with nature.
The Tucson Botanical Garden is unique since its sole purpose is to provide you with something pleasant to look at or smell. Another reason it's one of Tucson's top attractions is how much you can learn. There is local flora instruction to demonstrate how outstanding Arizona agriculture is.
Visit Tucson Botanical Garden for a glimpse of Tucson's natural splendor that the whole family will enjoy.
Pima Air and Space Museum
With almost 400 aircraft and spacecraft, the Pima Air and Space Museum is the world's biggest privately funded air museum. There are antique planes in the collection, as well as some of the most advanced types. The presidential plane of John F. Kennedy is on display, as is a replica of a 1903 Wright Brothers Flyer.
Since its inception in 1976, the museum's collection has expanded significantly, with civilian planes now coexisting with military bombers, missiles, and unmanned spacecraft. The huge museum also has a number of interesting and engaging exhibits and artifacts that trace the history of aviation.
A Boeing 787 Dreamliner and the Orbis DC 10 Flying Eye Hospital are two of the most recent additions. The museum houses over 125,000 flight-related artifacts, including a moon rock, in addition to the planes.
The planes are spread out over 80 acres and six hangars, and knowledgeable interpreters lead tram tours (which are not included in the admission charge). Visitors can also take a bus tour to the adjacent "Boneyard," the 309th Aerospace Maintenance and Regeneration Center, for an extra charge. Requests for this area must be made 10 days in advance via the website.
The spectacular Pima Air and Space Museum, one of the world's largest aerospace museums, is just 15 minutes drive southeast of the city. There's a large airfield here, as well as massive hangars housing over 400 historic planes and spacecraft.
The Pima Air and Space Museum's largest planes are outside, so visit early in the day during the hottest months.
Tohono Chul Park
Tohono Chul is a popular destination for locals and visitors alike, having been named one of the country's greatest botanical gardens by Travel & Leisure. This park, which spans approximately 50 acres, is described as a location "where nature, art, and culture collide."
The Tohono Chul, located on the approach to Catalina State Park, connects visitors to the Sonoran Desert's awe-inspiring art, wildlife, and culture. Its name literally means "Desert Corner" in the local indigenous language, and it serves as both a botanical garden and a cultural museum.
The tranquil property, which was founded in 1985, offers lovely grounds to stroll through, studded with wild and native flowers, shrubs, and trees. You can also visit its wonderful art gallery, which features sculptures and folk art from all around the American Southwest.
Eight diverse outdoor exhibitions, ranging from a desert palm oasis to a wall showcasing the geology of the area, are painstakingly put out around the garden. The garden's southern half has two walking pathways that make their way through it.
Several permanent artwork collections by artists such as Mark Rossi, Fred Borcherdt, and Ned Egan are on show in addition to the natural attractions.
The park, which includes an onsite museum, is dedicated to environmental care and education about the Sonoran Desert Region. The Santa Catalina Mountains rise majestically in the background, and visitors to the park can enjoy a riparian habitat, a geology wall, and discovery pathways in addition to the botanical gardens.
San Xavier del Bac
San Xavier del Bac is located southwest of Tucson and was founded by Spanish Jesuits in 1770 and is known as the "White Dove of the Desert."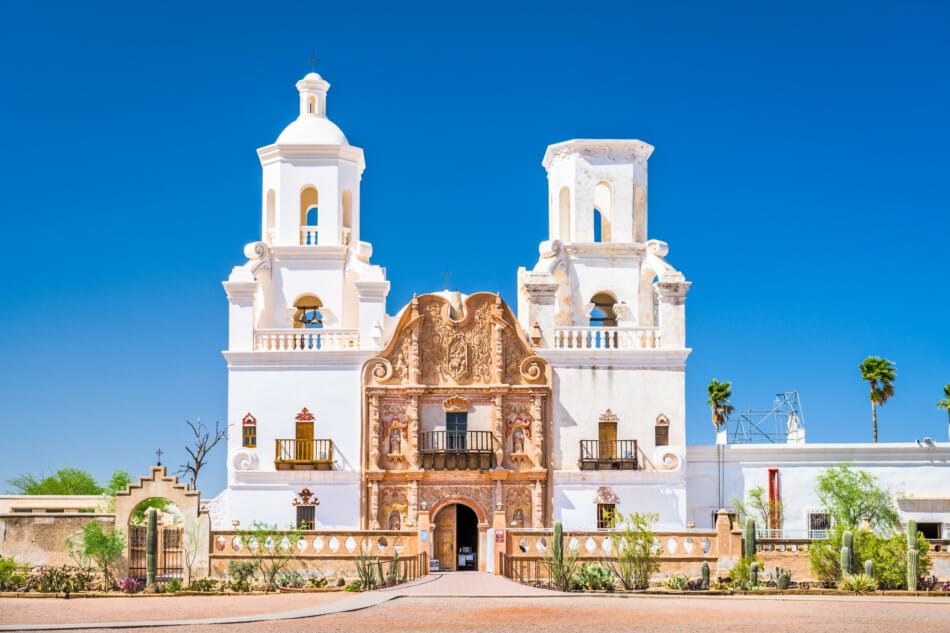 The mission buildings, especially the ornately built church, are excellent specimens of colonial Baroque architecture. The Tohono O'odham Indians still use it as a spiritual center.
Francis Xavier, a Christian missionary and co-founder of the Jesuit Order, is honored with the mission's name. The property, which dates from the 18th century, is widely regarded as having some of the best Spanish colonial architecture in the United States.
It is open to the public every day and receives over 200,000 visitors each year, many of whom regard it as a pilgrimage destination. Tourists may enjoy the tranquil ambiance at one of Arizona's oldest European structures, which is still administered by Franciscan members of the Christian community.
The Mission San Xavier del Bac, one of Tucson's most recognizable structures, is not only a historic site but also serves as a church. If you visit on a Sunday, you could just see a church service in progress.
This is a free attraction, although donations to help fund the continuing repair are greatly welcomed. Visitors can take a leisurely stroll through the historic church and grounds. The museum has relics from the Mission's history, as well as a 20-minute video that gives a great overview.
Sentinel Peak
Sentinel Peak is a must-visit if you're looking for scenic options around Tucson. At this point, you get a view of the city and its environs that is almost too beautiful to describe.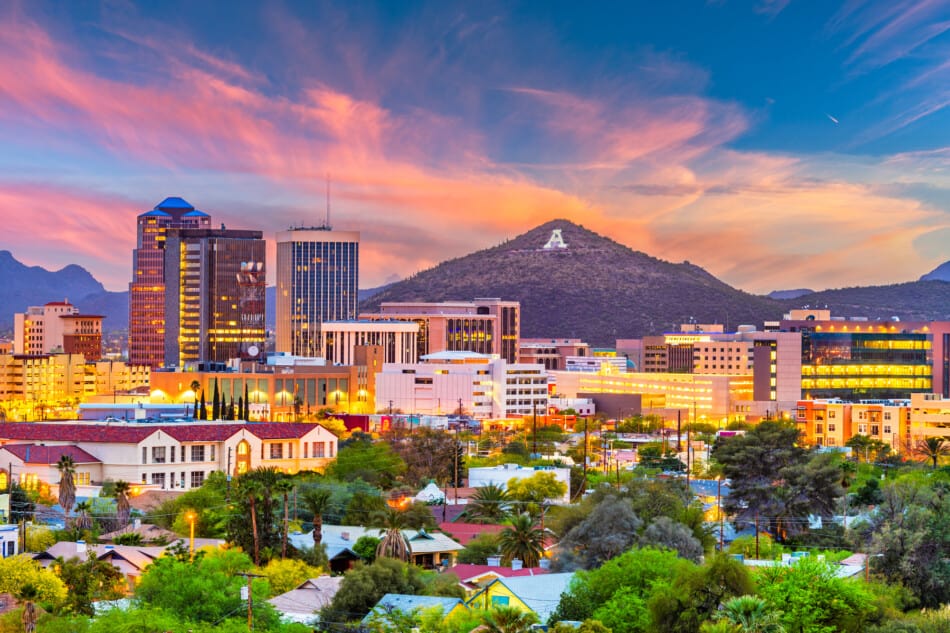 You'll never look at Tucson the same way after seeing it from this vantage point and you can make an outstanding hiking adventure out of your visit to Sentinel Peak. Since it is part of the Tucson Mountains, you'll have to do some climbing. However, the effort is well worth it when you get to see the breathtaking view of the Tucson area.
Sentinel Peak is one of the many beautiful places in the state. If you're interested in seeing more, Humphreys Peak in Flagstaff is a good place to go. Natural treasures abound throughout the state, and you should take advantage of them all.
Because the surrounding land is volcanic and estimated to date back 20 million years, the peak is frequently misinterpreted as the consequence of a dormant volcano. Travelers can go trekking and hiking on the mountain, but the breathtaking views over Tucson Valley and across the city are some of the highlights.
Tucson's Best Hiking Trails
Whether you are looking for an aggressive hike to the top of a mountain or a simple wander through the cacti to see birds and other wildlife, the mountains and beautiful landscape of the Sonoran Desert make Tucson a great place for lacing up your hiking boots and heading out on the trails.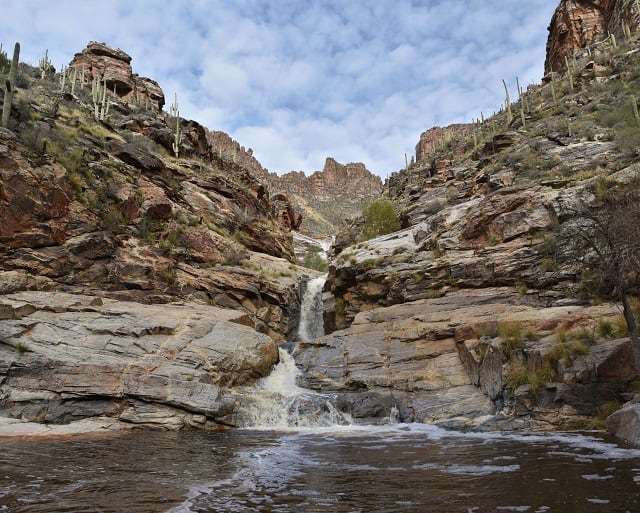 Trails for all levels and hikes to fit your mood are also available. When the wildflowers bloom and the desert turns a vivid green, spring is a particularly beautiful time for hiking in Tucson.
Seven Falls Trail in Sabino Canyon Recreation Area is a popular hike where you can hike up to a group of natural pools and even take a dip.
The Sutherland Trail, which offers both a long and short hike, is also worth checking out.
Head to the Valley View Overlook Trail in Saguaro National Park's west area if you just want to take a short walk to enjoy nature.
Kitt Peak National Observatory
Kitt Peak National Observatory provides excellent views of the night sky for visitors who want to come closer to the stars.
The Kitt Peak National Observatory is a US astronomical observatory on Kitt Peak in the Quinlan Mountains in the Arizona-Sonoran Desert, on the Tohono O'odham Nation, 88 kilometers west-southwest of Tucson, Arizona.
The Kitt Peak Visitor Center, which opened in 1964 and is now in its sixth decade of operation, has been visited by over two million visitors. Visitors have access to the world's largest and most diverse array of research telescopes. Three of Kitt Peak's almost two dozen operational telescopes are purely for public viewing in our world-famous nightly stargazing events.
Kitt Peak in the Quinlan Mountains is home to an astronomy observatory with the world's largest and most diverse astronomical equipment, including 24 telescopes. Depending on the level of interest in all things astronomical among visitors, there are day and night tours available, one of which features the history of the observatory and the invention of the telescope, and the other of which begins at sunset and allows visitors to view the cosmos through telescopes above the Arizona Desert.
Tumamoc Hill
If you are looking for something to do while you're in Tucson, Tumamoc Hill is a must for you. It is located in the heart of the city and rewards visitors with spectacular vistas in exchange for a little effort.
A wide, paved walkway leads to the summit of the hill. The ascent begins gently and gradually becomes more challenging as you progress, but almost anyone can make it to the top.
Due to its elevated altitude, Tumamoc Hill is primarily used as a transmission station and is home to radio, television, and public safety transmitters, as well as an astronomical observatory with telescopes for monitoring the night sky.
Visitors rush to the hill in quest of trekking opportunities, despite the fact that the terrain is difficult and best suited to more experienced hikers. If you make it up the hill, there are informative tours and lectures about the butte's local history and ecological significance.
This hike is ideal for solo travelers and is a favorite local activity; you'll see walkers, moms pushing strollers, family groups, and joggers on the trail. There are benches and explanatory signs along the walk that discuss the plants and wildlife of the area. Tumamoc refers to a horned lizard and is derived from the Tohono O'odham language.
The hike is 3.1 kilometers round trip. The hill is located in Tucson's southeast corner, and there is free parking along the street at the trailhead.
Reid Park Zoo
Reid Park Zoo is a 20-acre zoo that is home to over 500 types of animals. It was founded in the 1960s. is a small zoo with an exceptionally diverse assortment of exotic species. Elephants, bears, lions, tigers, giraffes, and many other animals can be found there. Expedition Tanzania, Tropical Trail, and the Lee H. Brown Family Conservation Learning Center are among the smaller loops that make up the zoo.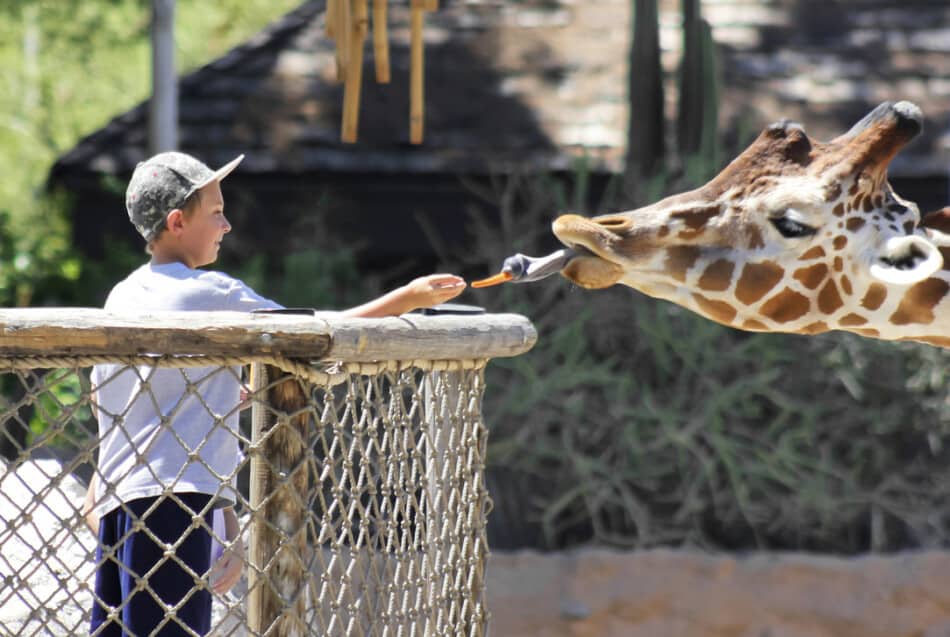 The faculty also employs veterinarians, and the zoo is a popular attraction in the city, as residents have contributed funds over the years to care for the animals and give them the best possible care. Animals from all over the world, as well as indigenous species, can be seen in the zoo.
The Giraffe Encounters are one of the most interactive experiences at the zoo. You can hand-feed a giraffe for a modest charge. The Reid Park Zoo Express train, a wet play area, and daily activities are among the other attractions.
Colossal Cave Mountain Park
Colossal Cave is one of the largest dry caverns in the United States, located about east of Tucson in neighboring Vail. Discovered in the 19th century, the Park is made up of not just one cave, but an extensive cave complex with almost 5 kilometers of passageways.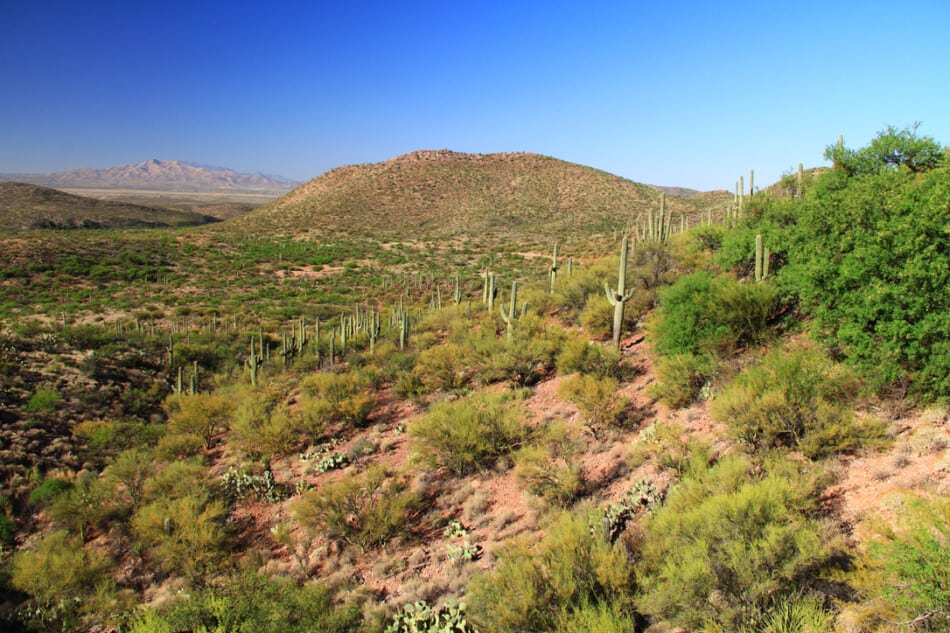 Parts of it have yet to be explored, and rumor has it that the loot from an ancient stagecoach robbery is still buried inside. Classic, Ladder, and Wild are the three tours available. Which one you choose is determined by your level of adventure and fitness.
Visitors who wish to brave the cave pathways, which are kept at a constant 70 degrees Fahrenheit (21 degrees Celsius) all year, can explore the houses once used by Apache Indians, but there are plenty of other options at Colossal Cave Mountain Park for those who want to stay above ground. Two museums, prominent statues, picnic spots, horseback riding, and camping are among the attractions.
A museum, butterfly garden, guided horseback riding, wagon trips, and hiking and horse trails are all part of the 2,400-acre park. Basic camping is also offered, however individual sites do not have electricity or running water.
Kennedy Lake
Kennedy Lake is part of the Tucson Municipal Fishing Program and is one of Tucson's Urban Lakes. The Lake lies in Southwest Tucson's J.F. Kennedy Park, north of Ajo Way and between Mission Rd and La Cholla. This is another urban lake where an Urban Fishing License is necessary.
Rainbow trout, bass, catfish, and carp are among the many fish species that call the lake home. Visitors can take a stroll around the lake and take in the scenery, or go boating or fishing to catch some of the lake's famous inhabitants.
Open during daylight hours and gas motored boats are prohibited. Only small boats and canoes are permitted, and the boat must be equipped with all necessary flotation devices.
Swimming and wading are restricted as part of the Urban Lakes initiative, as are glass containers. There are leash laws in effect. When the season allows, this lake is stocked with catfish, bass, bluegill, sunfish, and rainbow trout. So get your line wet and get fishing.
It should be noted that the lake is not visible from the Kennedy Lake Park area. Between the park and the lake lies a large hill. Asking kids to go up the modest hill for the first time and seeing what they find is a great activity to conduct with them. It's a beautiful view if they haven't seen the lake before.
There are also certain lake restrictions. Canoes and boats with a length of fewer than 17 feet are allowed. All canoes and boats must have adequate flotation gear. Gasoline engines are not permitted. It is necessary to obtain an Urban Fishing License, and live baitfish are not permitted.
DeGrazia Gallery in the Sun Museum
The beautiful DeGrazia Gallery in the Sun Museum is located on the city's northeastern borders. What began as a tiny location in 1951 has subsequently expanded to become a fantastic National Historic District. Its adobe structures currently contain an impressive collection of artworks.
The DeGrazia Gallery in the Sun Museum, founded by the architect Ettore DeGrazia, is best described as an outdoor museum with a variety of exhibitions and old structures strewn throughout the desert.
Visitors can tour the region and the numerous structures, including a pottery studio, a ghost home, a nun's house, and many others, which were built utilizing ancient techniques and materials such as cactus flooring. The DeGrazia Gallery in the Sun Museum is best viewed as both a gallery and a museum, or just as a vast and unique art installation in the desert.
The sprawling complex of beige buildings looks fantastic, with the permanent collection of paintings standing out as a highlight. These exhibits focus on the history of Native American civilizations in the American Southwest, and many of DeGrazia's amazing abstract and Impressionist works are on display.
If you enjoy art, the DeGrazia Gallery in the Sun is a worthwhile stop. Ettore "Ted" DeGrazia is the subject of this gallery, which is dedicated to his art.
Garden of Gethsemane
The Garden of Gethsemane is a public sculpture garden just west of Tucson's downtown area.
This peaceful garden, located on West Congress Street near the Santa Cruz River, was designed to display artist Felix Lucero's sculptures. According to legend, Felix made a commitment to devote the remainder of his life to composing religious works when stationed in France during WWI.
The garden is illuminated and equipped with electrical outlets, a water fountain, and a kneeling seat, making it ideal for weddings, quinceaneras, and small parties.
If you want to sit in the shade under one of the park's many trees and watch the world go by, this park on the west bank of the Santa Cruz River is available all day. The many sculptures in the Garden of Gethsemane, which depict various biblical scenes and provide a touch of peaceful contemplation to the environment, are remarkable. The park is also known for having Tucson's largest eucalyptus tree.
things to do in tucson az things to do near tucson things to do near tucson az things to do tucson arizona things to see in tucson things to see in tucson az to do in tucson
Recent Posts