Waterproof Camping Tents: Are you looking for the best waterproof tent? Finding the best waterproof tent for camping is an important factor in the success of a camping trip if you ask me!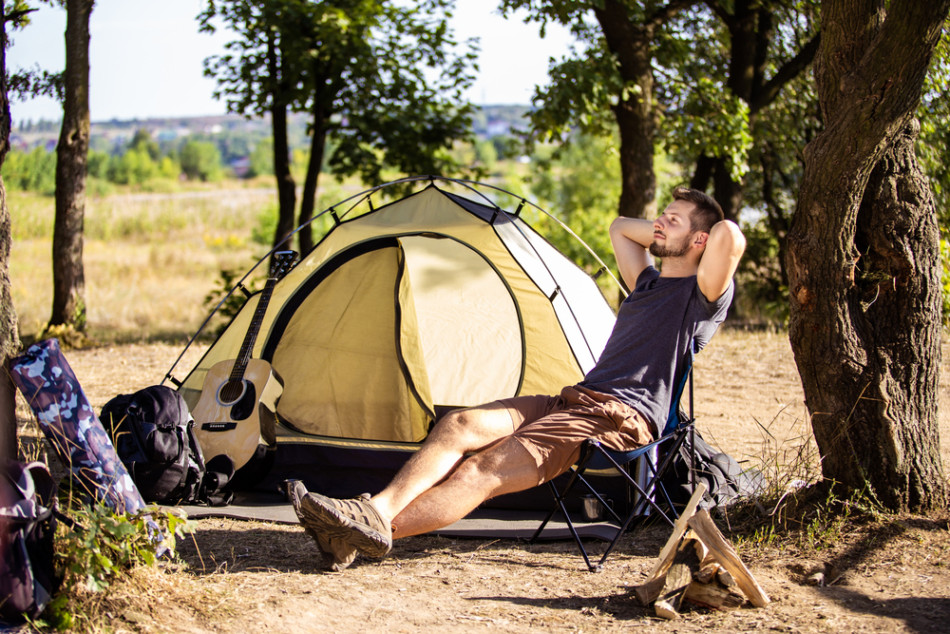 More and more of us are deciding to get back to nature and what better way then to get out and go camping. Well, the weather might not always agree with us. I don't really mind if it rains overnight as long as my rainproof tent. That's why I have put together this list of the best tent in the rain for you.
Finding the right large waterproof tent shouldn't be hard.  I have compared different waterproof tents and written up the pros and cons of each waterproof tent.  If you are looking for a four person tent you can check out my review of best four person tents.
Thank you for supporting this website written by an American. This post may contain affiliate links. This means I earn a small commission on these links at no extra cost to you.
13 Highly Rated Waterproof Camping Tents
Marmot Limestone Camping Tent
Pros: easy entry and exit, weatherproof
Cons: not so durable poles
The Marmot Limestone Tent is one of the reliable waterproof tents that you can find in the market today. It is a 4-person and 59.7 square foot tent that is scientifically designed for peak performance no matter what the weather condition is. It is made from a durable, seam-taped polyester fly that offers complete rain protection along with Velcro tents for superior air circulation.
In terms of its design, it has a catenary cut design on the fly and the tent body allows air to flow freely under the fly and around the perimeter of the tent thus keeping the occupants cool and dry. It also has a super sized doubled door at the front and a D-shaped door with an overhanging vestibule at the rear so that occupants can come in and out with ease. Its zone pre bend construction creates vertical walls and offers a more spacious sleeping area with lots of headroom.
And inside the tent, you'll find a seam taped floor that prevents leaks and it has four interior pockets that lets you organize your personal items. It also has a lampshade pocket that uses your headlamp to fill the tent with warm light.
Coleman Weather Master Tent with Screen Room
Pros: spacious, weather resistant
Cons: heavier
This family-friendly tent has a very spacious interior that can fit 2 queen-size airbeds inside and allows you to stretch out thanks to its 6-foor- 8-inch center height. It has a separate floorless screened room that offers extra ventilation on warm days, protected storage, and a bug-free place for meals. And setting this up is quick and easy because of its two colored-coded poles and continuous pole sleeves, shock-corded fiberglass poles, and exclusive pin-and-ring design, and InstaClip attachments.
This tent has a weather resistant feature and it is made of coated polyester fabric combined with anti-wicking thread, webbing, and zippers, and waterproof floors that will keep you dry even in harsh weather conditions. This is an extremely comfortable tent that is well made and excellent quality all around.
Timber Ridge Camping Tent
Pros: spacious, stable
Cons: rain fly is very short
This Timber instant tent base can let 6 people sleep comfortably thanks to its spacious measures which is 10×10 feet and a center height of 78 inches. This tent provides large enough space for you to enjoy the outdoor activities with family or friends and it is also easy to set up. It can be set up within 10 minutes or even less. Yes, you don't need to waste your precious time and energy worrying about setting up a camping tent.
When it comes to ventilation, this tent is designed with 3 zippered large mesh roll up windows so that the air can flow continuously, while its top mesh window provides enough ventilation for the occupants. And the rainfly serves as your protection against the rain.
This tent is also versatile and can be a very practical family tent. You can use this in your outdoor activities such as camping, fishing, or hiking.
Wenzel Klondlike Tent
Pros: spacious
Cons: hard to set up
If you are looking for a bigger space tent, this Wenzel Klondike Tent is the one for you. It has a dimension of 16"x11" and 98 square feet of interior space just enough to let 8 people sleep inside. It's so spacious that you can even have it as a house for a whole party.
In terms of its material, it is made with a polyester fabric and a polyurethane water resistant coating that serves as your protection from rain from top to bottom. Also, it has a full mesh roof and two mesh windows to keep the bugs out and let the breeze come in freely so you can enjoy the warmth of the sun. And as you enter the room, it has another mesh wall to provide great airflow during the heat but you can also zip it up to act as a second spacious room. It is definitely a tent that large families or groups of friends would appreciate.
Coleman Evanstone Dome Tent with Screen Room
Pros: easy to set up, durable poles
Cons: rainfly can get wet and can pool up water
This Evanstone Dome Tent has got more space and more features that takes it to a higher level of waterproof tents that you can find in the market today. The 6 person design allows two queen size air beds inside and there is an additional 10 x 5 screened porch that gives valuable extra space.
And just like most Coleman Tents, it is embedded with a Weathertec system with its inverted seams to increase weather resistance by hiding needle holes inside the tent. And with its redesigned poles and guy-out triangles, it has an increased resistance to winds. In addition, the zipper cuff made of weather resistant fabric also adds protection from the elements to the door.
Aside from being spacious and water resistant, this tent had enough storage pockets to stash small necessities within easy reach. And it is also easy to set up and shouldn't take longer than 15 minutes. Overall, this tent is as good as any other more expensive tents.
TETON Sports Mountain Ultra Tent
Pros: Four different sizes
Cons: material is not so durable
The Mountain Ultra Tent is lightweight, waterproof and made for all types of weather with a 360-degree ventilation system. It comes in 4 different sizes depending on your needs. It's easy to set up so you don't need to spend your precious time wrestling just to assemble it. And it's also easy to take down so basically it's hassle free.
One of the best features of this tent is that you get to enjoy a beautiful view of the campsite straight from the room because of the full dome mesh that allows for an amazing stargazing experience.
The inner tent has also updated pockets so you can easily store your valuables and essentials, while the added gear loft is right for a light and other easy to grab items or your camping lantern. So all you really need is to decide which size to go for.
Coleman Sundome Tent
Pros: has different sizes, good ventilation
Cons: rainfly is too small
The Coleman Sundome is a popular choice among car campers and festival goers because it offers a really good price that is hard to match. It has a spacious floor area that is enough to fit two queen size mattresses and a breathable 6 feet of headroom at the center. And all you need to do is choose from the available sizes depending on your fit.
In terms of ventilation, the double-wall design and generous use of mesh on two sides offers a very good ventilation for occupants. And what adds to its breathability is its partial rainfly that allows a good amount of airflow to circulate especially during warm summer nights.
However, one of the flops of this tent is its lack of weather protection. The rainfly only extends about halfway down on all sides which leaves the lower portion of the tent exposed and vulnerable. Although the tarp-like material on the floor will protect you from the rain, the rest of the tent's construction was a disappointment.
But still this is a good tent that won't cost you an arm and a leg.
Coleman Cabin Tent – waterproof pop up tent
Pros: easy to setup
Cons: small, low headroom
Are you looking for a waterproof pop up tent? This Coleman Cabin Tent is super handy and hassle-free to set up. Yes, this tent lives up to its name of instant setup and you can do it in as fast as 1 minute. All you need to do is unfold – pop up – and you are done. It's that simple.
Now let's go to its performance and whether this is an all weather pop up tent. In terms of its space, you might be frowning your faces on this tent because this tent is considered to be one of the smallest tents that you can find in the market today. It has only one door, three windows, low overhead, and a few small pockets to store your small valuables.
As to its comfort, well it comes with a floor and walls to protect you from bugs, critters, and other elements and as long as you have a comfy pad and a pillow, then you're already good. But sitting on the floor with other occupants may be a bit problematic as it only relies on its small floor space.
Overall, this tent is still a good deal as this is a pretty decent one and of course if you don't want to spend a lot of money just for a tent, then this one's for you.
Eureka Copper Canyon 4-Person Tent – best waterproof family tent
Pros: versatile, easy to set up
Cons: heavy
The Eureka Copper Canyon Tent is the walking example of a cabin tent. You can use it as a weekend tent, road trip tent, or a car tent. It has an 8×8 feet of floor and an interior peak height of 7 feet. Its walls are nearly vertical and you will be able to stand up and walk around with its floor area of 65 square feet. Yup, that's how incredibly spacious this tent is!
This cabin-style tent features a durable, fiberglass frame, with clips, pole sleeves, and a ring/pin assembly. And for easy set up, the attachment points are colored matched for your convenience. The interior of the tent has two storage pockets, a gear loft, clothesline loops, and a flashlight/lantern loop so you can easily store personal items within easy reach.
And this tent also allows you to bring an electrical cord into the tench with its zippered E! Power Port so you can charge your personal devices, power lights, and more. How cool is that, right? This tent is really built for campers and for people who love to spend their time outdoors.
KAZOO Outdoor Camping Rain Tent
Pros: easy to set up, good ventilation, budget-friendly price
Cons: a bit too heavy for backpacking
The Kazoo outdoor camping tent provides excellent convenience at a very affordable price. It has a spacious room and two zippered doors that makes it ideal as a family tent. And setting this up is also easy, it will only take you about 3 minutes to set it up.
It is made of 210T Rip-stop polyester and it has passed the waterproof test with a rating above 3000mm. Meanwhile, the three fiberglass poles offer lightweight and sufficient stability during windy or rainy weather conditions.
And in terms of design, the two-door design, interior mesh pocket, dual zippers, all seams taped with waterproof details were carefully designed to provide an excellent family tent. And for the price, this is a pretty good and decent tent. Easy to set up, spacious with lots of ventilation – you will surely get your money's worth.
Featherstone 2-Person Backpacking Tent
Pros: durable, lightweight, breathable
Cons: small interior dimension
Durable, lightweight, and breathable – those are the best features that would perfectly describe this backpacking tent thanks to its rugged, lightweight, and tear-resistant fabrics. The micro-mesh fabric also enhances breathability and comfort while reducing condensation.
It is also spacious enough for two people and ideal for couples. And the two-doors and two vestibules help provide a great amount of storage space for your camping gears.
This is also a tent that you can assemble easily, in fact in less than 10 minutes you will be able to set this one up and start hanging out inside. It has solid floor materials that are made of Oxford nylon and a coat of hydrostatic resistant. It's so smooth to step on it and it is also waterproof.
In terms of ventilation, this one is very breathable because its inner body is made with micro-mesh fiber. And even if you spend hours just sitting inside in a hot weather condition, this tent will keep you cool and comfortable.
KAZOO Outdoor 4-Person Waterproof Camping Tent with Porch
Pros: spacious, excellent ventilation, front porch design.
Cons: heavy
The KAZOO 4-Person Camping Tent is the slightly enhanced version of the Kazoo Outdoor Tent. This spacious family tent has a dimension of 95"x86"x57" that will make your camping experience a great one.
This tent consists of 2 functional layers – the liner is made of B3 mesh and 190T breathable Polyester, while the rainfly is made of 210T Rip-stop Polyester. It has also passed the waterproof test with a rating above 3000mm. And among all the tents for camping available on the market, this one focuses on high performance even in extreme weather conditions.
In terms of ventilation, it has 2 doors and 2 windows for breathability. They also introduced a new design which is the front porch to offer maximum comfortability for 4 persons.
Recent Posts