21 Magical Things to do for Christmas in Las Vegas
Christmas in Las Vegas: Are you looking for Christmas activities in Las Vegas? There are so many things to do in Las Vegas in December you are sure to get in the holiday spirit dreaming about a Las Vegas Christmas.
There are numerous Christmas events in Las Vegas on this list. I wanted to include all of the Las Vegas places to visit at Christmas so you can plan your trip.
You should know that almost all restaurants and casinos are open on Christmas Day so there is no need to panic. Below I have included tips and tricks for visiting Vegas at Christmas time.
Christmas Eve in Vegas is actually a really popular time to visit. And there is always something to do on Christmas Day in Las Vegas. Check out my post on Restaurants open on Christmas Day in Vegas.
Thank you for supporting this website written by an American. This post may contain affiliate links. This means I earn a small commission on these links at no extra cost to you.
How to Celebrate Christmas at Las Vegas – Christmas Activities
View the Lights and Decorations at Bellagio Conservatory & Botanical Gardens
The gardens are decorated for the Christmas season after Thanksgiving weekend. Bellagio's holiday display is breathtakingly beautiful.
Bellagio offers a variety of attractions to let you enjoy Christmas in style. Thousands of poinsettia plants and infinite glittering lights will be used to decorate their Conservatory and Botanical Garden, leading up to a 42-foot-tall holiday tree.
It has 7,000 white LED lights and 2,500 decorations on this majestic tree, which is surrounded by a miniature railway. Other spectacular seasonal works include gigantic 12-foot snow globes and a family of polar bears constructed entirely of carnation flowers, among others.
You can go outside after your family visits the Conservatory to witness Bellagio's famous fountain show. To get into the spirit of the season, the free water show will be set to Christmas music.
Visit Santa, A Must-Do Las Vegas Christmas Activity For Kids
If you're traveling with young children, seeing Santa Claus is almost a must. The Santa Claus attractions in Las Vegas are a lot of fun, and you'd be amazed at how inventive some of these Santas are!
Every weekend in December, the Silverton Hotel welcomes Underwater Santa for free visits. Meanwhile, Santa and his little helper, Santa Jaws, can be found in the Shipwreck at Mandalay Bay's Aquarium.
If that's not your style, visit Santa's Wonderland at Bass Pro Shops, which is located close to Silverton Casino. Other Santa displays can be found in Town Square and the Magical Forest.
Fountains of Bellagio – the Perfect Christmas in Vegas Activity
The Bellagio Fountains, Las Vegas's most famous attraction, will get you in the spirit. The fountains are a more romantic way to spend Christmas Day.
You can view the dancing water fountains in front of the Bellagio and while taking in holiday music. The perfect way to spend Christmas on the strip.
The Fountains of Bellagio show, which incorporates music, water, and lights in an amazing coordinated performance for visitors, is one of the main attractions at the Bellagio hotel in Las Vegas.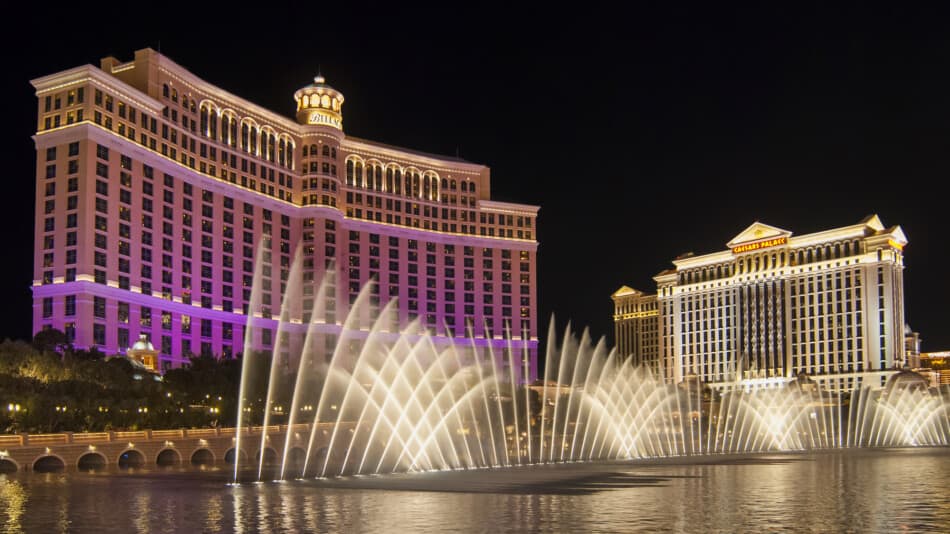 The fountains are available to the public throughout the day, but at night they come back to life and take on a whole other appearance. The fountains, which span over 1,000 feet and spray up to 460 feet into the air, are impossible to miss.
The Bellagio Las Vegas hotel's fountains are open to the public every day and are placed directly in front of it. Whether you're staying at the hotel for the weekend, trying your luck on the casino floors, or just passing through, you can see the dazzling display that takes place every night. I
t takes approximately an hour to fully appreciate beauty, but you may lose yourself in the ambiance produced by the cool music, lighting, and accompanying water performance for the rest of the evening.
The Fountains of Bellagio presentation includes opera, classical pieces, Broadway hits, and other enthralling musical delights. Madonna, Lady Gaga, Frank Sinatra, The Beatles, Whitney Houston, Celine Dion, Bruno Mars, and other well-known musicians are among the artists featured in the song collection.
While the fountains are indeed stunning, there is lots more to see and do while you're here. Other enjoyable activities available to visitors at the Bellagio Las Vegas hotel and casino include gaming and dining at one of the on-site restaurants.
Restaurants are ranging from casual to fine dining, and many of the dining rooms are peaceful and offer a beautiful view of the fountains while you dine.
Winter Wonderland Festive Lobby Display At Aria Resort – Truly a Las Vegas Christmas
With creative and flavorful pastry masterpieces, Aria Resort delivers joy and smiles to guests visiting the resort throughout the holidays.
The festive display is completed by colorful ornaments, Santa Claus sculptures, toy soldiers, and an exceptional holiday photo opportunity.
Guests interested in a sweet treat after viewing the lobby display can visit Aria Patisserie to purchase Christmas sugar cookies, gift boxes, and more.
Throughout the holiday season, the Aria Resort main lobby will be lit up 24 hours a day.
Go Ice Skating, A Fun Thing to Do for Christmas In Las Vegas
Ice skating is another way to have a good time over the holidays in Las Vegas. The Cosmopolitan is one of the numerous sites in the city where you can lace up your skates and hit the ice.
The hotel's famous Boulevard Pool has been replaced by an ice rink, which offers stunning views of the holiday-themed Vegas Strip.
Why not make a smores over an open fire pit and enjoy an adult beverage? If you wish to stay the night, The Cosmopolitan is a great option since it is one of the best Las Vegas hotels with balconies.
While Cosmopolitan's Ice Rink is the most popular. They have many Christmas activities among the festivities.
Ice skating rinks such as Holiday at The Park, Winter PARQ at LINQ Promenade, and Summerlin's Rock Rink are all similar Christmas events in Las Vegas.
Ethel M Chocolates Holiday Cactus Garden – Las Vegas Christmas
The Holiday Cactus Garden at Ethel M Chocolates is one of the most distinctively Las Vegas Christmas destinations. There may not be any snow, but there are millions of sparkling holiday lights and, of course, hot chocolate.
Enjoy the spectacle of 300 cactus and desert plant species adorned in dazzling, colorful hues as you travel through magnificent arches of color-changing lights.
Explore three acres of cacti and trees decorated with dozens of spectacular lighting displays and strings of red, yellow, green, blue, and white lights. Throughout the garden, you'll see bright reindeer, nutcrackers, elves, and Christmas trees.
This Las Vegas Christmas illumination spectacle is enjoyable for all ages, and Santa makes a nightly visit to the garden. That said, this could be a great activity for couples in Las Vegas. You may also combine your visit with a chocolate tasting for a romantic holiday date.
If the prospect of over half a million glittering Christmas lights draped over three acres of cactus seems appealing, you must pay a visit to the Chocolate Wonderland at Ethel M Chocolates Factory and Cactus Garden in Henderson, Nevada.
This is truly a unique and memorable holiday activity that you can do in Las Vegas.
Holiday Magic at The LINQ Promenade
The Flamingo Holiday Festival at the Wildlife Habitat is located next to the LINQ Promenade. The Flamingo Wildlife Habitat will transform visitors into a winter wonderland with spectacular pink and white decorations, glittering lights, and other fanciful ornamentation.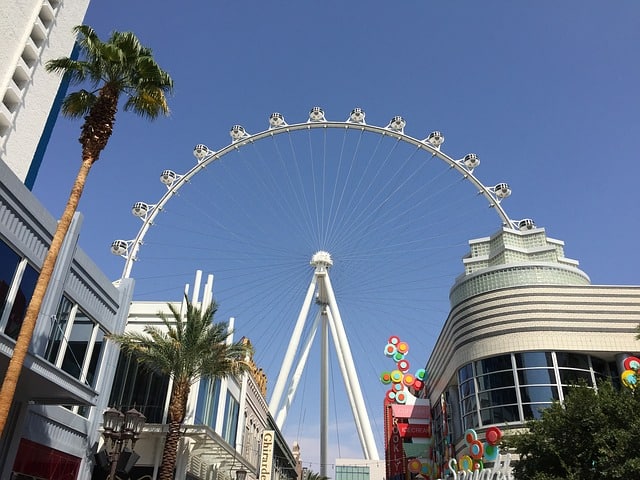 This holiday season, the LINQ Promenade and Flamingo Las Vegas will be turned into a winter paradise with decorations, holiday music, family fun, and a dazzling holiday light show on the High Roller.
You will also find The Las Vegas High Roller, which soars 55 stories above Sin City, is worth a look or a ride. Each pod is designed to transport up to 40 people at a time and is adorned with 1,500 LED lights and offers breathtaking overhead views of Las Vegas during the half-hour spin.
As you take in this lovely holiday location, a 30-foot-tall Christmas tree at The LINQ Promenade is the center of all the Christmas magic in Vegas.
Holiday Lights at The LINQ Las Vegas
This Christmas season, the LINQ Promenade will be transformed into a winter wonderland.
The entire city will be decked out for the holidays, including a holiday light show on the enormous High Roller observation wheel. The wheel will be illuminated with Christmas-colored lights matched to holiday music during the nightly show.
During the nightly "Lights at the LINQ" performance, the High Roller Observation Wheel will be illuminated with dazzling holiday-colored lights, with more than 2,000 LED lights timed to popular holiday music.
From 5:30 p.m. until 11:30 p.m., the show airs every hour on the half-hour through Dec. 28. Lights at The LINQ will resume regular nightly programming after the holiday season.
Throughout the open-air district, there will be socially distant events as well as unique retailers. There is also complimentary parking and discounted tickets for the High Roller Observation Wheel and the FLY LINQ Zipline.
The Nutcracker – Las Vegas Christmas shows
Prepare to be transported to a wonderful kingdom populated by sugar plum fairies, a nutcracker army, and the infamous Mouse King. Nevada Ballet Theatre's The Nutcracker is returning to Reynolds Hall inside The Smith Center for a limited run.
The Nutcracker play was first performed in Russia by the Kirov Ballet in 1816, based on E.T.A. Hoffman's 1816 book "The Nutcracker and the Mouse King."
The Nutcracker has become a holiday ritual for people all across the world. The captivating narrative of Clara, the Nutcracker, and the Mouse King has enchanted audiences for almost a century, accompanied by Tchaikovsky's music.
NBT's The Nutcracker is a wonderful voyage through a larger-than-life world filled with waltzing flowers, nimble fairies, and moonlit snow, choreographed by James Canfield.
As Clara and her handsome Prince journey from the warmth of her family home to a kingdom of toy soldiers, naughty rodents, and exotic visitors from faraway nations, glistening festive cheer abounds.
This is a cherished holiday tradition in Vegas and one that's been delighting fans and families for generations.
Festival of Lanterns at Cowabunga Bay
Come see the beauty and radiance of handcrafted Chinese lanterns that light up the nights at Cowabunga Bay in Henderson during the Festival of Lanterns.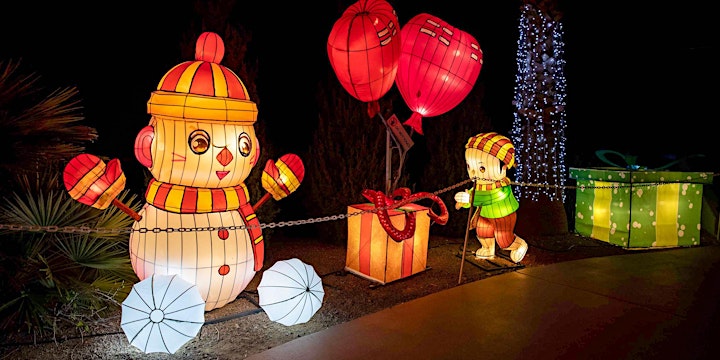 Experience a fantastic realm where skilled Artisans will bring magnificent masterpieces to life with their remarkable imagination.
A team of 25 artists began working on-site at Cowabunga Bay to create an array of luminous, colorful lanterns for the enchanting fantasy.
Imagine twinkle lights everywhere with laterns that light up and are painted in amazing scenes. There are really cool peacocks, pandas and an underwater world.
During the Festival of Lanterns, three unique events will introduce new tastes, views, entertainment, and adventures to the one-of-a-kind holiday festival.
Cowabunga Bay is great to visit for Christmas in Vegas but also one of the Best Waterparks in Las Vegas.
Glittering Lights at Las Vegas Motor Speedway
The drive-through Christmas lights at Las Vegas Motor Speedway are another fun family activity. The beautiful thing about this event is that since your stay in your car, this activity is available for everyone.
Christmas Lights that Glitter The Las Vegas Motor Speedway is a 2.5-mile racetrack with a total of five million LED lights.
Simply tune your radio to the appropriate station, and as you drive by, the colorful lights will dance to the festive music. You'll walk through tunnels, see light-up Christmas scenes, meet celebrities, and even see Hanukkah lights.
From mid-November to early January, the attraction is open daily, and you must purchase one ticket per vehicle. You can also purchase a ticket for the open-air tram, which will carry you through the exhibit.
Even though the Speedway is only 10 minutes from the Strip, it is a very popular activity, therefore making a reservation in advance is highly recommended.
Winter Wonderland at Fashion Show Las Vegas
At Fashion Show Las Vegas, an iconic shopping, dining, and entertainment destination on the Las Vegas Strip, you'll find over 250 stores, several dining options, and the greatest department stores.
Weekly New York-style catwalk displays with the hottest fashion designers, incorporating both live music and dancing, are part of the live entertainment. On the Las Vegas Strip, Fashion Show Las Vegas offers a one-of-a-kind shopping experience.
"Winter Wonderland," a beautiful complimentary holiday walkthrough experience that transfers guests from FSLV to an icy wonderland, will enchant you.
This holiday season, customers will be astonished as they are led by ice ambassadors through snow-white trees, breathtaking ice sculptures, and snow flurries, all building up to a massive snow globe show featuring a stunning real-life ballerina.
Bring the whole family and be surprised by a winter wonderland as you walk into a chamber filled with white trees, falling snow, ice sculptures, and the sounds and smells of winter.
Holidays at Resorts World Las Vegas
The Las Vegas Hilton at Resorts World is well situated on the northern end of the Strip, close to all the action. A magnificent hotel with a wide range of different cuisines to choose from, including traditional Cantonese cuisine at Genting Palace and American pub fare at Dawg House Saloon & Sportsbook.
There are also numerous Asian street food establishments to choose from. With such a convenient location, you may spend the day exploring the city and returning to your room to relax or simply enjoy the bright lights of The Strip from your suite's floor-to-ceiling windows, which provide a gorgeous backdrop.
The newest Vegas resort on the Strip, Resorts World Las Vegas, is the perfect place to spend the holidays. Enjoy holiday dining meals that are one-of-a-kind.
Take a stroll inside the store and admire the seasonal décor installations, which will make for great photo opportunities. The snow globe also features entertaining animations that bring the exhibit to life, such as falling snow on a mountainside cabin decorated out in Christmas lights.
Families are invited to take pictures with Santa and meet him while eating delicious treats including chocolate Christmas ornaments, Santa macarons, gingerbread cookies, and more.
Christmas at the Venetian Mystic Falls Winter Wonderland
When it comes to magnificent resorts, The Venetian is one of the best hotels on the Las Vegas Strip and home to one of the best Christmas decorations in the city.
Christmas at The Venetian is an incredible holiday experience and a great opportunity to establish a new Christmas tradition in Vegas.
To start, the resort's chefs have created a unique holiday menu featuring seasonal cuisine, desserts, and beverages. Reserve a table at The Venetian if you're not sure where to go for Christmas dinner in Las Vegas.
Also, don't miss the Waterfall Atrium at Palazzo Tower, which features a spectacular holiday display. You can also see a Christmas performance at the Palazzo Theater or end your holiday shopping at the Grand Canal Shoppes.
The Venetian Christmas Tree is perhaps what makes this the top hotel in Las Vegas for Christmas. It's one of the tallest in Vegas, standing 65 feet tall and lighting up the entire outdoor plaza.
The Ice Rink at The Cosmopolitan
The Ice Rink returns to The Cosmopolitan of Las Vegas' Boulevard Pool for the fifth year in a row, transforming it into a winter wonderland high above Las Vegas Boulevard.
The Cosmopolitan's Boulevard Pool is transformed into a skating rink during the season, making it an especially memorable experience. Every 30 minutes, a real snow shower will fall on the Ice Rink. Adults and children alike will love this winter spectacular, which includes everything you could desire for the perfect Christmas getaway.
Guests will enjoy skating on over 4,200 square feet of genuine ice, toasting s'mores over the fire pits, and warm beverages on Level 4 of the Boulevard Tower, which is located high above the Strip.
Wynn's Winter Wonderland
If you're spending Christmas in Vegas with your family or as a couple, don't miss Wynn's Winter Wonderland. In its Holiday Atrium Village, the hotel displays beautiful miniature Christmas homes and scenes every year.
The mini-village is based on the novel Gulliver's Travels and complements the resort's intricate decor beautifully. In Las Vegas, you can enjoy a sophisticated winter wonderland from the comfort of your own home!
Special events, such as holiday brunches, parties, and kid-friendly workshops with the hotel's pastry chefs, are also available. Wynn not only has one of the best spas in Vegas, but it also hosts a delectable Christmas dinner!
Holiday Experience at The Park
The Holiday Experience at The Park is another Christmas destination in Las Vegas. It's free to enter, so if you're in the area in December, don't miss this out!
From carolers and live performances to pop-up bars and restaurants, there is something for everyone here. Take the kids to see Santa Claus or have a sweet treat while admiring the holiday lighting displays. Every Friday, Saturday, and Sunday evening of the month, the event takes place.
There's also an ice rink and an 80-foot Silver Fir tree in the park. While not everything here is free, The Park is a great place to visit if you're searching for family-friendly Christmas activities in Las Vegas.
Enchant Christmas Village
Enchant is slated to arrive at the Las Vegas Ballpark this holiday season, bringing with it the world's largest Christmas Light Maze adventure.
This enchanting light maze will delight visitors of all ages, making it a must-see during the Christmas season.
An Ice-Skating Trail, a locally curated Christmas Market, a chance to meet Santa, and a world of Christmas wonder await you as you enter the custom-designed, 90,000 square foot light maze are all part of the Enchant adventure. As snow falls gently all around you, you will be transported to a living storybook of larger-than-life, beautiful light creations and delectable treats.
There's also an ice skating rink, a typical Christmas market, and nightly visits with Santa and Mrs. Claus at the site. It is, without a doubt, the most creative place in Vegas for Christmas!
Enchant Christmas Village is a site that will make you feel like you've stepped into another universe, yet it's only 25 minutes from the Strip. Millions of dazzling lights and magnificent art projects may be found throughout the maze.
Tournament of Kings Holiday Show
The audience is captivated by the medieval-themed tournament, which is based on King Arthur's tale of valor and treachery.
This famous dinner show in Las Vegas is sure to spark your appetite for adventure while providing a night of fun and excitement. After all, you're in Vegas, so eat, drink, and get rowdy.
Throughout the play, you'll find yourself rooting on your jousting knight and booing the other guys as you take in the dancing maidens, expert tumblers, wily magicians, pyrotechnics, and the performers' exceptional athletic abilities and horsemanship.
In a 900-seat theater-in-the-round arena inside the Excalibur Hotel & Casino, the classic jousting spectacle Tournament of Kings dinner show is performed.
Witness as real horses battle it out in a thrilling jousting match. The jousting dinner show's distinctive attraction is enhanced by feats of skill, special effects, and fireworks.
A delicious three-course meal is given during the performance in the spirit and tradition of the medieval period, which means you eat with your fingers and pound your fists on the table while rallying your monarch in a jousting competition.
Recent Posts