15 Day Trips from Salt Lake City, Utah – Places to visit near Salt Lake City
Utah Day Trips: Are you looking for the perfect day trips from Salt Lake City? There is something for everyone on the list of the top rated Utah day trips. You are sure to enjoy these Salt Lake City day trips.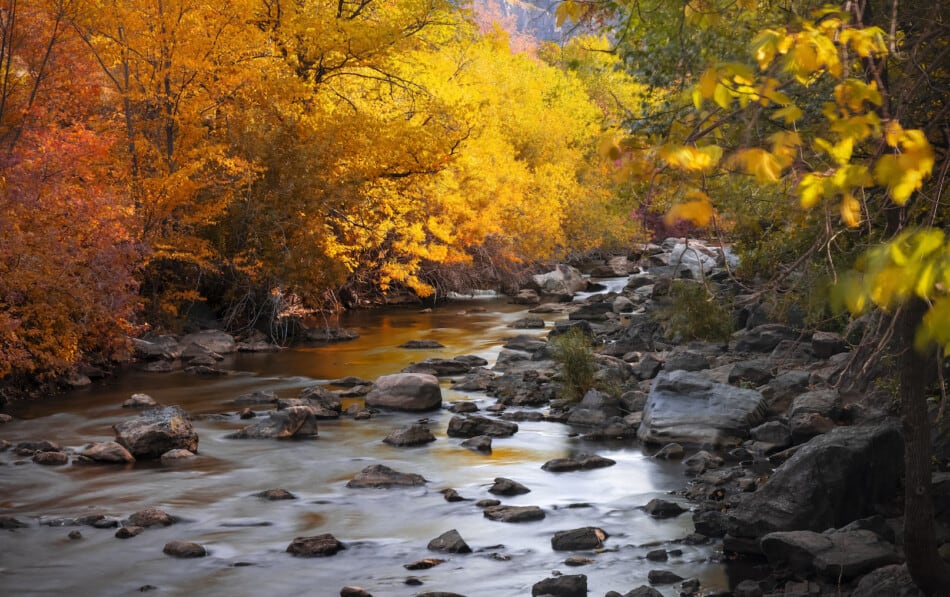 Whether you are looking for short trips from Salt Lake City or weekend trips from SLC, there is something for everyone on this list.
Thank you for supporting this website written by an American. This post may contain affiliate links. This means I earn a small commission on these links at no extra cost to you.
If you are looking to visit any of the National Parks in the Utah, I recommend buying a National Park Pass. The America the Beautiful Pass is valid for one year and costs $80. Plus 10% of sale proceeds go to the National Park Foundation.
15 Amazing Day Trips from Salt Lake City
Ensign Peak
Ensign Peak is a beautiful mountain peak located one mile north of the Utah State Capitol amid the mountain foothills that encircle Salt Lake City's skyline.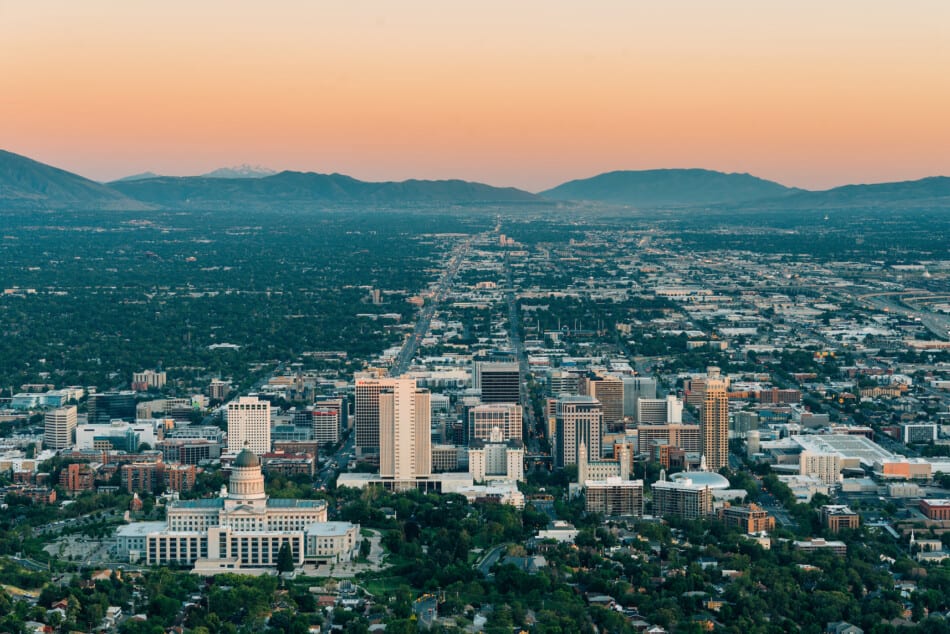 After a climb by numerous members of the Latter-Day Saints Church, Brigham Young named the summit in 1847.
Visitors can now visit the beautiful Ensign Peak Nature Park, which protects the precious sacred site mountain and its natural surroundings. The Park has a variety of hiking and biking routes, including ones that connect to the nearby Bonneville Shoreline Trail and the Stansbury Shoreline Preserve.
A small memorial recognizes the history of the LDS Church and its leaders at the summit of the peak.
Ogden
Ogden is a lovely city just half an hour south of Salt Lake City, and it is known as the region's first historic town during the pioneer era.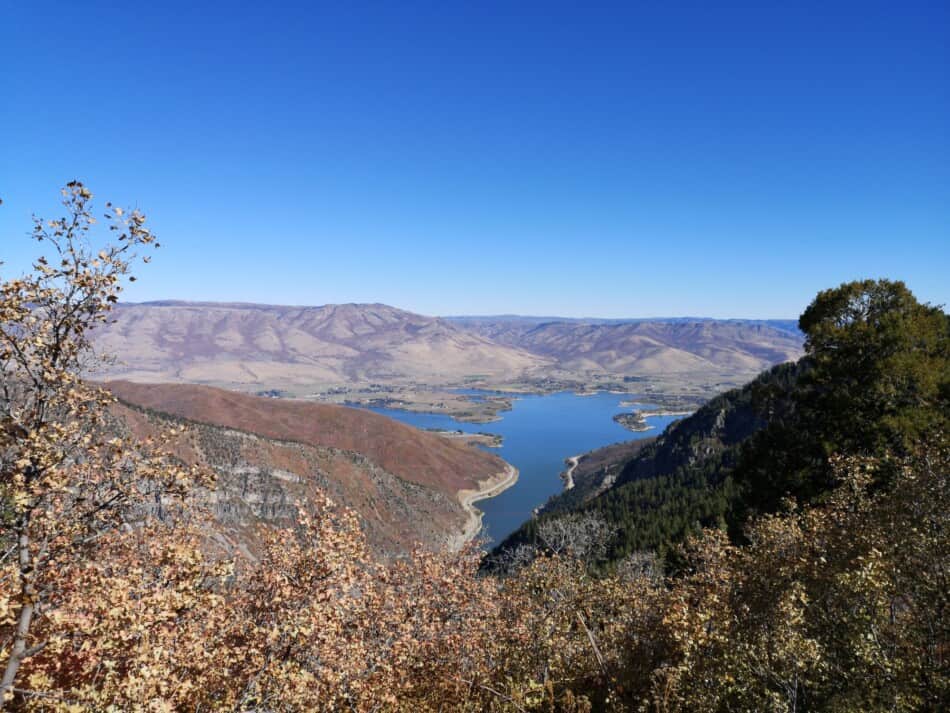 The city is today best known as the gateway to the picturesque Snowbasin, Nordic Valley, and Powder Mountain ski resorts, as well as for its vibrant nightlife, delectable gourmet dining, and high-end shopping. Visitors can stroll down the city's historic 25th Street, which was previously linked with speakeasies during Prohibition, and visit its beautiful art galleries, pubs, and restaurants.
The Utah State Railroad Museum, the John M. Browning Firearms Museum, and the Utah State Cowboy and Western Heritage Museum have all been renovated into a magnificent museum complex in historic Union Station. The interactive Treehouse Museum and the unique Eccles Dinosaur Park and Museum, which features a paleontology lab and life-sized dinosaur statues, are both family-friendly attractions.
In addition, Ogden transforms into a mountain biking and hiking paradise in the summer. It becomes a downhill skiing and snowmobiling destination in the winter. The Snowbasin, Powder Mountain, and Wolf Mountain resorts are all close to Ogden and worth visiting if you enjoy winter sports.
Sundance Mountain Resort
Sundance Mountain Resort is only 13 miles north of Provo and is a great day trip for individuals who enjoy nature and adventure.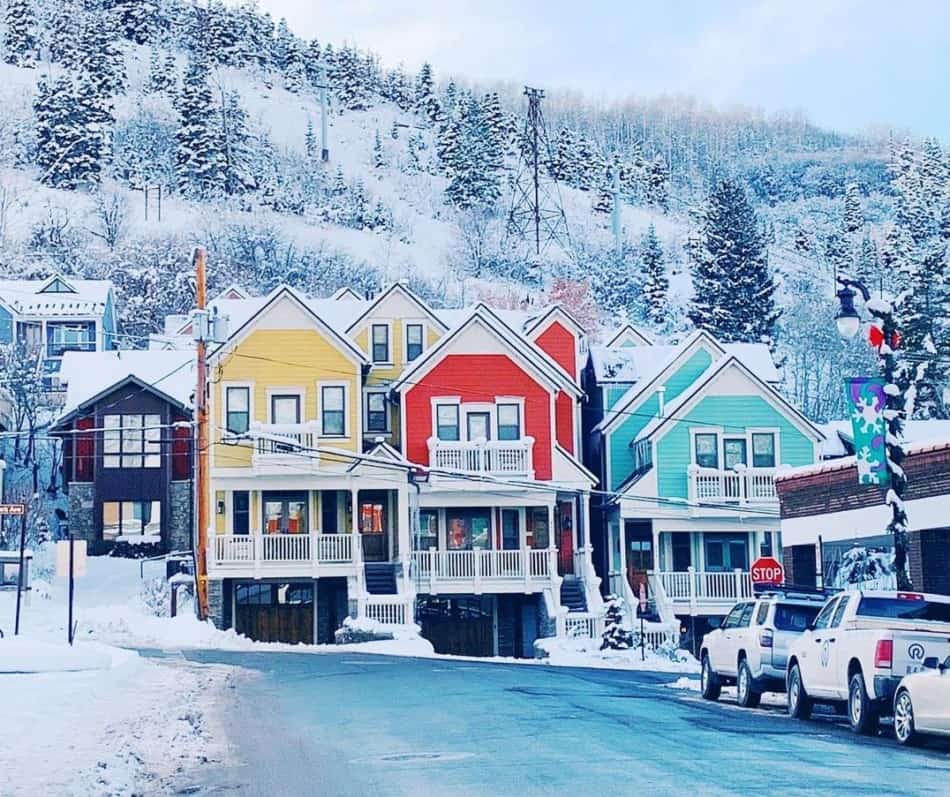 The Sundance Mountain Resort is home to the renowned annual Sundance Film Festival, which was created in 1979 by American actor Robert Redford as a three-day filmmaker's conference.
The Sundance Institute, which promotes independent filmmakers and engages the community with the arts and nature, now oversees the festival, which is regarded as America's premier independent film festival.
It takes place every January and receives over 9,000 submissions each year, screening 200 films throughout the festival and attracting over 50,000 visitors.
During the winter, Sundance Mountain Resort offers skiing, snowboarding, night skiing, cross-country skiing, and snowshoeing. On the Provo River, you can enjoy hiking, mountain biking, horseback riding, or fly fishing throughout the summer (you can do this year-round).
While visiting Sundance can be done in a day from Salt Lake City, you can make a weekend out of it! Cabins, lofts, and other types of accommodation are available.
Crystal Hot Springs
Crystal Hot Springs, the world's largest natural hot springs, is located in the charming village of Honeyville, approximately an hour and a half from Salt Lake City.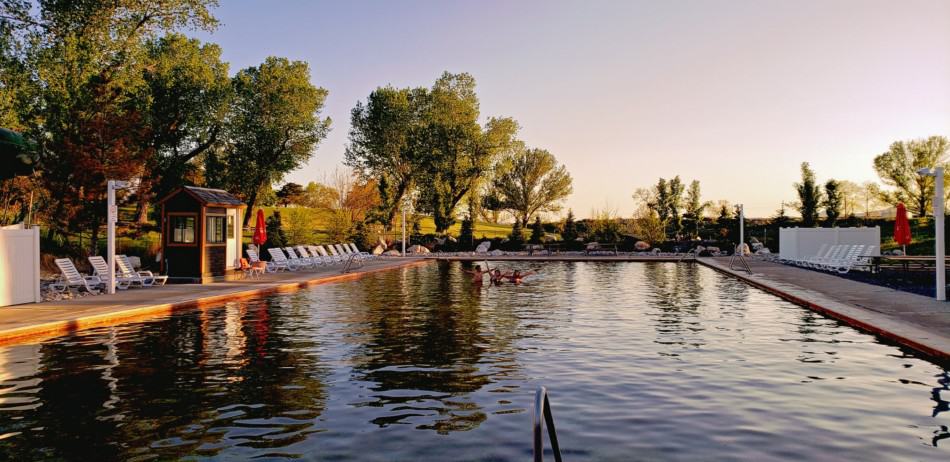 The Madsen Hot Springs was first opened to the public in 1901 as a tourist destination.
During World War II, the hot springs were a popular rehabilitation destination for injured soldiers, who came in droves to take advantage of the waters' purported therapeutic abilities.
Today, Crystal Hot Springs is a popular tourist site in Utah for families and vacationers, and there are numerous pools to relax in.
Visitors can enjoy three jetted hot tubs, a lap pool, an Olympic-sized swimming pool, and two 360-foot recreational water slides at the year-round facility.
The center's stone lodge also houses many sand volleyball courts, and changing rooms. A tree-lined campground with fire rings, restrooms, and a carp fishing pond offers more than 100 lovely campsites.
Hidden Falls
Hidden Falls is a Utah roadside sight that anyone driving through Big Cottonwood Canyon on a beautiful afternoon may see!
The waterfall is located just north of the Mill B North Fork Trail, which is accessible via a picturesque creek that can be spanned by a log bridge and is accessible from Cottonwood Heights via State Route 190.
The Falls are within walking distance of the parking lot, and a visit takes no more than 15 minutes, making it an ideal attraction to combine with something else in the area!
The hike to Hidden Falls is simple and suitable for people of all abilities. The trail is well-marked and easy to follow in Big Cottonwood Canyon. However, dogs are not permitted on the route or at Big Cottonwood.
Several vistas of the falls are available, showing its secluded cascades and providing excellent chances for wildlife photography. Due to the sheer low elevation fluctuations and easy-to-follow trails, the trip to the falls is perfect for families. It is a popular hiking spot all year, with beautiful ice-covered cliffs on display during the winter.
Eden
Eden is a small resort town set between Snowbasin, Powder Mountain, Wolf Mountain, and the Pineview Reservoir along the Ogden River in the gorgeous Ogden Valley. This is an adventure destination all year long!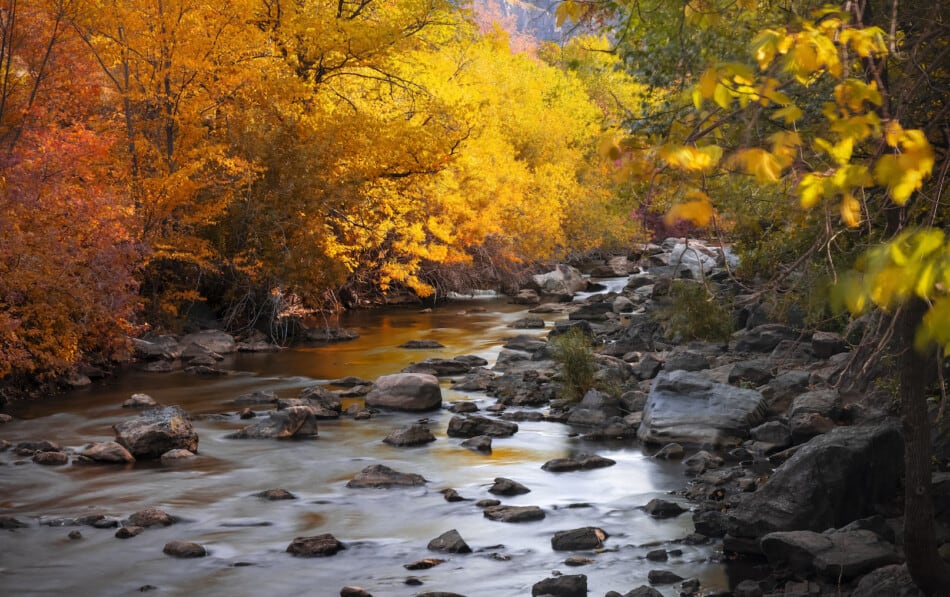 World-class cross-country and downhill skiing, as well as snowshoeing and snowboarding, are available. Mountain biking, hiking, paddle boarding, yoga, and other summer activities make Eden a popular destination for travelers.
Further, Powder Mountain Ski Resort and Wolf Creek Ski Resort (locals still call it "Nordic Valley Ski Resort") are both located in Eden.
Another reason to visit Eden on a Salt Lake City Day trip is that the historic downtown features attractive 19th-century structures built by the settlement's original 15 families.
Visitors can ride the Needles Express Gondola to an elevation of 8,800 feet above sea level and enjoy the attractions of the ski resort, which hosted the 2002 Winter Olympic Games in Salt Lake City.
After a day on the slopes, travelers can dine at the wonderful Needles Lodge, which offers breathtaking panoramic views. Throughout the summer, hot-air balloon rides are available to showcase the region's stunning mountain scenery.
Provo
Provo is around 45 minutes south of Salt Lake City and is a short and easy drive from the state capital of Utah.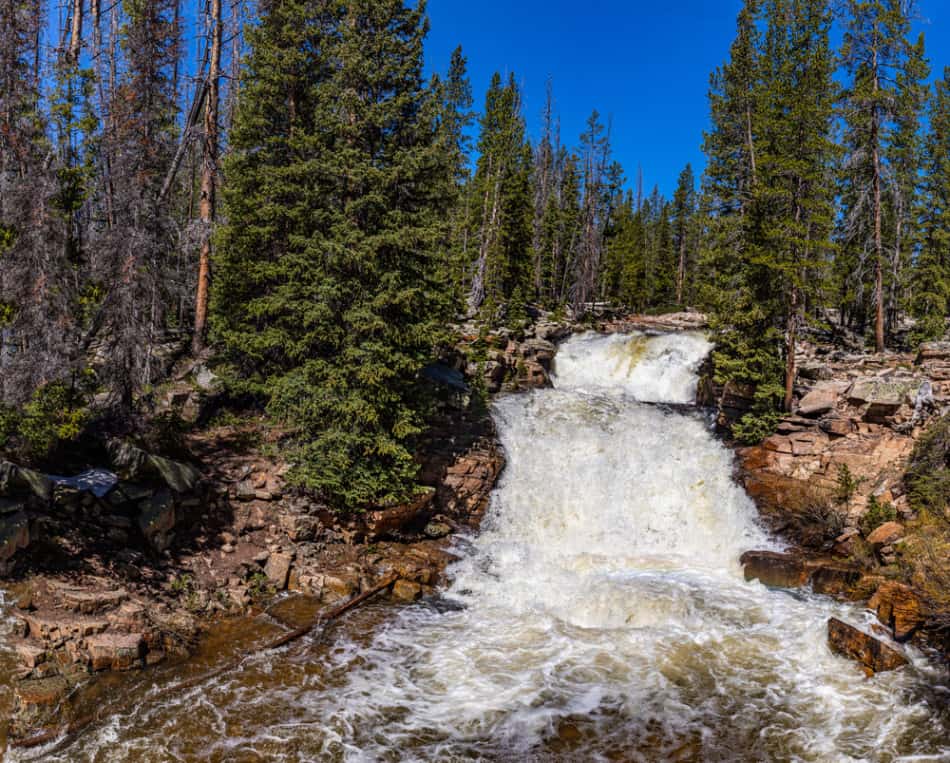 It is Utah's third-largest city, and the surrounding metro area is routinely ranked as one of the greatest places to live in the country.
One of the main reasons for visiting Provo is that it serves as a gateway to the rest of Utah's southern region, making it an excellent starting point for visiting various national parks and canyon country. It is bordered on the east by mountain peaks and on the west by a lake.
Throughout the year, the Covey Center for the Performing Arts hosts live theater and dance performances, while the Provo Utah Temple has important attractions and places of worship associated with the Latter-Day Saints Church.
The city hosts America's Freedom Festival and Independence Day celebrations every year, which attracts big names like Mandy Moore, Sean Hannity, and Taylor Hicks.
Check out my post on the Best Things to do in Provo, Utah for more to do.
Park City
Park City is a charming resort town located east of Salt Lake City that is best known for hosting the annual Sundance Film Festival.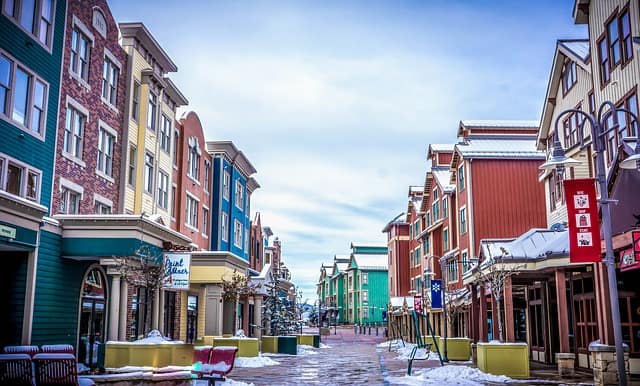 The city, which also held activities for the 2002 Salt Lake City Winter Olympics, was named one of America's prettiest towns.
The Park City Mountain and Deer Valley ski resorts offer excellent skiing and snowboarding possibilities for visitors. The largest ski resort in the United States is Park City Mountain.
The Park City Mountain and Deer Valley ski resorts offer excellent skiing and snowboarding possibilities for visitors. The largest ski resort in the United States is Park City Mountain.
Award-winning mountain bike tracks meander the region's mountain slopes during the summer months. Visitors can wander down Main Street, which features many preserved 19th-century structures from the city's mining town past or browse northern Utah's greatest collection of factory outlet stores.
During the winter, Park City transforms into a mountain skiing paradise, with world-famous resorts such as Deer Valley and Park City Mountain attracting skiers from all over the world.
While getting to Park City from Salt Lake City is simple, you might want to spend the night taking advantage of the luxury lodges, cabins, and condos available for rent.
Great Salt Lake
The Great Salt Lake is a body of water in northern Utah, just a short distance from Salt Lake City. The Great Salt Lake is the largest natural lake west of the Mississippi, and its name accurately represents its saltiness.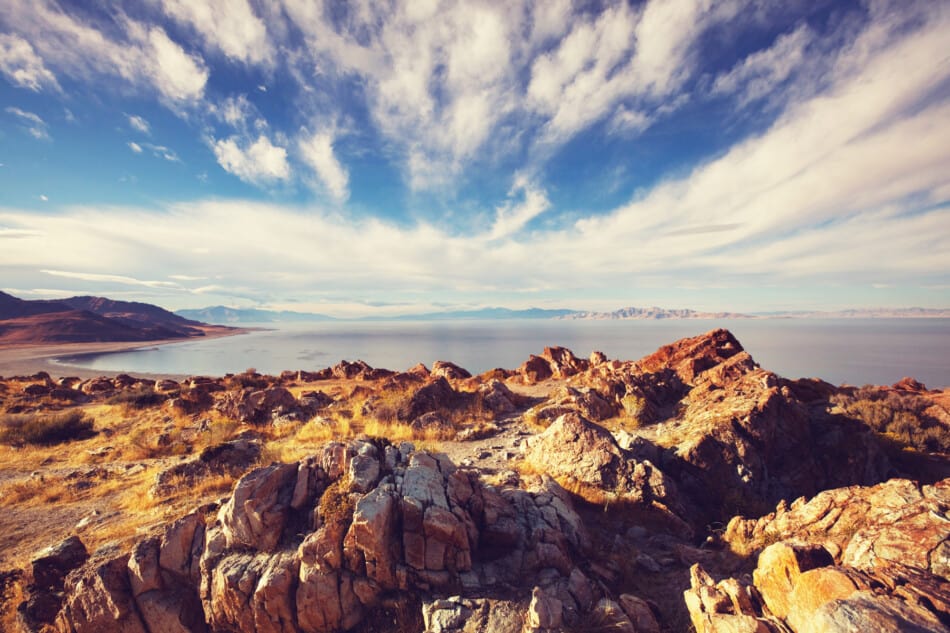 Because it has no outlet, the Great Salt Lake is extremely salty. Residents and guests can kayak, float, go birdwatching, hiking, and biking on the lake and its islands.
Although the lake is too salty for fish or other aquatic organisms to survive in, it is an important aspect of the local ecosystem since it is surrounded by huge marshes where brine flies and shrimp breed.
Goblin Valley State Park
Goblin Valley State Park in Utah is named for the park's unique hoodoo rock formations, which line the park's topography and reach heights of several meters at times.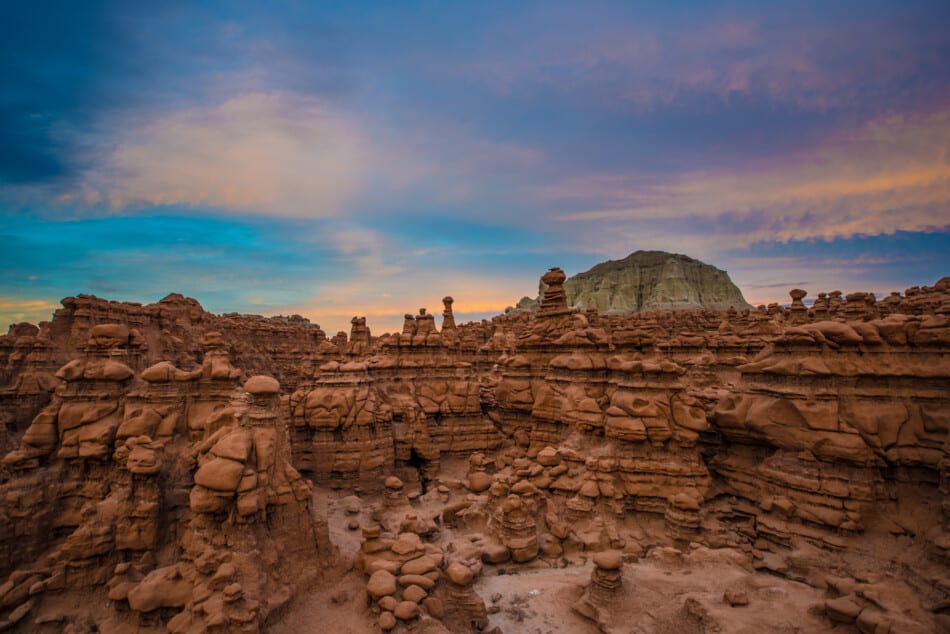 Locals refer to the park's distinctive rock features as "goblins," since they were formed by the erosion of soft sandstone coated in erosion-resistant rock strata.
They are some of the world's largest hoodoo formations, and indigenous and pioneer civilizations have valued them as major cultural sites for hundreds of years.
Throughout the year, visitors can explore the park's surreal scenery, which was featured as an interplanetary setting in the feature film Galaxy Quest. Picnicking, camping, and wildlife photography and videography are common activities at the park, which is also noted for being a popular hide-and-seek location for families.
Check out my post on Best Things to do in Goblin State Park.
Bear Lake
Bear Lake is a beautiful freshwater lake that stretches across the Idaho-Utah border and is renowned as the "Caribbean of the Rockies" because of its breathtaking blue waters, which are generated by the refraction of limestone deposits within the lake.
Outdoor sports enthusiasts flock to area tourist towns like Lake town and Garden City to enjoy the lake, which was once known as Black Bear Lake.
The mile-long Rendezvous Beach and the three-mile Cisco Beach in Bear Lake State Park both include boat ramps and marina areas.
During harvest season, the neighboring lake valley region is known across the West for its magnificent raspberry patches, making it a favorite picking site.
The annual Raspberry Days event is held in the lake region every year, including raspberry dish cookoffs, rodeos, parades, and a Miss Berry Princess contest.
The Bonneville Salt Flats
The Bonneville Salt Flats, located in Tooele County, is one of Utah's most unique geographical locations. The salt flats date from the Pleistocene-era Lake Bonneville, which formerly flooded much of the Great Basin.
The salt flats were left behind after the lake evaporated and receded, creating a distinctive environment that resembles a tundra scene.
Visitors can see the salt flat vista from I-80 near Wendover, which also provides access to walking around the flats.
Due to the flats' sensitive environmental circumstances, extreme caution should be exercised when exploring them. Due to their prominence as a motorcar racing venue throughout the year since 1914, the salt flats are also known as the "Bonneville Speedway." The flats hold five major speed events throughout the year, including the August events of Bonneville Speed Week.
Antelope Island State Park
Antelope Island State Park is the largest of the ten islands on the Great Salt Lake, with a total area of 42 square miles. It is a state park in Utah and is very protected.
Visitors can enjoy a marina, beach, campground, and numerous hiking trails at Antelope Island State Park, which is open all year. A swimming spot and picnic facilities are also available near Bridger Bay, on the island's northwestern point.
Hiking, horseback riding, and mountain biking are all available on the 25-mile backcountry trail system. The island's name comes from the presence of antelope in visiting areas.
Bison and coyotes are also frequent, particularly near the Fielding Garr Historic Ranch House, which is open to the public as a living history museum all year. There's also a visitor center, as well as a marina, public bathing beaches, and RV and basic campgrounds.
Other popular activities in Antelope Island State Park include visiting the old Fielding Garr Ranch, horseback riding, and taking several photographs.
Cedar City
Cedar City, the main city in Iron County, is just four hours from Salt Lake City, making it a fantastic weekend getaway location for culture and nature lovers.
The picturesque small town is regarded as the "Gateway to the National Parks," as it is conveniently positioned near Zion, Bryce Canyon, Capitol Reef, and the Grand Canyon's North Rim's fascinating activities and visitor attractions.
Cedar Breaks National Monument, which protects a beautiful national amphitheater, is less than half an hour away in the beautiful Dixie National Forest.
The Tony Award-winning Utah Shakespeare Festival, which takes place at Southern Utah University every summer and autumn, brings Shakespearean productions to the community. Every July and August, the Neil Simon Festival honors the great comedy playwright by performing three of his works.
Cove Fort
Every summer and autumn, the Tony Award-winning Utah Shakespeare Festival offers Shakespearean works to the community at Southern Utah University.
The Neil Simon Festival honors the great comic playwright by staging three of his works every July and August. A telegraph office, blacksmith shop, and Pony Express stop were all located there, making it a key communications hub.
The fort was donated back to the LDS Church in 1988 after being used privately throughout the twentieth century and is now open to the public as a visitor center and historic site.
Today, guided tours of the fort are available every day, highlighting its distinctive volcanic rock construction and design characteristics that have helped it stand the test of time. Its 12 rooms are all furnished in a period-appropriate style.
Recent Posts