17 Best Things to do in Provo, Utah – Hidden Gems
Provo, Utah Attractions: Are you looking for the best things to do in Provo, Utah? Provo is the third largest city in Utah and is located 45 miles from Salt Lake City. It's a beautiful area of the state and has some fun things to do there.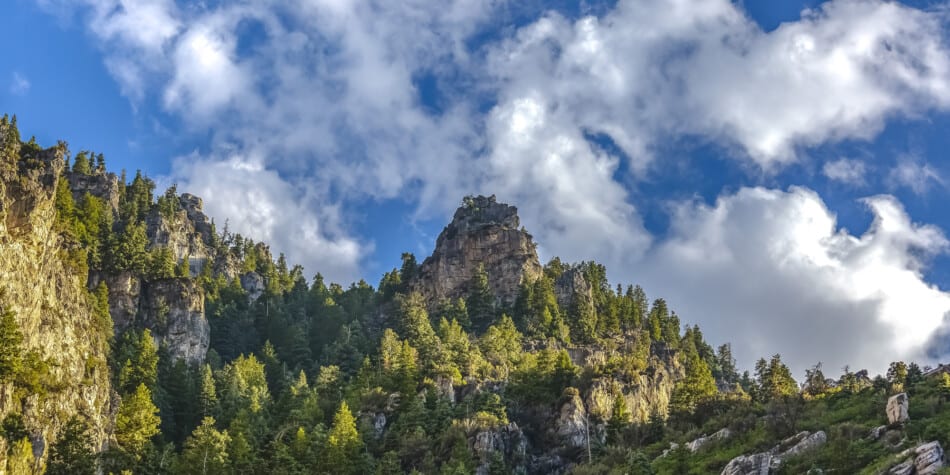 Provo is a great place to live and work and explore! It is famed for the Wasatch Mountain Range and the placid waters of Utah Lake. This list of fun things to do in Provo, UT has something for everyone.
I have included everything you could need in this post from the top things to do in Provo, to where to eat and even where to stay.
You can also check out my other posts on Utah:
21 Best Landmarks in Utah – You Won't Want to Miss!
15 Best Lakes in Utah to Enjoy This Summer and Cool Off
15 Best Small Towns in Utah – Charming Places to Visit
15 Best Beaches in Utah – to cool off this summer
101 Best Utah Quotes, Utah Puns, and Utah Captions for Instagram
17 Fun Things to do in Provo, Utah
Visit BYU
Come visit The Brigham Young University, a university famed for its excellence in language education.
Brigham Young University was founded in 1875 by religious leader Brigham Young, and it is sponsored by The Church of Jesus Christ of Latter-day Saints with multiple campuses found around the United States, with its main campus found in Provo, Utah.
You can take a tour of the facilities in Provo, and experience the diversity of this university's demographic, which the university offers 62 different language courses to choose from and learn. Take a gander at the BYU Cougars and watch their games play out in a state-of-the-art football field and sports center.
So if you are ever in town why not come down to the BYU where excellence meets you.
Bridal Veil Falls
See nature at its finest at the Bridal Veil Falls. Where art comes to life with its picturesque landscape and beautiful shallow pool.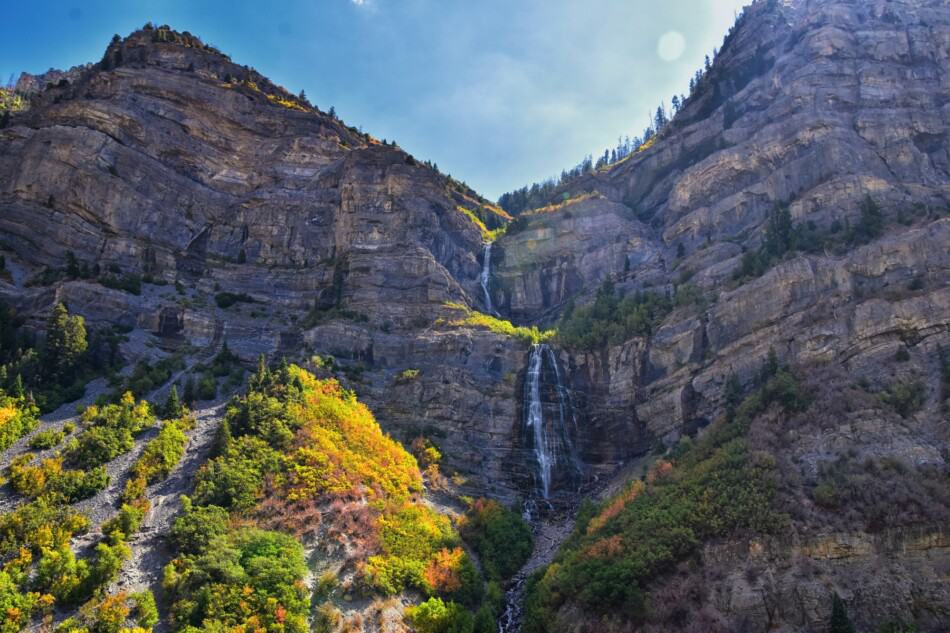 This natural waterfall is believed to be Mother Nature's gift and was touched by the wild beauty of Provo Canyon. It is believed that Mother Nature made a Bridal Veil of falling water in which the Bridal Veil Falls were born. But myths and legends are not the only things you get when visiting these majestic falls.
If that is not the trivia you enjoy, Bridal Veil Falls was also featured in the Movie Savannah Smiles (1982) featuring Mark Miller and Donovan Scott. Enjoy a refreshing dip in its clean and clear shallow pools made by the falls.
Watch as this picturesque landscape comes to life as time passes by, you can see the falls majestically change hues at dusk and at dawn. So what are you waiting for, come on down to the Bridal Veil Falls in Provo, Utah, and see nature at its finest.
Check out my post on 15 Best Waterfalls in Utah – Easy Water Hikes in Utah
Provo Canyon
Come visit Provo Canyon and experience this hidden gem. You can take a dip at the Bridal Veil Falls shallow pool, while enjoying the picturesque landscape that comes with it.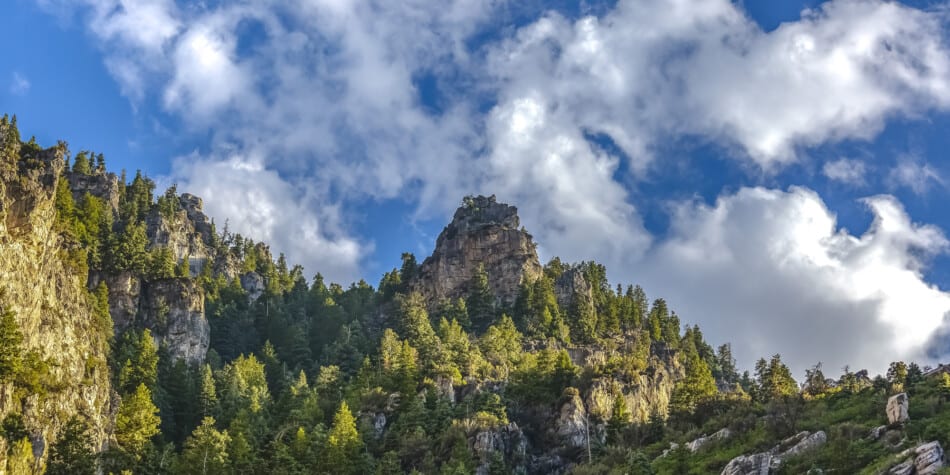 You can also visit the Sundance Mountain Resort, where you can enjoy the view while staying in the perpetual comfort of the resort. This area is known for its skiing so you can ski the slopes in the resort's ski area.
Another fun activity is to visit the Provo River and the Deer Creek Reservoir, this 2700-acre body of water is famed for its all-year-round activities, which include boating, swimming fishing, and ice fishing. This is a beautiful area to get close to nature and relax.
Check out my post on 21 Best Slot Canyons in Utah – Secret Slot Canyons
Museum of Art – BYU
For a bit of culture you can visit the Museum of Art at Brigham Young University. This museum is the university's primary art museum and is one of the most attended university-campus art museums in the United States.
This museum has been around for more than 28 years and is one of the most established and most attended campus museums in the United States.
The museum has hosted a variety of paintings, sculptures, and many more from a wide variety of artists, notably from renowned artists such as Carl Bloch, Maynard Dixon, Rembrandt, Norman Rockwell, and Minerva Teichert.
It has been known to host several traveling exhibits all across the United States, including one which coincided with the 2002 Winter Olympics at Salt Lake City. This is a great way to spend the afternoon.
Provo City Center Temple
See architecture at its finest at the Provo City Center Temple. This 85,000 square feet of land is home to the temple of The Church of Jesus Christ of Latter-day Saints.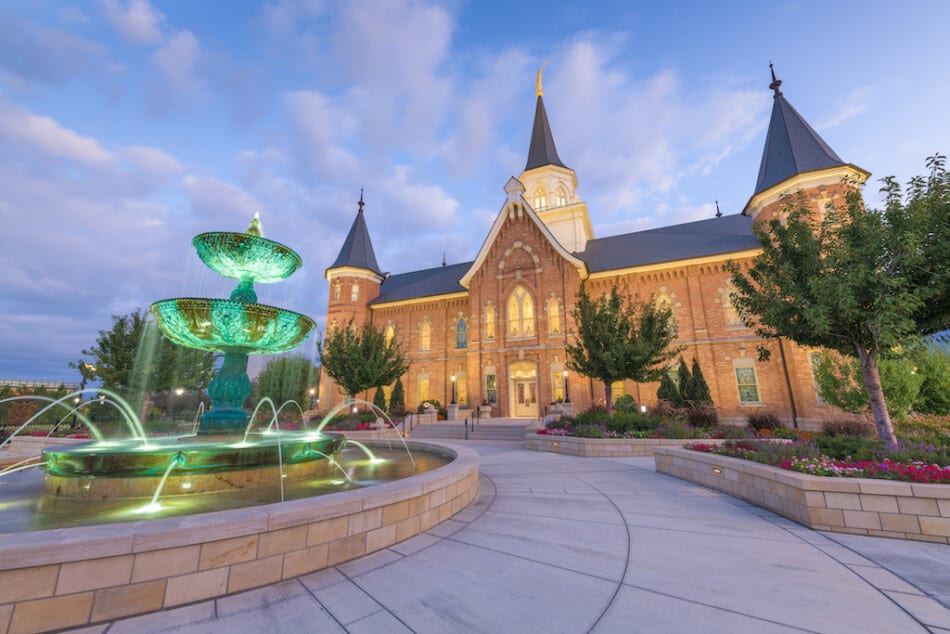 This piece of architecture was constructed in 2016 after the original building was burned down in December 2010. The site spans 5.6 acres of land right in the middle of Provo, Utah.
This temple boasts a beautiful display of architecture as it can host great hearings and events with its magnificent tabernacle. This temple will make sure you won't go back without the memory of this experience.
Provo Utah Temple
If you ever visit Brigham Young University why not drop by the Provo Utah Temple. The Provo Utah Temple is the 17th constructed and 15th operating temple of The Church of Jesus Christ of Latter-day Saints.
This 130,000 Square feet of history was created in 1911 as a part of the Brigham Young University Campus, on top of a hill in the campus.
The religious structure was created under the influence of and was inspired by the scriptures, namely a scripture in Exodus 13:21, which described the Lord going before the children of Israel by day as a cloud and by night as a pillar of fire.
The panels on the sides of the temple feature a Gothic arch motif, commonly used in religious architecture. Which makes for a beautiful tourist site for people who pass by Provo. So if you ever visit Brigham Young University, why not drop by the Provo Utah Temple, and a relic of history.
Museum of Paleontology – BYU
Temples and sports aren't the only things you can find at Brigham Young University.
For all the Dinosaur lovers out there, this museum is for you, come visit The Brigham Young University Museum of Paleontology home the various collections of Dr. James A. Jansen, who is known to have collected fossils from places around Utah, Colorado, Montana, and Wyoming.
The Museum was built in 1976 in which the exhibits were temporarily housed under the BYU football stadium. Now the exhibits are housed in 5,000 square feet of concrete and steel, where all the fossils and bones have been preserved and are ready to be viewed by the general populace.
Provo River Parkway Trail
Provo River Parkway trail follows the river that flows through the city from Utah Lake. This 15-mile long river is home to the finest trail systems anywhere, which also grows and improves every day.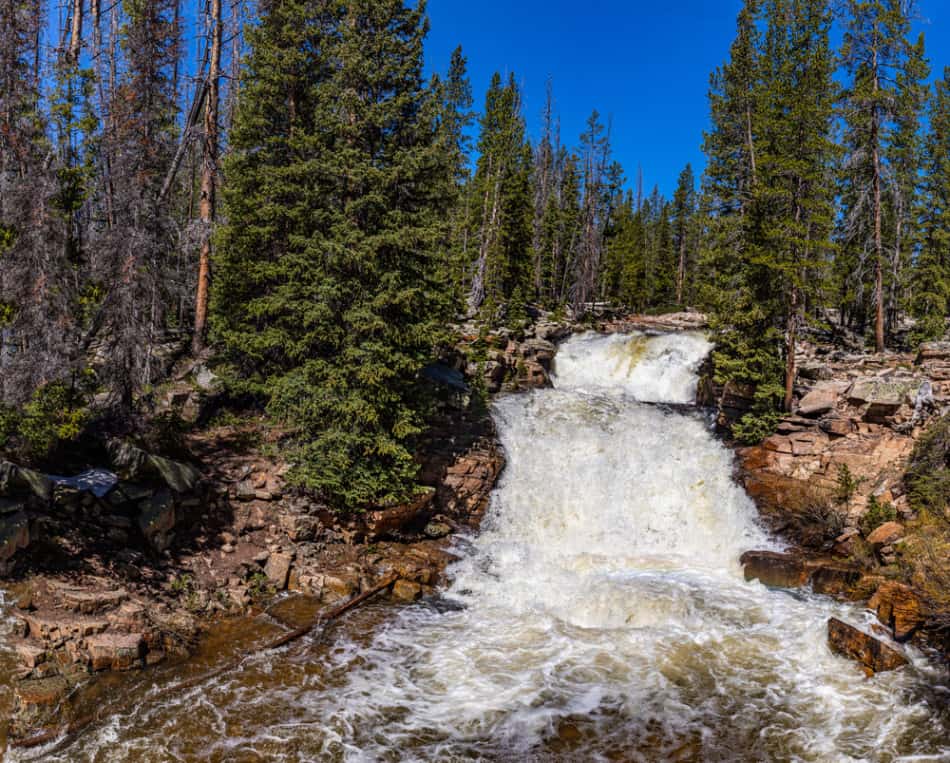 You can take a quiet stroll down the Parkway trail along the river while you take in the ambiance of the city and the clean crisp air that this natural river has to offer and have a nice view of the sights from Wildwood Park.
You can try biking and hiking through the lush greenery and ambient atmosphere, the best that Utah has to offer. So why wait come to take a gander at the Provo River Parkway trail, and let the river flow through you.
The Y Mountain Trail
Take a grand look at a beautiful mountain view of Utah from the Y mountain trail. This six mile stretch of land is known for its beautiful wildflowers and its hiking trail. Though not especially easy for beginners at hiking the view is to die for.
The Y mountain trail has a symbolic history to the Brigham Young University. In 1906, a group of young Brigham Young high school juniors snuck onto the mountain to leave their mark not knowing that this will become the cornerstone to being a legendary moment for all colleges everywhere. With bags of quick lime, these juniors created the largest collegiate symbol in the entire United States which to this day is being visited by tourists all over.
But hiking isn't the only thing you can do at the Y mountain trail, there are other activities that you may do at this mountain trail such as skiing snowshoeing, and many more. This is a great activity to do when you visit BYU.
Check out my post on Best Hikes in Utah: 21 Epic Hikes to Add to your Bucket List
South Fork Park
Take a breather and get away from the bustling city life and come enjoy a calm relaxing walk through South Fork Park. The South Fork Park is Provo City's most used and favorite park.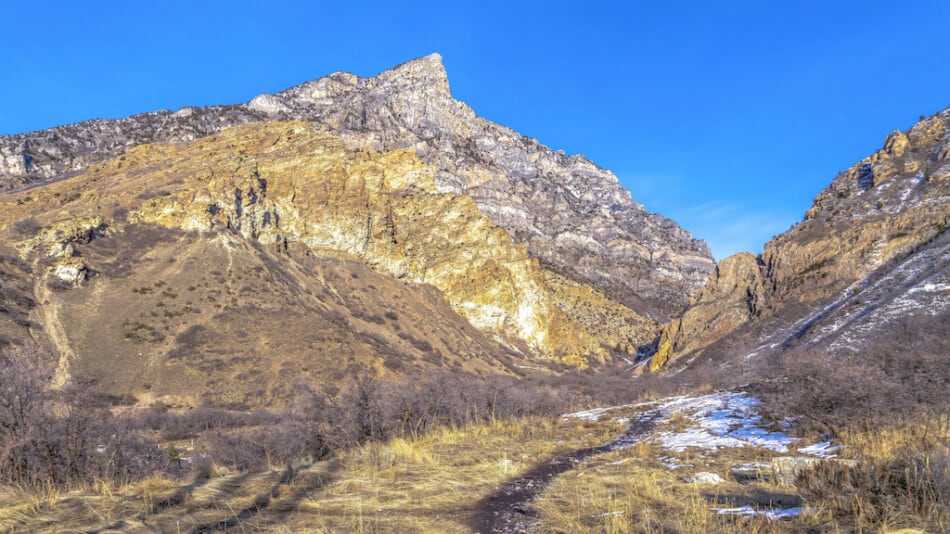 The park is nestled up in Provo Canyon and it has access to the great western trail. This park also has the South Fork creek run through the middle of it proving a cool and steady stream of mountain water, which adds to the ambiance of the park.
There are also function areas and fire pits available to guests who want to kick back and enjoy the company of others while gathering around the fire while they smoke hot dogs and make smores in the starry night sky.
So what are you waiting for take a break from the city and get into your comfy shoes while you enjoy life with your friends down at the South Fork Park.
Utah Lake State Park
Take a dip and dive right into the fresh atmosphere that the Utah Lake State Park provides, the Utah lake is known as the largest freshwater lake found in Utah.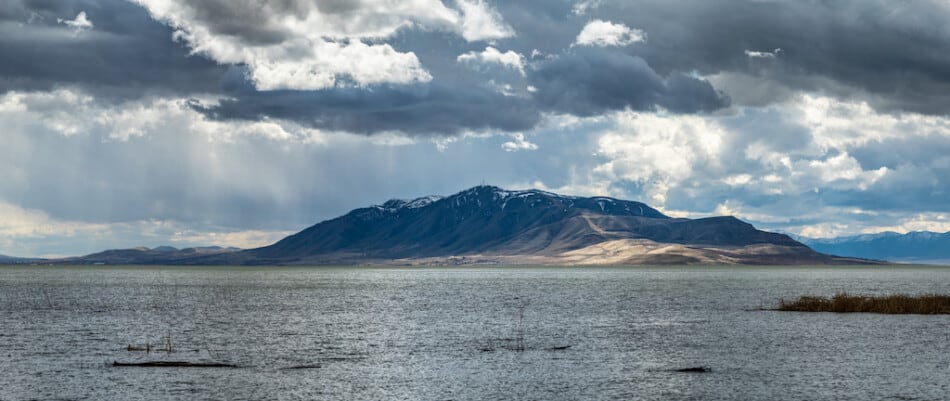 Utah Lake is unusual in that it is one of the largest freshwater lakes in the West, despite the fact that it is located in a desert region with barely 15 inches of rainfall per year. For the early residents of Utah Valley, the mouth of the Provo River, where it empties into Utah Lake, was surely a popular camping spot.
Bicentennial Park – Free
Why go to the mall when you can enjoy the great outdoors at the Bicentennial Park here in Provo, Utah.
This park goes back in the 1970s where it was constructed and was sponsored by the Rotary Club, whose purpose is to provide service and goodwill to communities and fellow businessmen in honor of peace and understanding.
As such the park was created for the sole purpose of the enjoyment of the general public which makes it one of the best spots to go and kick back and relax when you want to rest.
You can enjoy a variety of recreational activities at the park such as Golfing, Barbecues, Disc Golf, and even a stroll through the boardwalk. You can even take in the fresh air through the garden trail of the park with its lush greenery and fantastic walkways.
Provo Historic Library
If you are looking for a bit of piece and quiet then why not try the Provo Historic Library. This public library was established back in 1905 and to this day has been the home to almost 285,000 books and media in circulation available to all.
This library is stacked with books and it is also rich in history as this library used to house the Brigham Young Academy, which was one of the largest school buildings in the western Rocky Mountain region.
This building could house more than 1000 students at the time, which after countless years of use the building was set to be decommissioned and were to sold as real estate, the Provo residents supported the preservation of this historic site which has survived the wear and tear of time.
And through multiple donations and fundraisers, the historic site was preserved and renovated for new use, in which the Provo Historic Library was born. Which now houses the largest collection of books in the western region. So if you aren't a fan of loud and crowded places, why not try the Provo Historic Library, a place steeped in history and the community.   
Timpanogos Cave
Timpanogos Cave is located in American Fork Canyon, along Utah's heavily settled Wasatch Front and it is well-known for its colorfully decorated caverns. Near the entrance to the cave, you will see tiny fossilized shells and coral embedded in the desert limestone cliff.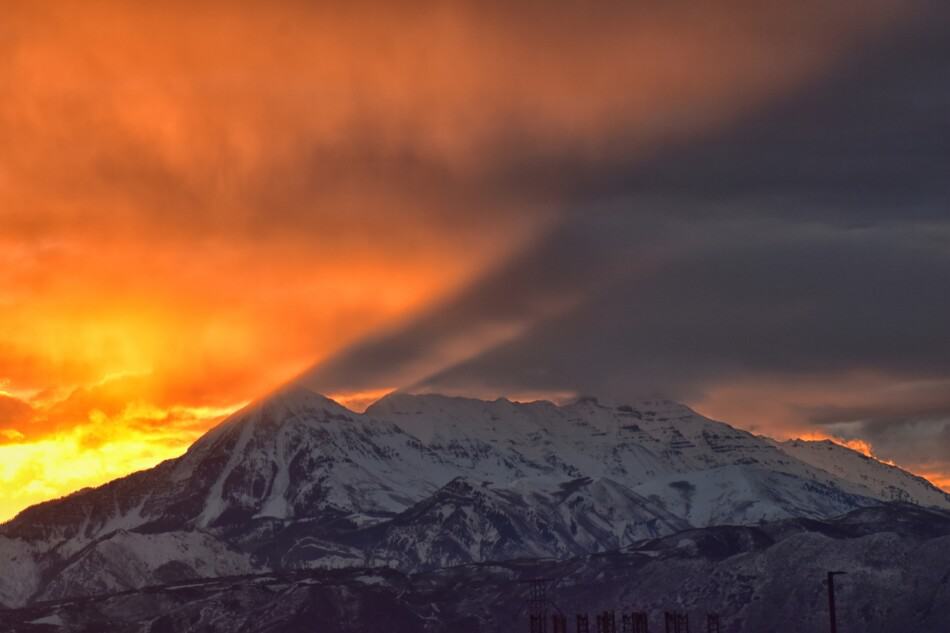 To reach Timpanogos Cave, you must hike up at least a 1.5 mile steep long trail. However, hiking must be done through a guided tour and tour groups are limited to 20 people only. Usually, tours are offered from mid May through mid October.
The tour includes seeing the unique colors and formations of the cavern as well as helictites, stalactites, stalagmites, and calcite crusts that will surely amaze your eyes. 
Check out my post on the Coolest Caves in Utah to Explore!
Looking for somewhere to eat in Provo?
Why not try one of the following places while you are out and about.
Tru Religion – It elevates diner-style breakfast, and its decadent brunch is what makes it one of Utah County's top restaurants. Tru Religion's biscuits and crepes are some of the restaurant's highlights, and their fresh-squeezed orange juice is one of the most delicious elements of the meal.
Kitchen 88 – Kitchen 88 is Utah County's only quick casual crowd-pleaser that does cuisine as well as it does. Their menu is fantastic, with a large variety of filling and delectable sandwiches, salads, and entrees. Kitchen 88 is known for its steaks, which have a gorgeous sear and are always tender.
Where to stay in Provo, Utah
Provo makes for a great weekend escape. Fresh air, beautiful scenery and being in nature does a world of good for the soul. I recommend staying in a resort and treating yourself with a spa pool to relax at night.
I stayed at the Best Western Plus. This is one of the best Hotels and it has amazing amenities and is close to everything. Plus its reasonably priced.
If you are taking a road trip remember to reserve a car in advance using Discover Cars .
Tips for Renting a car for your road trip
It's awfully hard to get to Provo without a car. The closest airport is Salt Lake City and you can use  Discover Cars to rent a car for your travels. You'll be able to pick up a car at any airport or in your hometown.
Check availability and get a quote for a rental car for your trip here.
Don't Forget About Travel Insurance!
Before you leave for your trip make sure you have a valid Travel Insurance Policy because accidents happen on the road. I have used World Nomads when I travel since 2015 when I went to Africa and I love them.
Getting coverage is important as you never know what will happen and need assistance when you are more than a hundred miles from home in case of an accident, sickness, theft, etc.
Get a travel insurance quote for your trip here.
Recent Posts