Dog Friendly Hotels Vegas: Las Vegas is a city that welcomes dogs with open arms. There are plenty of dog-friendly hotels in the area, so you don't have to leave your furry friend behind.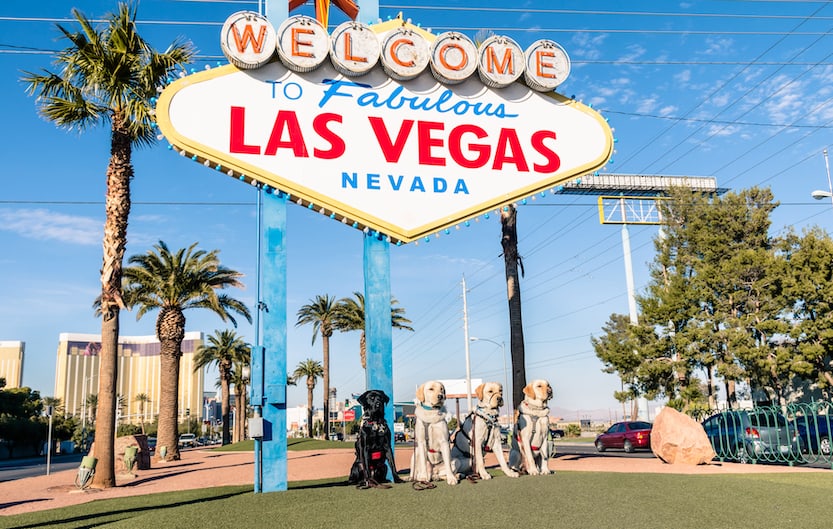 These dog friendly hotels in las vegas offer a range of amenities, from dog beds to dog walking services. Some even have dog parks on site.
So if you're planning a trip to Vegas and want to bring your dog along, rest assured that there are plenty of options available to you. And check out my post on dog parks in Vegas.
Thank you for supporting this website written by an American. This post may contain affiliate links. This means I earn a small commission on these links at no extra cost to you.
17 Best Dog Friendly Hotels in Vegas
Four Seasons Hotel Las Vegas – pet friendly hotels in Las Vegas
In the heart of the Strip, the Four Seasons Hotel Las Vegas (part of the Mandalay Bay Resort) is a magnificent haven free of casinos.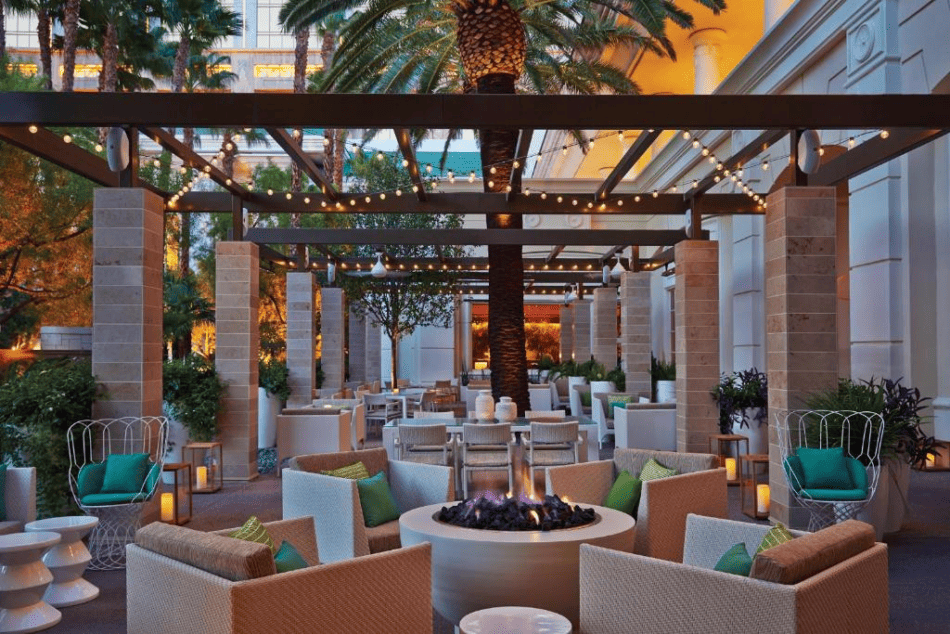 The Four Seasons welcome dogs and cats that weigh up to 25 pounds. There is a daily cost of $75 for each pet. A pet bed and bowls are provided upon check-in, and a special pet room service menu is available. If you need to leave your dog or cat alone and want them to have some company, the hotel even provides pet-sitting services.
You receive the personalized treatment you would expect from Four Seasons, along with opulent accommodations.
The hotel offers a private pool, and the rooms and suites enjoy lovely views of the city or the Strip. You can also use the sizable Mandalay Bay pool complex, which also has a beach and a small water park.
Delano Las Vegas
The Delano welcomes pet owners to bring their animals along, unlike some pet-friendly hotels in Las Vegas that only allow dogs.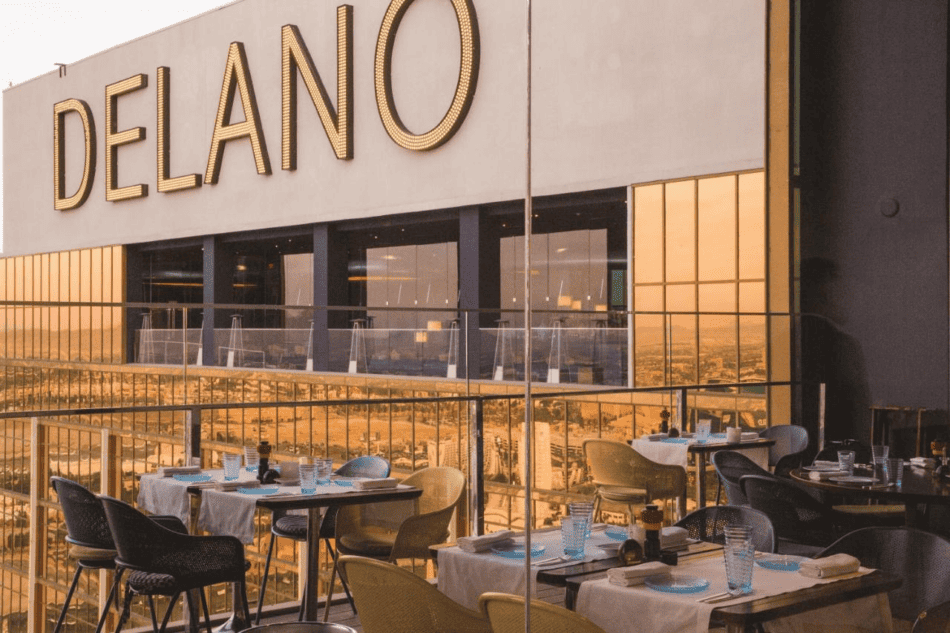 Dogs are not just accepted and loved at this all-suite, upscale, non-smoking hotel. The Delano is a boutique luxury hotel with excellent features and accommodations that are specially made for dogs.
The maximum combined weight of the two house-trained dogs allowed at the hotel is less than 100 pounds (single big dogs are welcome). Dogs cannot be kept alone in guest rooms unless they are in a kennel or box for a fee of $85 per dog each day.
Dogs are permitted on leashes in public areas but not in the dining rooms, spa, or pool areas. The concierge offers pet-sitting services, which can range from a quick check-in in the room to a thorough walk, feeding, and brushing.
Near the entrance for valet parking, the hotel has an outdoor pet relief and play area. Although it is actual grass, it is not fenced in, so leashed dogs are not permitted. On arrival, a doggy amenity kit with nibbles and treats is provided, and a unique doggy room service menu with wholesome choices is also available.
La Quinta Inn and Suites Las Vegas
La Quinta is a great choice for travelers on a tight budget who want to experience the best of Vegas without having to shell out a lot of money.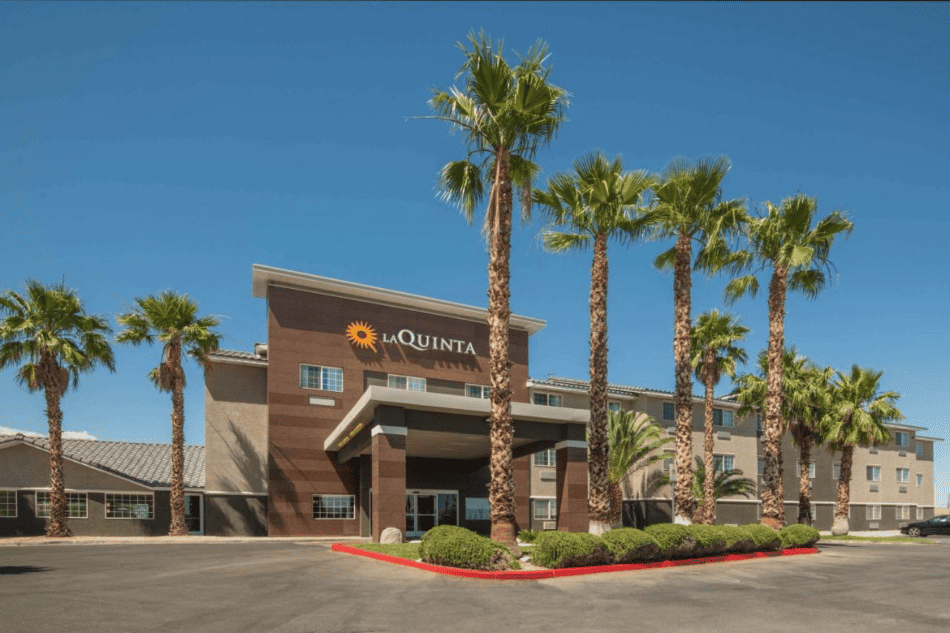 La Quinta Inn & Suites by Wyndham is a pet-friendly low-cost Las Vegas hotel close to the airport that offers a lot for its low price if you're prepared to stay away from the Strip, which is only a 10-minute drive away.
There is no weight restriction on the number of dogs or cats that may stay in a room (up to two total). Special pet-friendly accommodations are available at the hotel, but they must be arranged in advance. The cost is $20 per night, with a cap of $40 per booking.
The hotel doesn't have a lot of green space or shaded areas for dog walking if you're visiting in the summer.
Bellagio Las Vegas Hotels dog friendly
The Bellagio is the original five-star hotel in Las Vegas and welcomes dogs. One dog up to 40 pounds or two dogs with a combined weight of 40 pounds may accompany you.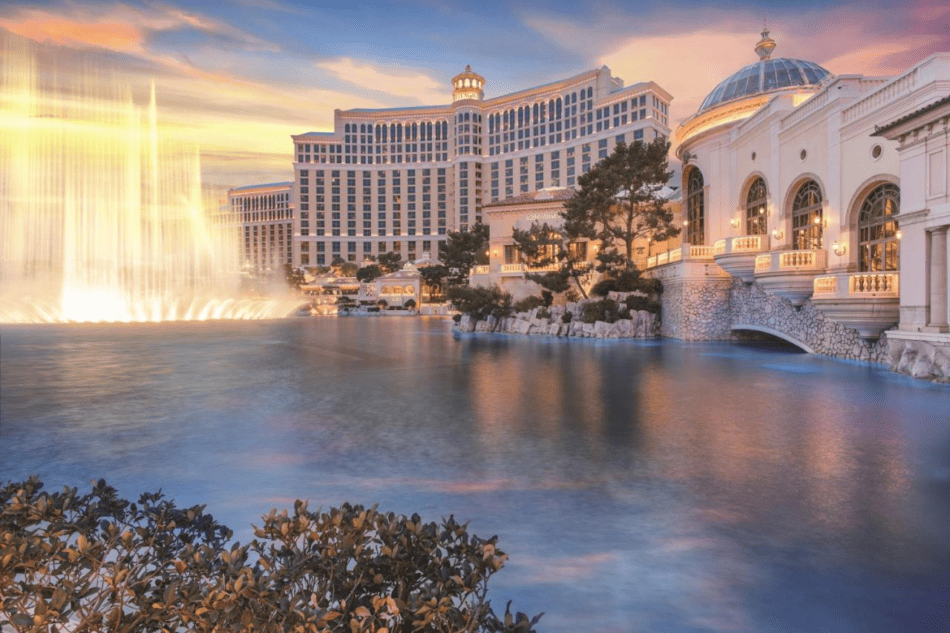 Dogs are subject to a $125 fee and cannot be left alone in guest rooms.
There are various outdoor pet relief locations. There is a place next to the hotel's north valet entrance if you stay in the Bellagio Tower. The dog park at the Vdara resort next door is closer if you stay in the Spa Tower. Some of the guest rooms require a distance, which can be stressful for some animals, but you can request a room near the elevators or in the spa when you check-in.
Vdara Hotel and Spa at ARIA Las Vegas
Check out the Vdara Hotel and Spa if you're seeking slightly less expensive pet-friendly lodgings in Las Vegas.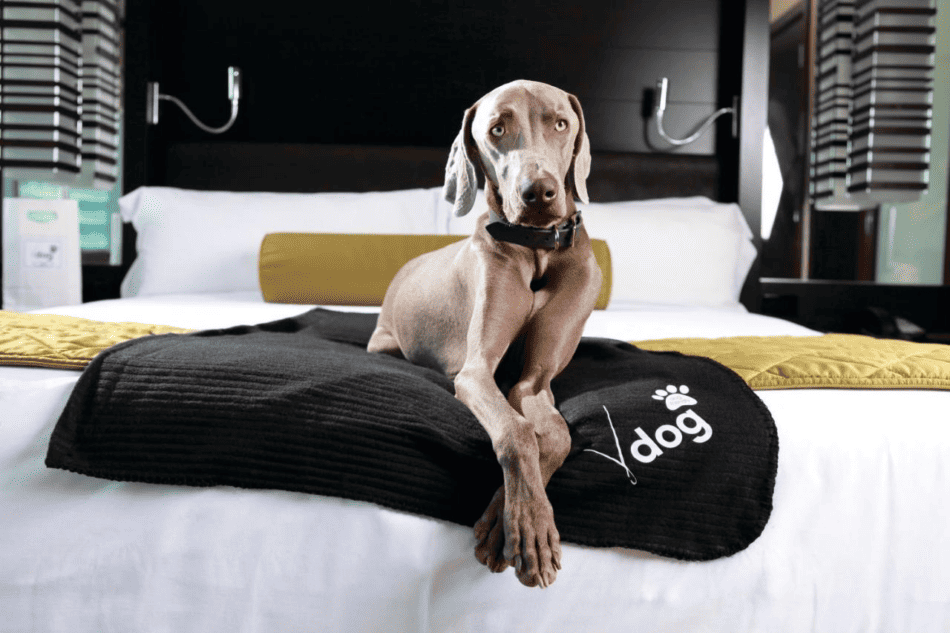 This non-smoking Las Vegas hotel welcomes animals so much that it even has a 24-hour dog park (the only hotel in Vegas with one).
The absence of games makes the all-suite hotel a peaceful setting. Additionally, the location is a little bit off the Strip, which contributes to the atmosphere's more laid-back vibe. It is a component of the CityCenter complex, a sizable retail and entertainment hub with dining options, theaters, and other activities.
Special Vdog suites are available at the Vdara, but reservations are required. You may bring one dog that weighs up to 70 pounds or up to two dogs that weigh a combined 70 pounds. Each dog is charged $100 per night ($125 per night in deluxe suites). Arrival amenity bags with treats and bowls are given to dog guests.
For dogs, there is a unique in-room menu, and kennels are available upon request. You have access to the Vdara dog park, which has a walking route and is available every day of the week.
Serene Vegas
Off the Strip, practically directly across the street from the Hard Rock Hotel, is this affordable hotel that welcomes dogs. The rooms are roomy and more like condos.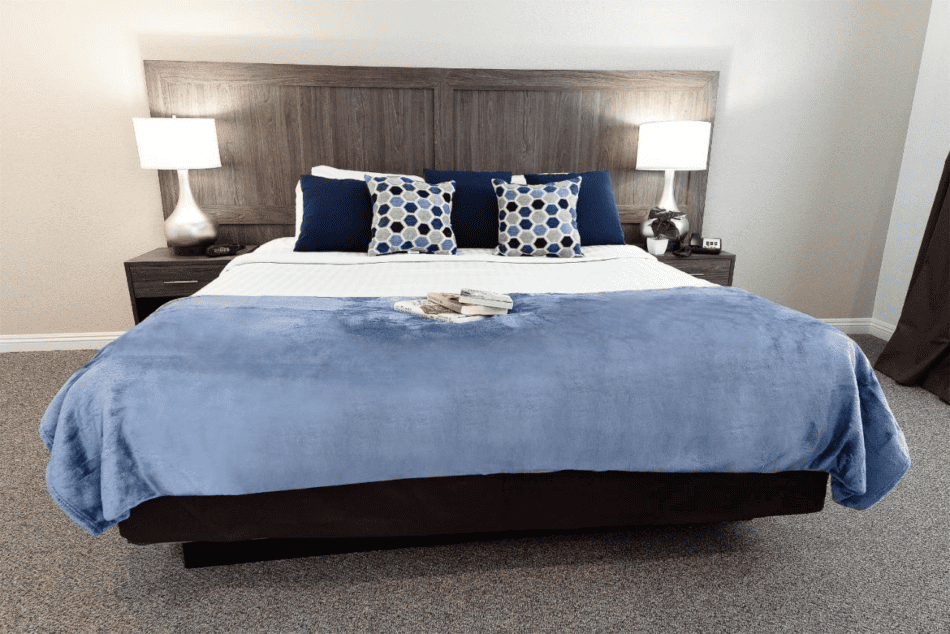 The rooms and suites are arranged around a sizable, central courtyard with two enormous pools and a hot tub that is inspired by the desert.
Both inside the courtyard area and in front of the hotel, there is a lot of lush grass and an open room for dogs to play. A dog run area is also enclosed and located in the courtyard. At Serene Vegas, one dog up to 25 pounds is welcome. There is a $50 housekeeping deposit in addition to a $25 daily fee.
The Mirage – pet friendly hotels in Vegas
Dogs are welcome at this pet friendly hotels in Vegas called the Mirage. Only a few of the hotel's rooms are designated as dog-friendly, and they must be specially booked before travel. There are only a few of those rooms available, and after they're gone, pets are not allowed.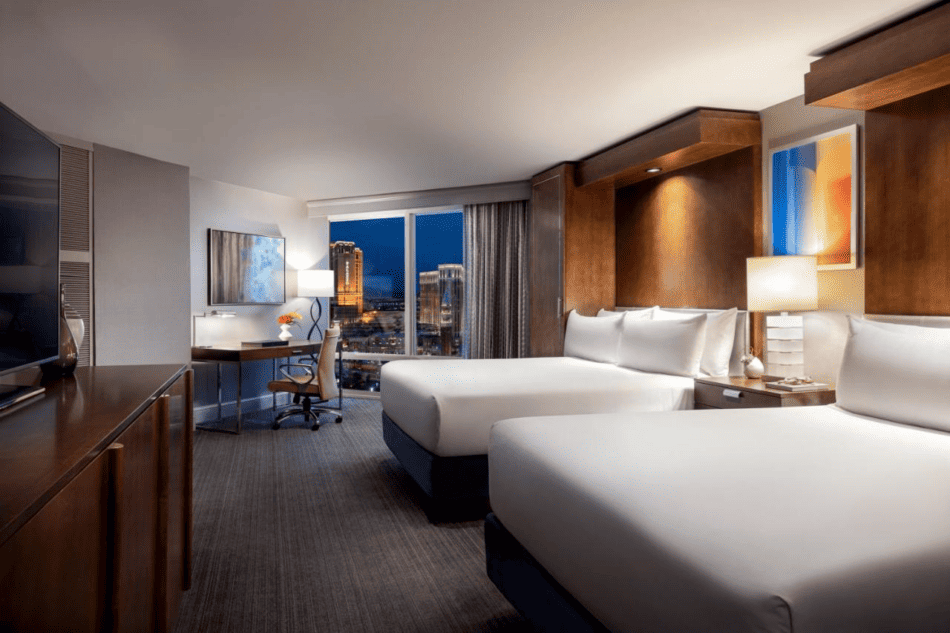 The Mirage allows two dogs with a combined weight of 40 pounds per room or suite. Each dog is charged $125 per night. Dogs left unattended must be confined.
If you're incredibly rich, you might want to consider renting one of the hotel's beautiful villas for the height of canine luxury. These are little mini-mansions with a yard and pool of their own. Additionally, a butler is provided who can order specialty dog food from the room service menu.
Platinum Hotel and Spa – pet friendly hotels Las Vegas
One block from the Strip, this elegant, non-smoking, non-gaming hotel is another one. The smallest suite at the all-suite hotel is 900 square feet. All of the rooms include sizable walk-out balconies.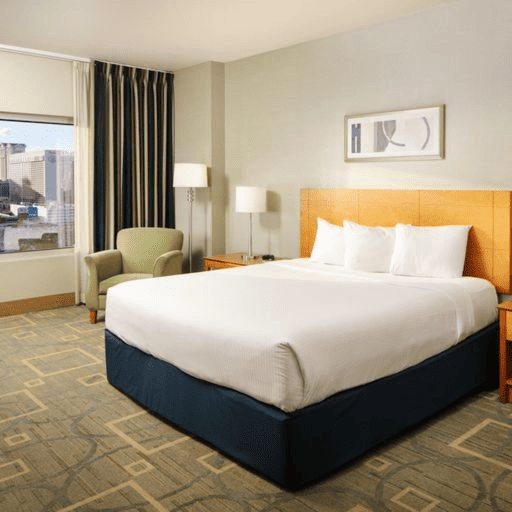 The hotel has a year-round outdoor pool, a unique Vegas indoor pool, and a large spa.
Dogs under 40 pounds are allowed at the hotel for a $100 per-stay fee. There is a small grassy area behind the hotel as well as an outdoor rest area close to the valet parking entry at the front of the property.
For visitors traveling with pets, waste bags, treats, a toy, and dog bowls are included during check-in.

Caesars Palace – pet friendly Las Vegas Hotels
Given that Caesars Palace is one of the most well-known luxury hotels on the Strip, chances are good that you've heard of it. You may book a room at any of the Caesars Entertainment Resorts with confidence because they are all pet-friendly.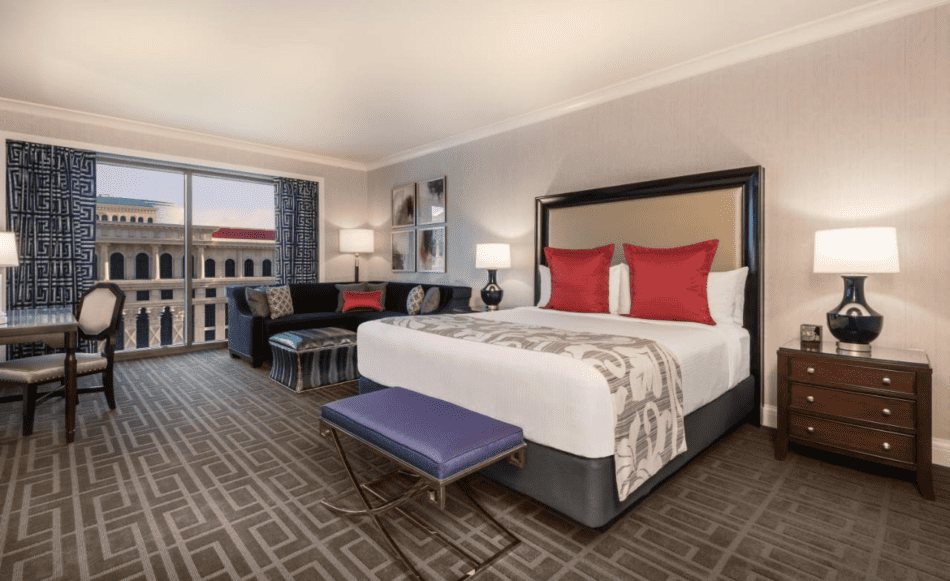 PetStay rooms are available at Caesars Palace and the other eight Caesars Entertainment Las Vegas casinos. All of the hotels offer in-room food mats, urine pads, and dog dishes as part of their services. There is at least one outdoor pet relief area at each hotel. Not all accommodations are dog-friendly, and reservations for PetStay rooms are required. When making a reservation over the phone or online, you can choose a PetStay room
Pets must be crated when you leave the room and be present at check-in. Additionally, they must be in crates when housekeeping is being done, which might be scheduled for a particular time each day. For a fee, dog kennels can be leased.
There can be up to two dogs per room, and they must weigh no more than 50 pounds. There isn't a set extra fee; however, the PetStay accommodations cost more than standard hotels (often $25 to $100 more each night). Furthermore, the hotels will want a $100 damage deposit.
Golden Nugget Hotel
This big, inexpensive vacation hotel in the city is just off Fremont Street. It contains roughly 2,400 rooms distributed among four different towers, ten restaurants, and two enormous swimming pools.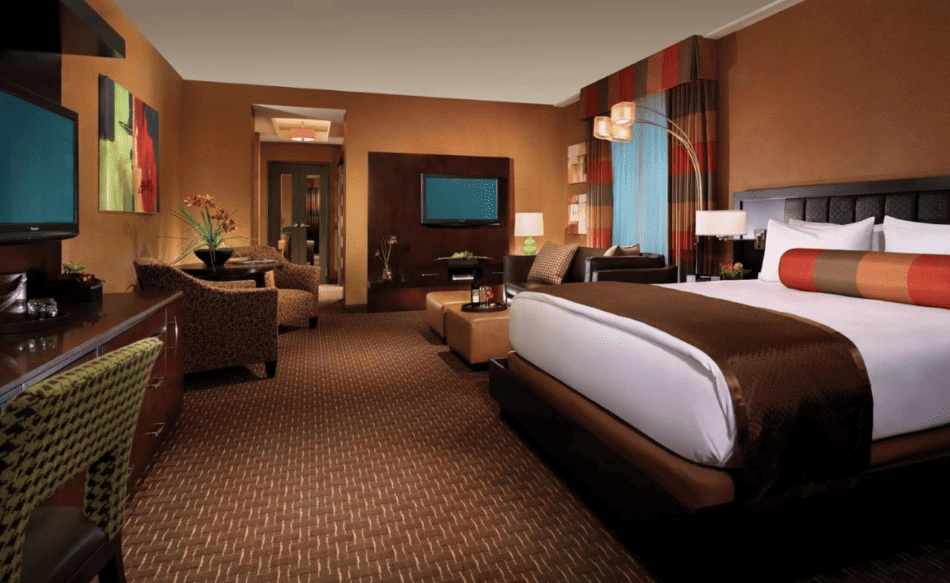 Although the Fremont Street Experience entertainment district is directly in front of the hotel, dogs are not permitted there.
There are only a few dog-friendly rooms available at The Golden Nugget, and they must be reserved in advance (no cats). One large dog or two little dogs, each under 35 pounds, are accepted (up to 50 pounds). The price is $60 per dog each day, with a $100 additional refundable cleaning charge that is required by the hotel.
Two outdoor pet relief and play areas are available to you; one is outside the Rush Tower and the other is outside the Carson Tower, next to the self-parking areas.
NoMad Las Vegas
NoMad Las Vegas is a chic, European-inspired hotel that welcomes dogs and is located inside the Park MGM.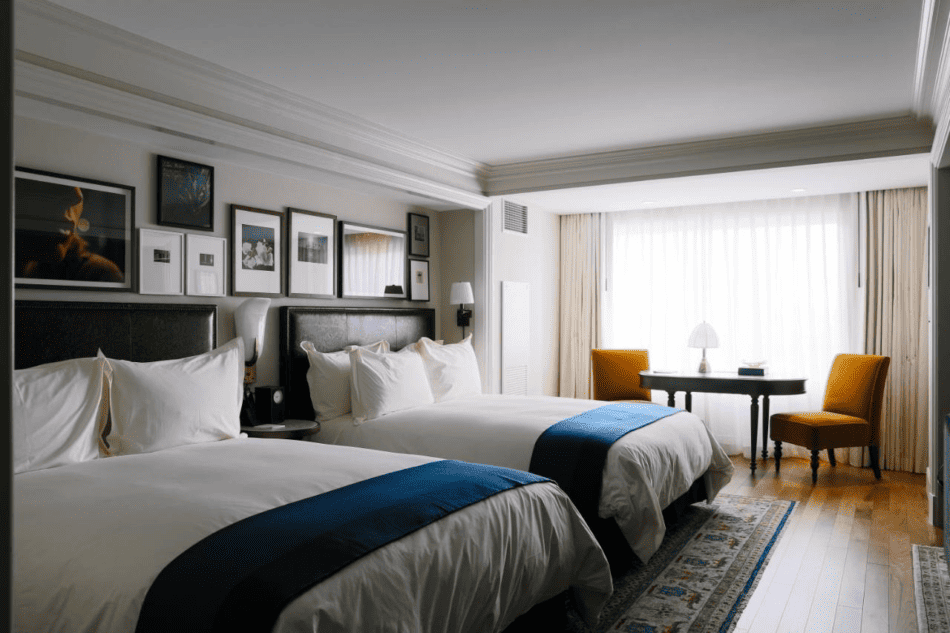 The maximum combined weight of the two dogs allowed by the hotel is 100 pounds. Dogs can play in the authorized outdoor dog park, but you shouldn't leave them unsupervised in your room unless they're in a kennel or carrier.
Smoking is completely prohibited throughout the resort, including the nearby Park MGM, where guests have access to all of its attractions.
Choose from classy, stylish rooms or suites, some with views of the Strip. Additionally, the improved two-bedroom apartments have pool tables.
There are also several on-site dining options, including an upscale restaurant positioned within a multi-story library housing around 25,000 books from David Rockefeller's collection. Other resort amenities include a swimming pool, fitness center, and spa at the Park MGM.
The Cosmopolitan of Las Vegas
The Cosmopolitan of Las Vegas is yet another great option for pet-friendly accommodations in Las Vegas. Up to two dogs of any size may stay with guests at this lovely hotel for a fee of $50 (plus tax) each night.
Be aware of this before leaving because you will need to show proof that your pets are up-to-date on their vaccinations.
There is much to do here with your dog in tow or without thanks to some amazing pubs, an exceptionally stunning lobby, and even a nightclub!
This is a great option if you're seeking the best hotels in Las Vegas that allow pets. Some of the rooms at the Cosmopolitan have pretty sizable balconies, which may be great for your dog as well.
Best Western Plus Las Vegas West
Stratosphere Tower and Golden Nugget Casino are both within a 15-minute drive of Best Western Plus Las Vegas West.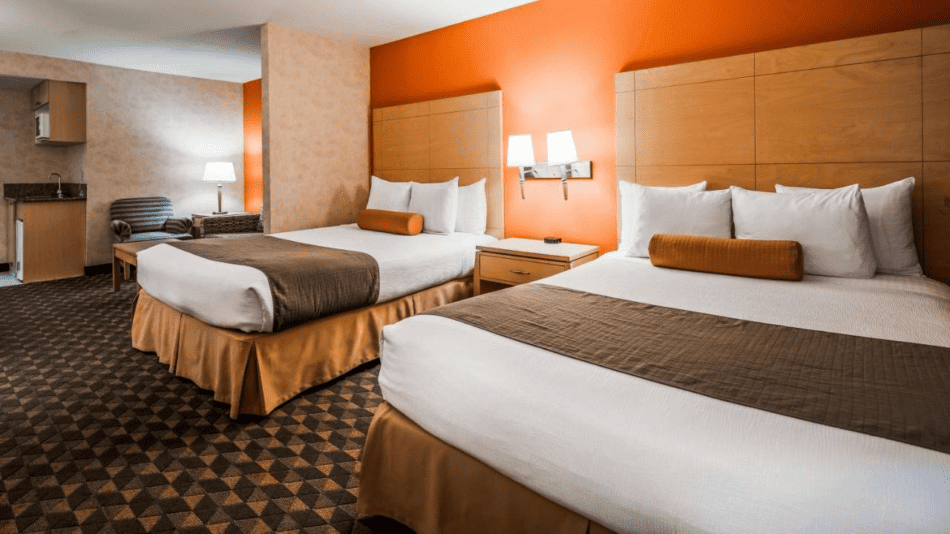 The indoor pool is available for guests to use, and the spa tub is a great way to unwind at the end of the day. There is a fitness center that is open 24/7, as well as refrigerators and microwaves in the rooms. Travelers like the friendly personnel and convenient parking.
Two pets up to 80 pounds are allowed at Best Western Plus Las Vegas West for an extra $10 per pet, per night. At the hotel's discretion, additional pet breeds (cats, birds, etc.) may be permitted. The daily pet cost is $10.00, with a weekly cap of $100.
Pet-friendly guests have all been given Standard King or Standard 2 Queen accommodations. Cats and dogs are welcome; however, they must not be left unattended in the room.
Residence Inn by Marriott Las Vegas Convention Center
The Cosmopolitan Casino and Las Vegas Convention Center are both within a 10-minute drive of the Residence Inn by Marriott Las Vegas Hughes Center, which is only 2.4 miles (3.8 kilometers) from the airport.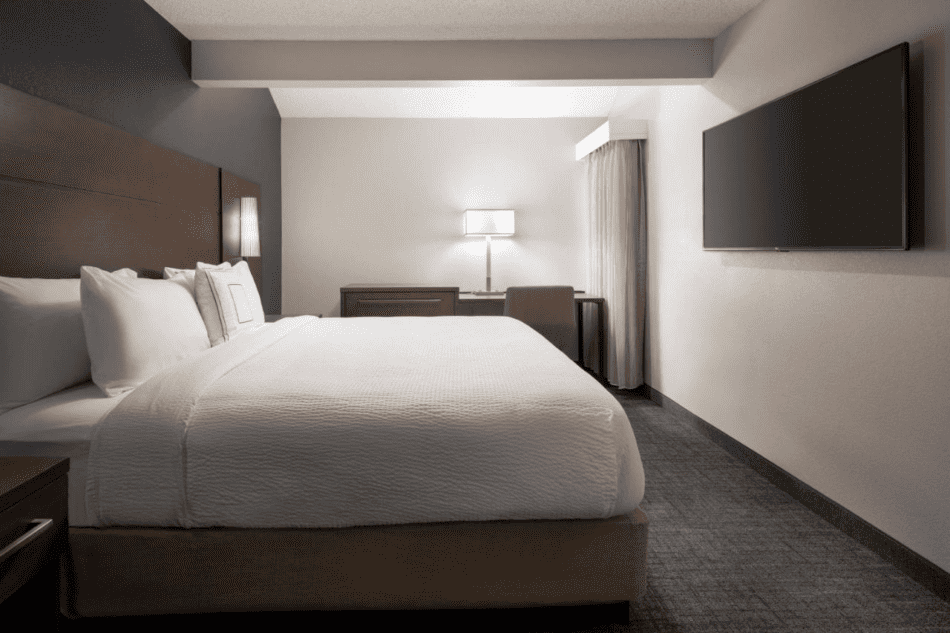 Two pets up to 65 pounds are permitted at the Residence Inn by Marriott Las Vegas Convention Center for an extra $100 per stay. Cats and dogs are both allowed. Pets that behave well may be left unsupervised in guest rooms. On the grounds, there is a grassy pet waste area with a disposal station.
The indoor pool is available for guests to use, and the spa tub is a great way to unwind at the end of the day. There is a fitness center that is open 24/7, as well as refrigerators and microwaves in the rooms. Travelers like the friendly personnel and convenient parking.
The Retreat on Charleston Peak
Three pets of any size are welcome at The Retreat on Charleston Peak for an extra $25 per pet, each night. Well-behaved pets are welcome and may be left alone in rooms. Dogs and cats are both acceptable.
Bark and Brews purchases include snacks for Fido and drinks for visitors. On the grounds, a grassy area is available for pet relief.
Further, you'll be close to winter sports like cross-country skiing, downhill skiing, and snowboarding if you stay at The Retreat on Charleston Peak. The Canyon Restaurant, which serves American cuisine and is open for breakfast and supper, is a great option for visitors looking for a bite to eat after enjoying a drink at the bar.
Other amenities include a terrace and a snack bar/deli. Skiers will value the availability of ski passes. Travelers compliment the accommodating personnel and restaurant.
Recent Posts