21 Amazing Nevada Landmarks – The Last One is the Best!
Nevada Famous Landmarks: Nevada is a state full of interesting Nevada Landmarks. It's more than just Las Vegas! There is so much to see in Nevada it can be hard to know where to start. That's why I have put together this list of Nevada historical sites and monuments in Nevada.
Check out my post on Landmarks in Las Vegas for more cool Nevada landmarks.
15 Amazing Nevada Landmarks You Won't want to Miss!
Carson City Nevada State Capitol
When entering Carson City, one of the places tourists go to is the Carson City Nevada State Capitol. The most visible dome in Carson City marks the symbol of Nevada's Government since its completion in 1871. When you enter the beautifully restored and maintained building, you will be greeted by friendly security staff and any other employees who may be nearby. They are happy to answer questions and provide tips on touring the building.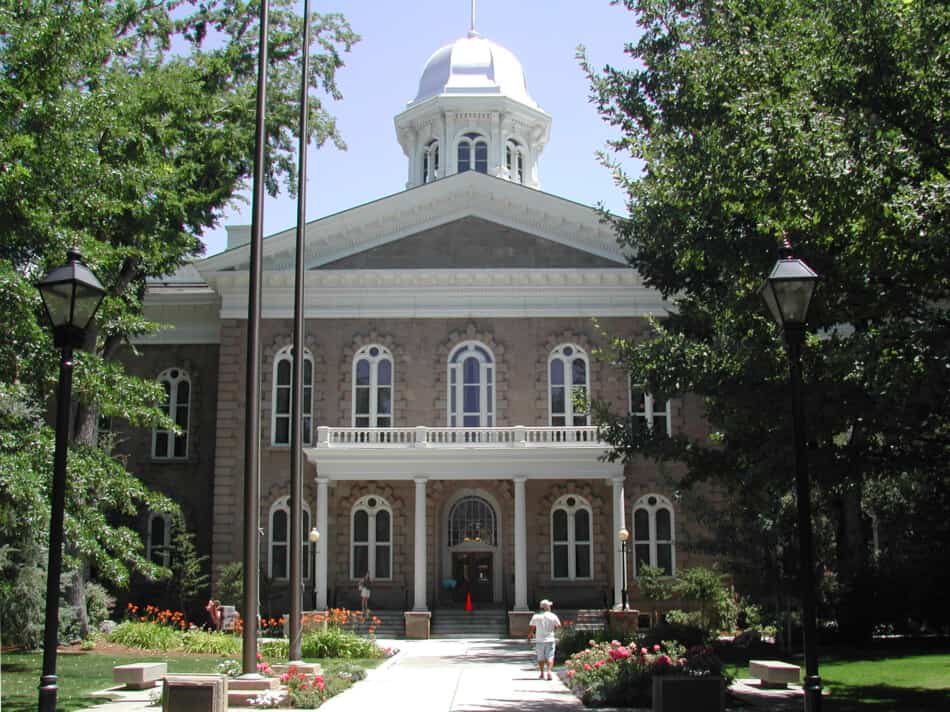 You can freely wander through the first two floors, visiting the offices of Nevada officials, including the governor. On the second floor, be sure to check out Battle Born Hall, home of the excellent museum that presents important highlights in Nevada's colorful history. Whether you have got five minutes or two hours, the Nevada State Capitol is a great stopping point when discovering the rich history and heritage around every corner in Nevada's capital city.
Ward Charcoal Ovens – Ely, NV
Journey down to Highway 50, the Loneliest Road in America, to Ely Nevada where you can find Ward Charcoal Ovens, a state historic park. This park features six beehive-shaped charcoal ovens that were used from 1876 through 1879 to help process rich silver ore that was discovered in the area. Today, these 30-foot tall by 27-foot diameter dome structures make for a truly amazing experience.
With 20-inch thick walls, it's no wonder these kilns were able to sustain more than 150 years! Ward Charcoal boasts two large pull-through spaces for RVs and many other distinct spaces for every type of camper. Aside from the established campgrounds, the park also provides access to hiking with outstanding views of the Steptoe Valley below, fishing at Willow Creek, and the nearby OHV trail system. Whether it is the historic ovens or the beautiful scenery of nature, Wards Charcoal Ovens Historic Park is a great place to learn history and have fun at the same time.
Las Vegas Mormon Fort – Las Vegas, NV
Just a few blocks north of downtown Las Vegas, you'll find the first permanently settled portion of the Las Vegas Valley, dating back to 1855. Considered to be one of the oldest settlements in the state of Nevada, it's here where Morman Missionaries set up camp along the Las Vegas Creek. Naturally drawn to this spring-fed creek that flowed through this low desert valley, these early settlers took advantage of the oasis it formed, as it was the only free-flowing water for miles.
Today it is known to many as the Las Vegas Mormon Fort. Explore the 19th-century structures now restored or replicated that contains plenty of historical artifacts – most are contained in a museum, others such as wagons, in the grounds. Visit the many replicated structures including brick walls, guard towers, verandas, and wooden fences, yet some traces of the earlier adobe walls remain, incorporated into reconstructed buildings. Although a majority of it is not authentic, appreciate the rich culture and history this place made that it the Mormon Fort.
Fort Churchill
Looking to get a taste of what life was like in Nevada before it entered official statehood? Well, then a visit to Fort Churchill—about an hour west of Carson City—should be high on your adventuring to do. This former United States Army Fort was once built to protect early settlers as they made their way across the American West. Today, the fort's ruins stand in a fascinating arrested decay, some of which have managed to withstand time, thanks to northern Nevada's arid, high desert climate.
There are several day-use areas throughout the park, along with dozens of campsites. Given Fort Churchill's remoteness and quietude, the park does attract its share of characters. One group of 15 or so "mountain men" takes over a campground every spring, sleeping in tepees and carrying black-powder muskets and tomahawks to complete the picture. Fort Churchill's resident coyotes seem to outnumber the overnight human guests. The park is one of the most peaceful locales in the state—an irony, given the fort's origins—and is easily accessible. Even at its busiest, Fort Churchill offers plenty of opportunities for solitude and serenity.
Hoover Dam
Visit the Hoover Dam where hydroelectric power is generated for the region. This massive structure has gone down in history as a major influence in the development of the United States and some of its largest cities, including Las Vegas and Los Angeles.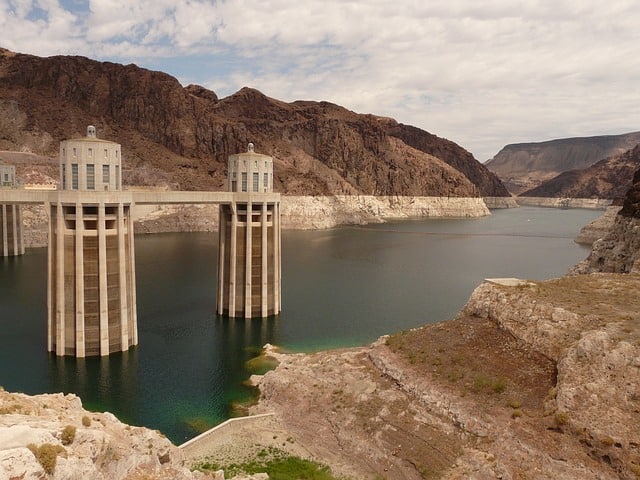 The dam, which has the ability to provide water to over two million acres of land and power to over 1.3 million homes, was designated a National Historic Landmark in 1985 and one of America's Seven Modern Civil Engineering Wonders in 1994 – today, it receives over seven million visitors every year. With its rich history and many popular myths, Hoover Dam is sure to be a 'Dam' good place to visit.
Las Vegas Strip
You don't just enter Las Vegas without known what The Strip is. Considered the most expensive 4 mile stretch in the world, the Las Vegas Strip which is the section of Las Vegas Blvd from Mandalay Bay to The STRAT Hotel Casino and SkyPod has some of the world's top hotels and attractions that are uniquely Las Vegas. Grab a map and enjoy sightseeing along The Strip as it is a literal journey around the world.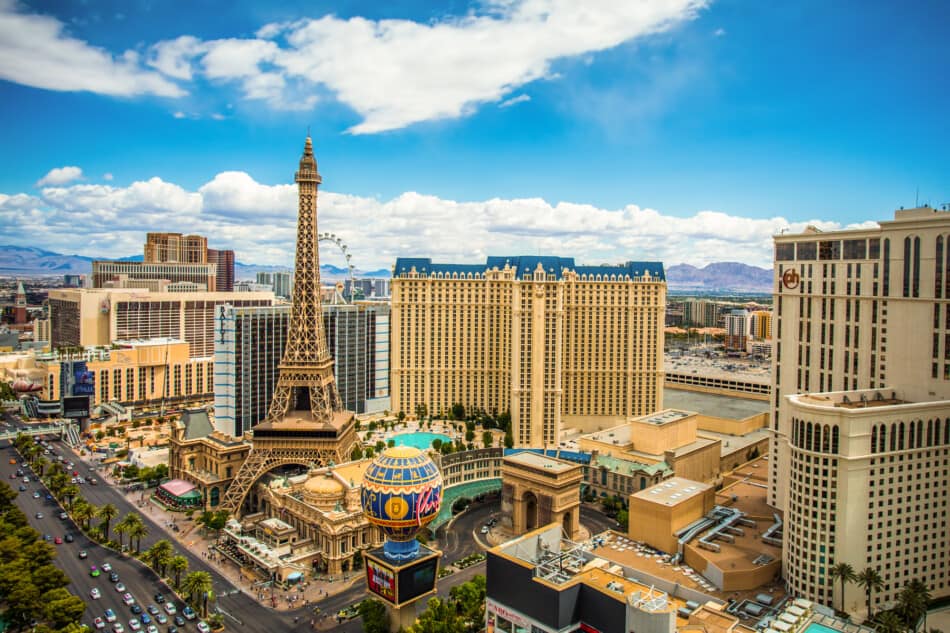 From the pyramids of Giza to the Statue of Liberty, to the Eiffel Tower in Paris, to the Colosseum of ancient Rome, to the canals of Venice, and everything else in between. About 42 million annual visitors make this small stretch of the road among the most visited in the world. It's no wonder Las Vegas is considered one of the top tourist destinations in the world. No matter where you go, The Strip will always have something for you.
Rhyolite Ghost Town
Nestled at the doorstep of Death Valley in Nye County, lies a ghost town once brimming with people mining for high-grade valuable gold ore. The ghost town of Rhyolite, Nevada was briefly a thriving mining community, but all that's left today are its ruins. Located about 120 miles northwest of Las Vegas, Rhyolite is situated on the edge of Death Valley National Park in a remote area that appears uninhabitable, but in 1904 the discovery of gold was enough to convince many people to try and build a life there.
This ghost town is a great place for sightseeing to learn more about the history of Nevada. Once you're in Rhyolite, one of the first buildings you'll see is the historic Tom Kelly Bottle House, which was constructed in 1905 out of bottles and adobe. Explore the remains of the two-story schoolhouse and three-story bank are some of the most striking ruins. If you're lucky enough to be driving back to Las Vegas after dark, enjoy the incredible night sky. As you get closer to Las Vegas, the stars will fade, you'll see the lights of the city coming into view and you'll know your day trip into the desert is done.
Valley of Fire
Just beyond Las Vegas stands an otherworldly landscape of epic proportions. Some gaze into the rock formations and see fire. Filmmakers see Mars. Whatever the truth may be, Valley of Fire State Park is a place for the adventurer at heart. Born from Aztec sandstone and other geological finds, this park is one of southern Nevada's native treasures, with Native American art, natural arches, and more. Since opening in 1934, Valley of Fire has grown to more than 40,000 acres and hosted thousands of outdoor escapades. Embark on one of your own with a custom tour from Scenic Vegas.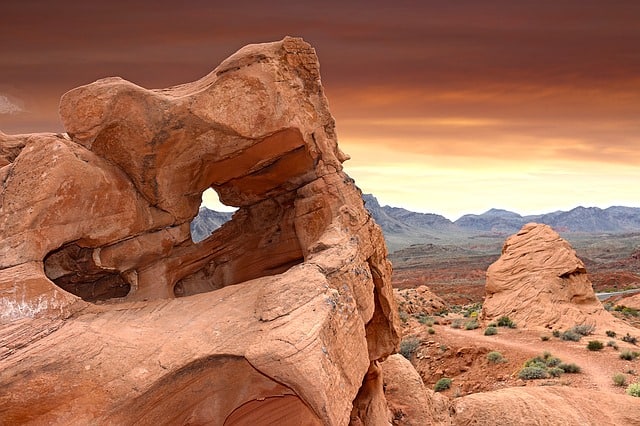 This valley is known for several movies being filmed here including Total Recall, Viva Las Vegas, The Professionals, and Star Trek Generations. Enjoy the view by driving through the Valley of Fire. Pink, red, and orange sandstone rocks create amazing vistas that you can see from your car. Next to the east entrance of the valley is a rock that is the shape of an elephant, that is sure to pique your interest. Of all the state and national parks in Nevada, Valley of Fire remains a fave for visitors and locals alike, thanks to stunning red sandstone rock formations, ancient petroglyphs, and quick access from the Las Vegas Valley.
Cathedral Gorge
Each of the six Nevada State Parks found in southeastern Nevada boasts incredible features that make visiting each one different and special. But in the largest pocket of parks in Nevada, Cathedral Gorge always manages to slide into first place because of one little reason: the natural slot canyons here seem to go on forever, and are some of the only found in Nevada.
Great walking trails abound for exploring the cave and cathedral-esque spires that are a result of geologic processes from tens of millions of years ago. The buff-colored formations of Cathedral Gorge hide treasures few have ever seen. The slot canyons carved into the soft-siltstone provide a maze of undiscovered wonders waiting for kids, and kids at heart, to find them. Look for the tunnel called the "rabbit hole" and climb through to the open spaces on the other side. Hike through a slot canyon to the top of Miller Point where you can see the canyon from above. Follow your sense of adventure at Cathedral Gorge.
Red Rock Canyon
Take a step back from the high gambling and city nightlife and enjoy a hike and nature itself at Red Rock Canyon. The 195,819-acre (79,245-hectare) Red Rock Canyon National Conservation Area in Nevada comprises a network of narrow canyons, seasonal waterfalls, rock art sites, and surreal rock formations with ample opportunity for hiking, biking, rock climbing, and desert wildlife watching, all a short drive from Las Vegas.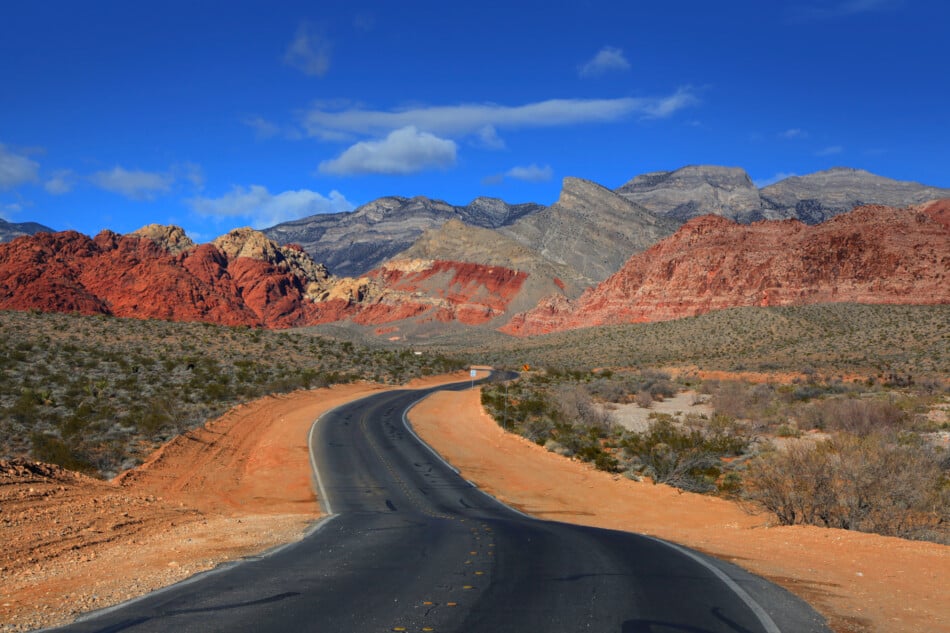 While hiking is the main activity in Red Rock Canyon, enjoy other recreational activities situated within convenient reach of the Las Vegas community of Summerlin, with luxurious resorts, stellar shopping, and a variety of sporting events. For more than a million visitors a year, the red cliffs and shady gorges of the recreation area serve as a respite from the hustle and bustle of Vegas a place to unwind in nature and get in an aerobic workout at the same time.
Lake Tahoe
With the bluest of blue water and the greenest of the green surrounding forest, Lake Tahoe, quite simply, transfixes. Lake Tahoe is a unique vacation destination that straddles two states (California and Nevada). Not only is the area full of resorts, restaurants, and bars, but visitors can enjoy numerous outdoor activities all year long. The best way to see Lake Tahoe is to get out there and experience it! Offering countless opportunities to venture to the highest peaks or dive deep below the water, it'll be hard to just choose one. Winter and Summer's season has its variety of activities to choose from.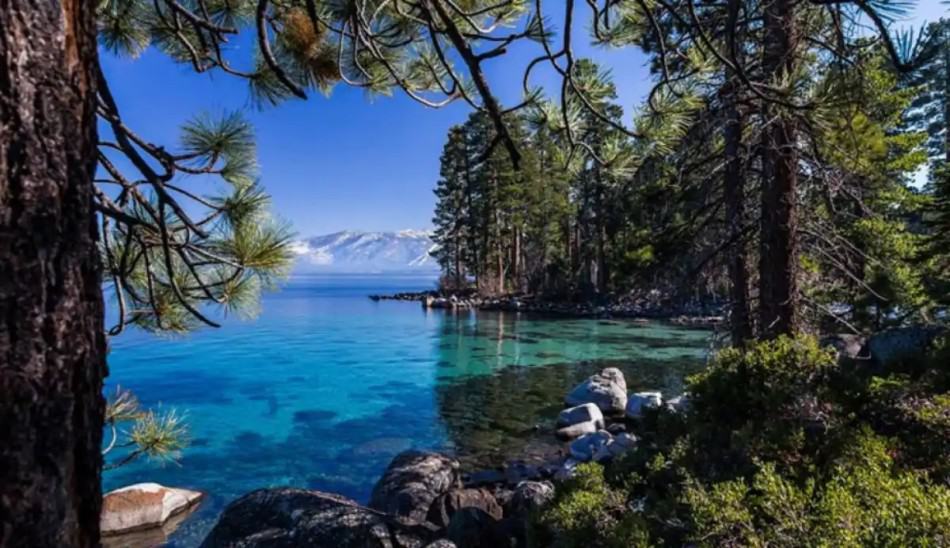 During the winter months, experience world-class skiing and snowboarding. In summer, enjoy kayaking, whitewater rafting and even lounging on the beach. So come escape, get recharged before the holidays, and celebrate this beautiful place with us. Your visit will help our businesses and hospitality workers get back on their feet after a trying time.
Lehman Caves
Lehman Cave is located behind an iron door set into the hillside close to the Great Basin National Park visitor center, and many people come to the park only to see the underground formations. These speleothems are not comparable to those that fill the vast chambers of Carlsbad Caverns in New Mexico but are still most attractive, on a smaller scale. The cave contains a wide variety of delicate limestone formations including unusual large shell-like structures known as shields.
If you have never gotten a chance to see Lehman Caves, then take the 90-minute tour and enjoy the many things Lehman Caves has to offer. An attraction long before this spectacular section of Nevada became an official National Park, tour Lehman Caves to learn how this unique cave system was first discovered, see more than 300 shield formations, and why this environment makes the perfect home for a handful of creatures found nowhere else on Earth.
Lake Mead
Lake Mead, a reservoir of Hoover Dam is one of the largest man-made lakes in the world. With more than 750 miles of shoreline, you can enjoy a day at the beach, take a boat out and disappear for hours or nestle into a cove to try to catch a big one. visitors to Lake Mead National Recreation Area may enjoy a variety of water recreation activities in a rugged and picturesque setting. Lake Mead offers some of the country's best sport fishing. Boating and water skiing are favorite activities on the broad expanses of open water, along with kayaking and canoeing.
There are shaded picnic areas with tables, water, fire grills, and restrooms are located throughout the area. Several paved roads wind through the dramatic desert scenery of Lake Mead National Recreation Area. Towering stark mountains, plateaus, desert basins of cacti and creosote bush, and vertical-walled canyons are some of the sights motorists can discover. Short desert hikes lead to places you will never see from a boat or car. There is nothing short of a miracle why Lake Mead is a great place to visit, so come and enjoy the beautiful lake.
Spencer Hot Springs in Las Vegas
Of all the natural hot springs found throughout Nevada, Spencer Hot Springs always seems to be perfect—both with delicious water temps and panoramic views—no matter what time of year you hit it. Known for being one of the most "reliable" springs in the state, this spot offers warm waters year-round and dreamy sights.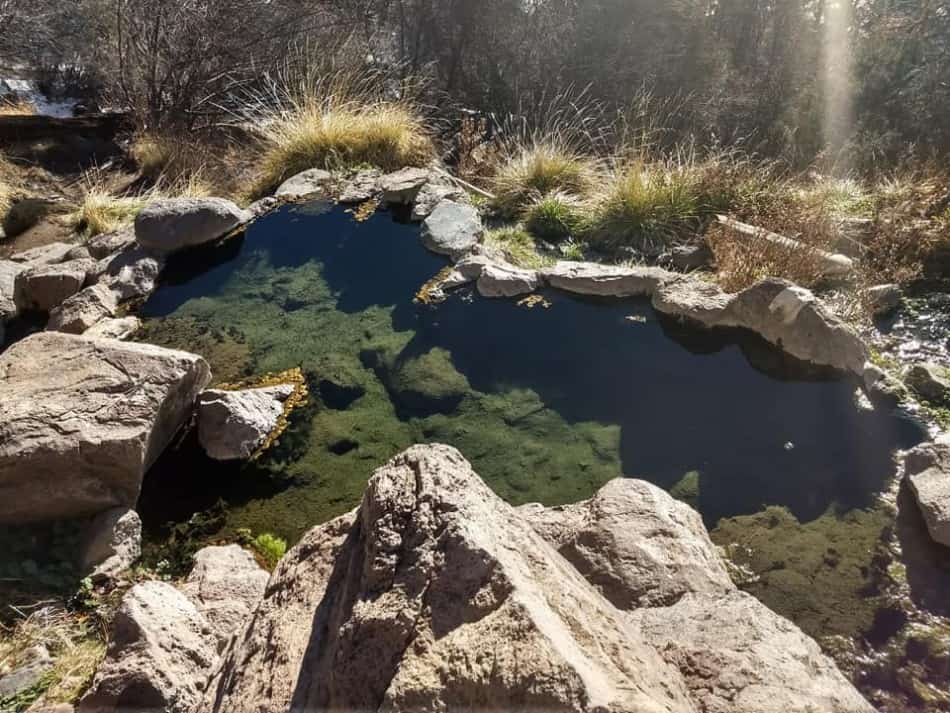 Sitting in the pool, you will have spectacular views of the Toiyabe National Forest in the middle of the Nevada desert. In an open desert valley, you will find a free unrefined cluster of natural very hot geothermal springs on unimproved public land. This is an off-road hot springs experience. Spencer Hot Springs is the most reliable place for your dip and relax under the desert.
Sloan Canyon
Enjoy mountain hiking and trekking in the Sloan Canyon National Conservation Area. Sloan Canyon National Conservation Area is located on the southeast edge of the Las Vegas Valley, bordering the south edge of Henderson, and includes the black volcanic mountains and ridges that can be seen from most parts of town. As one of the premier rock art sites in Southern Nevada, the Sloan Canyon has a variety of rock art that you can marvel in awe of. Boundless wildlife spotting opportunities will make for an unforgettable day at Sloan Canyon.
An impressive handful of mammals, reptiles, and birds call the area home, including Jackrabbit, Desert Kangaroo Rat, Desert Tortoise, Chuckwalla, Coyote, Kit Fox, Roadrunner, Desert Bighorn Sheep, Bobcat, Mountain Lion, Quail, and a handful of bats. The scenery is spectacular, and the petroglyphs in Petroglyph Canyon are amazing. Ready your camera and hiking gear, and trek your way to Sloan Canyon.
Lunar Crater
Do you want to know what the astronaut felt when they were bouncing on the moon? Then the Lunar Crater in Nevada is the closest thing you can get. In Nevada, you can know that exact feeling thanks to the incredible Lunar Crater Backcountry Byway, which explores 20 extinct volcanoes, ancient obsidian-laden lava beds, incredible Nevada backroads, and the largest natural crater in the state.
Not far from the geographic center of Nevada, Lunar Crater's nearest city is Tonopah, about 70 miles to the southwest. This is worth a visit if you are into geology and take a sick photo looking like you are on the moon. 
Fly Geyser
If we told you that there are six-foot-tall, brightly colored geysers that spew boiling water over five feet into the air in the middle of the Nevada desert, would you believe us? We probably wouldn't believe us either, but it's true. Nevada's Fly Geyser is an accidental manmade wonder that has created a whimsically colored and fantastically shaped desert marvel that is a must-see for Nevadans and visitors alike.
The underground chaos isn't over, either. Fly Geyser is proof: a colorful, show-stopping testament to Nevada's subterranean heat, geothermal potential, and overall wild geologic story. Popping up on the edge of the Black Rock Desert—home to Burning Man—it's here to remind us that Nevada is far more explosive than its desolate expanses let on. Given its vibrant shades and alien structure, it will make you appreciate your planet and its wonderful creations.
Recent Posts