Famous Las Vegas Landmarks: Are you looking to check out major Las Vegas Landmarks? Las Vegas is an incredible destination with a lot of unique landmarks that you need to see to believe.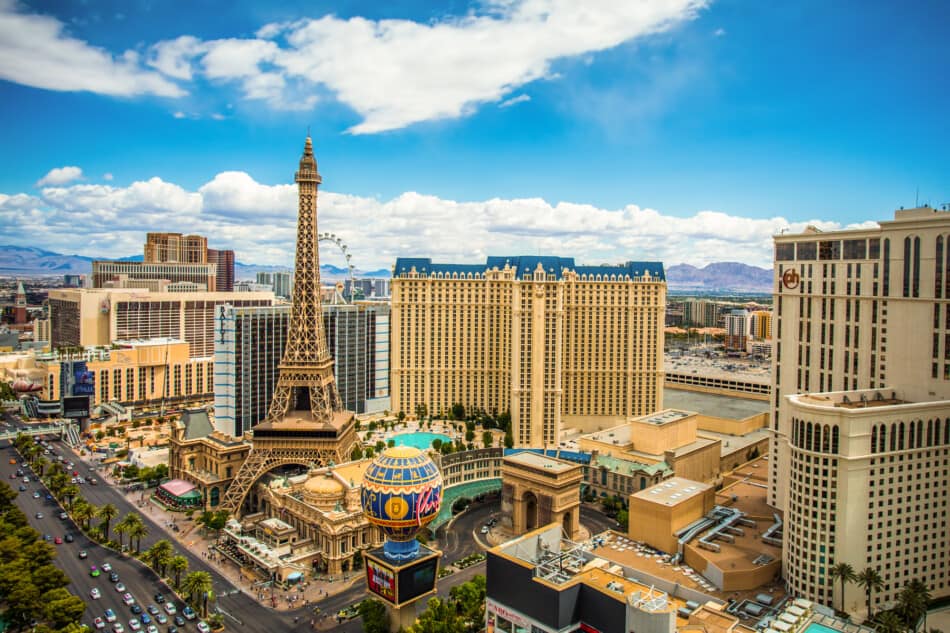 There are so many Las Vegas monuments and landmarks of Las Vegas it can be hard to know where to start. That's why I've put together this list of famous landmarks in Las Vegas so keep reading to find out where to go!
And if you're looking for more information check out my post on Things to do in Las Vegas your first time. Or check out my post on 101 Famous Las Vegas Quotes.
21 Famous Landmarks in Las Vegas
Welcome to Las Vegas Sign
The biggest and brightest, 60-year old star on Las Vegas Boulevard won't be found in a glitzy Strip resort showroom, but sits in the middle of the road, surrounded by traffic, under the sound of incoming planes. "The Welcome to Las Vegas" sign is one of the most iconic and legendary marker points when entering Las Vegas.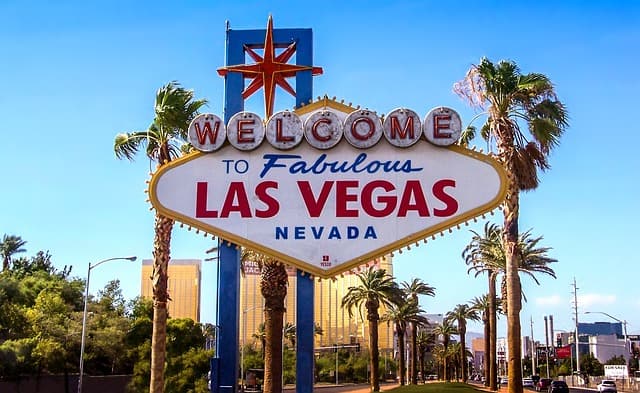 This landmark is a must whenever you make your way into the city. Visit the sign at night, where the crowds have dispersed and the sign beautifully pops out against the inky black sky. This sign is a great place to mark the beginning of your adventure in Las Vegas.
Bellagio Fountains
Bellagio isn't just about the showgirls and the performances, Bellagio is famous for its fountain. This 8.5-acre lake has 1,214 jets that rocket streams of water 460 feet into the air. The dancing streams of water are illuminated from within and jut out sporadically to the pulse of whichever song is playing. They shimmy, twirl, and spin — they also happen to be perfectly timed to a crescendo of oohs and ahhs from the surrounding crowd.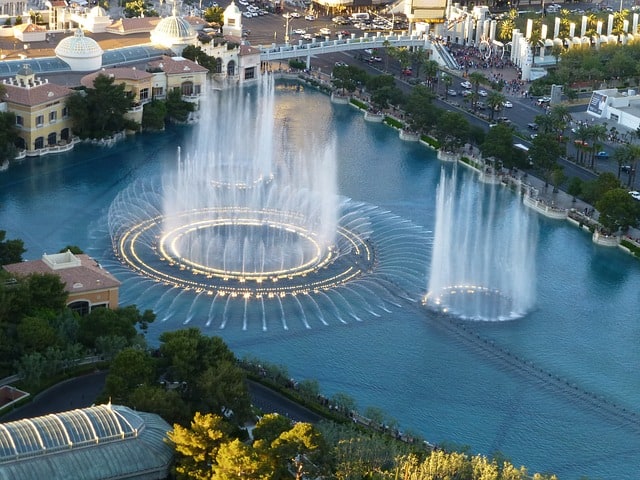 For the first time in history, Bellagio has added an EDM show created by DJ powerhouse Tiësto. The array of musical genres are so diverse it's like having a jukebox in the middle of a sprinkler system on steroids. If you happen to be driving by the Bellagio, this is one of the spots on Las Vegas Boulevard where it's going to bug you the least to get stuck in traffic.
MGM Grand
If you are looking for a place to stay with a beautiful view, then the MGM Grand is the perfect place. Located on the Las Vegas Strip, this elegant resort features a large casino with a gaming floor, tropical-inspired pools and a selection of dining options are also available.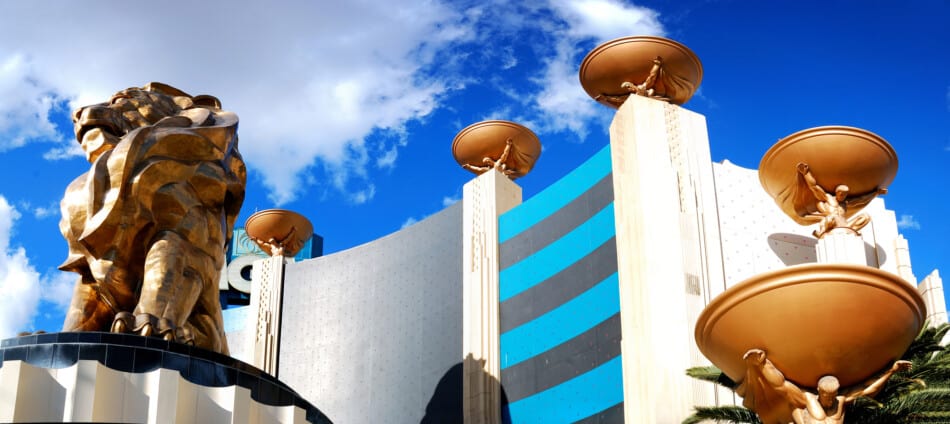 Known as "The City of Entertainment" The MGM Grand Hotel has many entertainment choices. From superstars and champion boxing to national TV award shows, the grand hotel does not disappoint in the variety of choices. Ever feel like hitting the slots, or even take up some Blackjack? Visit the casino to experience the thrill of it all. The MGM Grand will never let you down when it comes to quality of service and the overwhelming amount of fun.
Luxor Sphinx
Do you ever want to see the sphinxes of Egypt but cant afford to travel there? Come seethe sphinxes at Luxor Pyramid. The ominous black pyramid of the Luxor Casino-Hotel is the largest in America: 36 stories tall. The only reason it wasn't built taller than the Great Pyramid of Giza is that it stands opposite the Las Vegas International Airport. At night, a Xenon light shines straight into space from the pyramid's apex.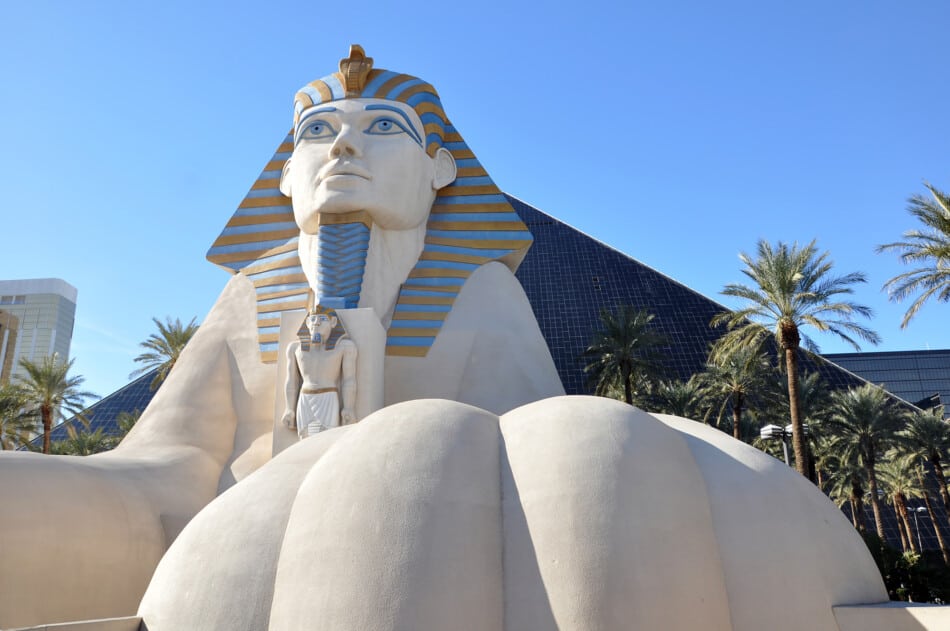 Any traveler who decides to explore Luxor in Egypt probably already knows that it is the name of a city located on the banks of the Nile River. Nonetheless, it is also the name of a city which is home to a massive historic site. In fact, the city is home to many fascinating sites and is generally considered to be one of the top places to visit when in the country because of its strong links to the ancient past. There is really no shortage of attractions in the area, but one of the definite "must-see" sites is without question the Avenue of the Sphinxes. 
Mirage
If you ever want to look for a resort and casino with a tropical theme in mind, book a reservation at The Mirage. This great value, luxury casino resort enjoys a fantastic location in the heart of Paradise, Las Vegas. With its Polynesian theme, an iconic erupting volcano and a huge tropical pool area, it is easy to see why The Mirage is such a Vegas favorite.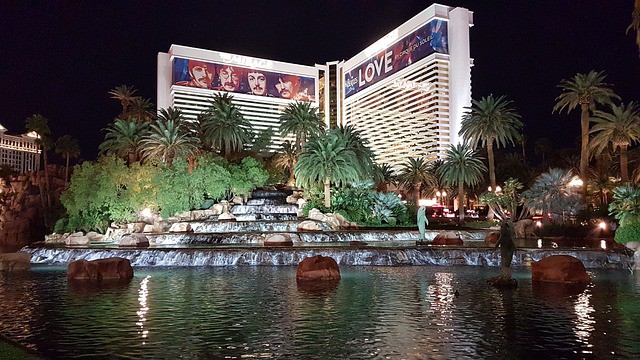 Relax in the pool area, with waterfalls and adult-only area, Bare. Enjoy an artificial volcano along the Strip. It erupts nightly so be sure to bring a camera to take a beautiful photo under the night sky. Immerse yourself in the illusion of The Mirage and enjoy the tropic feel.
LINQ High Roller
Soar 550 feet above the center of the Las Vegas Strip on the largest observation wheel in North America. At more than 550 feet tall, the High Roller in Vegas isn't your county fair Ferris wheel. See for yourself during a 30-minute revolution in one of the High Roller's 28 air-conditioned compartments.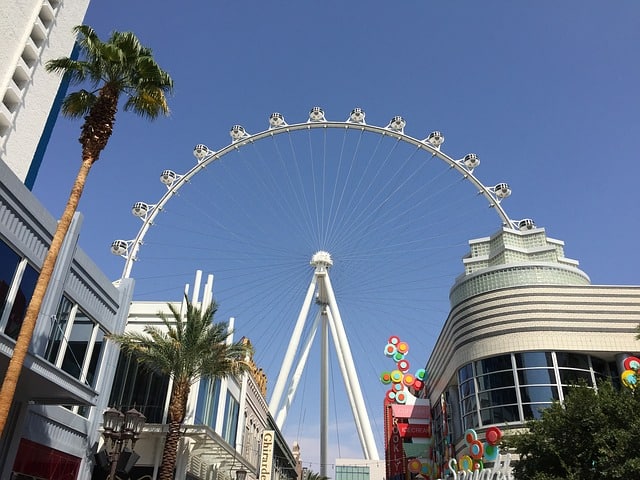 Choose from day or night rides to watch the landscape glimmer with hot sun or neon lights as you soar high above. Whether Sin City is your favorite vacation spot or you've traveled half the world to see the Strip for the first time, this ride above the Las Vegas skyline won't leave you disappointed.

Stratosphere Tower
Enjoy the view way above the skies and have a meal or two at the Stratosphere Tower. Standing 1,149 feet (350 meters) above the Las Vegas Strip, Stratosphere Tower is the tallest observation tower in the United States. From the top, visitors enjoy 360-degree views of Las Vegas from an observation deck, aboard thrill rides, or over a drink or meal at one of several bars and restaurants.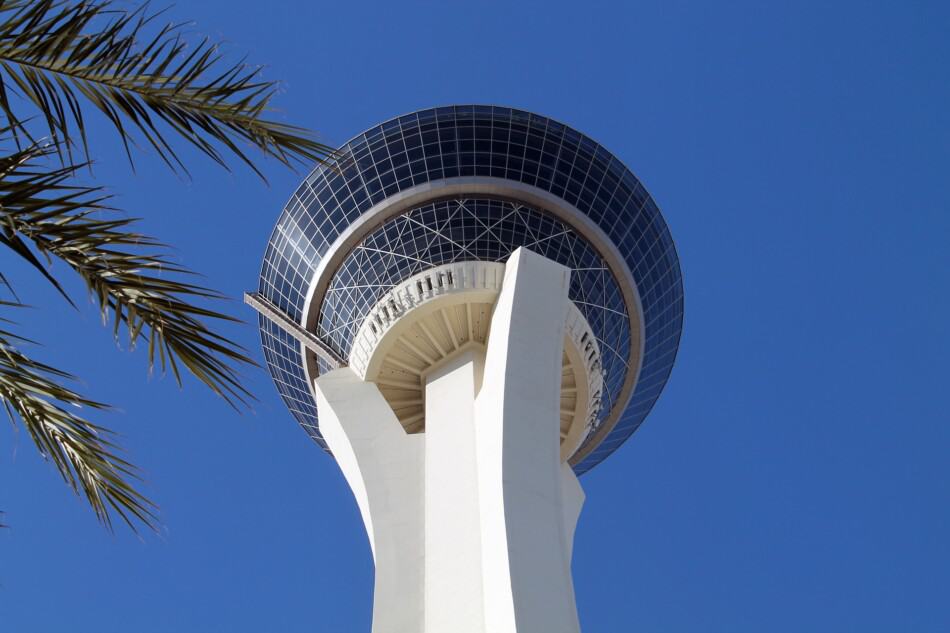 Experience the many thrill rides provided like the Big Shot, X-Scream, and Insanity to name a few. Take a Break from the sky view and head over to the Tower Shops on the second level for a nice stroll around many products featured in their mall. The Stratosphere Tower is an amazing place to find a thrilling tale to tell your friends.
Neon Museum
Once the sun goes down, Las Vegas shines brightly with hundreds of thousands of colorful bulbs flashing for your attention. The Neon Museum is nothing new and has been luring customers with bright signs for decades. Located on Las Vegas Boulevard just north of the Mob Museum and about a mile north of Fremont Street, the Neon Museum pays tribute to the Las Vegas light show, offering guided tours of what's known as the "boneyard."
The permanent collection has a lot of neon signs that is still being restored to this day. Participate in the light show Brilliant at night where they use lasers and projectors to shine images and archival footage onto the signs in an area of the outdoor boneyard where the signs don't light up themselves. Visit this living piece of history as you take a trip down memory in this historical yet dazzling place called Neon Museum.
Paris Hotel Eiffel Tower
Though it may not be quite as timeless as the actual City of Lights, Sin City's take on Paris is one of the Strip's most popular occupants. Take the tour that features a few of the French capital's most iconic sights like the Arc de Triomphe, decor reminiscent of the Paris Opera and the Louvre, and the pièce de résistance – a 46-story, half-size replica of the Eiffel Tower.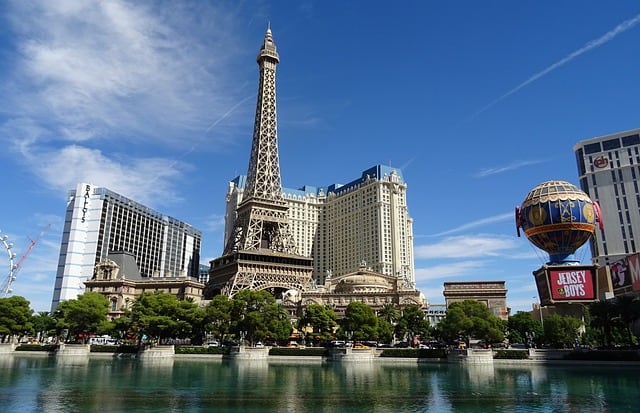 If you're in the mood for something more interactive, you can listen and sing along to Napoleon's Dueling Pianos for free. You also won't have to pay to walk around the complex, but certain in-house attractions and activities will cost you. Whether it is a good atmosphere or the iconic French buildings, the Paris Hotel will certainly give you a good experience.
Fremont Street Experience
Spanning four city blocks, the Fremont Street Experience is a massive outdoor mall and the site of Las Vegas' very first freestanding casino building. Today, it hosts 10 different casinos with games and tables, plenty of restaurants, and free concerts and other live entertainment, with multiple performances, staged each day.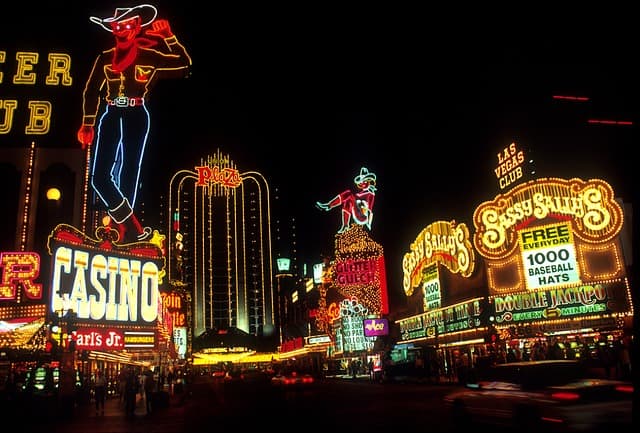 It's also notable for its famous Viva Vision canopy, which projects thousands of different color combinations and images overhead. Visit the ceiling room for a change of pace and find a variety of interesting street performers as you walk along the street. No trip to Vegas is complete with a visit to Fremont Street.
Bliss Dance Statue
Once the centerpiece for all night parties surrounded by the thumping music and pulsing crowds at Burning Man. Bliss Dance is a breathtaking, 40-foot-tall sculpture of a dancing woman, celebrating the strength of a woman who is both safe and present. Located at MGM Resorts, this statue is a popular tourist spot for anyone who has seen this statue at the Burning Man.
Weighing in at 7,000 pounds, Bliss Dance's elegant form is constructed of triangulated geodesic struts, skinned in a steel mesh that reflects the sunlight. By night she is illuminated from within by 1,000 LEDs. Marvel at the beauty of this statue as it dances in glee at the Bliss Dance Statue.
Fergusons Downtown
Want to get to know the real downtown Las Vegas? There's no better way to find it, than getting in touch with local makers, arresting art sculptures, and a true sense of local community than at Fergusons Downtown. Situated along the historic, newly revitalized Fremont Street, the reopening of Fergusons Motel has cultivated a diverse and inviting community, brimming with creativity and passion to both visitors and locals alike. If you're looking for a unique experience or souvenir from your trip, set up a tintype session with Myron Hensel Photography. They develop and capture photos with a vintage plate camera. Visit Hey Makers & Us where local creators get to feature their amazing work. With an ethos that creative minds are the heartbeat of Las Vegas, get to know the real Las Vegas community one maker at a time at Fergusons Downtown.
Benjamin Bugsy Siegel Plaque
Visit the monument of the iconic mobster that made Las Vegas into the high stake gambling hangout that many people enjoy until this day. For a long time, the only place in Las Vegas formally acknowledging The Mob was this, a bronze plaque at the end of an open-air fuchsia canopy, set in front of the Flamingo Las Vegas wedding chapel — a unique spot for a bridal party portrait. As you learn more about the man who made Las Vegas what it is, take a room in the resort Flamingo where Bugsy stayed to protect himself. His presence is forever memorialized at the hotel. A simple stone pillar, bearing a plaque with his details, stands behind the resort's flamingo habitat and waterfalls, across the lawn from the Garden Chapel. Without a hint of the typical Vegas pizzaz, it remains an overlooked marker of the original site of Bugsy's infamous hotel.
Seven Magic Mountains
Across the desert of Las Vegas, rises a large, colorful anomaly. Seven colossal stone forms defy gravity with their teetering formations. The shapes, reminiscent of naturally-occurring hoodoos, seem poised between monumentality and collapse. The mammoth contemporary cairns created by internationally-renowned Swiss artist Ugo Rondinone evoke the art of meditative rock balancing and mark his place in the history of Land Art.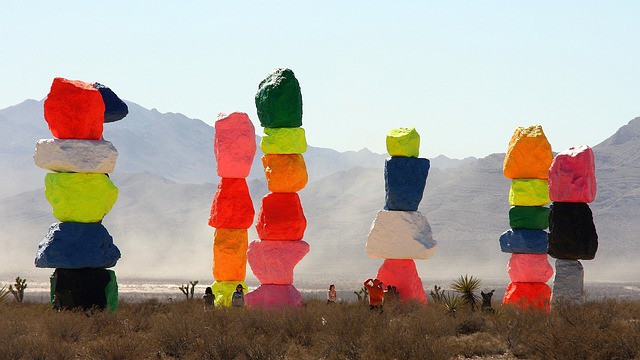 All you have to do is drive 10 mi. beyond the Sin City walls and you'll witness one of Nevada's most unique and unknown sights, the Seven Magic Mountains. Evoke a sense of spirituality as these 30-ft florescent 'totems' stand like brightly colored beacons that light up the night desert sky. This public artwork is a great place to take great pictures. Not only will you appreciate the art but the nature that surrounds it. Come visit Seven Magic Mountains, one of the world's largest land-based art installations that have been put up for ages.
Check out my post on the Best Day Trips from Las Vegas
Hoover Dam
Visit the Hoover Dam where hydroelectric power is generated for the region. This massive structure has gone down in history as a major influence in the development of the United States and some of its largest cities, including Las Vegas and Los Angeles.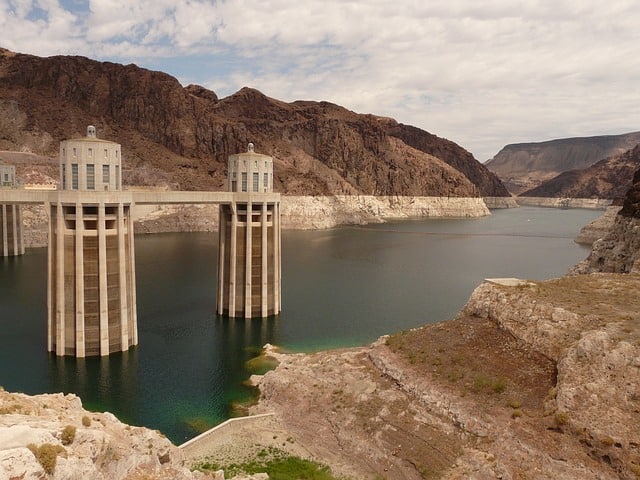 The dam, which has the ability to provide water to over two million acres of land and power to over 1.3 million homes, was designated a National Historic Landmark in 1985 and one of America's Seven Modern Civil Engineering Wonders in 1994 – today, it receives over seven million visitors every year. With its rich history and many popular myths, Hoover Dam is sure to be a 'Dam' good place to visit.
Red Rock Canyon
Take a step back from the high gambling and city nightlife and enjoy a hike and nature itself at Red Rock Canyon. The 195,819-acre (79,245-hectare) Red Rock Canyon National Conservation Area in Nevada comprises a network of narrow canyons, seasonal waterfalls, rock art sites, and surreal rock formations with ample opportunity for hiking, biking, rock climbing, and desert wildlife watching, all a short drive from Las Vegas.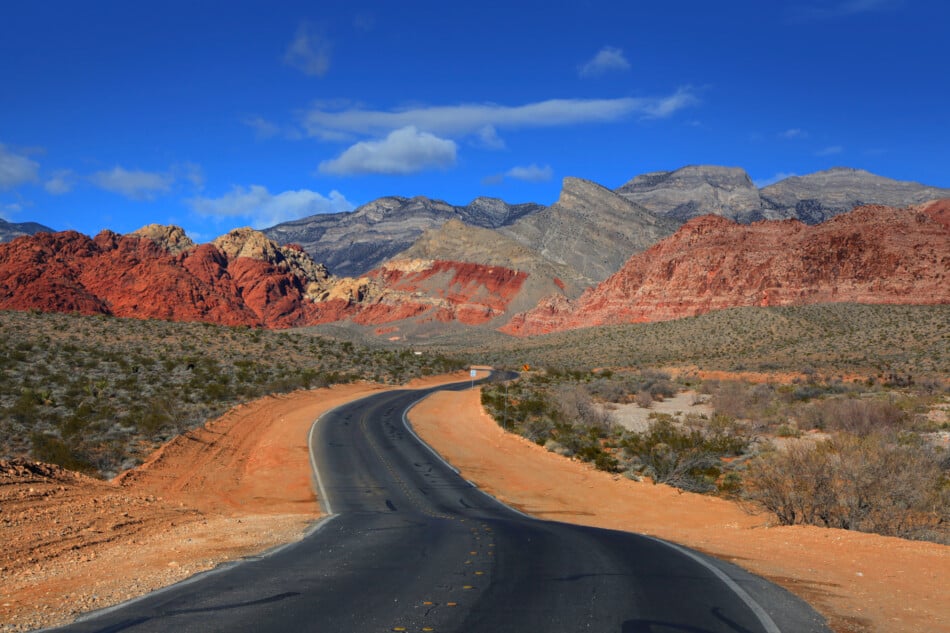 While hiking is the main activity in Red Rock Canyon, enjoy other recreational activities situated within convenient reach of the Las Vegas community of Summerlin, with luxurious resorts, stellar shopping and a variety of sporting events. For more than a million visitors a year, the red cliffs and shady gorges of the recreation area serve as a respite from the hustle and bustle of Vegas a place to unwind in nature and get in an aerobic workout at the same time.
Check out my post on the Best Hikes in Red Rock Canyon
Recent Posts