The 18 Best National Parks in New Mexico you won't want to miss!
Are you looking for the best National Parks in New Mexico?  New Mexico National Parks are absolutely stunning and so are the national monuments in New Mexico.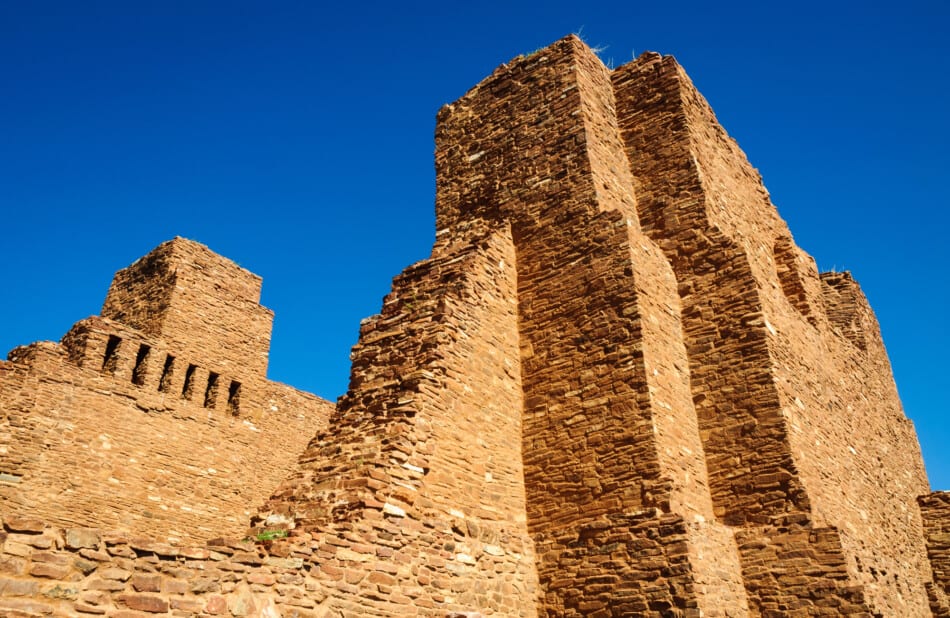 There are two National Parks in New Mexico and 16 National Monuments.  This list shows all of them and there is a New Mexico National Parks map at the end as well showing where each one is located.
New Mexico is a beautiful state with stunning scenery so you can expect nothing less from these National Parks and National Monuments in New Mexico.  You can also check out my post on the Best Places in New Mexico to Visit – spoiler alert – there are quite a few National Parks on the list!
Tips for Visiting New Mexico National Parks
New Mexico is perfect for outdoor enthusiasts. There is a hike for everyone on this list and for different fitness levels. Also, note that it is dry and hot (in the summer) and make sure you know what you are getting into before you start. Here are a few tips:
To visit any of the National Parks in the USA, I recommend buying a National Park Pass. America the Beautiful Pass is valid for one year and costs $80. Plus 10% of sale proceeds go to the National Park Foundation.
Bring a reusable water bottle and lots of water! Remember you are in the sun and you will need to drink lots of water. I love my LifeStraw Filtered Water Bottle. I can refill this bottle anywhere and it comes with a carabiner to connect it to my daypack.
Check the Weather – days over 100 degrees are very common. On top of that there is quite a bit of air pollution which can make it suffocating. Make sure to check.
Wear a sunhat. I feel like this whole post is about how high you are in the mountains and how much closer you are to the sun but it is so true. At elevation, you are closer to the sun and more likely to burn. Wear sun protection such as a sun hat and sunscreen.
Start Early – If you want to avoid the traffic and the heat you will need to start your hike early. That way it will be nice and cool and the smog will not affect you either.
Leave no trace. If you are new to the concept of Leave No Trace it is all about preserving the environment to ensure it is in the same or better condition when you leave it. This means that you should stick to the trails and carry out everything that you carried in. This is a great explanation of the Leave No Trace principles!
Don't Forget About Travel Insurance!
Before you leave for your trip make sure you have a valid Travel Insurance Policy because accidents happen on the road. I have used World Nomads when I travel since 2015 when I went to Africa and I love them.
Getting coverage is important as you never know what will happen and need assistance when you are more than a hundred miles from home in case of an accident, sickness, theft, etc.
Get a travel insurance quote for your trip here.
National Parks of New Mexico
White Sands National Park
The perfect Southwestern symbol for those searching for a one-of-a-kind spot to let their inner child's imagination run wild is White Sands National Park, situated in southern New Mexico.
White Sands, no matter what degree of outdoor enthusiast you are, has otherworldly adventures to bring! If you don't have much time, take a drive along Dunes Drive to see the magnificent gypsum slopes. Hiking trails crisscross White Sand's diverse landscapes, ranging from quick half-mile strolls like the Playa Trail to strenuous day hikes like the 5 mile Alkali Trail.
Each hike offers glimpses of the dune environment's distinctive features, such as resilient wildlife and crystalized lake beds. It's also possible to camp at White Sands and see some of the most dramatic sunrises and sunsets on the planet!
Last but not least, don't forget about sand sledding! White Sands' gypsum mounds provide a rare opportunity to reconnect with your inner child when navigating the ups and downs of sand sledding. You may either carry your own saucer or buy one at the Visitor Center.
Carlsbad Caverns National Park
In a word, visiting Carlsbad Caverns is stunning. The Carlsbad Caverns are located about 40 minutes from Carlsbad and it makes a great day trip.
There is so much to do in Carlsbad and the caves will leave you awe-struck, especially the Big Room. This guide has all the information you need to have a memorable trip and help you plan your trip.
Visiting the Carlsbad Caves in New Mexico is a memorable experience. I was really expecting to go for a couple of hours but there is so much to do there that it is worth spending the day there.
Check out my post on the Best Things to do in Carlsbad Caverns
National Monuments in New Mexico
Aztec Ruins National Monument
The Aztec Ruins National Monument is just 2 miles from the centre of Aztec, a booming town near Farmington in New Mexico's far north-west, and close to busy US 550, which leads to Durango, Colorado. The surrounding farmland is partly farmed with water from the Animas River, but the majority of it is an unproductive expanse of dry sandy washes between low limestone mesas that has been heavily drilled for oil. The main ruined village is now part of a 27-acre complex that also includes a visitor centre, a picnic area, and many smaller unexplored areas.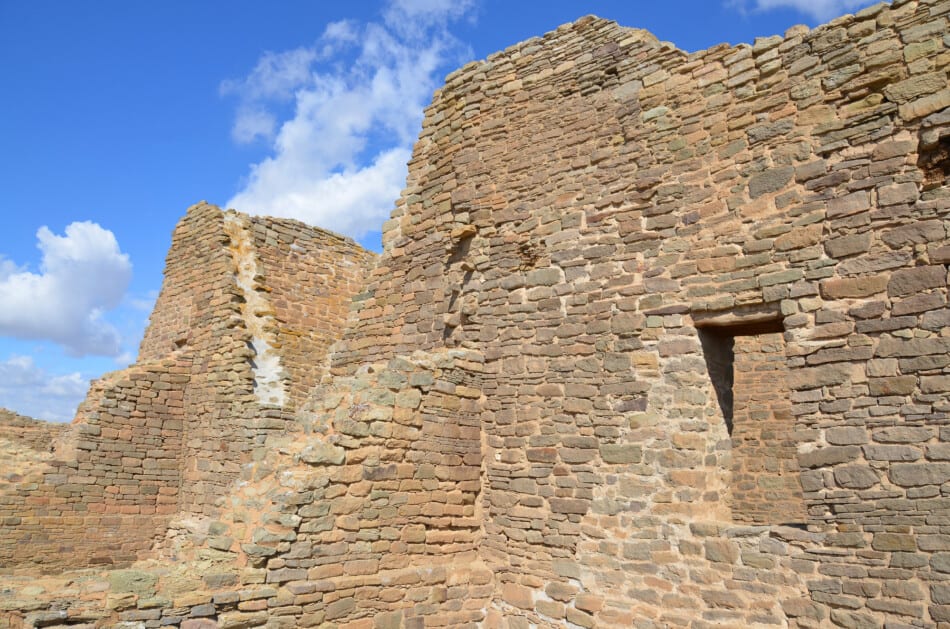 The Aztec settlements were founded in the late 11th century, had two distinct phases separated by several decades of inactivity, and ended about 1300 when the residents moved away, most likely to neighbouring areas such as the pueblos of the Rio Grande valley and the present-day Hopi and Navajo reservations in Arizona, a relocation thought to be due to drought or loss of fertility of the sumac. The village was gradually obliterated by the desert sands and remained undiscovered until the mid-nineteenth century, when it was first discovered in 1859.
Bandelier National Monument
Bandelier National Monument is an unexpected delight, with some of the Southwest's most rare and fascinating ancient ruins, petroglyphs and pictographs, steep narrow canyons with abundant wildlife, mountains rising to 10,200 feet, thousands of acres of undeveloped backcountry, and a colorful portion of the Rio Grande valley.
Over 33,000 acres of rugged yet scenic canyon and mesa country, as well as evidence of a human presence dating back over 11,000 years, are protected by Bandelier National Monument. Petroglyphs, homes cut into soft rock cliffs, and standing masonry walls pay homage to a civilization that is still alive and well in the local communities.
Capulin Volcano National Monument
The Raton-Clayton Volcanic Field includes the extinct cinder cone volcano of Capulin Volcano National Monument. Visitors can drive up to a parking lot on the rim of the volcano through a paved road that spirals around it. Hiking trails encircle the rim and lead down into the volcano's mouth. Come see a spectacular landscape—a one-of-a-kind combination of mountains, plains, and sky. Capulin Volcano, which was formed by fire and forces that are constantly reshaping the earth's surface, offers access to some of nature's most awe-inspiring work. The visitor will participate in a number of activities at Capulin Volcano National Monument. Visitors will enjoy a diverse landscape thanks to nearly five miles of hiking trails.
See the Rocky Mountains from the crater's rim, or investigate Capulin's own lava flow. Junior Ranger and Junior Junior Ranger books are available upon request for our younger guests. Before going up to the rim, stop by the Visitor Center to see the park film and pick up a brochure. The 2 mile paved Volcano Road to the peak, as well as paved trails into the crater and around its rim, allow visitors to explore the volcano and enjoy 360-degree views of the surrounding area. Listen to a ranger-led interpretive programme to learn more about Capulin's geology, biodiversity, and history while you're there.
Chaco Culture National Historical Park
The Chacoan Canyon was once a cultural centre for Ancient Pueblo peoples. Huge, complex compounds with evidence of archeoastronomy in their architecture, with many buildings aligned to absorb the sun and moon cycles. Until the 19th century, the canyon's 15 complexes also housed the largest buildings north of Mexico.
Excavated ruins at the massive Pueblo Bonito Great House
Between AD 900 and 1150, the Chacoans and their complex, astronomically-influenced architecture flourished, eventually succumbing to a climate change that resulted in a half-century-long drought.
The park also has an observatory, which hosts nightly night sky programs on summer weekends, as well as special solstices and equinox observances in the great kivas. Despite the fact that the park is normally closed from dusk to dawn, there are campsites open.
Chiricahua National Monument
Chiricahua National Monument, located in southeastern Arizona, is one of the country's most beautiful national parks. In contrast to some of the larger US National Parks, it is small in size but high in visual spectacle. This little gem, located just west of the Arizona-New Mexico border and east of Tucson, Arizona, has some of the most impressive rock formations you'll possibly never see anywhere else.
The formations, known as balancing rocks, were sculpted by nature. The views are incredible, particularly now that you can drive to the top. Visitors can see much of the scenery from the top thanks to easy trails. Up-close views of unique natural sculptures, such as ducks, 'Punch and Judy,' and mushroom rocks, are only accessible through longer, more strenuous hikes, but they are well worth the effort.
If you are unable to complete the 9-mile challenging hikes, a drive to the top for views of these unique formations is worthwhile. We stayed for two nights and hiked; three to four nights is preferable since there are many easier hikes. Since Chiricahua is so far away, bring food and water. On-site, there is a Visitor Center and a small campground; camping reservations are needed.
Kasha-Katuwe Tent Rocks National Monument
Kasha-Katuwe should be on everyone's South West bucket list because of its rare cone-shaped tent rock formation. This Monument, which is located between Santa Fe and Albuquerque in New Mexico, is one of the many fun things to do in both cities that you should not miss.
Pumice, lava, and tuff deposits from volcanic eruptions 6 to 7 million years ago created these rock formations. While these cone-shaped rocks can be seen from the ground, it is much easier to see them from a higher vantage point.
The Canyon Trail in the Monument is a 1.5-mile one-way hike through a narrow slot canyon, with a steep 630-foot climb to the mesa top at the end of the trail. There's a picture spot overlooking the tent rocks a few yards before you hit the top. The views from this vantage point are simply breathtaking.
Views of the Sangre de Cristo, Jemez, and Sandia Mountains, as well as the Rio Grande Valley, are available from the summit. The quick 1.2-mile Cave Loop Trail is another trail in the park that you can do on your way back. Because of the volcanic eruptions, geologic observation, in addition to bird watching and plant identification, is another activity in this Monument.
Petroglyph National Monument
Five volcanic cones, hundreds of archaeological sites, and an estimated 24,000 photographs carved by Ancestral Pueblo peoples and early Spanish settlers are among the cultural and natural resources protected by Petroglyph National Monument. Many of the pictures are easily recognised as creatures, humans, brands, and crosses, while others are more complicated. Only the carver would have known what they meant.
Archaeologists estimate that the 17-mile escarpment within the monument's borders contains more than 25,000 petroglyph photographs.
The petroglyphs you'll see were carved between around 1300 and the late 1680s, and are thought to have been made by the ancestors of today's Pueblo people.
El Malpais National Monument
El Malpais' richly varied volcanic landscape provides isolation, leisure, and exploration. Discover cinder cones, lava tube caves, sandstone bluffs, and hiking trails among the cinder cones and lava tube caves.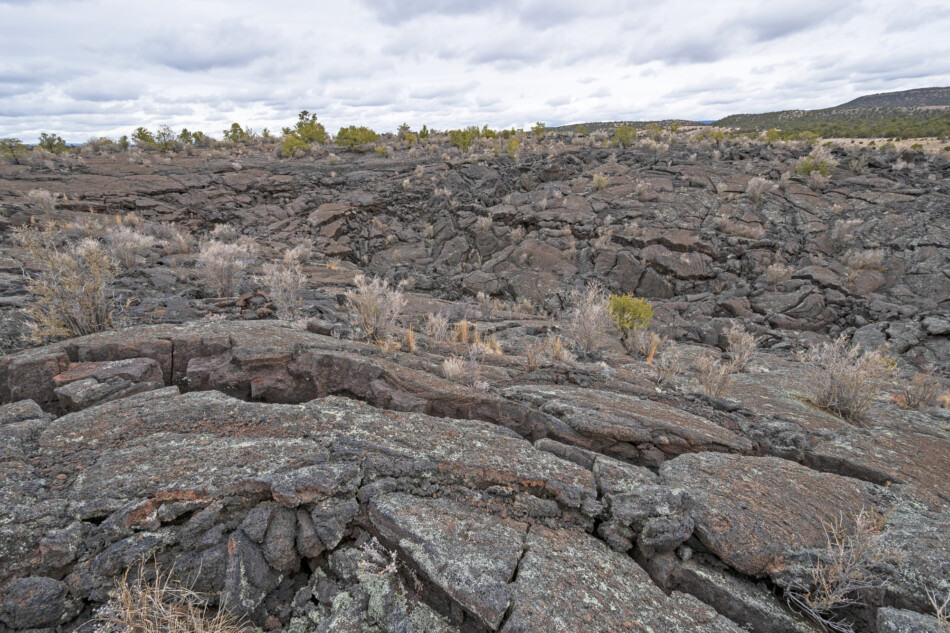 The open grasslands and forests are teeming with wildlife. People have been adapting to and living in this incredible terrain for centuries, despite what some might perceive as a barren landscape. Come see the land of fire and ice for yourself!
El Morro National Monument
Imagine the relief of discovering water after a long day of dusty travel. For hundreds of years, El Morro (the headland) was a prominent campsite due to a reliable waterhole hidden at the base of a sandstone bluff. Over 2,000 signatures, dates, messages, and petroglyphs were carved here by Ancestral Puebloans, Spanish, and American travellers. Make a pit stop at El Morro National Monument on your journey.
Inscription Trail – This is a must–see! If you only have an hour or less, the trail to the pool, which passes hundreds of Spanish and Anglo inscriptions as well as prehistoric petroglyphs, is a must. It will be clear why El Morro was designated as a National Monument. This half-mile loop trail is paved and wheelchair accessible with assistance. You can proceed past the inscriptions and up to the top of the bluff if you have at least 1 1/2 hours and plenty of resources.
El Camino Real de Tierra Adentro National Historic Trail
The El Camino Real de Tierra Adentro National Historic Trail runs 404 miles from El Paso, Texas, to Santa Fe, New Mexico, with a portion of the trail running all the way to Mexico City. Along the entire length of the trail into Mexico, there are parks, historic sites, churches, and original trail segments.
The Rio Grande Valley's El Camino Real de Tierra Adentro National Historic Trail runs through its heart. The trail is jointly managed by the Bureau of Land Management and the National Park Service in order to promote trail maintenance and public use. El Camino Real de Tierra Adentro Trail Association, American Indian tribes, state, county, and local governmental entities, private landowners, nonprofit heritage conservation organisations, and others collaborate closely with these agencies. Trails are privately owned, municipally owned, tribally owned, federally owned, or state owned. Please seek permission before visiting any private trail areas, and check with public sites for hours of operation.
Fort Union National Monument
The territorial-style adobe remains of the region's largest 19th century military fort are exposed to the wind, within a sweeping valley of short grass prairie, among the swales of the Santa Fe Trail. Fort Union served as a catalyst for political and cultural transition in New Mexico and in the Southwest for forty years, from 1851 to 1891.
Gila Cliff Dwellings National Monument
Thousands of years ago, nomadic people used the Gila River caves as a temporary refuge. The Mogollon Culture decided it would be a safe place to call home in the late 1200s. For around twenty years, they constructed rooms, made pottery, and raised children in the cliff dwellings. The Mogollon then went on, leaving the walls as a reminder of their presence.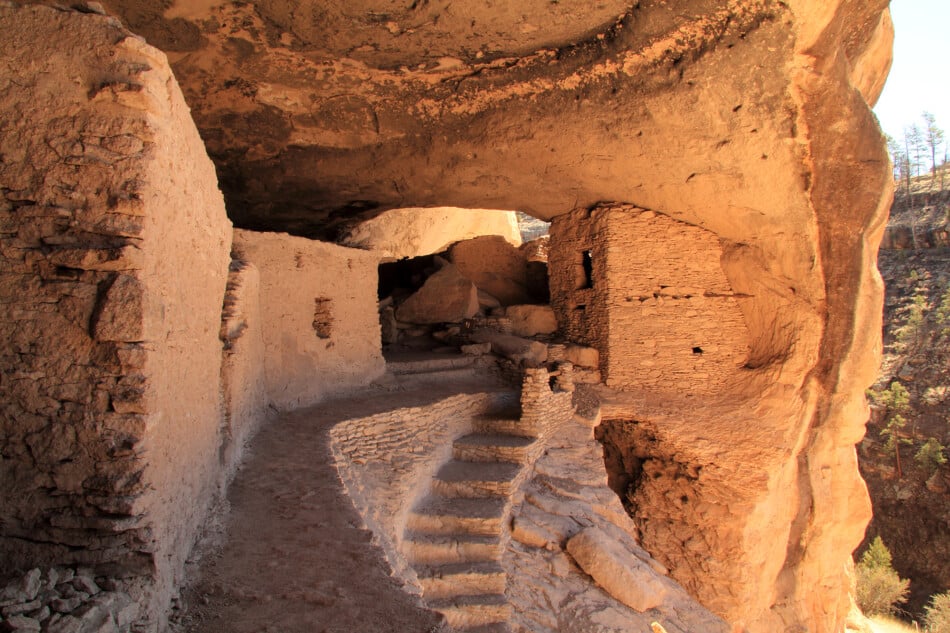 The Gila and Aldo Leopold Wilderness Areas are ideal places to get in touch with nature. You must, however, be prepared for wilderness conditions before venturing out. If you are not an experienced hiker, plan your journey carefully and think twice before going into the Wilderness. Water availability varies greatly depending on the time of year and the weather. Trails may be obvious to you or may not be, and signs are frequently found, but this is not a guarantee. Cellphone service is unavailable in the country. You must be self-sufficient in all circumstances. Check in at the visitor centre for the most up-to-date details, but make your plans ahead of time.
Manhattan Project National Historical Park
This site tells the story about the people, events, science, and engineering that led to the creation of the atomic bomb, which helped end World War II.
Los Alamos is home to the New Mexico Manhattan Project National Historical Park. About 6,000 scientists and support personnel served on the development and production of atomic bombs. The park is divided into three sections: the Gun Site Facilities, the V-Site Facilities, and the Pajarito Site.
Pecos National Historical Park
The remains of Indian pueblos stand as meaningful reminders of people who once prevailed in the midst of pion, juniper, and ponderosa pine woodlands of the Sangre de Cristo Mountains, not far from Santa Fe.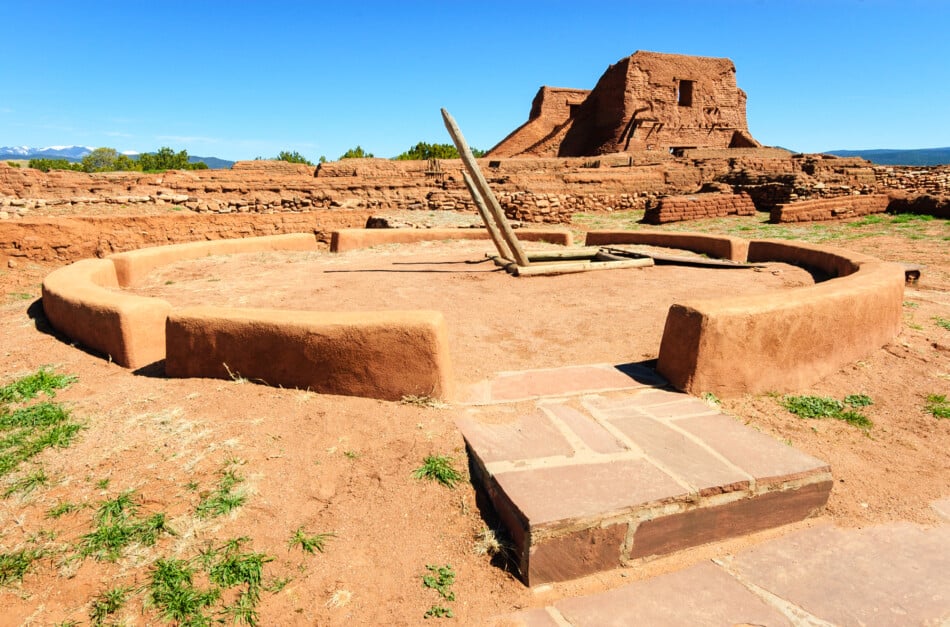 Pecos National Historical Park allows tourists to learn about the cultural exchange and geographic features that were so important in the Pecos Valley's rich history.
Salinas Pueblo Missions National Monument
Salinas Pueblo Missions National Monument is tucked away in the middle of New Mexico. Its three distinct locations provide a window into a remarkable period in history, one marked by cultural borrowing, strife, and struggles.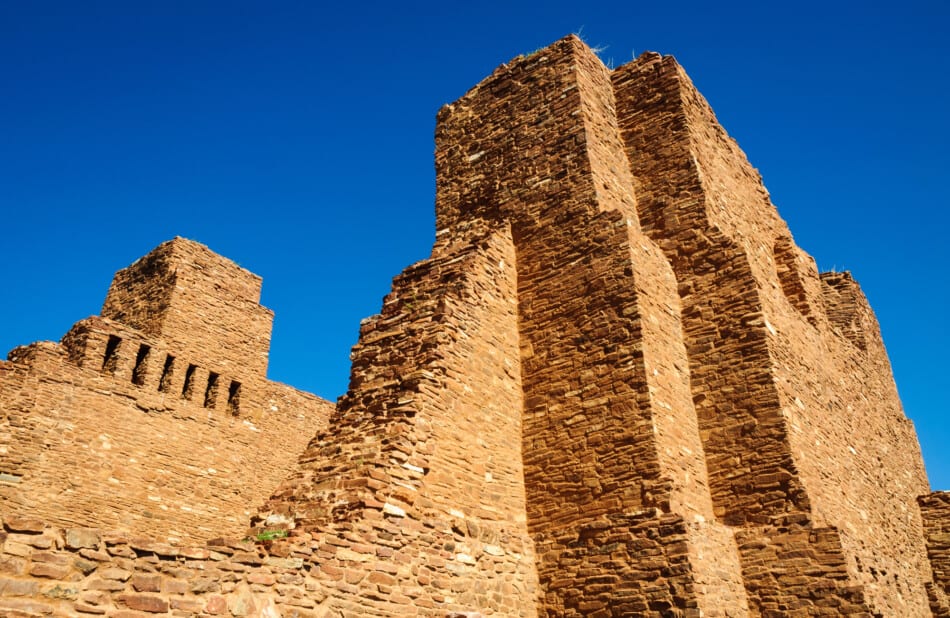 These sites serve as reminders of the early encounters between the Spanish and the Pueblo peoples, as well as prompting exploration of today's interactions between different people.
Valles Caldera National Preserve
A spectacular volcanic eruption about 1.25 million years ago formed the Valles Caldera, a 13-mile-wide circular depression. Wide mountain meadows, abundant wildlife, and meandering streams characterise the preserve. The area also protects indigenous aboriginal peoples' homelands and has a long ranching tradition.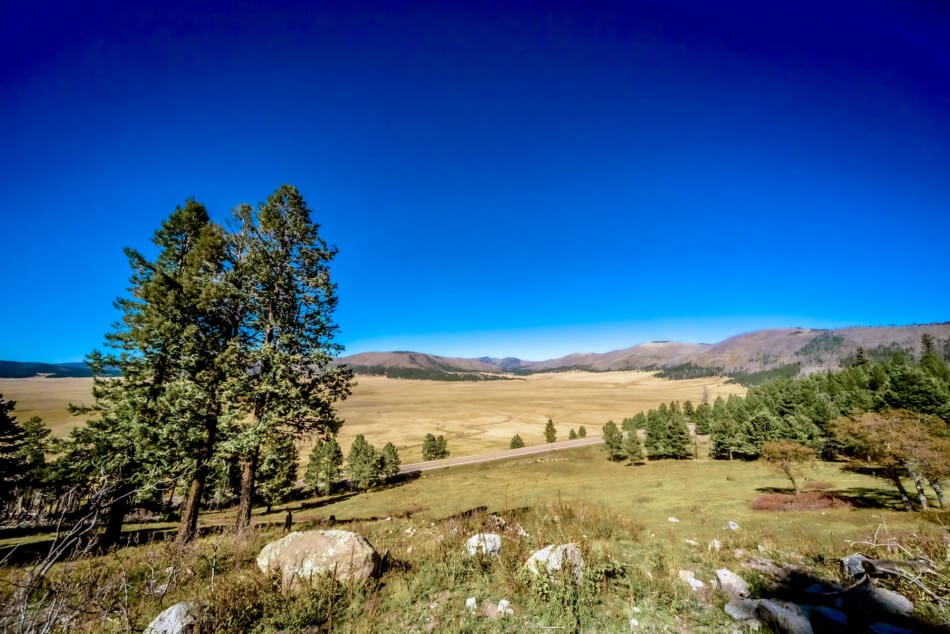 A spectacular volcanic eruption about 1.25 million years ago formed the Valles Caldera, a 13-mile-wide circular depression. Wide mountain meadows, abundant wildlife, and meandering streams characterize the preserve. The area also protects indigenous aboriginal peoples' homelands and has a long ranching tradition.
New Mexico National Parks Map
Recent Posts