Best Day Packs for Women – Backpacks for day hikes
In my 25 years of travel, I have tested many of the best day packs for women. After having comfy shoes for walking, my next priority when I travel is to have the best women's daypack for hiking or even a small women's daypack for spending the day sightseeing.
Over the years I've had hundreds (ok, maybe a slight exaggeration) of small hiking backpacks and lightweight day packs for travel. Lots of them barely lasted the trip as they just weren't durable. I don't want you to waste your money on a crap daypack so I thought I would review the best women's daypack for hiking and day trips.
These backpacks have been tested in the rugged New Zealand wild where I live and also abroad. My favorite, and the best daypack for women, has made it through two six month trips to Africa. That is a durable daypack.
Features – What to look for in a daypack for women and best daypack for hiking
Day backpacks come in a lot of shapes and sizes but these are the 5 things you need to think about when choosing the best day backpacks for you.
Comfort
The right day backpack fit must have a size appropriate for you torso length and a comfortably snug grip. Adjustable torso length is important in a daypack. There are some packs that offer multiple sizes which can it a range of torso length. If you are in a store, it would be better if you try on several packs and find the one that's really comfortable on your body.
When you are trying packs on, I suggest that you position the hip belt so the top edge is about one finger above the top of your hips, then you look and feel at how the shoulder straps land on your back and shoulders. I cover which is the best women's day packs for comfort in the reviews.
Padded Shoulder Straps
Although most daypacks may not have as much adjustability compared to a backpacking pack, still there are some that area adjustable to various degrees. In order for you to know the adjustability of a daypack, you can start by loosening all the straps and the hip belt. The hip belt pocket must be straddled on your hips and the padded sections are wrapped centered over your iliac crest.
And for the shoulder straps, the straps should hold the pack close to your body, but not carry the weight. The anchor points should sit one to two inches below the top of your shoulders.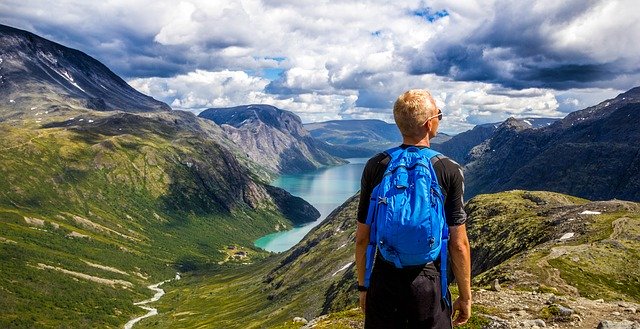 Weight
There are some daypacks that have fast and light attitude while others come loaded with bells and whistles. There can be extra features that can make your hiking easier, but you also have to trade convenience and comfort for additional weight. The key is to figure out your specific needs and balancing the features that can come with and how much are you willing to carry.
Ease of Use
Most day backpacks are a top-loading design that allows you to put items that you don't really need until the end of the day go deep inside. There are some top-loaders that have an extendable top lid that allows you to overstuff the pack a little bit.
Usually, day hiking backpack have front access that offer a main storage compartment that is accessed through a U-shaped zipper. And some daypacks have bottom access to the interior in addition to a top opening. This can be convenient and handy for accessing the gear or essentials at the bottom of your pack without taking everything out first.
Durability
When you are looking for a women's hiking daypack, you must need a small daypack that is tough and durable that can almost go anywhere with you. If you invest on the right daypack for hiking, you can find one that will truly last forever or for a longer period of time.
Pay attention to the material the backpack is made of if you want your daypack to be durable and heavy-duty. Some of the long-lasting daypacks are made from canvas, duck fabric, nylon cloth, and polyester. These materials are among the strongest and toughest that you can find in the market today.
Best Hiking Daypacks and Daypacks for hiking
The Camelback Women's Sequoia 22 is the most technical pack designed for women. It has a shorter torso length and S-shaped shoulder straps that will curve around your chest for maximum comfort. Plus, it has an innovative air tunnel that will maximize ventilation while keeping the load close to your body for stability.
Its adjustable sternum strap is engineered to better fit a woman's frame and comfortably fit a variety of chest sizes. And when you have trekking poles to carry with you, there is a space in the pack where you can easily attach and remove the poles when needed.
This lightweight hiking daypack has multiple pockets where you can put your essentials such as your electronics, sunglasses, snacks, gear, and more. This pack only weighs 2.8 pounds. It is the best day backpack for women.
Pros: Multiple pockets, lightweight day hiking backpack, 3 liter crux reservoir
Cons: It does not come with rain cover
This Osprey Women's Tempest 20 light day pack backpack is your perfect lightweight companion for your next outdoor adventure. This panel-loading backpack can hold up to 20 pounds of gear and water while keeping your things organized inside with its convenient pockets. This backpack is fit, breathable, and cushioned to keep you comfortable.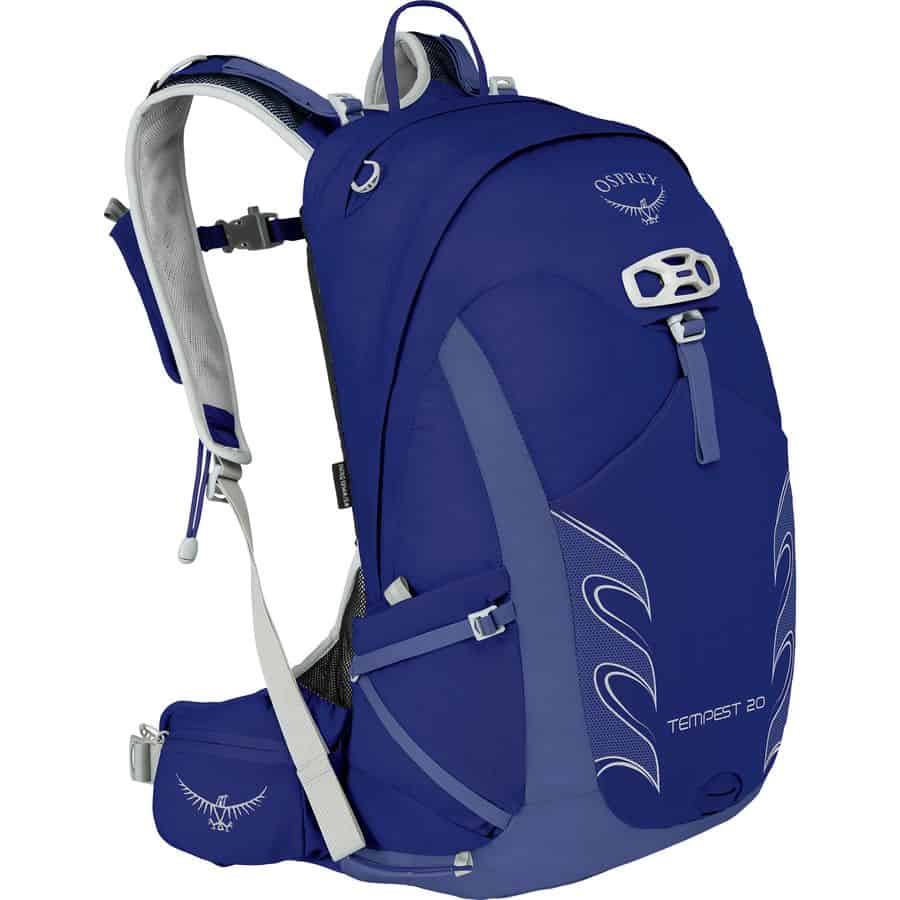 The hip belt's ErgoPull adjustment feature makes it easy to tighten or loosen the backpack, and the shoulder straps, harness position, and sternum strap can also be adjusted according to your desired fit. And a pull-out LidLockhelmet attachment fits through the vents on your bike helmet to secure it to the front of the pack.
Pros: Can hold up to 20 pounds of gear, high-quality
Cons: Slightly expensive
This super comfortable Chimera 18L is your go to backpack for your next outdoor adventure whether you are moving fast and light in the mountains and you don't need to bring a lot of stuff with you.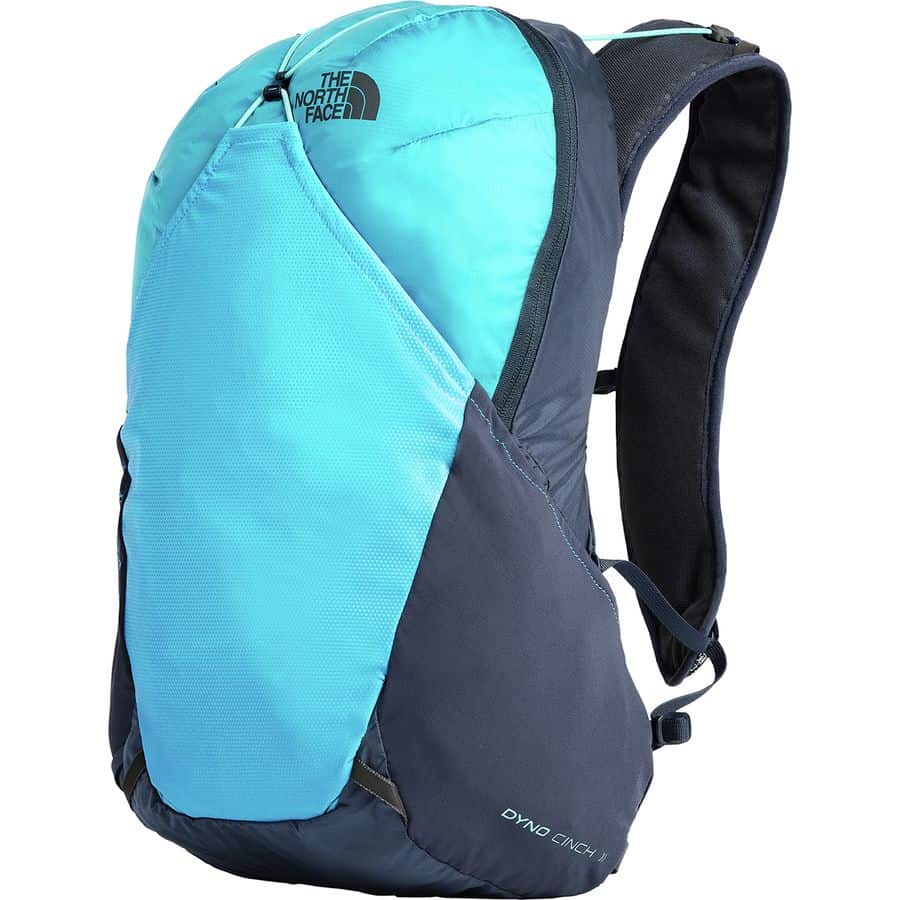 It is designed to keep you moving lightly and comfortably on the trails and it has a system that allows you to make on-the-fly load stabilization and compression adjustments without having to take the pack off. It is one of the best lightweight daypack and best women's daypack.
And even if you are moving fast or arduous ascents, the FlashDry technology and breathable back panel will keep you cool and comfortable whole gear loops and multiple pockets will store all your essentials. And the hydration sleeve and accessible water bottle storage will give you refreshment throughout your hike.
Pros: Lightweight yet very roomy, accessible storage space
Cons: Not waterproof
If you are looking for a proportional backpack that is very comfortable, this Osprey Talia Pack is the one for you. There are a lot of things that you will surely love about this women's backpack and its perfect as a backpacking daypack or backpack for walking. It is the best osprey daypack and day hike bag.
The suspended mesh Airspeed back panel feature of this backpack ensures effective ventilation. The vertical center zippered pocket, heat embossed slash pocket, side stretch-mesh pockets and front panel pocket will keep all your essentials organized and accessible.
Although this bag is on the side of expensive backpacks that you can find in the market, it is worth it because it is durable, thoughtfully designed, and high performing that will surely meet your needs both for everyday use and travel. Plus, it has a laptop compartment in case you need to bring it for your trip.
Pros: Durable, multiple pockets, ideal for traveling
Cons: Not waterproof, but water resistant only
One of the top daypacks and quality backpack for women is a reliable ultralight day pack that is a lightweight backpack with a lot of useful features which makes it a perfect companion for your outdoor activities! The best backpack for day hikes. I consider this a great day backpacks.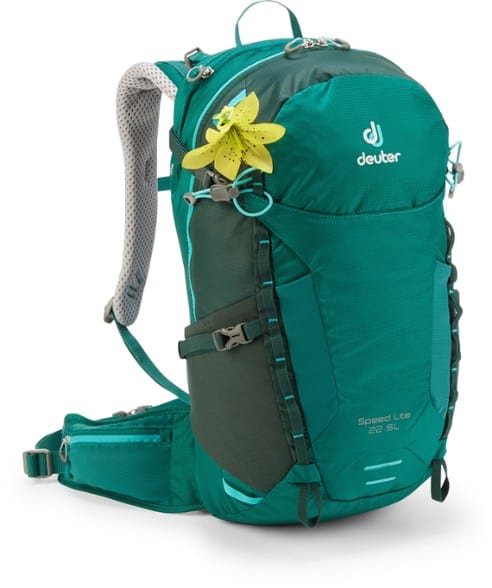 The key features of this day hiking backpack for women are: ultra-lightweight, multiple pockets, sunglass attachment loops on the shoulder strap, and pack with a frame. The name SL stands for "slim line" which means that it is perfect for women with a shorter body size because the shoulder harness is narrower and shorter in length and the buckles are smaller.
The zippers of this day hiking pack are equipped with easy finger-pull loops and side compression straps adjust pack volume and it can be fastened across the front of the pack to carry skis other bulky gear.
Pros: multiple pockets, ultra-lightweight small hiking daypack or walking daypack
Cons: No adjustable harness, no padded hip belt, no reservoir
The Patagonia Refugio is regarded as one of the most popular packs for women. This pack features two main zipped compartments, one zipped stash pocket for easy access, and two elastic side pouches for your water bottle. There are also useful organizers that you can find within the two main areas of the bag so you don't have to rummage to the bottom.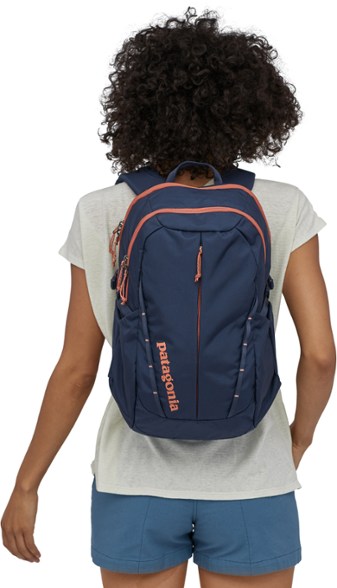 In the larger compartment of this pack, you can find a padded section where you can put your laptop or tablet which can fit up to 15' devices. There is also an opening at the top of the bag for a hydration bladder which can sit comfortably in the laptop area.
The ultra-soft yet highly breathable mesh on the shoulder straps and back panel prevents overheating, and the shoulder straps have a straighter cut and more taper to fit a female torso.
Pros: Two main zipped compartments, extremely comfortable
Cons: not waterproof
The Patagonia Nine 26L pack is your bag for every occasion. Whether you are climbing, hiking, traveling, or just for everyday use, this pack is your best friend. The ample storage and comfortable design will make you love this pack and is it the best option for outdoor activities.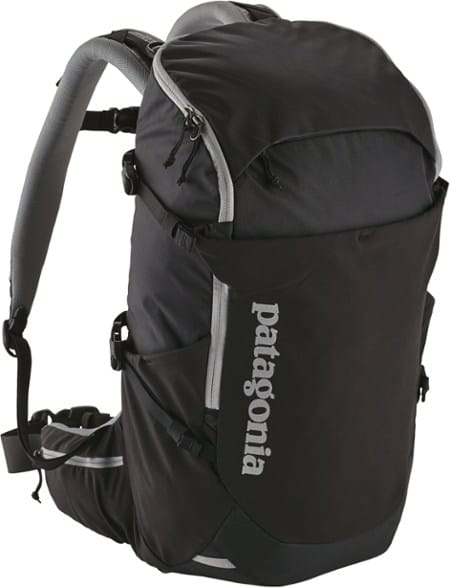 The best features of this pack are: durable CODURA nylon ripstop, top loading design with extended U-shaped zipper, large exterior stretch pocket and 2 side pockets, zippered hip belt pockets, and mono-mesh back panel with removable frame.
The design of this pack is with perforated foam, the padded shoulder harness and hipbelt keep you load comfortably centered and close to your back so your gear moves with you.
This light and durable pack is made with ripstop nylon and 200-denier polyester lining and with a polyurethane coating and durable water repellent finish.
Pros: Flexible back panel, removable internal frame panel
Cons: Not waterproof
The Rei Co-op Flash 22 pack will give you an all-around performance for light and fast activities at a very reasonable price. This pack is made even lighter together with its streamlined features and suspension.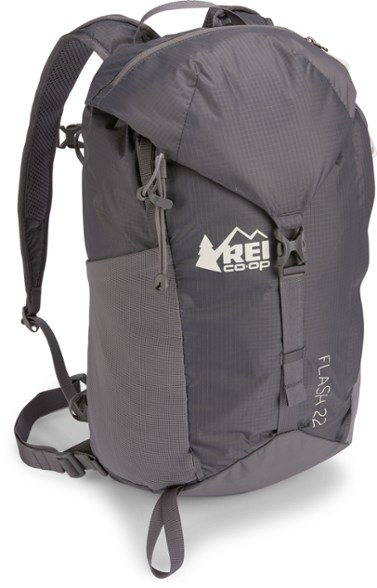 Whether you are going got trail running, hiking, traveling, or commuting, this pack is carefully designed to minimize weight, and maximize functionality. The breathable, stretch-mesh shoulder straps have fold-over padding that softens contact with your neck and shoulders.
The mesh-back is so soft, breathable, and lightly padded to give you comfort while hiking. The back panel can be removed for use as a sit pad and the waistbelt and sternum strap can be detached to save weight and the pocket design makes it easy to use.
Pros: Lightweight, comfortable suspension for the weight
Cons: Not durable and uncomfortable especially with heavy loads
The external rain cover and whistle buckle of this NEVO RHINO backpack makes it a multi-purpose pack and highly suitable for all types of adventure and outdoor activities.
It is meticulously designed to provide 100% service with its finest quality. This pack is made of nylon fabric material which makes it very sturdy. The bracket is designed with a breathable system that distributes the weight to all parts of the body to give you a more relaxed and comfortable feeling.
The chest buckle uses a survival whistle which can adjust the direction itself to avoid blocking the whistle when it is snowing. And the key pocket is designed in the top pocket for easy storage.
Pros: Waterproof, Ultralight, Compact
Cons: None
The FlexVent suspension system of this backpack features a flexible yoke built from custom injection-molded shoulder straps, a padded mesh back panel and a breathable lumbar panel.
It has a padded laptop sleeve that you can find in the main compartment protects your things from bumps and falls. And the large main compartment are made to store books and binder. The front pocket has an organizational panel to keep pens, pencils, or other smaller items securely in place,
Pros: Large main compartments
Cons: Not ideal for extreme outdoor activities
If you are looking for a big yet comfortable daypack that can carry heavy loads and big days out, this Gregory Jade 28 pack is a great choice. This pack can carry a lot of gears which makes it perfect for anyone who does pack heavy even for day trips or wants to camp overnight.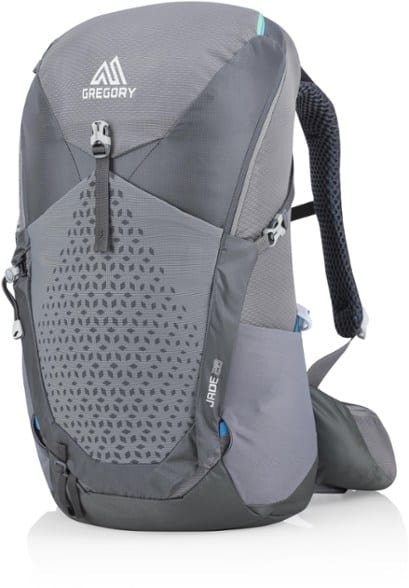 And when you load a lot of things inside this pack, it still feels comfortable because the frame helps transfer the weight onto the hips while promoting airflow so you won't get too sweaty at the back. It has also a comfortable, body-hugging fit with padding to wear all day.
When it comes to storing all your essentials in the pack, the Jade pack has a stretchy overflow pocket and handy sunglasses quick stow loop to make it easy to shed and don layers as you need. And the two hip belt pockets can store an oversized smartphone.
Pros: Large capacity, adjustable torso,
Cons: runs small, heavy, expensive
The Osprey Daylite Plus Pack is a great combination of hiking and everyday use backpack. Although it doesn't require high performance, this bag can still perform very well while hiking in the wild or just using it for work or school which makes it versatile.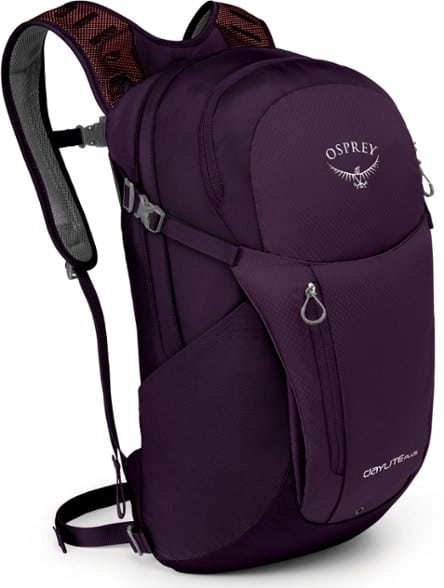 This small backpack for hiking is very comfortable, the shoulder straps are thin, but specifically molded and proportioned just right. The simple mesh-over-foam back panel is more breathable and supportive.
The large main compartment has a padded interior sleeve to hold a tablet or laptop or another device that you may have. The zippered mesh organizer pocket has a key fob.
Pros: Versatile, small hiking backpack
Cons: Too small for cold pursuits
Conclusion: Daypacks for Hiking – Best daypack for women
I hope you've enjoyed this list of the Best daypack for travel and best daypacks for women. Finding the best women's daypack for hiking can seem daunting at first but that is why I have put together this comprehensive review and list of the best ones.
As you can see from my website I do a lot of hiking in the American SW so I know a good day pack when I see one. Check out some of my best hikes and gear below.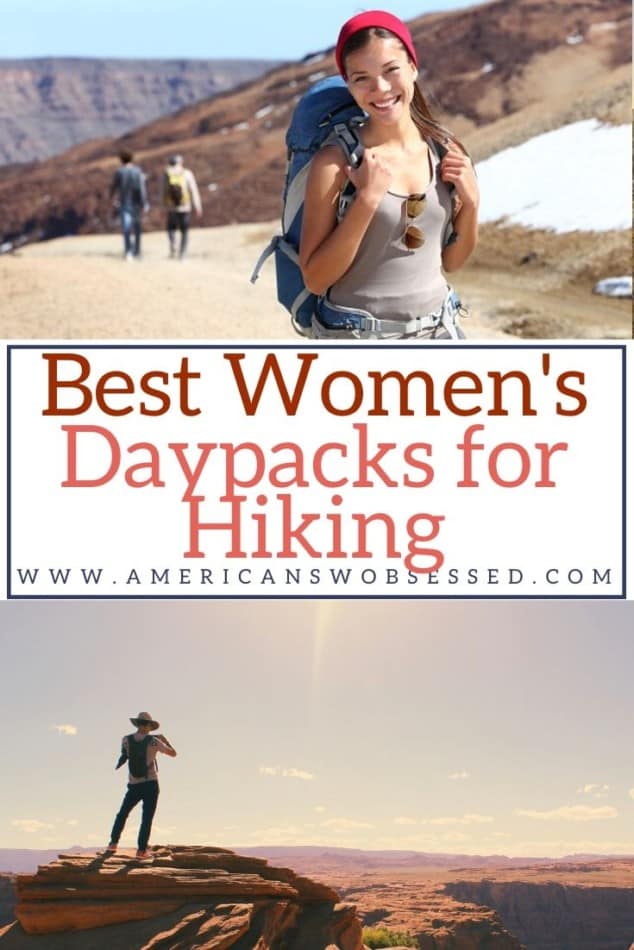 Continue Reading more on my website:
Best Self Inflating Sleeping Pad for camping
Best Sleeping Pad for Side Sleepers
Best Water Shoes for Hikes
Best Hikes in the Grand Canyon
What to know about the Horseshoe Bend Hike
Recent Posts