101+ Date Ideas Las Vegas: How to Plan the Perfect Date Night in Las Vegas
Things to do for Couples in Vegas: Are you looking for romantic things to do in Vegas for couples? This list of couple things to do in Vegas has something for everyone.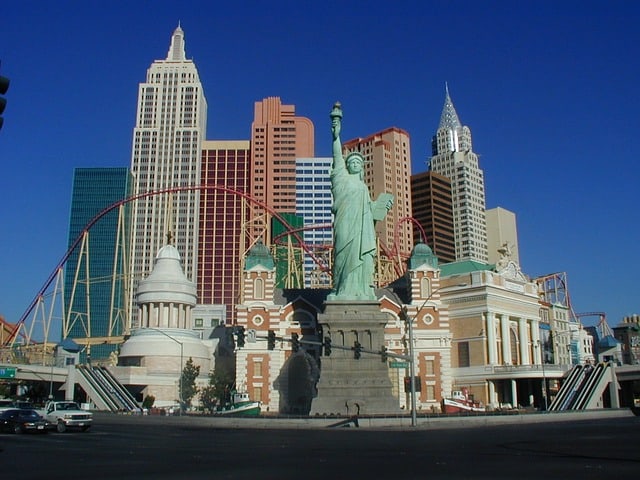 There are so many romantic places in Las Vegas and none of them involve a White Chapel. If you are looking for romance in Vegas or Las Vegas anniversary ideas there are so many romantic activities in Las Vegas on this list.
Thank you for supporting this website written by an American. This post may contain affiliate links. This means I earn a small commission on these links at no extra cost to you.
101+ Romantic Things to do in Vegas: Las Vegas Couples Activities
Helicopter Ride over the Grand Canyon
This tour is one of the most romantic things to do in Vegas for couples. Its a great Las Vegas date idea.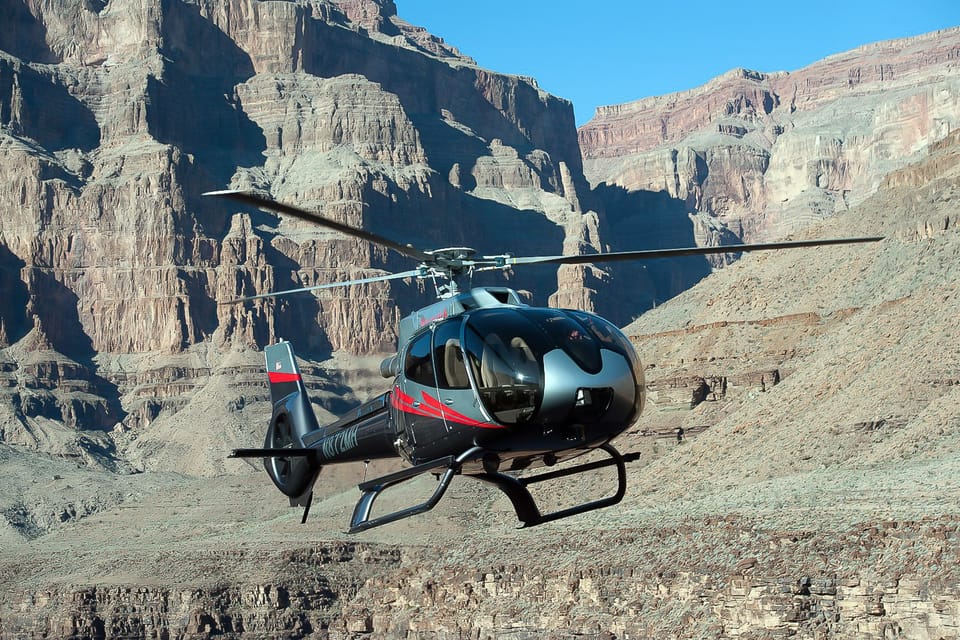 Your helicopter flight will begin with a limousine pick-up and transportation to McCarran airport, where you will depart on a picturesque flight to the Grand Canyon West Rim, giving you a birds-eye view of Vegas, Lake Mead, and the Hoover Dam!
It lasts anywhere from 20 to 90 minutes (depending on where you sit) and offers guests a unique opportunity to see one of America's most iconic natural vistas up close.
You get to land below the rim of the Grand Canyon after your helicopter tour arrives at the West Rim and enjoy a champagne toast and light nibbles. With extra-cutesie add-ons like champagne by the bottle no-hassle picnic set-ups, kayaking, or pontoon rides, what's not to love?
Sound Interesting? Check Availability and Book Tickets
The High Roller at the LINQ
This 30-minute sky wheel, which soars 550 feet above the bright lights and mayhem of The Strip below, screams romance.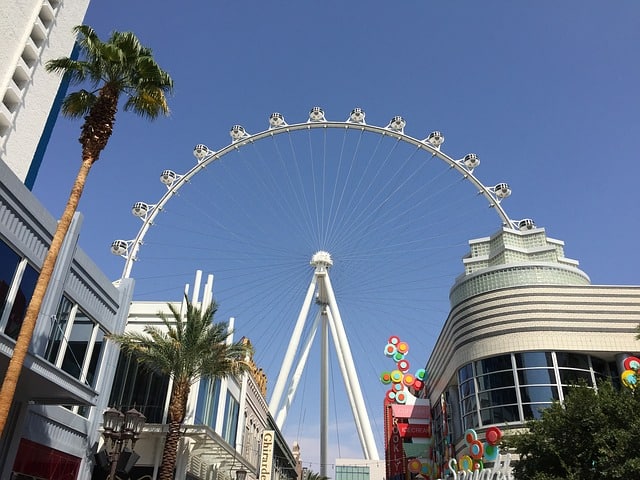 A lap from bottom to lop is the perfect aphrodisiac before hitting the town, with amazing views (it is, after all, the world's tallest observation wheel), a private cabin, and the option to include some beers or bubbly.
Book a sunset ride for those scroll-stopping photographs that will leave all the other couples back home green with envy.
Gondola Ride at the Venetian
The Gondola Ride at the Venetian is another great photo opportunity that will bring out your inner romantic.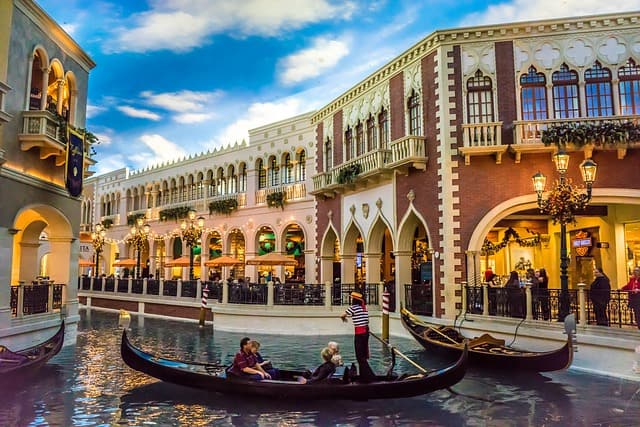 The Venetian Resort's gondola rides may make you feel as if you've been whisked away on a European honeymoon. You and your significant other can take an inside or outdoor gondola ride down the Grand Canal while looking up at the passing bridges and balconies.
A singing gondolier who will guide your gondola will also serenade you live.
Take a Hot Air Balloon Ride
Have you ever dreamed to see Las Vegas from a height of hundreds of feet? Looking down over the Las Vegas Strip, the arid desert terrain, and the spectacular Red Rock Canyon can be both romantic and thrilling.
A hot air balloon ride over the Mojave Desert, with the world-famous Strip in the distance, is one of those once-in-a-lifetime moments that you must share with your lover.
While it isn't cheap — plan to pay roughly USD 200 per person for a flight into the sky — the peace and romance of being suspended in the air with nothing but desert and nature as far as the eye can see while toasting your glasses of champagne make for some truly unforgettable moments.
Sound Interesting? Check Availability and Price
Go to a show – Cirque du Soleil
Look no further than a Cirque du Soleil acrobatic show for some of the most visually breathtaking entertainment in Las Vegas.
Wiki Commons
Ed Schipul
On any given day, four places around town host a half-dozen shows, each with its distinct touch and style that will leave you both moved and entertained.
The Beatles LOVE is at The Mirage; Michael Jackson ONE is at Mandalay Bay; Mystère is at Treasure Island, and the ageless "O" is at the Bellagio – tickets start at around $70 for all four concerts, with online discounts available on occasion.
Sound Interesting? Check Availability and Price
Take a Helicopter Ride over the Strip
In a city where there's always something new to see, the only way to appreciate Vegas' splendor is from a high vantage point. A helicopter ride is the perfect Las Vegas attractions for couples.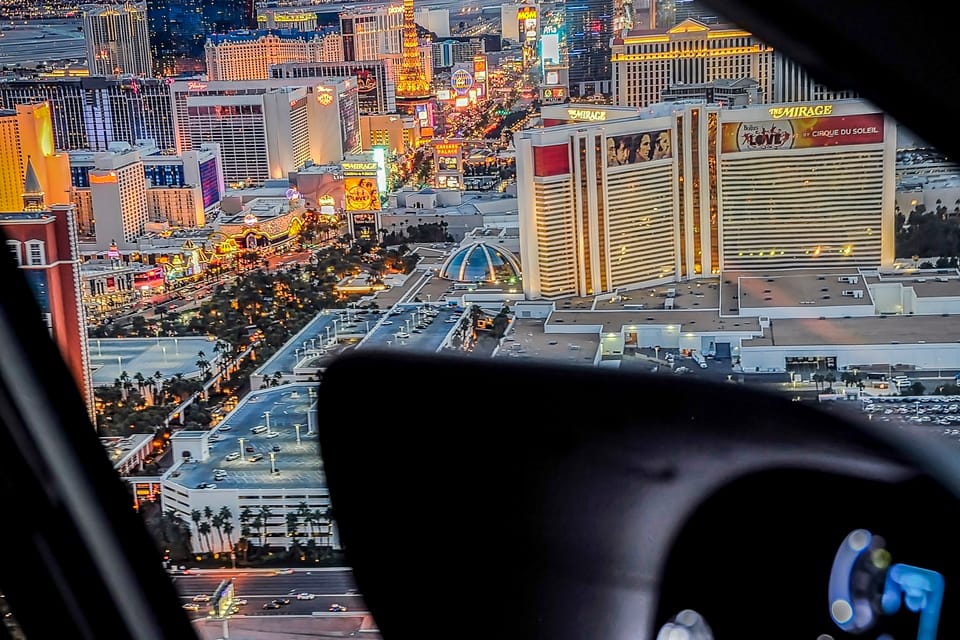 An aerial tour of The Strip at night, when Vegas sparkles like a million dazzling diamonds and radiates with neon-lit beauty, has to be at the top of your list of things to do in Las Vegas.
The tour begins with a champagne toast and a pick-up by a luxury SUV. After your glass of champagne, take a 15-minute helicopter ride above the Strip.
Consider combining a picturesque flight with a jeep tour or, better still, an Eiffel Tower dinner to truly impress your better half!
Sound Interesting? Check availability and price
Kayak Emerald Cave
This kayaking tour, a natural marvel of Nevada, provides a nice change of view from the bright city lights. The fresh air will be greatly appreciated, whether you choose to travel along the Colorado River or Lake Mead.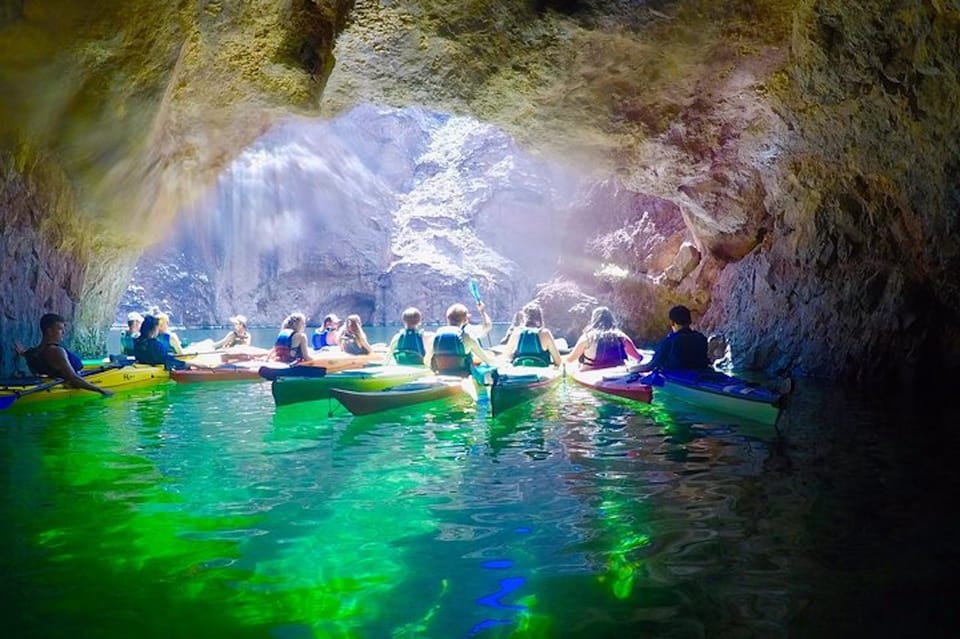 Choose a twilight paddle at the Black Canyon for the ideal romantic experience, where the night sky is unblemished by city lights.
Sound Interesting? Check Availability and Price
Secret Food Tour
Although Las Vegas is home to some of the world's best dining, navigating through all of the glitz and glamour and knowing what's what can be challenging.
This is where food tours come in handy! Visitors can take a personalized guided tour of Las Vegas, led by a friendly local, where they can learn about the city's history while eating their way through up to a half-dozen different restaurants and eateries.
This 3-hour walking tour begins in the afternoon and takes you to some of the most prestigious restaurants in the city, including those run by chefs such as Gordon Ramsay and Giada De Laurentiis. Stroll down The Strip while sampling delectable cuisines in Las Vegas' culinary wonderland.
Sound Interesting? Check Availability and Price
Go Hiking in Valley of Fire State Park
Hiking in Valley of Fire State Park is one of my favorite Las Vegas couples activities.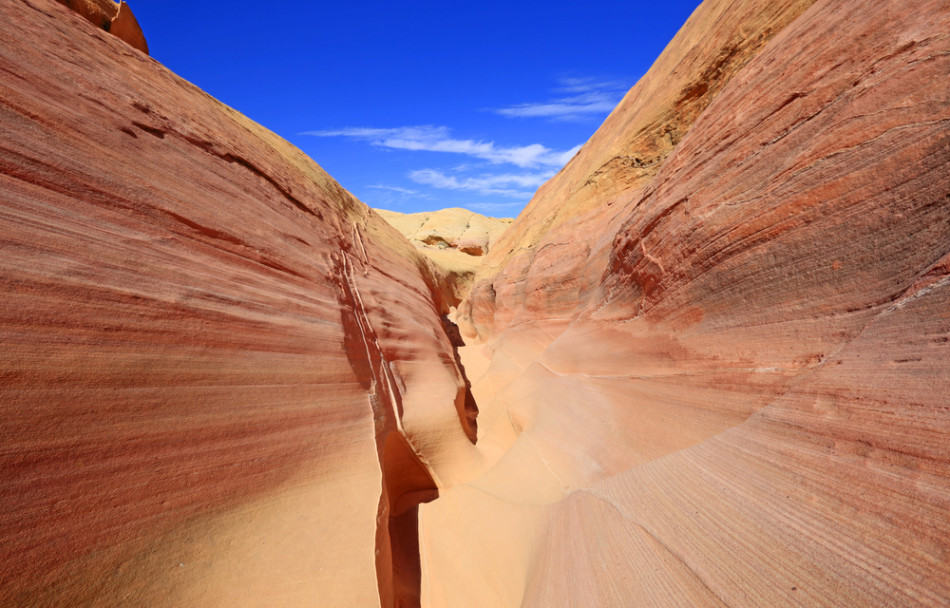 Nevada's oldest state park, located 55 miles northeast of Las Vegas, is a beautiful geological park. The Mojave Desert's 150 million years of weathering produced its spectacularly colored sandstone formations.
Camping, hiking, picnicking, and photography are all popular activities. A visitor center introduces tourists to the area's attractions. Seventy-two campsites with shaded tables, grills, water, and facilities are offered for an extra cost (first-come, first-served).
This National Historic Landmark offers a glimpse into a completely pristine section of the American West, with beautiful rock formations that produce smooth golden-red cliffs and arches — as well as precipitous drops into gorges with extensive caves ready to be explored!
Check out one of the Hotels with Lazy River and Waterslides to cool off
Whether you want to splurge on a rooftop suite or simply enjoy the views from your room, there are numerous hotels in Las Vegas that are absolute havens for couples.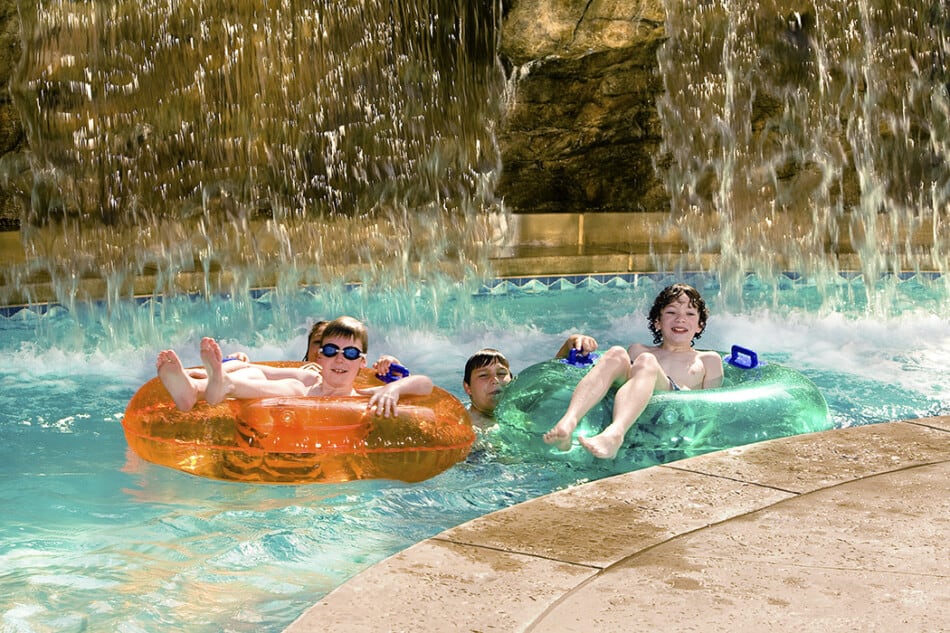 For real romantics, a hotel with spa facilities, intimate restaurants, lounges, and bars, as well as spectacular city views, is needed.
In the Nevada Desert, a trip to the Wet n Wild Water Park is the ideal way to cool off. There are over 25 rides and slides to keep you entertained at the watery oasis. High-speed water slides, a lazy river, and a beach area are among the attractions.
The park hosts themed nights over the summer to add to the fun. On Friday nights, they have a dive-in movie, and on Saturday nights, they have DJ sessions.
Check out my post on the best water parks in Las Vegas to cool off.
Eat at Giada's for Dinner
For years, Giada De Laurentiis' Italian entrées with a California twist have been a hit.
In a warm and comfortable environment with amazing strip views, enjoy specialties like lemon pasta and Marsala herb chicken meatballs. Don't forget about the bread basket.
Everyone can choose from a variety of specialty menu options. Simply inform your server, and they will walk you through the menu options or prepare something special for you, such as house-made gluten-free pasta.
Explore Red Rock Canyon
The Red Rock Canyon National Conservation Area, about 17 miles west of the Las Vegas Strip and a short car ride away, is a stunning, romantic site for a nature rendezvous.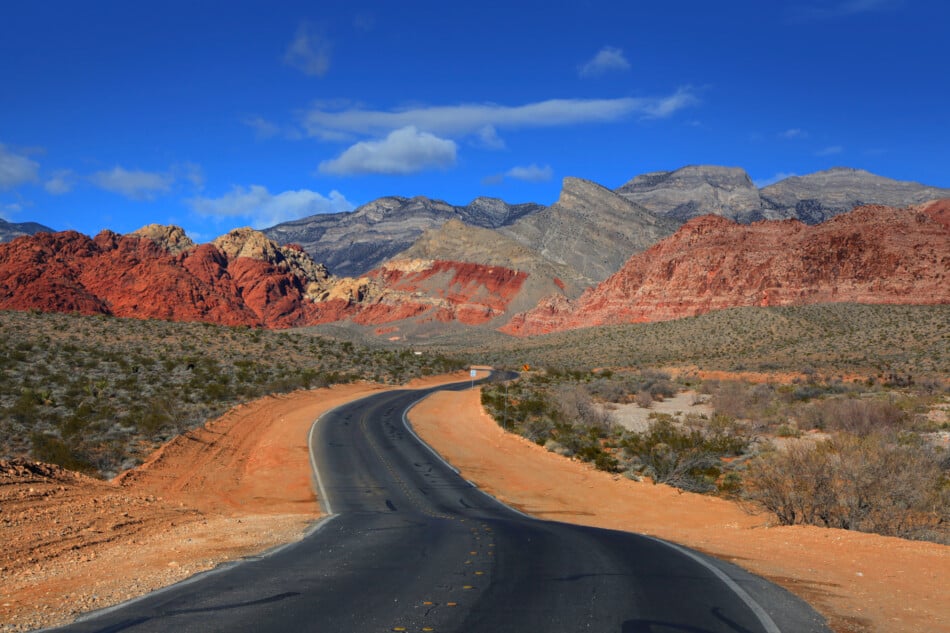 Couples can enjoy a 13-mile picturesque drive from the air-conditioned comfort of their car, or they can enjoy a picnic in the fresh air if the weather is exceptionally hot. Hiking, mountain biking, and rock climbing are all options for adventurous couples.
Explore Red Rock Canyon and see some amazing rock formations. The stunning natural beauty will leave a lasting impression.
Eiffel Tower Experience
At Paris Las Vegas, the Eiffel Tower Experience is a half-scale replica of France's most romantic landmark. The 46th-floor observation deck is reached via a glass elevator, where you can enjoy panoramic views of The Strip and the surrounding landscape.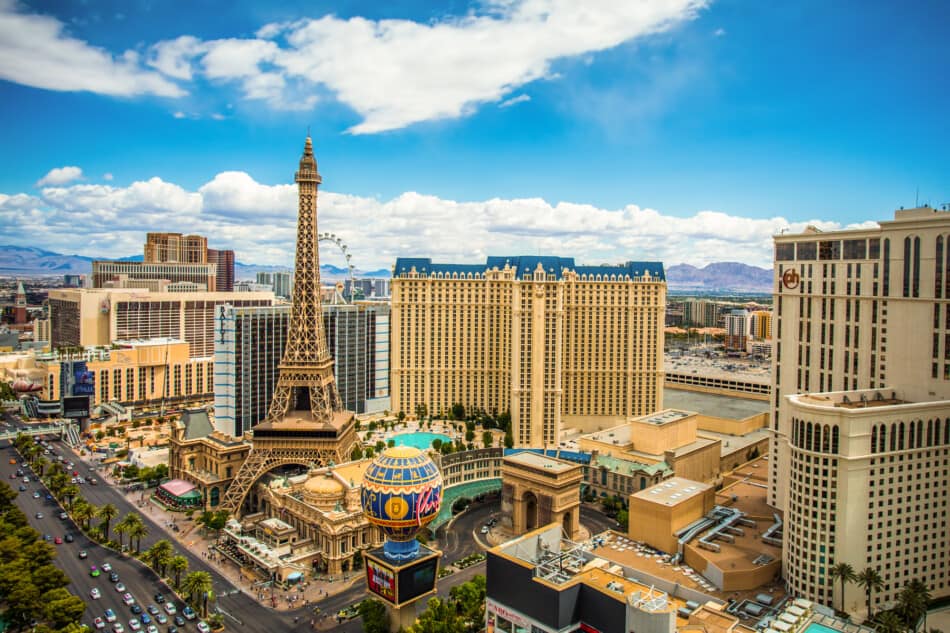 Attaching love locks to the fence near the observation deck is a popular activity for couples. The Arc de Triomphe and the Paris Opera House are among the many recreations of Parisian buildings in Paris Las Vegas.
It's the perfect way to start or end your stay in Sin City, with romantic dinners and a wide selection of wines to choose from.
Listen to the Dueling Pianos at Eastside Lounge At Wynn
This day and nightclub at the Wynn is a popular spot for young and social partygoers who want to see big-name DJs, with daybeds and private cabanas that you and your better half can book in advance.
While sipping an expertly handcrafted cocktail and sampling tasty snacks and specialties at Eastside Lounge, you may take in amazing views of the Encore resort pool. The classic and unique cocktail menu is rounded up with a wide assortment of spirits, wine, and beer.
You can only imagine the amazing poolside environment with world-famous stars like David Guetta and The Chainsmokers performing.
Tour the Hoover Dam
The Hoover Dam is nearly a century old. It was built with the help of thousands of creative minds and people. The dam generates four billion megawatts of hydroelectric power each year.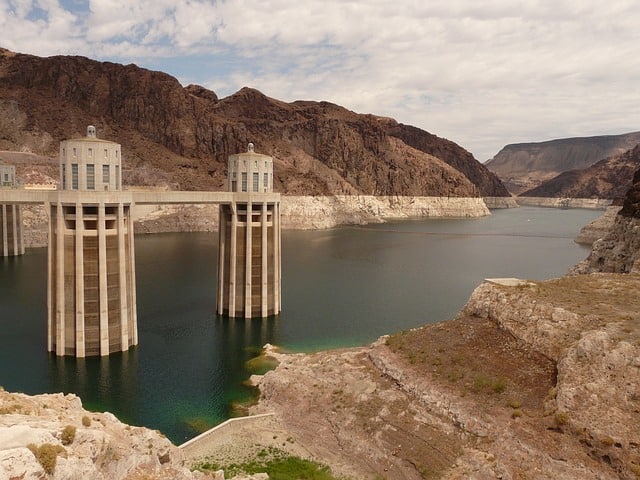 Couples visit the dam as tourists to take in the spectacular vistas of Lake Mead. It also allows them to go away from the chaos and congestion of Las Vegas and appreciate the countryside.
Thanks to Vegas Lens, you can take a helicopter ride over the Hoover Dam. You'll fly 500 meters above the lake and get a bird's-eye view of the dam.
Visit Skybar at the Waldorf Astoria
Skybar is a place where modern design meets Vegas flair. This 23rd-floor Skybar, perched far above the Las Vegas Strip, is a unique blend of beautiful décor, stunning vistas, and a sophisticated ambiance.
Mixologists from all over the world handcraft their astounding variety of drinks, which range from traditional favorites to quirky variations. For pre-show or late-night, the light bites and expertly made beverages are a must.
Due to current local restrictions, guests are welcome to visit both the Skybar and the Lobby Lounge, which all provide the same beautiful Vegas vista.
By reservation, a VIP section with a sliding partition and special service is available.
Hike to Arizona Hot Springs at Mead Recreational Area
Why not get off the strip and spend some time in nature? The rugged hills that surround Lake Mohave are quite scenic and impressive from afar. It is a popular hiking destination, especially since the weather is warm for much of the year.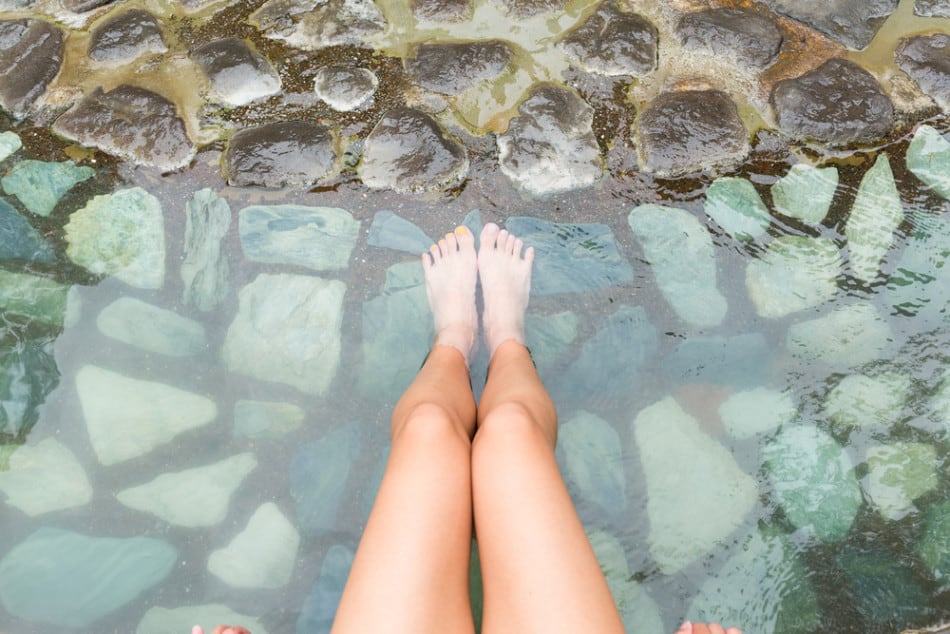 However, a few miles south of Hoover Dam, there is a nice route that leads to the Arizona Hot Springs, a 110°F water source in an unusually colorful slot canyon with hot pools, cascades, and a 20-foot waterfall.
The three-mile hike to this secluded spot passes through four different landscapes: it begins beside US 93 in a wide desert wash, then descends a narrow and enclosed ravine (White Rock Canyon) through dark, foreboding volcanic rocks before emerging beside the deep, greenish waters of Lake Mohave, opposite Ringbolt Rapids on the Colorado River. The final section of the trail reaches the cool, moist confines of the slot canyon, reaching the springs by a metal ladder adjacent to the waterfall after trekking south along the coastline for a short while.
Overall, this is a great hike that isn't too challenging and is well-deservedly popular in the fall, winter, and early spring.
Watch Live Lounge Music at Le Cabaret At Paris Hotel & Casino
Take a seat and enjoy a Cabaret Colada while watching the live music performances at Le Cabaret. This magnificent French lounge is a magical place to spend a romantic night in a relaxed atmosphere. The venue is completely engulfed by the heart-shaped stage, so you'll have a wonderful view no matter where you sit.
You may either relax at one of the private bistro tables or get up and dance with the audience when the live musicians take the stage. On the line-up, you'll usually find a nice blend of the 80s and R&B tunes.
Go to the Neon Museum
The Neon Museum is a popular location for engagement and wedding photos, despite not being the most obvious romantic destination in the city.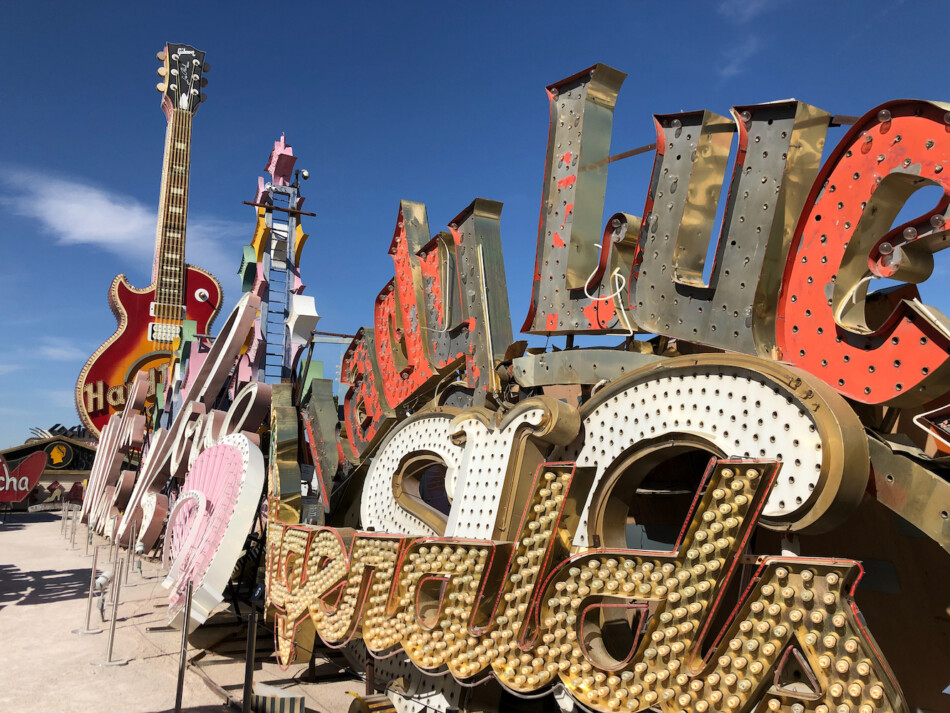 Its allure stems from the city's rich past, which it preserves with attractions like the Neon Boneyard, which houses signs from the city's golden age and beyond.
A visit to the Museum makes you feel as if you've walked into a past Vegas. The best time to go is at night when the lights on the signs come to life!
Visit Seven Magic Mountains
These colorful boulder stacks, designed by renowned Swiss artist Ugo Rondinone and standing oddly in the middle of the Mojave Desert, have become a photo-op and Instagram attraction.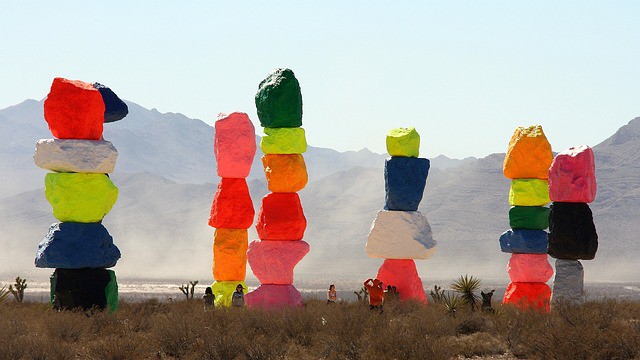 It's a simple add-on to any trip, as trips include hassle-free round-way transportation as well as optional stops to the Hoover Dam or Red Rock Canyon.
Eat at Gordon Ramsey Restaurant
At Caesars Palace in Las Vegas, Gordon Ramsay's Hell's Kitchen restaurant is turning up the heat. Guests will feel as if they are on the set of the international hit reality television show starring world-renowned chef Gordon Ramsay.
The restaurant, which is located in front of Caesars Palace, features floor-to-ceiling windows with views of the iconic Las Vegas Strip, a show kitchen with red and blue design elements, a private dining room, and a contemporary bar featuring the latest trends in mixology. Modern lunch and supper menus, featuring Hell's Kitchen hallmark dishes produced with the best quality ingredients, are served in the Red and Blue kitchens.
Discover Fremont Street
Fremont Street, in the heart of downtown Las Vegas, was the city's first paved street. Before the establishment of the Las Vegas Strip, it was also considered the city's heart.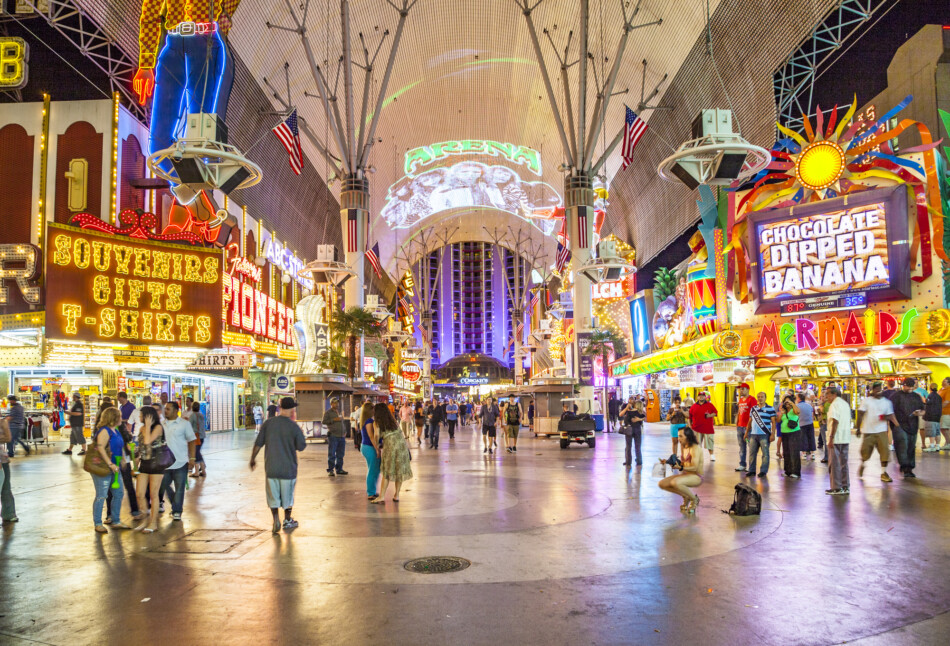 Fremont Street retains its charm. It's now a pedestrian mall, so you and your partner can have a romantic stroll here hand-in-hand. Music is always playing, and light and sound performances are common.
Split a Fat Tuesday (a huge, yardstick drink) and take in the LED show and street performers. After that, don't forget to visit a few of the area's exciting and trendy bars.
See the Flamingoes at Flamingo Hotel
The Flamingo Wildlife Habitat is a tranquil haven away from the hustle and bustle of Las Vegas. Explore the four-acre gardens, which include flowing streams, waterfalls, exotic birds, turtles, and fish.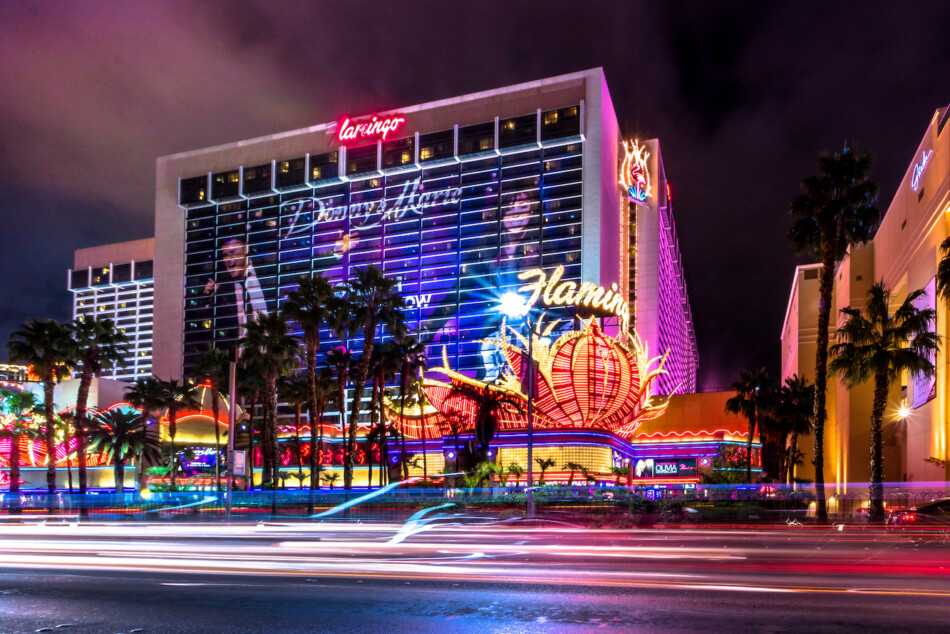 The habitat is a pleasant experience for the whole family since it is free to enter.
Simply come up during operational hours to explore the wildlife habitat. There is no need to make a reservation or purchase a ticket.
Dine 800 Feet Above Ground at The STRAT
The award-winning Top of the World, located more than 800 feet above Las Vegas at The STRAT Hotel, Casino & SkyPod, offers a dining experience unlike any other.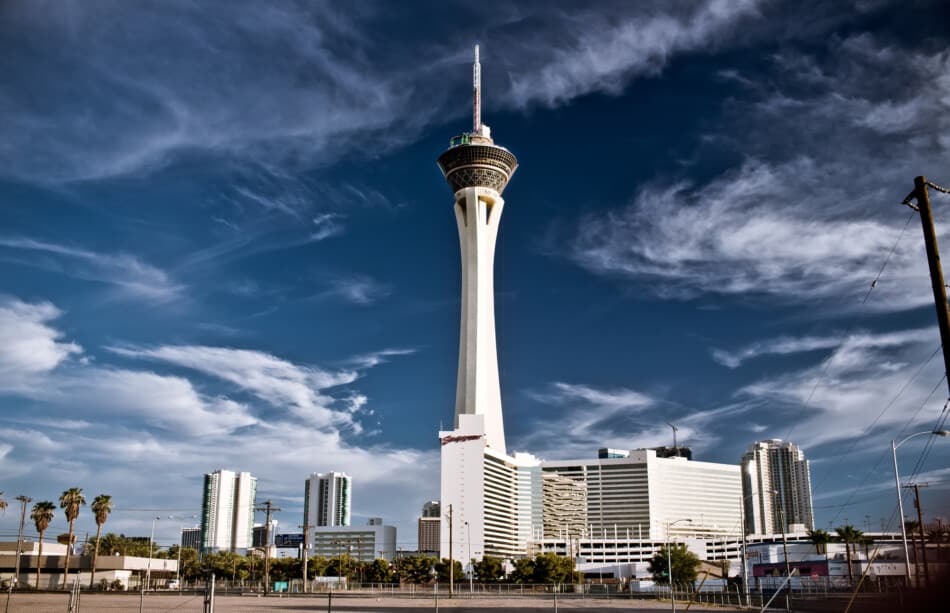 This fine-dining restaurant in Las Vegas serves delectable cuisine in an exquisite setting with unrivaled views of the city as the restaurant rotates 360 degrees every 80 minutes.
The restaurants offer delectable food to suit every appetite or budget. You can dine in the heart of it all at any of the casino-level restaurants, or you can go to the top (literally) at the award-winning Top of the World, which is perched far above the Las Vegas Strip.
Visit Ethel M Chocolate Factory
The Ethel M Chocolate Factory is a chocolate factory in Henderson, Nevada, founded by Forrest Mars Sr. It makes gourmet chocolate for the Ethel M and Ethel's chocolate brands.
Although self-guided tours are free, it may be difficult to resist purchasing after watching the sweets being made. An outdoor chocolate sampling experience is available for $20 per adult and $10 for children for the serious chocolate enthusiast. Those aged 21 and up can also partake in a wine and chocolate sampling.
Drive a bulldozer
Playing with big toys can be entertaining for adult couples on occasion. You can rent a bulldozer, skid steer, excavator, or forklift from "Dig This Las Vegas" and play in the sand and dirt with your companion.
Use these 10- to 20-ton machines to dig trenches, make mounds, or simply to experience the wonderful feeling of operating heavy machinery. There are even smaller versions of these machines created specifically for children to use.
You can all operate bulldozers together if you're a couple vacationing to Vegas with your kids. Otherwise, simply the two of you in the sand fields with your large equipment will suffice.
Sound Interesting? Check Availability and Price
Vegas Nightlife
For a night of fun, get off the strip and walk over to Freemont Street. You can skip the lines and go straight inside to enjoy the celebration if you join the bar crawl. You can also take advantage of reduced drink deals to save money on your night out.
This is a fun way to get a taste of Las Vegas nightlife. You gain access to some of Vegas' most opulent bars while having a good time.
This is undoubtedly one of the coolest things to do in Vegas on a night out!
Sound Interesting? Check Availability and Price
Mob Tour
The Las Vegas Mob Tour lasts 2.5 hours. You're taken on a tour of Las Vegas, where you'll see various mob activity locations. The vehicle is fitted with a video screen that displays images, newsreels, and movies related to the past together with the tour guide.
The tour also links the movie "Casino" to real-life occurrences during the same period. You'll see some of the movie's filming sites. A pizza party with soft drinks is offered, allowing everyone to ask questions and hear some additional stories.
The Untouchables Experience can also be upgraded to include a formal dining experience instead of pizza and a VIP entrance to the Rat Pack Is Back Show. Relive the glory days of Las Vegas."
Sound Interesting? Check Availability and Price
Flight Experience in Vegas
Do you want to be a fighter pilot? Stop daydreaming and join this amazing fly or ride trip near Las Vegas. Choose from four distinct flight options, then buckle in for the trip of a lifetime – from an adrenaline-pumping sightseeing tour of Sin City to an airborne dogfight, or anything in between.
It's the ultimate adrenaline rush in Las Vegas. Pick-up and drop-off at the hotel are included.
Sound Interesting? Check Availability and Price
Drive an Exotic Car around a racetrack
Have you ever fantasized about racing exotic cars? The Las Vegas Motor Speedway can provide that opportunity for you and your partner. There are 13 supercars to choose from on the track as you compete against other amateur drivers.
Before riding on the track, each driver will undergo coaching and racing instructions. A Lamborghini and a Porsche are among the vehicles available.
Sound Interesting? Check Availability and Price
Visit the Indigo Lounge At Bally's Hotel & Casino
You'll find some of the greatest and most polished live lounge music in Vegas at Bally's casino! Indigo Lounge hosts free live music every night, ranging from funky jazz to 80s bangers to smooth R&B.
This dimly lit bar has plenty of seating as well as a fantastic dancefloor. If you're feeling funky, you may either kick back and relax after a huge victory at the casino, or you can lace up your dance shoes!
Thrill rides at Stratosphere
The Stratosphere Tower is Las Vegas' highest tower. It stands at a height of roughly 1,149 feet. If you and your partner are true thrill-seekers, how about a free-fall from the top followed by a 160-foot ascent? Tinggly has prepared an adrenaline-pumping adventure for you.
To begin, attempt X-Scream, a massive catapult over the edge that will leave you dangling 109 floors above the ground! Then try Insanity, a ride that spins you 274 meters above the Strip over the brink of the tower.
Two people can take as many rides as they want. You can also enjoy the viewing decks while sipping a drink at the Airbar.
Area 51 Tours
The infamous US Air Force base known as Area 51 has been the subject of numerous science fiction films and conspiracy theories. Many individuals think that the UFO crash in Roswell was real and that extraterrestrial bodies were transported from the saucer spacecraft to the Area 51 outpost in Nevada's desert.
Area 51 tours are accessible from Las Vegas to a variety of locations near Area 51. It is off-limits to civilians; thus, you won't be able to visit it.
Many people have attempted to approach the base and have been arrested, warned, or fired at. The mysterious Dry Lake and the monstrous Joshua Tree Forest, on the other hand, will be seen.
The tour guide will also tell you some intriguing facts about Area 51.
Sound Interesting? Check Availability and Price
Meet the Pawn Stars from TV
Pawn Stars is a reality television show that has been broadcast on the History and A&E networks since 2009. It's based on Gold and Silver Pawn, a now-famous local pawn business in Las Vegas. The show's cast has become a fan favorite over the years.
Pawn Stars is one of the few filming sets in Las Vegas that you can really visit and see all kinds of fascinating things, and it's also one of the city's most popular non-gaming attractions.
Further, the cast of Pawn Stars is what makes the show so interesting.
Go Off-roading
Taking an off-roading trip is another exciting thing to do in Vegas for couples.
Riding an ATV tandem with your loved one sounds fantastic. To avoid falling off the cliff, you must cling to each other!
Take an ATV trip around and you'll be scooting about in no time.
Sound Interesting? Check Availability and Price
" target="_blank" rel="noreferrer noopener">Sound Interesting? Check Availability and Price
Eat at Bobby Flay Restaurant
Several celebrity chefs have restaurants in Las Vegas, and they excel at bringing out the wow factor in the cuisine that Sin City is known for. Every corner has a celebrity chef restaurant, and there is a chef who has been in the Las Vegas market for over a decade. It's none other than Bobby Flay.
Bobby Flay has been a presence in Las Vegas since the early 2000s, when he opened his first restaurant, Mesa Grill, inside Caesars Palace. He has proceeded to open restaurants in Las Vegas since then, and currently has three in total. This includes his all-new Amalfi restaurant, which will replace the Mesa Grill later this year.
Bobby Flay's restaurants cater to a wide range of preferences. Even though Bobby Flay's Shark and Amalfi are high-end restaurants with high-end prices, Bobby's Burger Palace is fairly priced and still delivers his characteristic huge tastes.
Have Dessert at Momofuku Milk Bar
Momofuku Milk Bar has swiftly established itself as the go-to dessert spot for everyone in need of a sweet delight (not to mention a staple for all basic Insta bloggers). Though Momofuku Milk Bar serves some of the best desserts, the business is known for more than just desserts.
Milk Bar is the offspring of the Momofuku Group, which operates a variety of restaurants ranging from noodle bars to ramen locations to fried chicken sandwich joints. Milk Bar is well known for its Cereal Milk soft serve, but it also provides a variety of other delicious desserts.
They're known for their sumptuous pastries, pies, and, of course, an entire array of cereal milk-based menu items. This pleasure heaven, never one to rest on their laurels, is converting a large chunk of their menu to soft-serve ice cream.
See Michael Jackson One
Watch Michael Jackson ONE by Cirque du Soleil® to honor the 'King of Pop's artistic genius. This spectacular blend of acrobatics, dance routines, and graphics takes place inside Mandalay Bay Resort and Casino.
The event, which includes acrobatics, dance routines, and visual displays, presents an electrifying night of entertainment set to Michael Jackson's famous songs. It's the ideal way to pay tribute to this great pop star's musical and cultural legacy while also conveying his worldwide lessons of peace and unity.
Pre-purchase your tickets to Cirque du Soleil's 'Michael Jackson ONE' to assure entry to this famous show in Las Vegas. To fit your schedule, choose from a variety of seating areas and showtimes.
Sound Interesting? Check Availability and Price
Visit Sanders Family Winery
Sanders Winery, located on the southern side of Pahrump (approximately 45 minutes from the famous Las Vegas Strip), offers breathtaking panoramic mountain views
Sander's Family Winery is a multi-award-winning winery in the Mojave Desert, about an hour outside of Las Vegas. Travel to the winery in the comfort of a private vehicle, take a guided tour of the winery and vineyards, and discover everything there is to know about Nevada wines on this private tour.
The picturesque Spring Mountains to the east, and the colorful Nopah Range defining the Nevada-California border to the west, surround the Winery. The winery also offers tours and holds seasonal concerts and special events.
Recent Posts