17 Best Things to do in Lake Havasu, Arizona
Lake Havasu Attractions: Are you looking for the best things to do in Lake Havasu City? There are so many fun activities in Lake Havasu you are sure to have a great time!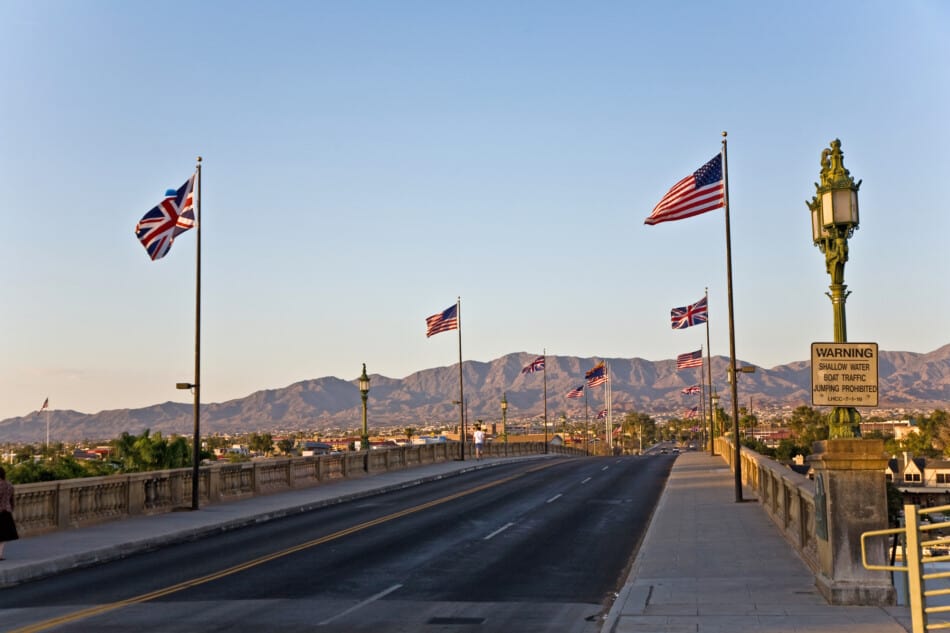 If you are wondering "Is Lake Havasu worth visiting?" the answer is yes! From the state parks to London Bridge and the lake itself you will find so many fun things to do in Lake Havasu.
If you are planning to spend the night in Lake Havasu or a weekend in Lake Havasu check out my guide to the Best Airbnbs in Lake Havasu.
15 Best Things to do at Lake Havasu
Lake Havasu State Park
Located in Western Arizona, Lake Havasu State Park is a beach oasis in the desert. The shores of Lake Havasu features clean white sand beaches and a large grassy area.
This park offers panoramic views of beautiful beaches, nature trails, boat ramps, and convenient campsites. Picnic tables, grills, and shade covers make this the perfect site to spend the day on the beach or you may want to stay and camp.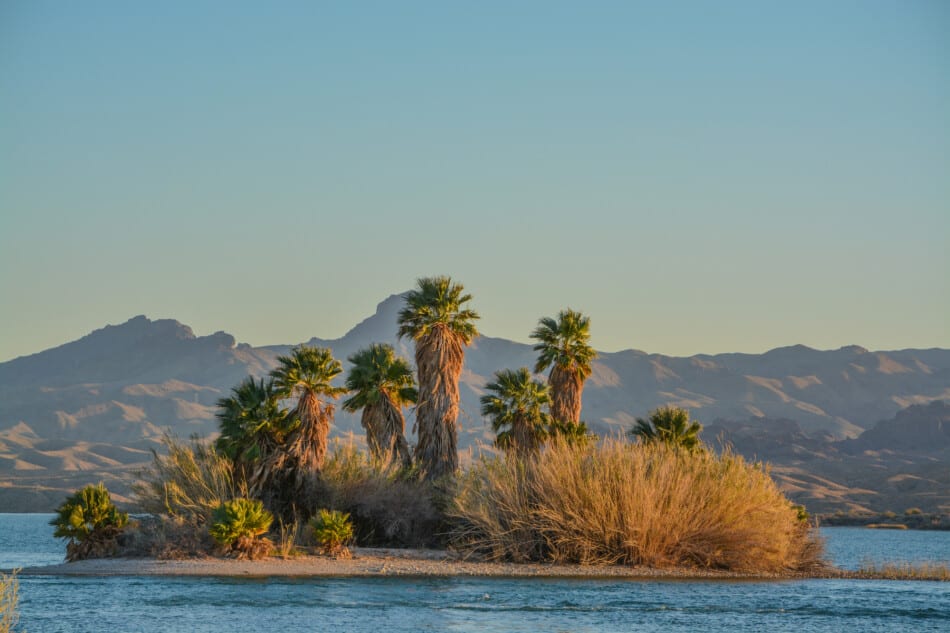 This diverse landscape is also home to a variety of animals and plants. One of the few animals that you can spot is the roadrunners and the red tail hawk.
If you're into beautiful beaches, nature trails, boating, and camping, you'll want to check out Lake Havasu State Park.
London Bridge
Looking for a familiar tourist spot in a different state? Look no further than at London Bridge in Arizona. This 54-year-old bridge is full of rich history to be discovered and learned.
From its impeccable similarity of the actual London Bridge to its stagnant beauty, this historic and, some say, the haunted bridge is the number-one built attraction in Arizona.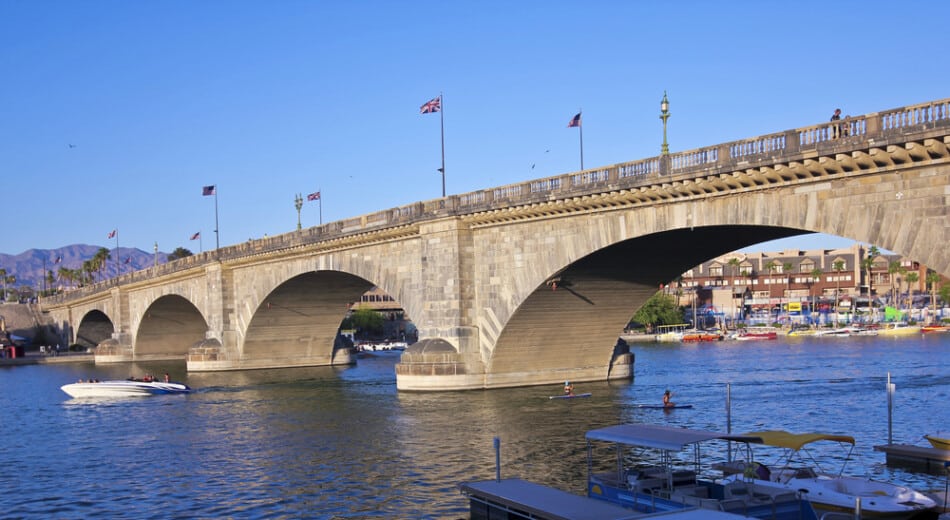 Attracting visitors from around the world, its many fans include photographers, filmmakers, travel writers, history buffs, boaters, kayakers, paddle boarders, and music lovers at live concerts under its acoustical arches.
Don't miss out on this amazing tourist spot, so come on down to London Bridge in Lake Havasu City, Arizona.
London Bridge Beach
The trip of a lifetime awaits you at London Bridge Resort in beautiful Lake Havasu!
With a central location on Bridgewater Channel adjacent to the London Bridge, stunning views, and affordable, stylish resort suite accommodations, our full-service resort hotel is the premier destination for work or play here in Lake Havasu, Arizona.
This beach features a buoyed swimming area, two playgrounds, a fully enclosed dog park, a basketball and sand volleyball court, and a community stage. Whether you've come to experience our diverse range of exhilarating activities or do nothing more than relax by the pool, our waterfront getaway offers an unforgettable escape. 
Rotary Community Park
Arizona has an impressive amount of white sandy beaches that are as close to a tropical paradise as it gets and the Rotary Community Park is one of them. With its lush green grass, tree-shaded walkways, and safe buoyed swim area, the park provides a nice getaway to wind down and relax.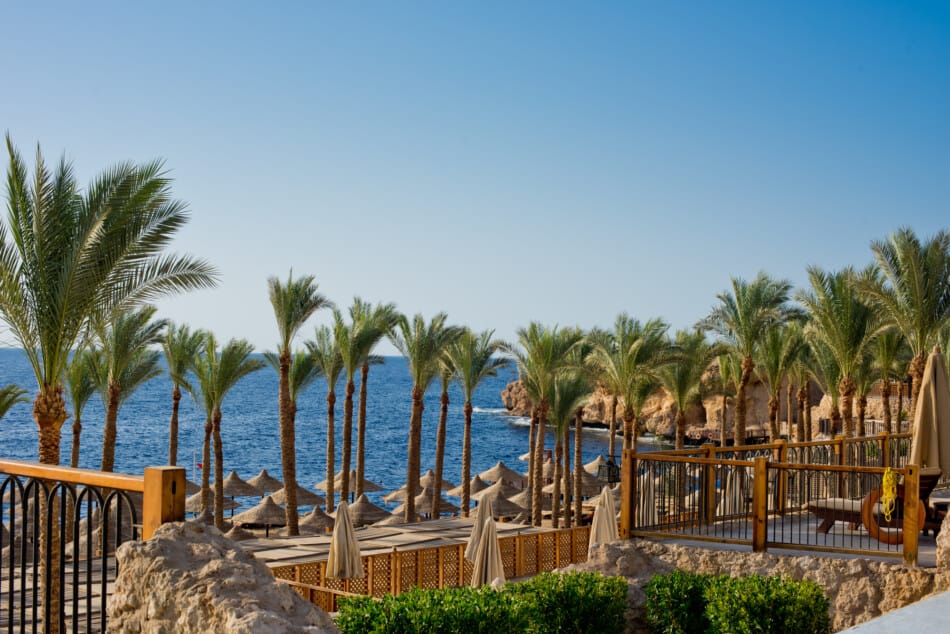 The beachfront location and 40 sprawling acres provide space and facilities for several types of recreation. There are tons of water and land activities for the whole family to enjoy.
Go paddle boarding, have a picnic or take a leisurely stroll on the winding nature paths, there is no shortage of fun to be had. Rotary Community Park is a beachfront attraction in Arizona that you will want to visit over and over again.
Fishing in Lake Havasu
Looking for a place to fish in Arizona? Lake Havasu is the place for you. Lake Havasu is widely known as one of the best bass fishing destinations in the country which is a perfect place for fishing enthusiasts around the world.
Bass fishing tournaments are held here throughout most of the year, and tournament anglers know that they can spend part of their day chasing big but tricky largemouths and then fill out their five-fish bags with 5-pound smallmouths.
The variety of fishing opportunities in Lake Havasu is astounding, you will never be tired of fishing here.
Lake Havasu History Museum
Take a step back in history with exhibits pertaining to Lake Havasu and about the London Bridge, Steamboats, Parker Dam, Mining, and the Chemehuevi Exhibit with PowerPoint and video presentations that inform and entertain.
The museum also has a collection of local newspapers, dating back to the first issue. The Museum also offers monthly programs presented by local speakers or specialists provided by the Arizona Humanities Council. It hosts the Great Ideas discussion series annually.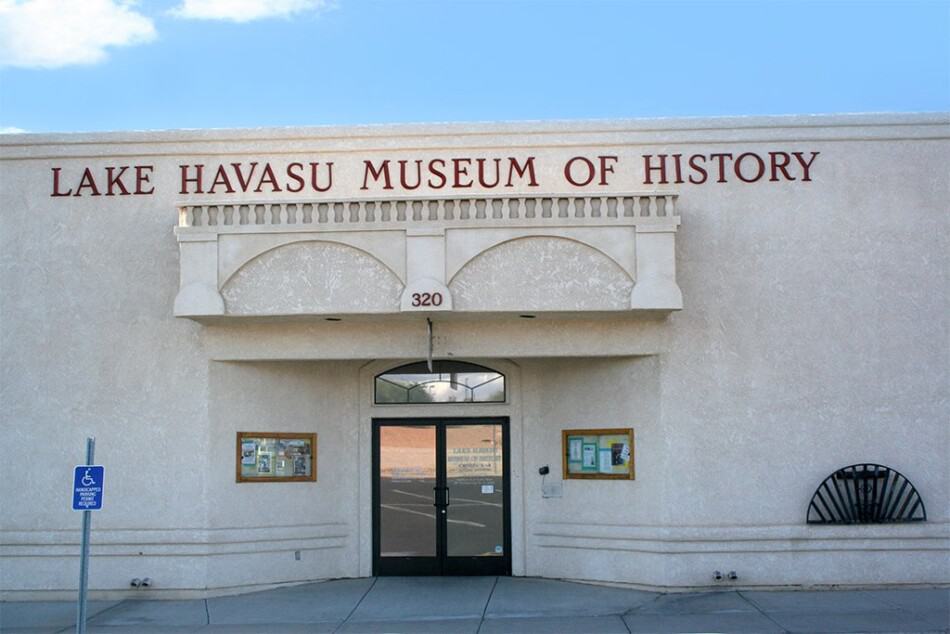 Executive Director Becky Maxedon extends the mission by providing programs and traveling exhibits to local groups at their events. The Museum also hosts numerous group tours for school children, civic groups, and bus tours. Appreciate the significance of the past and future of Lake Havasu with the Lake Havasu Museum.
Bill Williams National Wildlife Refuge
Grab your hiking boots, fishing pole, camera, and kayak as the Bill Williams National Wildlife Refuge will crave the adventurer in you.
The Bill Williams National Wildlife Refuge is the real deal for outdoor adventure and experiencing a unique Mohave Desert ecosystem like no other. The serene Bill Williams River runs right through the heart of the refuge, creating a paradise for canoers and kayakers.
A paddle craft launch ramp at the Refuge headquarters makes it convenient and easy to enjoy the natural vegetation and habitat. The Refuge is also home to 6000 acres of habitat, 355 species of birds, 34 documented reptiles, 57 species of mammals, and many more.
If hunting is game, then The Refuge can accommodate that too! Bill Williams National permits the hunting of doves, quail, cottontail, and even desert bighorn sheep. You will never run out of things to do in the Bill William National Wildlife Refuge.
Bridgewater Channel
While appreciating the London Bridge, enjoy the many boaters that hang out in the Bridgewater Channel. The Bridgewater Channel is now a very scenic and iconic destination for boaters and visitors alike.
The Bridgewater Channel offers tie-offs along the shore for boats to line up, allowing boaters and tourists to engage in social fun while being protected from the open lake and winds.
Located in the heart of Lake Havasu City, the Bridgewater Channel is a waterfront for shops and restaurants where you can eat and relax as you enjoy the view of the waters. So take your time to explore this mecca near the waters in Bridgewater Channel.
Cattail Cove State Park
Cattail Cove State Park offers countless activities along with one of Arizona's most popular lakes – Lake Havasu.
Much loved among RVers, Cattail Cove has been honored with the RVWest Reader's Choice Bronze Award as Favorite Snowbird RV Park or Campground.
The beach, boat launch, and 61 campsites at Cattail Cove State Park offer a broad spectrum of activities for all to enjoy.
Whether you're interested in swimming or just relaxing, the park offers you and your family a chance to get away and enjoy the tranquility along Lake Havasu. From sun-bathing on the shoreline and splashing around in the water to bass fishing and hiking, you're sure to find an activity that will float your boat.
Boating in Lake Havasu
Known as Arizona's "West Coast", Lake Havasu is one of America's best boating lakes. Lake Havasu has remained at near-constant water elevation which is the perfect condition year-round for boaters and tourists alike.
If you enjoy sightseeing and exploring. Lake Havasu has easy access to coves, beaches, and other boating attractions. Get the true lake boating experience and rent a houseboat on Lake Havasu! All who take part will have the vacation of a lifetime.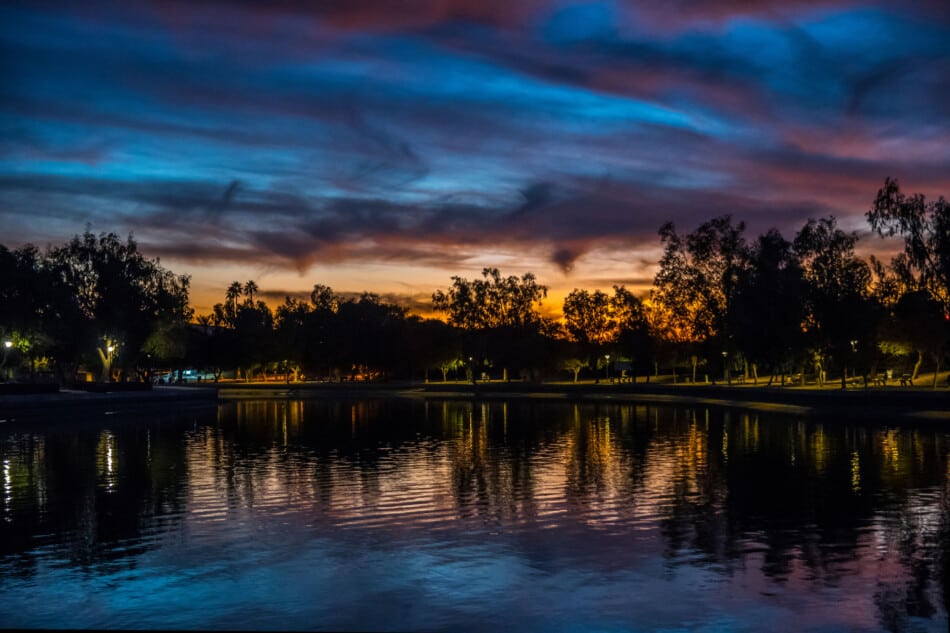 If you have a family, you will cherish making lasting memories on a sparkling clean, and calm lake. Enjoy adventures aboard a wakeboard or waterski or take a slow pontoon ride through the Bridgewater Channel. The possibilities for family fun are endless.
Lighthouses
Located on the Colorado River in the Mojave Desert, Lake Havasu City is home to more lighthouses than any other city in the United States.
There are 28 fully-functional scale replicas of famous lighthouses, built and maintained by the Lake Havasu Lighthouse Club. The replica lighthouses on the Arizona side of the river are models of lighthouses from the East Coast while those on the California side of the river replicate lighthouses on the West Coast.
The lighthouses on the city's island accessed via the London Bridge are also replicas of lighthouses on the Great Lakes. These lighthouses while both cute and impressive, are still working lighthouses to aid navigation. You will never get to see such adorable yet important lighthouses anywhere else than in Lake Havasu.
Stargazing
Stargazing is a naturally socially distant activity that can be done almost anywhere. While observatories with high-powered telescopes are great places to visit when you have the chance, stargazing can be done at any time with just your eyes and no extra equipment. 
Lake Havasu City is one of Arizona's best locations for desert stargazing. Venture just a few miles outside of town and witness an unmatched, crystal-clear look at the galaxy. If you are lucky enough to be in the area during a meteor shower, you will see shooting stars throughout the evening. This is something you probably won't ever see under the bright lights of a big city.
Hot Air Balloon Ride
Imagine rising slowly toward the sky as the ground falls away beneath you. Gently you glide above the countryside, discovering the world from a totally new perspective — a 'bird's eye' view.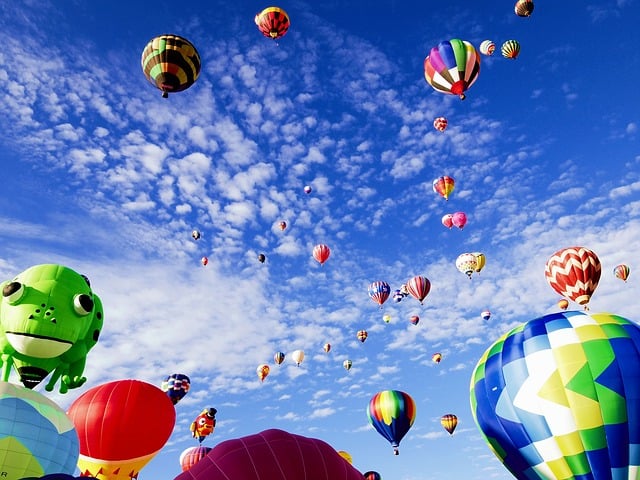 Family-owned and operated, Wanderlust Balloons has been offering hot air balloon flights in the Lake Havasu City, AZ area since 1996. With their ability to offer a uniquely personal experience, you will never get bored in the sky.
Visit in early January to join in the Havasu Balloon Festival and Fair. It is a three-day festival and the fair is jam-packed with tethered balloon rides, an Art Village, face painting, dog shows, great bands and entertainers on the main stage, paper balloon launching, a carnival, musical and theatrical groups, classic cars, Night Glow, delicious food and many more! 
With Wanderlust Balloons, you don't have to keep imaging – your magical hot air balloons await!
Lake Havasu's Hiking Trails
Lake Havasu is one of the most intriguing cities in Arizona. Here the desert crashes against the sea creating a unique and haunting habitat, one that begs to be explored by foot.
This is the best place for hiking enthusiasts to challenge themselves and enjoy the trails. Slither through the Crack, a thrilling little slot canyon in Lake Havasu. The slot canyon runs through a banded rhyolite lava flow, preserved like swirls in marbled ice cream.
There is also a seven-foot dry waterfall perfect for sliding down. Mockingbird Wash is another great hiking location. With a minimal investment of time and energy, this hike ends with a big payoff. This trail has a gorgeous view of the lake by ragged mountains.
The Shoreline Trail has one of the most exquisite strolls in Arizona and a welcome embrace for all visitors. Taking a leisurely saunter on the Shoreline Trail has got to be the first thing you should do when you visit Lake Havasu City. Embrace the adventurer in you and take the hikes in Lake Havasu City.
Bird Watching in Lake Havasu
Looking for a place to catch the birds in action? The area in and around Lake Havasu City is rich in bird watching opportunities, with more than 355 species identified in the local area.
One of the best ways to observe the waterfowl is to take a kayak or canoe in the early morning. You will find cattails, loons grebes, ducks, larids, raptors, and many more. In the Bill William National Wildlife Refuge, a special event called the Audubon Society Christmas Bird Count takes place every Christmas. It is the oldest event of its kind in North America.
Birdwatchers of all levels and volunteers throughout America take part in this very important project, which contributes to bird conservation. Havasu National Wildlife Refuge is for the birds! It's also for recreation enthusiasts.
Located between Parker and Lake Havasu City, AZ, this spot is along a popular migratory route for hundreds of species of birds. It's also a hot spot among thousands of visitors who flock to the refuge for boating, kayaking, canoeing, waterfowl hunting, and fishing. One of the least birded regions of Arizona is the Lower Colorado River Valley (LCRV) even though it is also one of the best areas in the state for unusual birds, particularly during the fall and winter. 
lake havasu city attractions
lake havasu tourist attractions
lake havasu az things to do
lake havasu things to do
things to do at lake havasu
Recent Posts