Lake Havasu Airbnb: Are you looking for the Best Airbnb in Lake Havasu? I have found the perfect Lake Havasu City Airbnb for your visit. You can find an Airbnb Lake Havasu City.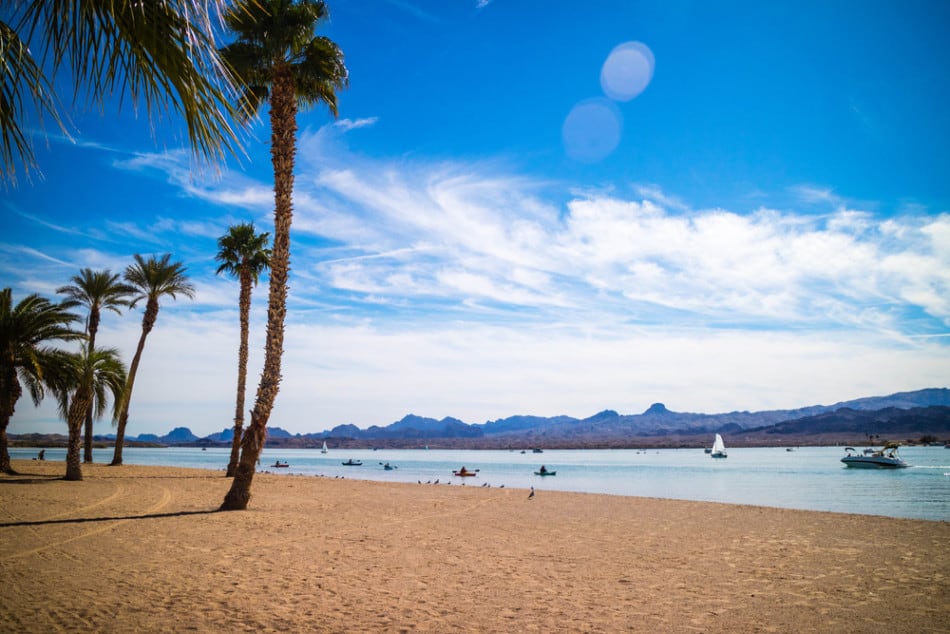 This city attracts more than 800,000 visitors yearly due to its historic London Bridge, most beautiful beaches in Arizona, a friendly community, ideal restaurants, and a wide range of restaurants and lodging.
Lake Havasu City is also known as Arizona's "West Coast" because of its warm, clear waters, and 60 continuous miles of lake and river waterways. Its lakes are distinct from other places because Lake Havasu remains at a near constant water elevation which gives boaters with ideal conditions for boating adventures all year round.
You will have a great stay on Lake Havasu and I will help you find the perfect Airbnb Lake Havasu Arizona for all budgets.
Thank you for supporting this website written by an American. This post may contain affiliate links. This means I earn a small commission on these links at no extra cost to you.
Check out the Best Airbnbs in Arizona to find unique places to stay across the Grand Canyon State.
15 Coolest Airbnb Lake Havasu City Arizona
Lake Havasu Airbnb with pool – Lavish Lake House Retreat with Private Pool, Spa, & BBQ
Guests: 6
Bedroom: 3
With a private pool to soak into and a spa to rejuvenate your mind, body, and soul, this lavish lake house retreat is a luxurious desert home located minutes away from the heart of downtown Lake Havasu City. This place can cater to families or groups of friends who are looking for a place to relax and enjoy the mountain views that this city can offer.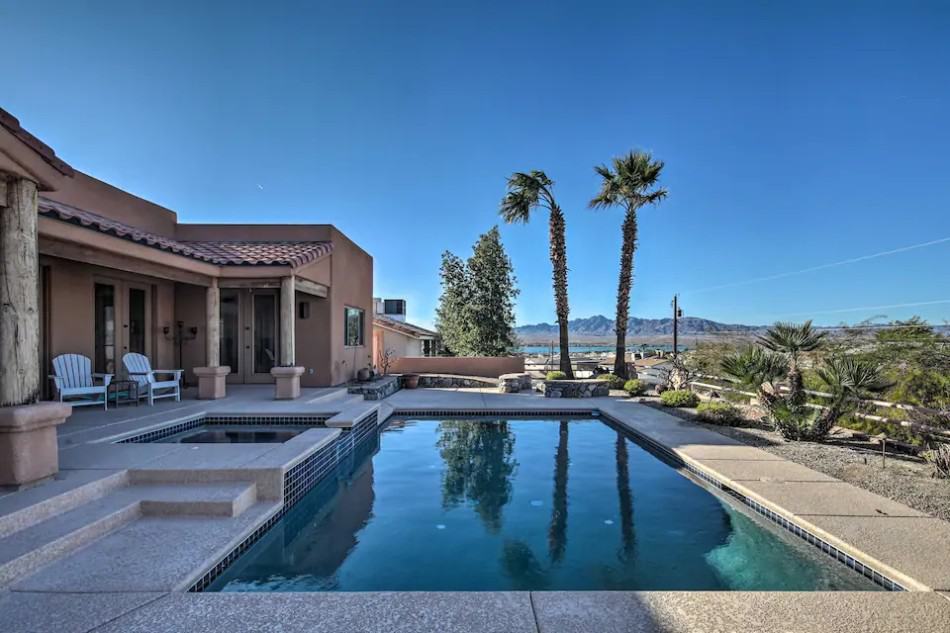 This three-bedroom classic adobe-style home has a total space of 2,500 square feet that can accommodate more than 6 guests. It has a fully equipped kitchen for you to cook sumptuous meals, an open concept living space with flat screen TV, movie collection, wood-burning fireplaces to keep you cozy during cold winter days, and more. And the highlight of this lavish home is the outdoor living space that has a heated pool with spa, poolside fire pit, charcoal grill, and covered patio seating.
If money is not an issue for you, then you should definitely stay in this luxurious Airbnb in Lake Havasu.
Click Here To Check Rates On Airbnb
Central Lake Havasu City House with Grill and Pool Table
Guests: 10
Bedroom: 3
Imagine living in a house that has mountain views, a pool, spa, and cabana? Well if you want to turn that imagination into reality, then you should book this central Lake Havasu House that is outfitted with everything that you need for a perfect vacation in Lake Havasu City.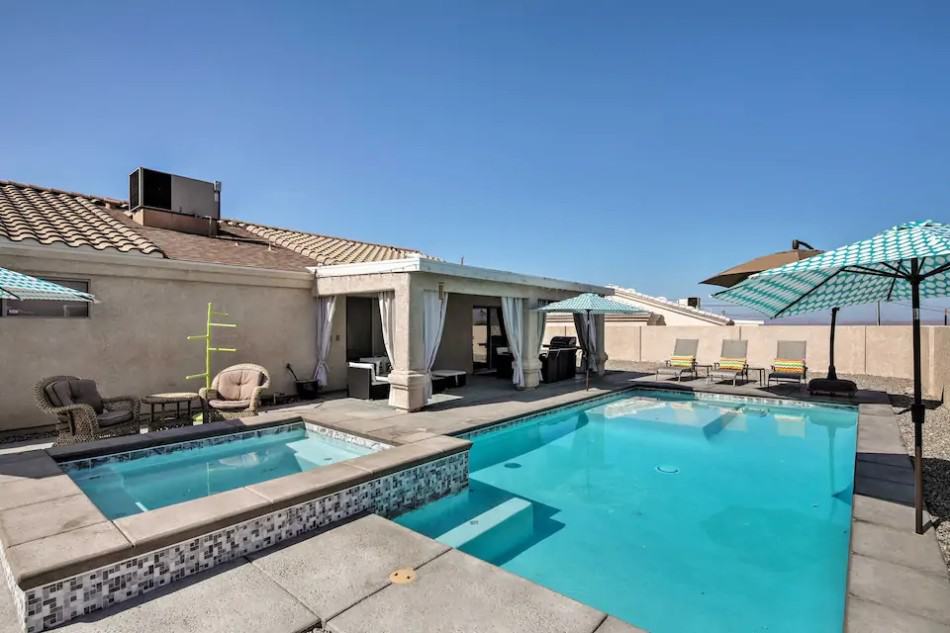 This house is perfect for big groups that are seeking for a good time in Lake Havasu as this home is set in a prime location that will let you experience lots of fun under the sun. It also features a fully equipped kitchen, airy indoor living space with flat-screen TVs, pool table, and dartboard, and an amazing outdoor space that has an enclosed backyard, cabanas, pool, hot tub, desert-inspired landscaping, lounge chairs, and a lot more.
Click Here To Check Rates On Airbnb
Airbnb Lake Havasu On The Water
Guests: 4
Bedroom: 1
When you stay at On The Water in Havasu, you are not just simply renting a home but you are renting a lifestyle. From almost every window of this house, you can have a view of the lake any time of the day. And not only that, you can also gaze at the stars and milk way at night that will make your evenings more relaxing. You can cook, watch TV, swim, boat, grill, or whatever you want to do. You'll never run out of fun things to do.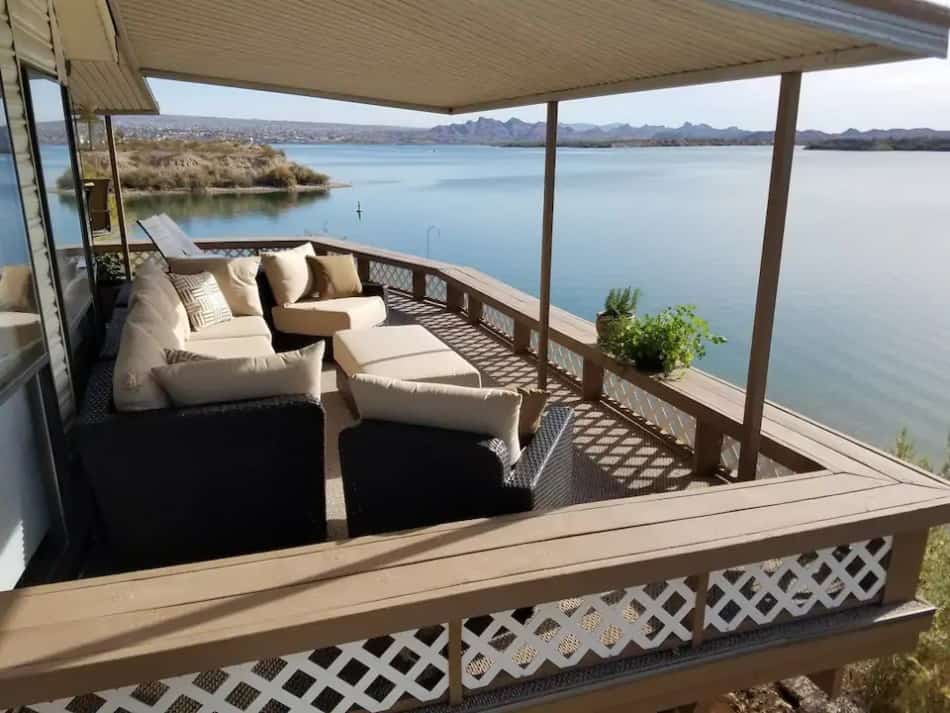 This one-bedroom home has also a lot of cool spots to chill at. There is a huge deck outside with a table that seats up to 8 people and you can transform it into a huge bed. And just below is your own private little oasis swimming area that has private stairs to the water. You'll love every bit of your stay in this paradise
Click Here To Check Rates On Airbnb
The Perfect Lake House
Guests: 6
Bedroom: 3
This nautical themed vacation home offers all the comforts of home – blankets, pillows, towels, fully stocked kitchen, wifi, TV, family board games, comfortable beds, fully fenced backyard, and more. Basically it has everything you need to enjoy a beautiful vacation in Lake Havasu .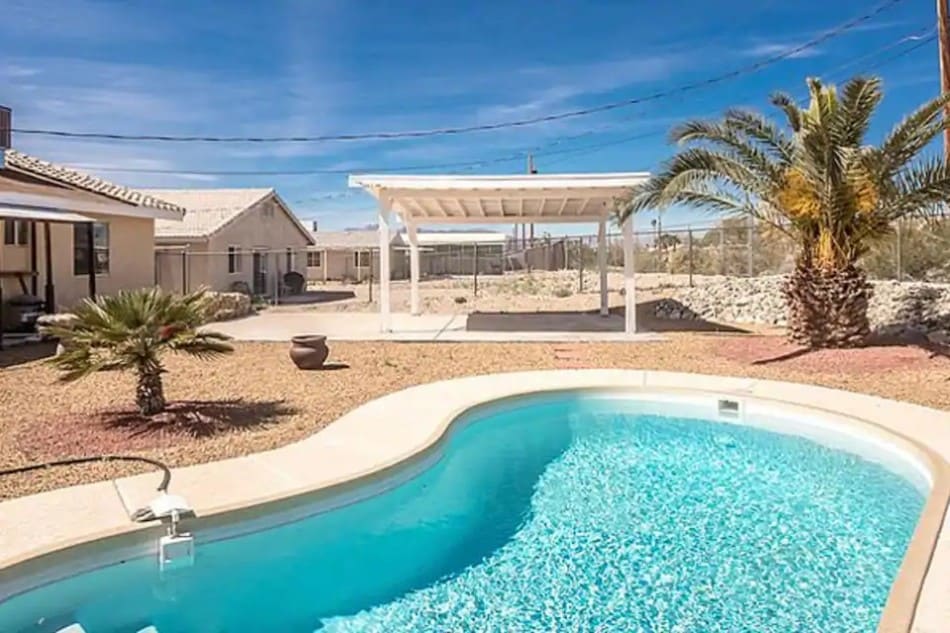 This cozy and clean lake house has also one of the most beautiful outdoor living spaces. It has a large fenced backyard with a pool and outdoor covered patio with a picnic table where you can bond with your family or friends over BBQs and beers. This is the perfect home to relax during your Lake Havasu vacation at a very reasonable price. 
Click Here To Check Rates On Airbnb
Three-Bedroom House with Beautiful Pool and Spa Lake
Guests: 8
Bedroom: 3
Situated minutes away from Windsor Beach and Launch Ramp, this 1900 sq ft home gives a warm and inviting environment for you and your family to enjoy while visiting Lake Havasu. It's very clean and spacious that it can even accommodate more than 8 guests without being cramped inside.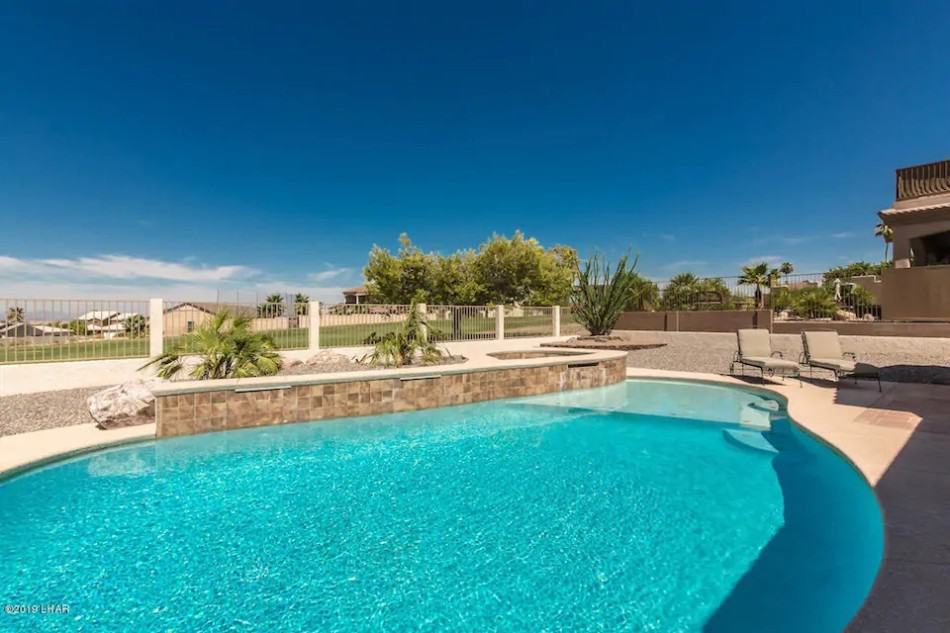 It has a very beautiful backyard that offers a huge pool with a gorgeous view of the fairway and lake. You can expect to experience all the comforts of home when you stay in this lovely home. Plus, the host is just one-call away in case anything is needed.
Click Here To Check Rates On Airbnb
Southwestern Lake Havasu Escape with Outdoor Oasis
Guests: 4
Bedroom: 2
Calling all outdoor junkies, gold fanatics, and lake enthusiasts, this southwestern vibe vacation home is perfect for your next trip to Lake Havasu. This gorgeous home with modern amenities and pool is calling you for a relaxing getaway in one of the most beautiful cities in Arizona.
This house is complete with a fully equipped kitchen, two beds, cozy indoor living space, and a beautiful outdoor area with a private pool, covered patio with dining table, lounge chairs, and mountain and lake views. And if you are into outdoor adventures, you can take a hike in Lake Havasu State Park or play around or golf near the area. One thing is for sure, you'll never run out of outdoor adventures to do here.
Click Here To Check Rates On Airbnb
The Buffalo House
Guests: 4
Bedroom: 1
The Buffalo House is the perfect place for couples and families who want to bring their fur babies with them on their vacation. Yes, this airbnb lake havasu pet friendly and they will surely have fun in this house and produce life long memories.
This 1200 square feet home is one of the most unique airbnb rentals in Lake Havasu. You can sleep comfortably on the fine quality sheets and pillows, play pool or darts, watch TV or movies, sit in the shade and feel the beautiful mist, or soak in the pool on the shallow beach under the shade of the trees luxuriate in the wealth of the moment.
It is located up against the Havasu foothills and it offers a peaceful and quiet environment with gorgeous sunsets and star filled skies to look forward to every night.
Click Here To Check Rates On Airbnb
Condo in Prime Location in Lake Havasu City
Guests: 4
Bedroom: 2
It is not unknown to many that Lake Havasu is considered as a gem in Arizona with its cool lake oasis in the middle of a desert. And if you are visiting this beautiful city for the first time, one of the best places to stay at is this condo that has the best spot in Lake Havasu City.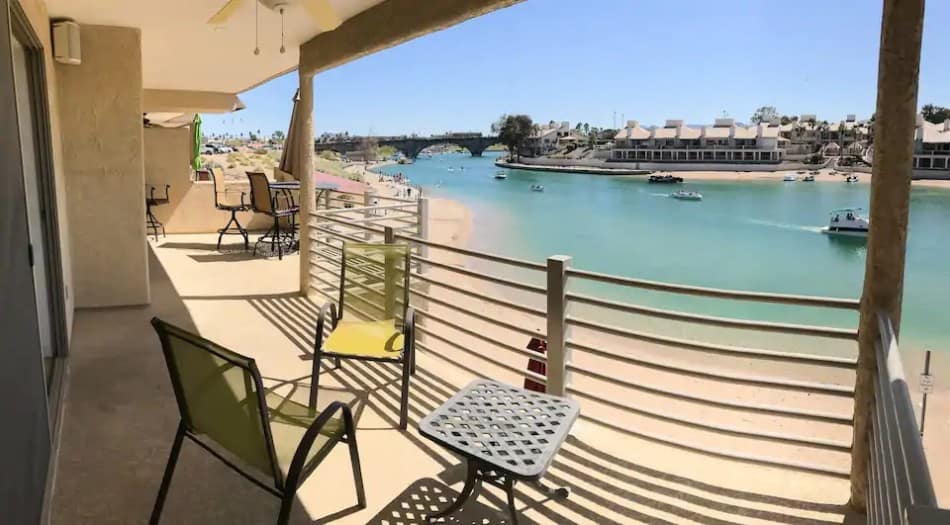 It is located right on the river that overlooks the channel and London Bridge and it also has the best views in town. The condo is in the front row on the 3rd floor and no one is above you which means you can enjoy total privacy. This is perfect for couples or a family of 4 that wants to experience paradise in Lake Havasu.
Click Here To Check Rates On Airbnb
Gorgeous Pool Home with Outdoor Kitchen and RV Garage
Guests: 8
Bedroom: 3
If you are looking for a space that is unique, brand new, with lots of beautiful corners, this gorgeous pool home is the one for you. This house features three bedrooms, two baths, pool/spa, and an outdoor kitchen.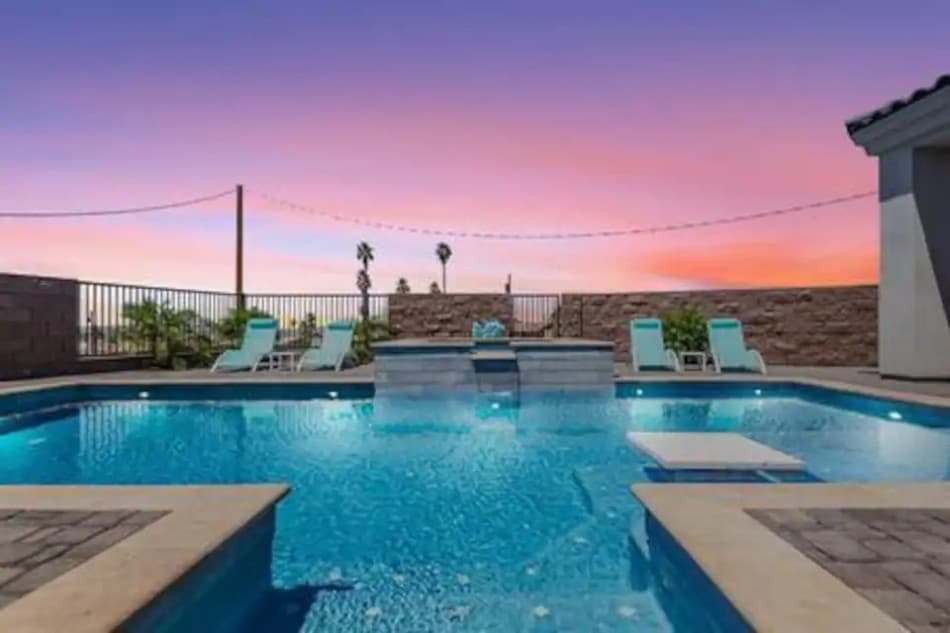 Not only that, the indoor and outdoor of this home has seamlessly blended to enhance guest experience and give maximum comfort to all guests. There is a covered outdoor kitchen with commercial grade BBQ, outdoor TV to catch up on some shows while grilling steaks, and a gorgeous pool that lets you enjoy the breathtaking Lake Havasu right from the backyard. I mean, who doesn't want to experience all of these wonderful things?
Click Here To Check Rates On Airbnb
Deluxe Gated Home with Pool Overlooking Lake Havasu!
Guests: 10
Bedroom: 3
Featuring a spa bath, Deluxe Gated Home with Pool Overlooking Lake Havasu! is set in Lake Havasu City. This holiday home offers air-conditioned accommodation with free WiFi.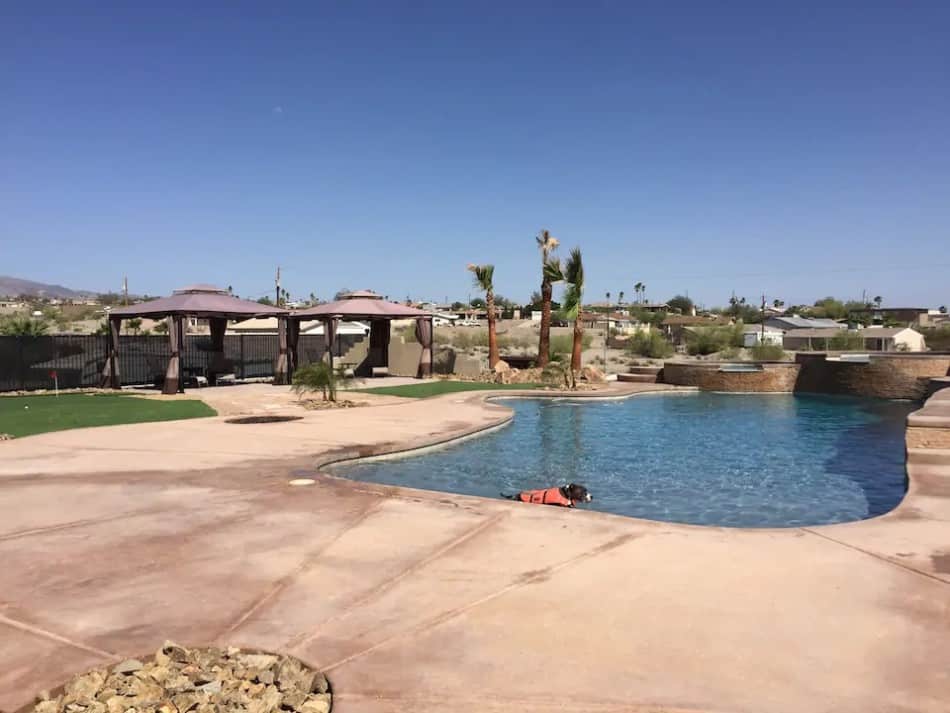 The holiday home features 6 bedrooms, a flat-screen TV, an equipped kitchen with a dishwasher and a microwave, a washing machine, and 4 bathrooms with a bath or shower.
Click Here To Check Rates On Airbnb
Best House Location on the River
Guests: 14
Bedroom: 4
If you don't mind spending a hefty amount of money for an airbnb rental that will let you experience a little piece of heaven right here in Lake Havasu. You'll have full access to the whole house including the lake itself where you can soak or sit on the outdoor chairs while sipping coffee or juice.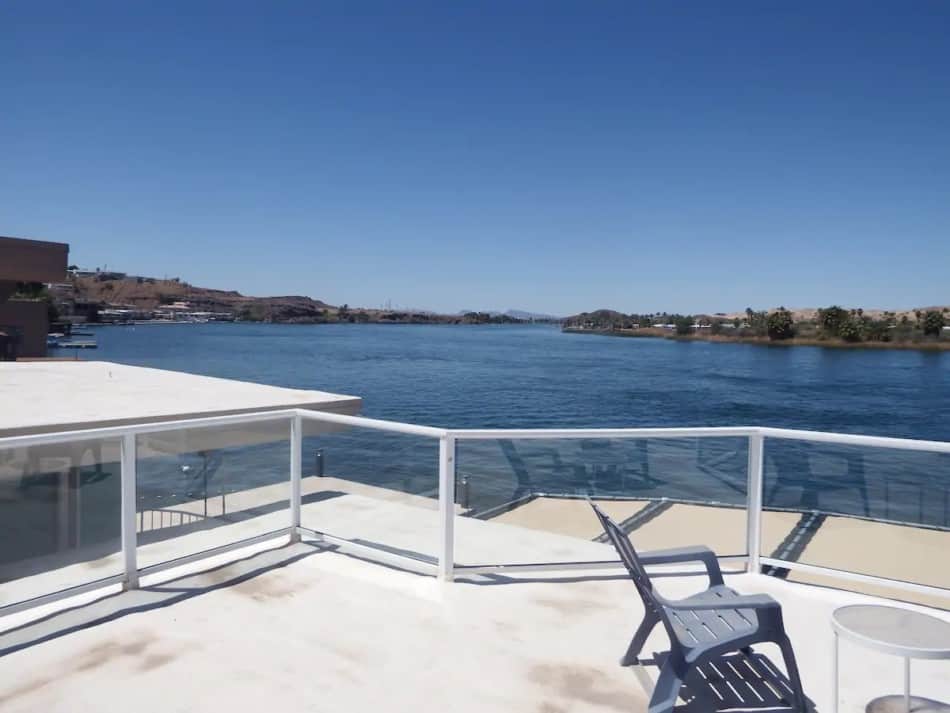 Aside from the basic amenities provided, this house offers a full panoramic view of the river and famous Arizona sunsets. There's also a lot of local hikes, desert trails, and beautiful spots waiting for you to explore. This is very perfect for a group of 14 people, especially that it's allowed to throw small parties in here.
Click Here To Check Rates On Airbnb
Newly Built Casita with Boat Parking
Guests: 6
Bedroom: 1
This 900 square foot casita is fully furnished with one bedroom, private patio with BBQ, swimming pool, kitchen with appliances, and more. The patio and swimming pool are particularly welcoming.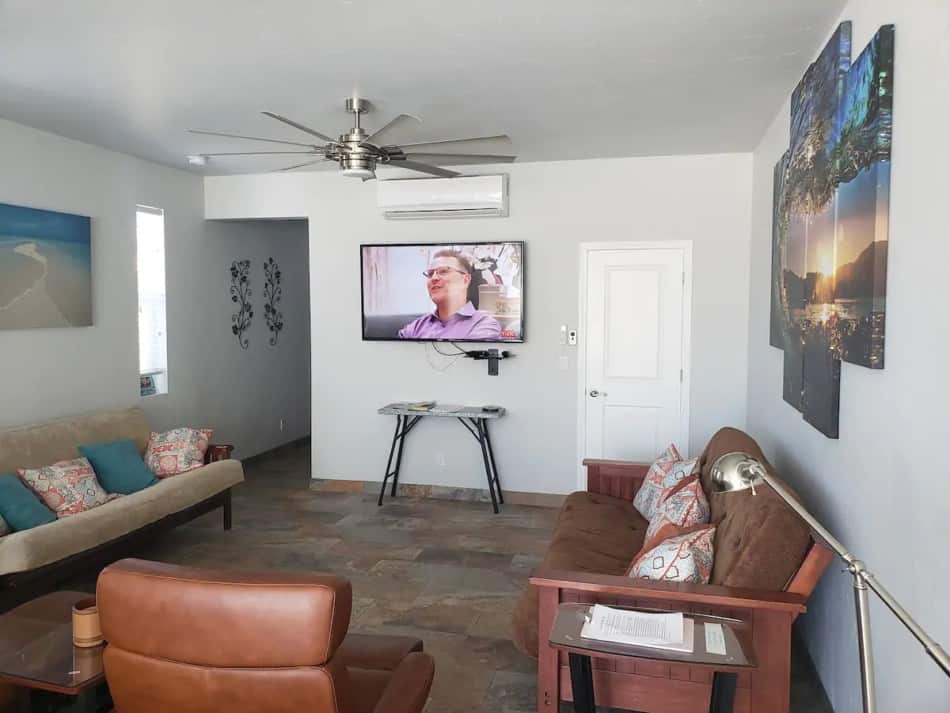 And even though the backyard is shared with the homeowner, you can still enjoy some privacy on your side of the home. The place is entirely brand new and it's ideal for 2 and up to 6 guests and you can also bring your pets with you.
Click Here To Check Rates On Airbnb
Lake Havasu Home with Solar Heated Pool
Guests: 6
Bedroom: 2
If you are visiting Lake Havasu with your boat, you should really consider booking this Lake Havasu Home that has a free boat parking in it. It's very close to Windsor boat launch and it has a very private backyard with a swimming pool that both kids and adults will enjoy.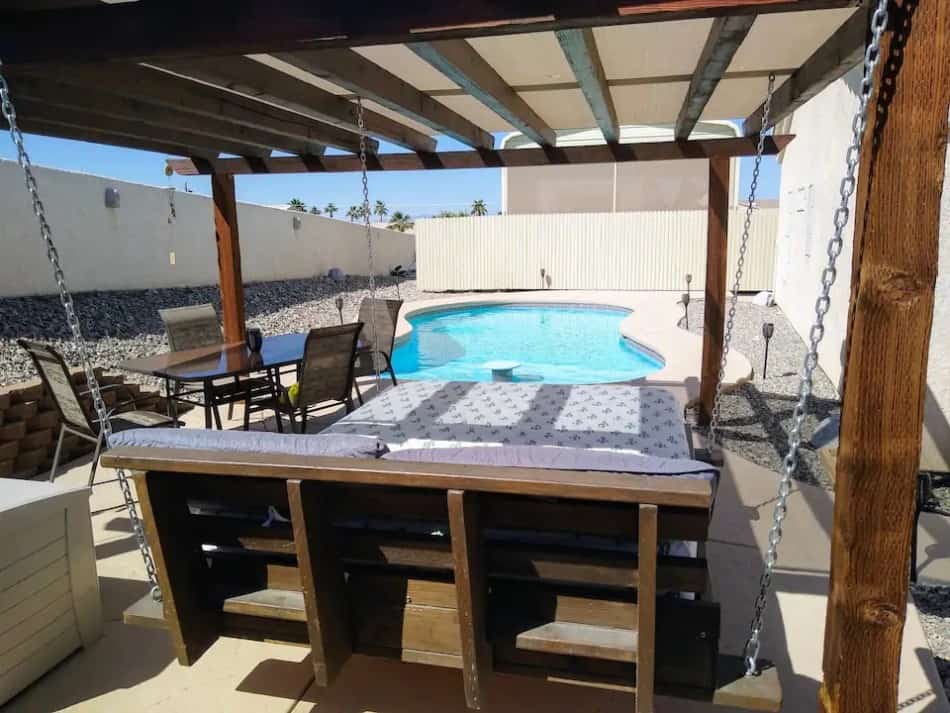 After a full day of boating, this house is perfect for relaxation as it can house 6 guests with 2 bedrooms. And it has all the basic amenities that you could expect in a nice and comfy home including a BBQ grill and a queen size bed for stargazing in the backyard.
Click Here To Check Rates On Airbnb
Comfy Casita with Private Pool and Parking
Guests: 4
Bedroom: 1
This tiny yet amazing casita is one of the most lovely casitas that you can rent in Lake Havasu. It has a king size bed, sofa sleeper, desk with nightstand, kitchen stocked with supplies and appliances, patio, pool area, and an outdoor BBQ and shower.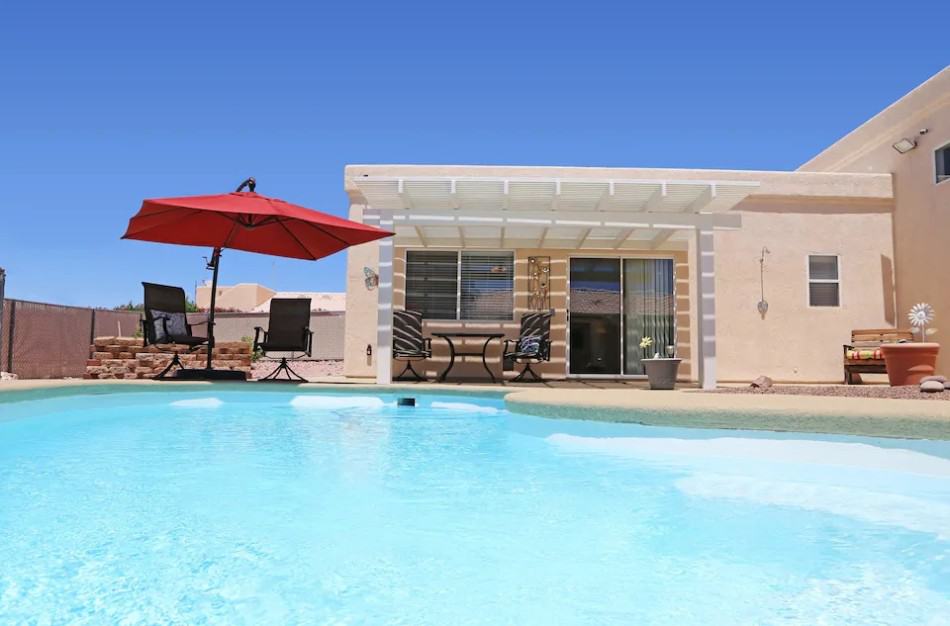 And this home is located in a very quiet and private neighborhood, so any form partying or events are not allowed. But this tiny casita is stunning inside and out and it's a lovely place to stay at.
Click Here To Check Rates On Airbnb
PERFECT vacation retreat & affordable!
Guests: 8
Bedroom: 2
This Lake Havasu vacation home rental is one of the simplest yet cozy homes in Lake Havasu. It features a California king size bed, fireplace, smart TV, two bunk beds, modern style couch, fully equipped kitchen, and a lot more.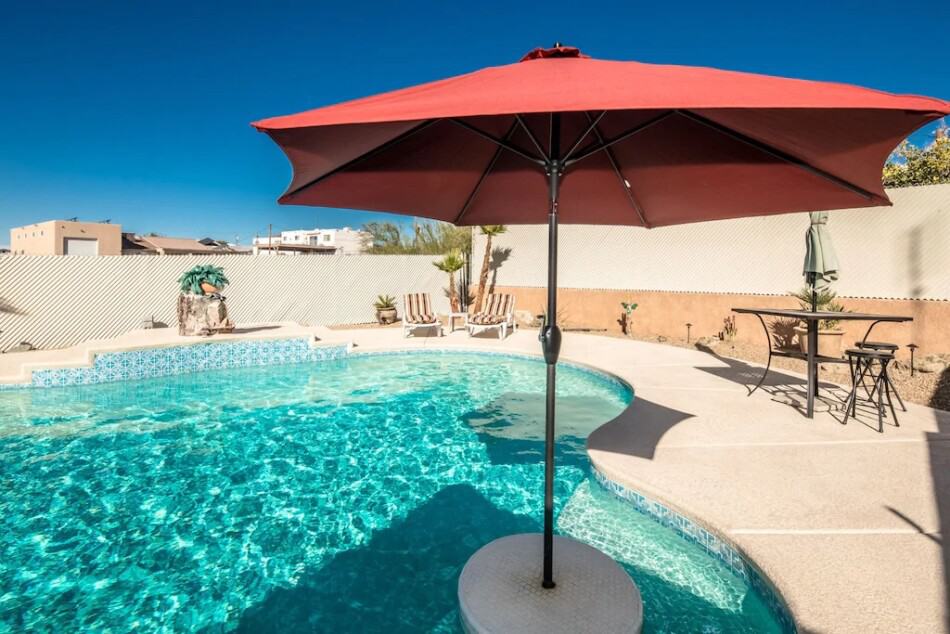 Overall, this home is very well-maintained, clean, and has all the amenities that you need. And there are plenty of parking spaces for cars and even boat too. So, if you are looking for a budget-friendly home that can fit a large group, this one is a great choice.
Click Here To Check Rates On Airbnb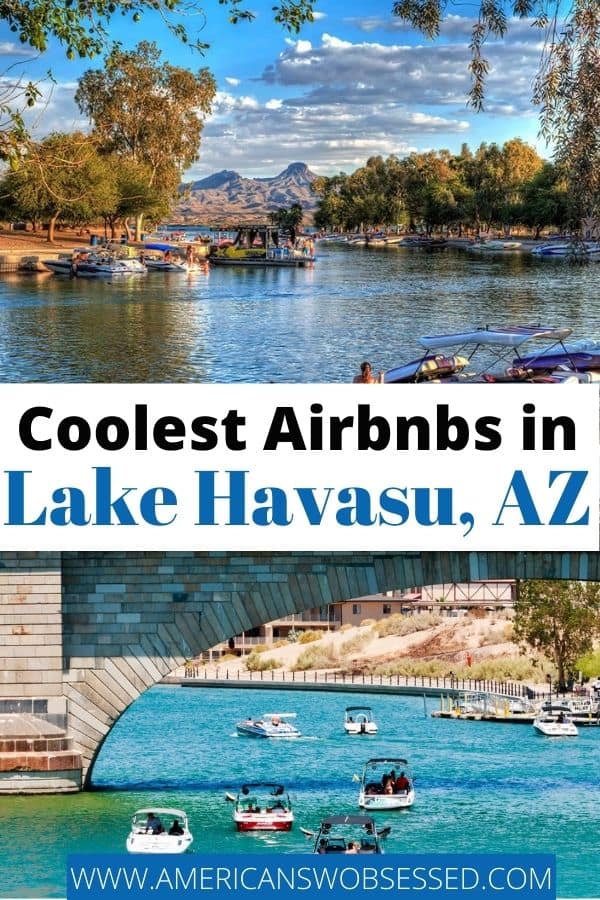 Recent Posts