21 Best Airbnbs in Arizona – for all budgets
Best Airbnb Arizona: So you are visiting the Grand Canyon State and want to find the perfect Airbnb in Arizona? You're in the right spot!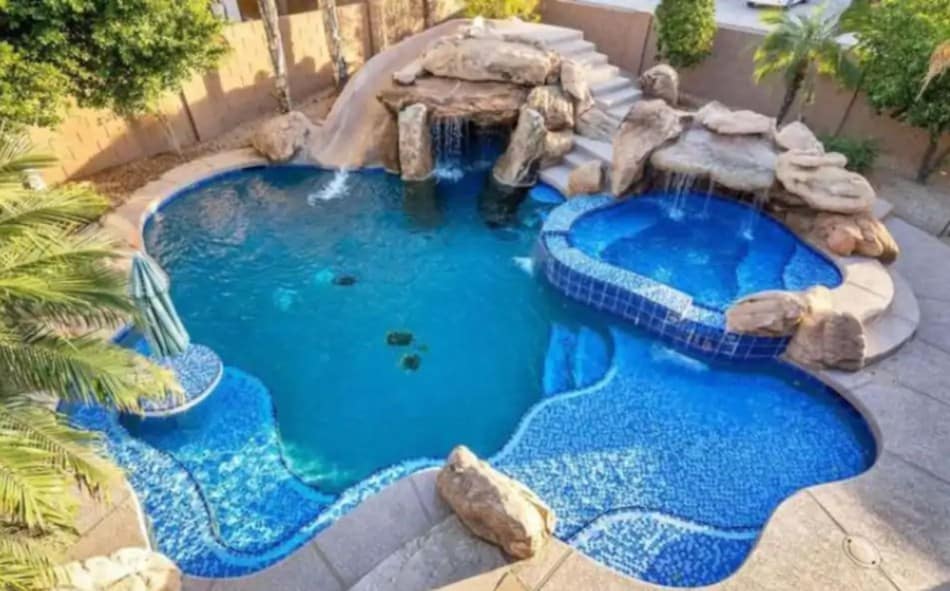 Whether you would like to stay in a cave in Sedona, an airstream in downtown Phoenix, or a dome house in the desert this list has some truly unique experiences.
Each of the destination listed have their own entire article on the best Airbnbs in that city so feel free to check out more places to stay and other Airbnbs in Arizona. You can also check out my posts on all of the Phoenix suburbs.
17 Best Airbnbs in Mesa, Arizona
15 Perfect Airbnb Scottsdale AZ
Thank you for supporting this website written by an American. This post may contain affiliate links. This means I earn a small commission on these links at no extra cost to you.
21 Unique Airbnbs in Arizona for an epic experience!
House with Half Million Dollar Pool Plus Lazy River – Scottsdale, Arizona
This entire "Pool House" has one-of-a-kind swimming pool and it is one of the largest residential pools in the entire state of Arizona. Over half a million dollar was spent for the construction of this swimming pool and it was awarded as the #1 top rated pool in Scottsdale. Everything in this Pool House is brand new and the renovation was just recently completed.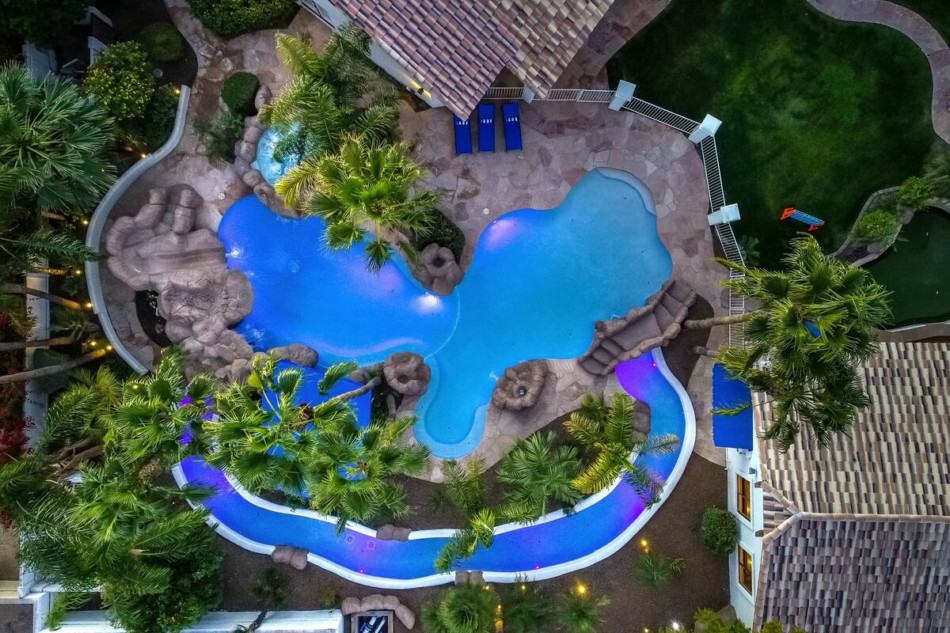 Guests can fully enjoy the amenities provided in this house such as the 7 bedrooms and 11 beds that can accommodate up to 15 guests, 5 bathrooms, kitchen, TV, dryer, laptop-friendly workspace, air conditioning, and more. This is a perfect place for a family getaway in Scottsdale and don't forget to soak in their gigantic pool with lazy river. Kids and adults will surely love this luxurious and gigantic house with a private pool in Scottsdale.
Check out my post on the Best Airbnbs in Scottsdale, Arizona
Sexy and Sleek Home with Pool
This brand new sleek and sexy home in Scottsdale with LA vibes gives vacation a totally different experience. Inside this luxurious home are all brand new finishes and furnishing, as well as stainless steel appliances, marble countertops, soft bedding, and more. Basically, it has everything that you need for an amazing stay in Scottsdale. Plus, you will be amazed by the luxurious outdoor pool area and multiple sitting, lounge, and dining areas that you can totally make use of.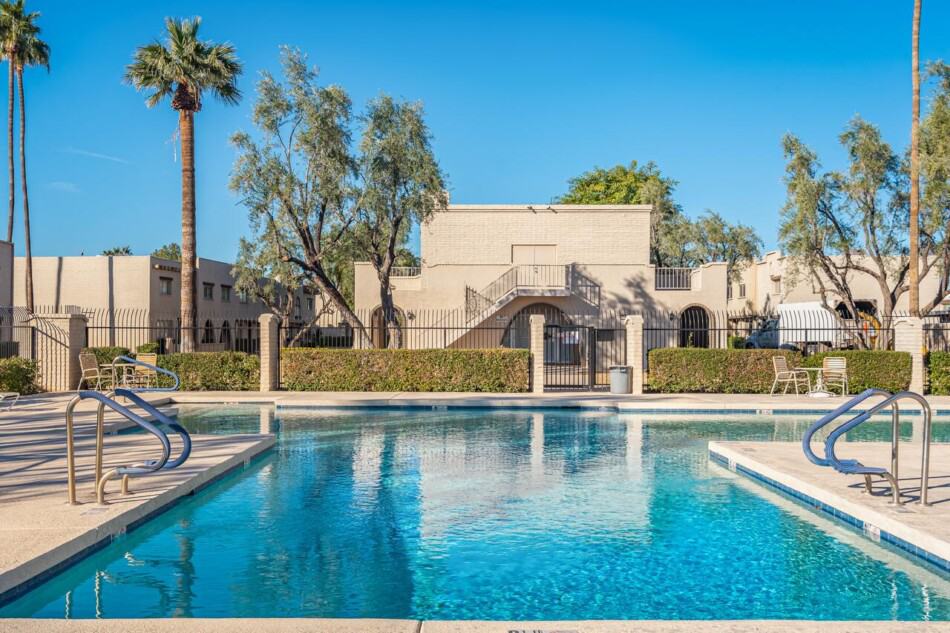 Also included in this home are washer and dryer, high-speed WiFi internet, and cable TV. You can also benefit from the fully-stocked kitchen so you can cook great meals for the whole squad. This house can accommodate up to 14 guests and it has 5 bedrooms with 8 beds for a price that is totally worth it.
Spacious Retreat with Private Pool and Fire Pit
This beautifully remodeled home in South Scottsdale is perfect for work or play experience with your family or friends. It has an open floor plan and the bedroom are spacious enough to accommodate 10 guests. But what makes this house even more amazing is the big yard with a grand sparkling pool. You can play billiards beside the pool and it has numerous lounging areas where you can have some drinks with your squad.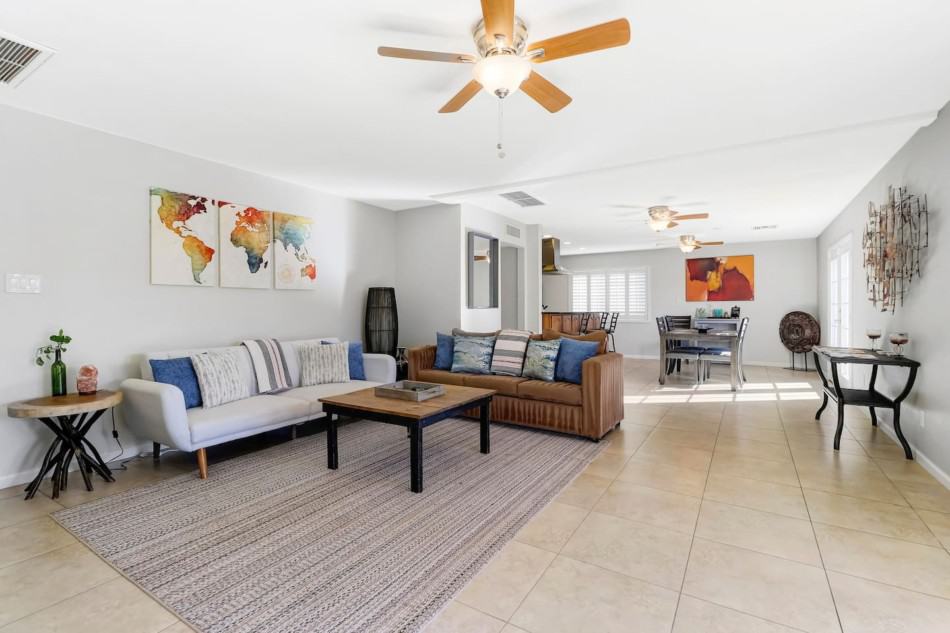 You can also benefit from the numerous TVs throughout the complex and their super fast wifi so you can easily update your social media accounts.This house is also a prime location being close to sites to visit in Scottsdale such as the Old Town/Entertainment District and top golf courses. And the price for every night of stay is such a steal.
Four Bedroom house with Guest Suite and Pool/Spa
If you wanna experience the most desirable area in Scottsdale, you should definitely stay in this four bedroom vacation home that can accommodate up to 8 guests. Inside this cozy and spacious home are TVs in every bedroom, pool table, high speed internet, fully stocked kitchen, and more. Kids can play in the gorgeous pool while adults can play some pool at the indoor billiards table overlooking the pool area.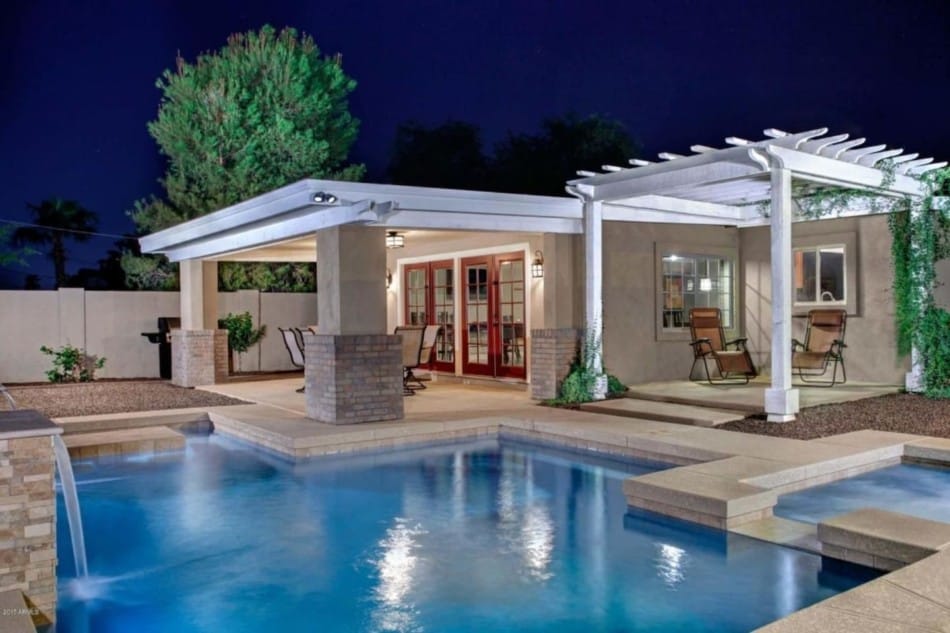 There's plenty of things that you can do in this home. And in terms of convenience, this place is highly rated because of its proximity to some great restaurants, and shops in the area. And if you have plenty of time to roam around the area, you can have an easy access to downtown Phoenix, Tempe, Chandler, and Mesa.
Old Town Family House
This old town family house has everything you need for a big group vacation. It has an amazing location and a fun house with a lot of space to roam around. The awesome pool will keep you refreshed while the open kitchen allows you to cook amazing meals for your squad.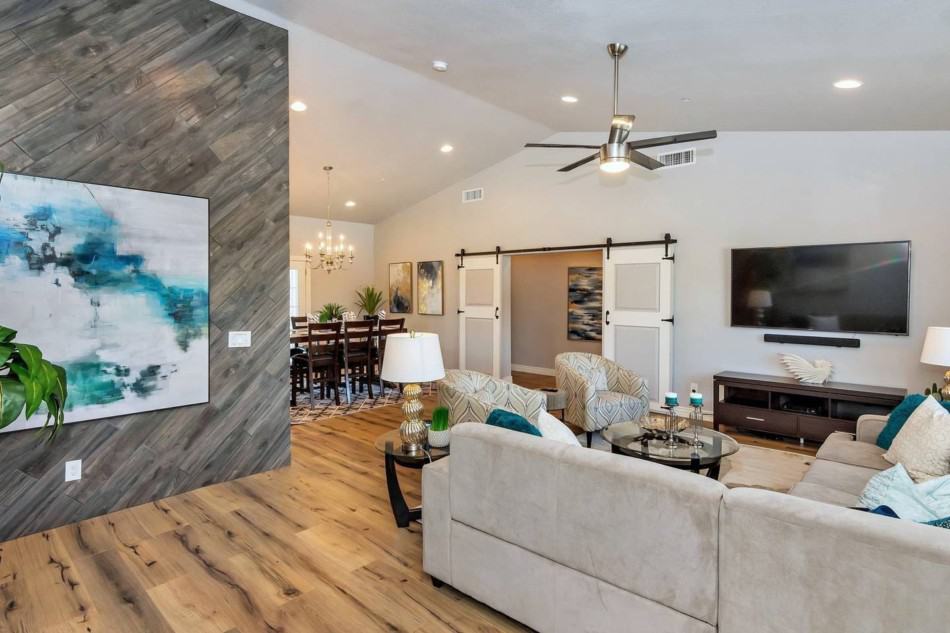 It has a total of 5 bedrooms with 15 beds that can accommodate more than 16 guests. This place is not just limited to vacations, but it can also cater bachelor/bachelorette parties, retreat, gold trips, and many more. If you are looking for a bigger space with a very reasonable price, this is highly recommended.
Relaxing Central Flagstaff Homebase
This bright and well-organized retreat house features a lovely wrap-around deck, sky-high windows, a 10-person dining table, and separate common spaces for kids and adults. It has 3 bedrooms and 2 bathrooms and it can accommodate up to 9 guests. Guests can also have access to the Jacuzzi, fully-stocked kitchen, and covered deck with amazing views.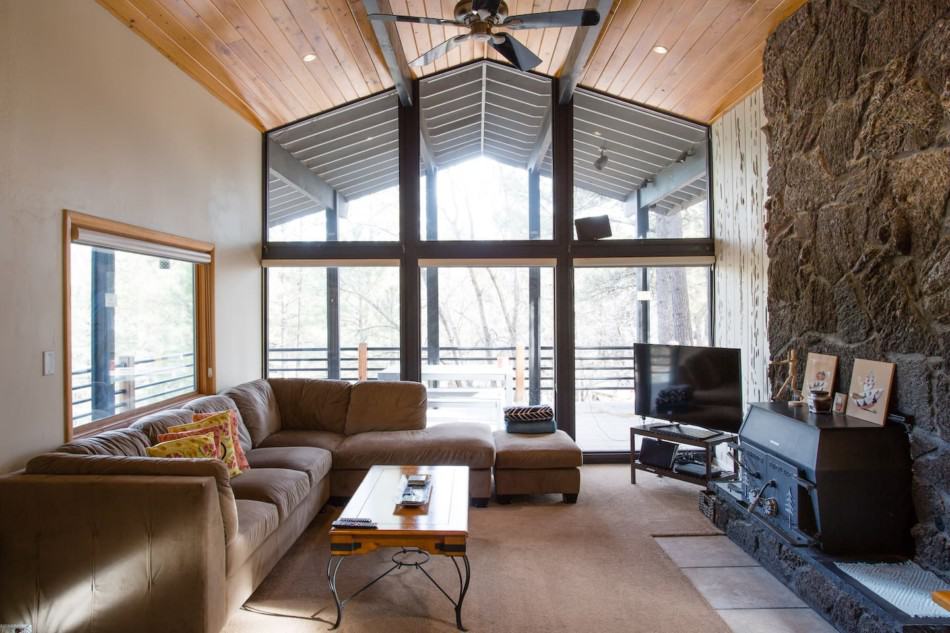 This is a highly recommended place if you want an amazing experience in Flagstaff with an affordable price. Even though it is not really that close to the Grand Canyon, this location is very close to the downtown area where you can dine or shop or do some tour sites. The whole family will surely love this place including the kids as they can walk on the forest trails just behind the house.
Stunning Sedona Geo Dome Retreat with awesome Red Rock views!
The Sedona Dome Home has been featured in the New York Times, highlighting its unique design and artistic details. The home is beautifully decorated with elegant Southwestern and antique accents throughout. There is a feeling of Zen created the moment you enter into the great room, with breathtaking views of the Sedona red rocks spires from the expansive windows. Privacy and the natural setting make the Dome Home a vacation experience that will make beautiful memories.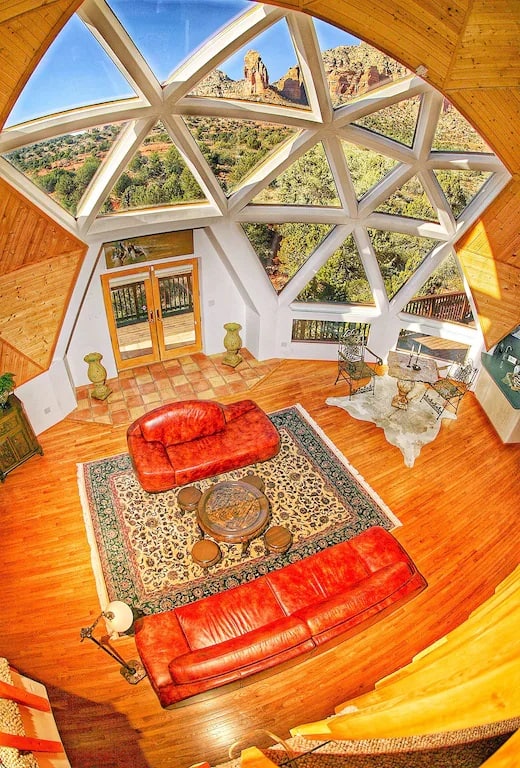 The Dome Home features the intimate Queen master bedroom on the main floor, with a luxury bath, with a private office and pull out sleeper. The upstairs loft Queen bedroom offers amazing views, a cozy entertainment area with flat screen TV and love seat pull-out couch. There is also a gorgeous private tiled bathroom. The couch is futon style and will accommodate 2 guests. Beds are Tempurpedic with luxury bedding and ample pillows. Each bath has intricate tiling. Special touches throughout the home reflect the extensive efforts to make it comfortable and relaxing for guests. Finally, the natural setting completes the reflective Zen-like feeling of the Dome Home.CHECK AVAILABILITY
Clear Sky Resort – Grand Canyon – Luxury Sky Domes
Clear Sky Resort holds the reputation of being America's first and only luxury skydome resort. Whether you are looking for an action-packed trip or a relaxing getaway, Clear Sky Resort is ready to offer you that. Its location is just 20 minutes south of the South Rim entrance.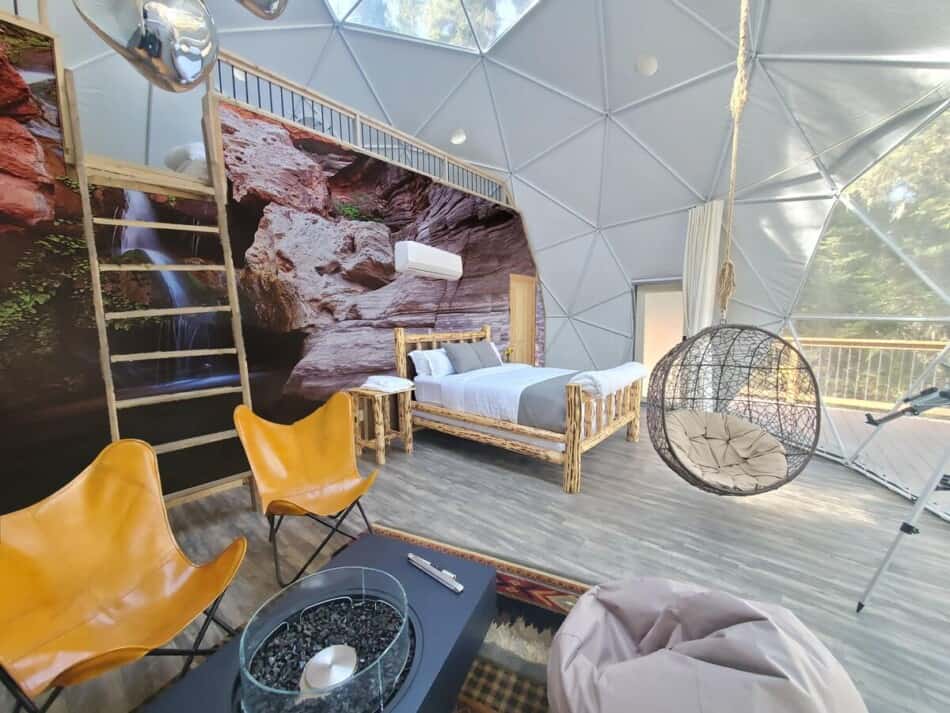 All their tent domes are uniquely styled and themed to make your stay even more wonderful and spectacular.Their luxury tents come with plush bathrobes, slippers, upscale linens, deck hammocks, skylight with telescope for stargazing, modern bathroom, and eco friendly fireplaces in some domes.
Upon entering the resort, you'll be amazed by the 1000 sq/ft panoramic window and the swinging chairs from the 26 foot tall ceiling. Each guest will have an exclusive access to the Welcome Dome lounge where guests can enjoy drinks during daily happy hours.
Sound interesting? You can check out the latest prices here.
Wander Camp Grand Canyon
Another luxury camping tent that you can avail of and try near the Grand Canyon is the Wander Camp in Valle, Arizona. They offer rustic tents that will give you the most beautiful locations each night and you will never have to miss a sunrise.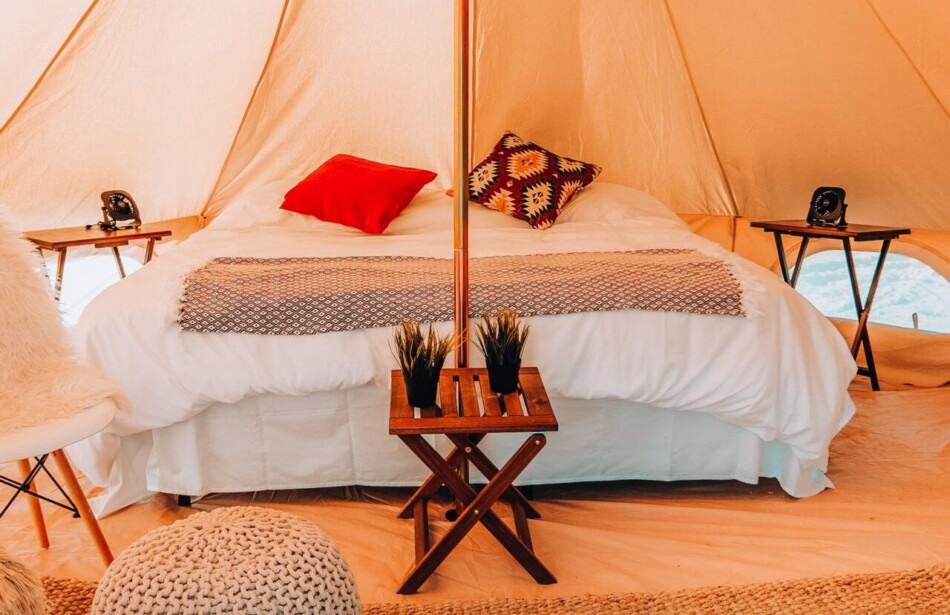 Each tent has a space of 200+ square feet and it is made from sturdy Waterproof Canvas with low profile windows and a large netted door. It is also equipped with all the camping necessities. Inside the tent, it can hold 1 king bed or 2 twin beds, plush down comforter, pillows, side tables, solar powered lanterns, USB fans, and a soft rug.
Sound interesting? You can check out the latest prices here.
Airstream Dreaming – near the Grand Canyon
This restored 1965 Airstream is set up on a private .5 acre surrounded by picturesque mountains and flowers. It is equipped with 2 beds, a fully-stocked kitchen for easy cooking, and a full shower and bath. And to maximize space, there is a storage area under the queen bed for suitcases and there is also a spot where you can hang your clothes.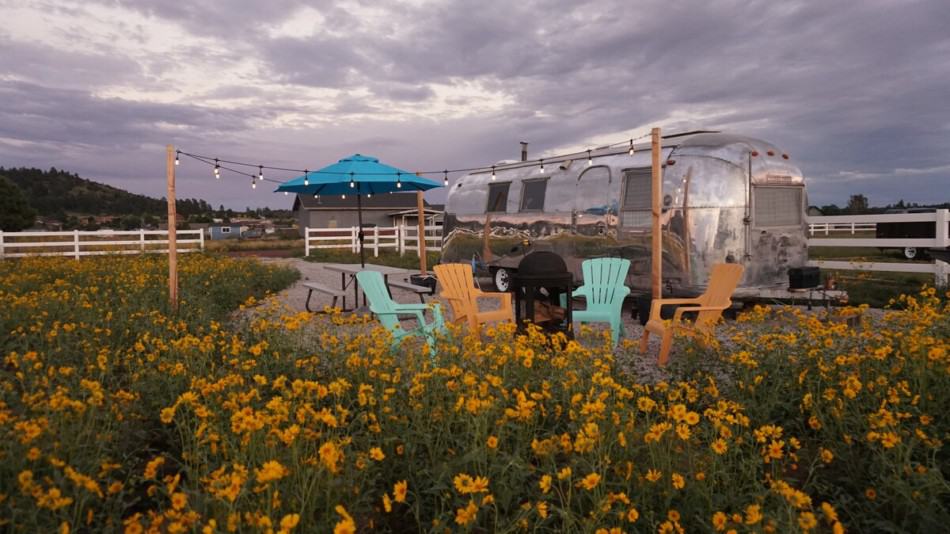 The whole outdoor space is very open and inviting that you would want to stay in it forever. Although pets are not allowed on the property, you can still catch a glimpse of sweet goats in the paddock right next to the Airstream. If you want a place that is clean and cozy and will definitely give you a unique experience, this is your place to be.
Check out my post on the Best Airbnbs near the Grand Canyon
Lotus Yurt Glamping – near the Grand Canyon
Everything is provided in this Lotus Yurt to make your stay a comfortable and memorable one. The Yurt is equipped with a full-size foam mattress and two individual memory foam foldable floor mattresses. You can also cook sumptuous meals here because it has a tiny kitchen with a two-burner camping stove, French press coffee maker, mini refrigerator, pots/pans, and basic utensils.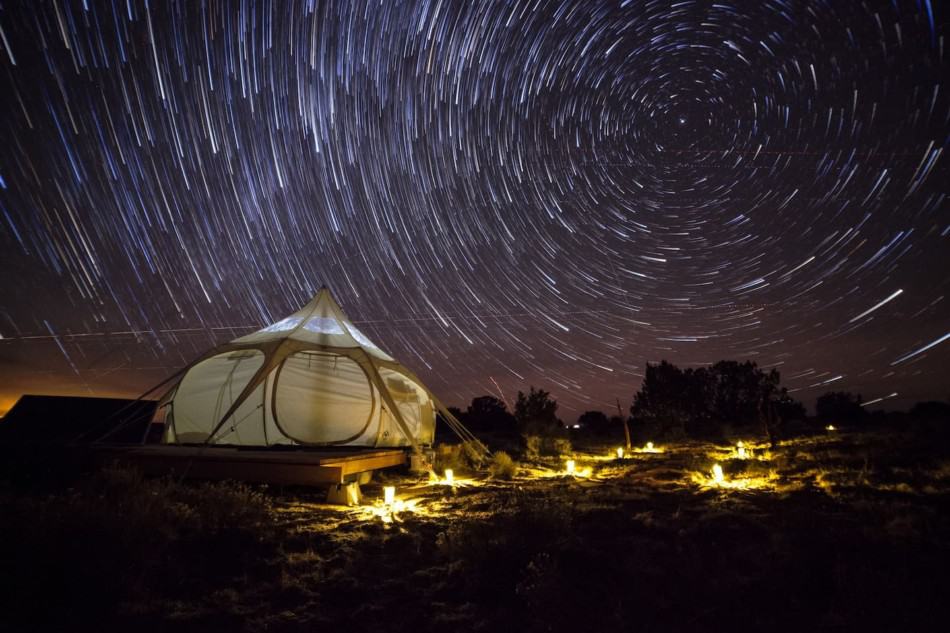 The Yurt is located on a 7-acre land shared with other glampers but they have separated the Yurts so guests can have privacy. And his yurt runs in solar power and there are day when solar batteries many not be fully charge so you'll likely experience some minor inconveniences. But if you prefer simplicity, then this place is for you.
Unique Cave on The Creek Airbnb Sedona, Arizona
If you wanna experience how the Native American-Indians lived more than 600 years ago, this unique airbnb in Sedona will let you experience it but with a modern touch. It has 1 bedroom with 2 beds that can cater up to 4 guests. It has the basic amenities that you need such as a bathroom, wifi, indoor fireplace, laptop-friendly working space, 3 hammocks, and more.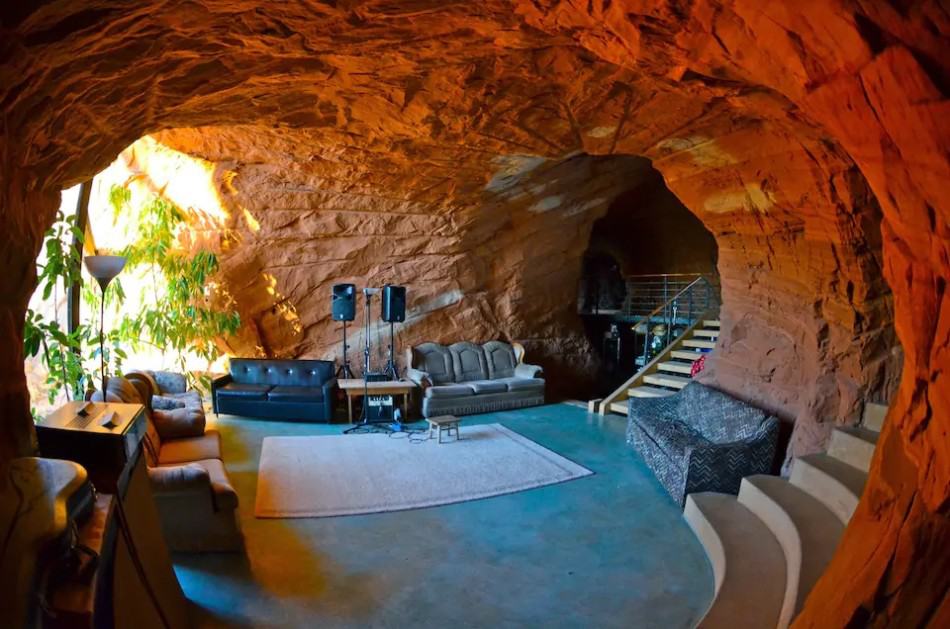 It is worth noting that you will be living in the wilderness so if you are bringing kids with you, there will be a lot of steep terrains on the hiking trail. And kids cannot be left unattended while on the property premises.
Check out my post on the Best Airbnbs in Sedona, Arizona
Sunset Jewel Guest Suite with Amazing Views and Saltwater Swimming Pool
You will instantly feel at home in this attached guesthouse/studio located in the heart of Sedona that is just a walking distance to some of the best hiking trails. This is my most popular Vacation Rental and gets booked regularly.
The holiday home features 3 bedrooms, a flat-screen TV with satellite channels, an equipped kitchen with a dishwasher and a microwave, a washing machine, and 2 bathrooms with a hot tub. The holiday home offers a hot tub. Guests can swim in the outdoor swimming pool, go hiking, or relax in the garden and use the barbecue facilities.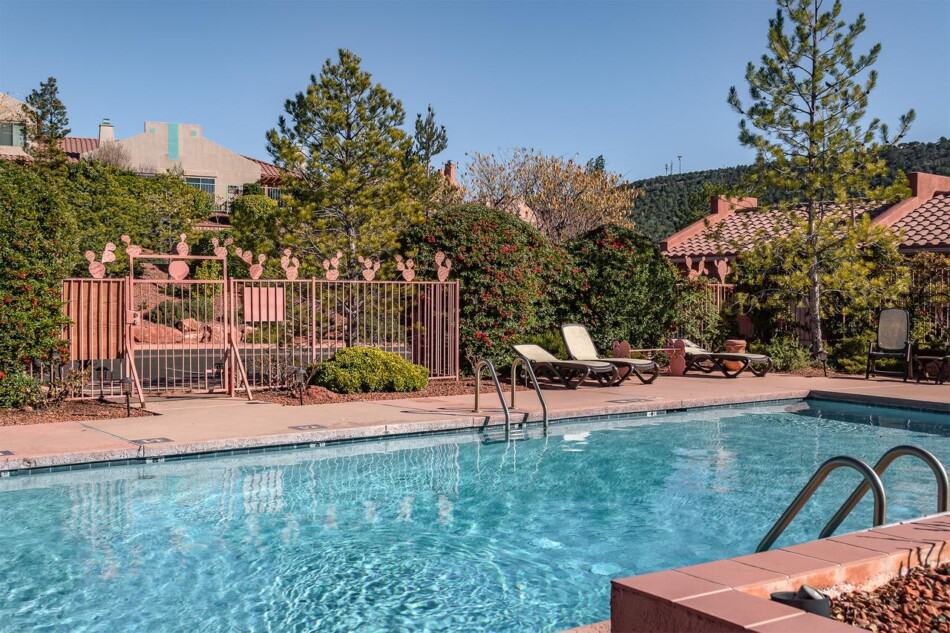 Overall, this guest suite has a romantic vibe so it's pretty perfect for couples who are looking for romantic place to stay in Sedona.
Coffee Pot Cabin
This charming yet humble 1960s cabin offers breathtaking views that overlook the majestic red rock formations of Sedona. The interiors have a rustic retro vibe that gives off a romantic setting which makes it perfect for a romantic getaway with your family or friends.
Inside the cabin is a living room that has dramatic floor to ceiling windows with large, L-shaped modern sofa bed that can let two people sleep comfortably. Also, the floor to ceiling windows lets you enjoy the majestic red rock views to make your vacation more relaxing. It has a total of 3 bedrooms with 4 beds and it can accommodate up to 12 guests. If you are looking for a relaxing cabin for big groups that is budget-friendly, this is great choice.
Away From it All and Close to Everything! Lake Powell and Trails Minutes Away!
From this luxurious Town Home, take in breathtaking views of Lake Powell, Glen Canyon Dam, and the Colorado River. This villa, just minutes from Lake Powell, puts you in the heart of all the hiking, boating, and exploring that Lake Powell has to offer.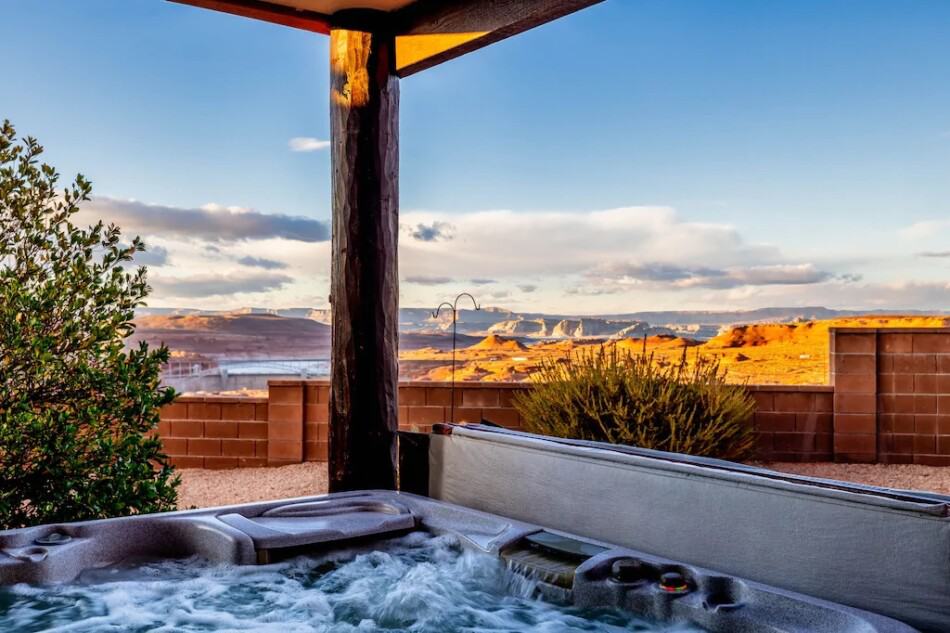 This single-story unit can accommodate up to eight people. It has three bedrooms and is completely fitted with kitchen appliances, utensils, laundry, cable TV, and high-speed Internet (1 gigabyte per second). For babies, there is a Pack-n-Play with a Bassinet available. Keep up with work while on holiday with an in-home office.
Huge 4 Bedroom Vacation Home in Page/Lake Powell
This huge Four Bedroom Vacation Home in Page/Lake Powell is located in Page, 8.1 miles from Antelope Canyon and 8.1 miles from Lake Powell. It features free WiFi, air conditioning, a glasshouse, and barbeque facilities.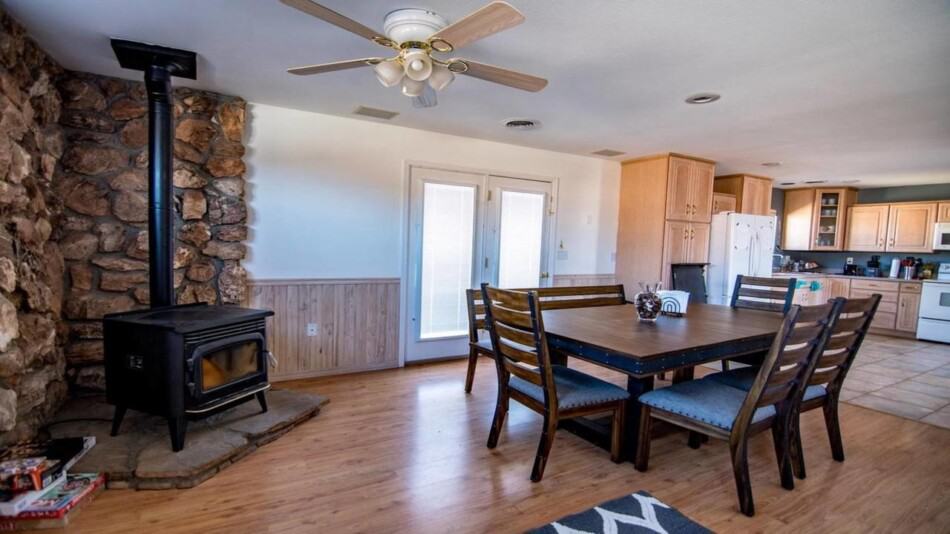 The vacation rental has four beds, a flat-screen TV with satellite channels, a completely fitted kitchen with a dishwasher and microwave, a washing machine, and two bathrooms with showers.
Central Lake Havasu City House with Grill and Pool Table
Guests: 10
Bedroom: 3
Imagine living in a house that has mountain views, a pool, spa, and cabana? Well if you want to turn that imagination into reality, then you should book this central Lake Havasu House that is outfitted with everything that you need for a perfect vacation in Lake Havasu City.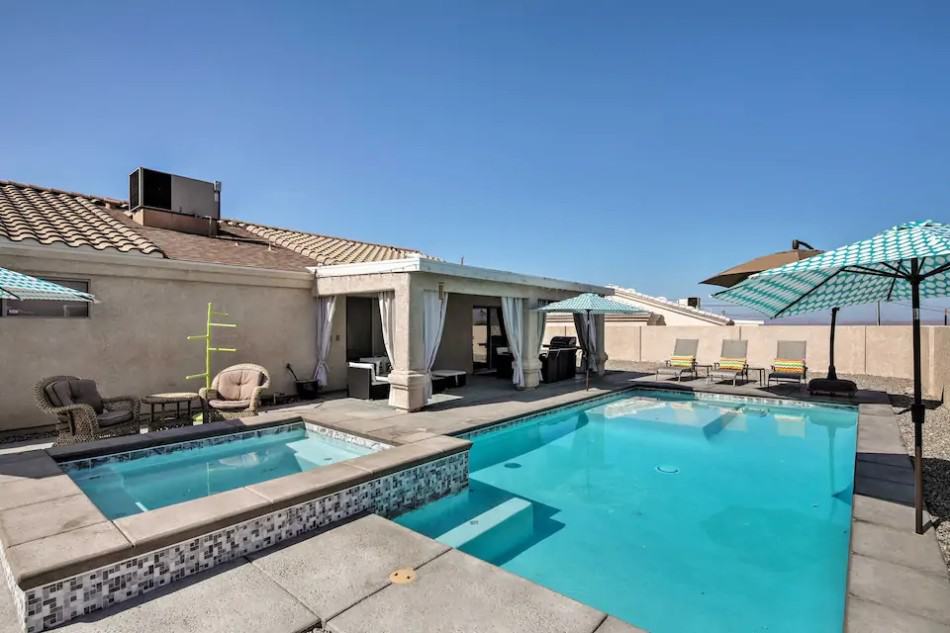 This house is perfect for big groups that are seeking for a good time in Lake Havasu as this home is set in a prime location that will let you experience lots of fun under the sun. It also features a fully equipped kitchen, airy indoor living space with flat-screen TVs, pool table, and dartboard, and an amazing outdoor space that has an enclosed backyard, cabanas, pool, hot tub, desert-inspired landscaping, lounge chairs, and a lot more.
Airbnb Lake Havasu On The Water
Guests: 4
Bedroom: 1
When you stay at On The Water in Havasu, you are not just simply renting a home but you are renting a lifestyle. From almost every window of this house, you can have a view of the lake any time of the day. And not only that, you can also gaze at the stars and milk way at night that will make your evenings more relaxing. You can cook, watch TV, swim, boat, grill, or whatever you want to do. You'll never run out of fun things to do.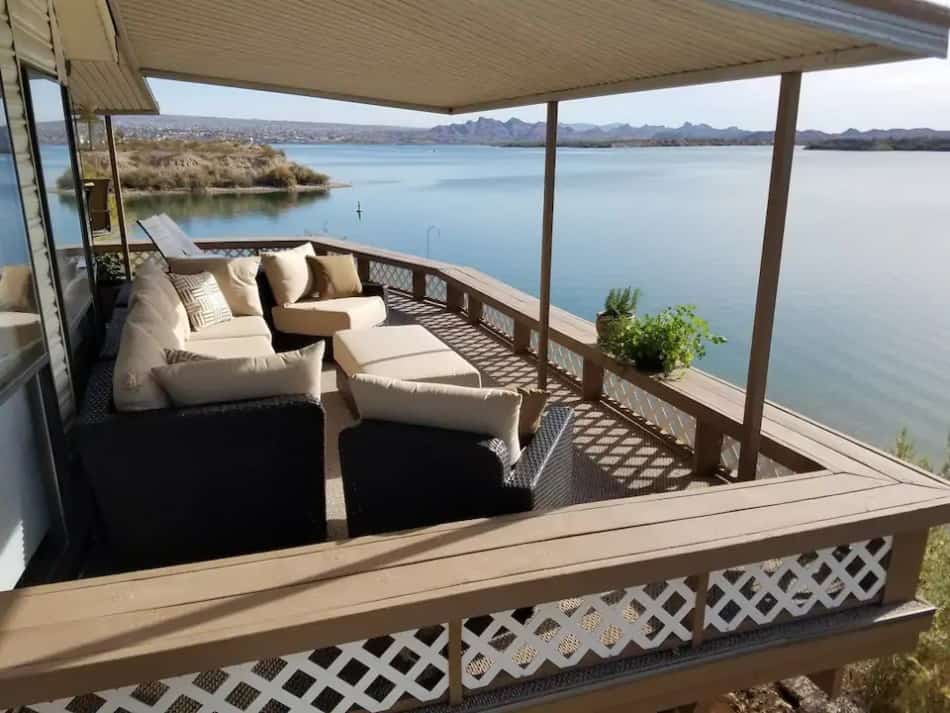 This one-bedroom home has also a lot of cool spots to chill at. There is a huge deck outside with a table that seats up to 8 people and you can transform it into a huge bed. And just below is your own private little oasis swimming area that has private stairs to the water. You'll love every bit of your stay in this paradise
Let me know in the comments if I missed any of the Best Arizona Airbnb's! I'll add them to the list. There are so many amazing things to do in Arizona. Make sure you check out my 7 Day Arizona Itinerary for more ideas.
Recent Posts