21 Best Airbnbs in Arizona – for all budgets
Best Airbnb Arizona: So you are visiting the Grand Canyon State and want to find the perfect Airbnb in Arizona? You're in the right spot!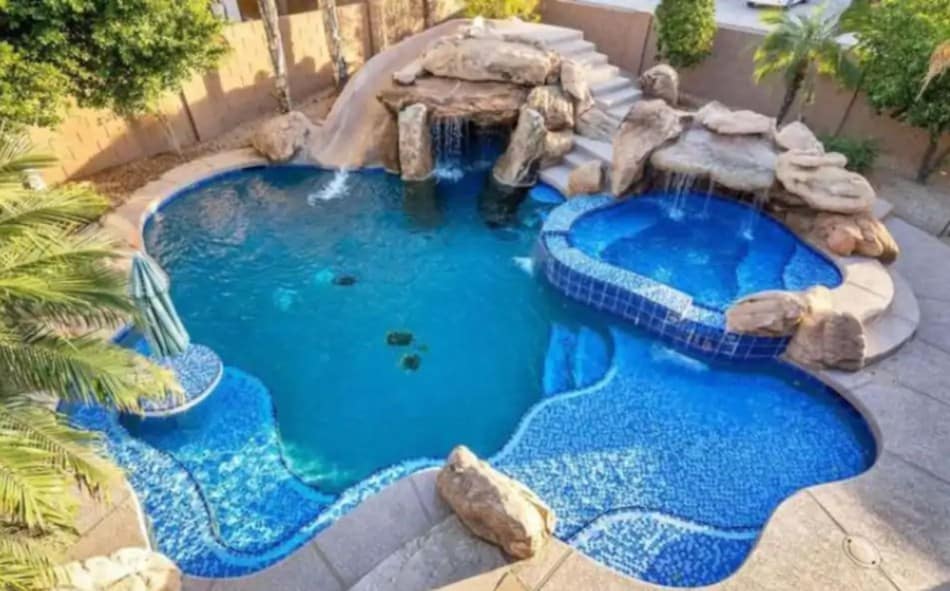 Whether you would like to stay in a cave in Sedona, an airstream in downtown Phoenix, or a dome house in the desert this list has some truly unique experiences.
Each of the destination listed have their own entire article on the best Airbnbs in that city so feel free to check out more places to stay and other Airbnbs in Arizona. You can also check out my posts on all of the Phoenix suburbs.
17 Best Airbnbs in Mesa, Arizona
15 Perfect Airbnb Scottsdale AZ
This post may contain affiliate links. This means I earn a small commission on these links at no extra cost to you.
21 Unique Airbnbs in Arizona for an epic experience!
House with Half Million Dollar Pool Plus Lazy River – Scottsdale, Arizona
This entire "Pool House" has one-of-a-kind swimming pool and it is one of the largest residential pools in the entire state of Arizona. Over half a million dollar was spent for the construction of this swimming pool and it was awarded as the #1 top rated pool in Scottsdale. Everything in this Pool House is brand new and the renovation was just recently completed.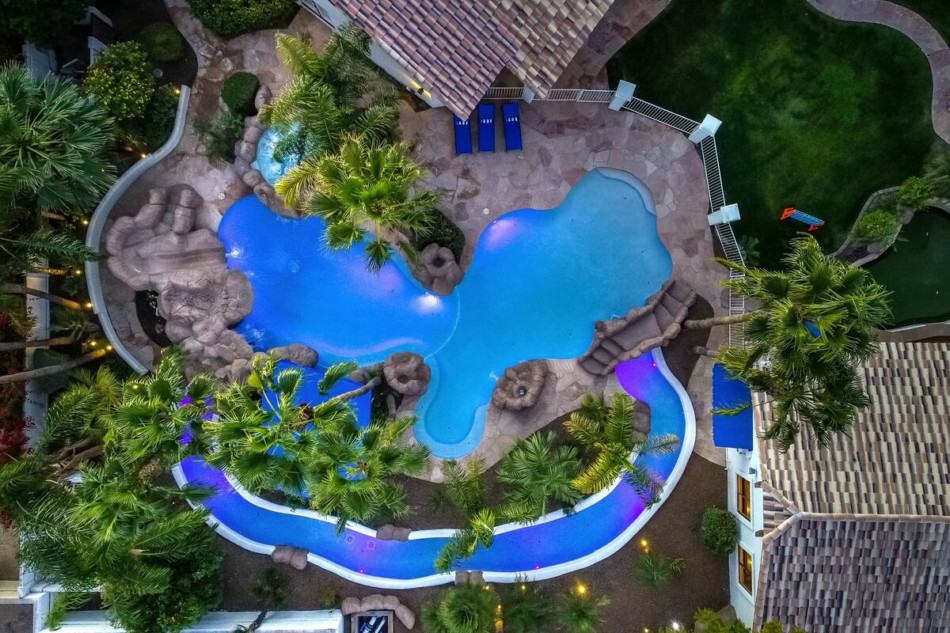 Guests can fully enjoy the amenities provided in this house such as the 7 bedrooms and 11 beds that can accommodate up to 15 guests, 5 bathrooms, kitchen, TV, dryer, laptop-friendly workspace, air conditioning, and more. This is a perfect place for a family getaway in Scottsdale and don't forget to soak in their gigantic pool with lazy river. Kids and adults will surely love this luxurious and gigantic house with a private pool in Scottsdale.
Check out my post on the Best Airbnbs in Scottsdale, Arizona
Modern & French Vibes in a Renovated 1920s Home – Downtown Phoenix
Packed with beautiful design details, you will be sure to enjoy the exposed brick, chevron hardwood floors and ultramodern black kitchen. Start your day under a rain shower next to an expansive picture window overlooking a succulent garden. Sit in a sunny window in the dining nook and cozy up in the reading loft by way of the impressive set of stairs.
The Fox, A Designer Condo in Old Town Scottsdale
Take a seat in a comfy rattan chair on the balcony attached to this condo designed to conjure the tropical atmosphere of Sayulita Mexico. The home is centrally located and filled with eclectic decor and accents mixed with modern conveniences.
This is the perfect place to stay when visiting Phoenix.
The Ultimate Stargazing Experience Dome House – near the Grand Canyon
Staying in this dome house will let you have a once in a lifetime experience of sleeping under the bright night sky. This space looks like a bubble and it has a glass-like ceiling that allows you to have uninterrupted views of the sky.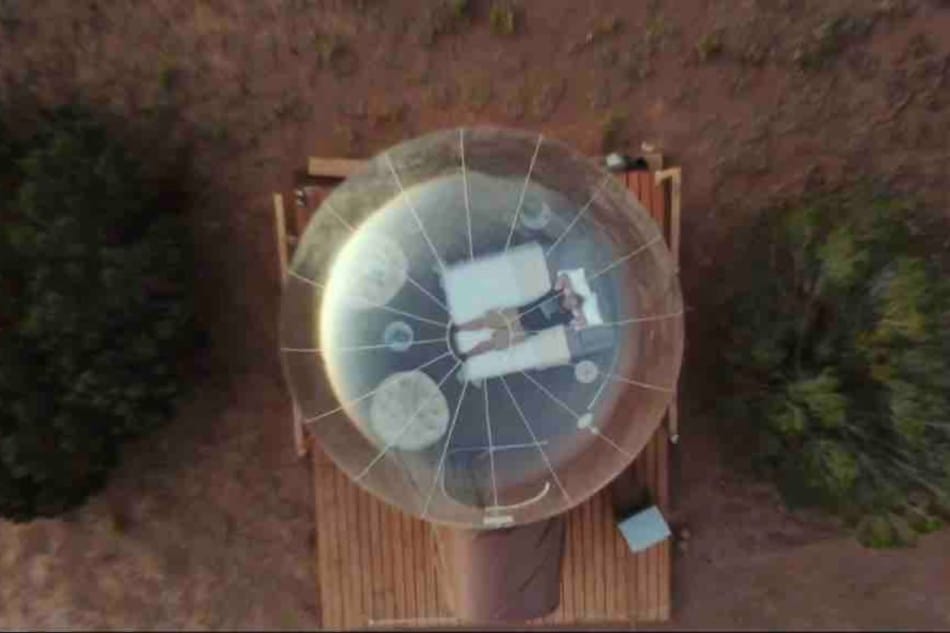 The inside of the dome house has 1 bedroom with a heated bed that is good for 2 people. However, the clean bathroom and shower area are shared together. There is also a fire pit in the property so guests can get warm during cold months. And you don't need to worry because this place is very safe and secluded to give you a great camping experience.
Check out my post on the Best Airbnbs near the Grand Canyon
Artist Studio Turned Colorful Casita in the Heart of Tempe
Cook in a well-appointed kitchen with Japanese crockery and a backsplash of hand-painted Mexican tiles. The Saltillo tile flooring throughout is similarly accented. Other personal touches include crafted wood furniture and Mexican blankets.
Hip Chalet in Downtown Flagstaff
Watch the sun rise in summer and the snow fall in winter from a slick, but cozy-feeling 1000 square foot house. Industrial styling pervades, with trendy corrugated-metal wall treatments, sliding track doors, and stainless steel accessories.
This chalet sleeps 4 guests with 2 bedrooms and 1 bath.
Airstream Dreaming – near the Grand Canyon
This restored 1965 Airstream is set up on a private .5 acre surrounded by picturesque mountains and flowers. It is equipped with 2 beds, a fully-stocked kitchen for easy cooking, and a full shower and bath. And to maximize space, there is a storage area under the queen bed for suitcases and there is also a spot where you can hang your clothes.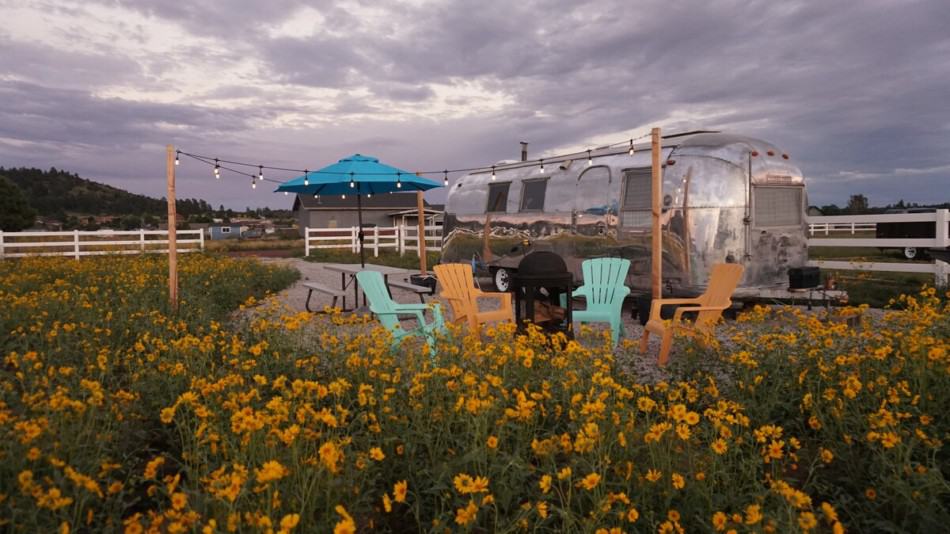 The whole outdoor space is very open and inviting that you would want to stay in it forever. Although pets are not allowed on the property, you can still catch a glimpse of sweet goats in the paddock right next to the Airstream. If you want a place that is clean and cozy and will definitely give you a unique experience, this is your place to be.
Check out my post on the Best Airbnbs near the Grand Canyon
Lotus Yurt Glamping – near the Grand Canyon
Everything is provided in this Lotus Yurt to make your stay a comfortable and memorable one. The Yurt is equipped with a full-size foam mattress and two individual memory foam foldable floor mattresses. You can also cook sumptuous meals here because it has a tiny kitchen with a two-burner camping stove, French press coffee maker, mini refrigerator, pots/pans, and basic utensils.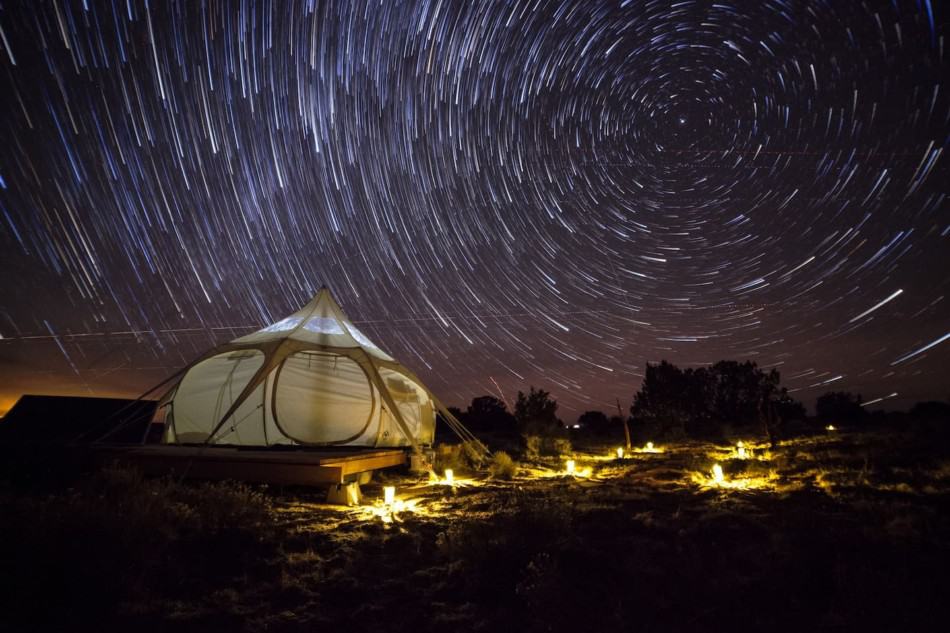 The Yurt is located on a 7-acre land shared with other glampers but they have separated the Yurts so guests can have privacy. And his yurt runs in solar power and there are day when solar batteries many not be fully charge so you'll likely experience some minor inconveniences. But if you prefer simplicity, then this place is for you.
Check out my post on the Best Airbnbs near the Grand Canyon
Tiny House Cozy Cabin by Zion National Park
Come escape the crowds and chaos! Perfect for remote-working (great wifi!) Our homesteader's cabin is nestled on a 400 acre ranch with a backdrop of stunning red cliffs. The cabin has been thoughtfully appointed with everything you need for a comfortable stay. Hiking, mountain biking, and views abound.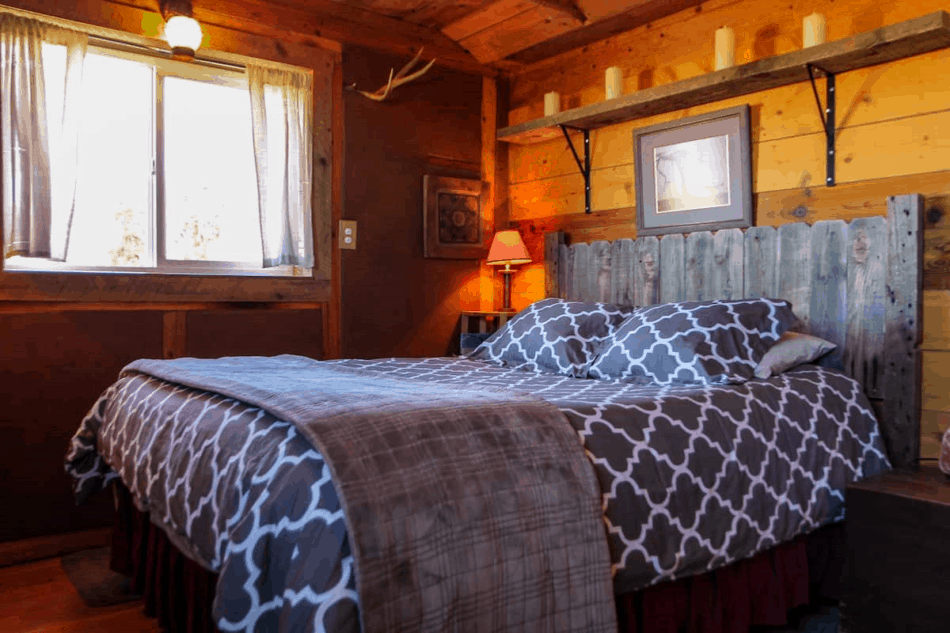 Find solitude and peace as you explore the canyon, fields, and juniper forests on the property. You will have privacy but reassurance of having friendly neighbors. We give you fresh eggs too.:)
Unique Cave on The Creek Airbnb Sedona, Arizona
If you wanna experience how the Native American-Indians lived more than 600 years ago, this unique airbnb in Sedona will let you experience it but with a modern touch. It has 1 bedroom with 2 beds that can cater up to 4 guests. It has the basic amenities that you need such as a bathroom, wifi, indoor fireplace, laptop-friendly working space, 3 hammocks, and more.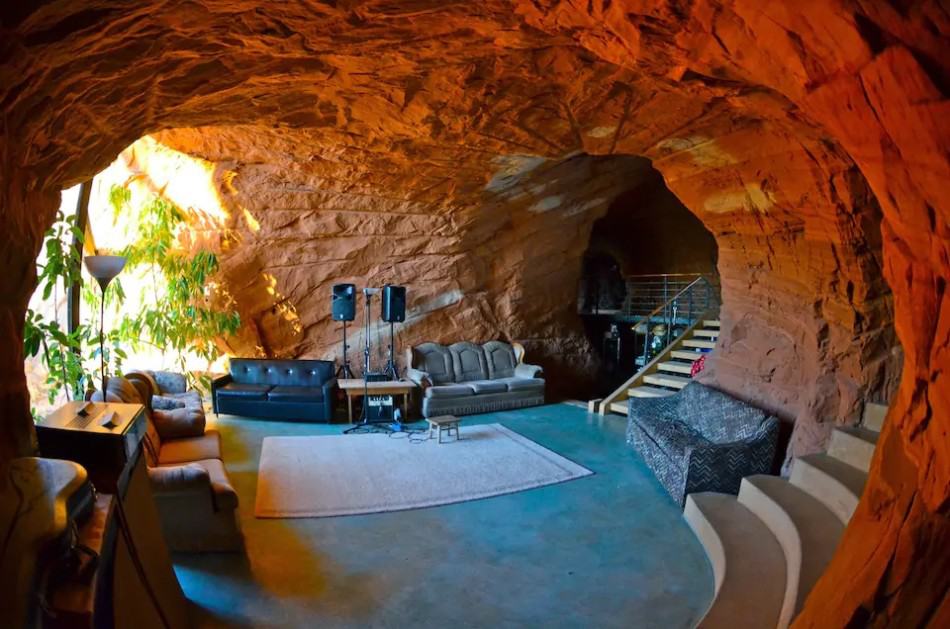 It is worth noting that you will be living in the wilderness so if you are bringing kids with you, there will be a lot of steep terrains on the hiking trail. And kids cannot be left unattended while on the property premises.
Check out my post on the Best Airbnbs in Sedona, Arizona
The Hilltop Lounge – Sedona, Arizona
Convenience-wise, this beautiful home has the most perfect location because it just right in between Uptown and Downtown Sedona thus giving you great access to all the popular things to see and do in the area. It also offers a lot of space that is why it is also perfect for family getaways.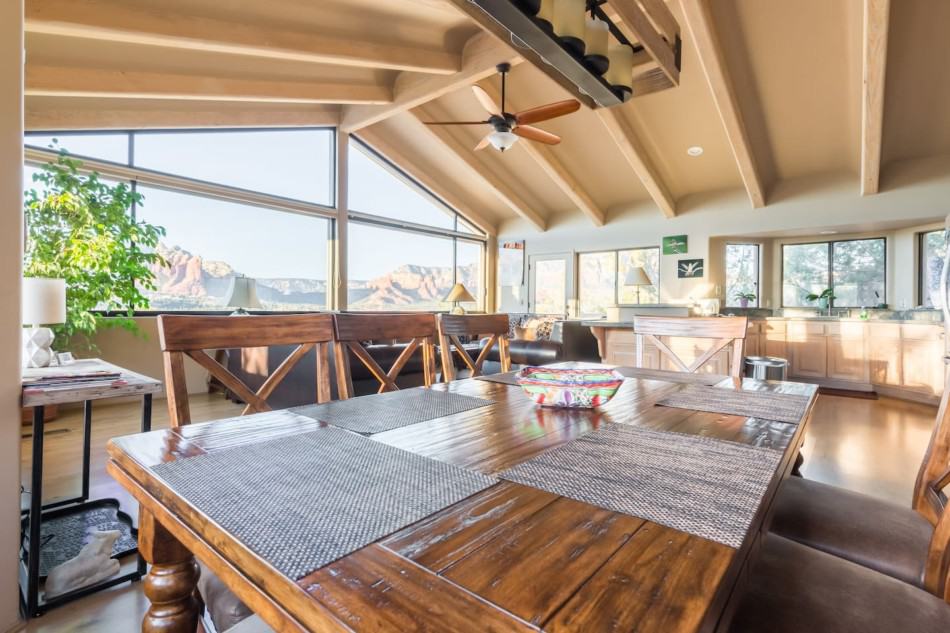 The entire house has 3 bedrooms with 4 beds and it can accommodate up to 8 guests. All amenities available in the house can be accessed by all guests including the full patio, fenced yard, two-car garage, laundry, and dryer. So if you are looking for a beautiful and spacious house with incredible views of the mountains of Sedona, this is a perfect choice.
Check out my post on the Best Airbnbs in Sedona, Arizona
Garden House with Hot Tub – Flagstaff
Anyone who has stayed in this airbnb before would highly recommend this place. It has a great location, very clean and spacious area, and accommodating hosts. This suite is near downtown Flagstaff in a quiet little neighborhood and it's close to everything such as restaurants, bars, and coffee shops.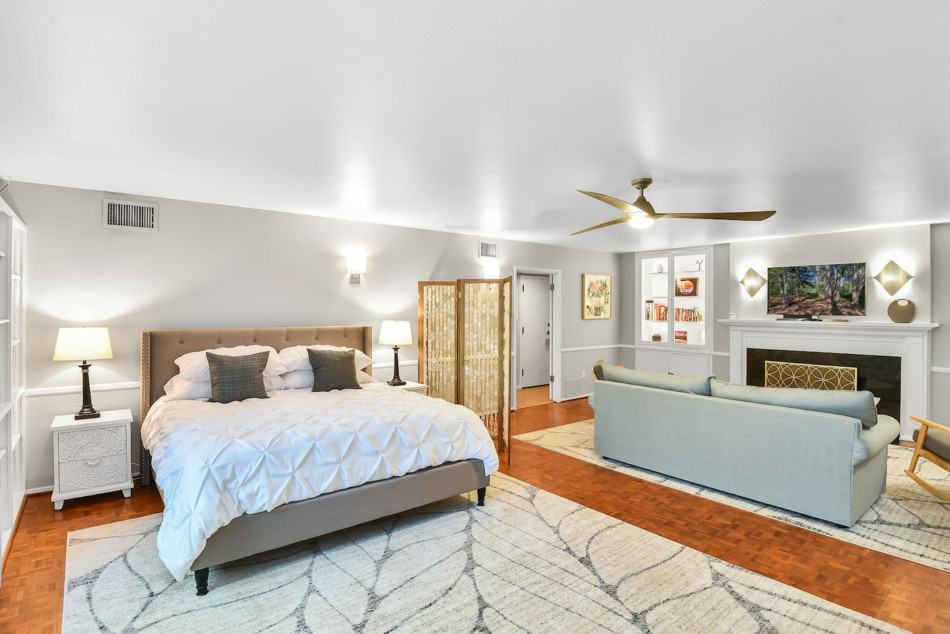 This newly-renovated apartment-sized suite has one king size bed and 2 sofa beds, bathroom, laptop-friendly workspace, living room, and more. It has french doors that lead to the patio where the spacious wooded backyard and hot tub are where you can lounge and enjoy the Arizona sun. This suite can accommodate at least 2 people and it's perfect for couples who are set for a romantic weekend away.
Check out my post on the Best Airbnbs in Flagstaff, Arizona
Ponderosa Treehouse Apartment – Flagstaff
Another stunning airbnb in Flagstaff is this Ponderosa Treehouse apartment that is nestled atop a hill overlooking the gorgeous and mighty Ponderosa Pine-Filled Forest. This studio apartment has all the necessities for a relaxing and hassle-free vacation such as a full bath with tub/shower, kitchen, futon, and queen bed.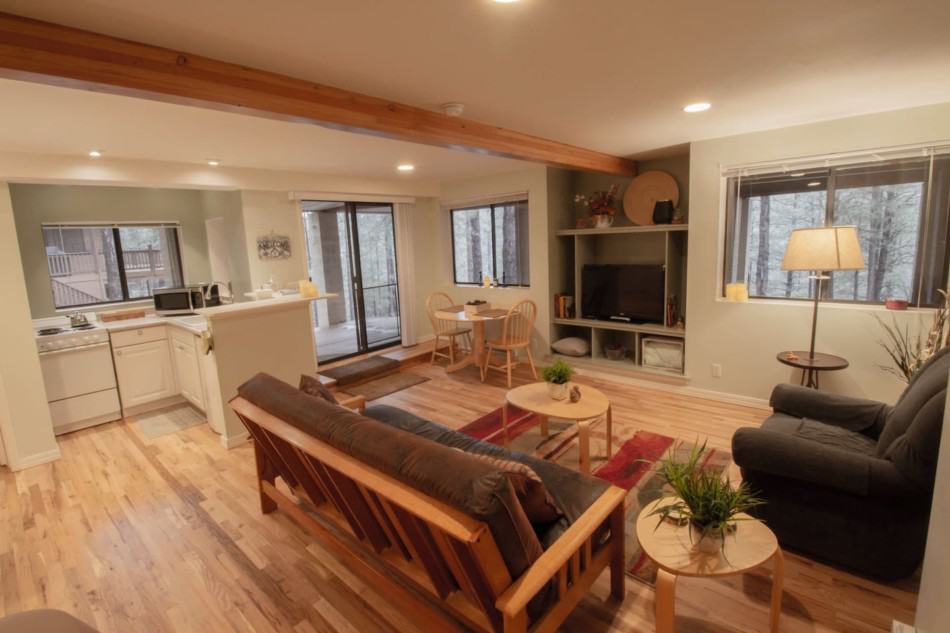 The incredible sights of the Ponderosa Pine trees will surely delight your eyes from the large windows of the house. And the space outside lets you enjoy the natural beauty and landscape of the Coconino National Forest, as well as the many species of birds such as Ravens, Stellar Jays, Hawks, and more. If you are coming to Flagstaff for a relaxing and fun vacation, staying in this apartment good for 4 guests will not disappoint you.
Check out my post on the Best Airbnbs in Flagstaff, Arizona
Modern & Open Three-Bedroom House – Page
This modern house in Page, Arizona is ideal for visitors who easily want to explore and see the best spots that Page can offer such as Horseshoe Bend, Antelope Canyon, and Lake Powell.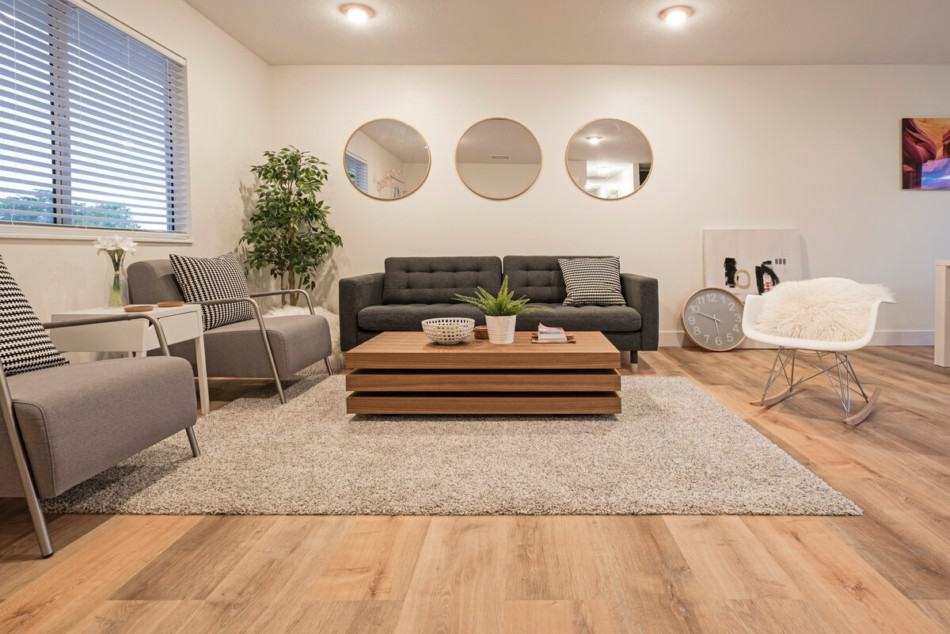 The house contains 3 comfortable bedrooms good for 5 guests and a lot of amenities such as washer, dryer, towels, shampoo, etc. And a huge part of your great vacation is due to the hosts that are extremely wonderful and accommodating and will go out of their way just to make the guests feel comfortable.
Check out my post on the Best Airbnbs in Page, Arizona
Bright and Comfy House Near Lake Powell
You will instantly fall in love with this house because of the family-friendly neighborhood, brand new and comfy bedding, and incredible sunset views with a sneak peak of the canyon from the living room that it offer to all its guests.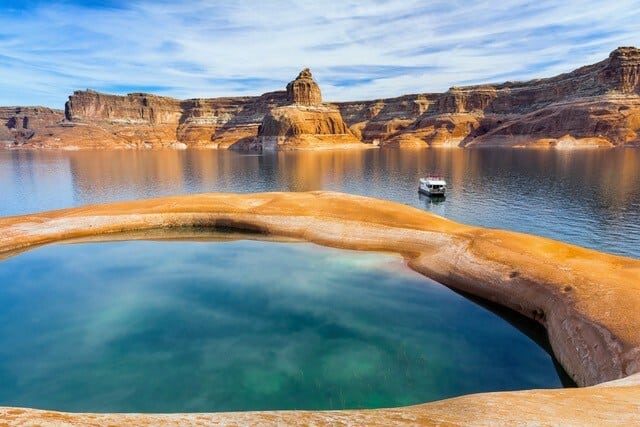 This entire house can accommodate up to 6 guests and it has all the comfort and amenities that you need for a great trip. This is a perfect place for a family wanting to be close to the best attractions in Page such as the Lake Powell, Horseshoe Bend, and Antelope Canyon.
Check out my post on the Best Airbnbs in Page, Arizona
Cozy Hacienda Casita in the Casas Adobes Estates – Tucson
The cosy hacienda casita is conveniently situated on the northwestern side of Tucson near a wide range of restaurants and shopping centers. There is a private fireplace and patio where you can enjoy the cool Arizona nights while staring at the beautiful night sky. And oh, you'll also fall in love with the lush landscaping and pathways that surround the property.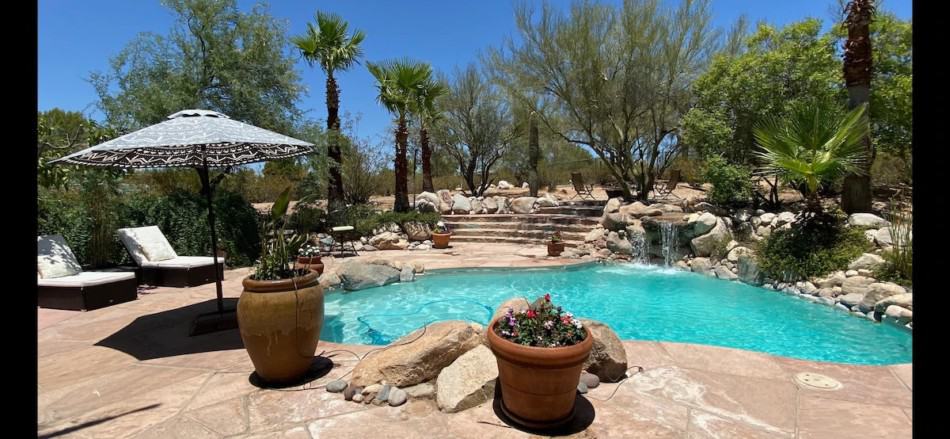 This casita is furnished with a lot of things that you need for a perfect vacation for two people such as a bedroom, kitchen, wifi, laptop-friendly workspace, and a lagoon style pool exclusive for casita guests only. This place is highly recommended to anyone who wants to get away for a whole and it's even perfect for couples who want to spend a few romantic nights together.
Check out my post on the Best Airbnbs in Tucson, Arizona
Tucson Poet's Studio
The Poet Studio is a serene retreat located in the heart of Tucson that shares the private 1/3 acre lot and it is crafted in the classic Santa Fe style. The space features a courtyard and pool and you will have private views with a mountain view to the north and a view overlooking the pool to the east.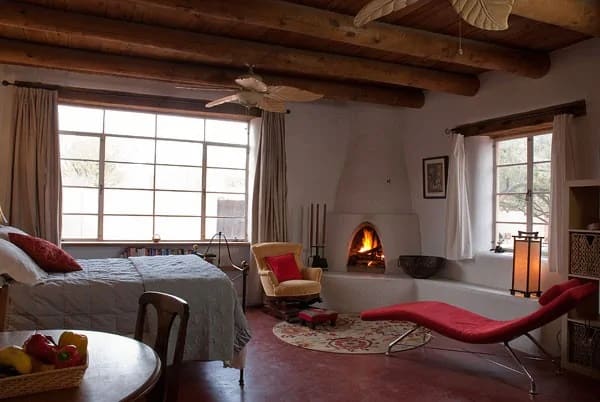 The studio has a queen-sized bed with a Saatva Flagship Luxury Firm mattress set, a 3/4 bath with walk-in spa shower, a well-stocked kitchen, air conditioning, high speed wifi, flat screen TV, and more. And you don't need to bring a lot of stuff with you because this airbnb has everything you need for a hassle-free vacation – from soaps, dishes, to pots, pans, towels, robes and hair dryer.
Check out my post on the Best Airbnbs in Tucson, Arizona
Four-Bedroom Gated Townhome – Mesa
Guests: 10
Bedroom: 4
Whether you are looking for a great place to stay for a weekend getaway, a week vacation or even a month-long stay, this home is perfect for you. This house is located in a new and quiet gated community in Mesa and that has been recently furnished and features an amazing clubhouse with heated swimming pools, spas, and BBQ grills that you can make use of.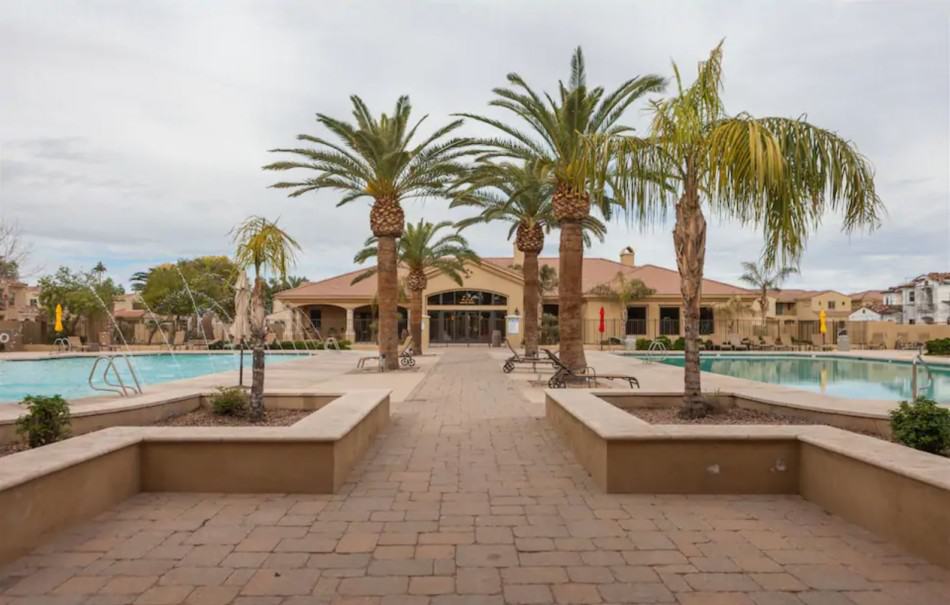 The home has a total area of 1800 square feet with high ceilings and it is furnished with all the essentials that you need for a comfortable stay including sheets, blankets, towels, bath and shower toiletries, and laundry supplies. And there are up to 5 separate sleeping areas in the house that can accommodate 10 people. This house has plenty of space for a large group at a very reasonable and worthy price.
Check out my post on the Best Airbnbs in Mesa, Arizona
Upscale Apartment on Tempe Lake – Phoenix
Guests: 4
Bedroom: 2
First on our list of the best Airbnb in Tempe is this upscale apartment that features a contemporary style elevated by an aesthetic that is a perfect combination of dark wood and white fixtures accented by bold patterns.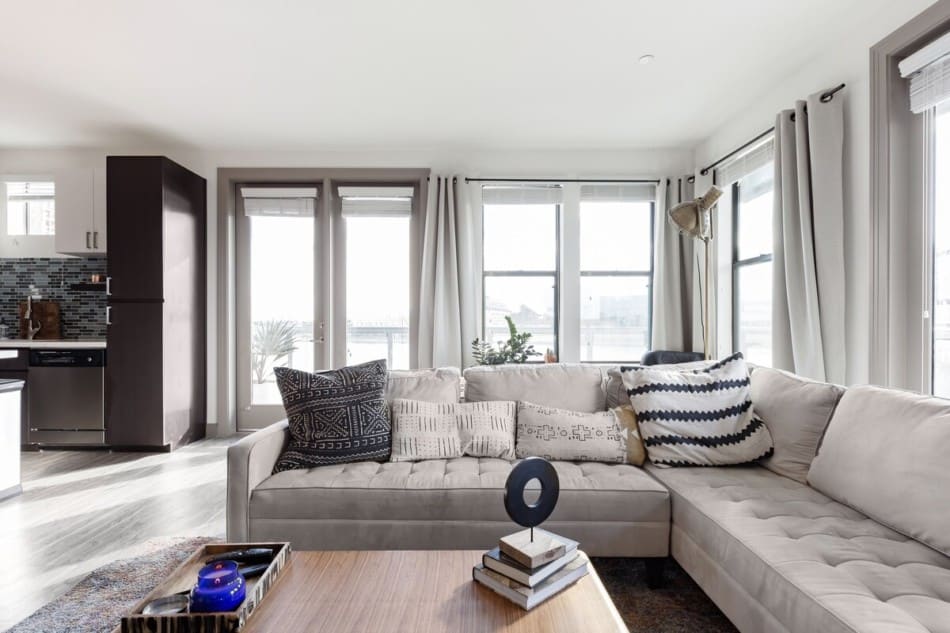 Aside from its aesthetically appealing interiors, this apartment has also a great corner location with an amazing view of the lake. It can accommodate up to 4 guests with 2 bedrooms, a living room, kitchen, dining area, and surround sound throughout the house. You couldn't ask for more with this elegant apartment in Tempe.
Check out my post on the Best Airbnbs in Tempe, Arizona
The Majestic Mountain Retreat
Unplug and recharge at The Majestic Mountain Retreat, as seen on Cash Pad on CNBC! Also known as the Walker Getaway, it is a wonderful place to relax and enjoy epic views from the patio. With no neighbors in sight in a quiet serene setting situated at 6500 elev.
To get to our amazing view & home a high profile vehicle is recommended, it is a 1/4 of a mile on a steep dirt road. Great hiking & biking close by. We are off the beaten path but only 15 min to shopping and dining out.
Let me know in the comments if I missed any of the Best Arizona Airbnb's! I'll add them to the list. There are so many amazing things to do in Arizona. Make sure you check out my 7 Day Arizona Itinerary for more ideas.
Recent Posts