Top 15 Arizona Beaches you must see to believe
Are there beaches in Arizona? Absolutely, and a lot of Arizona Beaches are absolutely stunning.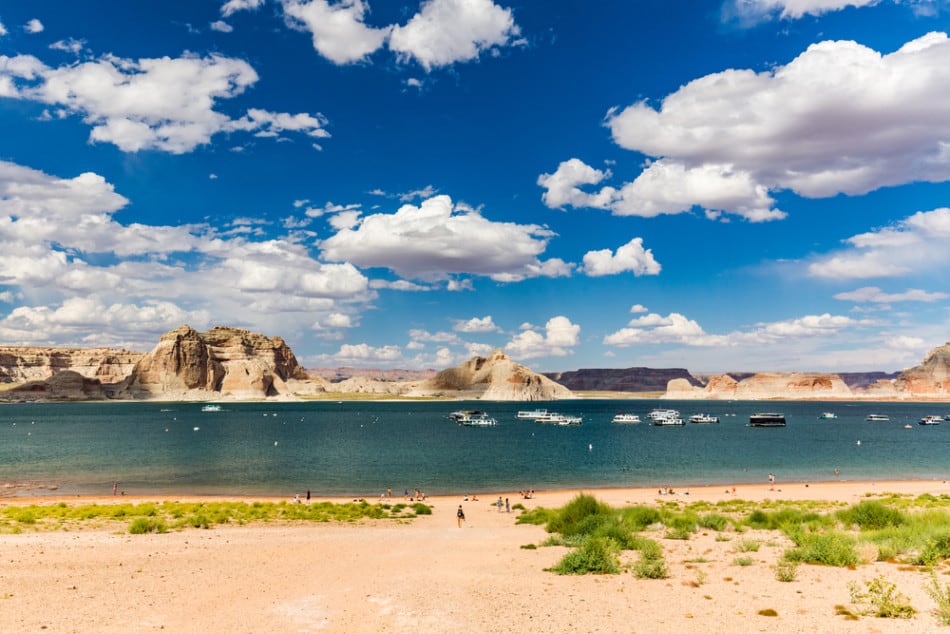 There are even beaches in Phoenix or beaches near Phoenix that deserve a visit especially when the temperature starts to get hot, hot.
This list includes lakes in Arizona for swimming, Phoenix beaches, and where to find the perfect Arizona beach.
Let's get started with the Best Beaches in Arizona!
Thank you for supporting this website written by an American. This post may contain affiliate links. This means I earn a small commission on these links at no extra cost to you.
15 Best Beaches in Arizona for Water Sports and Relaxing
London Bridge Beach
Location: Lake Havasu City, Western Arizona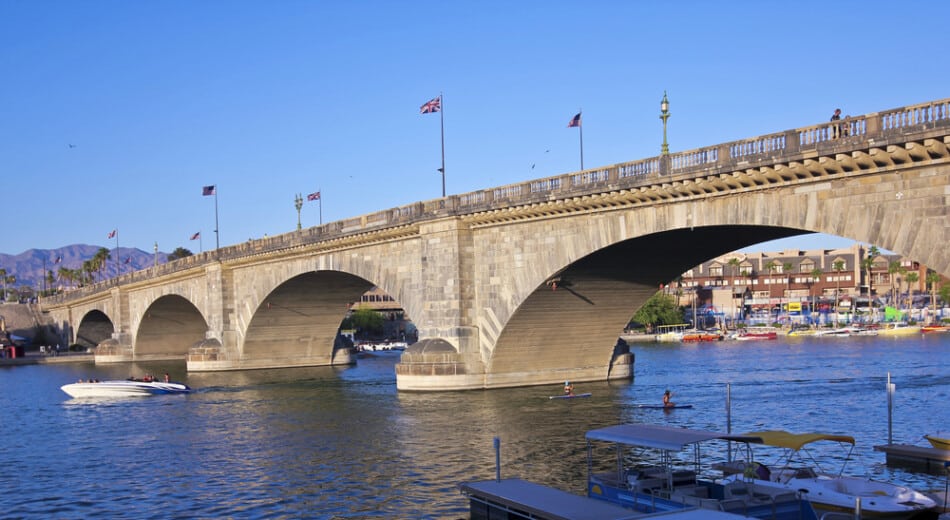 This beach is perhaps the best ocean like beach in the state. There are large palm trees lining the beach with seagulls flying all around, giving the beach a more realistic look to visitors to the beach.
Also, along the Bridgewater Channel is the famous London Bridge. Originally located in London city and relocated to this area in the 1960s. There are grass park areas, playgrounds, picnic areas, designated areas for dogs and so much more that truly gives the illusion you are at the ocean.
Centennial Beach
Location: Yuma, South-Western Arizona
Yuma's waterfront and beach lie along the Colorado River. However, this has much more of a beach feel rather than a lake front. Although the beach lacks ocean waves that typical beaches have, the sandy shore gives the allure of a normal ocean beach.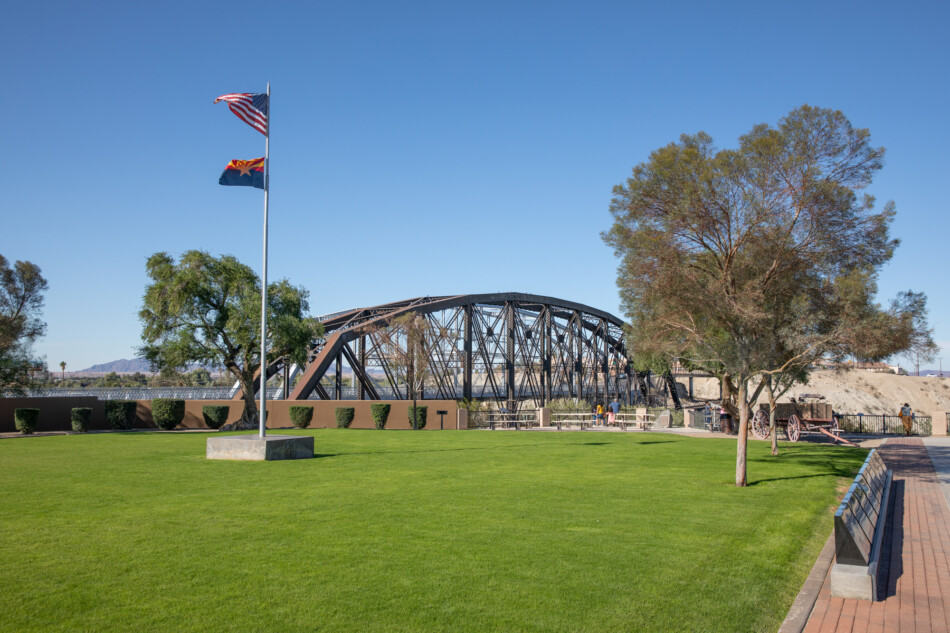 Visitors can sunbath in the Arizona sun along the grassy banks and sandy shores, dip their feet into the cool water and plenty of spaces to play, picnic and relax, either on your own or with friends and family.
Buckskin Mountain State Park
Location: Western Arizona
This is a beautiful state park with grassy banks, sparkling cool water and rugged mountain views.
There are boat docks located along this stretch of the Colorado River with opportunities to go out on boats, jet skis and other water sport activities. Swimming is also permitted and encouraged at this park; however, be sure to stay away from boat docks for your safety.
Lake Havasu Beaches
Location: Lake Havasu City, Western Arizona
There are many beaches along this stretch of the Colorado River in western Arizona. This river is freshwater, with little to no waves and riptides. These conditions make these beaches a great choice for families and those wanting a worry-free experience at the beach with warm sandy shores and cool water for a dip.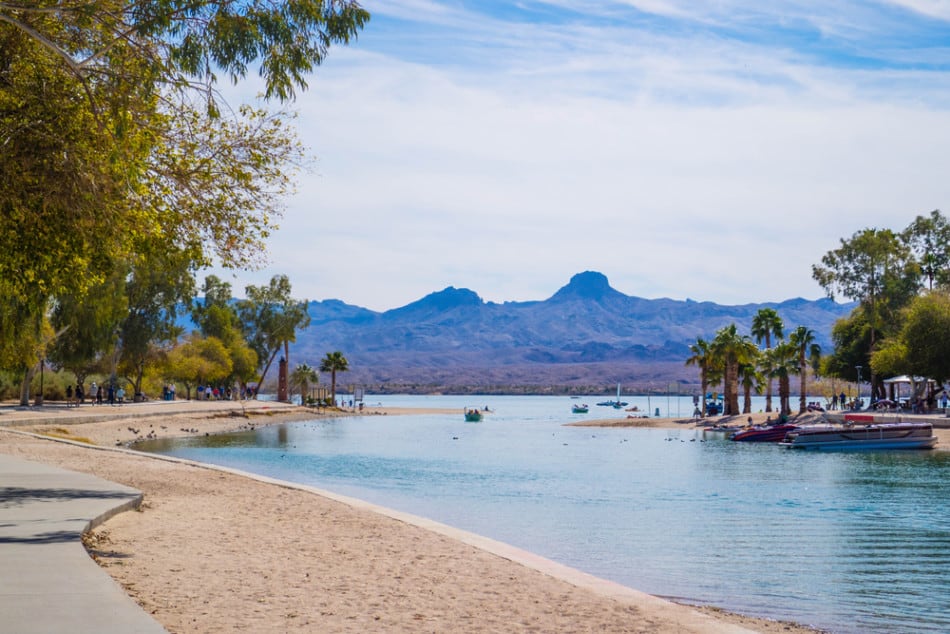 Water temperature varies through the year to nice refreshing waters in the Arizona heat to freezing cold river temperatures.
There are numerous activities for families and individuals along these beaches that will ensure you have a great time. Along with the swimming opportunities, sunbathing, picnic, playgrounds and activities; there is over 400-miles of stunning landscape along the coastline.
Windsor Beach
Location: Lake Havasu City, Western Arizona
With its long stretch of white sand and beautiful coastlines, this is the main attraction to the Lake Havasu beach region. There are chances for swimming as well as boating, jet skiing and other water activities. There are also many land activities such as grass areas, playgrounds, sport courts and campgrounds.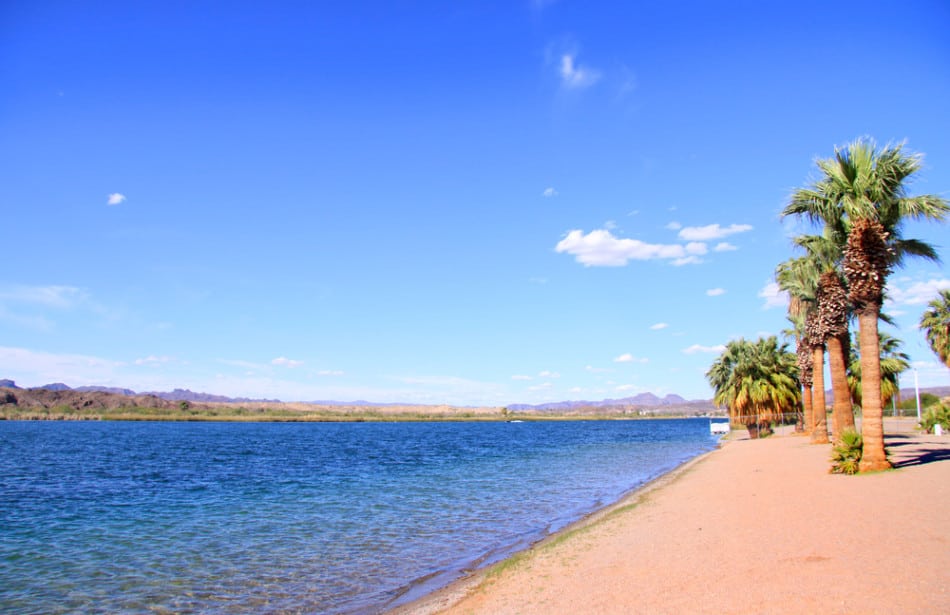 Tempe Beach Park
Location: Tempe, Central Arizona
This beach is located along the Tempe Lake, an artificial reservoir that was formed through the build of two dams along the Salt River in central Arizona. there are various water and land activities to do at this park. there are many walking, jogging and biking trails, picnic areas and many chances to leisure while enjoying the nice Arizona weather.
Cattail Cove State Park
Location: Lake Havasu City, Western Arizona
Cattail Cove State Park is a great place for families and individuals alike to gather and lounge around, go swimming, fish, jump on a boat and enjoy hot summer days.
There are various campsites and picnic sites located along this beautiful stretch of the Colorado River. For the safety of you and those you are with, be sure to stay away from boat docks while swimming in the cool water.
Rotary Beach
Location: Lake Havasu City, Western Arizona
This beach is located on a community park and is one of the more popular beaches along Lake Havasu. The beach, as great and wonderful as it is, is not the only attraction to this park. The 40-acres of picnic areas, grassy lands, barbeque sites, sports courts and many play areas make for this park and beach a great spot for relaxation, and activities alike.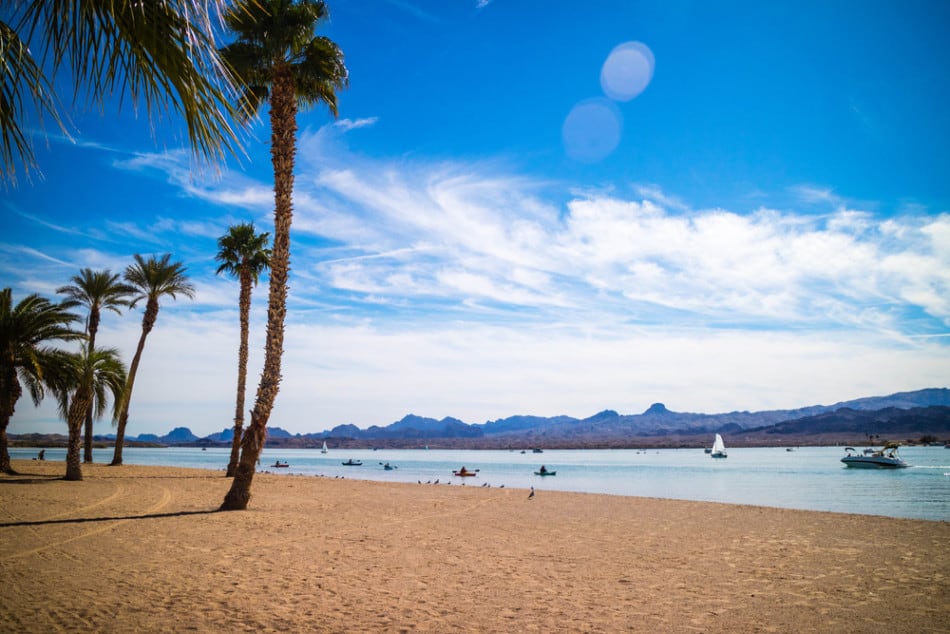 River Island State Park
Location: Parker, Western Arizona
This state park is tucked away at the base of rocky mountains and contains a small intimate beach and grassy banks. There are chances for swimming as well as boating, jet skiing, kayaking, paddle boarding and many more water activities.
There is also a grassy area full of campgrounds, picnic areas and lots of space to relax, play and have fun. There are also walking and hiking trails to do through the park. 
Patagonia Lake State Park
 Location: Patagonia, Southern Arizona
This state park is located along the Patagonia Lake, hidden away in rugged mountains, and rolling hills. This almost 300-acre reservoir is a great oasis for locals and tourists alike. Swimming is permitted all around the lake, aside from the boat docks. Boating, kayaking, paddle boarding, jet skiing, and many other water sports and activities are very popular among this lake. There are also campgrounds located around, making it a great spot to have a few days getaway at a beautiful oasis beach lake.
Wahweap Beach
Location: Lake Powell, Northern Arizona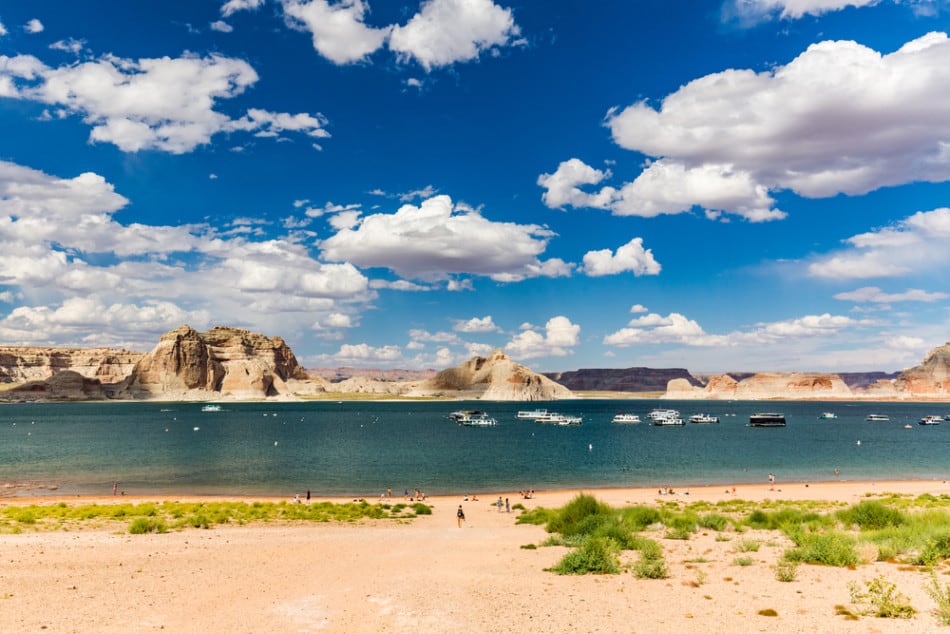 There is almost 2000-miles of shoreline along Lake Powell, with many beaches located along it. Some are more exposed and popular, while others remain hidden away. Wahweap is a beautiful remote bay along Lake Powell that is a popular campground around the area due to the amazing scenery and plenty of opportunities in and around the lake.
Body Beach
Location: Lake Havasu City, Western Arizona
This is a half-mile stretch of water and beautiful scenery along the Colorado River. This is the spot where many water athletes practice their sports, so expect to see some great athletic action out on the water.
The beach is beautiful in itself and has wonderful views of rugged mountain landscape in the distance. Although, because of the high activity of water sport training, swimming and any personal water activities should be done at a caution and in a safely manner.
Pebble Beach
Location: Mesa, Central Arizona
Pebble Beach is located along Salt River and is a beach more popular with water activities than swimming. Motorized boats and vehicles are not permitted in the water due to their not being any suitable boat docks.
This area gets busy over weekends and once full, other visitors are generally turned around so be sure to get there early. There's space for visitors to lay and relax on the beach and/or enjoy the water through tubing, other activities, or shallow swimming
Diamond Creek Beach
Location: Peach Springs, North-Western Arizona
Located along the south of the Grand Canyon, the beach is at the end of a quiet road that generally doesn't have much traffic so could be difficult to find. The beach is situated on Hualapai Indian Tribal Land, so to be able to access Diamond Creek Road, and subsequently the beach a permit will be required.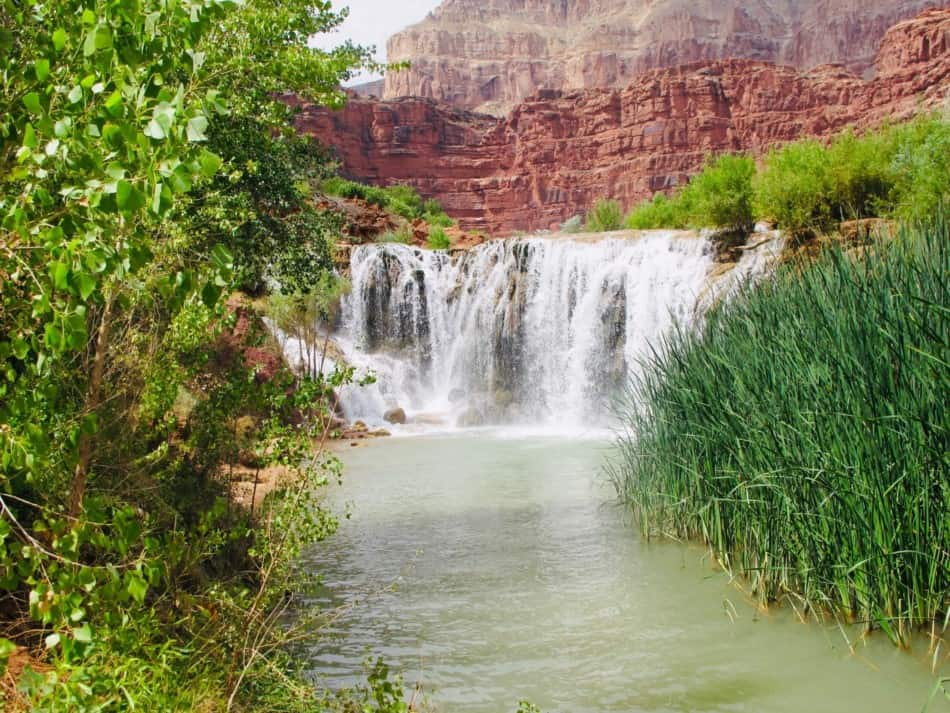 This makes it a bit more difficult to access but also ensures no overpopulation and is definitely well worth the trouble. Diamond Creek is a popular spot for swimming, relaxing and other activities such as White-Water Rafting.
Roper Lake State Park
Location: Safford, Eastern Arizona
This, much like many other state parks is popular for campsites, hiking trails and land activities, there is also a large lake located within the park with a great beach which offers for many opportunities surrounding fishing, boating, paddle boarding, swimming and other water activities.
Visitors to this state park can leisure along the banks of the beach as well as enjoy the cool water on a hot Arizona afternoon with their friends and family. There's plenty of activities to keep everyone occupied and having fun.
Conclusion: Beaches in Arizona
I hope you enjoyed this list and found the perfect Arizona Beach for you!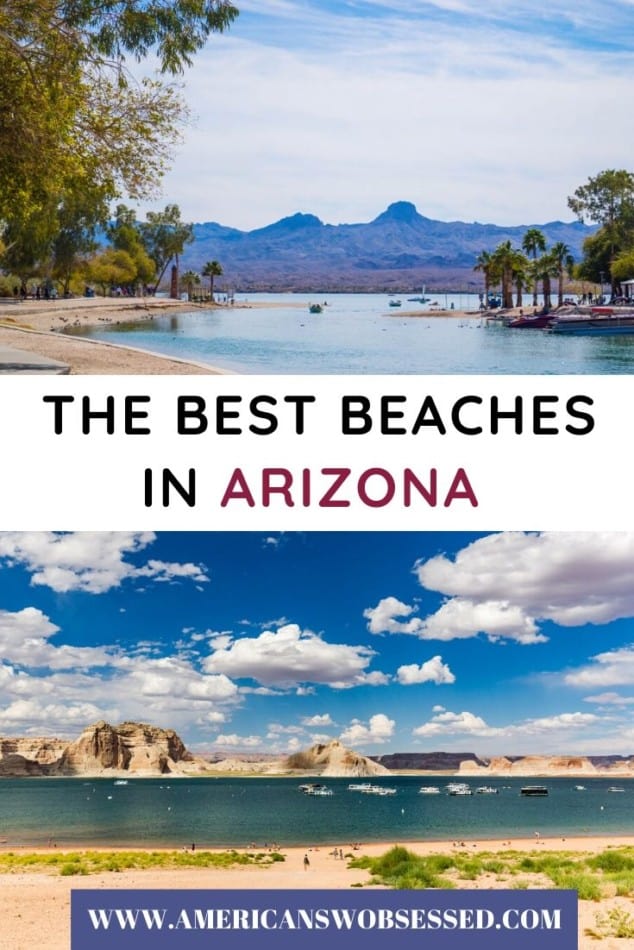 Continue Reading more on Arizona on my website:
50+ American Southwest Bucket List Places
The Ultimate Guide to Havasu Falls Hike
Things to do in Arizona -Bucket List
Fall in Love with these Arizona Wineries – 15 Arizona Vineyards You'll Want to Visit
Best Hotel Pools in Phoenix Hotel Water Park
Recent Posts