15 Best Airbnbs in South Lake Tahoe, California
South Lake Tahoe Airbnb: Are you looking for the perfect South Lake Tahoe Airbnb? This list has the best Airbnbs in Lake Tahoe South for all budgets and group sizes.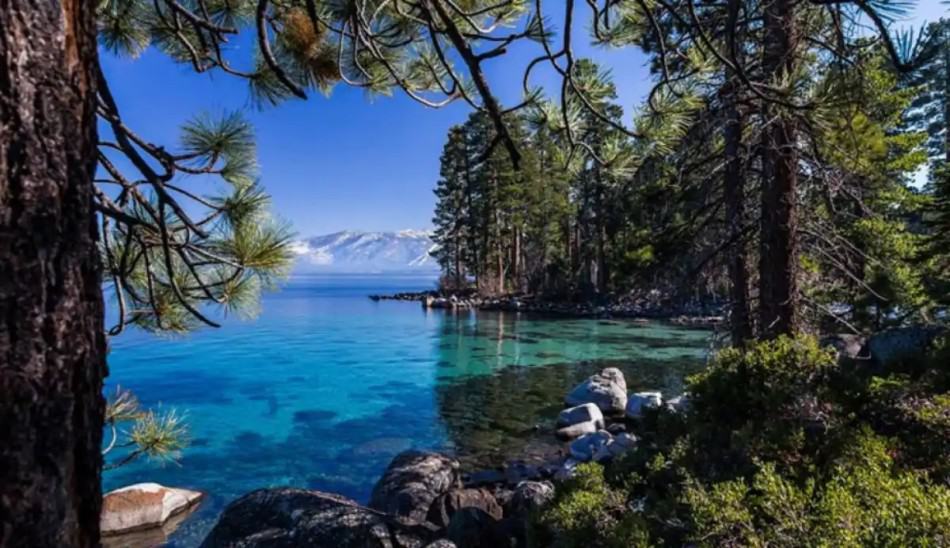 Visiting Lake Tahoe is a great escape for the weekend whether you are coming from Sacramento (2 hours) or Reno (45 minutes) you are sure to have a great weekend.
That's why I've put together this list of great Airbnbs in South Lake Tahoe. They are all located near the South Lake Tahoe Village on the California side. Finding the right Airbnbs in Lake Tahoe South will make your trip or break your trip. So I've only included the best (and affordable) Lake Tahoe Airbnbs.
Each area of Lake Tahoe is different so you'll want to choose the right one for you based on what you want to do and where you are coming from.
Lake Tahoe is the perfect place for a little rest and relaxation. There are plenty of water sports to play around with or go for a bit of hiking in Lake Tahoe. You are sure to enjoy your time there.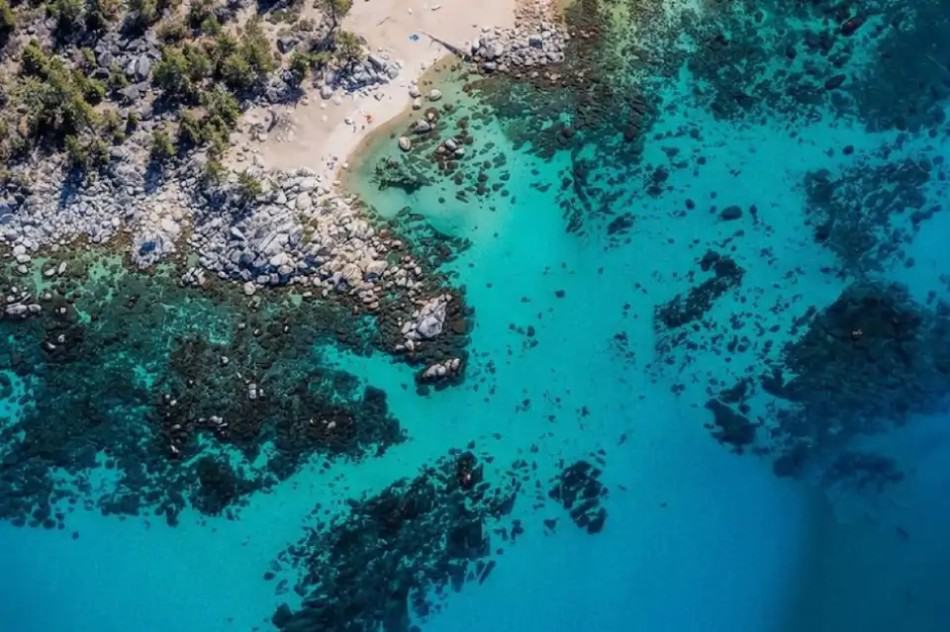 Thank you for supporting this website written by an American. This post may contain affiliate links. This means I earn a small commission on these links at no extra cost to you.
15 Best Airbnb in South Lake Tahoe – VRBOs and Vacation Rentals
Beach Resort on the Lake
This resort is situated along a private beach setting in South Lake Tahoe. Tahoe Beach and Ski Club offers a unique vacation experience. Soak up the sun at the resort's private beach, take a cruise on the lake or enjoy a hiking, biking or a horseback riding excursion, all while reveling in the legendary natural beauty of Lake Tahoe.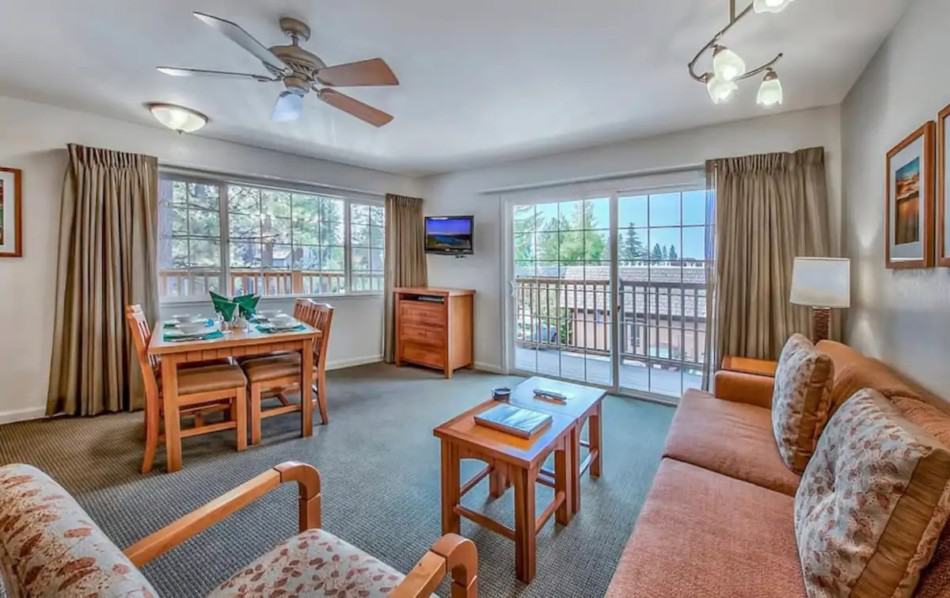 The resort has on-site BBQ and picnic areas, tennis court, volleyball, pool, fitness center, playground. Located nearby the resort you can kayak, parasail, water ski, take a boat tour, rent bikes, or enjoy plenty of hiking. A great location.
The Lodge at Lake Tahoe South
Centrally located in the city of South Lake Tahoe, The Lodge at Lake Tahoe is set less than one mile from the lake itself.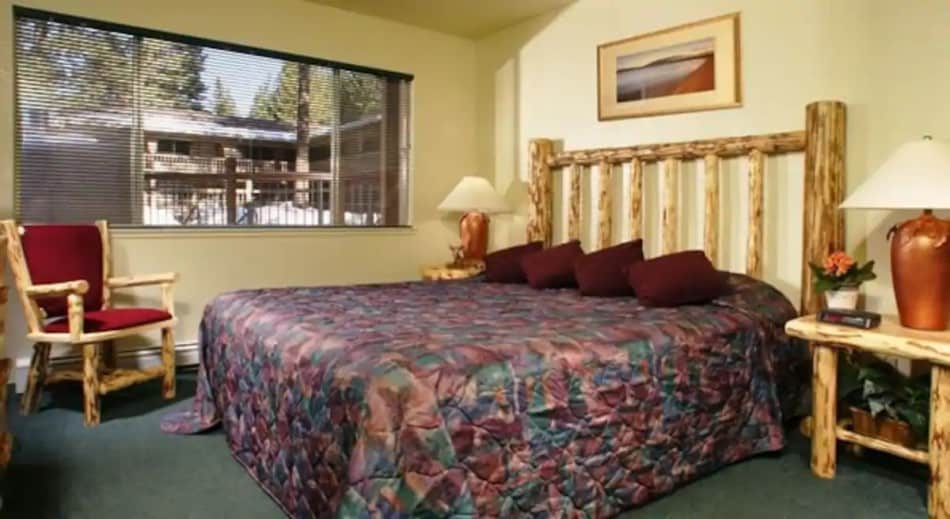 Summer diversions include boating, fishing, tennis, golf, and horseback riding. Year-round, guests can enjoy the Lodge's heated spa and pool. Along with family attractions and fine local dining.
The large two-bedroom suite accommodates six people. It has two bathrooms, a king-size bed in one bedroom, two double beds in the other bedroom, and a full kitchen with dishwasher, stove, microwave, full-size refrigerator, coffee maker, toaster, blender and dishes.
Charming Cabin Retreat
Price:
Guests: 2
Bedrooms: 1
This charming cottage in the woods is perfect for singles or couples who are looking for a romantic experience in a place full of adventure and serenity. It offers lots of walking trails and bike trails just outside the door and just a few steps across the street, it will lead you into the meadow with a branch of the Upper Truckee flowing through it.
This cabin is set in a very private property which makes it perfect for a romantic getaway or even a girl's weekend. You have a total access to all the amenities provided including the kitchen, living room, and all of the outdoor areas. This is a very cute cabin with a great location in the heart of mid-town.
Beautiful Remodeled Cabin within Mile of Heavenly – Best Lake Tahoe Airbnb
Price:
Guests: 6
Bedrooms: 3
Booking this remodeled cabin will let you experience a great sight of the beautiful Lake Tahoe 24/7. The house is laid out perfectly and everything is just so clean and the furnishings are very well-thought.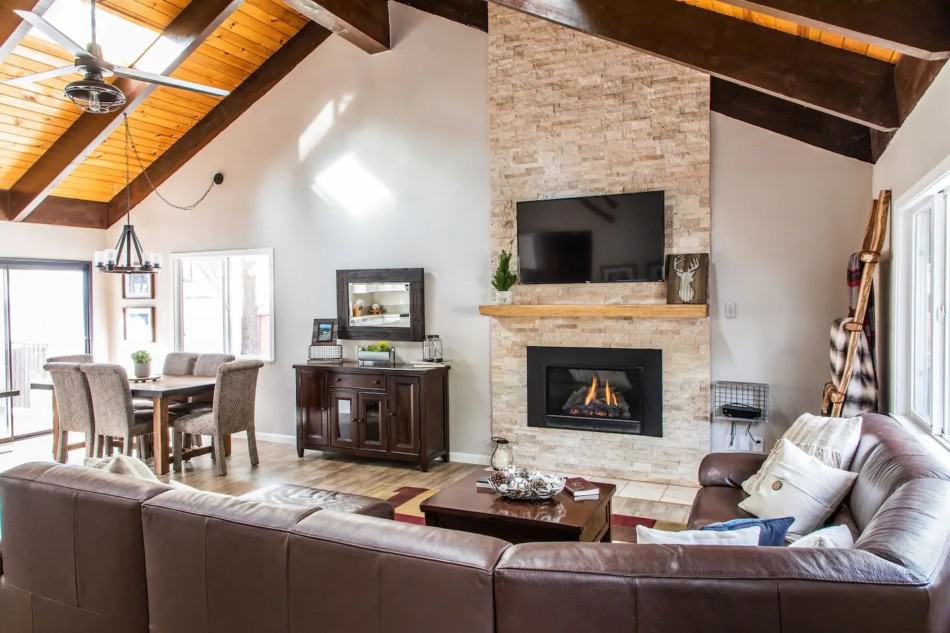 The cabin lets 5 people sleep comfortably and it is packed with lots of great amenities such as a brand new kitchen that opens up to a beautiful stone fireplace, hot tub, laptop-friendly workspace, and more. And you will love the fact that the hosts are very incredible and welcoming and will assure you that you will have a great experience in this cabin.
Lake View Cabin!**Steps from the beach with private Hot Tub
Price:
Guests: 6
Bedrooms: 2
This cabin is a dream giving you an opportunity to enjoy an amazing panoramic view of spectacular Lake Tahoe all seasons of the year, in addition to affording us just a short stroll(100 yard) to the beach. We love the location and once you spend a few minutes out on the deck, you will see why we chose this property on the West shore, just steps from the beach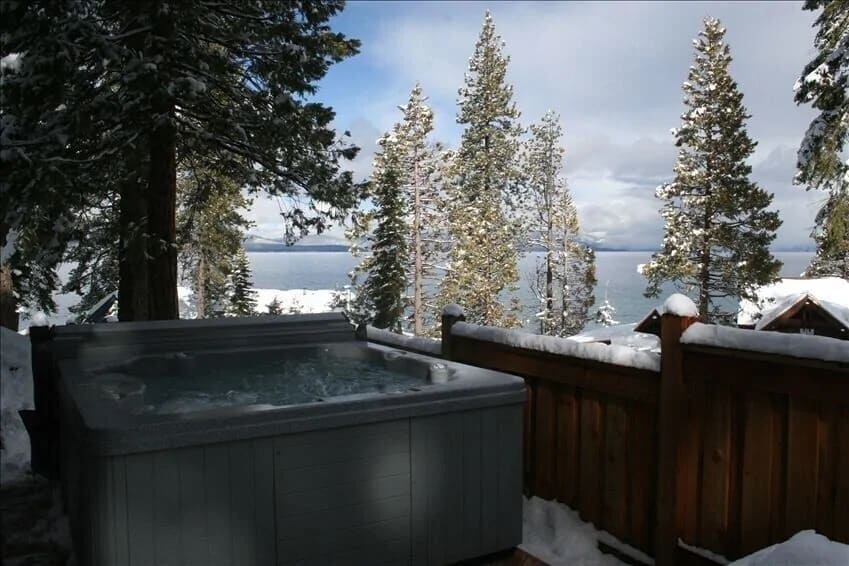 Enjoy the short walk to the new and remodeled Tahoma Market and Deli with it's amazing deli sandwiches(great to take to the beach, on the boat, hiking, sledding or the snow slopes), Hot pizza, Coffee, pastries, breakfast sandwiches, most your groceries needs, wine selection. West Shore market is another favorite of mine and just a 5 minute drive. They have yummy sandwiches and a beautiful little market.
Beautiful Waterfront Home
Guests: 10
Bedrooms: 4
This is the Ash Chalet Tahoe located in the Tahoe Keys Resort. In this Beautiful Home you can have it all…close to skiing, lake and hiking/trails, beautiful views of Heavenly and Mt Tallac.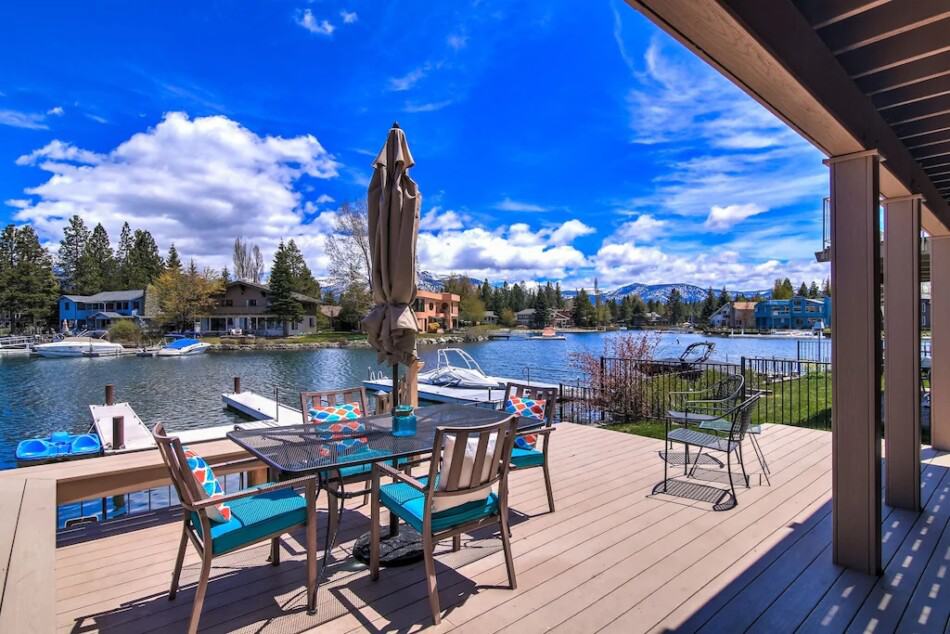 In this Beautiful Home you can have it all Minutes to Heavenly. 15 Mins to Sierra Ski Resort. 3 mins. to LAKE, casinos, close to Tahoe night life, close to trails, beautiful views, on the water, private boat dock and resort amenities. Enjoy your coffee on the deck and look at Heavenly.
This is a spacious home. With 2100 sf of living space, you will have enough space for all your guests. Enjoy the bay window in the master bedroom to read a book and soak the afternoon sun. Rooms are large and comfortable.
The Lake Tahoe Chalet
Guests: 8
Bedrooms: 3
This cozy cabin set in South Lake Tahoe is the perfect place to relax for an adventure-filled getaway in the area. This can accommodate large families of up to 8 people with 3 bedrooms and 2 bathrooms. The location is also great too because it is not far from town but far enough to avoid noisy and big crowds.
You'll also love the fact that you can have full access to the outdoor space where you have a picnic at the large table that seats 10 on the deck. The backyard is also full fenced so that you can enjoy the privacy that you deserve.
Studio Apartment on Lake Tahoe Boulevard
Guests: 2
Bedrooms: 1
This modern mountain studio apartment is set in a prime location on Lake Tahoe Boulevard that is super clean and cozy and is perfect for your next Tahoe getaway. The place has just been recently renovated so you can expect brand new furnishings.
The space comes with a kitchen with brand new appliances, bathroom, smart TV with Netflix, brand new furniture with comfortable armchair, desk, and dining table, queen size memory foam, and a bathroom with shower and essentials. Basically, almost everything that you need for a long or short term stay is all here.
3 Bears Cabin South Lake Tahoe
Guests: 6
Bedrooms: 2
If there's one word that would best describe this cabin it would be majestic. You can do a lot of outdoor activities such as skiing, snowboarding, paddle boarding, boating, jet ski, swimming, fishing, biking, restaurants, and a whole lot more. And after a day of doing outdoor stuff, it's nice to come home to a place that would give you the benefit of a cozy and warm home.
This cabin also comes with all the amenities to make your stay a great one such as kitchen, free wifi, hot tub, living room with a gas fireplace, TVs, large bathroom and large shower, and more. This is perfect for families or couples who want a fun-filled weekend adventure at Lake Tahoe.
Lakeland Village Luxury Condo w/great amenities
Guests: 4
Bedrooms: 2
The Tahoe luxury lakeview condo at South Lake Tahoe's Lakeland Village has beautiful views of the water from every window.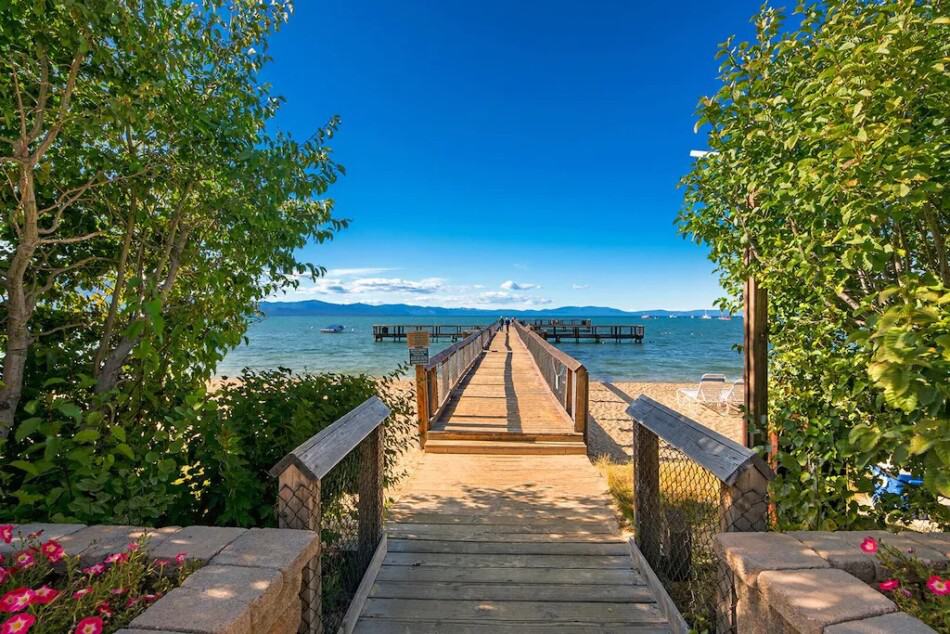 Here at Lakeland Village you will enjoy amenities such as a private pier, buoys for the boat enthusiast, three swimming pools – one heated year round – two hot tubs, saunas, tennis courts and a fitness center.
There is no shortage of winter and summer activities when you stay at Lakeland Village. Come stay and play while enjoying world class skiing, ice skating and snowmobiling in the winter; along with hiking, biking, world class golf, sailing, kayaking, paddle boarding and many more in the summer months.
Lakefront Retreat with Awesome Views near Heavenly
Guests: 4
Bedrooms: 2
This newly remodeled lakefront townhouse is located in a peaceful neighborhood yet close to all the amenities that Lake Tahoe has to offer. It's only 5 minutes to Heavenly Ski Resort, casinos, shops, restaurants, golf, etc.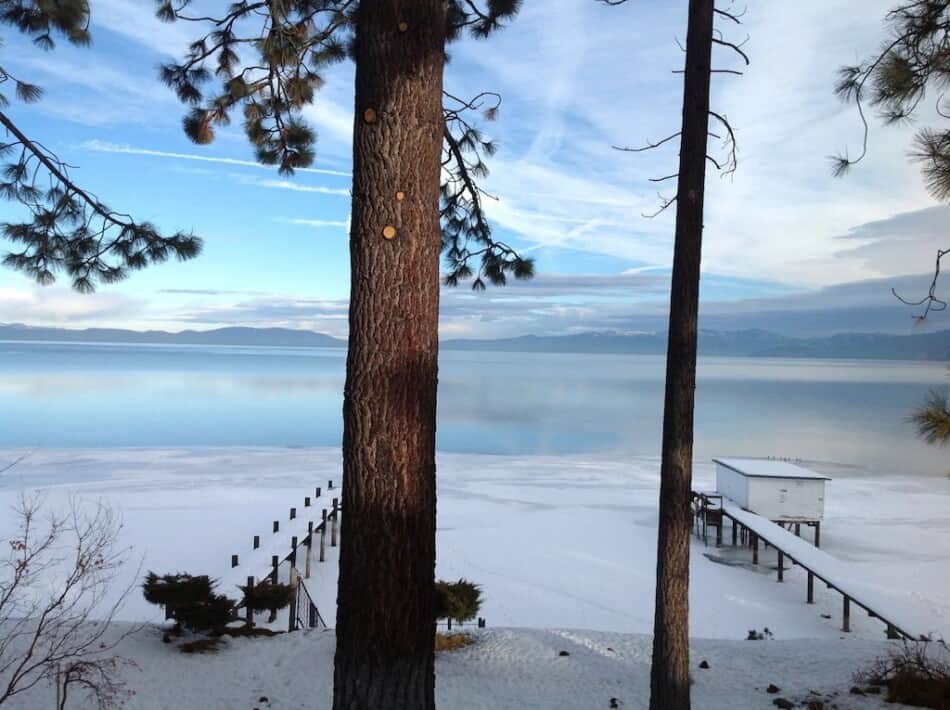 Photo Courtesy of VRBO
You are going to love this location. Whether relaxing on the balcony overlooking the lake, barbecuing on the newly built deck in the backyard, sunbathing on the sandy private beach or watching the sunset on the pier, you will be amazed by the spectacular views.
Beautiful Waterfront House
Guests: 10
Bedrooms: 4
Located just 5 miles from South Lake Tahoe downtown, this beautiful waterfront house in the coveted Tahoe Keyes neighborhood will make you experience the best things that life could possibly offer.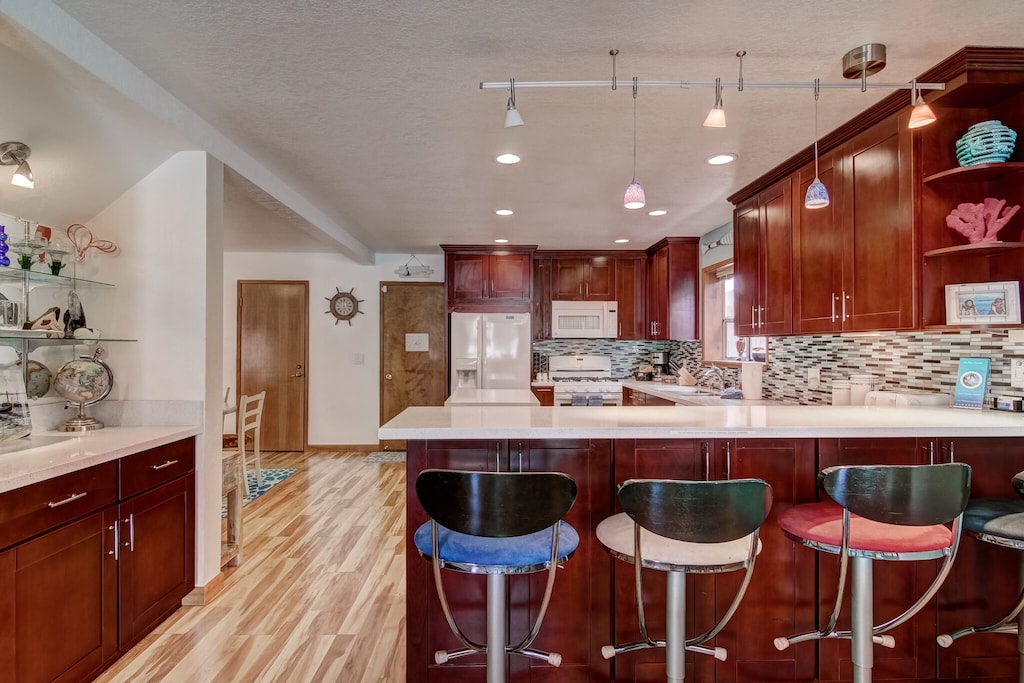 It is fully furnished with everything for a comfortable living including a wood burning fireplace with nest heating system and 2 car garage. It can accommodate up to 10 guests and you can make use of the amenities available in the community such as outdoor community swimming pools, private beaches, multiple basketball tennis, and volleyball courts.
Classic A-Frame Home: Hot Tub & Gas Firepit, Near Slopes & Lake
Guests: 6
Bedrooms: 2
Nestled in a tranquil neighborhood on a wooded lot, this classic 2BR A-frame home offers a sunny interior with vaulted ceilings and floor-to-ceiling windows, a private hot tub, and a prime locale near both Heavenly and Lake Tahoe.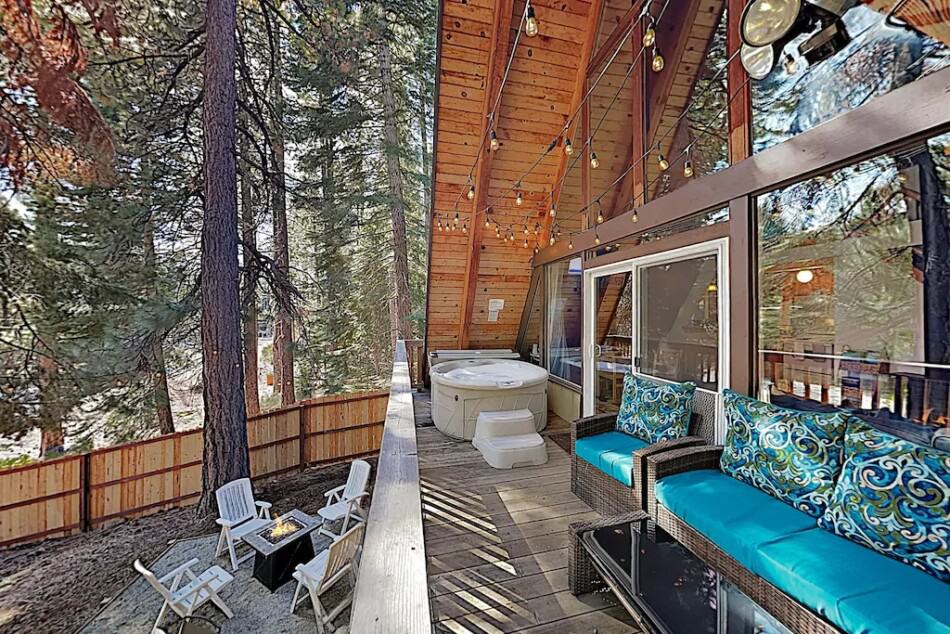 Photo Courtesy of VRBO
After fun-filled days, take relaxing soaks in the private hot tub on the back deck. Host a cookout and make use of the gas grill. A table seats four for alfresco meals.
Play lawn games in the fenced yard. In the evening, gather around the gas firepit.
I hope you have enjoyed this list of airbnb south lake tahoe pet friendly, airbnb south lake tahoe cabin, airbnb south lake tahoe lakefront.
Sharing is Caring! PIn this article to save for later.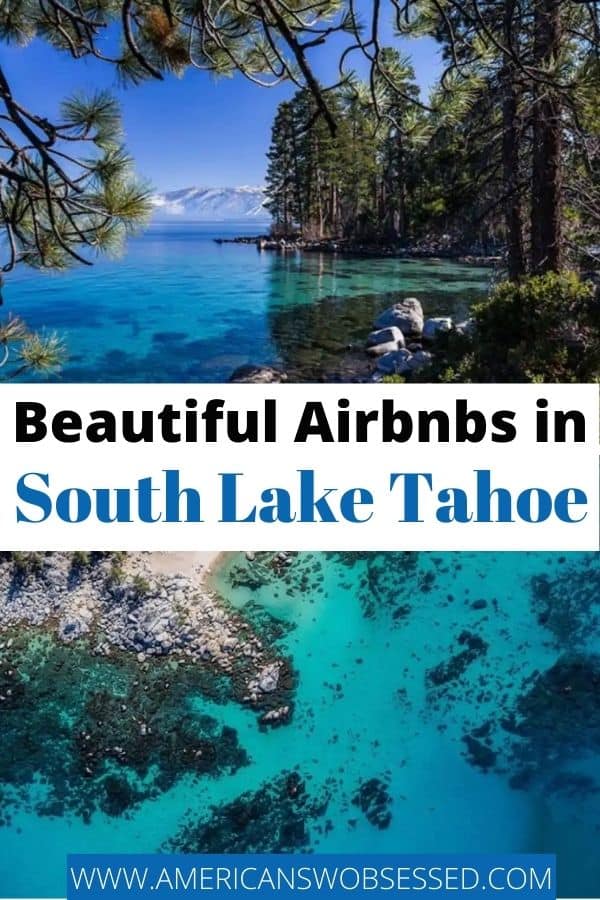 Check out my other posts on the best Airbnbs in Lake Tahoe or the Best Hikes in Lake Tahoe.
Recent Posts