15 Best Airbnbs in South Lake Tahoe, California
South Lake Tahoe Airbnb: Are you looking for the perfect South Lake Tahoe Airbnb? This list has the best Airbnbs in Lake Tahoe South for all budgets and group sizes.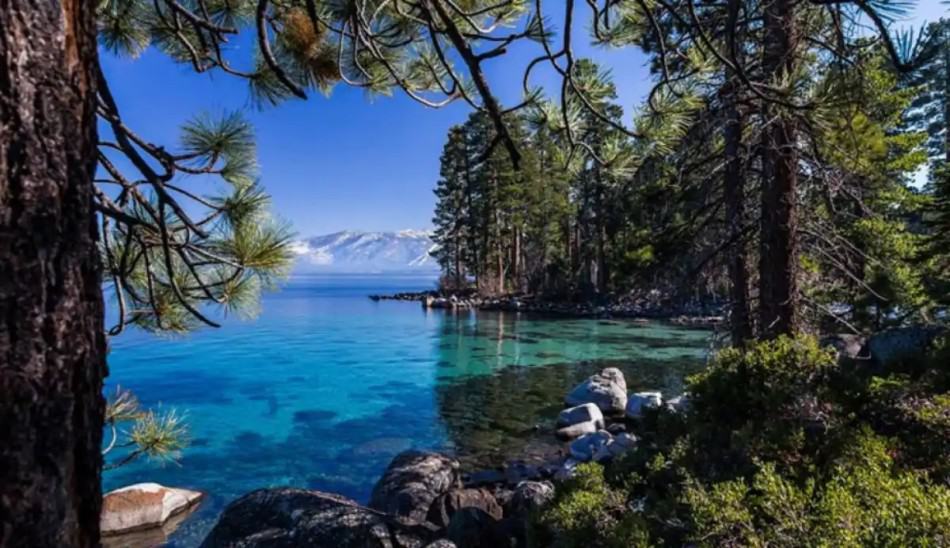 Visiting Lake Tahoe is a great escape for the weekend whether you are coming from Sacramento (2 hours) or Reno (45 minutes) you are sure to have a great weekend.
That's why I've put together this list of great Airbnbs in South Lake Tahoe. They are all located near the South Lake Tahoe Village on the California side. Finding the right Airbnbs in Lake Tahoe South will make your trip or break your trip. So I've only included the best (and affordable) Lake Tahoe Airbnbs.
Each area of Lake Tahoe is different so you'll want to choose the right one for you based on what you want to do and where you are coming from.
Lake Tahoe is the perfect place for a little rest and relaxation. There are plenty of water sports to play around with or go for a bit of hiking in Lake Tahoe. You are sure to enjoy your time there.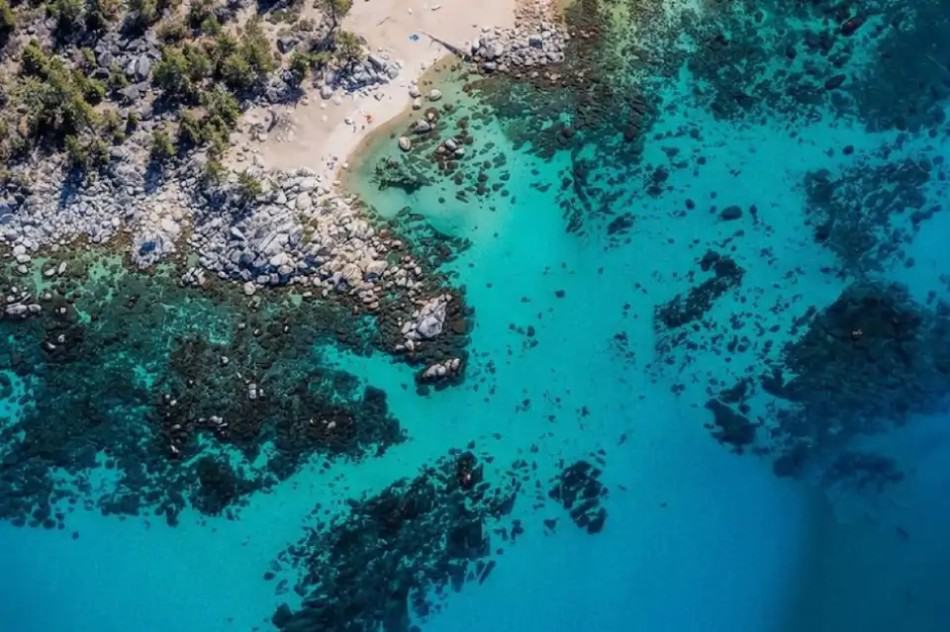 Disclaimer: This post may contain affiliate links so if you make a purchase through one of the links we might earn a small commission ( it's at no extra cost to you)

15 Best Airbnb in South Lake Tahoe
Beach Resort on the Lake
This resort is situated along a private beach setting in South Lake Tahoe. Tahoe Beach and Ski Club offers a unique vacation experience. Soak up the sun at the resort's private beach, take a cruise on the lake or enjoy a hiking, biking or a horseback riding excursion, all while reveling in the legendary natural beauty of Lake Tahoe.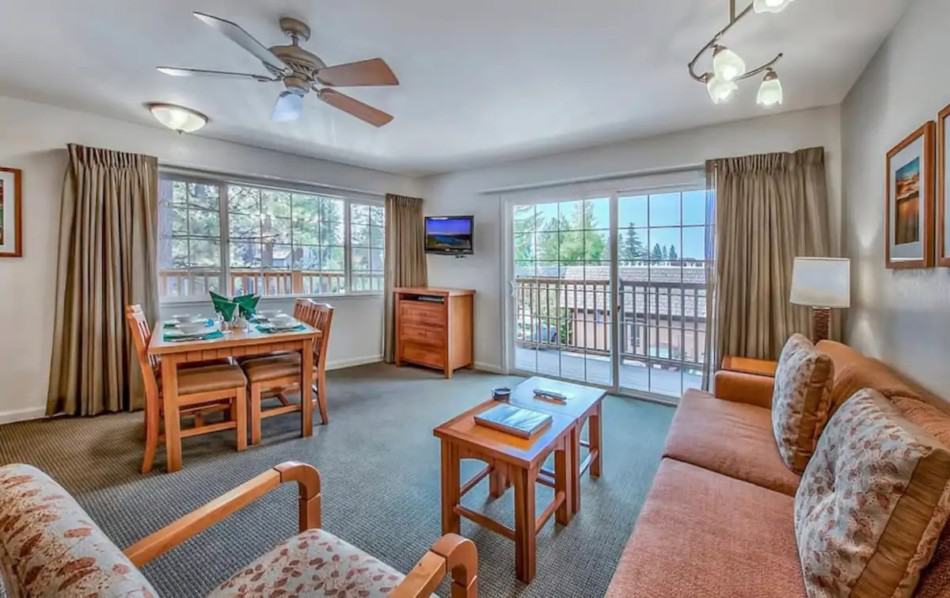 The resort has on-site BBQ and picnic areas, tennis court, volleyball, pool, fitness center, playground. Located nearby the resort you can kayak, parasail, water ski, take a boat tour, rent bikes, or enjoy plenty of hiking. A great location.
The Lodge at Lake Tahoe South
Centrally located in the city of South Lake Tahoe, The Lodge at Lake Tahoe is set less than one mile from the lake itself.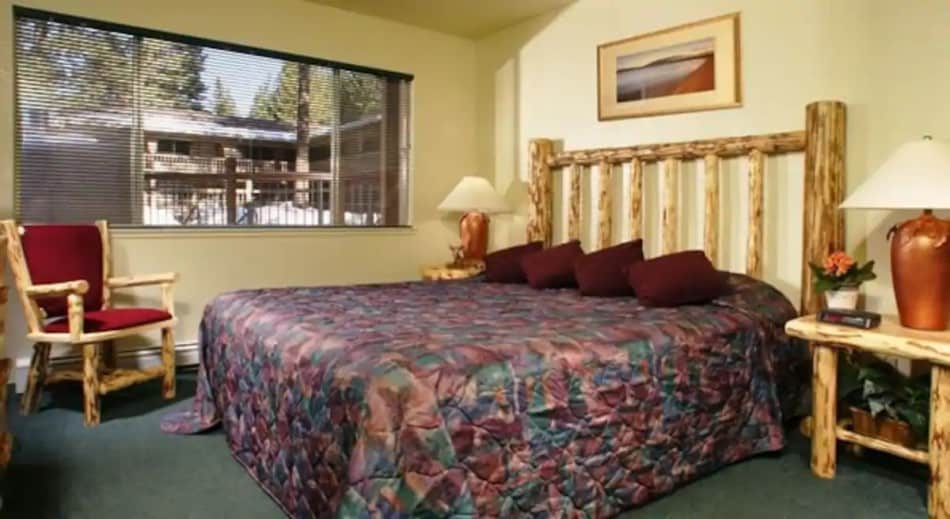 Summer diversions include boating, fishing, tennis, golf, and horseback riding. Year-round, guests can enjoy the Lodge's heated spa and pool. Along with family attractions and fine local dining.
The large two-bedroom suite accommodates six people. It has two bathrooms, a king-size bed in one bedroom, two double beds in the other bedroom, and a full kitchen with dishwasher, stove, microwave, full-size refrigerator, coffee maker, toaster, blender and dishes.
Rustic cabin with hot tub – Airbnb South Lake Tahoe pet friendly
The beautiful Snowshoe Cabin combines a cozy, rustic style with modern features to create a luxurious home-away-from-home. With a great location close to everything, space for four people and their dogs, and great shared amenities like a hot tub and large enclosed yard, this is an incredible home for your next vacation!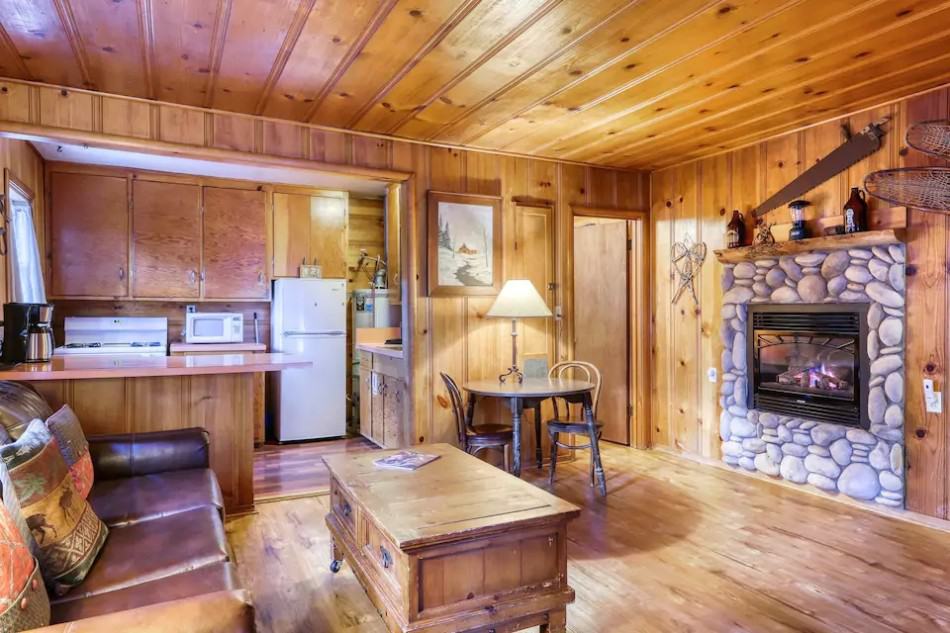 Reviewers says – Cozy tahoe cabin in a shared gated area with 6 other cabins. Dog friendly, clean and in an amazing location, the stay was very nice.
Airbnb South Lake Tahoe with private beach
Amazing lakeside location that has a private beach and outdoor pool, spa and hot tub. You can rent watercraft to get out on the water or bicycles to ride around on a summer day. With a concierge desk staffed to ensure that guests are taken care of for all their activity needs! Accommodates up to 4 guests.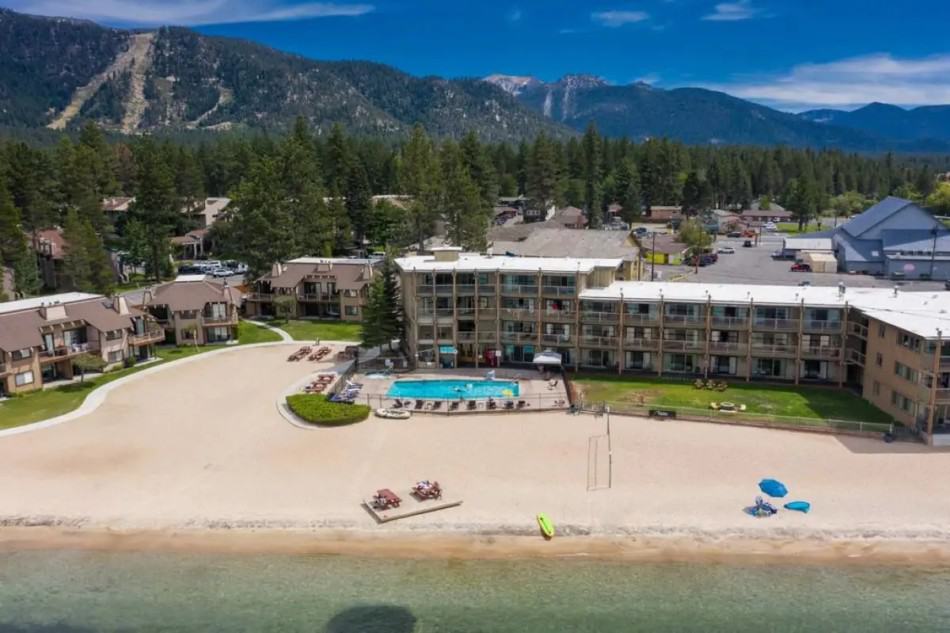 Reviewer says – Perfect place for a getaway in Tahoe. The room offered a great view of the lake and also has its own PRIVATE BEACH AND POOL! Very clean, tidy rooms and the staff followed proper sanitization and social distancing protocols. We are gonna miss waking up to the lake and wished we could extend our stay, but will definitely visit again. Highly recommend this place!
Charming Cabin Retreat
Guests: 2
Bedrooms: 1
This charming cottage in the woods is perfect for singles or couples who are looking for a romantic experience in a place full of adventure and serenity. It offers lots of walking trails and bike trails just outside the door and just a few steps across the street, it will lead you into the meadow with a branch of the Upper Truckee flowing through it.
Photo Courtesy of Airbnb
This cabin is set in a very private property which makes it perfect for a romantic getaway or even a girl's weekend. You have a total access to all the amenities provided including the kitchen, living room, and all of the outdoor areas. This is a very cute cabin with a great location in the heart of midtown.
Beautiful Remodeled Cabin within Mile of Heavenly – Best Lake Tahoe Airbnb
Guests: 6
Bedrooms: 3
Booking this remodeled cabin will let you experience a great sight of the beautiful Lake Tahoe 24/7. The house is laid out perfectly and everything is just so clean and the furnishings are very well-thought.
Photo Courtesy of Airbnb
The cabin lets 6 people sleep comfortably and it is packed with lots of great amenities such as a brand new kitchen that opens up to a beautiful stone fireplace, hot tub, laptop-friendly workspace, and more. And you will love the fact that the hosts are very incredible and welcoming and will assure you that you will have a great experience in this cabin.
Steps to Heavenly and Stateline
Guests: 6
Bedrooms: 2
At the end of a nice day exploring the mountains or beach, it is a refreshing feeling to come home to this newly renovated and cozy space in Lake Tahoe. It features modern amenities such as the fully stocked kitchen, large bathroom, a bedroom with a large loft-like area outside, and a 24/7 accessible hot tub.
Photo Courtesy of Airbnb
It is worth noting that although this house can accommodate up to 6 guests, the place is not so spacious. It is only 860 sq ft and the two beds in the attic are in between the stairs. But this is still a great place to get away with your family or friends and be near the beach and other places at a very budget-friendly price.
The Lake Tahoe Chalet
Guests: 8
Bedrooms: 3
This cozy cabin set in South Lake Tahoe is the perfect place to relax for an adventure-filled getaway in the area. This can accommodate large families of up to 8 people with 3 bedrooms and 2 bathrooms. The location is also great too because it is not far from town but far enough to avoid noisy and big crowds.
Photo Courtesy of Airbnb
You'll also love the fact that you can have full access to the outdoor space where you have a picnic at the large table that seats 10 on the deck. The backyard is also full fenced so that you can enjoy the privacy that you deserve.
Studio Apartment on Lake Tahoe Boulevard
Guests: 2
Bedrooms: 1
This modern mountain studio apartment is set in a prime location on Lake Tahoe Boulevard that is super clean and cozy and is perfect for your next Tahoe getaway. The place has just been recently renovated so you can expect brand new furnishings.
Photo Courtesy of Airbnb
The space comes with a kitchen with brand new appliances, bathroom, smart TV with Netflix, brand new furniture with comfortable armchair, desk, and dining table, queen size memory foam, and a bathroom with shower and essentials. Basically, almost everything that you need for a long or short term stay is all here.
3 Bears Cabin South Lake Tahoe
Guests: 6
Bedrooms: 2
If there's one word that would best describe this cabin it would be majestic. You can do a lot of outdoor activities such as skiing, snowboarding, paddle boarding, boating, jet ski, swimming, fishing, biking, restaurants, and a whole lot more. And after a day of doing outdoor stuff, it's nice to come home to a place that would give you the benefit of a cozy and warm home.
Photo Courtesy of Airbnb
This cabin also comes with all the amenities to make your stay a great one such as kitchen, free wifi, hot tub, living room with a gas fireplace, TVs, large bathroom and large shower, and more. This is perfect for families or couples who want a fun-filled weekend adventure at Lake Tahoe.
Gorgeous Views from The Treehouse
Guests: 4
Bedrooms: 1
This very private and lovely cabin overlooks Trout Creek Meadow in South Lake Tahoe that has one of the most amazing views in the area. It features luxury amenities that you couldn't even imagine for a cabin like this such as a hot tub, Infrared sauna, massage chair, fine bathrobes, organic coffee/tea, gas fireplace, wifi, TV/DVD, and more.
Photo Courtesy of Airbnb
Basically, it has everything you need and more for a relaxing tome in Lake Tahoe. And this place can be shared for 4 people which makes it ideal for families or couples with kids.
Tahoe Cabin Oasis
Guests: 4
Bedrooms: 2
The Tahoe Cabin Oasis will surely tick off all the items on your list when it comes to looking for a great place to stay in Lake Tahoe. This cabin is very beautiful, quiet, clean, and in a great location.
Photo Courtesy of Airbnb
The Emerald Bay is just 15 minutes away, Sand Harbor is less than 40 minutes, and you'll hit up closer beaches like Pope. This has two bedrooms, 2 bathrooms, and a private fully-fenced yard with fire pit and hot tub and you can have access to the Apple TV and other video streaming options. Plus, the host is very welcoming and easy to communicate with.
Beautiful Waterfront House
Guests: 10
Bedrooms: 4
Located just 5 miles from South Lake Tahoe downtown, this beautiful waterfront house in the coveted Tahoe Keyes neighborhood will make you experience the best things that life could possibly offer.
Photo Courtesy of Airbnb
It is fully furnished with everything for a comfortable living including a wood burning fireplace with nest heating system and 2 car garage. It can accommodate up to 10 guests and you can make use of the amenities available in the community such as outdoor community swimming pools, private beaches, multiple basketball tennis, and volleyball courts.
One Bedroom Condo at Grand Residence Club
Guests: 2
Bedrooms: 1
This beautiful one-bedroom condo unit in Grand Residence Club is one of the best places to stay in South Lake Tahoe. It comes with an air conditioner, cable TV, indoor fireplace, essentials, etc.
Photo Courtesy of Airbnb
It is a non-smoking resort that is so clean and relaxing. The king size bed has its own bathroom and separate entrance. And you can also have full access to the amenities of the resort which is really amazing. Great place, outstanding location, and very friendly staff – you couldn't ask for more.
I hope you have enjoyed this list of airbnb south lake tahoe pet friendly, airbnb south lake tahoe cabin, airbnb south lake tahoe lakefront.
Sharing is Caring! PIn this article to save for later.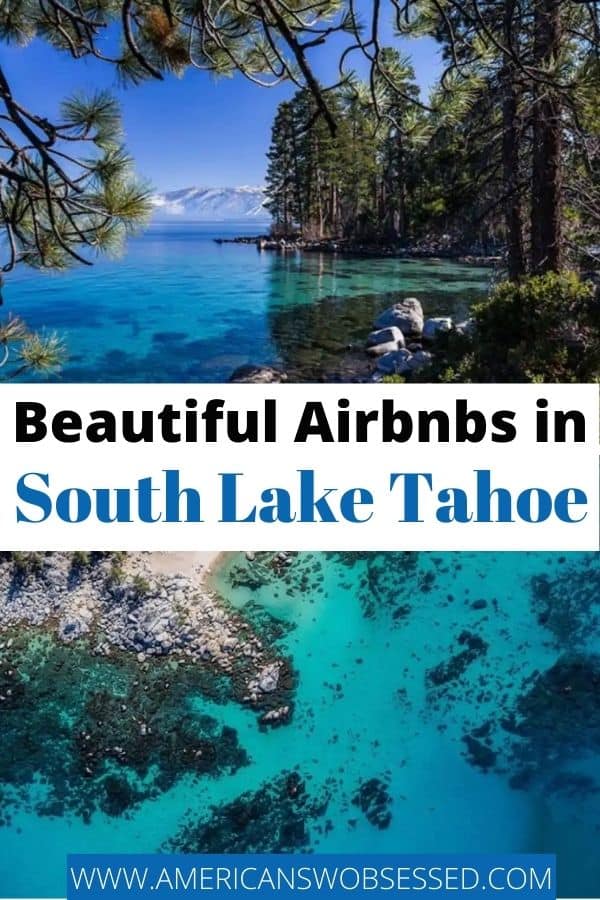 Check out my other posts on the best Airbnbs in Lake Tahoe or the Best Hikes in Lake Tahoe.
Recent Posts
link to 15 Best Airbnbs in Logan, Utah
Airbnb Logan Utah: Are you looking for the best Airbnbs in Logan, Utah? I have put together this list of the best Logan Airbnb's for any budget. St.John's Episcopal church in yellow brick and...
link to 101+ Grand Canyon Quotes to inspire your trip
101+ Grand Canyon Quotes and Grand Canyon Captions Are you looking for Quotes about the Grand Canyon? This list of Grand Canyon Quotes are some famous and inspirational quotes about the...