Hiking in Lake Tahoe: Hikers will delight in the hikes available in Lake Tahoe. There are so many beautiful Lake Tahoe Hikes you'll want to do them all!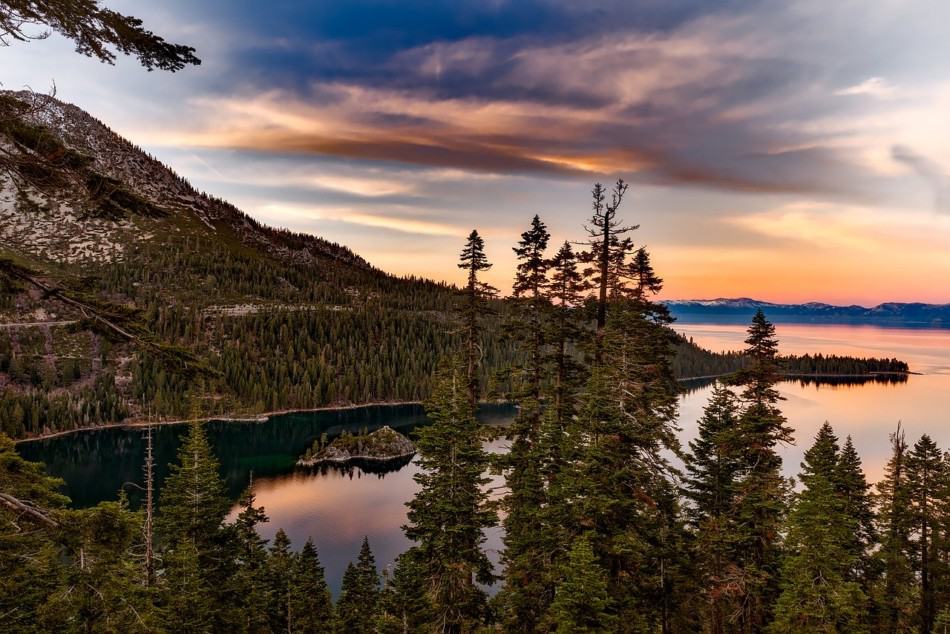 No matter which hike in Tahoe you choose, you are sure to have amazing views. On some of these Tahoe hikes it will be within minutes of starting the hike (Tunnel Creek) others you will have to wait until you get to the end of the hike (Mount Tallac). I promise they are all worth it.
There are numerous hiking and biking trails around the lake. There are a range of hikes for different lengths, difficulties and popularities. This list of hiking trails in Lake Tahoe has something for everyone. You could spend your whole getaway in Tahoe on the trails – I highly recommend this!
A little history on Lake Tahoe – Lake Tahoe straddles the border of California and Nevada. It is a two hour drive from Sacramento and about 45 minutes from Reno. Lake Tahoe is the largest Alpine Lake in the United States and the second deepest lake.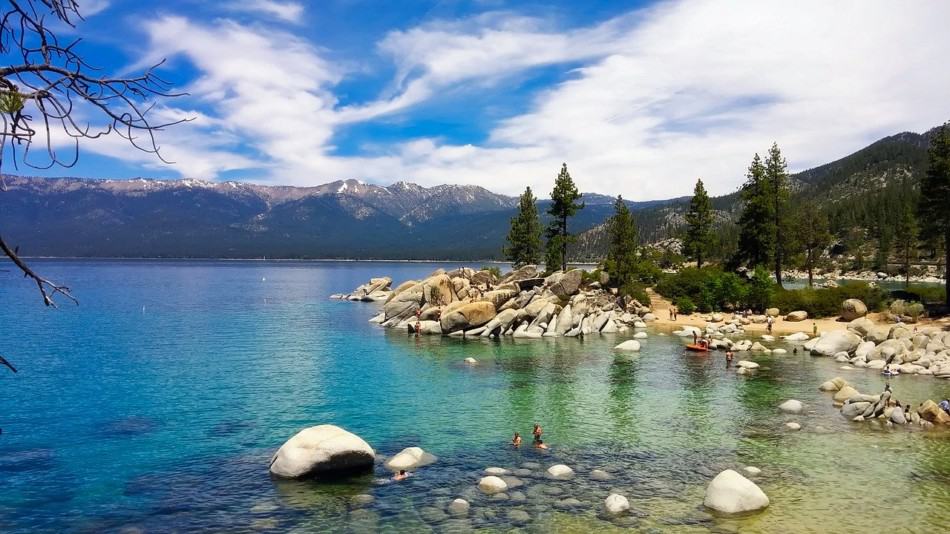 Lake Tahoe makes for the perfect weekend escape to get outside and back to nature.  The views of the lake itself, the forests surrounding it and the Sierra Nevadas are amazing. Lake Tahoe is one of the best things to do in California – a must see.
Make sure you check out my article on where to stay in Lake Tahoe. There are lots of cool beachfront places and even some places with hot tubs on the list.
Planning to explore more of Nevada and California? Take a look at some of our other posts to help you plan your trip:
15 Dreamy and Best Airbnb Palm Springs, California
15 Hipster and Cool Joshua Tree Airbnbs
Tips for Hiking in Lake Tahoe
Lake Tahoe is perfect for outdoor enthusiasts. There is a hike for everyone on this list and for different fitness level. Also, note that it is dry and hot (in the summer) and make sure you know what you are getting into before you start. Here are a few tips for Lake Tahoe hiking:
Best Hiking Trails in Lake Tahoe
Cascade Falls Trail
Distance: 1.4 miles
Elevation gain: 236 feet
Difficulty level: moderate
Only 1.5 miles round trip from the Bayview Campground, Cascade Falls trails is an easy and mostly level, but rocky hike in Lake Tahoe. The trail will lead to the top of the falls with amazing views of Cascade Lake and Lake Tahoe. Although the trail is public, Cascade Lake is a private lake so you need to observe their rules.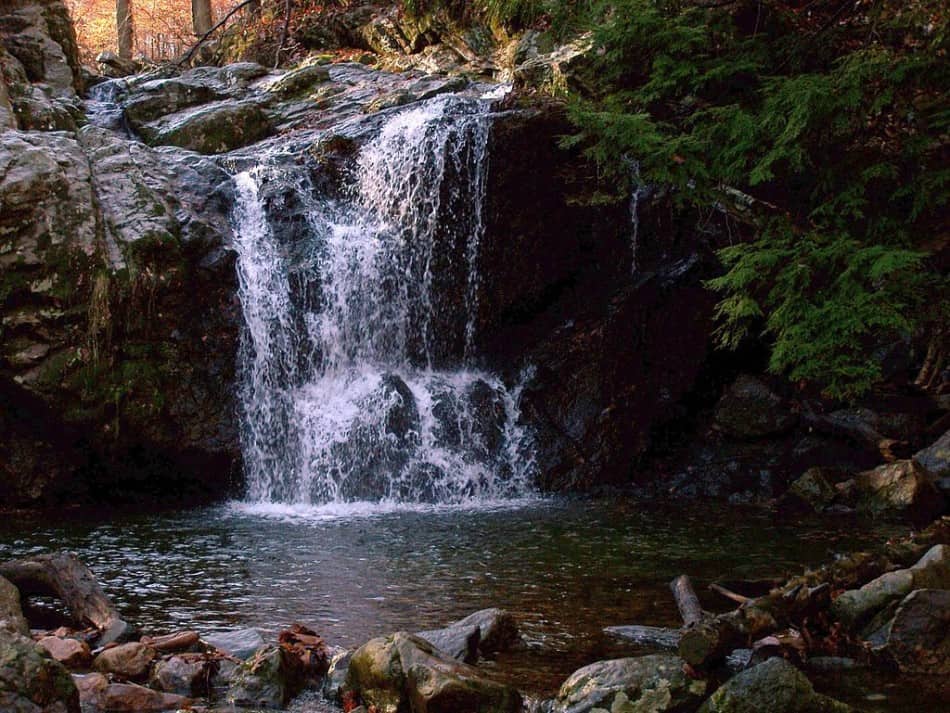 The trail begins at the Bayview Trailhead on the back side of Bayview Campground and it has a total of 1.5 roundtrip hike with an elevation gain of 236 feet. And once you reach the waterfalls, prepare your eyes to be mesmerized by the view. So if you are looking for the best and short hikes that you can go in the Emerald Bay area, the Cascade Falls Trail is highly recommended.
Glen Alpine Falls
Distance:5 miles
Elevation gain: 700 feet
Difficulty level: Moderate to hard
To reach the Glen Alpine Falls, you need to hike for about 5 miles and the journey is so worth it once you see the breathtaking cascading falls of about 65 feet that fall down like stairs. You can even get close to the falls and feel the cold water cascading at you. According to some frequent hikers and locals, the best time to explore the falls is from March to September.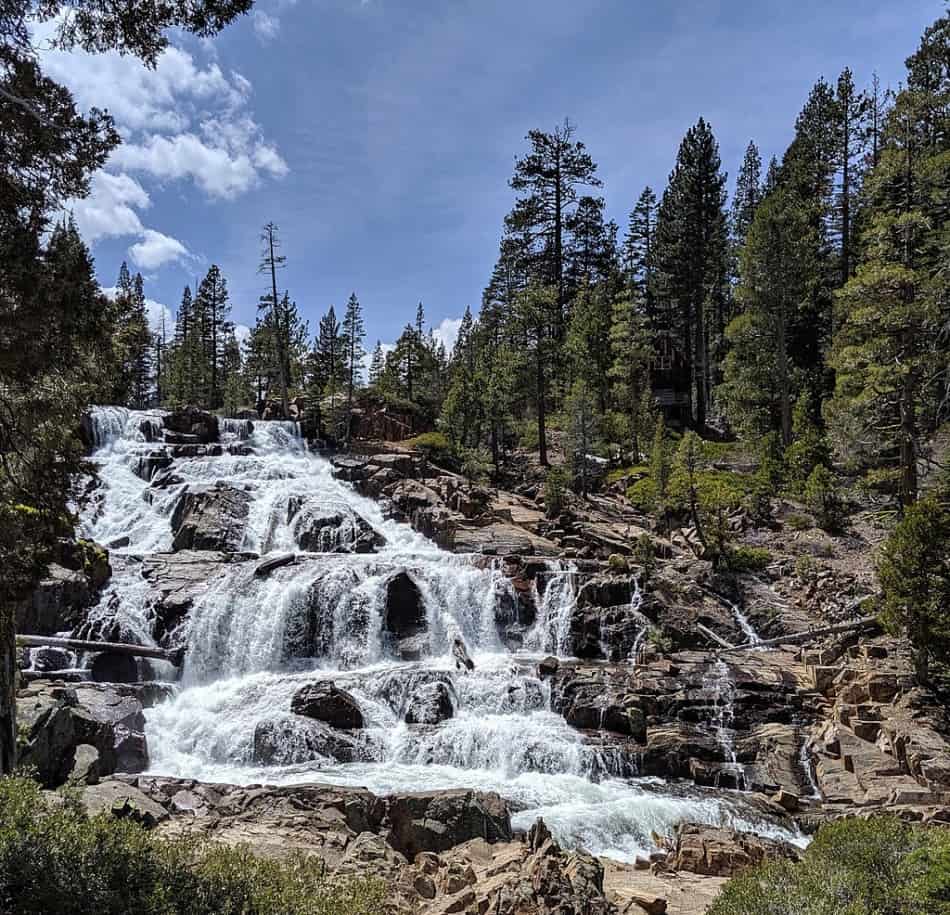 The area is also a great place to bring your fur babies with you but they are only allowed in Desolation Wilderness and must be on a leash at all times. There are also other recreational opportunities in the area so watch out for cyclists and other cars. This is one of those great hikes around Lake Tahoe.
Rubicon Peak Trail
Distance: 12 miles
Elevation gain: 1,400 feet
Difficulty level: Easy to moderate
Located in the Desolation Wilderness on the west shore of Lake Tahoe and north west of Emerald Bay, Rubicon Peak Trail is one of the best peaks that offers amazing views of the Desolation Wilderness and Lake Tahoe. Reaching its summit requires less time and effort and it can be easily climbed in half a day in any given season. But if you wanna hike it without snow, you can do it from July through September.
There are also several backcountry camping opportunities that are being offered in the area that could also serve as base camps to more summits. So if you are more adventurous, you can look for a longer trip.
Vikingsholm Trail
Distance: 0.87 miles
Elevation gain: 6,300 feet
Difficulty level: Easy to moderate
The Vikingsholm Trail is a very steep but well-marked 1 mile trail starting from the parking lot down to the beach. Although the way down is really nice and easy, the way back up can be difficult and strenuous.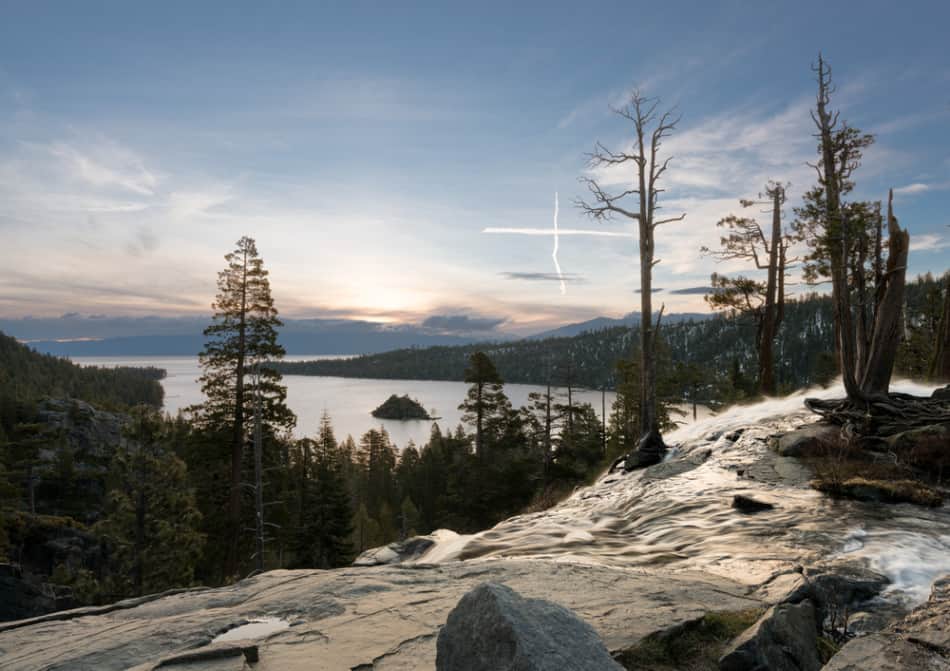 But you can find lots of resting places along the way to stop for a water break or take pictures. The scenery along the way is very amazing with views of the Emerald Bay.
Emerald Point Trail
Distance: 5 miles
Elevation gain: 500 feet
Difficulty level: Moderate
Most hikers would agree that the hike going to Emerald Point is a dream. The trail curves the north side of Emerald Bay and it's just a short hike with a total elevation gain of 500 feet and it's mostly flat. And one of the best things about this trail is that you will be rewarded to stellar views the whole time.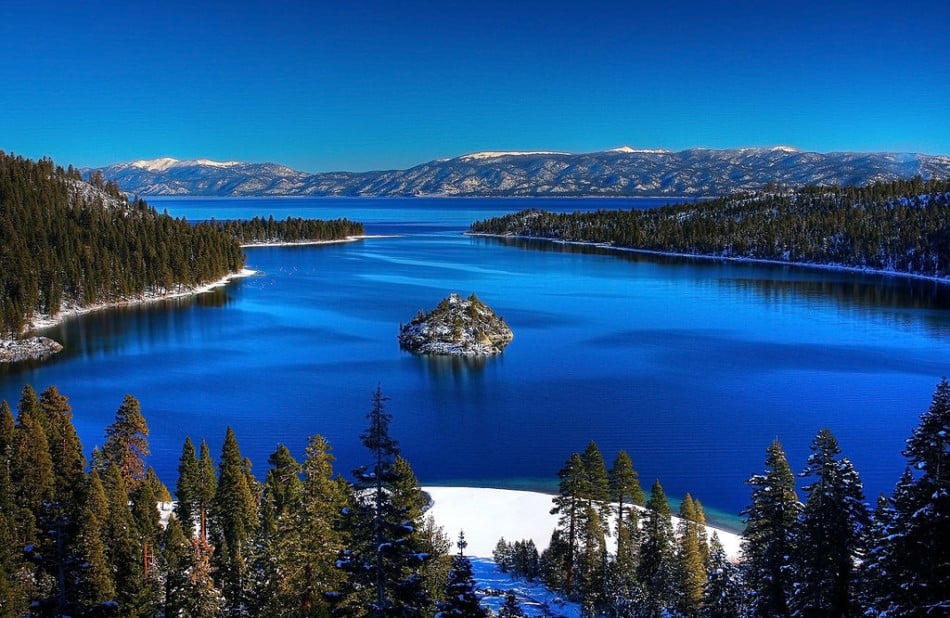 The Emerald Bay can get excessively crowded especially on the weekends during the summer. So if you are trying to avoid the crowd, the best time to visit the area is on weekdays and before 10 am. And be prepared for inclement weather and carry extra warm clothes, food, and water.
Echo Lakes Trail
Distance: 5 miles
Elevation gain: 600 feet
Difficulty level: Moderate to hard
The Echo Lakes Trail is a moderate to difficult trail that follows the Pacific Crest Trail along the lake's northern edge. The trail starts across the street from the parking area and hikers must first secure a fee permit before embarking on their hike.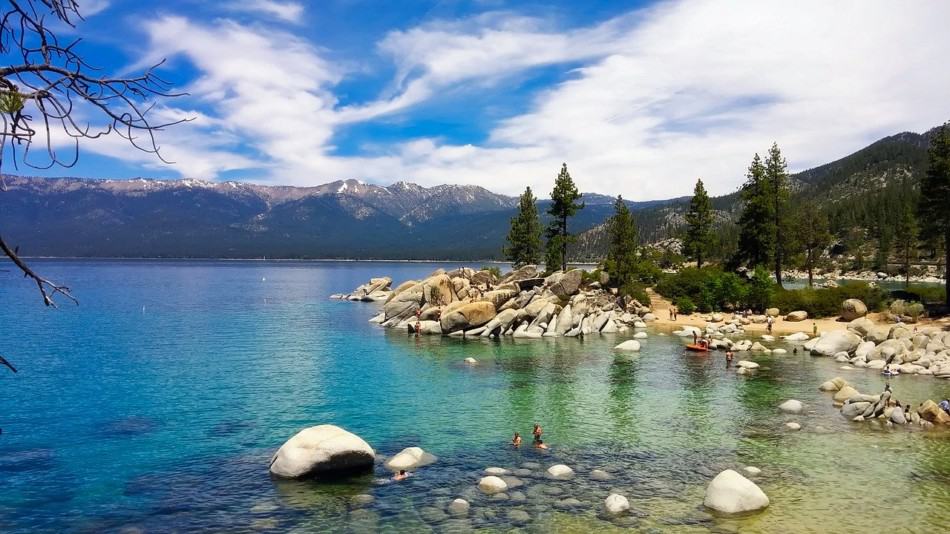 The trail traverses through a wind-sculpted landscape of beautiful and gigantic trees and stone and some sections of the trail are carved straight out of the granite boulders lodged into the mountainside. And depending on how far you can endure the hike, there are other trails that run up to different locations that will also give you an amazing experience.
Lighthouse Trail
Distance: 2.5 miles
Elevation gain: 500 feet
Difficulty level: Easy
Branded as one of the easiest hikes in Lake Tahoe, Lighthouse Trail is a beautiful hike around Tahoe Basin that has a rich history. It was named after the century-old lighthouse that still stands today.
It is a well-marked and easy to follow trail that is open for all skill levels. The trail is surrounded by gorgeous views of Lake Tahoe and there is a great cover to cool off especially on a hot afternoon since the trail is only accessible in the hot summer months.
Tahoe Meadows Interpretive Loop
Distance: 1.2 miles
Elevation gain: 10 feet
Difficulty level: easy
This trail is an easy and family-friendly hike that is well-maintained with bridges across the streams. There's almost no elevation change plus you will be surrounded by the beautiful scenery.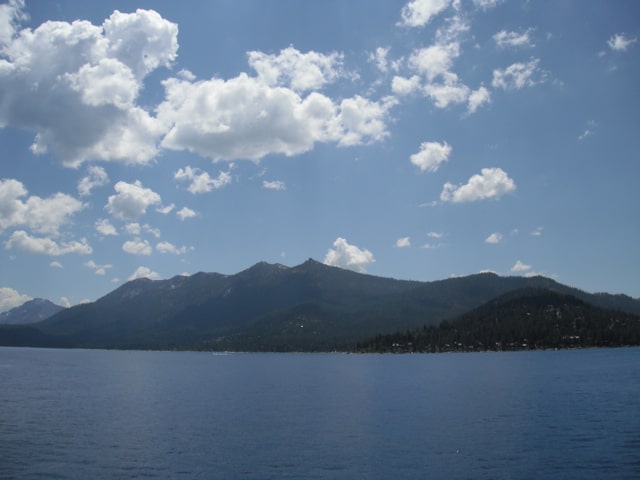 The trail is well-marked and there are plenty of spots to explore. You will be traveling through the meadow, then into forest, then back into the meadow again. You will also see the beautiful views down the mountain and over the Tahoe Lake Basin. You can even look for fish in the streams, as well as butterflies and birds around the area.
Tahoe Rim Trail
Distance: 165 miles
Elevation gain: 8,509 m
Difficulty level: Hard
If you want to explore Lake Tahoe and its 122,200 acres of cobalt blue water, the best way to do it is by taking the Tahoe Rim Trail. This winding loop is a great long trail for all levels of hikers and you'll be seeing a great scenery on such a modest adventure.
The trail is well-marked but you'll still be needing a map to navigate because only the major junctions have markers. And if you are hiking during winter, the signs and markers may not be visible. But the beauty of Tahoe Rim Trail is that it's a loop and there are 10 official trailheads along the Tahoe Rim Trail and half of them are gathered around South Lake Tahoe while the others are scattered along the rest of the shore.
Horsetail Falls
Distance: 3 miles
Elevation gain: 700 feet
Difficulty level: Moderate
If you are looking for a more challenging yet fun hike in Lake Tahoe, you should definitely take the Horsetail Falls. It was named Horsetail because this type of waterfall contacts the bedrock most of the time before coming off and it is believed to have resembled a horse's tail.
You can select your trail to Horsetail Falls but if you have an adventurous spirit, you can take the Wilderness Boundary Trail which leads you to the base of the waterfall. But if you want a shorter trail, you can take the Pyramid Creek Trail which is perfect for beginner hikers.
Van Sickle Bi-State Park
Distance: 2-5 miles
Elevation gain: 600, 2000 feet
Difficulty level: Easy to moderate
Van Sickle Bi-State Park is one of the most accessible parks in the Tahoe area. Just a short climb from the trailhead and it will quickly take you to the peaceful spot in the forest. It is not only a great destination for hikers and equestriennes, but also for mountain bikers who want to experience the thrill of the trail.
The most popular path that you can take is the Connector Trail that stretches for about 5 miles and it features a stunning waterfall down the trail. The site in itself is very unique and you will be able to enjoy a quality natural experience like no other.
Five Lakes Trail
Distance: 4.5 miles
Elevation gain: 1,100 feet
Difficulty level: Moderate
One of the most stunning and thrilling hikes located in the Granite Chief Wilderness Area is the 4.5 miles Five Lakes Trail. It is a strenuous climb of about 1000 feet and along the way you will be charmed by the views of Alpine Meadows as well as the surrounding mountains.
Although it is not a very long trail unlike others, it still runs along boulders and big rocks that can be quite slippery. But it will be a worthy hike once you reach the first lake and you can even explore many other small trail around and between the lakes.
Spooner Lake Loop Trail
Distance: 2.1 miles
Elevation gain: 50-250 feet
Difficulty level: Easy
Spooner Lake Loop Trail is a short and peaceful hike in South Tahoe that is suitable for all ages and even your furbabies! The trail is flat with little to no elevation at all. As you explore around the lake, you will see a lot of wildflowers along with stands of aspens. The lake is also a popular spot to go for fishing and in fact during summer, you will see fly fishermen all around the lake.
Once you reach Spooner Lake, you can access several trails in the area and the popular Marlette Lake or Flume Trail. But if you prefer to just have a quick hike or just a peaceful walk with your family or friends, then just take the Spooner Loop Trail.
Skunk Harbor Lake Tahoe Trails
Distance: 1.6 miles
Elevation gain: 600 feet
Difficulty level: Easy
One of North Lake Tahoe's hidden gems is the Skunk Harbor that can be accessed by hiking or biking the 1.6 mile trail. As you hike, the road winds through a mixed conifer forest with an amazing view of Lake Tahoe. Eventually, the road splits into two directions and the right fork will take you to the gorgeous and picturesque cove and Skunk Harbor Beach.
The trail is ideal for kids and dogs and it is a fairly easy and quick hike with a bit of a climb so make sure to wear good and comfortable shoes. The trail is open from March to November and fur babies are even allowed even off the leash.
Shirley Canyon Trail
Distance: 4.5 miles
Elevation gain: 1,400 feet
Difficulty level: Moderate to Hard
Calling out all adventure junkies out there, the Shirley Canyon Trail offers some of the best Lake Tahoe hikes that stretches for about 4.5 miles. It is rated as a moderate to difficult hike that will really test your endurance and still allow you to enjoy the scenery around the area.
Prepare to see a lot of boulders and big rocks and streams as you go along the way. The trail is constantly beautiful to the top and if you are thinking of giving up at the second waterfall, please don't because you will surely be missing a lot of incredible views.
Angora Ridge
Distance: 2.5 to 2.5 miles
Elevation gain: 500 feet
Difficulty level: Easy
The Angora Ridge has two small and unblemished gorgeous lakes that are definitely worth hiking to. And there are two ways to reach the Angora Lakes and the first one is the Angora Ridge Road. It is actually a paved road so it would not be difficult to hike it. On the other hand, the second lake is a very famous spot for cliff jumping. There are some small waterfalls cascading from the mountains into the lake that make up a beautiful scene. It's just an easy and yet most rewarding hike in Lake Tahoe.
Floating Island and Cathedral Lakes
Distance: 5 miles
Elevation gain: 1,200 feet
Difficulty level: Easy
The Floating Island and Cathedral Lakes Trail is an easy hike in El Dorado National Forest. It is open for all skill levels and it features a scenic lake and stunning views of Lake Tahoe and Fallen Leaf Lake.
The trail can be very crowded during weekends so if you want to ensure a good spot in the parking area, make sure to arrive early. The best time to visit the trail is from spring through fall and the amazing views and experience here will surely take your breath away.
Where to stay in Lake Tahoe
Lake Tahoe makes for a great weekend escape. Fresh air, beautiful scenery and being in nature does a world of good for the soul. I recommend staying as close to the lake as possible and even treating yourself with a cabin with a spa pool to relax at night.
There are lots of fantastic Airbnbs in Lake Tahoe. I have made a list of the best airbnbs around the lake whether you decide to stay on the California side of the Nevada side. South Lake Tahoe is the most popular area to stay around the lake with the most facilities.
If you are taking a road trip remember to reserve a car in advance using Discover Cars .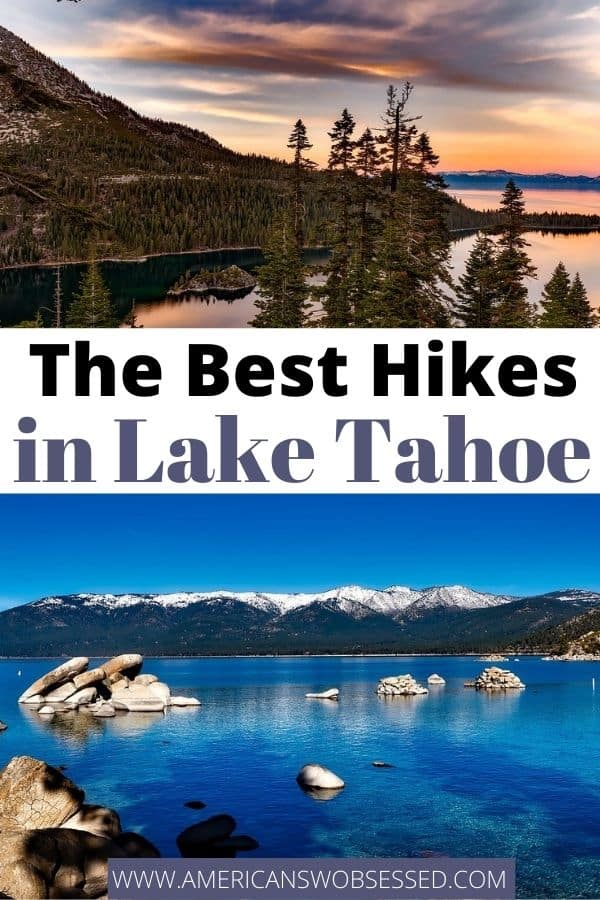 Recent Posts