Reno Airbnb: Are you looking for the best Airbnb Reno, NV? I've put together this list of the best Airbnbs in Reno for all budgets.
I rate all of these Reno Airbnbs as they have super hosts, great locations, and value for money. There is something for everyone on this list.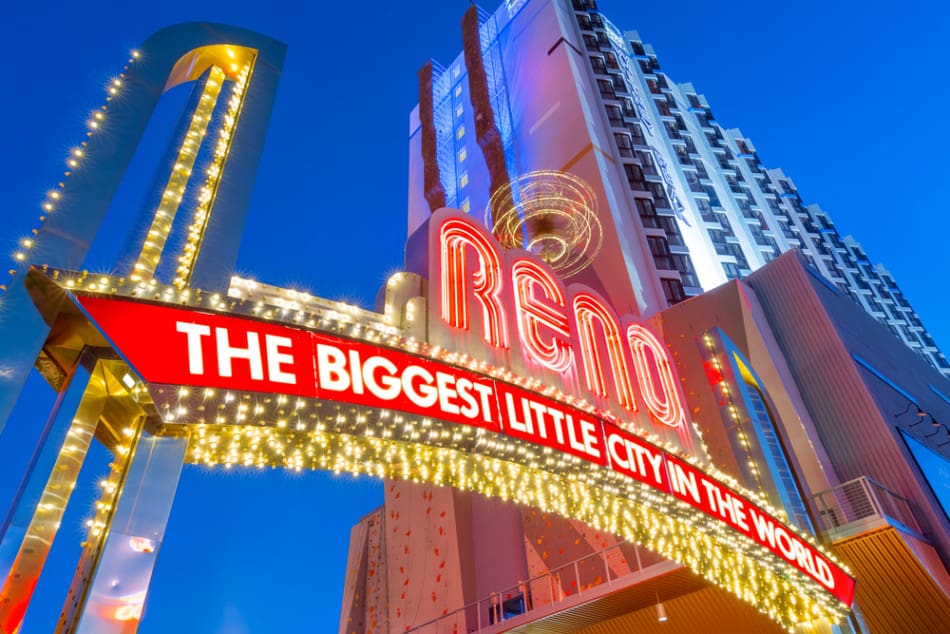 Reno is located in the north western part of Nevada near the border of California. It has a completely different vibe than Vegas. Reno is definitely overshadowed by Vegas but it has a lot to offer.
Reno is located 22 miles from Lake Tahoe and is known as the Biggest Little City in the World. Downtown you can find cool eateries and art galleries. It makes for a great weekend away. You can visit Reno's awarding-winning casinos or travel the path less taken in Tahoe's backcountry.
You can check out my post on the Best Airbnbs in Lake Tahoe or if you are heading to the South Lake Tahoe which is the most popular you can check out my post on the Best Airbnbs in Lake Tahoe South.
Whether you are after a newly built Airbnb Reno or a Reno Airbnb with a pool – Check out my favorite Airbnb rentals below for the perfect way to relax and recharge.
Thank you for supporting this website written by an American. This post may contain affiliate links. This means I earn a small commission on these links at no extra cost to you.
15 Best Airbnbs in Reno, Nevada
Two-Bedroom Loft with Attached Garage and Pool
Guests: 4
Bedroom: 2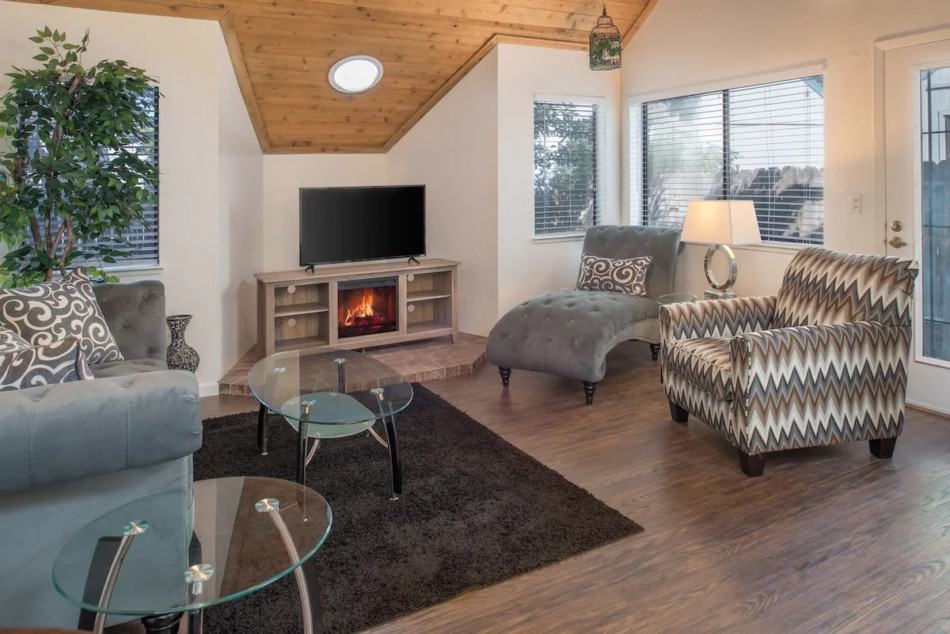 This highly-rated two-bedroom loft lets you enjoy the whole space to yourself. It offers a living room with Smart TV, wifi, full size washer and dryer attached in the single car garage, and a pool that is open seasonally. It is also a very convenient place to stay because it's only minutes away from downtown Reno, where you can dine, play, and shop. 
One reviewer said: We enjoyed our stay. The condo was clean and worked perfect for our needs. Mandie is a great host and went above and beyond to make sure we had a pleasant stay. We will be back again!
The Sugartown Shack
Guests: 4
Bedroom: 2
This stunningly stylish airbnb was first built in the 1930s and it features art by local and world-renowned artists like the portrait painter Jaxon Northon. It's a bright-lit basement apartment which you can enjoy with easy, instant, and keyless access.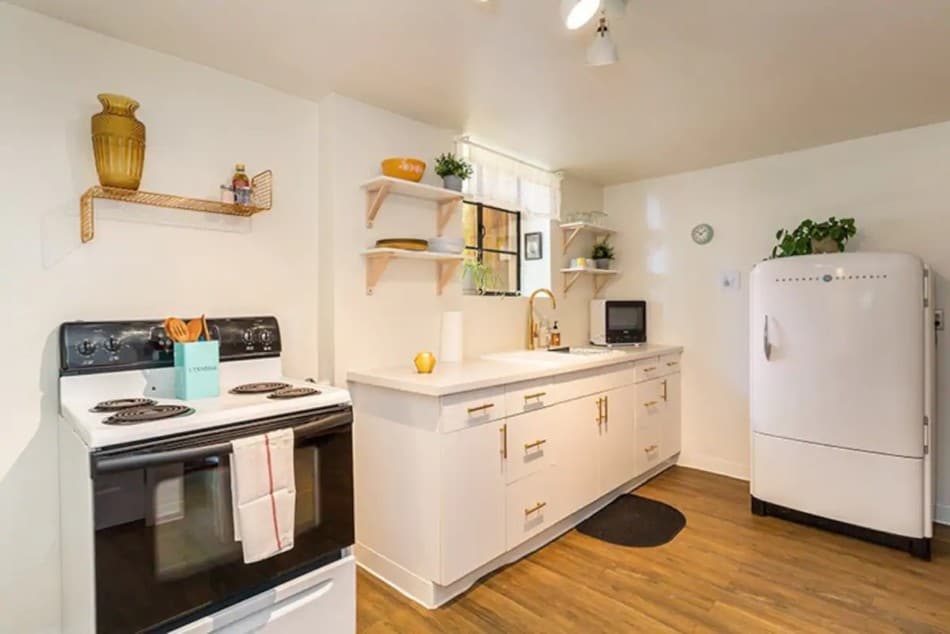 The space comes with a full kitchen with all the basics, complimentary coffee, wifi, Roku TV, and more. Around every corner of this apartment has something extra and wonderful such as an astonishing original art and record player. This is perfect for small families or even friends.
One reviewer said: This place was amazing. We loved the vibe it gave. The place was very clean and lots of extras were available. Hosts were very attentive and responded quickly. 10/10 will definitely book again. Thank you!
Apartment with Views on the Reno Riverwalk
Guests: 6
Bedroom: 1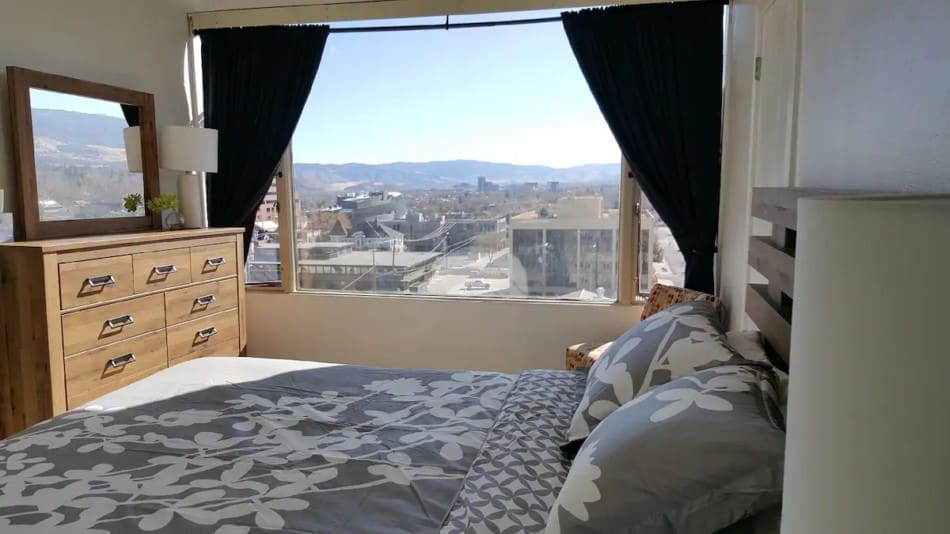 This awesome apartment is located on the fun and active Riverwalk where you can find most of the coffee shops, chic bars, restaurants, and entertainment. This is an ideal place to stay for business, couples, friends, and even families because of its chic and trendy interiors. Overall, this apartment is very nice and comfortable and it is privately situated high up the building that overlooks the city. 
One reviewer said: The space is very nice and comfortable. The location is also perfect walking distance to lots of nice little spots and the casinos if you're interested in that.
Desert Gold – A Midtown Treasure Reno, NV
Guests: 5
Bedroom: 2
Nestled in the heart of Midtown district, this cool and comfortable 1030s brick bungalow is one of the most beautiful airbnbs that you can stay at. In fact, it's located in a commercial urban neighborhood but the street is generally peaceful and quiet. It is surrounded by great restaurants, salons, retails, and so much more.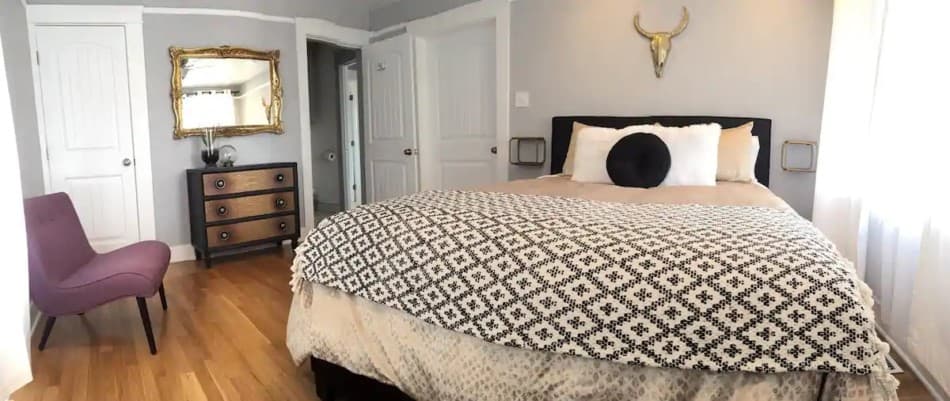 It has almost everything you need from modern furnishing, full size kitchen, to two comfortable queen size beds, outdoor space, and more. All you need to do is pack your bags and head to Reno right away.
One reviewer said: Great location, well-appointed, clean and very accessible. What more could you want in a place? I've stayed at quite a few Airbnbs and this ranks to five for sure.
Luxury Loft near Midtown
Guests: 2
Bedroom: 1
If you are looking for a place to stay that offers luxurious amenities, you shouldn't think twice about booking this loft near Midtown. It has a beautifully remodeled rustic modern appeal and great views of the surrounding neighborhood.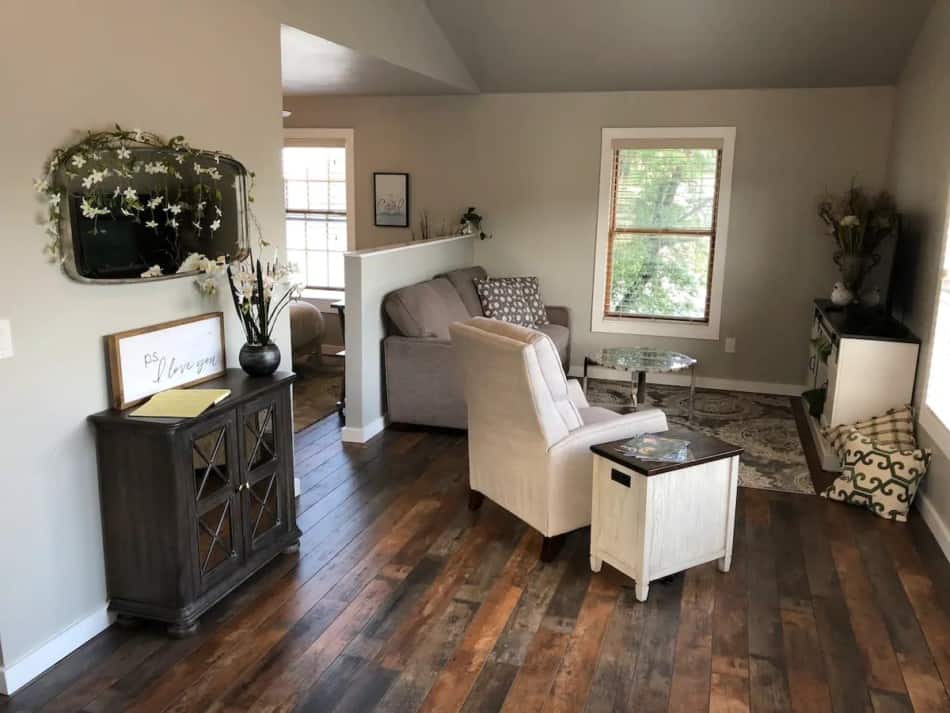 Inside the loft is a fully functional kitchen where you can cook your meals, or you can also dine out since its location is perfectly convenient to great local restaurants and coffee bars. Additionally, this loft has also a private deck, picnic table, and free parking which you can totally make use of during your stay.
One reviewer said: This loft was precious! Nice and close to midtown so all the fun places to eat and drink are within a short 5 minute drive or less. The neighborhood is quiet and the loft is secluded. Even though it's attached to another residence it felt very private, so it was a cozy little spot! Hope to be back soon.
Cozy Cottage Garden Hideaway Right Downtown
Guests: 2
Bedroom: 1
This cozy cottage is great for a lovers' getaway, honeymooners, and even solo travelers. It comes with a retro styled kitchen, high speed wifi, work space, washer, dryer, complimentary coffee and tea, and netflix.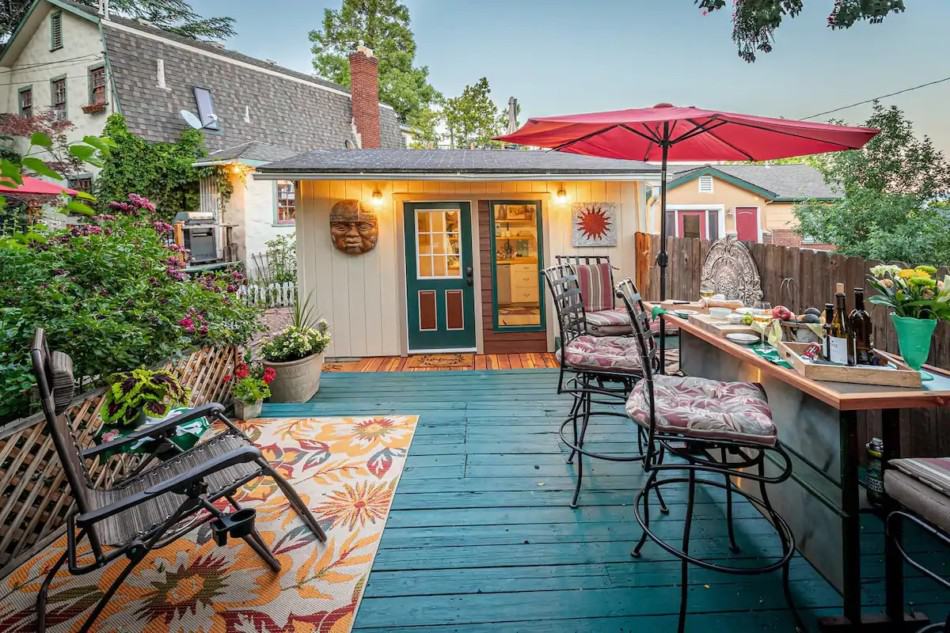 But the highlight of this cottage is the skyview deck above it that has an iconic garden where you can host a small party for a maximum of eight visitors. There is a ground-level charcoal BBQ that you can use for your mini party. This cottage is so fabulous and worth the price.
One reviewer said: This cottage is a perfect stay for Reno! It is located close to the University and Downtown. Every time I thought "I need . . .", Patty's place has it! There is a washer/dryer and a mini kitchen with everything from coffee to a small cooktop to make breakfast. The backyard is beautiful and large… made me want to come back in the summer time to see everything in full bloom. Patty herself was friendly and accommodating– answered all my questions quickly and gave us everything we needed.
Villa B'dilla
Guests: 2
Bedroom: 1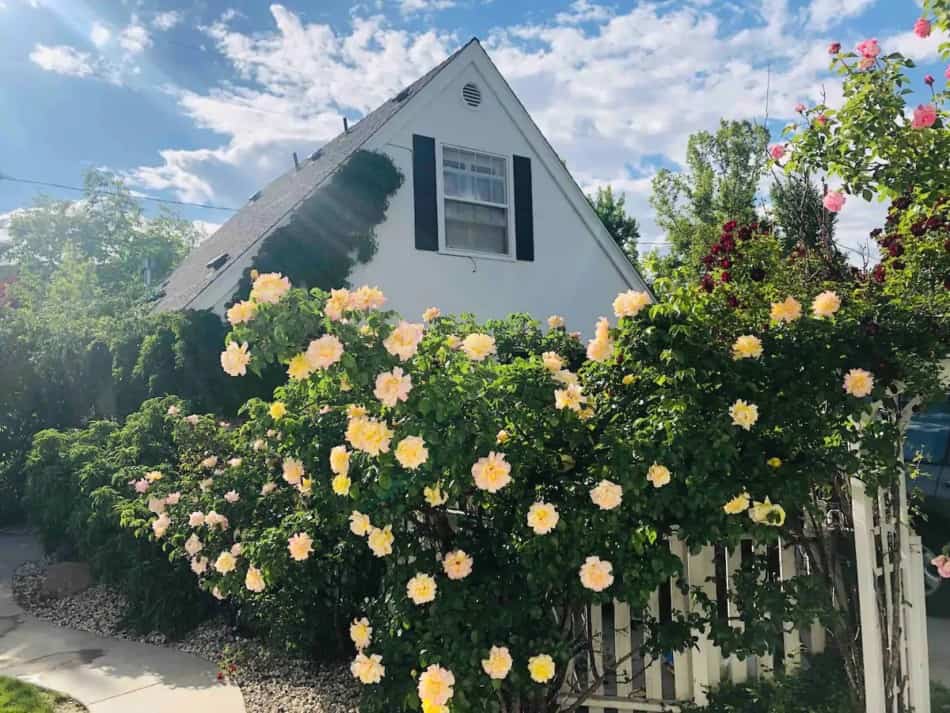 Villa B'dilla has a relaxing ambience that feels like you're at home. It is an extremely clean place that features a private entrance, kitchen, bedroom, bathroom, and of course the backyard with a garden that makes the place even more amazing. You'll also love the fact that this villa is located in the quaint, beautiful neighborhood of Reno and it's very close to Midtown where the variety of shops, restaurants, and cafes are. 
The Middy
Guests: 4
Bedroom: 2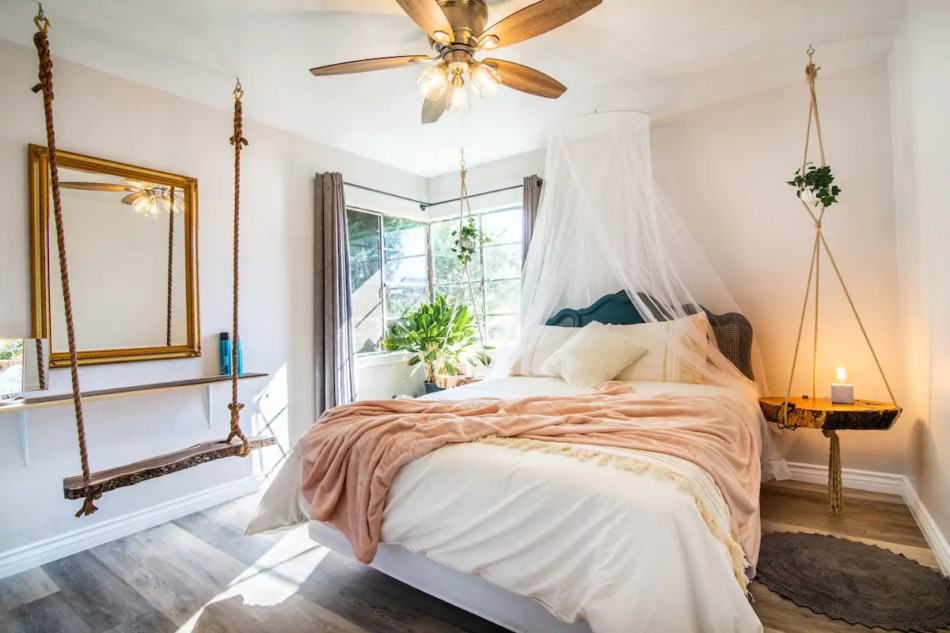 This charming and updated home located in the vibrant Midtown is your perfect home base for all your Reno/Tahoe adventures. You can fully enjoy the home with its easy, same-day, and keyless check-in. This home comes with a fully decked-out kitchen, premium queen sized beds, large smart TV, washer and dryer, and fast wifi. It is an ideal space for 4 adults with 2 children and everything you need for a great vacation is already provided.
Newlands Master Suite
Guests: 3
Bedroom: 1
This studio apartment is one of the most luxurious suites that you can find in Reno. It is located in the best walkable neighborhood – Newlands Manor and it is within proximity to several restaurants, coffee shops, bars, and shopping.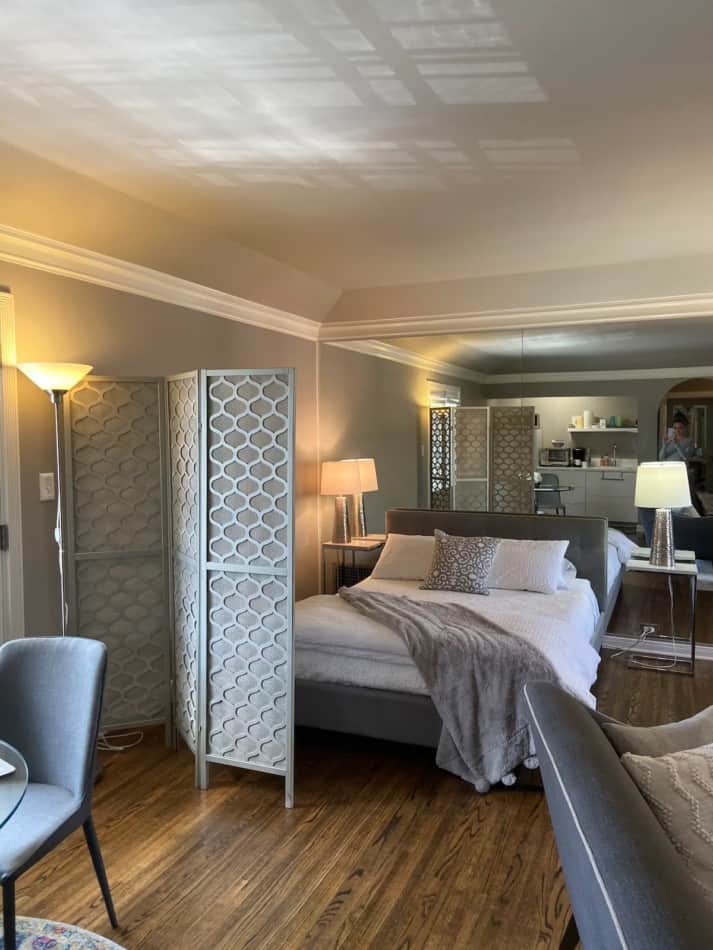 The suite has its own service kitchen, living space, small workspace, large indoor/outdoor private patio, and more. And you wouldn't find trouble checking in with this suite because the host is very accommodating and so great at communicating with guests.
One-Bedroom Loft with Deck
Guests: 4
Bedroom: 1
Solo travelers and backpackers would definitely love to stay at this one-bedroom loft that has everything you need for a fun-filled getaway in Reno. It comes with a deck, fully-stocked kitchen with everything you need for simple cooking, and a spotless bathroom with toiletries. And if you don't know how to cook, it wouldn't be a problem because its location is very close to restaurants and coffee shops.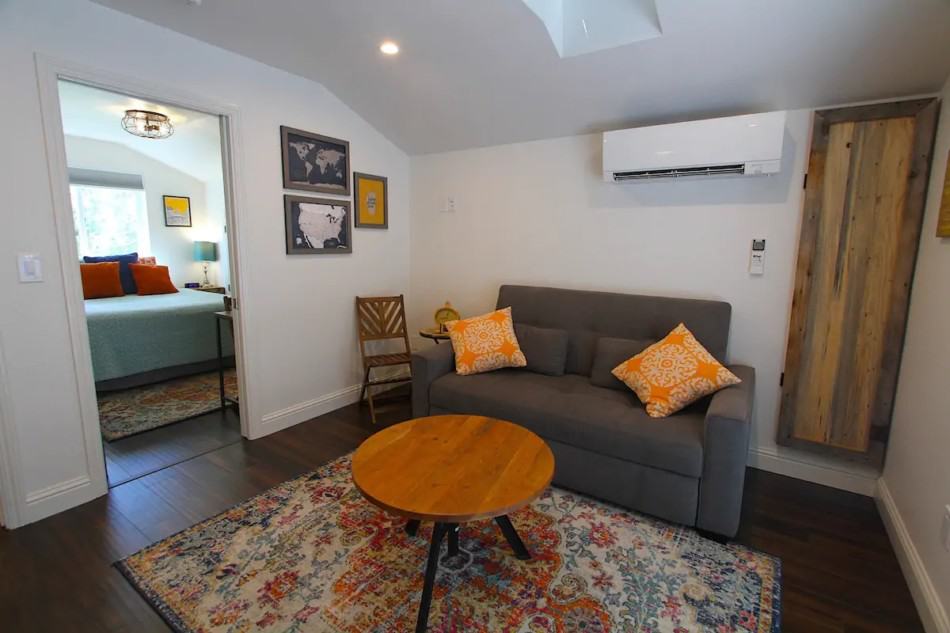 This 334 sq foot unit is even spacious enough for one person, so you can bring your significant other or friends with you.
Condominium In the Heart of Reno on the River-Walk
Guests: 3
Bedroom: 1
A stylish interior is what makes this one-bedroom condominium very attractive to guests and travelers alike. The space has many personal touches and it's ideal for solo or a couple looking for a getaway.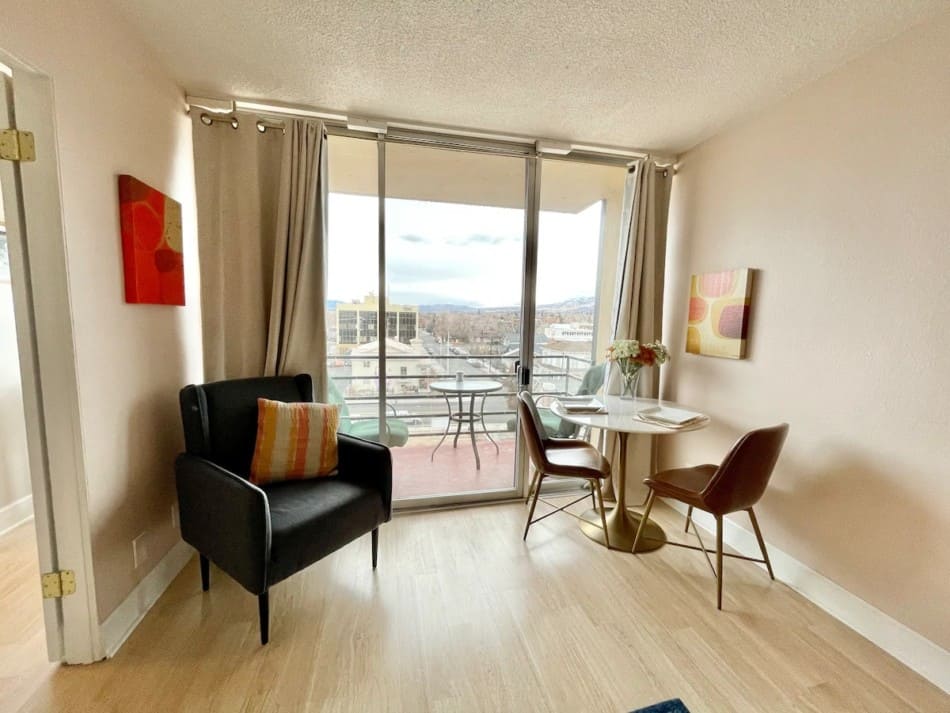 It has its own full kitchen, a comfortable bed, and a beautiful view of the sunset over the hills. This condo is an absolutely perfect spot with breathtaking views not only from the unit but also from the rooftop patio.
Two-Bedroom Condo
Guests: 7
Bedroom: 2
If you are looking for a more spacious condominium that can accommodate more guests, this two-bedroom is perfect for you. You have the entire access to the condo including the onsite coin operated laundry.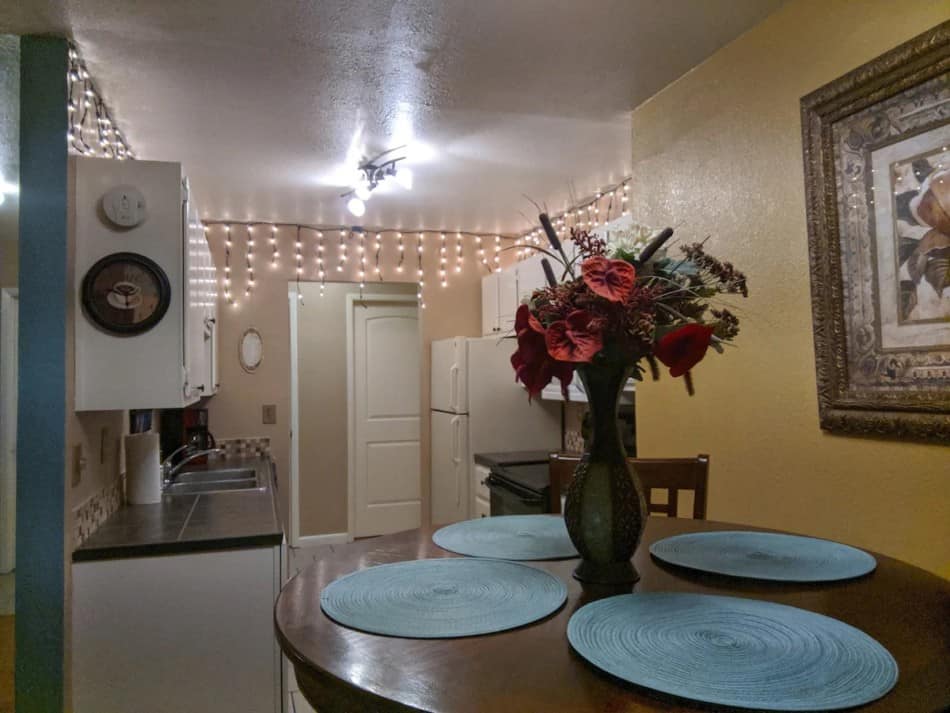 Additionally, you can also make use of the facilities of the condo such as the patio and swimming pool which opens seasonally. This is a really good place to stay at with incredible amenities and comfortable space.
Maison de Soleil III
Guests: 4
Bedroom: 2
Four guests can stay at this very homey space in Reno that features personal touches from the owners. The house comes with its own air conditioning, washer and dryer, comfortable beds, and a fireplace.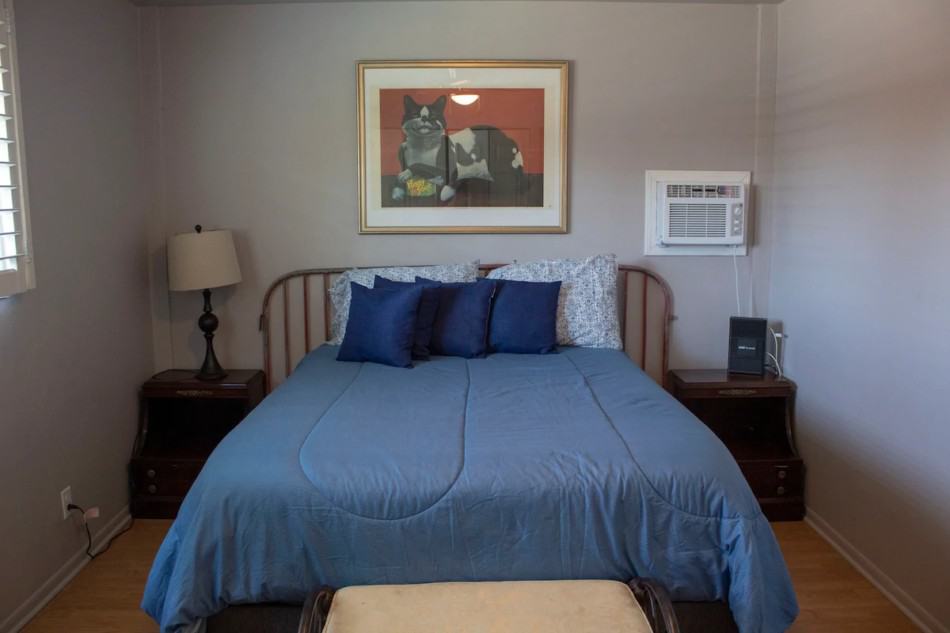 And this airbnb is located in the up and coming midtown district which is close to casinos, comedy shows, and a 10-minute drive to Reno/Tahoe airport.
Newlands Guest Studio
Guests: 2
Bedroom: 1
If you like to stay in an airbnb that is within walking distance to nightlife, dining, and some famous attractions in Reno, the search is over because this Newlands Guest Studio is ideal for you. This accommodation is perfect for couples, solo travelers, and even business travelers.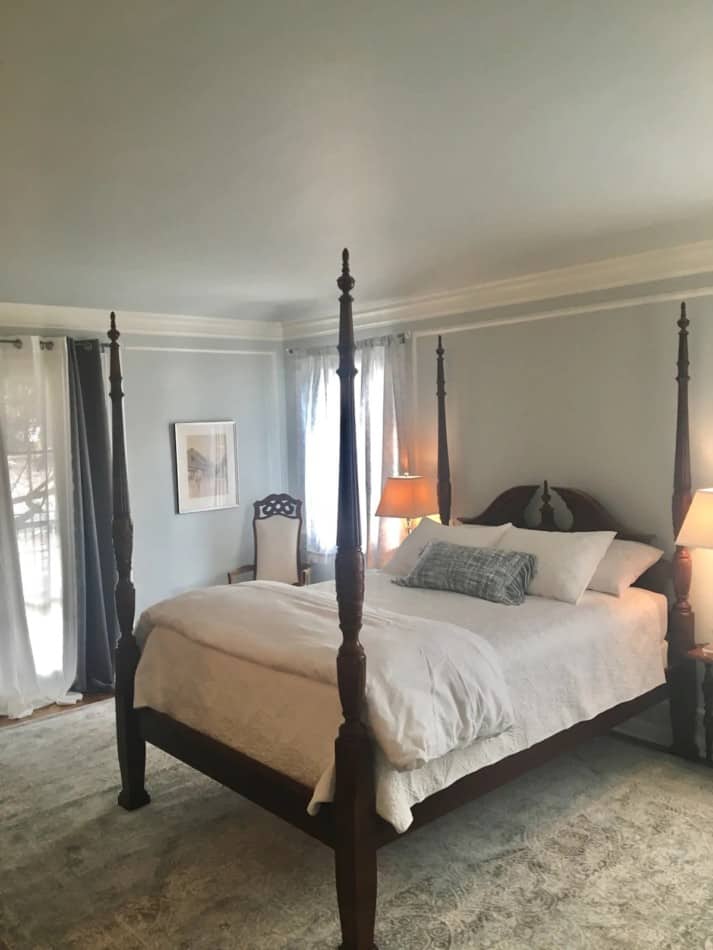 It has a total area of 400 square foot so it's very spacious and it comes with all the amenities you would need for a relaxing trip. Plus, there is a garden area where you can enjoy your morning coffee and have a picnic.
Sharing is Caring! Pin this article to save for later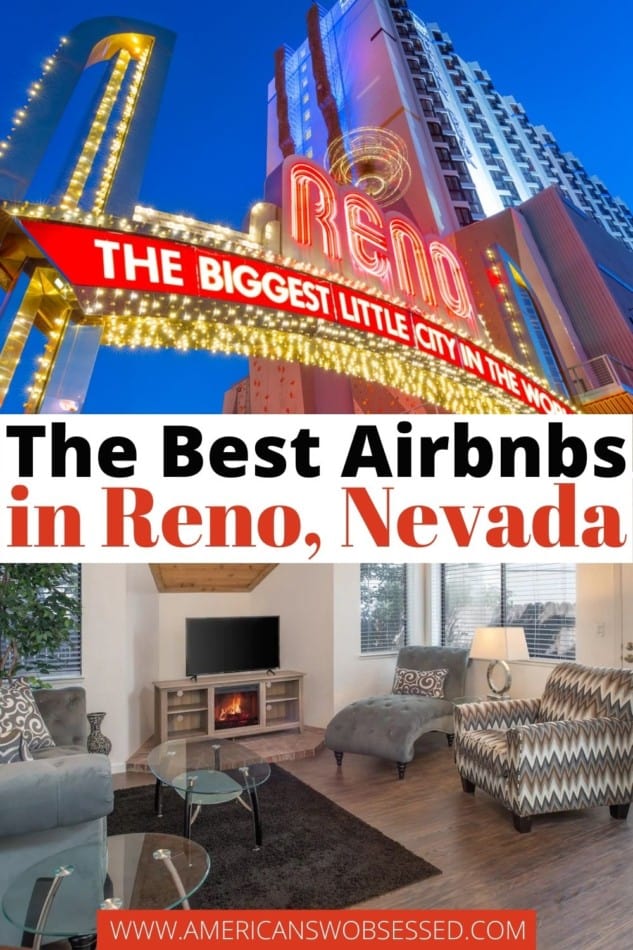 Recent Posts