15+ Unique Gifts for Kayakers
Kayaking Gifts: Are you looking for gifts for your kayak enthusiastic friend or family member? You will love these gift ideas and so will your kayaking friend. There are so many cool gifts for kayakers on this list.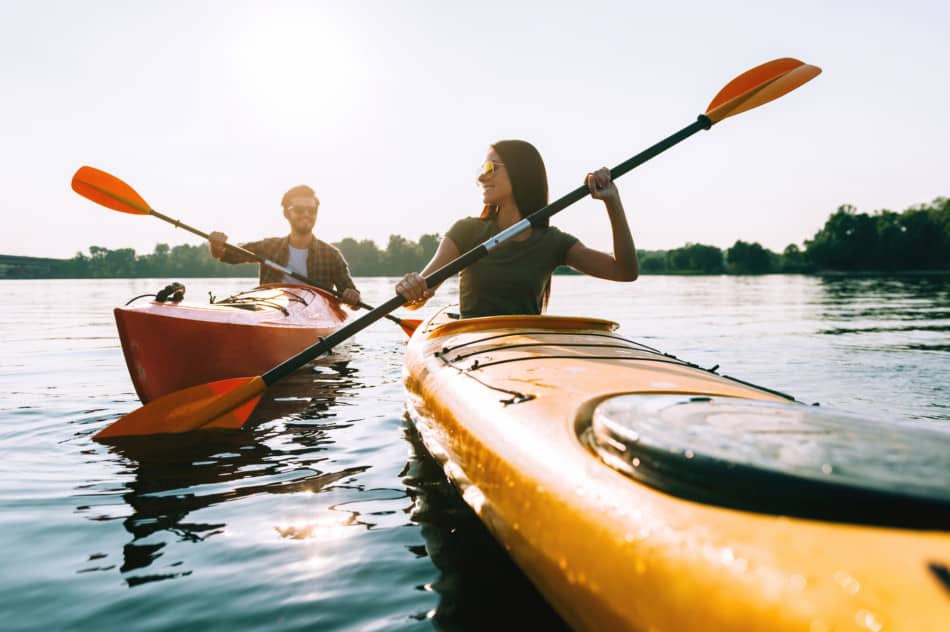 There are many gifts you can buy for kayakers, this list includes 18 ideas from a flashlight, sandals, a daypack, a yeti mug, to a smartwatch, and much more.

These gift ideas are perfect for those who enjoy kayaking and are going on a kayaking trip, like visiting US national parks, backpacking, camping, traveling, and more. You can find the perfect gift on this list.
You can also check out my list of the Best Gifts for National Park Lovers or the Best Gifts for Outdoorsy Women for more ideas.
Gift Ideas For Kayakers – Kayak Themed Gifts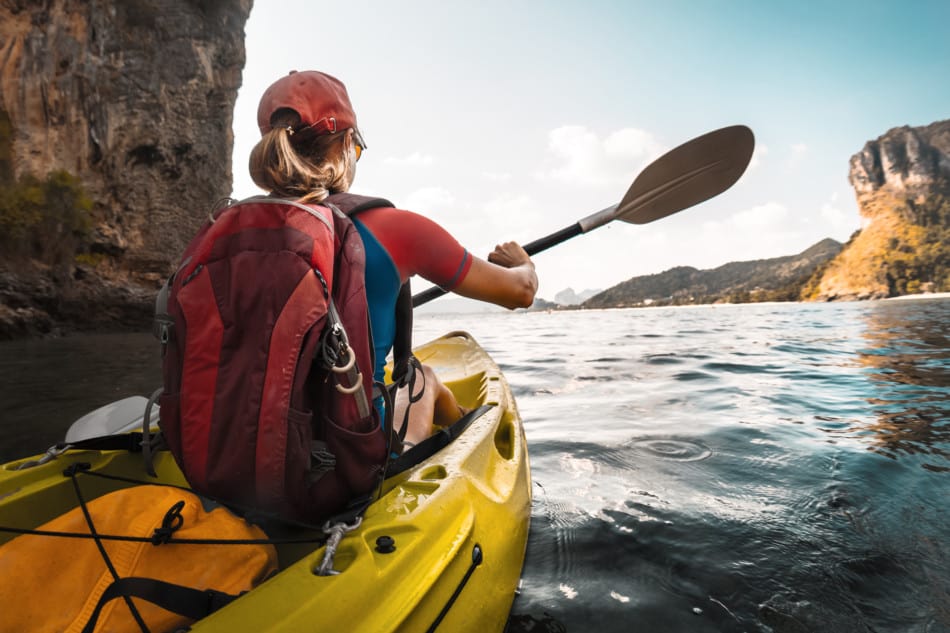 Everyone loves listening to music and what better way to listen to music while you are hiking, kayaking, or camping, than with this Wonderboom portable waterproof speaker. 
This Wonderboom speaker might be small but it has an incredibly crisp sound and offers 360-degree sounds. It is also waterproof which is ideal when camping, traveling or being outside.
With the ability to connect via Bluetooth with over 10 hours of battery life, ideal for a weekend of camping.
This speaker is great for traveling, as it's small and can be attached to a bag or item with its top hook.

This speaker is great for kayaking, as it's small and can be attached to a bag or item with its top hook.
Recreational Kayaking is the ultimate book for kayakers. This book is the tenth in a series of books by kayaking instructor Ken Whiting.

It has information about the types of equipment, essential for kayaking, the different strokes, different maneuvers, capsize recoveries and river guidance. The book even has simple paddler's first aid guides.

The book features hundreds of photos, step-by-step guides, and an introduction for first-time kayakers and advanced kayakers.
The paddle keeper is a handy attachment that keeps your paddle attached to your craft. This will ensure your paddle doesn't float away when you are resting, swimming, or fishing off your kayak.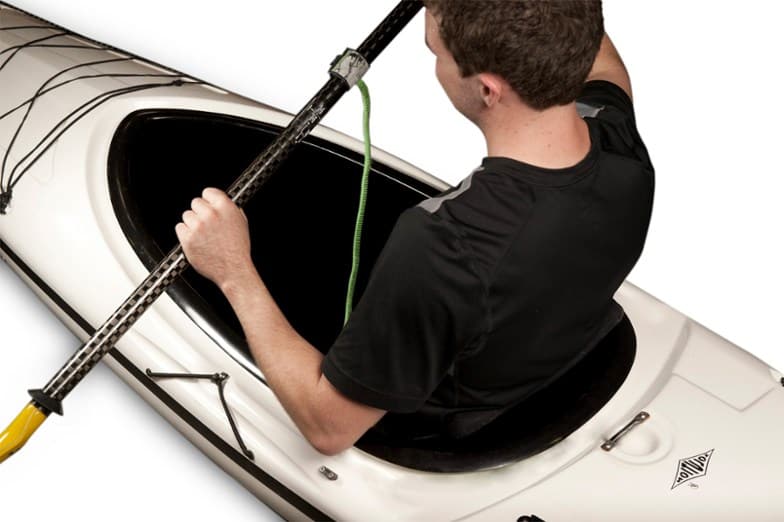 The attachment is an accordion-style webbing which doubles in length and is made from light but strong nylon webbing.
These Teva sandals are great for kayaking with quick-dry webbing, made from recycled plastic while also offering support for your feet.

Available in six colors these sandals have a universal strapping system, which includes an adjustable hook and loop for a custom fit. The sole of the sandal has molded EVA midsole heel cupping for support.

This sandal is made for all-day use with the ability to wear while kayaking and then throughout the day after.
The Teva men's sandal is available in seven colors. They offer water-ready polyester webbing, which dries quickly once wet.

The sandals have an EVA footbed cushion that offers support all-day long.
How many times have you dropped your sunglasses in the water and they instantly sank?
Well, those days are over, with these unsinkable sunglasses.

These sunglasses are Honey Tort design, with VaporLite technology floating frames, which are also 20% lighter than normal sunglasses. The glasses come with Lifetime plus warranty – so if you lose them you will get a replacement. They have a fashionable design as well as being unsinkable.
This Osprey backpack is a great gift for kayakers. This daypack has a capacity of 100oz and is available in teal. 
This daypack has a 3L liquid holder in a separate compartment with a crux straw with an on and off lever. It also has a ventilated NV back panel that features comfortable straps and upper pods for ultimate comfort. 
The daypack also features a waist belt for comfort, zipper pockets for snacks, a large storage compartment, and smaller pockets. It also has a fleece-lined compartment ideal for protecting sunglasses and loops for carrying poles.
This daypack is ideal for women as it has been shaped to fit a woman's torso and the straps are s-shaped for a great fit and comfortable for long hiking trips. 
A flexible tripod is a great gift for not only photographers but those who just enjoy taking pictures. This tripod is very portable and compact making it perfect for just throwing in a backpack when traveling or camping.

It fits iPhone's, galaxy phones, as well as Canon 1300D, Nikon D5300, among others.

Compared to other tripods this one is high quality, with robust rubber-coated legs, which can be moved around and attached to things such as trees, benches, tents, canoes, or other places. It is also waterproof and easy to set-up.
For those who like their coffee, this Espro travel coffee press is great. With the ability to make a french press coffee on the go. It has a two-stage micro-filter to ensure no coffee escapes when you press down the filter.

The stainless steel insulated walls of the cup keep coffee hot for 4 to 6 hours, ideal for coffee on the go, or when you are out and want to sip coffee when hiking. The lid is leak-proof and has silicone seals to ensure it doesn't spill.
This women's Merino t-shirt is a great gift for outdoorsy women, made from New Zealand Merino wool, it is soft and high-quality.
Available in red-fawn this t-shirt is stripped with a scoop neck, and short sleeves. This t-shirt is perfect for hiking or outdoor activities. It is breathable and comfortable, perfect for traveling and wearing while being active.
Rain is no excuse not to get outdoors. And outdoorsy women will love this reusable rain poncho.
Available in black and green, this poncho is made from waterproof high-density polyester, and is both rip and snag resistant. It also folds up into its bag so it can be easily put into a backpack for traveling and camping.
This poncho is great for everyone, with a high strength zipper, a drawstring hood, rain visor beak, and it even has room for a backpack to be worn underneath. This allows you to keep all your belongings dry from the rain.
This poncho is perfect for hiking, camping, fishing, outdoor events, concerts, shows, festivals, as a ground mat to sit on, and even a sunshade.
Lifestraws have revolutionized water bottles and the ability to drink clean drinkable water wherever you may be.  I love mine and think it is one of the most perfect hiking gifts for her.
Available in four colors – black, grey, blue, and white. This stainless steel drinking bottle unscrews at the top and you can pull out the Lifestraw.
The Lifestraw has a two-filter system to remove bacteria, parasites, microplastics, and reduces bad tastes and odors. These Lifestraw filters for up to 1,000 gallons and have an attachment making it easy to carry.
This Lifestraw water bottle is great for outdoorsy women and those who want a sustainable water bottle. That they can use to ensure the water they drink is always safe.  I love mine and think it is one of the best gifts for outdoor lovers. 
Have you ever had any back pain when kayaking for long periods? Well, those days are over with the Xtreme comfort seat cushion.
This cushion is 19×17.5×3.5 inches and provides relief with backache and pain. The cushion helps to distribute weight evenly, helping to not put so much pressure on your sciatica nerve.

This cushion is portable and has a non-skid bottom and carry handle to allow you to transport the cushion wherever you wish to.
This waterproof dry bag is a must for kayakers, to keep their items dry. This bag is available in six colors and is made from heavy-duty 500D PVC, making it durable and watertight.

The bag is closed with a folding top and buckle, but also has a small zippered pocket, to grab smaller belongings. This compartment is ideal for smaller items such as sunglasses.

This bag comes in multiple sizes from 10L, 20L, 30L, and 40L.
These kayak handles are great gifts for kayakers who require replacement handles. These handles have ribbed finger placements for ultimate comfort.

These kayak handles made it very simple to assemble, with the string that loops through, and creates a flat slick design.

Handles are 4" long and 7/8 wide, with the rope 1/4" thick in diameter. The package comes with two 16" strings so you can make them whatever length you desire.
When the GoPro came out with its first camera active cameras were changed forever and with each new camera they bring out GoPro keeps getting better and better. The Hero 8 is the perfect companion for any kayaking trip.

The Hero 8 is the ultimate active camera, with 12MP and HDR 4K 1080p video. It is waterproof and has Bluetooth connectivity with the ability to use it with the GoPro app on your phone.

This bundle also has a spare battery, a head strap, and a mini tripod.
Perfect for drinking a morning coffee on the go, when traveling, camping, or just general everyday use. This is an excellent gift for coffee or tea lovers. 
This 14oz mug has a triple grip wide handle, double-wall vacuum insulation to keep your hot drink hot, and your cold drink cold. It also has a shatter-resistant lid with a mouthpiece.
This mug is durable enough to attach to the outside of your backpack when kayaking and used when required. 
No camping or kayaking trip is complete without a headlamp, and this one by Milwaukee is one of the best. This headlamp has over 31 hours of running time and is charged via a USB. 
It has adjustable buckles to tighten the straps and clips so you can add it to a hard hat. It is water, dust, and drop resistant ideal for taking on a camping trip to see once it gets dark.
This Garmin Vivoactive 4S watch is both stylish and great for recording activities.
This is a great gift for kayakers with the ability to record statistics such as your pulse 24/7, with 7-day battery life.
There are more than 20 loaded GPS sports loaded so when you want to participate in an activity you can just click on your deserved activity and start recording your workout. These activities include yoga, hiking, walking, strength workouts, pilates, cardio, running, swimming, and more.
This watch is easy to use and can connect to a third-party music app, and the ability to connect headphones.
It can also connect to a smartphone, and receive email and text notifications right to your wrist.
This flashlight is the perfect gift for outdoorsy women. It is super bright with 900- lumen LED lights, it is said to be able to light up an area covering two football fields. The flashlight can also focus and zoom in, it has up-to 6 hours of battery life, and can be charged via a USB cable.
This flashlight is great for hiking or camping, as the flashlight is tough and IP65 water-resistant, ideal for use when it's raining.
This universal car rack for your kayak is perfect for transporting your kayak from one place to another without damaging it.

These low profile easy-to-setup kayak carriers take up minimal roof space and can be attached and detached with ease.

The racks fit normal roof racks and ensure your kayaks don't move while you are driving down the road.

In this list of 18 gifts for kayakers, you are sure to find the perfect gift for your friend or family member.
I hope you've enjoyed this list of good gifts for kayakers. Check out my other gift guides:
30+ Best Gifts for Outdoorsy Women
31+ Perfect Ideas for National Park Gifts
Sharing is Caring! Pin this article to save for later.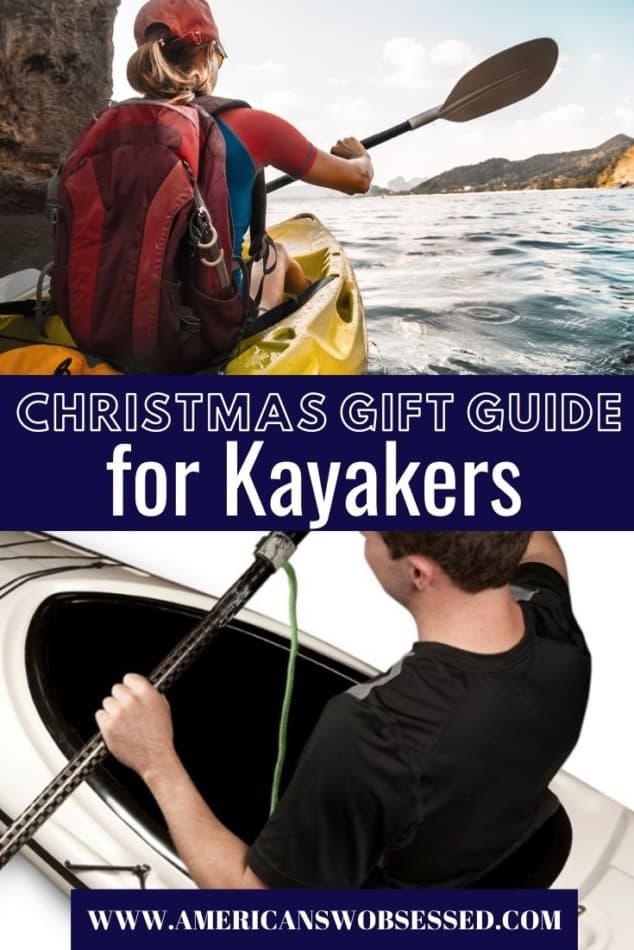 Recent Posts