50+ Best Gifts for Outdoorsy Women – Unique Outdoor Gift Ideas

Are you looking for gifts for an outdoorsy woman? You will love these gift ideas and so will your outdoorsy friend. This list will help you find the perfect outdoor gifts for women.

There are many outdoor gift ideas you can buy for outdoorsy women, this list includes 31 ideas from hiking boots, a hammock, daypacks, and a yeti mug, to a smartwatch, and more outdoor gifts for her.  These also make the perfect outdoor Christmas gifts.   

These gift ideas are perfect for those who enjoy hiking, or are going on a trip, like visiting US national parks, backpacking, camping, traveling, and more. You can find the perfect gifts for the outdoor girl and this list also contains adventurous gifts for her. 
I hope you enjoy this list of gifts for outdoorsy girl.  I'm saving up to buy number 2 as it has been on my wishlist for a while – or if anyone I know is reading this and wants to get me a gift (wink, wink).  I've narrowed down the perfect gifts for outdoor lovers.
Thank you for supporting this website written by an American. This post may contain affiliate links. This means I earn a small commission on these links at no extra cost to you.
You can also check out my list of the Best Gifts for National Park Enthusiasts or the Best Gifts for Kayakers for more ideas.
The Best Outdoor Gifts for Women
The perfect gift for outdoorsy women is an America the Beautiful Pass. There are five kinds of passes available: Annual Pass, Annual 4th Grade Pass, Senior Pass, Access Pass, and Volunteer Pass. This is one of the best gifts for an outdoors woman.

These passes are tickets to over 2,000 federal recreation sites throughout the USA. The passes cover national park entry fees and parking.

The Annual Pass costs $80 and is available for everyone, the Annual 4th Grade Pass is available for US 4th graders and is free during the school year (September to August). The Senior Pass costs $80 for a lifetime senior pass or $20 for an annual senior pass, this is available for us citizens or permanent residents ages over 62. The Access Pass is free and available for US citizens or permanent residents with disabilities.
To visit any of the National Parks in the USA, I recommend buying a National Park Pass. The America the Beautiful Pass is valid for one year and costs $80. Plus 10% of sale proceeds go to the National Park Foundation.
This Pendleton blanket is a great gift for outdoorsy women. Available in three sizes: twin, full (80in x 90in), or queen (90in x90in). Each blanket is made out of 100% pure virgin wool and made in the USA. The blanket also features the standard Pendleton label which signifies authenticity and a special label with the park name and a natural feature.
This would make a really special gift. I'm saving for mine as I know the quality is worth it. Plus I need to decide which one I want! The blanket is lightweight and high-quality, ideal for using when snuggled on the sofa, or as a blanket.
Lifestraws have revolutionized water bottles and the ability to drink clean drinkable water wherever you may be. I love mine and think it is one of the most perfect hiking gifts for her.

Available in four colors – black, grey, blue, and white. This stainless steel drinking bottle unscrews at the top and you can pull out the Lifestraw.

The Lifestraw has a two-filter system to remove bacteria, parasites, microplastics, and reduces bad tastes and odors. These Lifestraw filters for up to 1,000 gallons and have an attachment making it easy to carry.

This Lifestraw water bottle is great for outdoorsy women and those who want a sustainable water bottle. That they can use to ensure the water they drink is always safe. I love mine and think it is one of the best gifts for outdoor lovers.
Perfect for drinking a morning coffee on the go, when traveling, camping, or just general everyday use. This is an excellent gift for coffee or tea lovers.

This 14oz mug has a triple grip wide handle, and double-wall vacuum insulation to keep your hot drink hot, and your cold drink cold. It also has a shatter-resistant lid with a mouthpiece. 

This mug is durable enough to attach to the outside of your backpack when hiking so you can drink your hot chocolate at a campfire. The perfect camping gift ideas for her.
This is the wine glass you never knew you needed. This Corkcicle 12oz insulated wine glass cup is stainless steel. It is triple-insulated so will keep its contents warm or cold while on the go.

It is ideal for camping, using at an event, on the beach, on a patio, or boating. With its closable lid, it is ideal for transportation, and has a non-slip silicone bottom, to ensure it doesn't spill over. 

This cup will keep your wine cold for up to 9 hours or your tea hot for 3 hours (if they last that long).
These unique and wonderful coffee mugs are beautiful. With a white finish and available in multiple designs, they are the perfect gift.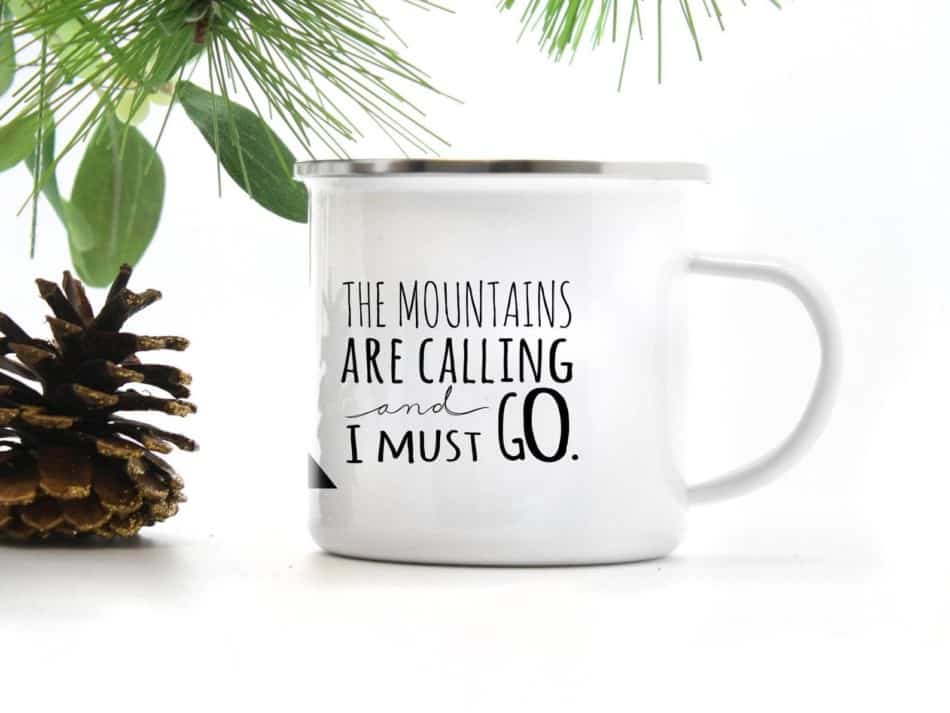 Available in a 10oz size with images of mountains, deers, nature quotes, and camping quotes. All the designs have an outdoorsy theme.
This beautiful national park map is unique with the ability to personalize it with names and a small amount of text, this is a great gift for outdoorsy adventure lovers.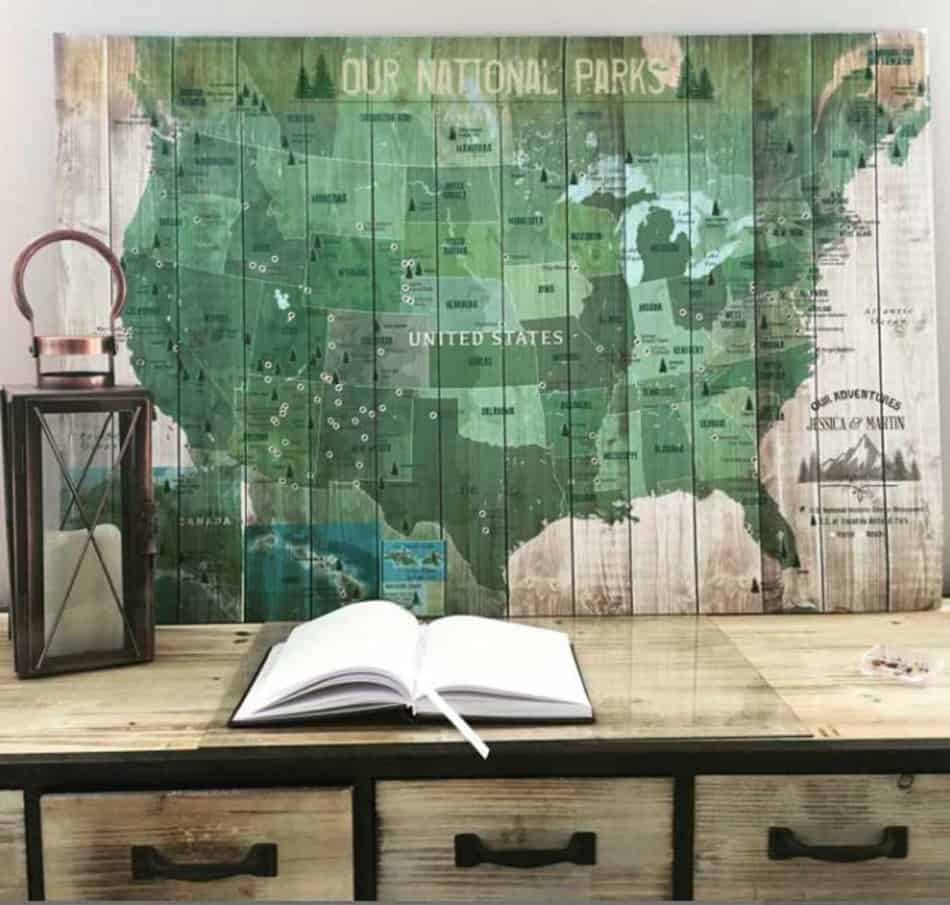 This map is printed on matte finish paper and mounted on foam with the ability to add pins of parks you have visited if you choose to.

It is available in three sizes – 20×30, 24×36, and 30×45. These sizes whichever you may choose are ideal for displaying in an office or lounge room.
This map is beautifully decorated with trees, state lines, and all 61 national parks, along with national monuments.
Travel Games
Keep them occupied with a simple game that doesn't take up too much room. For many van lifers, a standard board game will be too large.
However, there are a variety of games that take up little space and are suited for two players (instead of a group). My favorite is Skipbo but I also like Phase 10.
A card-based game: There are numerous options available, such as Sushi Go, Phase10, Exploding Kittens, and so on. Simply peruse Target's "game aisle" or do some online searching to pick one they'll enjoy.
Travel-friendly Backgammon: The original form of Backgammon is somewhat huge, but this sleek travel version is as appealing as it is entertaining to play.
Bananagrams: This word game is small and portable, and it's a lot of fun!
Make sure you choose a game with the appropriate player count (rather than a group game) because they'll most likely be playing it alone in their vehicle rather than with a large group.
Check out my post on the 31 Best Travel Games for Couples, Adults, and Kids
Have you ever been hiking or skiing and your hands got so cold you couldn't warm them up? Well, now you can with this rechargeable hand warmer. This hand warmer is not only a hand warmer it also doubles as a power pack to charge your electronics.

This hand warmer is safe to use, with built-in protection for overheating, over-charging, and short-circuit protection. So there is no need to worry about the safety of the device.
It is compact so can easily be fitted in your pocket or backpack, for easy transportation and taken out when needed.

It is ideal for skiing, hiking in the cold weather, traveling, fishing, camping, and other outdoor activities.
The Travelon Anti-Theft bag is one of the best waist packs for travel and they pride themselves on being one of the best anti-theft fanny packs on the market, with many features to keep your content safe and valuables sealed away.
This fanny pack is ideal for travel as it comes with a large number of safety features including RFID card blocking, a slash-resistant strap, locking straps, zippered compartments, and slash-resistant mesh body panels. This fanny pack has multiple compartments and comes in black. It is great for traveling as it is quite large and can fit everything you need to explore a city or keep everything safe when walking around.
Features of this travel waist pack
• Slash proof pockets
• Zippered pockets
• RFID card blocking
• Passport slot
• Slash resistant strap
• Slash resistant mesh body panel
America's Best Day Hikes: Spectacular Single-Day Hikes Across the States
America's Best Day Hikes comes with all the information anyone would need to experience these unique locations, including details about the hike itself—difficulty, duration, seasonal hazards, and more.—as well as traveling, planning, and packing suggestions. All this paired with Derek Dellinger's stunning photography makes this incredible volume a must-have for any lover of the outdoors.
Beautifully illustrated, this best-of compendium features the most memorable one-day hikes in every region of the United States from Sierra Buttes Lookout in Tahoe National Forest to Grinnell Glacier Trail in Montana's Glacier National Park to Giant Mountain in Adirondack Park and beyond.
US National Parks Scratch Off Poster
GET INSPIRED TO EXPLORE with this Scratch off Poster – there are so many awe-inspiring natural places to visit just a few hours away. We hope that this poster will encourage you to embark on many great adventures and explore this amazing country.
UPDATED WITH ALL 63 NATIONAL PARKS – from Acadia to Zion, our poster features 63 eye-catching illustrations of all national parks of the United States. After visiting a new park, gently scratch off the gold foil layer to reveal vibrant colours below and get ready for the next trip!
The National Park Passport is a 48-page pocket-sized journal that includes 20 entry pages to record meaningful details from each national park you visit, as well as 8 bonus pages that include checklists, bucket lists, and other fun activities and information. Each entry page is accompanied by a blank page for notes, memories, or affixing mementos like photos or receipts.
Each entry log page includes prompted sections to help you remember the important details from each adventure you've taken. This includes places to record the date, location, who you went with, first impressions, sights, wildlife and more!
The Icebreaker Tech Lite Short Sleeve Scoop Refraction is a Merino Wool Shirt that is perfect for four seasons of hikes, trails and travel. 
Made from 87% of Wool and 13% Nylon, this shirt is highly breathable, soft and comfortable to wear. The feminine scoop neck silhouette and the core spun fabric helps add strength and enhanced durability. To add a unique look of the shirt is the screen print original artwork of Jennifer Cooke.
This flashlight is the perfect gift for outdoorsy women. It is super bright with 900- lumen LED lights, it is said to be able to light up an area covering two football fields. The flashlight can also focus and zoom in, it has up-to 6 hours of battery life, and can be charged via a USB cable.
This flashlight is great for hiking or camping, as the flashlight is tough and IP65 water-resistant, ideal for use when it's raining.
There are many types and brands of hiking boots, but one of my favorite brands is Keen. These Keen Women's Targhee hiking boots are perfect for outdoorsy women who love to go hiking.

These hiking boots are available in three colors – bungee cord redwood, magnet Atlantic blue, and magnet balsam. These hiking boots are waterproof to ensure your feet are dry and comfortable throughout the day, with a one-way system which allows water out but not inside. They are made from premium leather from an LWG-certified tannery and PFC-free water repellant.

These boots are mid-cut height offering great ankle support with a padded tongue and collar for ultimate comfort and stability. The soles of the boots have great grip and traction but are also made from non-marking rubber so leave no marks when walking inside.

This Big Agnes backpacking chair is great for camping, hiking, or just general outdoor activities.

This chair is ultralight and is easy to transport and carry with a strap and carry-case. It is designed for optimum comfort and the frame has interlocking poles for increased stability. It also has aircraft-grade aluminum thick poles, making it stable on all kinds of terrain.

This chair is 38 x 36 x 53cm, is available in black, and can hold up to 113kg.
This hammock is the ultimate gift for outdoorsy women, with adjustable tree straps it can be hung between two trees anywhere. It is one of those unique gifts for outdoor lovers.

It is also lightweight making it easy to carry and use whenever you need it. Whether you want to camp overnight in the hammock or set it up to relax and chill for a break when hiking, this is the perfect hammock.
This Sequoia 22 Camelbak is a great gift for outdoorsy women who enjoy hiking. This daypack has a capacity of 100oz and is available in olive granite/foam green.

This daypack has a 3L liquid holder in a separate compartment with a crux straw with an on and off lever. It also has a ventilated NV back panel that features comfortable straps and upper pods for ultimate comfort.

The daypack also features a waist belt for comfort, zipper pockets for snacks, a large storage compartment, and smaller pockets. It also has a fleece-lined compartment ideal for protecting sunglasses and loops for carrying poles.

This daypack is ideal for women as it has been shaped to fit a woman's torso and the straps are s-shaped for a great fit and comfortable for long hiking trips.
This women's Merino t-shirt is a great gift for outdoorsy women, made from New Zealand Merino wool, it is soft and high-quality. 

Available in red-fawn this t-shirt is stripped with a scoop neck, and short sleeves. This t-shirt is perfect for hiking or outdoor activities. It is breathable and comfortable, perfect for traveling and wearing while being active.
Perfect for 3 seasons, come rain shine, or snow, this is the perfect sleeping bag to keep you dry and warm from the elements. Whether you are backpacking or camping, this sleeping bag provides insulation in cold weather with a 600-fill drawdown, which means it retains heat, while also being soft and comfortable.
Available in four sizes – long, regular, short, or women's regular. There is a sleeping bag size for everyone.

The sleeping bag has a two-way locking anti-snag zipper, with a thermal hood, and a bag to keep it stored away neatly. This sleeping bag even has a small pocket ideal for storing your electronics.
The Therm-a-Rest self-inflating camping mattress makes camping feel like you are sleeping in your bed. With a thermal foam layer, alternating ridges of air, and foam.

This 4.5-inch thick sleeping mattress is perfect for sleeping under the stars, with a twin lock valve for fast inflation and deflation. Having your bed ready in just minutes.

This mattress is 77x25x4 inches when inflated, and 26×7 inches when rolled up. Its perfect for overnight backpacking and camping. You can check out my post on the Best Sleeping Pads for camping for a list of sleeping pads.
Everyone loves listening to music and what better way to listen to music while you are hiking, kayaking, or camping, than with this Wonderboom portable waterproof speaker.

This Wonderboom speaker might be small but it has an incredibly crisp sound and offers 360-degree sounds. It is also waterproof which is ideal when camping, traveling or being outside.
With the ability to connect via Bluetooth with over 10 hours of battery life, ideal for a weekend of camping.

This speaker is great for traveling, as it's small and can be attached to a bag or item with its top hook.

Rain is no excuse not to get outdoors. And outdoorsy women will love this reusable rain poncho.

Available in black and green, this poncho is made from waterproof high-density polyester, and is both rip and snag resistant. It also folds up into its bag so it can be easily put into a backpack for traveling and camping.
This poncho is great for everyone, with a high strength zipper, a drawstring hood, rain visor beak, and it even has room for a backpack to be worn underneath. This allows you to keep all your belongings dry from the rain.

This poncho is perfect for hiking, camping, fishing, outdoor events, concerts, shows, festivals, as a ground mat to sit on, and even a sunshade.
This Yeti backpack cooler is the perfect gift for outdoorsy women, it's the item you didn't know you needed.

Available in three colors – grey/blue, coral, and navy. It is also big enough to fit drinks and snacks for your trip, whether it's a camping trip to a day trip to the beach. It is ideal for traveling, road trips, or even just a day trip out.

The backpack cooler can fit up-to 20 cans and has a measurement of 19x14x8inches. The zippers are tough and 100% leakproof.

The cooler is designed to distribute the weight evenly across your back for comfort and ease of carrying, and also has comfortable padded shoulder straps, chest strap, and waist strap.
There is nothing worse than hiking with wet socks, but with these Carhartt socks, those days are over.
Made from Merino wool and made to keep your feet cool and dry, these socks have hiking in mind. The wool is lightweight and has arch support to keep your socks from moving around in your shoes.

That's not all these socks have, they have mesh cooling channels, odor protection, and fast-drying technology. They are the perfect gift for an outdoorsy hiker.
A Fitbit is a perfect gift for an outdoorsy woman who loves hiking and being active. This Fitbit is available in three colors – pink, black, and navy, depending on what color you desire.

This watch has all the functions you would expect with a fitness tracker and more. With up to 6 days of battery life, a 24/7 heart rate monitor, you can store and play music on it, it has a built-in GPS and voice assistant.

It is small but mighty and is perfect for tracking your steps when exploring, tracking your hiking route, and tracking your outdoor activities.
I love mine and I'm such a geek checking how many steps I've done that day. Its a great way to track how far you hike.
No camping trip is complete without a headlamp, and this one by Milwaukee is one of the best. This headlamp has over 31 hours of running time and is charged via a USB.

It has adjustable buckles to tighten the straps and clips so you can add it to a hard hat. It is water, dust, and drop resistant ideal for taking on a camping trip to see once it gets dark.
This travel journal is fitting for adventurers and outdoorsy women who like to record their adventures, jot down great hikes, travel, or just journal.

It is a high-quality faux leather journal with the ability to refill pages when required. The cover is padded and has premium pages. The journal is A5 size and has 120 pages with lines and numbers on the bottom.

This journal is made of vegan leather, 100% synthetic, and animal-free. With the ability to refill this journal is long-lasting and pages can be added if necessary.
A flexible tripod is a great gift for not only photographers but those who just enjoy taking pictures. This tripod is very portable and compact making it perfect for just throwing in a backpack when traveling or camping.

It fits iPhone's, galaxy phones, as well as Canon 1300D, Nikon D5300, among others.

Compared to other tripods this one is high quality, with robust rubber-coated legs, which can be moved around and attached to things such as trees, benches, tents, canoes, or other places. It is also waterproof and easy to set-up.
For those who like their coffee, this Espro travel coffee press is great. With the ability to make a french press coffee on the go. It has a two-stage micro-filter to ensure no coffee escapes when you press down the filter.

The stainless steel insulated walls of the cup keep coffee hot for 4 to 6 hours, ideal for coffee on the go, or when you are out and want to sip coffee when hiking. The lid is leak-proof and has silicone seals to ensure it doesn't spill.

This coffee press cup is perfect for traveling or having a coffee on the go.
This Diva cup is an alternative to other period products, with the ability for the cup to be reused for years.

Made of 100% medical grade silicone, it has no added chemicals, no BPA, no latex, dyes, or plastics. It is comfortable and convenient, perfect for use on the go. It gives up to 12-hour leak-free protection and is kind to the environment.
I have been using mine since 2014 and I love it. It's sustainable, eco friendly and less messy than other products. The 12 hour protection is key for active women.
A woman's guide to the wild is a book written by Ruby McConnell. Ruby is a writer, dancer, and geologist.
It's a great read for those who enjoy camping, hiking, and backpacking. With practical information and tips about everything outdoors.

It's a great source of information for both beginner and veteran adventurers. It's easy to read books and a useful guide.

It is a great gift idea for adventurers, everyone can take in the tips and learn something new.
Moon has published the USA National Parks: The Complete Guide to all 62 Parks, and it's perfect for people who visit national parks. The book features lists for hiking, wildlife, families, drives, and experiences in each park.
Each of the 62 national parks featured in the book includes the best outdoor adventures in each park, detailed descriptions, trail maps, road trip guides, planning resources, expert advice, and things to know before you go.

This book is not only filled with facts and information it also features full-color images, a section for park stamps, and a fold-out poster map.
The North Face women's Apex Bionic 2 Jacket is available in three colors – light grey, dark grey, and black.

This jacket is perfect for traveling, hiking, and outdoor activities. The jacket offers windproof protection, while still being breathable. This jacket is water-resistant so no need to worry if it rains. The jacket has a mesh lining, a smooth-faced lining over the sleeves, and a full-length front zip. The jacket has a fleece lining inside for warmth.

Ideal for backpacking, running, or other activities, in all weather and a great gift for outdoorsy women.
This Garmin Vivoactive 4S watch is both stylish and great for recording activities.
This is a great gift for outdoorsy women with the ability to record statistics such as your pulse 24/7, with 7-day battery life.
There are more than 20 loaded GPS sports loaded so when you want to participate in an activity you can just click on your deserved activity and start recording your workout. These activities include yoga, hiking, walking, strength workouts, pilates, cardio, running, swimming, and more.

This watch is easy to use and can connect to a third-party music app, and the ability to connect headphones.

It can also connect to a smartphone, and receive email and text notifications right to your wrist.
Have you ever been hiking or skiing and your hands got so cold you couldn't warm them up? Well, now you can with this rechargeable hand warmer. This hand warmer is not only a hand warmer it also doubles as a power pack to charge your electronics.

This hand warmer is safe to use, with built-in protection for overheating, over-charging, and short-circuit protection. So there is no need to worry about the safety of the device.
It is compact so can easily be fitted in your pocket or backpack, for easy transportation and taken out when needed.

It is ideal for skiing, hiking in the cold weather, traveling, fishing, camping, and other outdoor activities.
This small solar-powered light is perfect for camping, with a built-in rechargeable battery, which lasts up to 24 hours on a single charge. The light provides ample light with 10 white LED lights.

The light is recharged via a solar panel which ensures it requires no additional batteries. The solar panel is high efficiency and can offer a full charge in 7 hours.

It is small enough to attach to your backpack or fit comfortably inside your bag, as it folds to 1.5 inches and weighs 125g. The light also has an IP67 waterproof rating which means it is submersible in water for up-to 1m.
In this list of 31 gift items for outdoorsy women, you are sure to find the perfect gift for your friend, wife, or family member.
Recent Posts