Most Romantic Hotels in Las Vegas: Vegas is quite a romantic destination and that's why I have put together this list of best Vegas Hotels for Couples.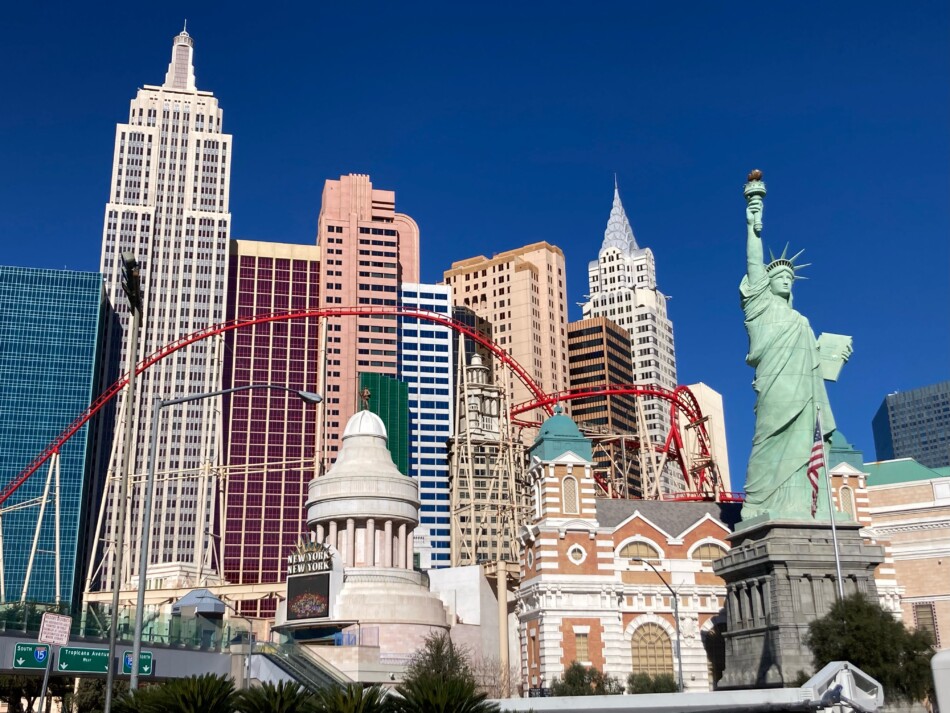 I've included all sorts of best couples hotel in Vegas in this list including best hotel on Las Vegas strip for couples, most romantic hotels in Las Vegas, couples resorts Las Vegas, and best hotel in Vegas for young couples all so you can plan one of the best romantic getaways in Vegas.
You can also use my guide to Romantic Things to do in Vegas to help you plan your trip further. You can also check out my article on the Best Hotels in Vegas with Jaccuzis!
Thank you for supporting this website written by an American. This post may contain affiliate links. This means I earn a small commission on these links at no extra cost to you.
Here is a summary of the Top Romantic Hotels in Las Vegas: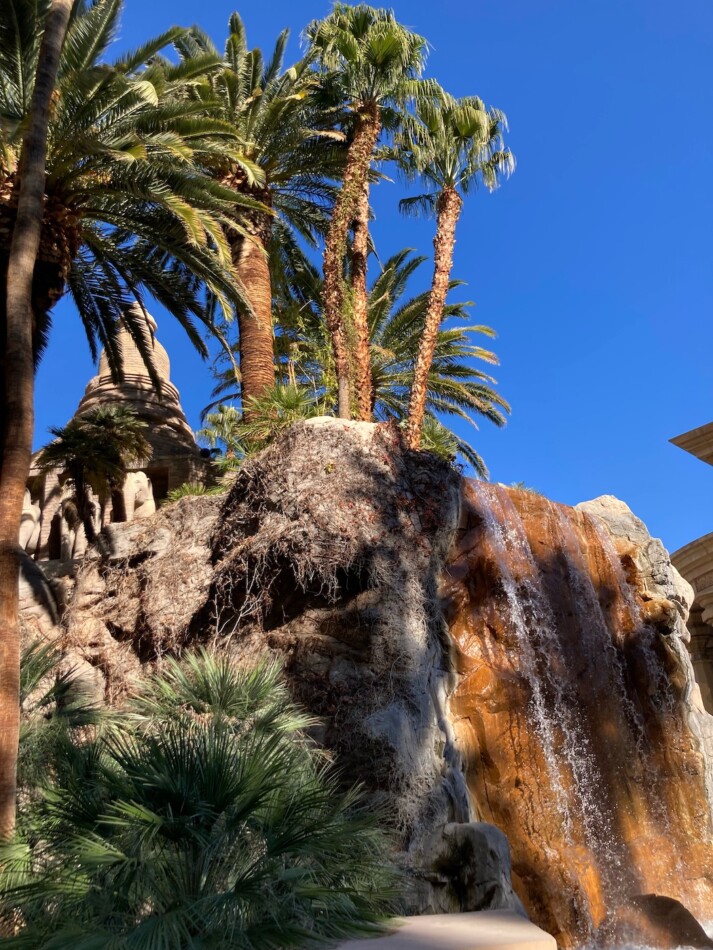 10 Romantic Las Vegas Hotels for a Las Vegas Romantic Getaway
Encore at Wynn Las Vegas – One of the Best Hotels in Vegas for Couples
This 5-star hotel and casino is adjacent to Wynn Las Vegas and is located right on the Las Vegas Strip. It has a five-star hotel, signature restaurants, and an award-winning spa.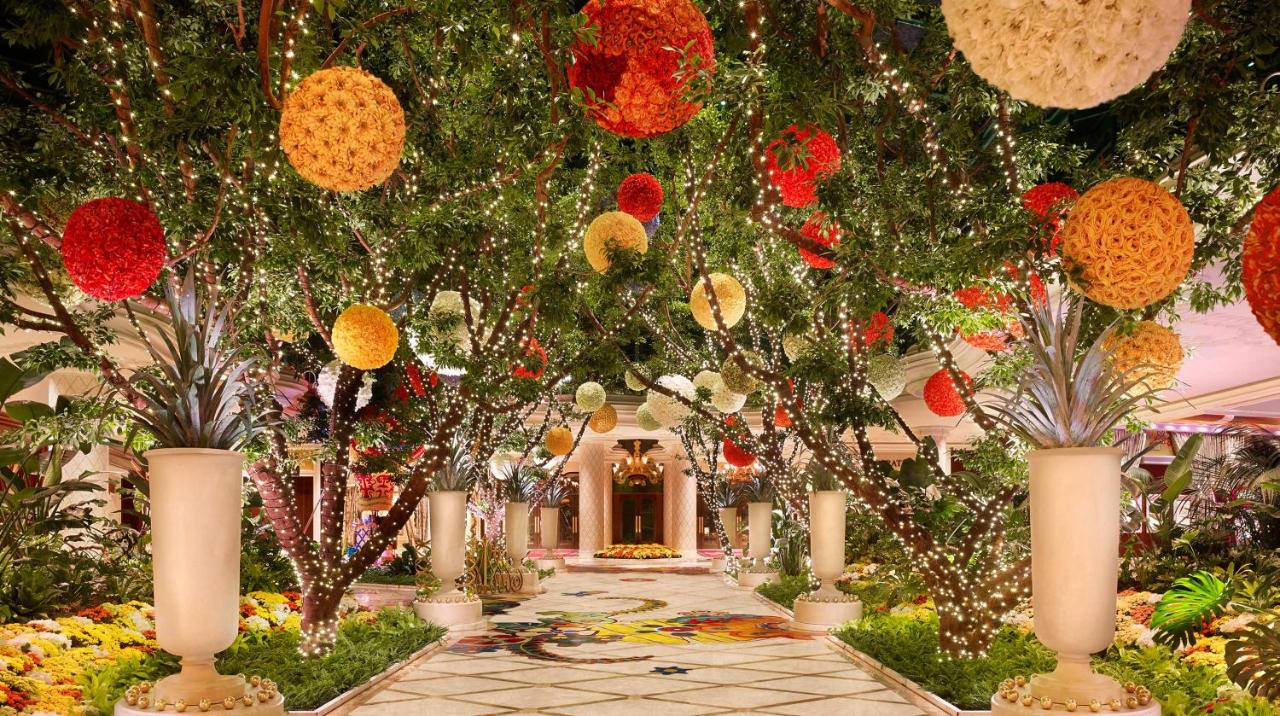 The Encore at Wynn Las Vegas offers enormous suites with modern décor and floor-to-ceiling windows. Each suite has at least two flat-screen televisions and a living area with a minibar. There is a workroom with cutting-edge office equipment.
Encore's restaurants serve a wide range of cuisines, from quality steaks to classic Italian. XS Nightclub, which includes a full bar and entertainment near the outdoor pools and cabanas, is one of the hotel's two on-site nightclubs.
This is an excellent choice for couples that want to be in the heart of it all while also being ready to splurge on a little luxury. Couples will find a casino, cabanas to rent, and nightclubs to keep them entertained.
The Wynn is unquestionably one of the top hotels in Vegas for couples, thanks to its gorgeous decor and excellent service. It's no surprise that anniversaries, bachelor/bachelorette parties, and weddings are held here. All of the restaurants and activities on Las Vegas Boulevard are also within walking distance of this hotel.
Sound Interesting? Check Availability and Rates
Vdara Hotel & Spa at ARIA Las Vegas – One of the Best Romantic Suites in Las Vegas
Vdara Hotel & Spa at ARIA Las Vegas is another of the top Vegas resorts for couples. It is chic and serene. This boutique hotel is one of the city's most exquisite resorts, and it has everything you need for the perfect couple's vacation.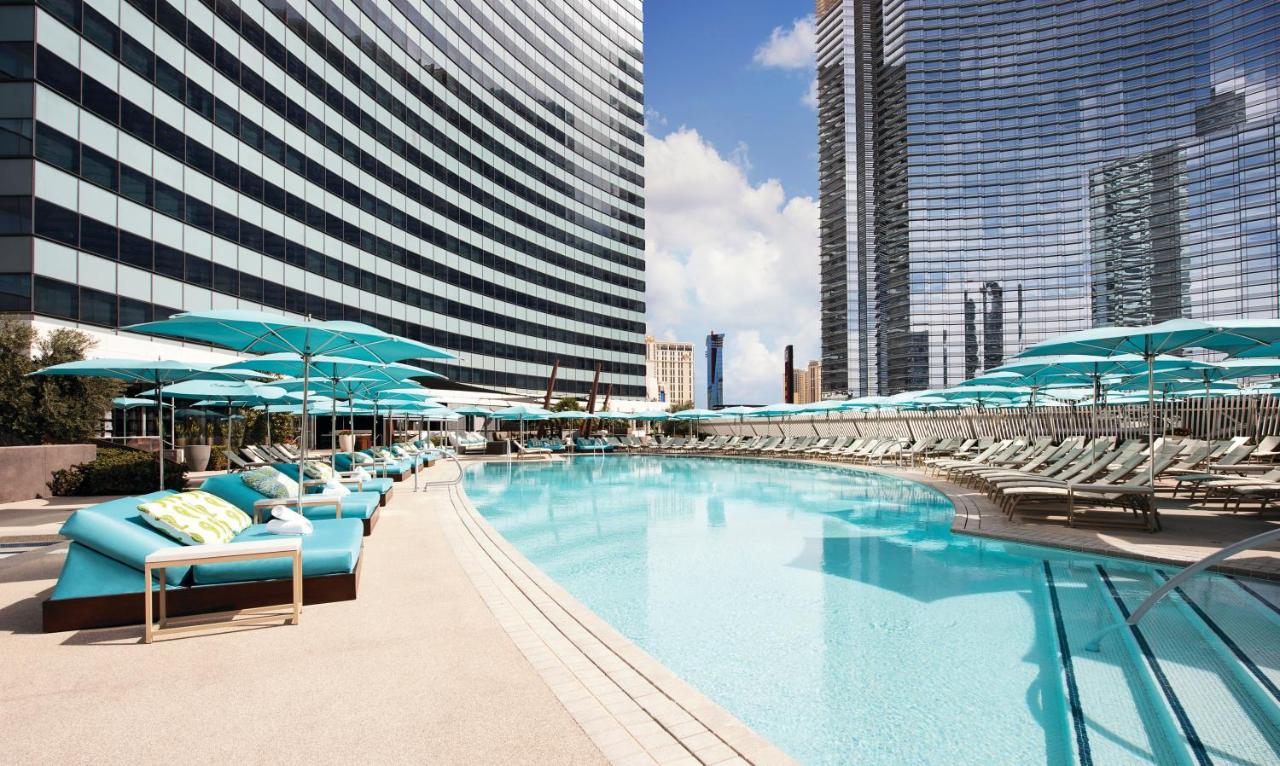 This hotel on the Las Vegas Strip offers suites with a 50-inch flat-screen television. Vdara at City Center is an all-suites hotel that is non-smoking and non-gaming. Many rooms have stunning views of the Strip, providing the ideal setting for a romantic night in. The smallest suite is fully equipped with outstanding facilities throughout, including a two-burner cooktop and a table for two people in the kitchenette. Larger rooms with a washer and dryer are available as an option.
The fact that all of ARIA's rooms have a fully stocked minibar, big bathrooms, and state-of-the-art temperature and lighting controls is perhaps its best feature. You may choose from a variety of guest rooms, Sky Suites, Tower Suites, and pet-friendly rooms. A jacuzzi suite with a view of the Strip is worth it because it includes a dining room, two marble vanities, a separate shower, and a large soaking tub.
The hotel is conveniently located near the Park Theater and T-Mobile Arena, making it ideal for enjoying the Vegas nightlife. On-site nightlife establishments such as Jewel nightclub and ALIBI Ultra Lounge are available. You will receive five-star service regardless of whatever facilities you use.
Sound Interesting? Check Availability and Rates
Waldorf Astoria Las Vegas – One of the Most Romantic Hotels in Las Vegas
Couples appreciate how their view of The Strip and the rest of the city is never obstructed from their hotel room. While there are floor-to-ceiling windows throughout the bedroom, couples can still keep an eye out for them in the glass-enclosed spa bathroom.
All rooms at the Waldorf Astoria Las Vegas have views of the Las Vegas Strip or the city. Robes, slippers, and complimentary toiletries are given in the bathroom. The rooms are also equipped with cutting-edge technology for lighting, air conditioning, and entertainment.
The Waldorf Astoria Las Vegas has a 27,000 square foot spa with a Zen Foot Spa and other heat and water activities. The furnished patio on the eighth story features cabanas, two lap pools, two hot tubs, and one plunge pool. Every hour, hotel personnel circulates to provide various services, such as sunglass washing and frozen fruit.
Twist by Pierre Gagnaire serves trendy French fusion food to guests. At Zen Kitchen, you can eat healthy Asian cuisine. With its unrivaled views of the Strip, the SkyBar on the 23rd floor is the perfect location for a drink. A night at the Waldorf Astoria is full of romantic possibilities, no matter how you spend the evening.
Sound Interesting? Check Availability and Rates
Park MGM Las Vegas – One of the Top Romantic Hotels Las Vegas
Park MGM Las Vegas is located on the Las Vegas Strip and has a casino as well as its theater, Dolby Live at Park MGM, which seats 5,200 people and hosts top musical performers from all over the world. There are three pools at this modern resort, each with poolside cabanas. Each room has an LED television with premium cable service. An in-room safe, blackout shades, an oversized vanity, and bedside outlets for phones and computers are included in each spacious room at Park MGM Las Vegas.
At Bavette's Steakhouse & Bar, guests may enjoy great dining and French-inspired cuisine. Flavorful rib-eyes, fresh seafood towers, traditional side dishes, house-made desserts, strong cocktails, and a well-curated world wine selection are among the restaurant's offerings, which are accompanied by vibrant jazz music. Primrose restaurant, which is designed to look like a country house, serves cuisine from the South of France. In the drawing-room, dining room, or among the trees in the outdoor terrace and garden, the menu features garden-inspired cuisine and beverages.
Further, sports betting, slots, and a range of table games are available at Park MGM Las Vegas' on-site casino. Guests can place bets and purchase food and beverages at BetMGM Sportsbook & Bar.
Guests of Park MGM Las Vegas can also make reservations for performances, dining, cabana and car rentals, nightclubs, and more at the concierge desk.
Sound Interesting? Check Availability and Rates
Bellagio – Best Hotel in Vegas for Couples
The Bellagio Las Vegas is oozing with glitz and luxury, and there are numerous reasons why couples will want to stay there. Every guest room and suite features opulent and exquisite decor, as well as a little something more for guests.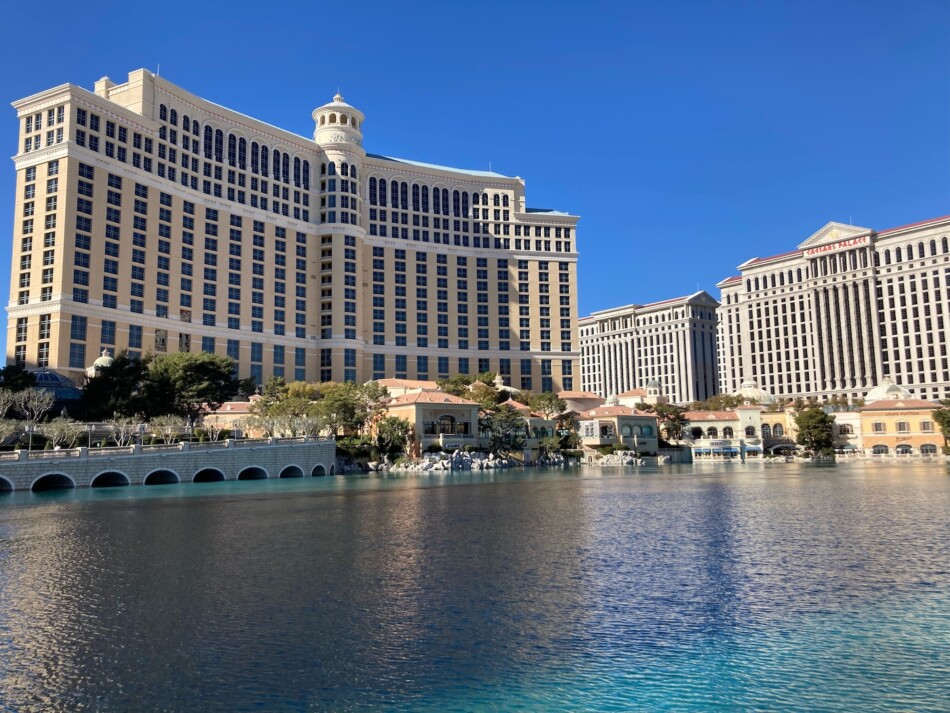 The Bellagio, located in the heart of the Strip, is a stunning luxury resort featuring some of the greatest suites in Vegas for couples. It has a salon, a gym, five Mediterranean-inspired pools, as well as a variety of gaming, dining, and shopping options.
The Bellagio's lavishly designed rooms include a flat-screen satellite TV and smart curtains. There are also soft bathrobes, a minibar, and an iPod docking station. Guests at Bellagio can relax in one of the five stunning courtyard pools or stroll around the lush botanical grounds. Sadelle's, Prime Steakhouse, and the Mayfair Supper Club are among the many dining alternatives available. The hotel also has several upscale boutique shops.
It's worth it to upgrade to a penthouse suite or a room with a view of the Bellagio Fountains from the luxury of your bed. Every night, a dancing water show with specialized water jets and state-of-the-art lights set to music takes place.
The Spa at Bellagio, one of Las Vegas' premier spas, features a steam room, sauna, whirlpools, massages, and other body treatments. With luxurious robes, private bathtubs with marble countertops, and a mini-bar, you may have a private spa day in your quiet room or suite. Floral arrangements, decorations, food delivery, and in-room massages can all be arranged by the hotel's welcoming staff.
Sound Interesting? Check Availability and Rates
The Palazzo at The Venetian – Las Vegas Resort for Couples
The Palazzo has a classic feel to it, which is one of the reasons it is regarded as one of the top Las Vegas hotels for couples. The guest rooms are almost the largest with sunken living spaces, marble bathrooms, and large windows with spectacular views.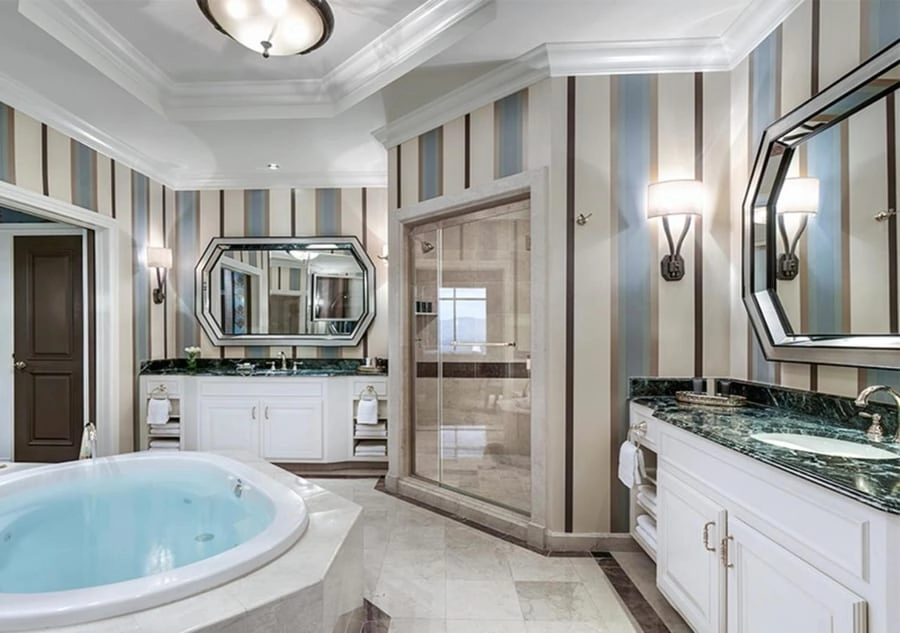 The Palazzo at The Venetian® features large suites with a separate living room and dining table. Two LCD HD TVs, a DVD player, and high-speed Internet access are available in the room. A 19-inch flat-screen TV and luxury amenities are included in the extra-large bathrooms.
The Aquatic Club, a fashionable reference to the tiny yet active milieu of social and racquet clubs of the past, is one of the Palazzo's ten outdoor pools. Guests will find more than 150 international boutique shops in the Grand Canal Shoppes. A continental breakfast with pastries, fruit, coffee, tea, and juice is also available for grab-and-go.
Over 80 restaurants and bars provide a wide range of cuisines from around the world at the Palazzo. At The Dorsey, guests may relax and enjoy authentic cocktail culture in a pleasant, cheerful atmosphere.
As a Palazzo guest, you'll have access to the Venetian's excellent facilities as well as the Palazzo Pool Deck. With cabana rentals, temperature-controlled pools, and hot tubs, this is one of the greatest pools in Las Vegas. If you're looking for the ultimate romantic break, staying in the exquisite Palazzo Tower is a splendid choice.
Sound Interesting? Check Availability and Rates
Caesars Palace Hotel & Casino – Best Hotels in Vegas for Adults
What's not to love about Caesar's Palace?  The stunning property is one of the top hotels on the Strip, with a fantastic location and some of the most luxurious amenities.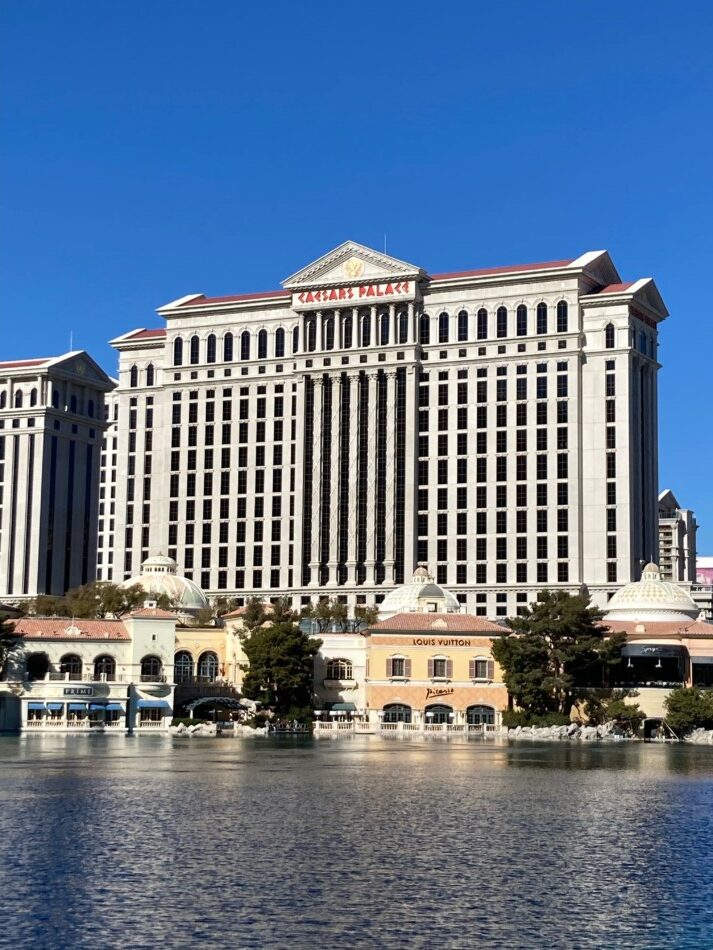 This hotel has been around for more than fifty years, and they've figured out how to serve its customers such that they keep coming back for more.
This premium hotel and casino boast celebrity-owned restaurants, The Forum Shops, an upmarket spa, and seven swimming pools. A flat-screen cable TV is also available in every room. Each accommodation at Caesars Palace has an en suite bathroom with complimentary toiletries. Room service is available 24 hours a day.
Gordon Ramsay's Pub & Grill, Gordon Ramsay Hell's Kitchen, Mr. Chow, and others are among the dining options. On-site dining options include the legendary 500-item Bacchanal Buffet and casual dining options like Beijing Noodle No. 9.
Massages, facials, and body treatments are all available at the Qua Baths & Spa. There are other unique spa experiences available, such as a Roman Bath hydrotherapy circuit and an Arctic Ice Room, where man-made snow falls on spa customers as they relax on heated benches.
Caesars Palace will assist you in making your time together unforgettable, no matter how you want to spend it.
Sound Interesting? Check Availability and Rates
Paris Las Vegas Hotel – Best Suites in Vegas for Couples
Could you ask for a more romantic Las Vegas hotel than Paris Las Vegas?   The resort is centrally located on the Strip and features amazing facilities that will transport you on a European vacation.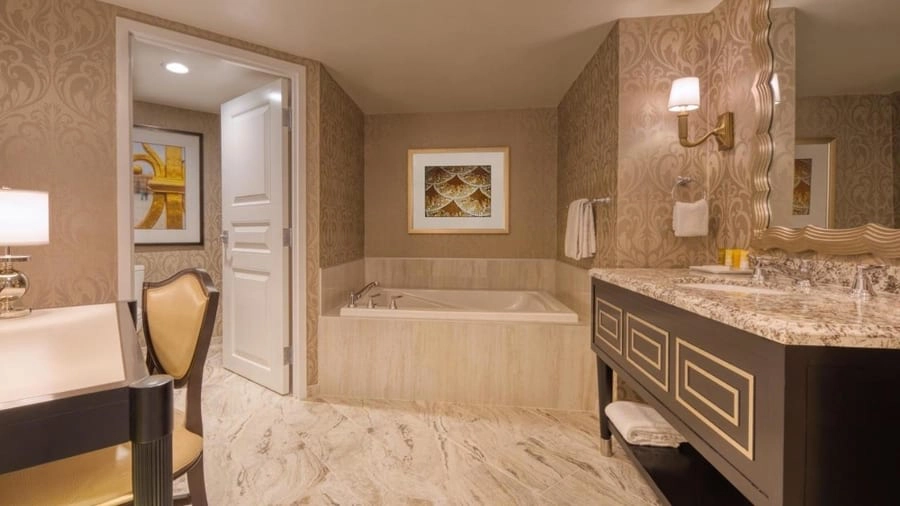 Elegant furnishings, rich colors, and soft fabric abound in the opulent rooms, which also feature arched windows as an added treat. The marble finishes in most bathrooms are enough to make any couple feel like they are the most important people in the world.
The Paris Spa, a full-service spa and gym, is located in Paris Las Vegas. After the spa, guests can play slot machines, table games, and keno at the casino, or watch nightly entertainment in the hotel theater.
While room service is available for any meal, couples may want to have breakfast at one of the patisseries. Le Village Buffet offers a wide variety of French food, so couples may discover exactly what they're looking for at any time of day. While the buffet features prime rib, snow crab legs, and the greatest truffle macaroni and cheese in town, the macaroons are perhaps the most well-known dish.
The Eiffel Tower replica, which stands 46 stories tall and is regarded as one of the most romantic sites on the Strip, is the resort's most recognizable feature. Some of the best things to do in Las Vegas as a couple include observing the city from the viewing deck, dining at the Eiffel Tower restaurant, and enjoying the free light show.
Paris Las Vegas will not disappoint, whether you come for a simple French-inspired breakfast or to get married in one of the hotel's magnificent chapels.
Sound Interesting? Check Availability and Rates
Delano Las Vegas at Mandalay Bay – The Best Las Vegas Hotel for Couples with Kids
Sometimes you have to get away with the family. The Mandalay Bay is perfect for families with children. It's not just one of the top Las Vegas hotels in general, but it's also a fantastic Las Vegas resort for couples.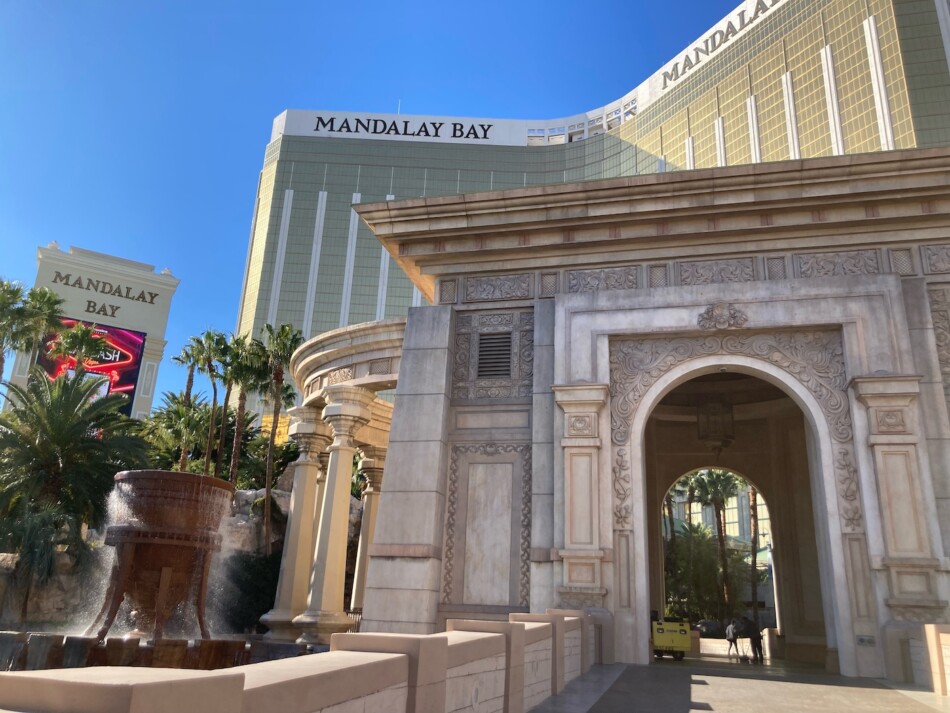 This all-suite tower is part of the Mandalay Bay Hotel and is located right on the Las Vegas Strip. It has a full-service spa, a shark tank, and beautiful accommodations with cable TV in Mandalay Bay.
Every suite at the Delano Las Vegas at Mandalay Bay comes with a hairdryer and an en suite bathroom. With views of the Strip, the pool, or the mountains, the suites feature a separate living and bedroom area.
Delano Beach Club is a premium pool club with personalized services that are only available to guests of the Delano Las Vegas. Guests can choose between a bustling ambiance and an intimate retreat, which includes a submerged chess board, specialty beverages, and chaise lounges. At the hotel, private poolside cabanas are also available.
The pool area, which comprises the kid-friendly Mandalay Bay Beach and Daylight, the perfect party pool, is one of the resort's highlights. If you're traveling as a couple, Moorea Beach Club, the hotel's luxury, adults-only pool, is a good choice.
Sound Interesting? Check Availability and Rates
The Cromwell Hotel & Casino – Boutique Romantic Hotel in Las Vegas
The Cromwell is a boutique hotel, one of the most recent types of hotels to appear on The Strip. Because they provide individualized service in smaller settings, boutique hotels are regarded as the most romantic hotels in Las Vegas for couples.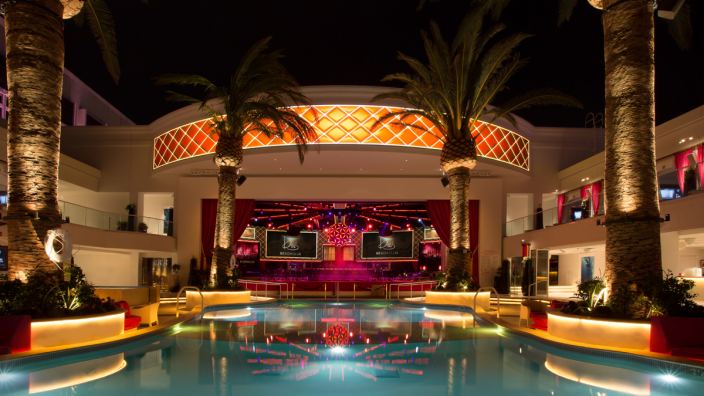 The rooms at The Cromwell are not small, and couples will appreciate their spaciousness. Each guest room features antique furnishings and rain showers, although couples may prefer The Cromwell Suite, which includes a huge dining room table for eight people as well as a pool table.
Each air-conditioned room at The Cromwell has a flat-screen TV. The guest rooms are decorated in a historical and modern style and feature a work desk and a seating area.
At Cromwell's casino, guests can enjoy slots, table games, and a private gaming area. Drai's Night Club and After Hours, which has DJs, 150 VIP tables, and panoramic rooftop views of Las Vegas, also allows priority entrance to the VIP line.
Couples who don't want to travel too far down The Strip for a meal will like the fact that they may have a romantic meal at GIADA. Giada de Laurentiis owns this restaurant. Couples can savor favorites like mushroom crostini, pizzettes, and cacio e pepe bucatini, which are always cooked to perfection. There are also vegan and gluten-free choices.
Sound Interesting? Check Availability and Rates
Palms Place Hotel and Spa – Best Vegas Resorts for Couples
The Palms Casino Resort has just been renovated and is conveniently located near the Strip. There are three distinct buildings here, each with unique suites, tranquil feelings, and trendy settings.
The Las Vegas Palms Place Hotel and Spa's contemporary guest rooms have floor-to-ceiling windows, a kitchenette, and an all-marble bathroom. There is a 42-inch plasma flat-screen TV in each room, as well as free Wi-Fi. Guests can unwind in the co-ed hammam or Turkish bath when our spa reopens.
The seasonal and contemporary 50,000-square-foot pool is accented with waterfalls and stone gardens and is located on the 6th floor.
If you and your partner prefer steak and buffets, there are some excellent options available. The Palms' spa includes a Hamman created for couples to enjoy together, and the Apex Social Club is a top entertainment scene to check out.
Sound Interesting? Check Availability and Rates
Recent Posts