21 Awesome Arizona Lakes to Explore – Family Friendly, Water Sports and Sunbathing
Arizona Lakes: Are you looking to spend the weekend on one of the lakes in Arizona? This list of the best lakes in Arizona is for anyone looking to relax on the beach, participate in water sports or just relax and listen to the waves.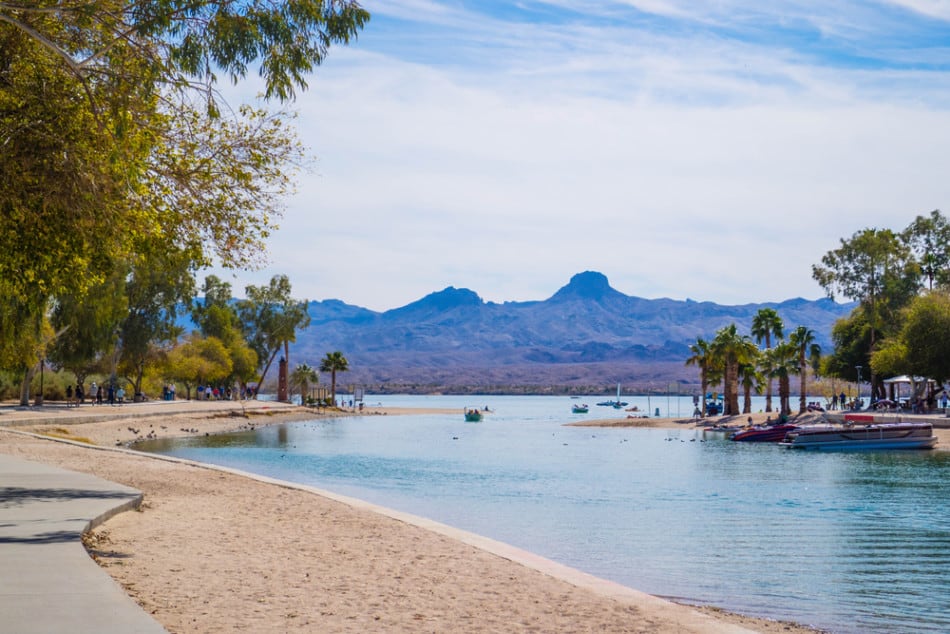 You can also check out my post on the Best Beaches in Arizona and Cool Small Towns in Arizona to explore
Stunning Lakes in AZ you'll want to check out

1. Lake Havasu
Lake Havasu is the southernmost of four large reservoirs on the Colorado River and it covers 35 miles of the river along the Arizona/California border.
It was formed in 1938 by completion of Parker Dam which its main purpose is to store water to supply two cross-country canals.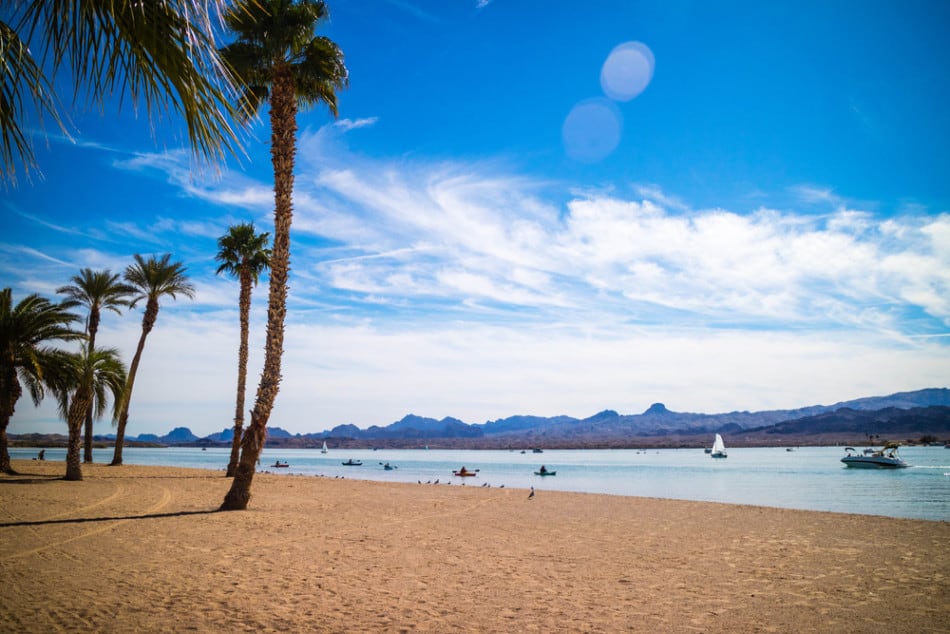 Although it is not a major tourist destination due to its remote destination, some college students flock here during spring break to catch some fresh air.
Also, during winter, this lake is popular with snowbirds because of its mild weather condition.
The main recreation activities that you can do around the lake are fishing and boating and the water is clean and surrounded by the scenic Lake Havasu City.

2. Theodore Roosevelt Lake
Theodore Roosevelt Lake is a massive reservoir nestled in central Arizona and it is hailed as the largest lake in Arizona with a surface area of over 8,600 hectares and a 205 km shoreline.
This lake was named after the former President Theodore Roosevelt and it is known for its great fishing because of the various fish species living in the water such as sunfish, carp, crappie, smallmouth bass, and channel catfish.
In fact, fishing is so great here that you can always catch one, and if you don't catch a fish, it only means you are not trying hard enough.

3. Lake Pleasant Regional Park
Lake Pleasant is a great place for recreation activities like hiking, camping, mountain biking, and picnicking.
This largest lake in Phoenix boasts of its surface area of under 12 square miles and a shoreline that extends for over 180 kilometers.
Fishing is also a popular recreational activity in this area and it is considered as a boaters dream because several fish species can be found here such as white bass, sunfish, tilapia, crappie, and a lot more.
This park also offers 148 sites for RV and tent camping and each developed sites is equipped with water and electricity, a dump station, covered ramada, picnic table, barbecue grill, and fire ring.

4. Canyon Lake
Canyon Lake is a perfect spot if you just want to cool off and go for a nice swim, hang out on the beach, or just want to experience good scenery and seclusion.
According to its history, Canyon Lake is the smallest of the Salt River Project lakes and boasts great fishing in the area.
The lake is a well-known spot for recreational activities such as camping, hiking, and boating. You can also do scuba dive, bird watch, Jet Ski, wake board, and more here.
And just like most lakes in Arizona, Canyon Lake is also a great place for fishing. You can find various fish species like rainbow trout, largemouth bass, yellow bass, carp, and walleye.
But what makes this lake different from others is that the scenery is astonishing and it is surrounded by the Superstition Wilderness Area.

5. Saguaro Lake
Despite being a desert climate, there are several beautiful lakes and reservoirs that can be found in Arizona and one of them is the Saguaro Lake. This lake is located in Tonto National Forest and approximately 40 miles east of downtown Phoenix.
The Sagurao Lake offers various recreational activities and picturesque surroundings and natural landscapes. It is also a popular spot for great fishing and it is a home to some of fish species like rainbow trout, largemouth bass, yellow bass, crappie, tilapia, catfish, channel catfish, etc.
This lake has also a 35 kilometer shoreline and has a restaurant, boat ramps, restrooms, and picnic tables which makes it a perfect getaway in Arizona.

6. Apache Lake
Surrounded by the Superstition Wilderness and the Three Bar Wildlife Area, Apache Lake is one of the most scenic drives in Arizona and it is a perfect site for boating, fishing, water skiing, hiking, and camping. It is located 65 miles of northeast Phoenix and sets alongside the Apache Trail.
And if you are looking for a romantic getaway near Apache Lake, you can book for a stay at Apache Lake Marina and Resort that offers comforts and amenities such as a motel, gas station, coffee ship, boat ramp, and 12 trailer park units.

7. Woods Canyon Lake
Just two hours away from Phoenix, Woods Canyon Lake is a go-to outdoor destination for Arizona families since 1956.
The lake was created primarily for recreational use and fishing is a popular thing to do here even though it is a small lake. However, Arizona fishing regulations must apply and all anglers must hold a valid Arizona Fishing License. 
Camping, hiking, and biking are also a favorite by many visitors and Wood Canyons Lake is open and accessible throughout the entire year. The Woods Campers are also welcome in this area and stay at one of four developed campgrounds.

8. Bartlett Lake
Bartlett Lake is a long and narrow lake with sandy beaches on one side and it is located in a small valley in the northern side of the Tonto National Forest.
It is a popular fishing hotspot to locals with various species of fish that you can catch here. 
Camping at Bartlett Lake is also a good especially if the weather is right. It offers dozens of campsites during fall when the water level falls significantly. Some of the campsites are private and if you want the best spot, it is highly suggested that you arrive early and set up a tent.
This little oasis is a bit of everything because you can also do other outdoor activities such as off-road trails along the water or swim for a few hours on the lake.

9. Lynx Lake
Located 15 minutes Southeast of Prescott, Lynx Lake is a great place for your next fun outdoor activities with your squad or family.
Although swimming is not allowed, this lake still has a lot to offer. You can do a lot of outdoor fun here such as boating, fishing, camping, hiking, sailing, kayaking, and canoeing. 
You can also rent a boat at Lynx Lake Store and have a tour of the lake and its beautiful surroundings. But if you do own a boat, it is worth noting that only 10 horsepower or less engines are allowed at Lynx Lake.
Strolling around the lake is also a popular activity and you can check out the Lakeshore Trail. It is a two mile long trail that shows all the way around the lake.
And after a fun day of exploring the area, you can have a picnic with your family and friends on the north and south shores of the lake. 

10. Tempe Town Lake
Hailed as Arizona's second-most visited public attraction, Tempe Town Lake is a more than 2 mile long lake located in the city of Tempe in central Arizona.
The lake was created in 1997 and became open to the public in 1999. Today, the lake acts like a river basin to fetch rainwater and snow run-off. 
It has a system of paths that allow visitors to wander around the area including walking, jogging, and biking. Boating and fishing are also popular activities within the lake.
There is a huge marketplace along the lake's southern shores that has a mall, restaurants, fire pits, and a concert venue. And more than 2.4 million people spend time at Town Lake every year.

11. Alamo Lake
Alamo Lake is a popular recreational site and one of the top fishing spots in Arizona. It is surrounded by the famous Alamo Lake State Park which is one of the best places to fish for bass in Arizona.
You can camp and hike inside the park and there are cabins for visitors who want to enjoy comfort. 
In addition to that, camping and hiking are also offered, as well as swimming, boating, biking, and picnicking around the Alamo Lake.

12. Big Lake Arizona
Big Lake is one of the best fishing lakes there is in the White Mountains with an average depth of nine meters. And just like most of the lakes in Arizona, fishing is a popular activity at Big Lake.
The best time for fishing is between April to May, but the lake is open from April to December. 
There are 200 camping sites that surround the lake where you can bond with your squad or family, as well as picnic tables, showers, and restrooms. And campers enjoy the benefit of paved roads and a dump station. Also, two campgrounds give campers the entire campground all to themselves if they want that extra privacy.

13. Blue Ridge Reservoir
The Blue Ridge Reservoir should be on top of your bucket list for your next Arizona adventure. This lake is nestled in the Mogollon Rim area and it is one of the most breathtaking and enchanting reservoirs in Arizona.
It is surrounded by gorgeous and colorful trees and the reservoir has a surface area of 28 hectares and sits at an elevation of over 2,000 meters above sea level.
Boating is allowed at Blue Ridge Reservoir but boats are limited to 10 horsepower only. Fishing is also a popular activity and you can get fishing varieties such as rainbow, brown, and brook trout.

14. Willow Springs Lake
Just like the Blue Ridge Reservoir, the Willow Springs Lake also sits on top of the Mogollon Rim and just 37 kilometers east of Payson City.
This lake was first established in 1966 by the Arizona Game and Fishing Department primarily to give recreational activities for the locals and visitors of the area. 
The lake is set in the tall pines at a foot elevation of 7,600 and it has a surface area of 150 acres. One of the popular activities that you can do at Willow Springs is fishing which is abundant of various trout, bass, and sunfish.

15. Lake Mary
Lake Mary is composed of upper and lower lakes located southeast of Flagstaff in Northern Arizona. Both pairs of lakes are managed by the Coconino National Forest and it offers various recreational activities.
The upper Lake Mary is a long and narrow lake that is abundant with fish species like sunfish, rainbow trout, and channel catfish.
While the lower Lake Mary is slightly smaller than the upper Lake Mary and it is usually invisible during hot months. However, both lakes are considered a habitat for some of the wildlife such as elk, deer, bald eagles, and more. 

16. Goldwater Lake
Goldwater Lake is situated south of Prescott City and is currently managed by the City of Prescott Parks and Recreation.
The lake is well-known for fishing although swimming is not allowed in the lake. But you can also do other activities like kayaking and canoeing. 
The lake's shorelines have picnic tables, grills, volleyball courts, and children's playground which your whole family can totally enjoy.

17. Rose Canyon Lake
Just 48 kilometers from Tuscan City, there sits a beautiful lake called Rose Canyon Lake that is a 2.8 hectare lake that is nestled in the Santa Catalina Mountains. This is the only lake in the area that offers recreational fishing and it is one of the most serene lakes in Arizona.
To access the lake, you have to pass by Rose Canyon Campground which is a great place and it is surrounded by forest. Campsites are numerous in the area, as well as hiking trails and picnic areas.

18. Lake Powell
Lake Powell is one of the grandest and amazing lakes there is in Arizona. It is located in the northern part and stretches up into southern Utah. It is actually part of the Colorado River in Glen Canyon National Recreation Area with nearly 2,000 miles of shoreline.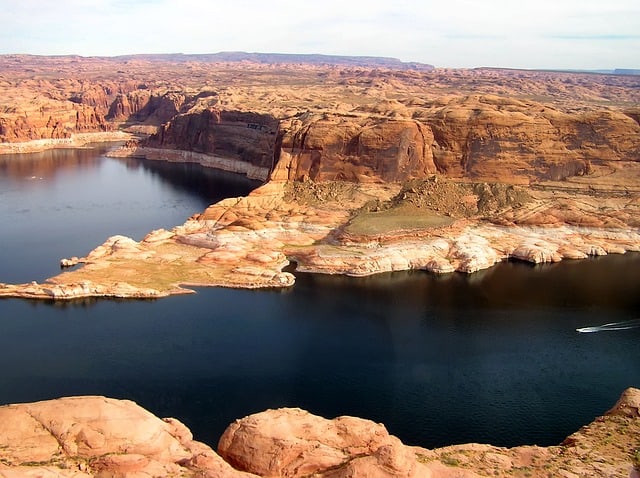 It is your ultimate playground when it comes to outdoor activities because here you can rent a houseboat, stay in a campground, or enjoy a lodging and hop aboard. In addition to that, dining is also a good experience here, from stunning panoramas and fabulous dinners, Lake Powell has a lot to offer aside from its spectacular scenery.

19. Lake Mead
Lake Mead is a man-made lake that lies on the Colorado River and it is considered as America's first and largest national recreation area.
This lake stretches across 1.5 million acres of mountains, canyons, and valleys accompanied by striking landscapes and brilliant blue waters. 
Boating, camping, fishing, hiking, and swimming are among the popular outdoor activities that you can do around the area. If you want to explore the whole area, it is highly suggested that you do it in the morning because the heat of the sun tortures your skin.

20. Chevelon Canyon Lake
Chevelon Canyon Lake is a small reservoir located in northern Arizona and it has a campground that is ideal as a fishing area. It is an isolated area and it's a great place if you want to stay away from people and just recharge with nature.
To reach the lake, you are required to hike for 3/4 of a mile to get to the waters edge from the parking area. But worry not, once you reach the lake you will be rewarded with views of the most scenic trout lake in Arizona. If you desperately need a time to relax and unwind, this is a great place to go to.

21. Roper Lake State Park
Roper Lake State Park is a state park in Arizona that is surrounded by a 32-acre Roper Lake. It has 30 lake surface acres, a boat ram, natural stone hot tub, a swimming beach, campgrounds, and a lot more.
If you are fond of bird watching, this is an excellent place to be. The common species of birds that can be fond here are Quail, Redwing, Blackbird, Yellow-headed Blackbird, Great-horned Owl, Herons, and a lot more. You can also find mammals here such as bobcats, raccoons, rabbits, squirrels, and coyotes.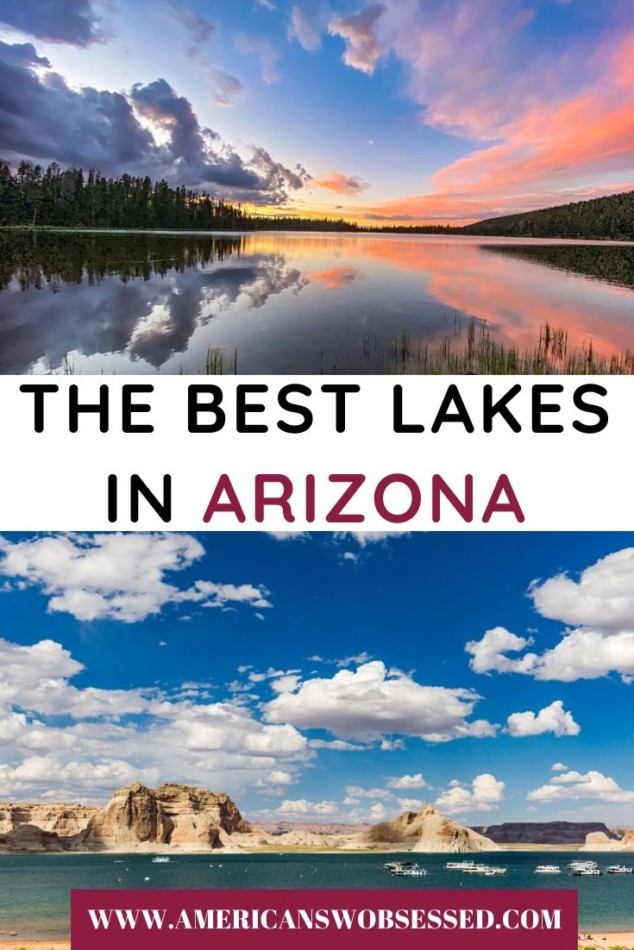 Recent Posts