15 Best Lakes in Utah to enjoy
Utah Lakes: Are you looking for the best lakes in Utah for some summer fun? Or maybe a hike to one of the most beautiful Utah Lakes? This list has a lake for everything you could need from family friendly lakes in Utah to lakes for water sports.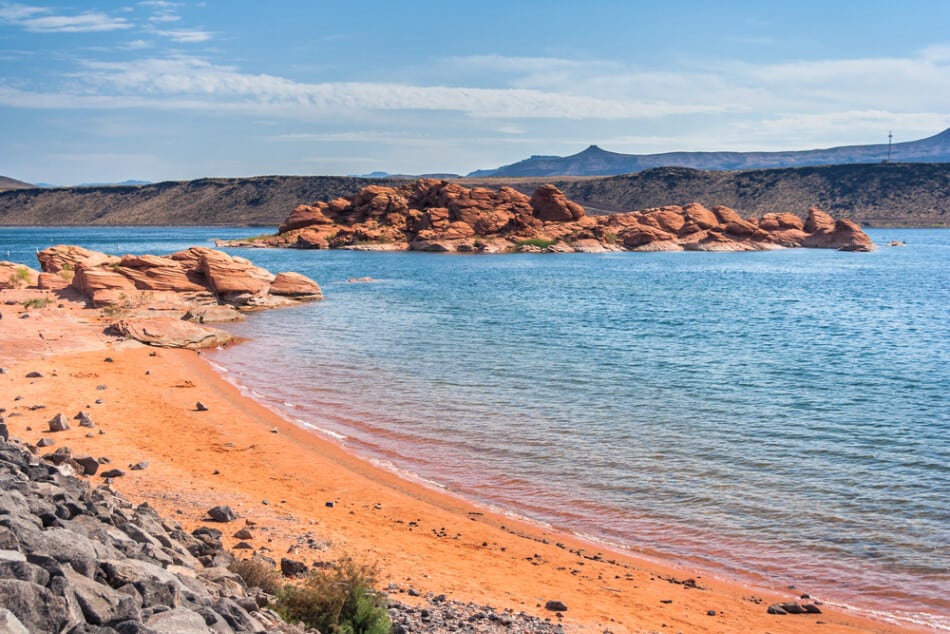 Utah has a lot of diverse landscapes. Utah boasts a surprising number of excellent lakes for a state located in the mountains. The damming of mountain rivers has resulted in the formation of many of these reservoir lakes. The lakes are typically located against mountain backdrops and are in stunning locations. Each lake has its own distinct appearance and atmosphere. Some are shallow and warm, while others are deep and clear, and one is so salty that you can float on it.
These lakes in Utah are perfect to cool off in this summer. You might want to check out my post on the Best Beaches in Utah or Weekend Getaways in Utah.
Great Salt Lake
When in Utah, the Great Salt Lake is an important must-see for everyone. With stunning blue waters and picturesque landscapes, the Great Salt Lake offers spectacular fun both in and out of the water for visitors. Historically, the lake's name originates from the nature of the water that evaporates and leaves behind salty mineral deposits and it is known for being one of the saltiest bodies of water in the world.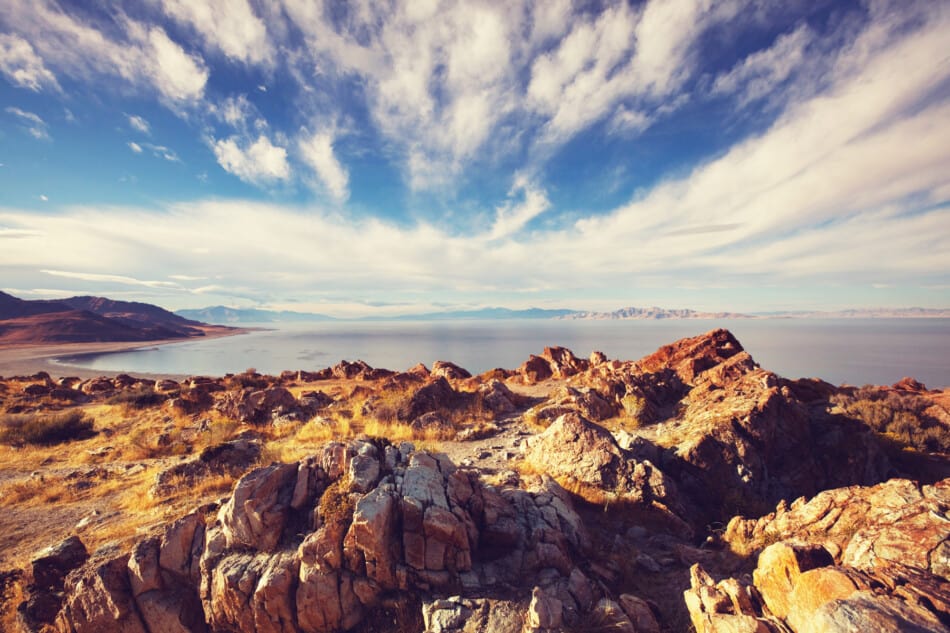 Nowadays, guests enjoy the area's various recreational activities such as hiking, sightseeing, birdwatching, picnicking, boating, and fishing to name a few. Not only is the Great Salt Lake a terrific tourist attraction, it also is home and a refuge to millions of migratory birds. No trip would ever be complete without a visit to the world famous lake itself.
Utah Lake
Another gem of Utah is the Utah Lake itself; a shallow freshwater lake in the center of Utah County. The lake's only outlet is the Jordan River, a tributary of the Great Salt Lake. Nowadays, it is the perfect destination for all occasions no matter the season. Utah Lake offers lots of fun filled activities that everyone can definitely enjoy. To name a few, Utah Lake offers swimming, boating, fishing, paddle boarding, sailboat rentals, water skiing, jet skis, and kayaking. Aside from water activities, guests may also enjoy activities out of the water such as bird watching, building sand castles, stroll around the grounds, picnicking, powered paragliding, and biking to name a few. The changing of the seasons brings more activities to the round-up such as ice fishing and ice skating.
Powell Lake
Powell Lake is a stunning sight to behold and is a major vacation spot frequently visited by millions of people every year. Known to be the second largest man-made reservoir on the Colorado River, Powell Lake packs a punch with the many attractions and fun-filled activities it holds in store for everyone. Guests may take guided tours to see the wonder of this glorious man-made reservoir.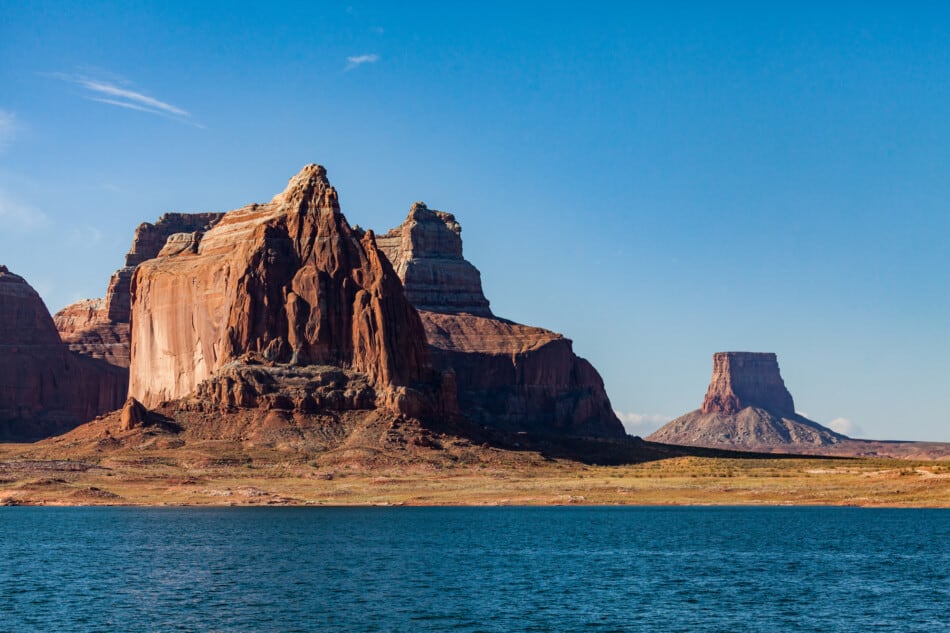 Aside from guided tours, Powell Lake offers various water activities that can be enjoyed by everyone such as swimming, wakeboarding, water skiing, fishing, boat cruising. Guests are welcome to go hiking around the surrounding canyons that nestle Powell Lake or go horse riding and ATV dune riding in the desert. For further immersion in the area, Powell Lake is open to camping, picnicking, and RVing. 
Bear Lake
Dubbed as the Carribean of the Rockies, Bear Lake is a sight to see with its beautiful blue waters and gorgeous mountain landscape. It's surely one you can't miss! Home to some of the well-loved beaches in Utah and Idaho, this natural, freshwater lake is popularly known for its beautifully clear blue waters. Both locals and tourists alike enjoy the amenities offered by Bear Lake such as swimming, boating, riding on sailboats, jet skis, kayaks, canoes, and paddle boards to name a few.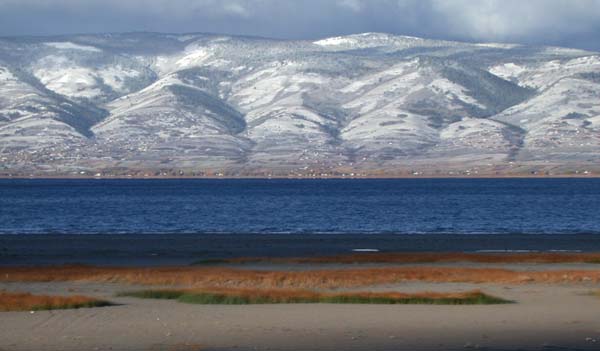 You'll often find boats of all sizes scattered across the waters. Another popular recreation in Bear Lake is scuba diving. Bear Lake is known as one of the best scuba diving sites in Utah and Idaho with its thriving marine life, underwater cliffs, and an artificial reef of sunken 1930 cars. Fishing is also a popular activity with various species of fish to catch that is only available exclusively to Bear Lake. 
Panguitch Lake
Although Panguitch is known as one of the best fishing destinations in the state, other water activities such as swimming, boating, kayaking, to name a few, are also highly loved by both locals and tourists. Located in South Central Utah, the lake is within proximity to several world-class tourist destinations such as the Bryce Canyon National Park, Cedar Breaks National Monument, and Zion National Park to name a few.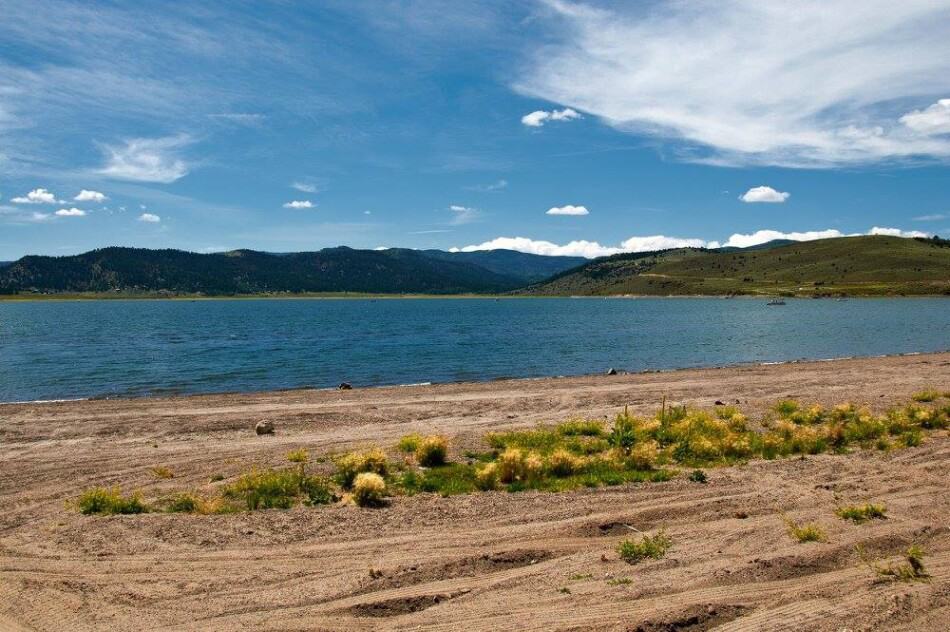 Locals and tourists frequent Panguitch Lake because of its wide variety of amazing fishing catches which includes the largest rainbow trout in Utah. Aside from water activities, there are other fun activities to enjoy such as hiking, mountain biking, ATV riding, horseback riding, and even skiing and snowmobiling during the winter season. 
Flaming Gorge Reservoir
When in Utah, always visit the Flaming Gorge Reservoir. It's a must. Whether it's swimming, fishing, hiking, sightseeing, or picnicking with family and friends,  Flaming Gorge has it all. The breathtaking views of the canyon itself including the dramatic lush forests and blue waters in the reservoir are a sight to behold. Nowadays, it's a popular tourist destination and it also doubles as a haven for wildlife in the area.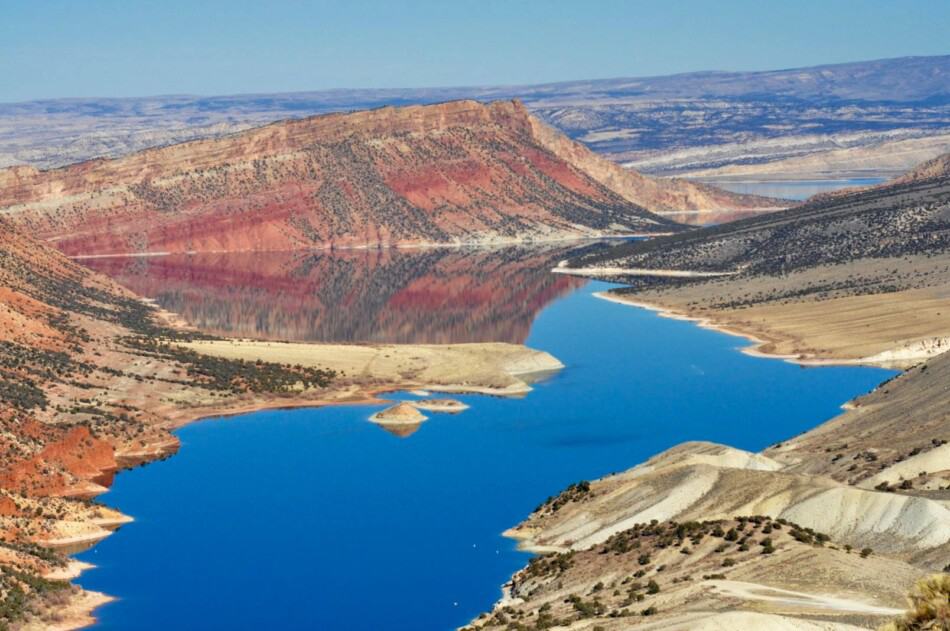 On the waters, guests may swim, ride on different types of manual or motorized boats, do various water recreational activities such as fishing, skiing, and snorkeling or scuba diving. Aside from getting your fill in the blue waters, Flaming Gorge also offers fun activities around the area such as hiking, fly fishing, and touring around the area.
Fish Lake
Located in the heart of the Fishlake National Forest on a high mountain setting is Fish Lake. Popular to both locals and tourists as one of the best fishing destinations for all seasons in the State, Fish Lake offers a wide variety of great catches all year round and caters to all types of fishing.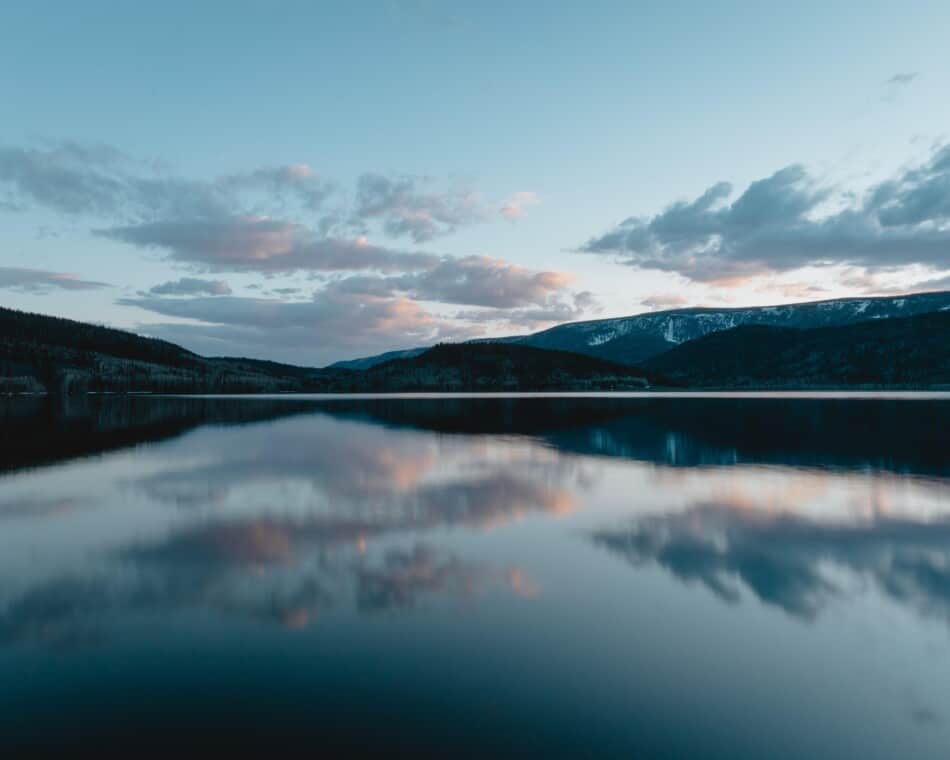 True to its name, Fish Lake is home to rainbow trout, kokanee salmon, splake and yellow perch, and to its large lake trout named Mackinaw. On the water, swimming, boating, jet skiing, and paddle boating are some of the fun things to do in Fish Lake. Aside from the water recreational activities, Fish Lake is also an excellent destination for camping, lodging, hiking around the forests, wildlife observing, biking through trails, cross-country skiing, and snowmobiling. 
Pineview Reservoir
Pineview Reservoir, located in Ogden Valley, is dubbed as one of the area's crown jewels. Cradled in a valley, the beautiful landscape and calm waters serves as a treat for the eyes and would definitely be a memorable vacation spot for anyone. Great activities to join on the water include swimming, water skiing, wakeboarding, and boating since the calm waters are ideal for recreations such as these.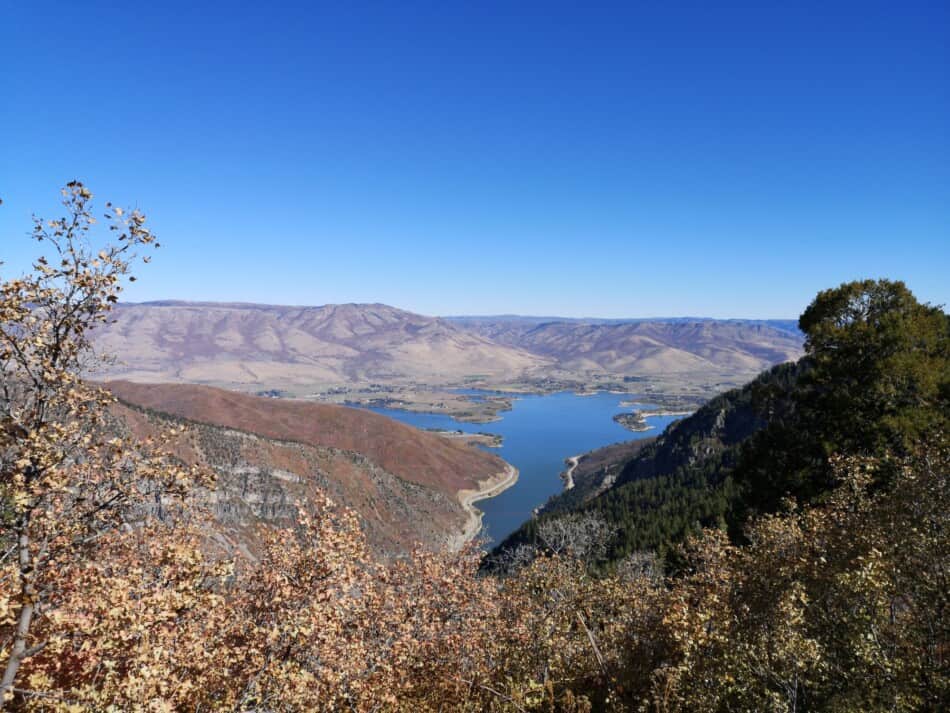 Not only is it a great swimming destination, Pineview Reservoir is also an excellent location for sport fishing with its wide variety of catches to look out for such as their trophy-sized tiger muskie, smallmouth bass, crappie, perch and bullhead catfish, and trout.
Navajo Lake
Surrounded by lush forests, gorgeous mountain landscapes, and stunningly beautiful scenery, the Navajo Lake is stunning, serene, and surely a go-to for any occasion and any season. What stands out the most about Navajo Lake is the blue waters that look absolutely breathtaking when you see it for the first time. Located at the top of Cedar Mountain, the lake was originally known to the early settlers, known as the Pauites, as "Pa-Cu-Ay" meaning Cloud Lake. And surely, the beauty of the waters of Navajo Lake stay true to its original name.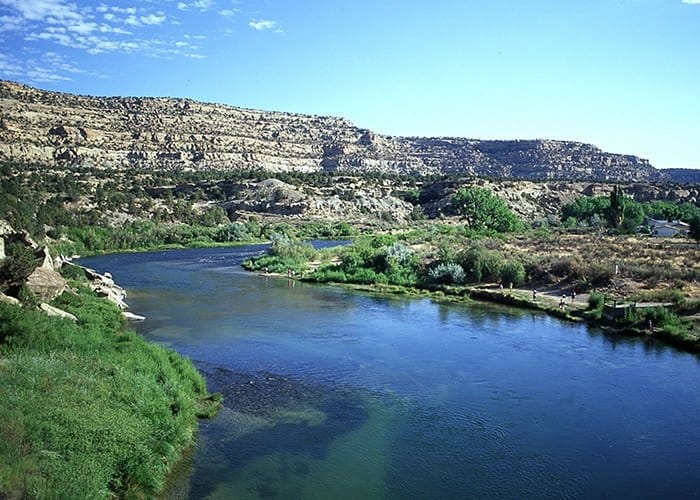 Popular and most looked forward to, in Navajo Lake is their fun water recreation activities that include swimming, fishing, boating, canoeing, kayaking, and paddleboarding. Out of the water, guests may choose to hike, or trail bike, through the magical-looking Dixie National Forest. Lodging is available on site and guests may also camp around the designated vicinity. Enjoy quiet tranquility and reconnect with nature in the middle of the Dixie National Forest.
Deer Creek Reservoir
Deer Creek Reservoir, located in the Deer Creek State Park, is a popular destination site for its stunning views and  calm beautiful waters. Perfect for cooling off and just lounging around, Deer Creek offers a beautiful beach front that has a great view of the landscape that surrounds the lake.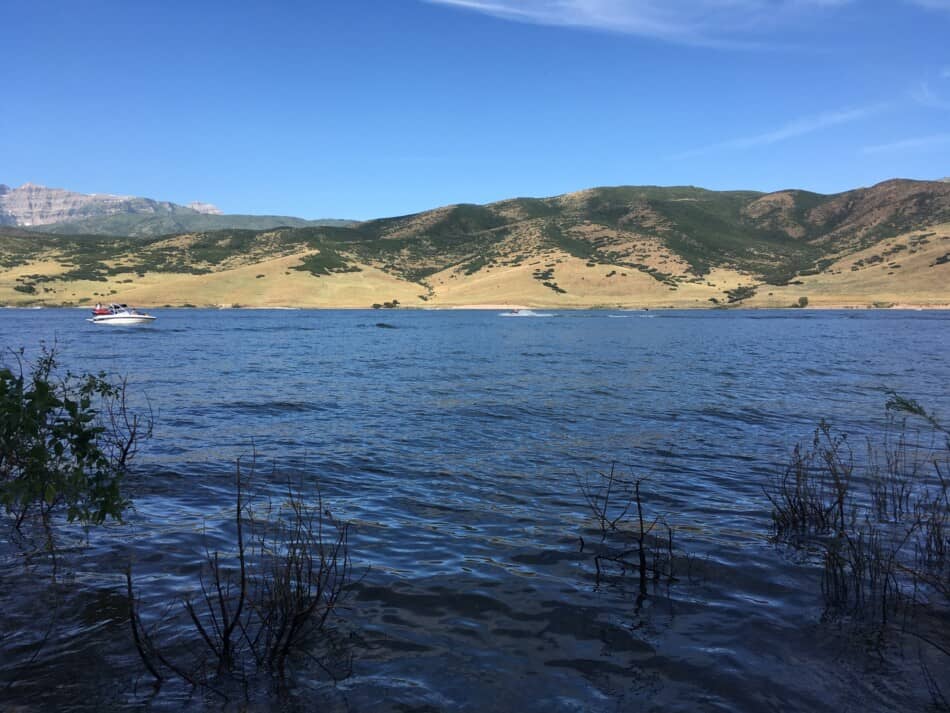 Swimming, tanning, sailing, and windsurfing are some of the fun recreations to do in Deer Creek. Deer Creek Reservoir also caters to boaters with their marinas that accommodate watercraft vessels. 
Mirror Lake
Mirror Lake, or Mirror Lake loop, is a popular tourist attraction and destination for all seasons. Located at the base of Bald Mountain, the lake is a gorgeous view with the lush forestry in the landscape. A trip to Mirror Lake would definitely be worth it and more. Water activities are popular in Mirror Lake for locals and tourists alike. Fun activities that everyone can enjoy including swimming, boating, canoeing, and fishing.
Aside from water activities, Mirror Lake offers a great hiking trail around the lake that loops around the area and is excellent for hikers of all levels. Mirror Lake also has lots of lodging choices to choose from such as camping in a traditional tent in their camping grounds or staying in a cabin of your preference as there are many in the area. Picnicking, trailing, wildlife watching, and just lounging on the beachfront are also excellent activities to enjoy in Mirror Lake. 
Cecret Lake
It is no secret that Cecret Lake is one of Utah's hidden gems and is a sight one must see at least once in their lifetime.  Cecret Lake is also known as a protected watershed for Salt Lake City and is a part of the Wasatch National Forest area. Generally, swimming is prohibited in the lake but Cecret Lake also has other fun activities in store for guests.
Popular to locals and tourists are hiking around the beautiful forests of Wasatch and to relax and enjoy a good round of catch and release fishing. Hiking is popular in Cecret Lake as there are many trails to choose from that always lead to gorgeous views of the mountains and the lake at the base. 
Amethyst Lake
Surrounded by beautiful, tall, mountains and evergreen forests, Amethyst Lake is a go-to when in need of stunning views, clean air, and an unforgettably wonderful memory. The cold temperature of Amethyst Lake is because of its location in the High Ulta Wilderness. Despite the sheer cold temperature of the gorgeous blueish green waters of Amethyst Lake, brave adventurers jump in for a splash and it's an experience they will never forget.
But guests who choose to swim must always be careful of the temperature as the waters of Amethyst Lake are cold all year round. Popular to locals and tourists are the biking and hiking trails and the great fishing catch in Amethyst Lake. Deep into your hiking or biking adventure, you'll see vast meadows, amazing scenery, and picturesque views.
Red Pine Lake
Gorgeous in its own right, Red Pine Lake is a staple for backpackers and hikers alike. Locals and tourists enjoy the stunning vista views, the easy trails, and gorgeous blue waters. Red Pine Lake is known as a premiere hiking and backpacking destination and is cradled in the middle of Little Cottonwood Canyon.
Strawberry Reservoir
Strawberry Reservoir, also known as "The Berry", is one of the premiere destinations for fun water activities such as swimming, boating, and fishing. Hailed as one of the pioneers of cutthroat fisheries and is Utah's premier cold water fishery, The Berry is home to trophy-sized cutthroat trout, rainbow trout, large populations of aquatic insects, kokanee salmon, red shiners, and Utah sucker to name a few.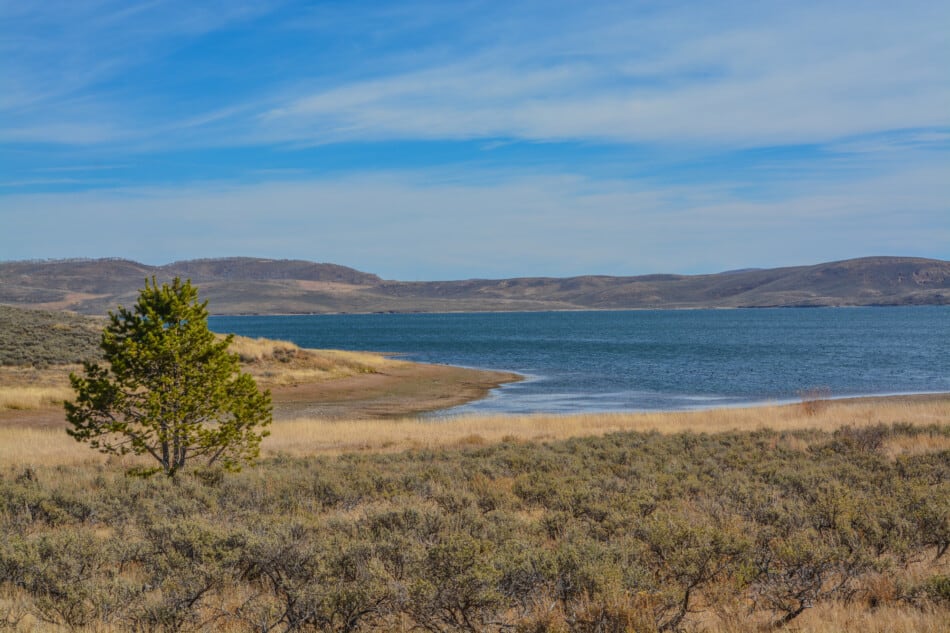 Other activities that are popular to locals and tourists include hunting, snowmobiling, and hiking. With Strawberry Reservoir sitting in an open mountain valley that is filled with lush forests, beautiful and picturesque views are surely in store. 
Recent Posts