When planning a trip to Phoenix, one thing to consider is how to cool off in the Phoenix heat. That's why I have put together this list of Best Resorts Phoenix, hotels with water parks.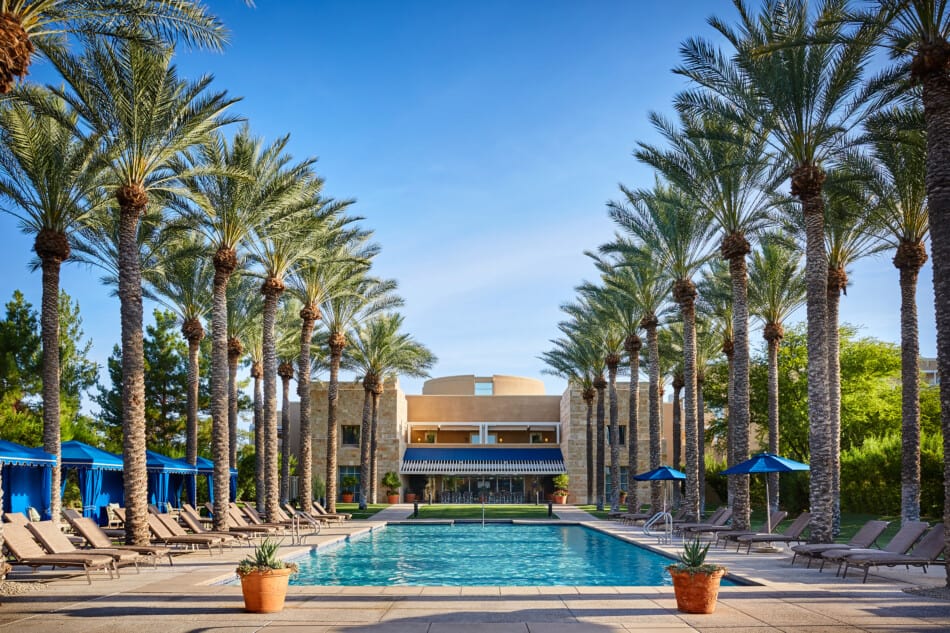 Staying at hotels with water parks in AZ is a must. You will want to stay at these Arizona hotels with water parks and some are even Phoenix hotels with lazy river for even more fun!
Phoenix pools and hotels in Phoenix with lazy rivers are a site to see and a lot of fun for families.
These are the Best Phoenix Resorts and Phoenix Hotels with water park.
15 Best Hotel Pools in Phoenix: Top Resorts in Phoenix
Arizona Grand Resort – The Best Resort Pools in Phoenix, Arizona

Fun is what will welcome you at Arizona Grand Resort. This family-friendly resort hotel is perfect for families and traveling groups. All suites are air-conditioned and feature cable television, a sofa bed, and a mini-bar.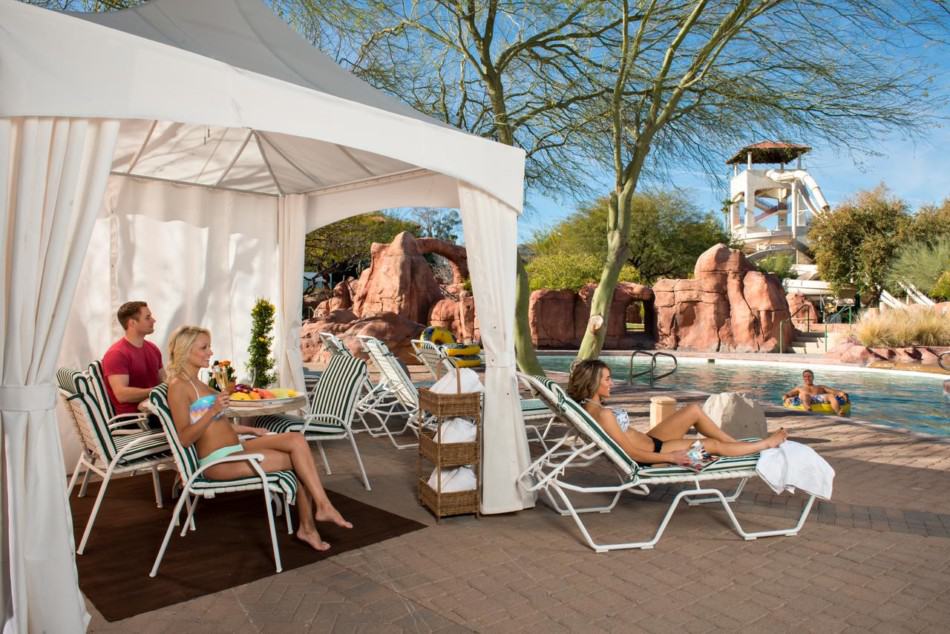 Oasis Water Park is located in the Arizona Grand Resort. This park is voted by the Travel Channel as one of the country's Top 10 Water Parks, Arizona Grand Resort & Spa's expansive, wild and fun Oasis Water Park has something for kids of all ages, making it perfect for your next family getaway.
Built across 7 acres, this premium water park boasts 8-story thrill slides, a giant wave pool, a 25 person hot tub, the Valley's only side-by-side active river, and Wild Cat Springs which is perfect for younger children.
Make sure to make a splash at the water park! The water park includes a wave pool and lazy river so you won't run out of fun things to do in this luxury hotel.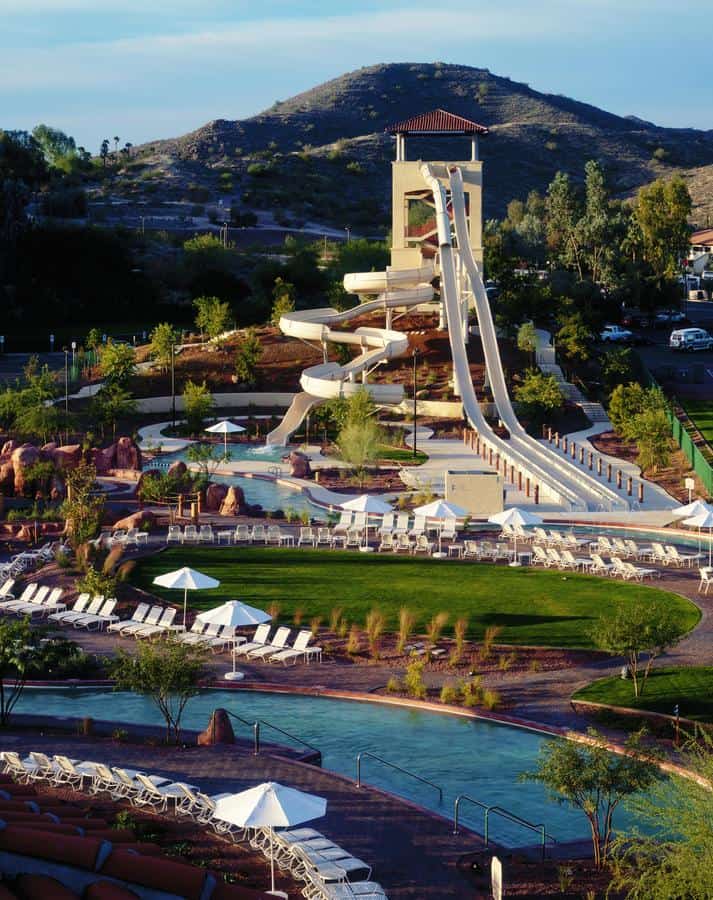 For some outdoor entertainment, visit the nearby South Mountain Preserve, the world's largest municipal park. It also happens to be the second most visited attraction in entire Arizona.
The Camby, Autograph Collection

When choosing a luxury hotel room, of course, we want to see breathtaking views from the window. The Camby gives guests the freedom to choose from either mountain or city views. No matter which room you get, you will be pleased with the surrounding scenery.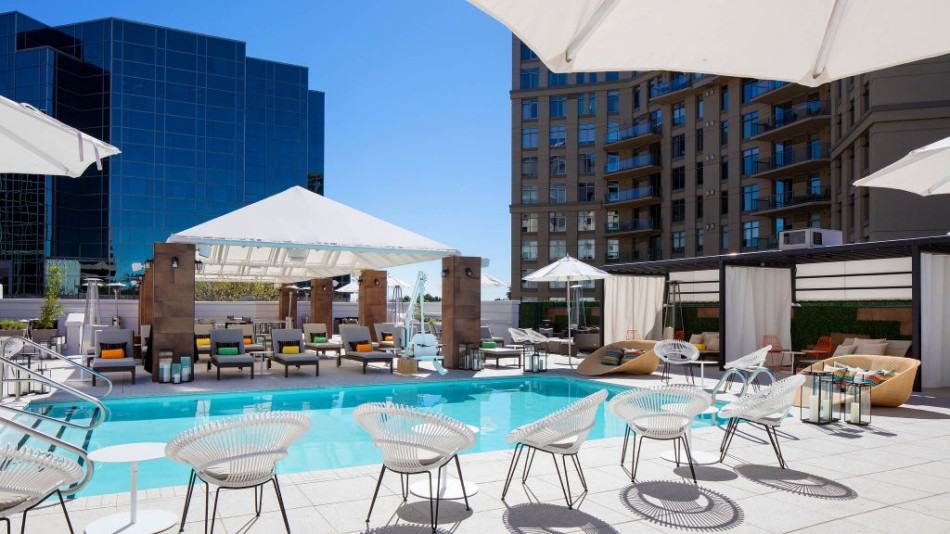 The facilities scream world-class, too. The Camby has a rooftop pool that is heated. This is a great place to relax and have a sunset cocktail while looking at the beautiful mountain views. The pool area is very lovely that you would definitely want to stay there for hours!
And for foodies out there, you can try the Autograph Collection's Artizen restaurant that serves a wide variety of international dishes. You can either choose to eat at the cozy restaurant or out on the terrace.
Arizona Biltmore A Waldorf Astoria Resort – the best pool in Phoenix hotel
The lush gardens of this 39 acres resort hotel will provide you a warm and exciting atmosphere that you will truly remember for the rest of your life. Since it was first opened in 1929, Arizona Biltmore has been serving guests with reliable and exceptionally high service.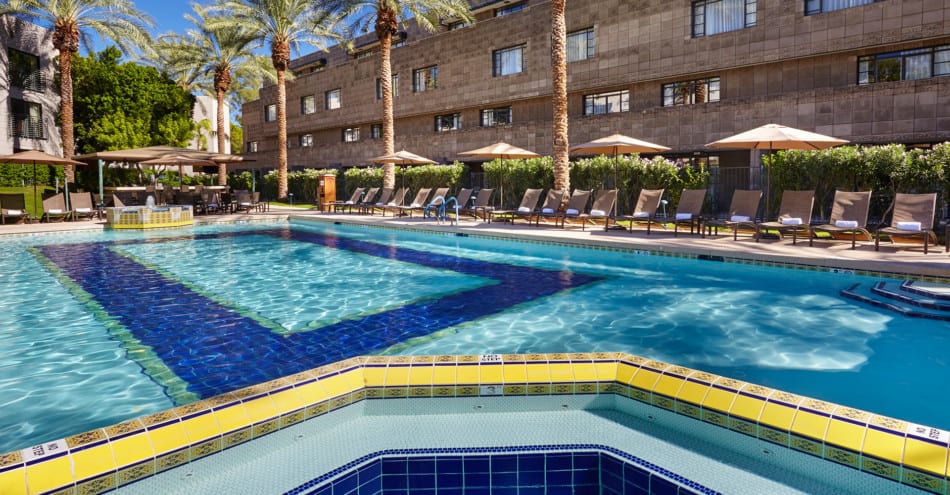 Their breathtaking rooms, villas, suites, and villas will provide you a cozy feeling complete with amenities and with elegant furnishings.
You can cool off in one of their sparkling pools that will give you a space to relax and unwind:
Catalina Pool: This pool is very peaceful and beautiful that features colorful tiles from California's Catalina Island.
Ocatilla Pool: A spacious pool adjacent to Ocatilla of this hotel.
Terrace Court Pool: A quaint and secluded pool if you want that to experience that extra privacy just located on the Terrace Court.
The Saguaro Pool: This is also a quaint pool yet it will give you an intimate feeling and located among the Villas.
The Bougainvillea: This is a family pool located among the Villas and is a perfect space for your whole family to bond and splash on the water.
You can also experience a poolside dining that features a wide variety of fresh salads, seafood, and exotic bar offerings, exclusive only at the Ocatilla and Catalina pools.
You can also pamper yourself and discover the art of relaxation and wellness at their award winning Spa Baltimore. This calming destination will truly invigorate your soul and awaken your senses. You can choose from authentic, modern, and traditional spa therapies that will help you achieve tranquility. After all, your health and wellness should be your top priority.
Four Points by Sheraton Phoenix South Mountain
Four Points Hotel will give you all the conveniences that you need for a successful and memorable trip. It is in a prime location that gives you access to a lot of attractions in Phoenix such as Papago Park and South Mountain Park.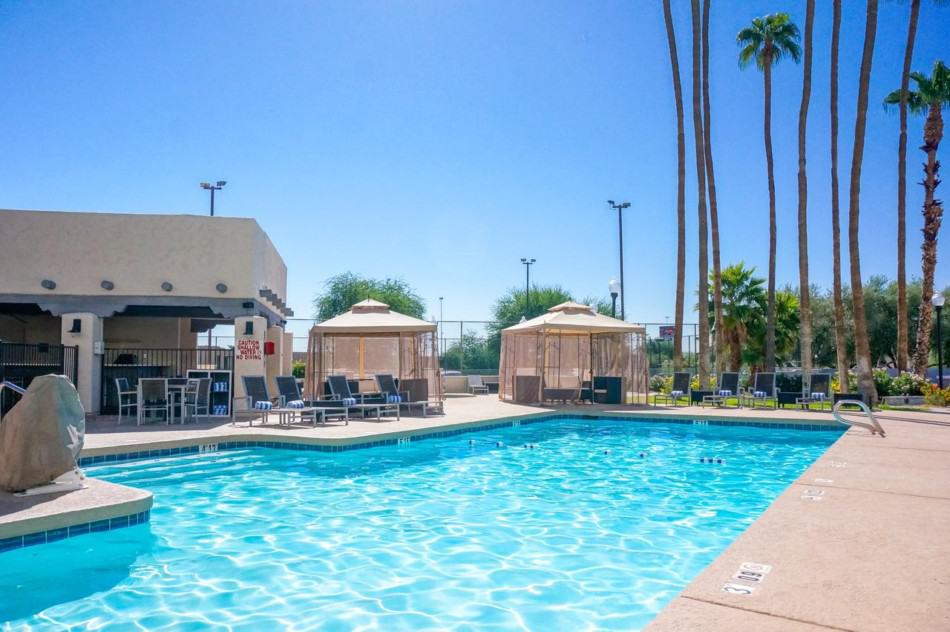 They believe that weekends were made for lounging by the pool, soaking in the sun, and living your best life. Their heated outdoor pool will make you feel relaxed and it is available every day from 8:00 AM to 10:00 PM. If you want to feel more relaxed and pamper yourself after a whole day of walking and hiking, there is a spa tub available in the hotel where you can have some me-time.
No need to worry with your dining because there is a on-site restaurant in the hotel called Rustic Cravings where you will savor American cuisine and has a perfect location for casual dining and corporate clients or meetings.
Pointe Hilton Squaw Peak Resort
This award winning resort hotel offers a lot of activities for your whole family and even your friends.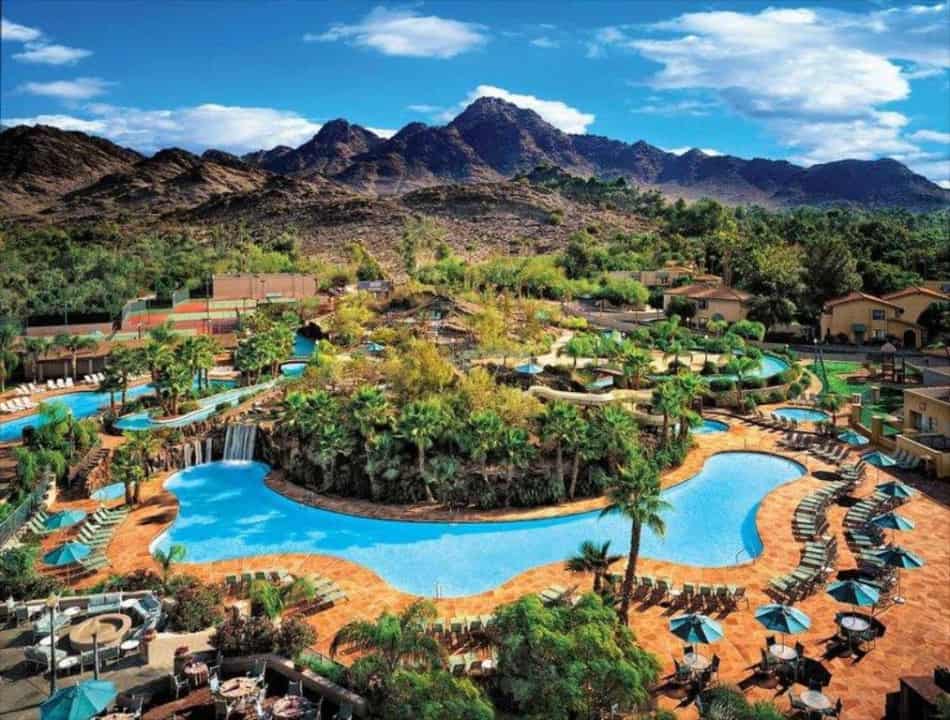 You have to check out their Hole-in-the-Wall River Ranch that features four acres of pools, a lazy river, cascading waterfalls! Their River Ranch Water Park is popular in the area and it is the best way to refresh and spend your day with your family. It is open from Monday to Thursday 10:00 AM to 6:00 PM. And on weekends, it is open from 9:00 AM to 6:00PM.
And adjacent to the pool is a comfortable cabana where you can dine with easy access to the children's pool and lazy river. Their cabanas are ideal for families and big parties because it can accommodate up to 10 persons or more.
Aside from their grand outdoor pool, you can also play at their miniature golf that features 18-hole course that surrounds the lazy river. This goes to show that you will never run out of fun things to do in this hotel.
WorldMark Phoenix – South Mountain Preserve
WorldMark Phoenix is just minutes away from the Phoenix Sky Harbor Airport and is located at the base of South Mountain Park and Preserve – the largest urban park in the country perfect for adventure junkies out there!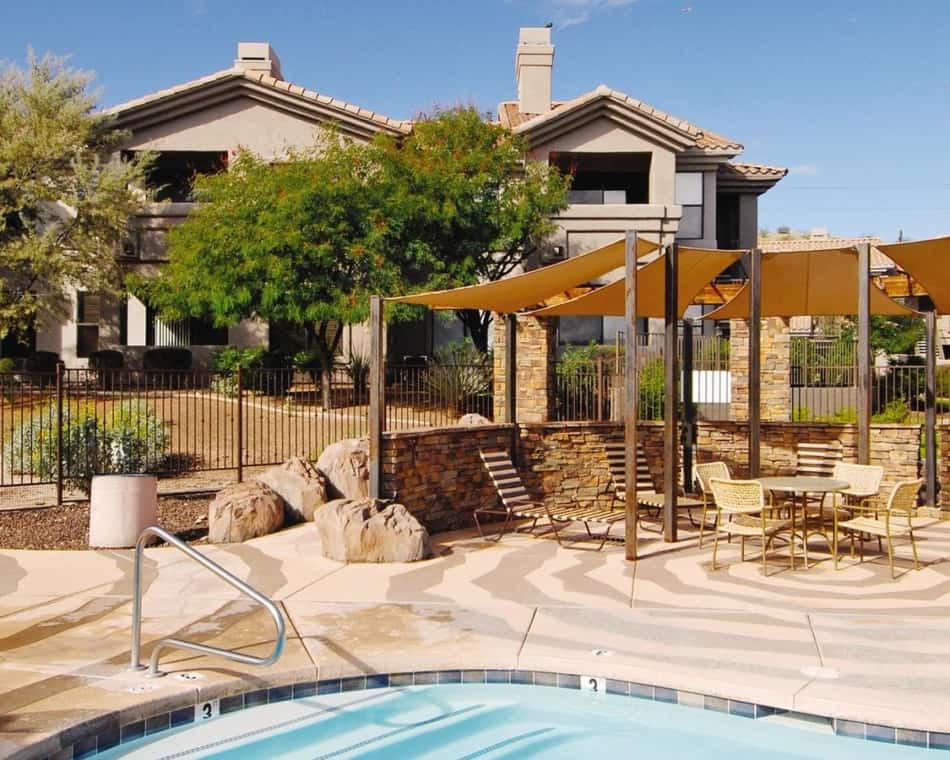 In fact, this hotel is a perfect base camp for people who like to explore the local trails of Phoenix, Arizona.
And if you like to chill out, you can head over to one of their two pools and watch your kids play on the splash pad. There is also a hot tub available if you want to spend time alone and read your favorite book.
DoubleTree by Hilton Paradise Valley Resort Scottsdale
There is never a dull moment when you stay at DoubleTree by Hilton. Aside from enjoying the attractions in Phoenix, Arizona, you can also enjoy a number of amenities that this hotel can offer to you.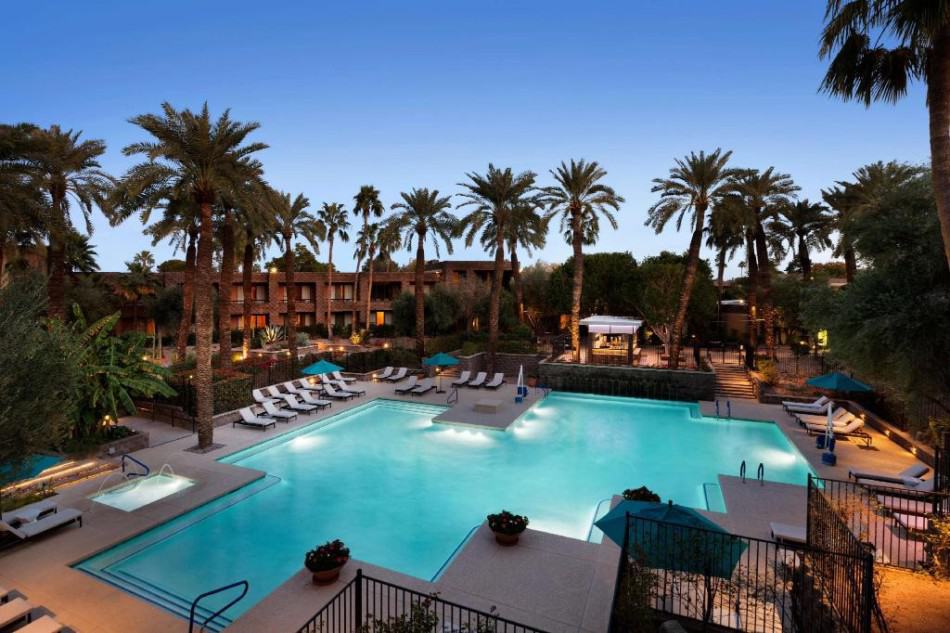 You can swim in one of their two outdoor pools and you can relax and drink wine on the poolside. There is also a seating area with shade where you can lounge and watch being surrounded by lavish courtyards, cacti and palm trees.
And if you are into sports, you can play tennis and gold at this resort since the area is popular for golfing.
And after a whole day of swimming and playing sports, you can refuel by dining at Asadero Cocina and Cantina restaurant that offers southwestern cuisine and it will surely fill your tummies with delight.
JW Marriott Scottsdale Camelback Inn Resort & Spa
Where balance and tranquility meet, Camelback Inn Resort & Spa is an award winning luxury hotel located in Scottsdale who takes pride in giving their guests attentive service and deluxe amenities. This hotel will give you a secluded place that invites you to take a breath, pause, and be one with nature.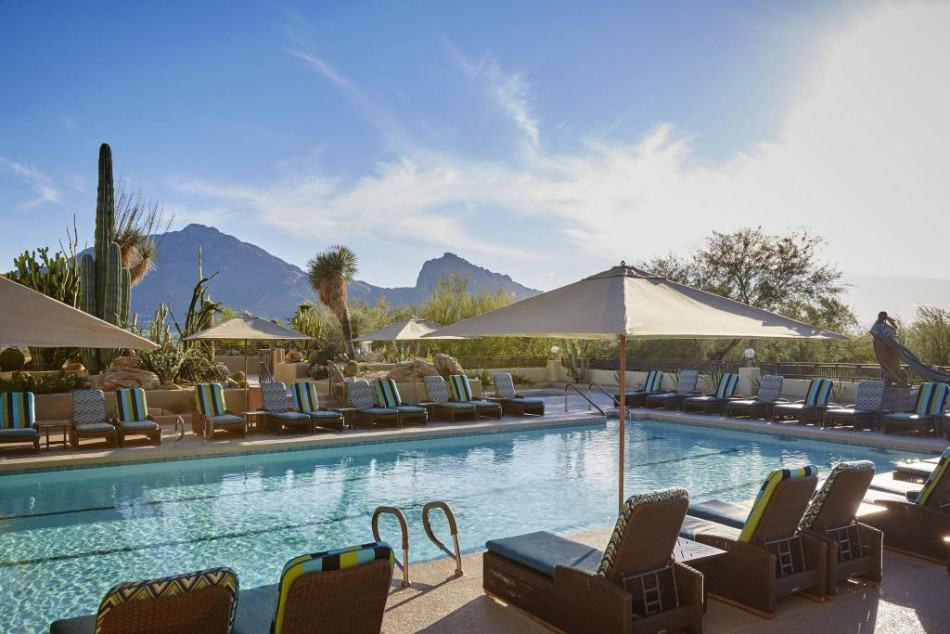 One of Camelback Inn Resort & Spa biggest attractions is their new Jackrabbit Pool which is available every day from 5:00 AM to 12:00 AM. This newest attraction includes a children's pool, adult pool, and an updated Jackrabbit Main pool where it is inviting you to take a splash and bond with your loved ones. There are towels provided for guests just in case you left yours in your room.
Next to the pool, there is Hoppin' Jacks' Poolside Cafe and be captivated with the breathtaking views of Camelback Mountain.
Mountain Shadows Resort Scottsdale
This resort hotel is an icon of luxury and design after it was completely renovated in 2017 and it features striking architecture and stunning desert views that will give you renewed energy.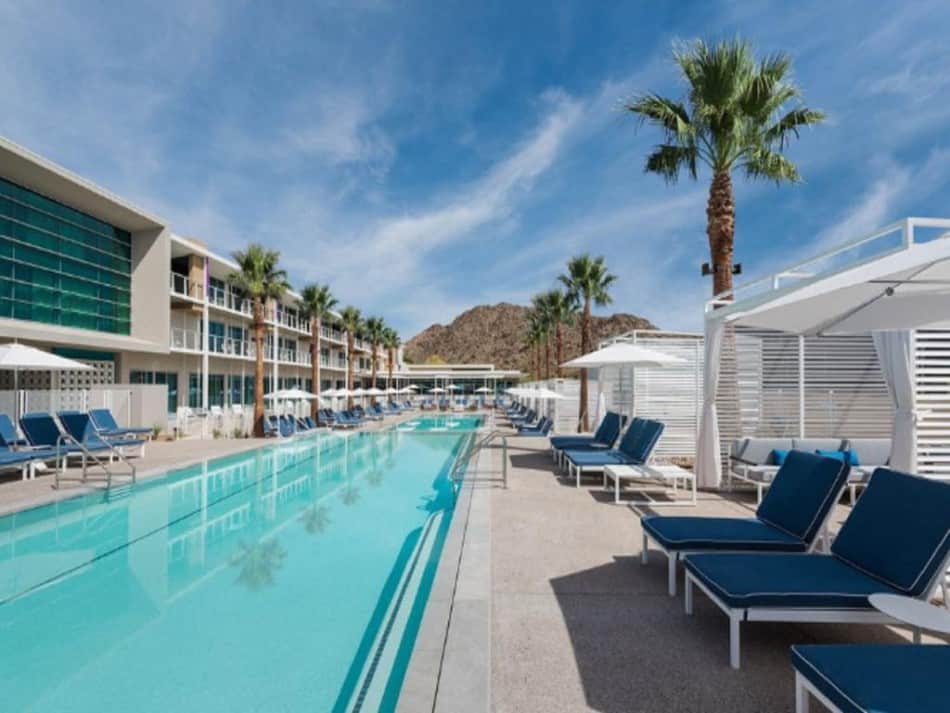 This resort has two 75-foot pools that are connected by a waterfall feature.
You can also enjoy private poolside lounging with their eight cabanas that you can rent. The pools are heated especially during cold season, or you can soak in the hot tub. And while you bask in the Arizona sun, you will enjoy the stunning views of Camelback Mountain that will truly make your heart melt.
The pool is available every day from 6:00 AM to 10:00 PM.
Hyatt Regency Scottsdale Resort and Spa
This family friendly resort is a top destination because it is surrounded by so many adventures that you can do and experience here.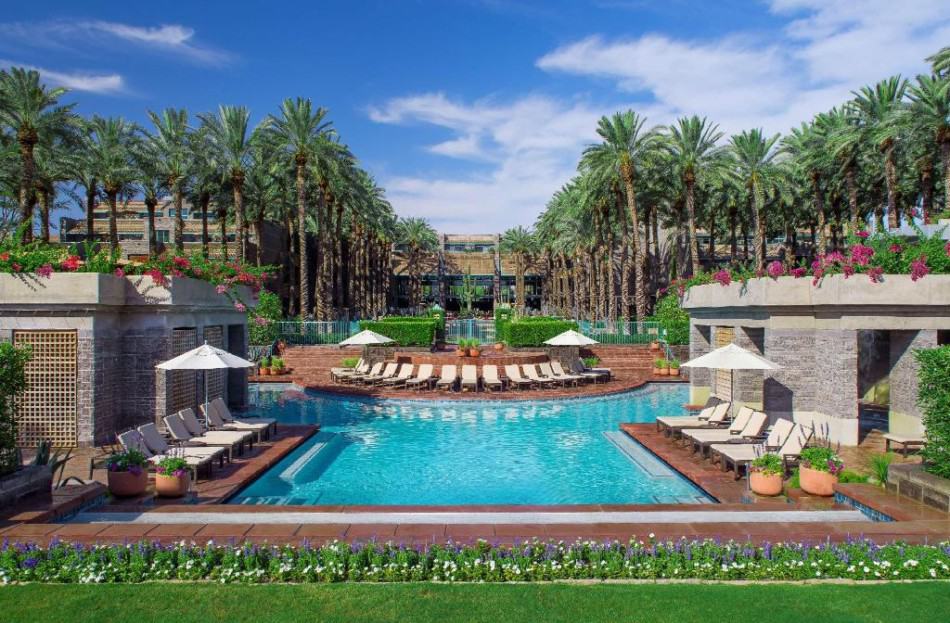 The resort's water playground has been a top favorite of many resorts guests because it provides 10 swimming pools, 20 fountains, 45 waterfalls, and a 30', 3-story high-speed waterslide! Yes, you heard it right. That is how luxurious this resort and spa is!
Plus, you can also have your favorite foods alfresco, beverages, and tropical cocktails by the poolside. Just reserve your cabana, daybed, or premium pool chairs ahead of everyone so you will have a place by the poolside.
The pool is available daily from 6:00 AM to 11:00 PM, while the cabana is open daily from 8:00 AM to 6:00 PM.
The Phoenician, a Luxury Collection Resort, Scottsdale
Time to give yourself a break and immerse yourself in luxury at The Phoenician Resort. This resort is set on the 250-acres at the base of Camelback Mountain. They boast of their 9 swimming pools, golf course, and a wellness spa to give you that optimum relaxation.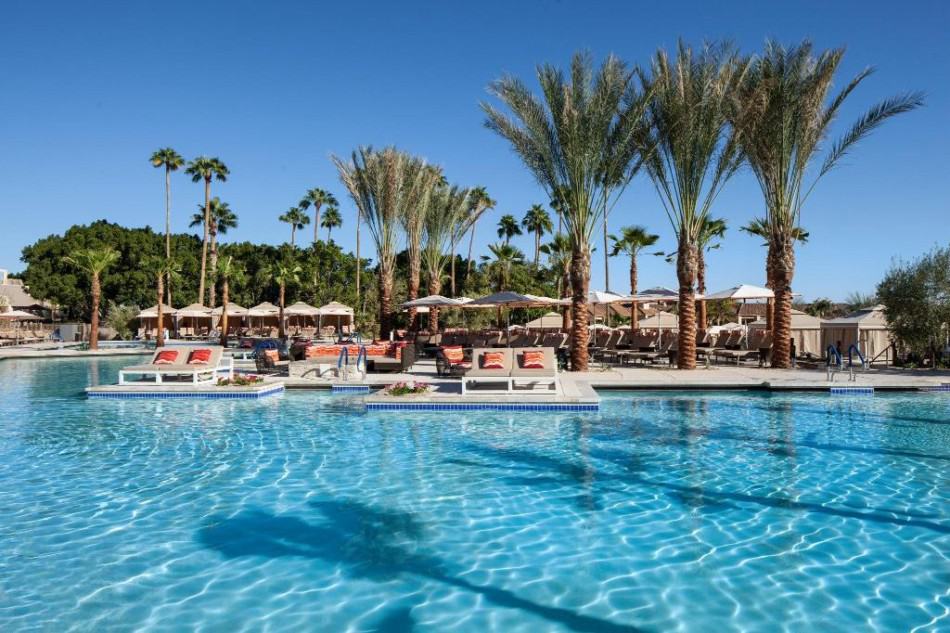 This luxury collection resort features a pool complex that has a modernized and expanded design, perfect for all kinds of ages. It has upper pools, a lounge deck, a reserved cabana, and lounge setting. There is an adults-only hot tub and Kid Zone with a tree house where kids can play and make friends with other kid guests. And what is even more amazing about this resort hotel is their 197 ft twisting waterslide!
Their new Phoenician pools are open 24 hours a day and they provide towels for guests and a heated pool during cold months.
Hilton Scottsdale Resort & Villas
Hilton Scottsdale Resort & Villas will make you experience the breathtaking views of the famous Camelback Mountain and it is ideal for people who appreciate nature. They offer villas that can fit up to eight people with full kitchen and dining area.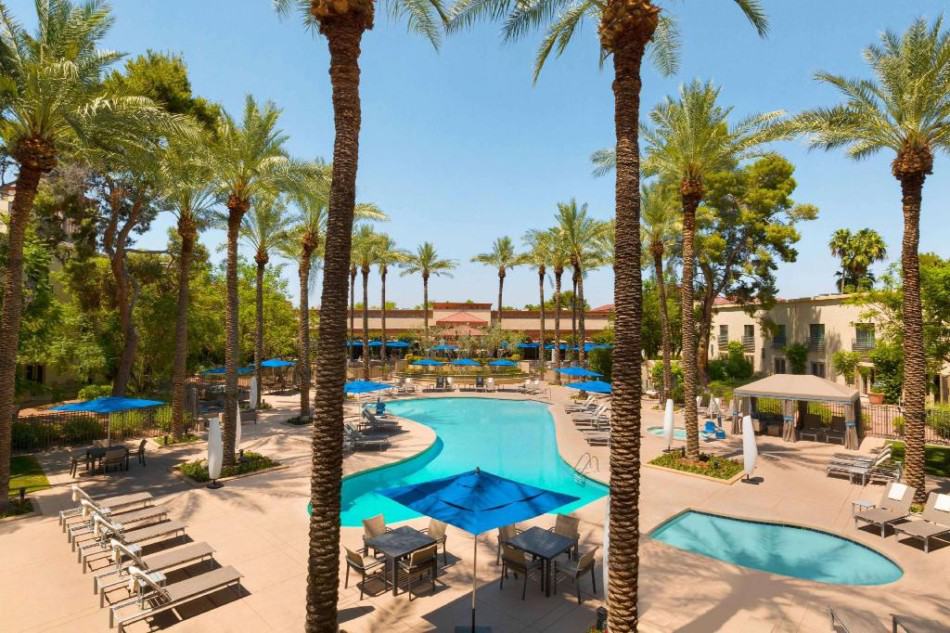 They offer a year-round outdoor pool and a full-service spa for you to relax and pamper yourself after a full day of exploring Scottsdale. They also have a hot tub/Jacuzzi and fitness center where you can work out alone or with your buddy.
You can dine at Bluefire Grill that serves Southwestern cuisine for breakfast, lunch, and dinner. You can also try Fleming's Prime Steakhouse that serves steak and seafood.
Scottsdale Plaza Resort
Scottsdale Plaza Resort is one of the luxurious resorts that you can find in Phoenix. It features 40-acres of flowering gardens and a Spanish-inspired architecture which makes it perfect for family vacations, wedding festivities, and even corporate events.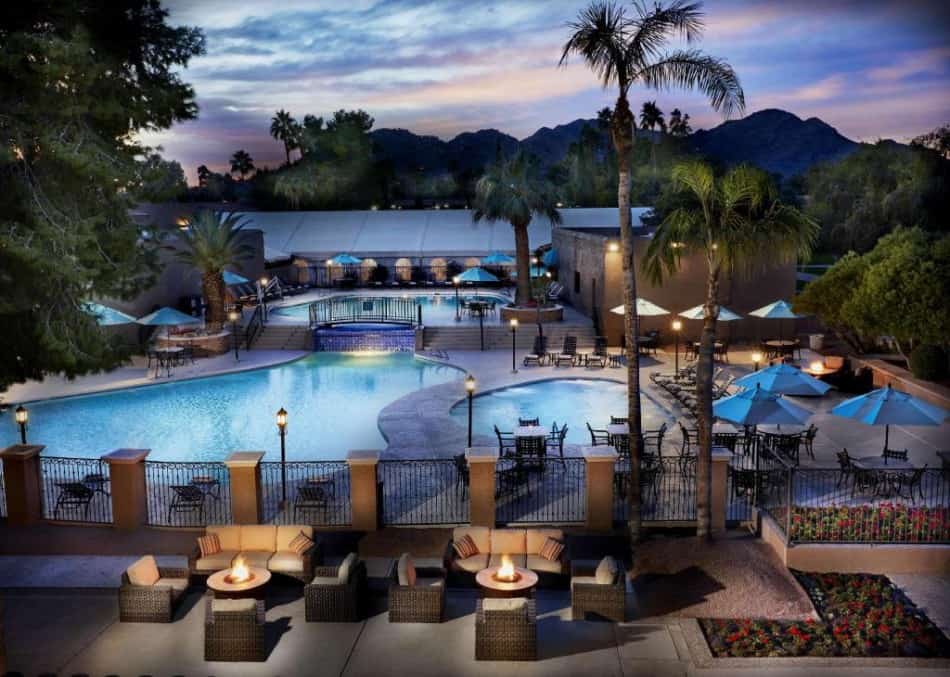 But if you are in Phoenix to relax and unwind, Scottsdale will guarantee you that you will have a fun and relaxing vacation, especially with their world-class amenities. This resort hotel boasts five swimming pools and spa treatments.
They also have Cafe Cabana where it is conveniently located at the main pool so you will never have to miss a moment with the sun! You can order frozen craft cocktails, in-house-made burgers with fries, and baskets of tortilla chips at Cafe Cabana. And you shouldn't miss trying their award-winning fire-roasted salsa which is a favorite among tourists and guests at the hotel.
The Canyon Suites at The Phoenician, a Luxury Collection Resort, Scottsdale
If you like to splurge on a weekend at one of the most luxurious resort hotels in the Phoenix area, The Canyon Suites is a great choice.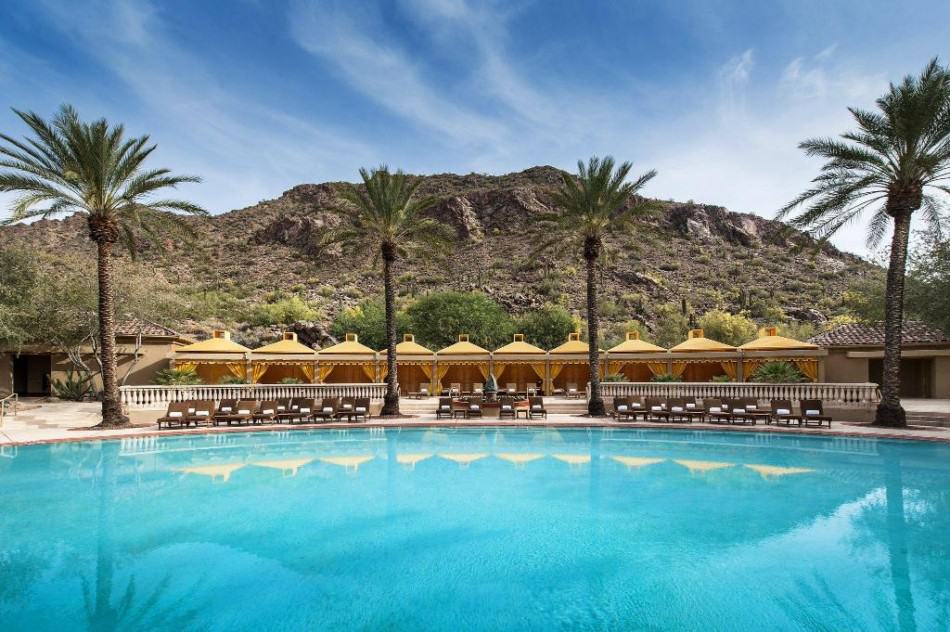 Did you know that this is the only Forbes five star hotel and AAA Five Diamond hotel in the greater Phoenix? Yes, that is how astonishing this resort is.
You will be amazed at their oasis of pools and exclusive pool lounging! The Phoenician Pools are exclusive to their hotel guests and offer different options for lounging and dining poolside.
The Upper Pools and Lounge Deck Center Island have reserved Cabana and Lounge seating at their Mother-of-Pearl Pool. There is an adults-only hot tub and 197 ft. waterslide that is open daily from 11 AM to 5 PM.
Guests can even choose to use the surrounding lounges along with the expansive pool complex or reserve a lounging chair, daybed, or cabana for a day.
The hotel also has a Kid Zone that features a waterslide with a suspension bridge and a tree house for them to explore.
If you like poolside dining, you can order at Kalio Kabobery Delight that features a Mediterranean-inspired cuisine.
The Westin Kierland Villas, Scottsdale – Phoenix Resorts with lazy river
This premium vacation resort is located on ten pristine acres of the lovely Kierland community. The elegant villa-style accommodations will take your breath away. There are a lot of things that you can do at this hotel and is a great way to bond with your family.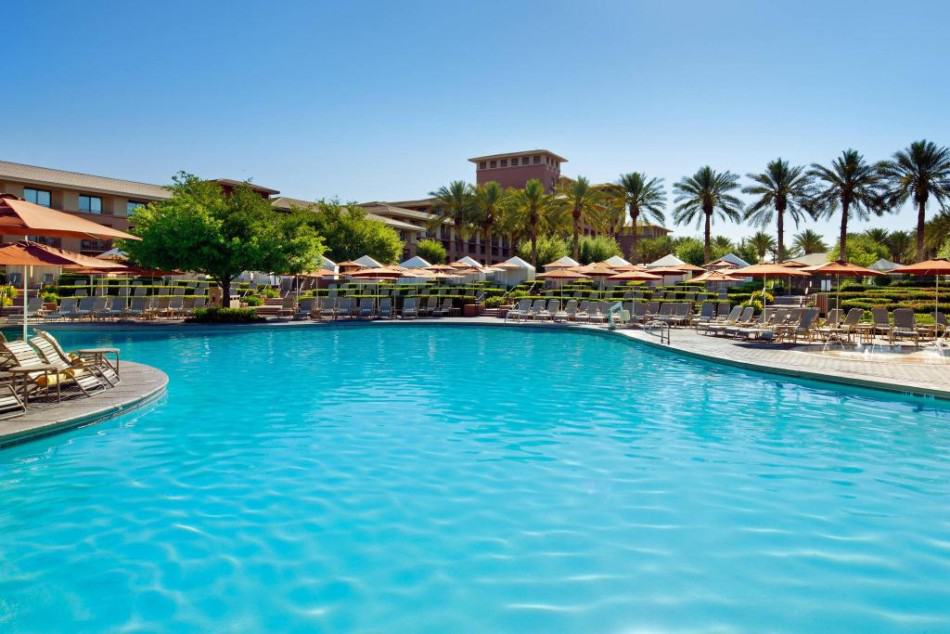 On-site, you'll find several restaurants, three golf courses, a spa and the Adventure Water Park, which includes a 900-foot lazy river, a 110-foot water slide, flowboarding and a kids' splash pad.
And what better way to bond with your family than taking a dip at one of their three pools. At the Recreation Pool, it is a fun spot to splash and have quality time with your family or kids.
The Adult Aguamiel Pool is open daily from 8 AM to 7 PM and there is also a heated pool available during cold months. Towels are provided for both kids and adults.
And if you want a little privacy and peaceful experience, you can also try their Relaxation Pool that has elegant tented cabanas and crystal clear water.
Conclusion: Best Hotel Pools Phoenix
I hope you enjoyed this list of the best pools in Phoenix and that you enjoy your trip whether you stay in one of these Phoenix Resorts or Phoenix Hotels. I'm sure you will enjoy it!
Sharing is Caring! Pin this article to save for later.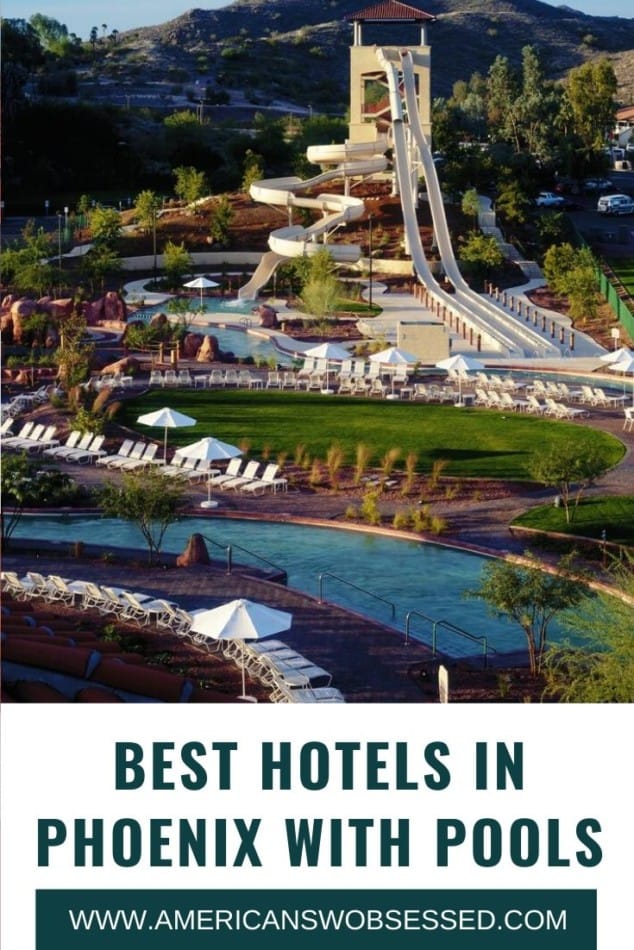 Continue Reading more about Phoenix on my website:
Arizona National Parks and National Monuments
Recent Posts