15 Best Phoenix Hikes – Hiking near Phoenix to see more of the city
If you are planning a trip to Phoenix you need to do one of these best hikes in Phoenix.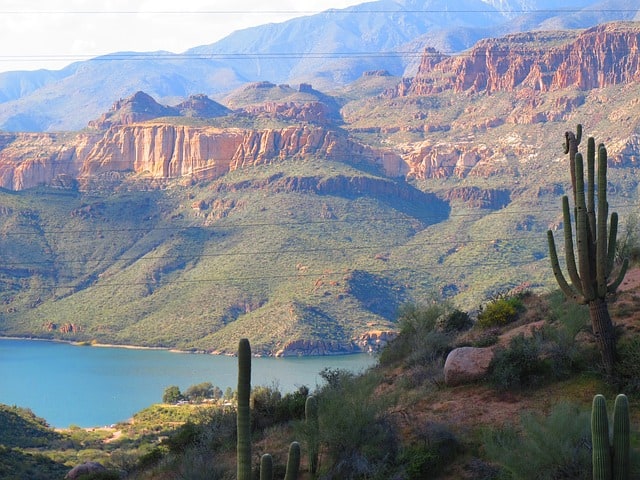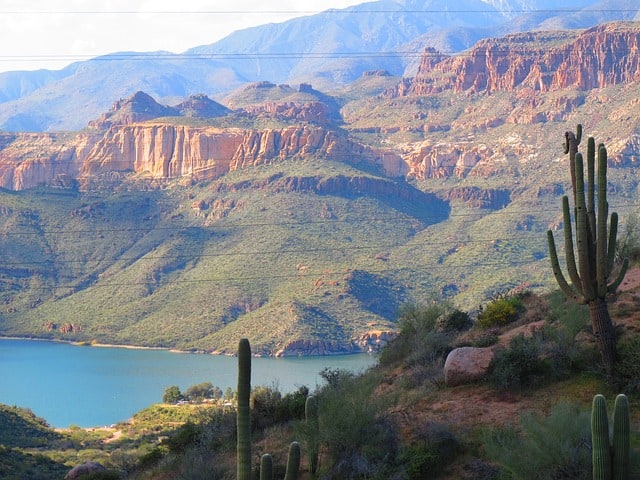 Hiking in Phoneix is not without its challenges between the heat and the chance of coming across a rattlesnake, but the views are definitely worth it if you decide to go hiking in Phoenix.
These Phoenix hiking trails are the best hikes in Phoenix so I recommend choosing at least one on your visit. If you are a veteran to hiking in Phoenix then I hope you find a new trail to go on while you are there.
Before we get started on the best hikes near Phoenix, do read the 'Things to know before you go' section at the end for practical tips and tricks so you can enjoy these Phoenix area hikes.
Thank you for supporting this website written by an American. This post may contain affiliate links. This means I earn a small commission on these links at no extra cost to you.
Phoenix Arizona Hiking – the best Phoenix Hikes
Grab your water bottle and put on your hiking shoes – let's get ready to hike in Phoenix.
1. Tom's Thumb Trail
Located near Scottsdale, AZ, Tom's Thumb Trail is a four mile adventure that lends itself to beautiful views of the McDowell Mountains and the city of Phoenix as lovely wildflowers checker your path.
Part of the McDowell Sonoran Conservatory and one of the first to be built, the trail allows for dogs as long as they are affixed to a leash.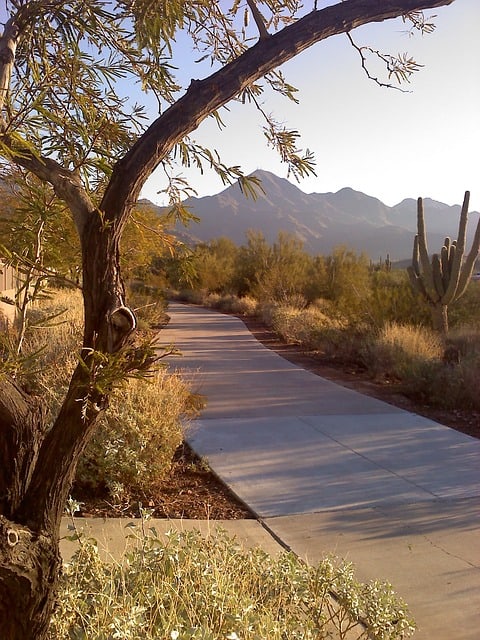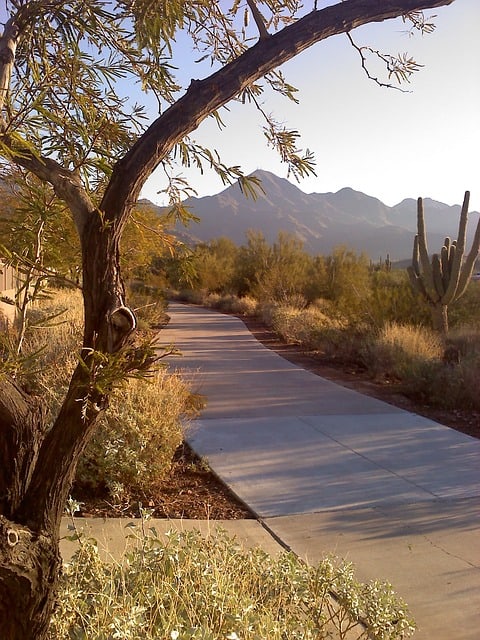 Also, be sure to bring plenty of water; there won't be any supplied here and this trail is known for giving its hikers a good workout.
The trail offers several features including Sven Slab, the Mesquite Canyon, and giant granite rock formations said to be over 1.4 billion years old, otherwise known as "Tom's Thumb".
2. Pinnacle Peak
One of the best hikes in Phoenix and reaching 3,171 feet, Pinnacle Peak trail is an amazing adventure that offers breath-taking views of McDowell Mountains and of the valley at only halfway through.
At about one mile in, you can also catch a glimpse of Camelback Mountain not too far away.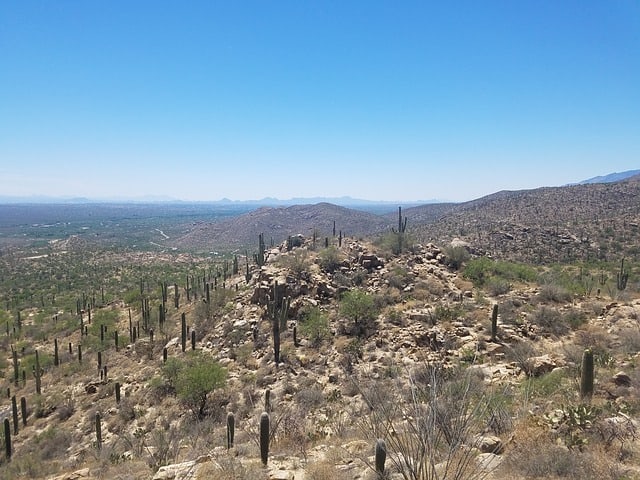 Keep in mind that this trail does not loop, and is approximately 1.75 miles one way. In order to get back, you must turn around and tread the same path.
The trail features benches and informational signs but no facilities, so make sure to grab water and use the restroom beforehand.
Despite it's steep peak, Pinnacle Trail's highest elevation point is actually 2,889 feet. Bobcats, rattlesnakes, and tortoises are often found lurking amongst the landscape at this very popular and beautiful trail.
3. Papago Park Trails
Nominated as one of Phoenix's "Points of Pride", the Papago Park is a popular location known for its scenery, zoo, picnic area, hiking trails, and more.
There are several hiking trails within the park, and many are suitable for whole families to enjoy.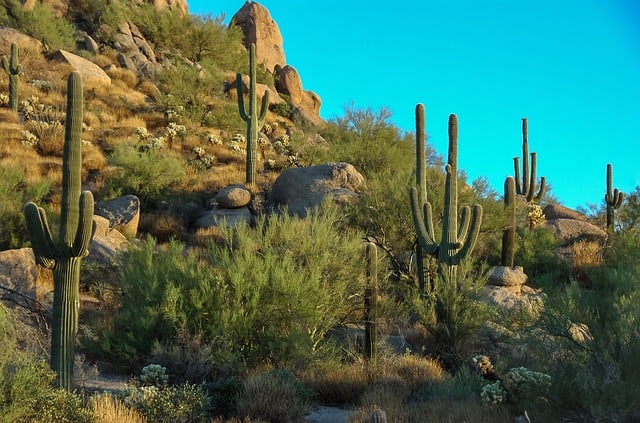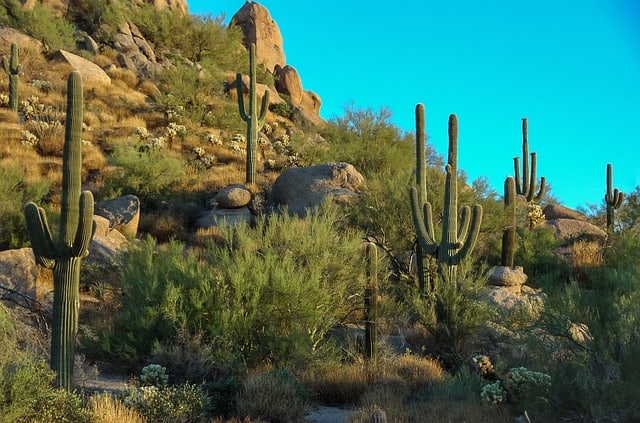 One of its loop trails, known as the Papago Park Butte Loop, runs 2.3 miles and gains approximately 118 feet. It's known as an easy to moderate hike and is good for beginners.
Be on the lookout for coyotes and jack rabbits along your way. Be aware of the weekend crowds though; the park's popularity may cause the trails to become somewhat crowded.
4. Mormon Loop Trail
The Mormon Loop Trail is a short, intermediate trail great for families and beginners. Desert flowers and reptiles can be seen in abundance, and the trail will eventually end at about 1.5 miles.
Nevertheless, you can continue your hike by continuing on to National Trail once the Mormon Loop has ended. Dogs are allowed, just be sure that the dog is properly leashed.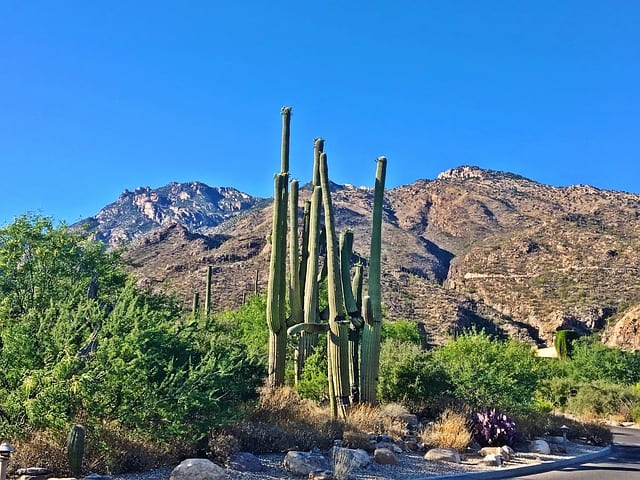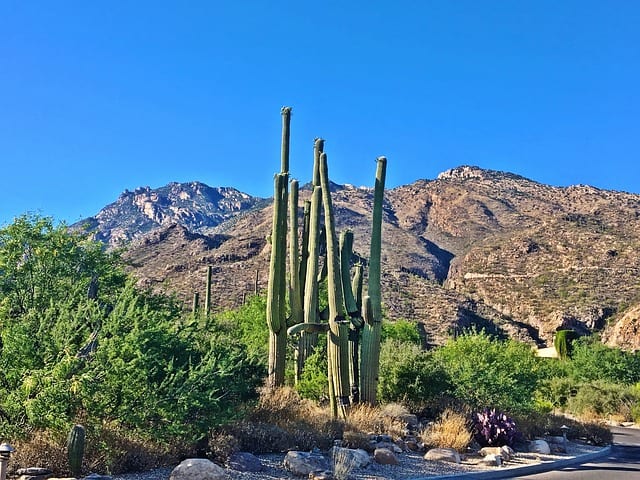 Views include Piestewa Peak, formerly known as "Squaw" Peak, the White Tanks, Camelback Mountains, the Four Peaks and more.
While it generally only takes about 30 minutes to an hour to complete, there are a few rocky switchbacks along your path, so be careful to watch your footing along this beautiful and scenic short hike.
5. Superstition Mountains
Located within the Superstition Wilderness, the Superstition Mountains are a range of mountains just east of Phoenix that feature many trails suitable for every type of hiker.
The Superstition Wilderness features over 160,000 acres of mountains and is a great place for backpacking, fishing and horseback riding.
Some of the trails featured amongst the mountains include the Treasure Loop Trail, perfect for beginners, while the Siphon Draw Trail proves itself to be a bit more challenging.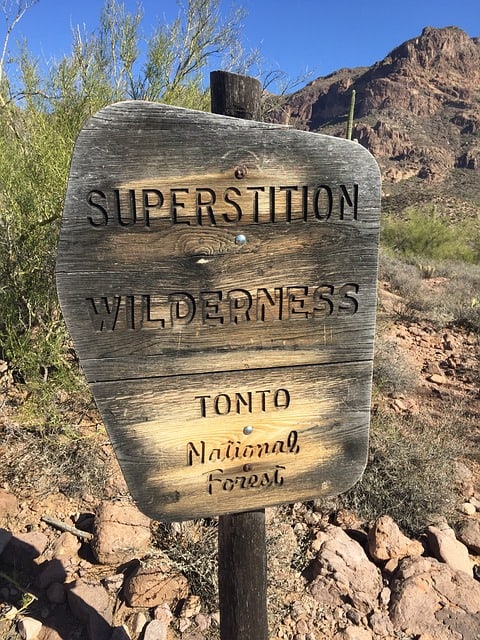 Nevertheless, the "Supes", as the mountains are often affectionately called, are great to visit for breath-taking views and a little something for everyone.
Other great trails to check out amongst the Superstition Mountains include The Peralta Trail, Reavis Ranch Trail, and Bluff Springs Trail making the Superstition Mountains one of the best hikes in Phoenix!
6. Piestewa Peak
Formerly known as Squaw Peak, Piestera Peak Summit Trail #300 is a 2.2 mile feat. Though the trail is short, it proves a challenge for many.
This is a very popular out and back trail so be aware that there may be a crowd. It's the second highest peak in Phoenix and is certainly not for the faint of heart.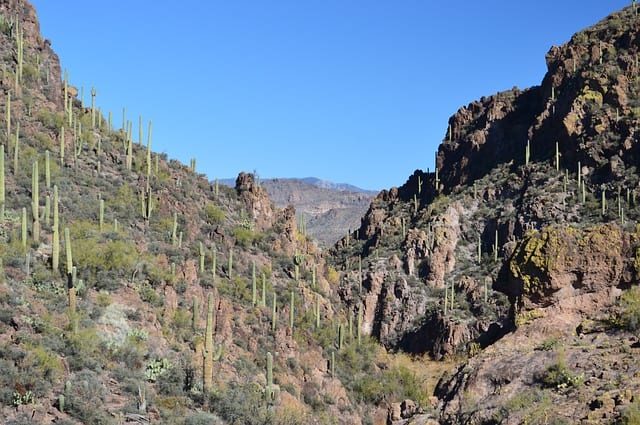 This trail is best utilized in October through March, and is not dog or child friendly. The elevation ascent is about 1,050 feet in the air.
7. Wind Cave Trail
Located near Mesa, Arizona, this out and back trail is approximately 3.2 miles and leads to a small cave known as "Wind Cave".
The trail is rated as moderate, but hikers who wish for more of a challenge can continue on past the caves, where the view reportedly gets better and the hike becomes more rigorous as well.
Trail gains are around 812 feet in the air. There are restrooms, vending machines, and information brochures offered at the trailhead.
8. Go John Trail
Located within Cave Creek Regional Park in Maricopa County, this trail is considered intermediate and is 5.9 miles long. It is a looping trail, is accessible year-round, and allows leashed dogs.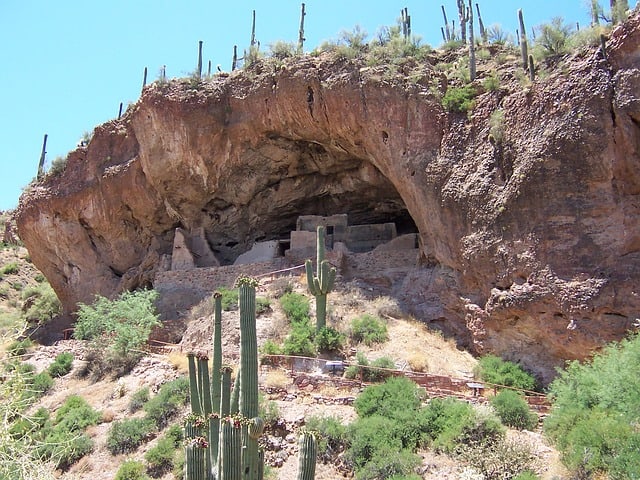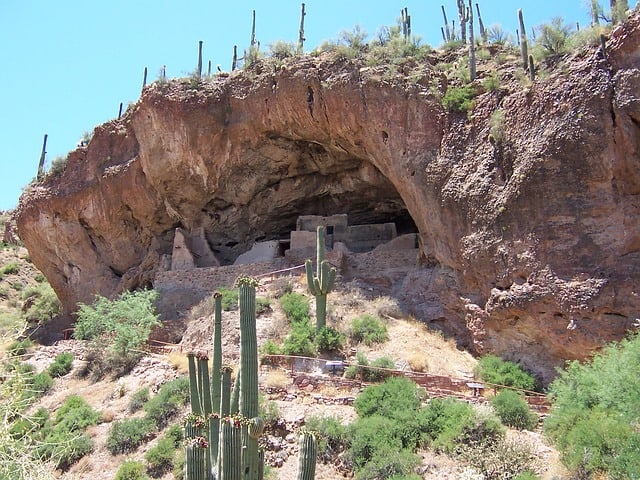 The hike highlights the beauty of northern Phoenix and offers an amazing view of the Tonto National Forest. Towards the end of the hike you can catch a view of Phoenix below.
It features about 1,250 feet of elevation gain, thus affording hikers a good workout along the way.
9. Quartz Ridge Trail
Known for its giant boulders and quartz stones that litter your path, the Quartz Ridge Trail is a popular choice for many.
You can choose to complete this 1.8 mile hike on its own or continue on another trail throughout the Phoenix Mountain Preserve. The first portion of the hike is generally flat, but you will gradually ascend thereafter.
This is an intermediate trail with an elevation gain of about 780 feet. Despite being popular, this short out and back trail has a smaller parking lot that can make parking difficult especially during popular times.
10. Sunrise Trail
The Sunrise Trail is a point to point trail that spans about 4.8 miles long. It is located by Fountain Hills and offers plenty of opportunity for scoping out wildlife. It is accessible year round and is considered a moderate challenge.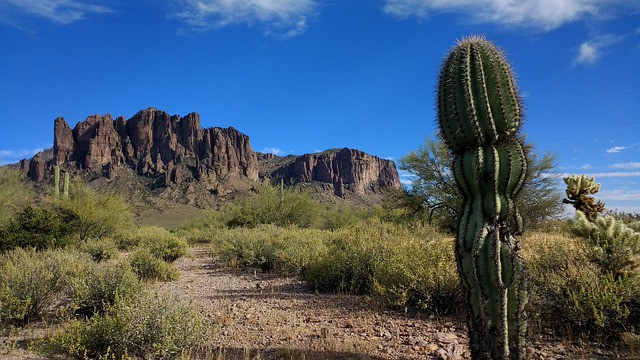 The trail gains around 1,134 feet and features panoramic views that include the Superstition Wilderness, Fountain Hills, Camelback Mountain, and more. The trail allows for bikes, dogs, and horses.
11. Lost Dutchman State Park Trails
Located just outside of the Phoenix metropolitan area, the trails at Lost Dutchman are a must-see. The Lost Dutchman State Park is a popular choice among the locals and is located about 40 miles from Phoenix.
The park is named after the "Lost Goldmine Fable", a story in which a man supposedly hid gold in the Superstition Mountains in the 1800's.
Trails offered here vary from easy to challenging, thus affording everyone a chance to check out the gorgeous desert landscape.
One family-friendly and wheelchair accessible hike is the gentle out and back trail known as the Native Plant Trail. It can easily be completed in about 30 minutes and has very little elevation gain.
For more of a challenge, check out the Prospector's View Trail which gains about 505 feet in the air, is considered a moderate hike. Other trails offered here include Discovery Trail and Jacob's Crosscut Trail.
12. South Mountain
South Mountain is located South of Phoenix and is an easy hike. There are more than 58 trails in South Mountain which offer stunning views of Phoenix.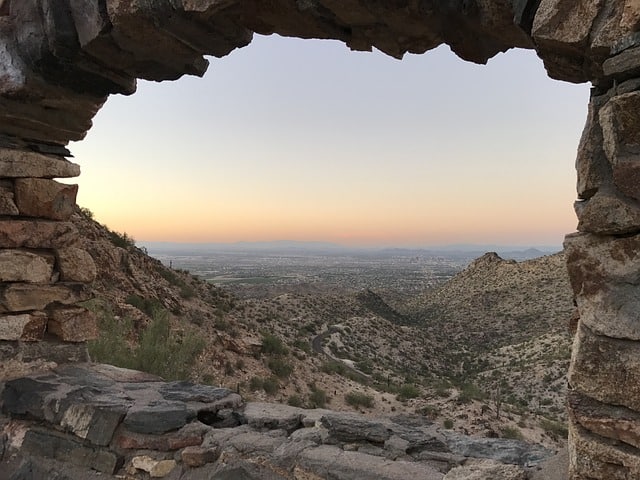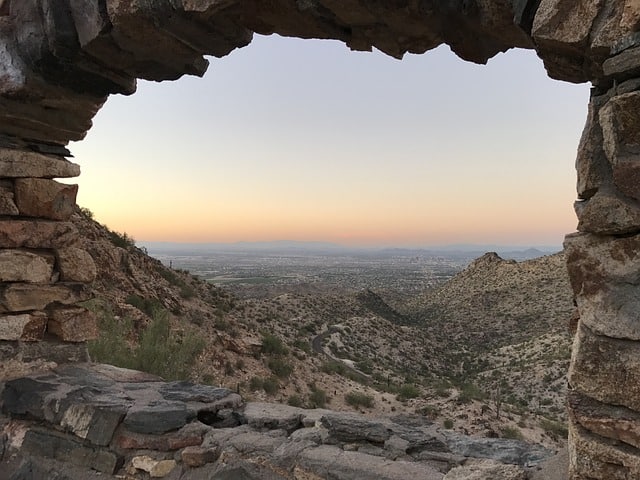 Hiking in Phoenix is a memorable way to get out and about in Arizona and enjoy the outdoors.
South Mountain is a free hike and in many opinions, remains one of the best local attractions in Phoenix. If you enjoy a good hike, this is one that should not be missed.
13. Echo Canyon Trail Hike at Camelback Mountain
If you're looking for a quick but challenging hike near Phoenix, then look no further than the Echo Canyon Trail on Camelback Mountain.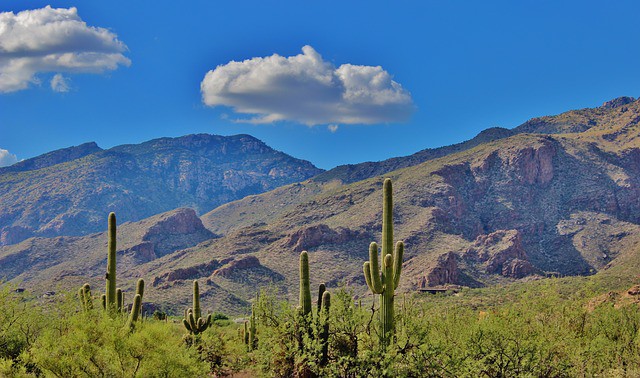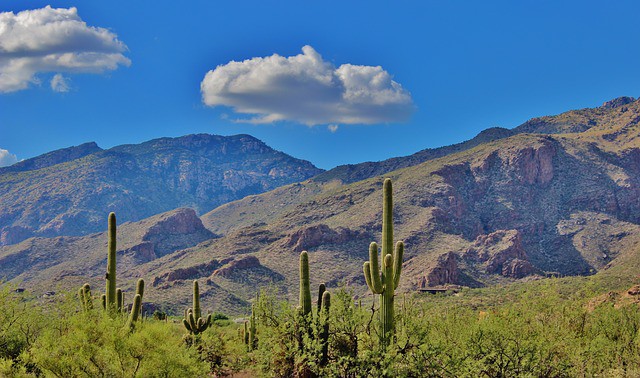 Though this is one of the most popular day hikes in Phoenix it is also not for the faint of heart.
The trail is only 1.23 miles to the summit, however, it is at an incredibly steep incline and is best for those who are physically fit and experienced hikers.
Arizona is a great place to go on a road trip and then visit Phoenix along the way. The Southwest Road Trip will take you through Arizona, California, and Nevada.
Things to know about hiking around Phoenix
There are many places to hike in Phoenix and trails are well marked. You do need to be conscious of the weather in Phoenix and take these precautionary steps.
Phoenix is perfect for outdoor enthusiasts. There is a hike for everyone on this list and for different fitness levels. Also, note that it is dry and hot (year round) and make sure you know what you are getting into before you start. Here are a few tips for Phoenix hiking:
Bring a reusable water bottle and lots of water! Remember you are in the sun and you will need to drink lots of water. I love my LifeStraw Filtered Water Bottle. I can refill this bottle anywhere and it comes with a carabiner to connect it to my daypack.
Check the Weather – days over 100 degrees are very common. On top of that there is quite a bit of air pollution in Phoenix which can make it suffocating. Make sure to check.
Hiking boots or sandals that will protect your feet! I love good shoes. I need all the support and help I can get. I actually love these sandals for hiking and have a whole post on Merrell vs Keen shoes for hiking. I also love these hiking boots which I used for Hiking in the Grand Canyon.
Bring hiking poles for balance and to protect your knees. I know many experienced hikers (and even amateur ones) think that hiking poles are for old people who lose their balance. Actually, hiking poles can help when going down steep inclines or when scrambling over rocks. They are great to hike with even for the most experienced hiker.
Wear a sunhat. I feel like this whole post is about how high you are in the mountains and how much closer you are to the sun but it is so true. At elevation, you are closer to the sun and more likely to burn. Wear sun protection such as a sun hat and sunscreen.
Be aware of the wildlife. This is the Southwest and you will need to watch out for snakes and other wildlife such as moose or a bear. Please stay away from wildlife and do not feed them. I recommend carrying bear spray as well.
Start Early – If you want to avoid the traffic and the heat you will need to start your hike early. That way it will be nice and cool and the smog will not affect you either.
Leave no trace. If you are new to the concept of Leave No Trace it is all about preserving the environment to ensure it is in the same or better condition when you leave it. This means that you should stick to the trails and carry out everything that you carried in. This is a great explanation of the Leave No Trace principles!
Water shoes are great for water hikes– If you don't have a pair, I highly suggest it as they are affordable. I have an article on the pros and cons of several pairs of water shoes.
Bring Bug Spray and a snack: Be sure to bring everything you need including a snack like a protein bar plus BUG SPRAY.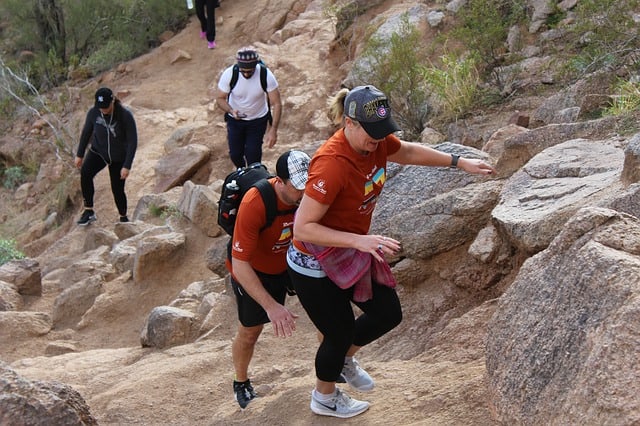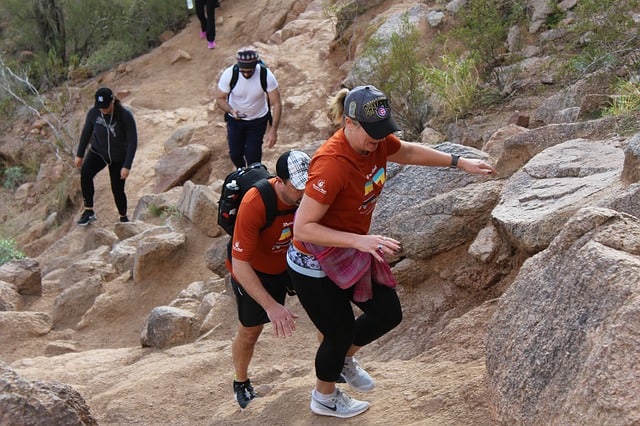 Where to stay in Phoenix
There are many places to stay in Phoenix for all budgets. Staying at an Airbnb in Phoenix is a great idea. The main thing you will need to decide is what area you want to stay in while you are there. Here are some posts I have written on where to stay in Phoenix.
Best Hotel Pools in Phoenix Hotel Water Park
Best 5-Star Resorts in Phoenix: Luxury Hotels in Phoenix
15 Comfy Airbnbs in Chandler Arizona
15 Perfect Airbnb Scottsdale AZ
19 Best Luxury Resorts in Arizona
Best Luxury Hotel – JW Marriott Phoenix Desert Ridge Resort & Spa
This hotel is situated in the center of the Sonoran Desert, less than 30 km from downtown Scottsdale. It boasts 2 golf courses, and offers air-conditioned rooms with scenic views.
Best Mid Range Hotel – Found Re Phoenix
Offering a year-round outdoor pool, Found Re Phoenix is situated in the Roosevelt Row district in downtown Phoenix. The hotel has a fitness centre, and guests can enjoy a meal at the restaurant. Valet parking is available on site.
Best Budget Hotel – Travelodge by Wyndham
This Arizona hotel is one kilometer from the Talking Stick Resort Arena, home to the Phoenix Suns basketball team. Guest rooms include free Wi-Fi and the hotel offers a 24-hour front desk.
Conclusion – Best Hikes near Phoenix Arizona
I hope you enjoyed this list of Phoenix Arizona Hikes. These are the 11 top rated hikes in Phoenix for you to enjoy. The great thing is you don't have to travel far as all of these are hikes near Phoenix.
Over to you. Have you been hiking in Phoenix? Which one do you think is the best hikes in Phoenix? Let me know in the comments below.
Sharing is Caring! Pin this article to save for later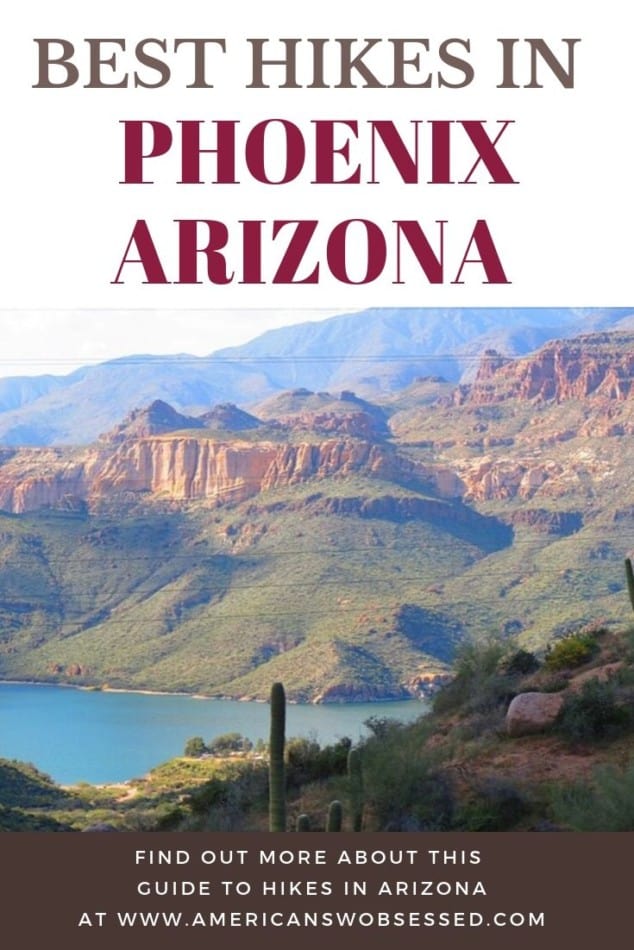 Continue Reading further on my site:
13 Ancient Indian Ruins in Arizona
Recent Posts