13 Best Self-Inflating Sleeping Pads

Finding the best self-inflating sleeping pad for you is one of the most important things to do when you are planning a hiking trip, camping trip or backpacking trip. I am not a person you want to meet when I haven't had a good night's sleep and that is why I think it is so important to find the right sleep pad.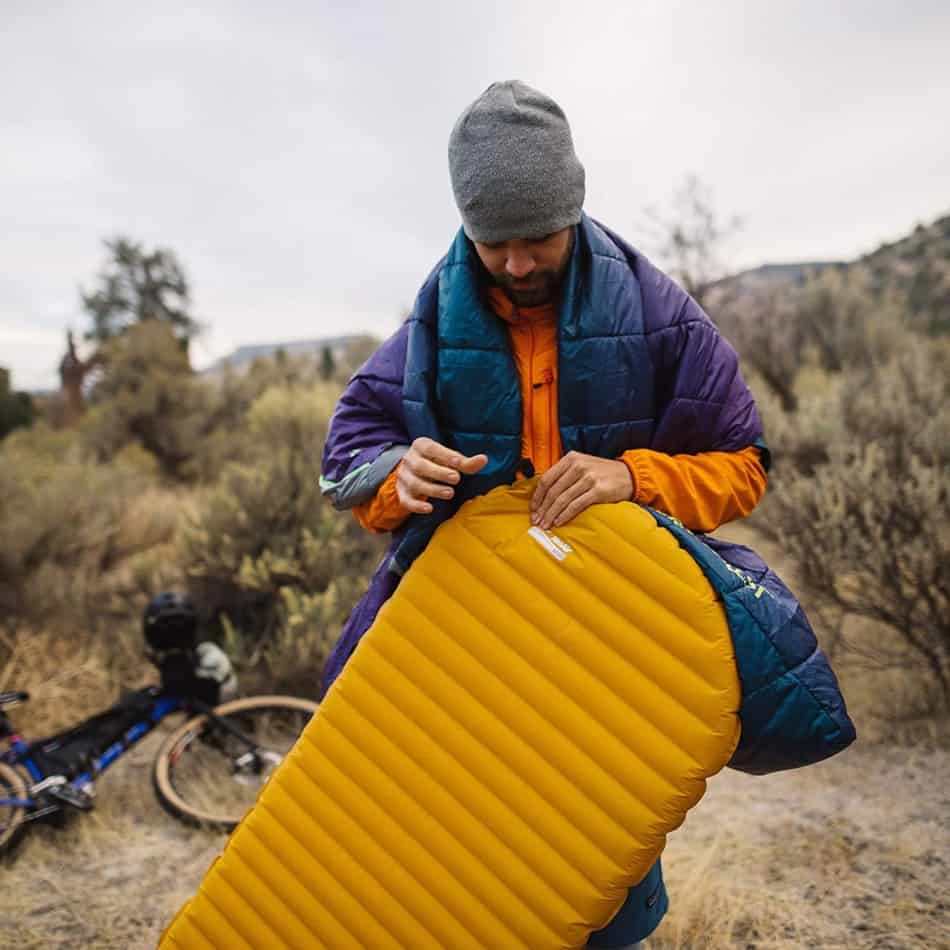 I have spent six months overlanding in Africa (Twice! Once in East Africa and once in West Africa). I have tried several different backpacking sleeping pads and I know a good one when I see it. As a side sleeper, I've even put together a guide to the best sleeping pad for side sleepers if you want some extra cushioning.

Of course with extra cushioning the backpack sleeping pad will come with extra weight. Do have a read of the best sleeping pad for backpacking features. These features apply across the board to any activity.

As you can tell, I am quite passionate about my sleep and that is why I have put together this comprehensive guide of the best camping sleeping pads even some ultralight sleeping pad to make sure its not too heavy to carry.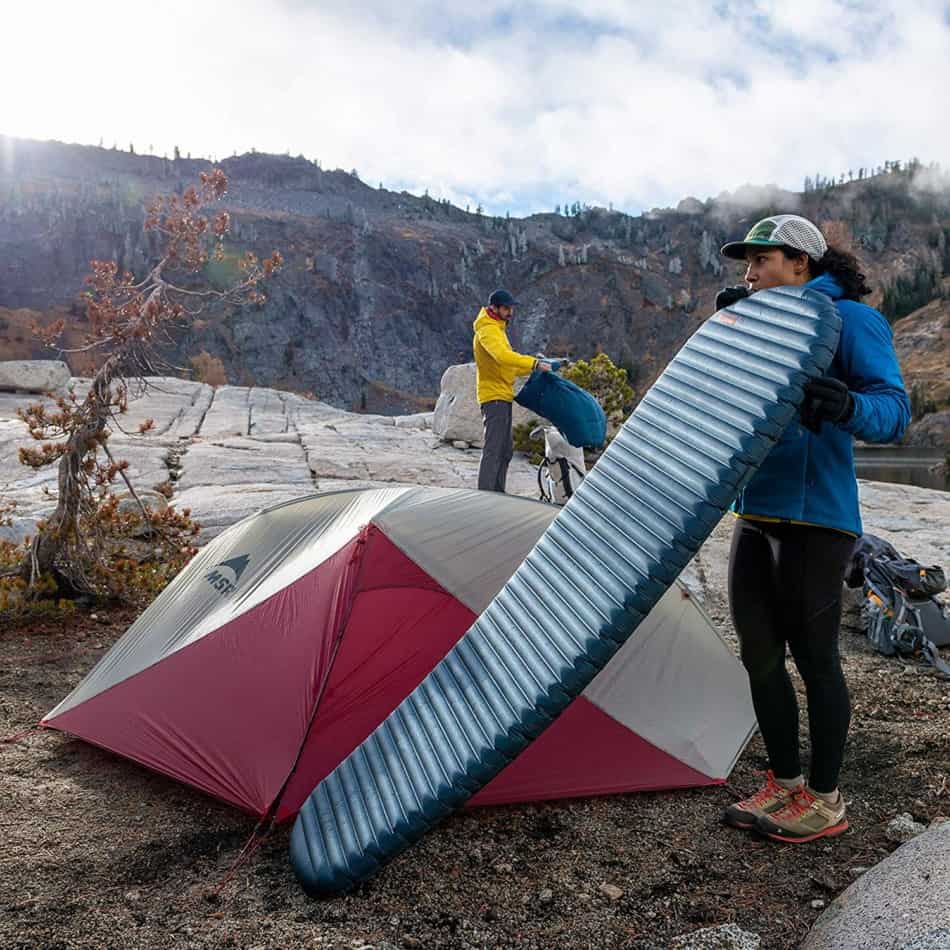 Quick Overview: Best Camping Pad and sleeping pad for backpacking

The Best Camping Pad
Best Sleep Pad Overall
Best Backpacking Sleeping Pad
Best Value Sleeping Pad
Lightest Sleeping Pad for Hikers
Lightest Self Inflating Sleeping Pad
Best Camping Pad for Tall People
Most Comfortable Self Inflating Sleeping Pad
Best Double Sleeping Pad
Best Camping Pad of 2020
Best Ultralight Sleeping Pad
Sleeping Pads Camping Reviews
This SoundAsleep Dream Series air mattress is the most advanced air mattress that you can find on the market. Why? Because it provides the comfort of a traditional mattress with the convenience of an air mattress.

Its 15 gauge material and multi-layered flocked top will give you a more relaxed and comfortable sleeping surface. The one-click toggle feature of this air mattress allows you to inflate and deflate quickly and easily.

Plus, the patented pump is made to be 20% quieter that competing motors and it fully inflates the bed in just 4 minutes! And the 4 minutes deflation function of this air mattress removes all the air from the bed, thus making it also easier and quicker to fold and store.

The SureGrip technology of this air mattress prevents the bed from unwanted sliding while using it. It also provides a suction grip on hard, flat surfaces that are more prone to movement during use.
The Exped Megamat 10 is mega in comfort, size, and warmth when it comes to a sleep pad. It is as comfortable as it can get whenever you are at a basecamp, camper van, or where lightweight is not your top priority. It introduces a new generation of self-inflating 3D mats with a level sleeping surface from edge to edge.

This self-inflating sleeping pad is ideal for outdoor activities like camping because it gives you a toasty warm and comfortable feeling. Its 3.9 inches of loft and stretch tricot surface will give you an amazing rest for the next day's adventure.

Its self-inflating feature saves your breath after a long day of outdoor adventure and it inflates with easy firmness adjustment with compact mini pump. And packing up is easier with this sleeping pad because of its height adjustable roll top bag with a carrying strap.

And whether you are camping on summer or winter, this sleeping pad is designed for 4 season comfort. And it has a Bluesign-certified insulation that keeps you toasty in temperature down to -54 degrees F.
Etekcity Camping Air Mattress Inflatable Single High Airbed Blow up Bed Tent Mattress

Instant, durable, and comfortable – these are the 3 things that this Etekcity Camping Air Mattress can give you and it can support up to 650 pounds. The supportive layers of materials built into this air mattress help you feel snuggled down and its comfy flocked top lets you enjoy the feel of a homey bed.

The seams of this mattress have been welded together so that it will keep the air inside, thus preventing air leaks. And even if you toss and turn during the night, the anti-skid base on the bottom will keep the air mattress in place.

You can also inflate this air mattress up until it is totally form or settle for any degree softer. And if you have back problems, this sleeping pad will keep the curvature of your spine well supported, whether you are just getting a temporary sleep or a full night sleep.

Both inflating and deflating this sleeping pad are easy with the included pump and it can reach full inflation in just 90 seconds. And no need for you to deal with a tangle of cords because of its cordless capability. Less hassle for you!
Whether you are heading out for a camping trip or just staying out-of-town with your squad, the ALPS Mountaineering air bed can ensure you that you will have a good sleep as if you are in the comfort of your bed at home.

Its special, top-of-the-line fabric and coil construction will give you the best durability and comfort, which makes it perfect for indoor and outdoor use. The reinforced bed construction gives you a comfortable and uniform sleeping surface so your back won't hurt.

The air bed bottom and side fabric is 17% thicker than other leading brands of sleeping pads and the top is 10% thicker. Plus, the plush and velvety soft flocked top prevents the bedding from slipping or sliding around.

You can customize the bed according to the firmness that you prefer. And what is amazing about this air bed is that it inflates in just over a minute! You can choose from two sizes: twin and queen.
This Coleman camping pad with pillow inflates itself once you roll it out and open the free-flow valve. Its durable and weather-resistant polyester shell will surely hold up night after night and the tufted design offers an extra layer of padding between the sleeping bag and the ground.

You don't need to have an air pump to inflate this sleeping pad, just simply roll it out and open the valve. And when it's time to pack up, just reopen the valve and push the air out using the compression strap and voila it's done!

This sleeping pad weighs 5 pounds with inflated dimensions of 76 x 25 x 2.5 inches.

This air mattress has independent connectors between the top and bottom layers to evenly distribute weight and minimize bouncing and movement disturbances when you sleep. The firmness of this air bed can be easily adjusted from soft to firm depending on your preference.

Lightspeed Outdoors PVC-free air bed mattress measures 79 x 55 x 7 and has a weight of 6 pounds. And it features a patented stabilizer system and single cap valve that makes it easier to inflate and deflate this air mattress.

It also uses TPU or Thermoplastic Polyurethane material that is more temperature stable, abrasion resistant, and more durable than PVC air beds and you wont smell any unpleasant plastic odors. This is very ideal for camping and traveling!
MondoKing 3D camping mattress is the biggest Therm-a-Rest mattress ever. Its vertical sidewalls create 20% more usable sleep surface so you can fully enjoy your sleep while on camping. Its dual valves allow compressible foam core to expand and inflate quickly when unpacked.

It has an R-value of 11.4 and it comes in to 2 available sizes: 72 x 25 x 4 (large) and 80 x 30 x 40 (XXL). The mattress provides 4 inches of stabilized loft for maximum comfort anywhere you go.

The supple stretch-kit fabric covers a deluxe sleeping surface that is breathable and plush. And the foam core delivers all-season warmth which make it perfect for outdoor activities all year round!
This Nemo Comso insulated sleeping pad is well loved by a lot of backpackers and car campers alike. It boasts 3.5 inches of loft provides spine support, and a stabilizing Pillow Baffle gives comfort for your neck and head.

It also features PrimaLoft insulation to keep you comfortable in temperatures as low as 15 degrees. It is made of 75D Polyester Ripstop fabric that is abrasion-resistant.

You can choose from its 4 available sizes: 20 regular, 25 long, 30 extra long, and 50 long. It is reinforced with an airtight polymer film and the pad is equipped with a seamlessly integrated foot pump for faster and easier inflation.
This double-wide Hikenture sleeping pad can accommodate two persons and can provide a level sleeping surface that's so warm and cozy that you won't feel that you are in the outdoor. And it's perfect for couples who love outdoor adventures!

This sleeping pad has a thickness of 3.75 inches and 47 inches double-wide which can provide you enough comfort to ensure you will have a good sleep while in outdoor. And it only weighs 3.64 lbs and measures 79 x 47 x 3.75 inches after fully inflated which makes this sleeping pad even more lightweight and compact than other brands.

There is a built-in foot pump that allows you to inflate this double camping mattress with minimal effort, and the Double-decked Valve feature is for rapid inflation and deflation.
This 3-inch thick sleeping pad by Wellax is the most comfortable sleeping experience that you will ever have in your outdoor activity. This self-inflating mattress is perfect for all terrain types and it is designed for side or back sleepers!

The laminated 20D rip-stop Nylon and the TPU Layer are waterproof, abrasion/tear resistant and it provides a good balance between a lighter weight and durability.

It has an R value of 9.6 which makes it perfect for keeping your body warm during harsh cold weather conditions. The pad also has a great warmth to weight ratio and a more durable bottom layer of fabric.

It has dimensions of 77 x 28 x 3 if you inflate this sleeping pad and it fits perfectly for your next camping, hiking, or fishing adventure! And when you buy this sleeping pad, it comes with two compressing straps and a carry bag.
If your top priority for a sleeping pad is for you to have an extra space to stretch and roll, this Klymit Static V is the one for you. The design of this sleeping pad is large enough to accommodate those who have broad shoulders, plus you can roll, toss, and turn while sleeping on this pad.

This V shaped sleeping pad gives support and comfort for your body regardless if you sleep on your side, stomach, or back and can be a lifesaver on your joints! Its dimensions are: 30 inches wide, 76 inches long, and 3 inches thick which gives you a luxurious amount of sleep and comfort and it only weighs 1.95 pounds. Its very light enough for backpacker and has an R value of 1.3.

The price of this sleeping pad is cheap, but don't be fooled by its price because it is one of the cheapest yet high-quality sleeping pads that you can find in the market today. And if you buy this pad, it comes with a storage bag that has a small pocket with a repair kit.
Sleep warmer and sleep smarter – these are the two things that Therm-a Rest will give you. And to achieve that, it stars with their comfortable foam camping mattress.

This self-inflating camping mattress is made of plus materials that is soft and stretch knot surface that feels great to your skin, plus it has an R value of 6.8 which makes it even more comfortable and suitable for high altitude. It has a thickness of 3 inches which makes it comfortable for you to sleep and you won't even feel that you are sleeping on the ground.

You won't have a problem inflating and deflating this camping mattress because it has a TwinLock Valve. It means that it utilizes two one-way valves, one for inflating and the other for deflating.
This self-inflating sleeping mat by Sea to Summit is so soft and comfortable that it would make you feel like you have never left your comfortable bed at home. Because of its Delta Core Technology feature, it maximizes its comfort and thickness without adding the weight and bulkiness of the polyurethane foam.

This sleeping mat is made of 30D polyester with an anti-slip print. And once you open the inflation valve, you can already hear the long and gentle breathe of air rushing into the pad. The 4 inches of foam thickness of this sleeping mat will surely keep your body warm. Plus, it has an R value of 5.5 which make its ideal for camping even in harsh and cold weather conditions.

This pad is very versatile, you can choose from its three sizes: regular wide, large wide, and double. But you also have to consider the size of your tent before picking the size for you. If you don't want to sacrifice comfort in sleeping, this is definitely a good product. But you will have to work a bit when packing it back to its storage.
Features of good Sleeping Pads for Camping and Backpacking
Price

When choosing a side sleeper camping pads, you should always prioritize your needs. And one of the factors that you need to consider in buying one is the price? How much are you willing to spend on backpacking pads for side sleepers?

Do note that there are 3 types of sleeping pads that you can choose depending on its purpose. Air pads, for example, have a lightweight feature and are ideal for backpacking.
However, they are more expensive than other types of sleeping pads. In fact, air pads tend to be more expensive the lighter and more compact they are. So in choosing the best sleeping pads make sure to consider the price and your budget.

Thickness

The most comfortable camping sleeping pad comes in different sizes, depending on your needs. And along with other features of a sleeping pad, the thickness of it is one of the most important features of an inflatable backpacking pad, especially for backpacking or camping.

Almost all closed-cell foam mats have the same level of the thickness or cushioning, but there are also various thicknesses that are available in the market today.

You also need to consider the width of the mat. You may be tempted to buy a sleeping pad that is quite narrow because it is cheaper but you need to consider if it will be comfortable. Nearly every sleeping pad offers a standard width of 20 inches. You should consider buying a sleeping pad with a width of 25 to 39 inches. That's what I use so you can turn over easily during the night.

However, you also have to consider the size of your tent to make sure that you can fit your sleeping pads inside because its size will really matter and will affect the quality of sleep that you will get while on camping. You may not be comfortable if the sleeping pad is too slim, so adjust to what your body needs.

But if you are a hiker who wants to ease the load of things that you will bring especially if you campsite requires a bit of a hike, you may want to go for a sleeping pad that has a thin foam mattresses as these are more lighter and easy to bring.
Ease of Inflating the Mat

Inflating your sleeping pad shouldn't be a difficult task after a day of hiking or backpacking. Don't waste your energy on inflating it as you will want tol conserve your energy. So, in choosing the best sleeping pads for you, you have to consider the ease of inflating and deflating the mat.

Inflating sleeping pads will vary on each product. With the aid of technology nowadays, there are self-inflating mats that you can find in the market that comes with air and cell foams which allow it to inflate on its own.

There are also manual sleeping pads that come with a hand held pump, or you can blow it manually which will only take 3 minutes to do it. This type of sleeping pads has the lightest pads but still has a decent cushion and suitable for side sleeping.

On the other hand, there are also closed cell foam sleeping pads that you can buy. This type of sleeping pad is the most basic pad that is made of defense foam filled with small closed air cells. They often come in metallic and heat reflective layer to give you that extra warmth, It is lightweight, durable, and the most affordable among the types of sleeping pads.

Warmth of the Mat

In cold conditions during camping or hiking, the warmth of your sleeping pad has a very important role because it literally keeps you warm at night aside from giving you a place to sleep. It acts as insulation between your body and the ground. And in choosing the best sleeping pad, it depends on the R value of the pad which will be explained further below.
Weight of the Mat

Before hitting the mountains for camping or hiking, it is important that you choose the right sleeping pad. And for most backpacker, the weight of the sleeping pad is a big concern. If you are carrying a heavyweight sleeping pad, it may take up so much of your energy especially if you are hiking up hill.

For starters, it is recommended that you choose a closed-cell foaming mats because they are lightweight. However, this type of sleeping pad doesn't pack down very small and is bulky.

But if you are willing to spend more for a lightweight mat that can pack down very small, there are inflatable backpacking sleeping pads that you can choose and are more popular nowadays than closed-cell foaming pads.

So, in choosing the right sleeping pad, consider the activity that you will be going into. If you are going for a minimalist backpacking, I suggest you go for an ultralight air pad.

What is R Value for sleeping pads?

R stands for resistance. And this R value in sleeping pads is very important because it is resistant against the air and ground especially if you are hiking in places at high altitudes.

Since you will be hiking or trekking and will be spending the night in the cold and on the ground. Sleeping pads can provide protection to your body against direct contact with the cold ground.

You can find a lot of sleeping pads that are specifically designed to keep your body warm and trap all the body heat in the fabric, most especially if f you are hiking in a place where it is susceptible to harsh air.

But you also have to consider the season in which you are going hiking or camping because it will largely determine the R value of your sleeping pads. For example, if you are hiking or camping during winter, you may want to buy a sleeping pad that has an R value of 5. But if it's during summer, a sleeping pad with an R value of 3 is appropriate.

You also need to remember that the quality of your sleeping pad determines its price. So, if you need a sleeping pad with a higher R value, you will pay more so that you can enjoy the higher notch value. But rest assured that you will surely get your money's worth.

Conclusion: Finding the Best Camping Pad for Sleeping
I hope you have found this useful to help you choose the best sleeping pads for camping. Its important to get a good night sleep while on your travels. My preferred sleeping pad is this one which I used in Africa both times.
Sharing is Caring! Pin this article to save for later.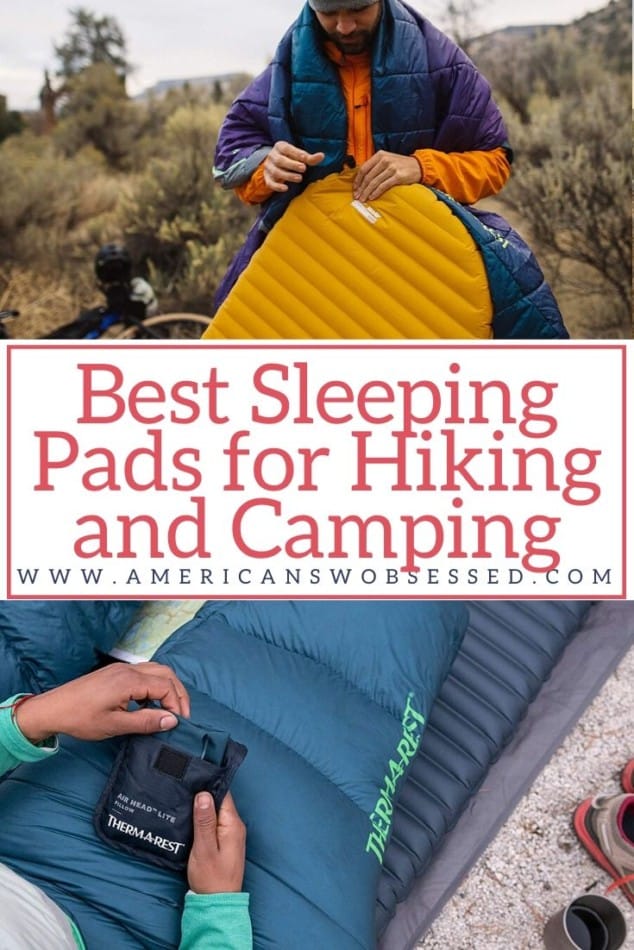 Continue Reading More on my Website:
Best Hiking Shoes for Grand Canyon
The Best Water Shoes for Rocky Beaches
Best Sleeping Pad for Side Sleeper: Ultimate Guide 2020
Recent Posts