How to choose the Best Water Shoes for Rocky Beaches

Are you looking for the best shoes for sand and water? This list of the best water shoes for rocky beaches has a lot of different options and price points.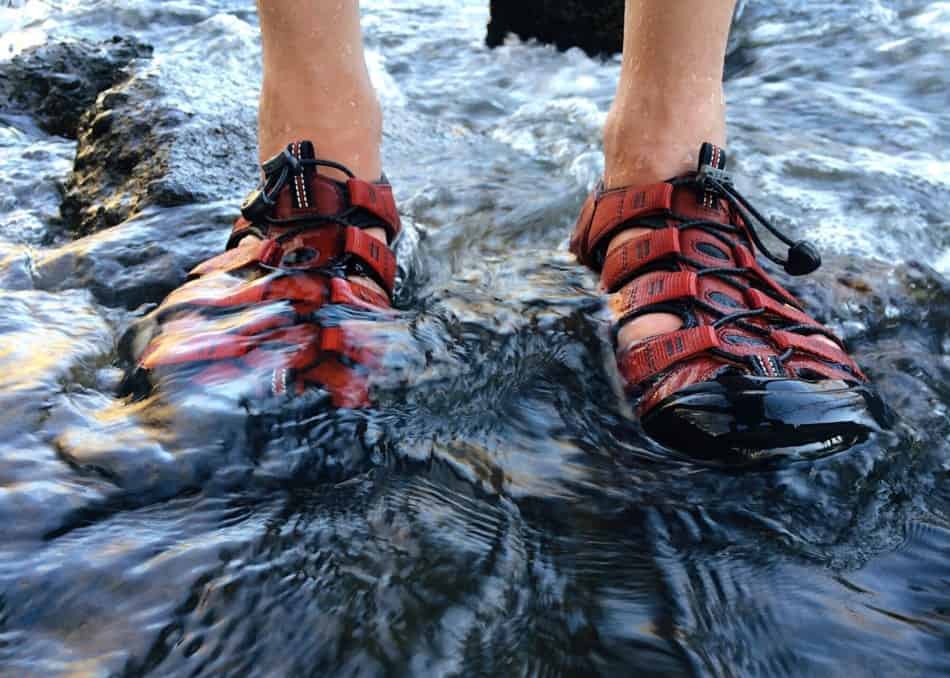 How many times have you been on the beach and had to walk over rocks that are jagged or slippery? That's why you will want to find the best water shoes for slippery rocks on this list.
Women's Shoes – Best Shoes for Beach Activities
Available in multiple colors the Aleader women's water shoes are breathable with a durable mesh upper and lower front, with laces to adjust the tightness.

These water shoes are designed to let the water come into the shoe and then drain out quickly, while still providing traction in difficult situations. The shoes have a ComforDry sicklier which provides an optimum cushion and helps to aid in creating a cool and dry environment.

These shoes are great for sailing, kayaking, swimming, walking, boating, jet skiing, and other water activities.
These water shoes are great for rocky beaches adventure, or any activity where you would use a tennis shoe, and also water activities. These water shoes are easy to slip on and provide drainage, are lightweight and flexible.
Available in 10 colors the Aleader water shoes have a mesh stylish tennis shoe finish with bungee lace up front to tighten then and secure them for optimum stability.

The water shoes have a FluidFlow technology system that allows water to flow through them and then drain freely to avoid weighting the shoe or foot down.
The Merrell women's Terran Lattice II sandals have a lattice cross over toe strap which leads into the heel strap providing breathability, comfort, and stability. The sandal has rubber soles, mesh linings, a removable ace footbed, a standard Merrell air cushion footbed which absorbs shock and adds stability to the entire foot.

The shoe has a buckle closure and is available in nine colors. These sandals are ideal for hiking, walking, walking through water, over rocks, and through streams.
Merrell's Hydro Glove water shoes for hiking and swimming are designed for paddle boarding and paddling in the ocean or surfing, these water shoes are great for drying out very quickly.
The water shoes have a Vibram Wavegrip which gives them traction on the bottom and great grip with the rubber soles. These water shoes are designed to be minimal but while remaining versatile and protective in and out of the water whether it's walking on sand, rocks, or just preventing getting stung by marine life.
These water shoes have a velcro strap on the top for tightening and are available in two colors, velvet morning and black.
The Teva Tierra women's outdoor water shoes have a crisscross section over the toes and a heel strap with velcro closures and hook-and-loop closure.

The shoes are made from 100% textile and have a nylon stability shank shock pad heel, compression-molded EVA midsole which provides optimum comfort and a traction outsole that channels water away from the shoe and the cushioning EVA topsole.
These women's water hiking shoes are available in black and walnut, the Teva Sanborn sandal has two pieces, a toe crisscross strap, and an adjustable hook and loop heel strap.

These sandals are comfortable and ideal for traveling, hiking, walking through water, and just going to the store. The straps are made from a water-ready polyester webbing which is durable and dries quickly. The sandals are injected with EVA-foam on the outsole for a lightweight feel and a cushioned comfort.

The Teva Tirra water shoes are ideal for walking, hiking, swimming, walking over rocks, through water, going to the store, traveling and road trips.
The Chaco women's Zcloud sport sandal is ideal for hiking, traveling, walking through rivers, paddling, or just as casual flip flops.

The sandals have Zcloud comfort with a pillow-top layer, ultra-soft PU, and instant-cushion sole with a LUVSEAT footbed. The sandals have a custom adjustable strap made from a quick-dry material that twists around the toe and up to the ankle, providing a customizable fit. The sandal comes in a variety of colors but all have the same features.
The KEEN Venice li H2 water shoes are made from responsibly sourced and environmentally friendly leather uppers, which are waterproof and breathable.

The heel strap is adjustable and there is a lace system on the front to tighten and loosen the straps. This provides a secure fit for hiking, walking, trekking, walking through water, and many other water activities. Available in two colors grey and blue these sandals are lightweight and perfect for traveling.
The Keen Whisper hiking water sandals have a bungee lace closure, which can be pulled tight for a secure closure, with a heel strap and are easy to get on and off.
The sandal has a hydrophobic mesh lining with a non-marking rubber sole, and a compression folded inside sole.

The inside sole has internal support which provides an excellent arch, these sandals are also machine washable.

The Keen Whisper sandals are ideal for river walking, shopping, hiking, beach walking, and many other outdoor activities. They are also available in multiple colors which all have a multidirectional lug pattern and natural odor control.
Available in 7 colors the Crocs Swiftwater water shoe features a hook and loop velcro strap for tightness and a mesh top layer that has gaps for draining water out. The mesh upper is breathable and fast-drying.

These water shoes are ideal for water activities, everyday activities, and just being out in the warm weather. The Crocs water shoes have all the features of a regular Crocs shoe with the comfortable sole, and they even have a pull tab to allow them to be pulled on and off quickly.
This stylish and comfortable water shoes for women are the perfect all-purpose shoes that you can find. It is incredibly easy for you to pull and off the shoes even when your feet have been soaking on the water for a very long time. Its design gives your feet an extra layer of protection against sharp rocks and whatever that is beneath the waves.

It has a fast dry material which makes it perfect for any water sports and it protects you against slippery surfaces. It is not only perfect for rocky beaches but also for other water adventures like snorkeling.
The DOUSSPRT women's water shoes are ideal for swimming, kayaking, sailing, cycling, boating, walking, and many other activities that may involve getting your feet wet.

These shoes are more like tennis shoes than sandals, they have a lace-up front, a breathable sole, and open mesh on the upper and lower soles to provide breathability and make them quick drying. The shoes are available in 11 colors and are all suitable for walking over rocks and tackling hikes.
The Mary Jane water shoes have an X band style strap, with an easy to pull off and on back.
These sandals are breathable, allow the water to flow in and out of them, and have great anti-slip and non-marking outsoles. They are available in multiple colors and are great for hiking, swimming, jet skiing, boating, and other water sports activities.
Zhuanglin women's quick-drying shoes are made from 90% fabric, with a breathable mesh cutter layer, a sole which can drain out water, and a strap to tighten.

Available in multiple colors the mesh cutter layer allows for the foot to breath and water to drain out. The solyte midsole is exceptionally lightweight with a bounce-back material. The soles have a water grip outsole which is great for keeping traction when wet or slippery. It is made from ComforDry which provides optimum cushioning, as well as a cooler and drier shoe environment.
These sandals have a toe strap at the front for the big toe then the straps crisscross over the foot, around the heel and then have a buckle closure on the side.

The footbed is cushiony and contoured to fit the foot snugly. The sandals do come up differently in size to other shoes so make sure to check the sizing guide before purchasing them. These sandals are perfect for hiking, walking, beach wearing, walking through rivers and streams and are quick drying.
These Sketchers water hiking shoes are available in four colors including mint, teal, brown, and blue/pink.
This quick drying aqua shoes is perfect for people who loves to be in the water whether swimming, surfing, snorkeling, rafting, or kayaking. It features a non-slip grip rubber outsoles that will provide you superior traction, especially when you are navigating fast moving water or rocky beaches.

Its mesh panels will allow your feet to breathe and for air and water to flow through swiftly which also helps you to move quickly. And if you are worrying that it might slip on and off your feet while on the rocky beaches, it won't because of its secure fit that will tightly hug your feet and still providing you comfort.
The Body Glove 3t Barefoot Cinch water shoes are designed for optimum comfort and great performance. The water shoe has a three toe section, with the big toe and the next two in their sections and the other four toes together.

This design offers protection and the ability for the toes to maximize performance and reduce injury. These water shoes are designed for kayaking, paddling, paddle-boarding, rafting, windsurfing, sailing, and fishing.

The water shoes have an Integrated Drainage System (IDS) which lets water flow through them and drain out again, providing breathability and increases the airflow. The water shoes have a stretchable upper material, an elastic shock lace design, and ultra-grip soles to prevent slippages in wet surfaces.
Men's Beach Water Shoes

Aleader water shoes are some of the best. One of the best features of this water shoes is its quick drying mesh that allows breathability and comfort for your foot. This casual and stylish looking aqua water shoes has a drainage sole that evacuates water quickly which is perfect for your next adventure in the beach.

It has also cushioned midsole that provides an exceptionally lightweight and excellent bounce-back and the bungee lacing system delivers a quick and secure fit. And these aqua shoes is not only ideal for rocky beaches, but also for travel, kayaking, and other water sports. 

However, if you are looking for a versatile water shoes that you can use both for rocky beaches and hiking, this may not work for some serious dangerous activities such as hiking.
SLM Men's Toe Slide Aqua Sock shoes is a very water friendly shoes and has a quick drying material for your comfort while in the beach. It has a drawstring closure that allows you to adjust the shoes so it wont slip on and off even in extreme water adventures.

The heavy tread on the bottom of the shoes is for slip resistance giving you ease and comfort while walking on rocky beaches.
These water shoes are ideal for those who are looking for outstanding and comfortable shoes for their water adventure. Its material is made of 92% polyester and it has a comfortable fabric that gives ultra breathable, lightweight, and very comfortable.

Its unique sole design is based on an ergonomically molded which has a good performance in a cushion that gives your toe protection from shocking. It has a drawstring elastic-shoelace so you can easily put on and take off the shoes.

The soles are made of rubber materials with breathability and non-slip resistance features and it can protect your feet both from hot beach and sharp rock. Not only that, it is also perfect for surfing, swimming, boating, or kayaking.
From sea to shore, Speedo Surfwalker 3.0 will totally give you the comfort that you need. It features a stretchy pull-on upper with mesh insets for quick dry breathability and secure fit. The inside of it has a cushioned insole that gives great protection on your feet and an S-trac outsole that offer no-slip grip.

It is made of 100% textile and it is constructed with lightweight four-way stretch for easy on and off. It is not only perfect for rocky beaches but also for hiking or trekking. Yes, this water shoe is multi-purpose!

However, one disadvantage of these shoes is that the soles are a little bit thin which may put pressure when walking on rocky ground.
Conclusion: Best Shoes for Beach Walking and Best Shoes for Rocky Beaches
For me, I can't live without my water shoes. I wear them everywhere from hiking to the beach to running errands.
Sharing is Caring! Pin this article to save for later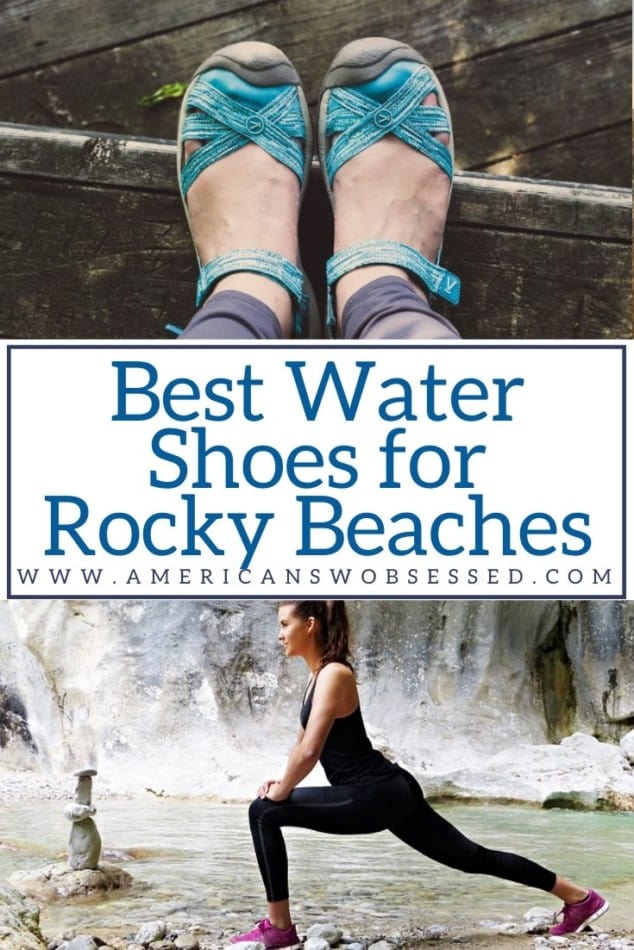 Continue Reading more on my website:
Best Sleeping Pad for side sleepers while camping
Best Hiking Shoes for the Grand Canyon
Best Backpack Coolers for Hiking
Recent Posts