Best Solar Powered Lanterns for Camping
Are you looking for the Best Solar Camping Lanterns? Finding the right solar powered camping lantern doesn't need to be difficult. That's why I have put together this list of best solar camping lanterns. These reviews of the best solar lanterns will help you make your decision.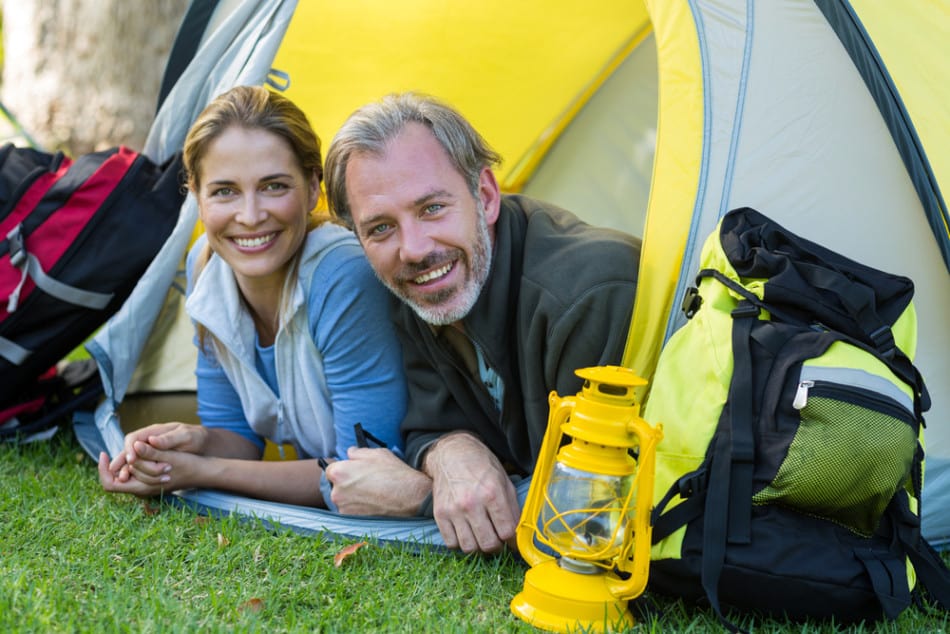 Solar camping lanterns are incredibly useful for outdoor adventures, hiking and camping. There is nothing better than getting away for the weekend and getting back to nature with some fresh air.
In this solar camping light buying guide, we review each solar camping light. We've listed the pros and cons of each on this list of top 10 best solar camping lanterns.
Thank you for supporting this website written by an American. This post may contain affiliate links. This means I earn a small commission on these links at no extra cost to you.
You can also check out my lists of great gift ideas:
The Best Gifts for National Park Lovers
The Best Gifts for Outdoorsy Women
10 Best Solar Lanterns – best lights for camping
MPOWERD Luci Outdoor 2.0
Pros: waterproof, rechargeable
Cons: USB port is not so durable
This Luci Pro Outdoor 2.0 lantern is a perfect combination of versatility and durability to make every outdoor adventure epic. All you need to do is set in direct sunlight for 14 hours or charge via USB port in 2-3 hours and it will last up to 50 hours on a single charge. You can easily set or adjust the light from low, medium, high, or 1 second flashing. It has a total of 10 cool white LEDs and it is a reliable source of light with mobile charging that will let you go further.
In terms of its design, it is very compact and easy to use. Just press and hold the power button for 3 seconds to shut it off. It has a total weight of 5.5 oz so it's very light and doesn't take too much space on your packs. This is your perfect companion for off the grid camping.
MPOWERD Luci Pro Outdoor 2.0 Inflatable Solar Light
Pros: Collapsible, built-in battery
Cons: Pricey
To be honest, this MPOWERD Luci Pro Outdoor 2.0 is pretty much the same as the MPOWERD Luci Outdoor 2.0. It's versatile and durable and can last up to 50 hours of usage. It has 150 lumens of light output and 10 cool white LEDs with a built in indicator. You can also set or adjust the light from low, medium, high, and SOS 1. You can charge it to full in 14 hours of direct sunlight or 2 to 3 hours via USB.
So what's the difference between the Luci Pro Outdoor 2.0 and the regular Luci Outdoor 2.0? This one is very compact. As you can read from the product description, it is inflatable and collapsible and it weighs less than 6.0z. Plus, it has a 2000mAh built-in battery which is a crucial feature in any solar powered lanterns because it means you can charge them up without any sunlight around in an emergency situation. Basically, this is the upgraded version of Luci Outdoor 2.0
So if you are looking for a more compact and functional version of the Luci Outdoor 2.0 but a bit pricier, then this is a great choice.
MPOWERD Luci Original Inflatable Light
Pros: lightweight, waterproof
Cons: No batteries
This MPOWERD Luci is the mother of the Luci Series. This durable lantern is the most basic lantern and it only requires the sun for it to function. You just set it in direct sunlight for 7 hours and it can last up to 12 hours on a single charge. It is also inflatable, collapsible, and more lightweight(4.4 ounces) than the other Luci series.
It is also waterproof and versatile which makes it perfect for patio, BBQ, camping, emergency preparedness, deck lighting, or for garden. And just like the other Luci series, it has 10 powerful white LEDs but it has only 3 settings – bright, super bright, and 1 second flashing.
So if you are looking for a cheaper version of the MPOWERD Luci that still gives its functionality and versatility, this is an ideal choice for you.
OBERLY Solar Inflatable Light
Pros: Cheap, waterproof, can be used as a power bank
Cons: plastic material
The OBERLY inflatable light is a 2 in 1 solar powered & USB rechargeable light is built in with large volume high efficient solar panel board and can be charged either by solar powers or USB. It only needs 2.5 hours to charge it and there is an indicator that will tell you when it is fully charged.
It has a built-in 10 white LED lights and it can provide a maximum of 90 lumens. You can choose from the four brightness levels – sleep mode, bright mode, glare mode, and flashing mode. In terms of its design, it is an IP66 waterproof 3L dry bag that is built to withstand any kind of weather condition.
And what makes this inflatable light even more amazing is that you can use it as a power bank. You can't really help it when you encounter a situation especially when you are camping that your phone would run out of battery, well you can use this as a charging power for your phone.
Goal Zero Crush Light Solar Powered Lantern
Pros: compact, two charging options, collapsible, very cheap
Cons: they take too much to charge on solar power
This Goal Zero Lantern is one of the most versatile light solar powered lanterns that you can find in the market today. You can use it in multiple ways – either hang it, light it, or crush it. It features four light settings of high medium, low, and a flickering candle mode. It has 60 lumens of light output and can run up to 35 hours on low.
You can also recharge it using the built-in solar panel or charge from any USB port with the included cable in about 3 hours. And since it is collapsible, this lantern is just over half and inch and can fit into any emergency kit, glove box, backpack, purse, and a lot more. This is a great and powerful lantern for your next camping adventure as it does not take up too much space and its lightweight.
Blazin Rechargeable Solar Camping Lantern
Pros: high light output, dual charging options
Cons: not waterproof, bulky
Even if the electricity fails or you are miles away from the nearest electrical outlet, you don't need to worry because this Blazin rechargeable solar lantern will save your day. This LED solar lantern charges conveniently with included Micro USB cord or through solar power. You can also use it as a power bank to charge your phone or tablet during a power outage or even during camping.
It boasts of its powerful 600 lumens of light output and you can choose from the three modes available – high, low, and SOS blinking. And the low settings can run up to 12 hours which is very perfect for the outdoors. However, this lantern is not as compact compared to other brands and it can be bulky to carry during camping or backpacking. But this is still a great product especially when you are looking for a high light output lantern.
AGPTEK Solar Lantern
Pros: five charging methods
Cons: not compact
This ultra bright solar LED lantern is one of the most efficient lanterns ever made in the market. It is designed with 36 LED for operation life up to 100,000 hours and it features low energy consumption thanks to the Polysilicon solar panels that are brighter than the other camping lights. It has two brightness modes that you can choose from – bright mode (ideal for reading and normal activity) and super bright mode.
And what makes this solar lantern even more amazing is that it has 5 charging methods. You can charge it through solar power, crank dynamo, AC adapter, auto lighter adapter, or 3 x AA battery. It also has an indicator if it is fully charged or needs charging. And in terms of price, this lantern is very much affordable. You can surely rely on this lantern and it is ideal for camping, reading, fishing, and other outdoor activities.
2 Pack Solar Lantern Flashlights
Pros: compact and portable,
Cons: not so durable material
This 2 in 1 lantern flashlight design can be used as a lantern or flashlight by the collapsible or the side switch and you can hang it on a camping tent or take it away with the stainless steel handles. Yes, it's very compact and portable and it is made of the matt ABS materials and the collapsible design makes it space saving and lightweight to take away. This is a perfect companion for your next camping adventure with family or friends.
It's omni-directional LED lights provide illumination in every direction and it is bright enough for indoor or outdoor use. You can also charge it in two ways – using solar power or through USB charging. This is perfect for hiking, camping, emergency, and even power outage.
Kizen Solar Powered LED Camping Lantern
Pros: portable, can be used as a power bank, splash proof
Cons: takes time to recharge
The Kizen Camping Lantern is probably one of the most compact and portable lanterns ever made in the history of camping lanterns. Its innovative space saving design makes it easier for you to pack during camping and it doesn't take too much space and weight. And when you fold it, it is 2.4x smaller from its full size and it can be used as a powerful flashlight.
It also has three versatile lighting options – high, low, and SOS for emergencies. And if you are low on your phone battery, it can act as a power source for your phone especially if you need to make that emergency call. This lantern is also splash proof rated and whatever the water condition is, it has you covered.
TANSOREN 2 PACK
Pros: compact and small size, multiple charging options
Cons: not so durable
The TANSOREN Solar Lantern is a versatile source of light whether indoors or outdoors. This lantern can light up to 8 hour and it has three kinds of power supply methods – built-in rechargeable batteries and solar panel, or 5V DC USB charging or use the 3 AA battery to supply power. And in case of emergency, the USB port allows you to charge your android mobile phone or other USB devices.
Its collapsible design allows you to pack it easily and when you want to use it, just pull the handles up. You can carry it anywhere you want to go and transporting it is very convenient.
Recent Posts