15 Best Swimming Holes in Arizona + map of these Arizona Swimming Holes to cool off this summer!
Arizona Swimming Holes: Are you wondering where to go swimming in Arizona? Check out these cool swimming holes in Arizona. There are so many cool places to swim in Arizona.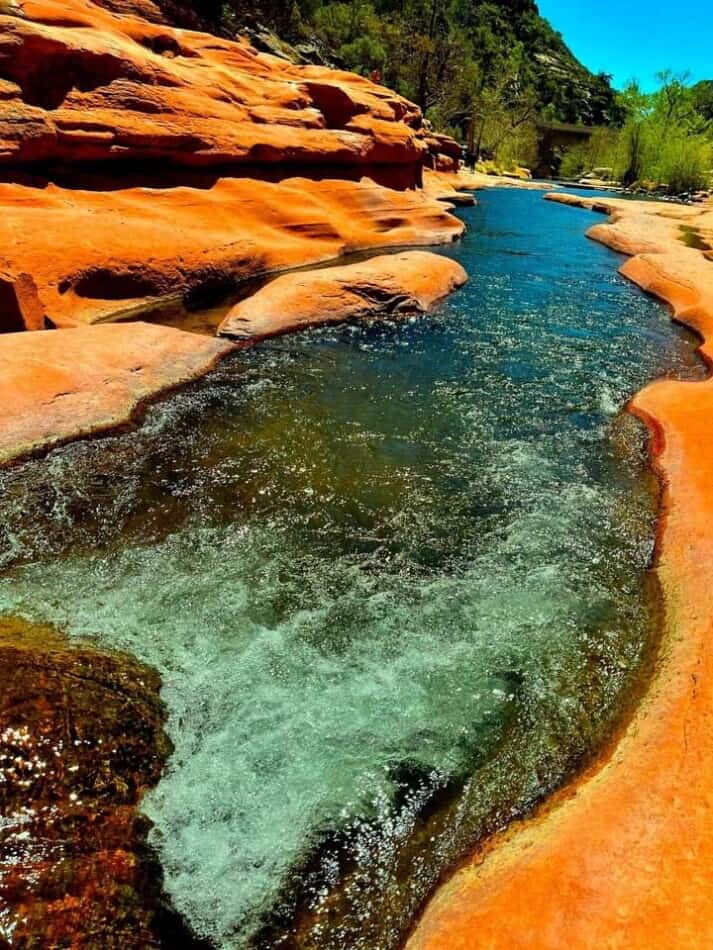 Whether you are looking for creeks in Arizona, natural pools in Arizona, or lakes to swim in Arizona – there is something for everyone on this list of AZ swimming holes.
If you are looking for more water options take a look at my post of the best hikes to waterfalls in Arizona, the best lakes in Arizona to go swimming this summer, or the best beaches in Arizona.
15 Water Holes in Arizona to cool off this summer
Grasshopper Point, Sedona, AZ
Grasshopper Point is an all time favorite for locals and tourists in Sedona. This beautiful swimming hole set with a landscape of gorgeous rock formations and greenery is a go-to, especially when in warmer weather.
Grasshopper Point rose to popularity because they are one of the best in the State: a beautiful swimming hole paired with amazing rock formations that are perfect for cliff diving.
It's an all in one package and it's accessible in Sedona, Arizona. Swimming, cliff diving, and lounging. There are also a handful of swimming holes to choose from with various depths that can accommodate all guests depending on their preferences.
Aside from swimming in the clear green waters, Grasshopper point is also known for its hiking trails, biking, and sightseeing. The area is gorgeously lush and it's no surprise that it remains to be a crowd favorite.
Havasu Falls, Supai, AZ.
Havasu Falls, located in the heart of the Havasupai Indian Reservation, is a crowd favorite when it comes to tourist destinations.
Historically, Havasupai is an American Indian tribe that has resided in the Grand Canyon for at least the past 800 years and has now turned to tourism to preserve and show to the world their beautiful culture through the Havasupai Indian Reservation.
Havasu, in the American Indian language, means "blue-green water" which proves to be true in the Havasu Falls.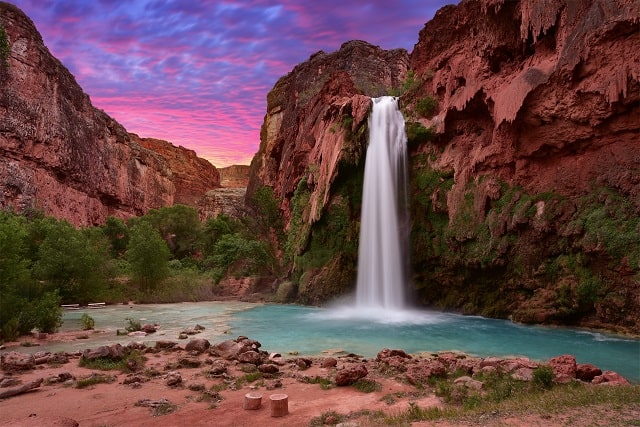 Spectacular waterfalls and swimming holes set against red rock formations are the main attractions of the place.
Guests get their fill of fun with swimming, hiking and trekking, sightseeing, and wading in the beautiful waters with the sound of crashing waterfalls in the background. Havasu Falls, in pop culture, has been featured in the 2019 music video for "Spirit", a song written and performed by Beyonce for the remake of The Lion King.
Mooney Falls, Supai, AZ.
Mooney Falls is located close to the first campsite of the Havasupai Campground with a height that scales to 200 feet and is the tallest in the area. Historically, Mooney Falls was named after D. W. "James" Mooney, a miner, who decided to harvest from Mooney Falls.
Mooney Falls is perfect for adventure and thrill seekers with its trail going to the falls itself but it is worth the short trip. The falls are spectacular and gorgeous.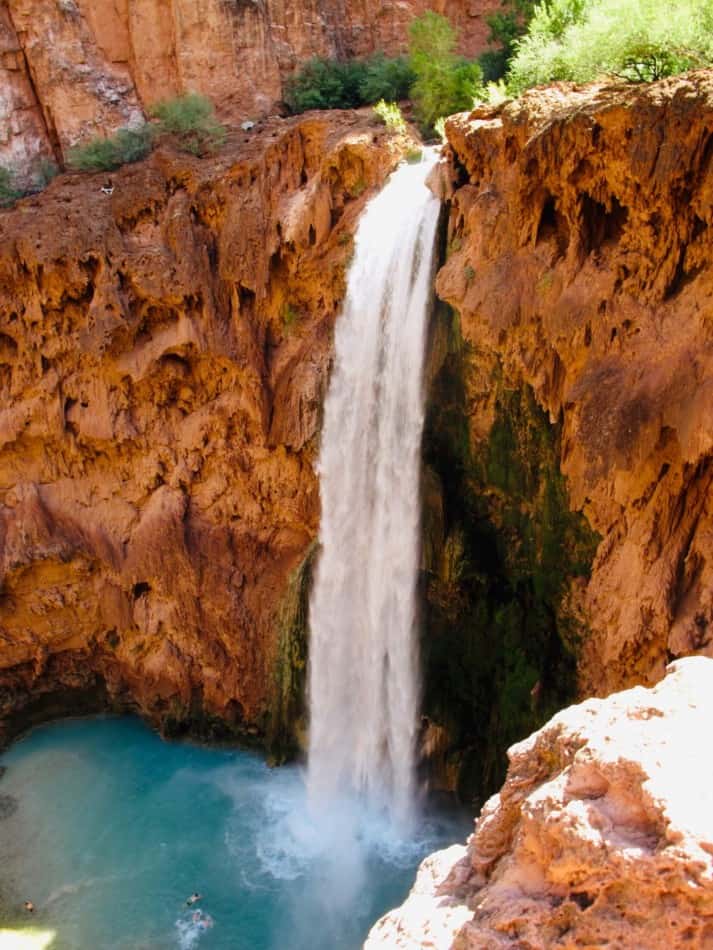 The waters are just cool enough to be refreshing on a hot summer day and cold enough in the chillier months.
The landscape of red rock formations and beautiful cascading falls is worth the trip which makes Mooney Falls a crowd favorite, especially for hikers and adventure seekers. Mooney Falls is well-loved by guests as it is secluded and is much more relaxing compared to the neighboring swimming holes. 
Romero Pools, Tucson, AZ.
Romero Pools, located in Catalina State Park, is the perfect getaway to escape from the summer heat! Sunshine, cool waters, and a hike that is worth the trip, Romero Pools would surely be one of your favorite memories.
The trail to Romero Pools is beautifully filled with yellow wild flowers, easy for everyone, enjoyable, and is worth the trip to the famous natural swimming hole in Arizona.
The pool itself is cradled between naturally carved stone and is a sight to see with the stunning landscape of rolling mountains and greenery.
When it rains, the swimming holes are filled up enough to secure an enjoyable swimming trip in this lush oasis. Considered as an oasis in the middle of the Arizona desert, Romero Pools offers cool waters and a relaxing ambiance for all guests. Visitors enjoy swimming, sunbathing, and even yoga by the shore of the pools.
Bull Pen, Camp Verde, AZ
Bull Pen Swimming Hole, located in Camp Verde, is known as one of Arizona's best cliff diving spots. Equipped with perfect water temperature, a nice clear pool, and different jumping heights suited for everyone, Bull Pen is a crowd favorite.
It takes a quick scenic hike among beautiful rows of trees and plants to get to the beautiful swimming hole and is easy for all guests.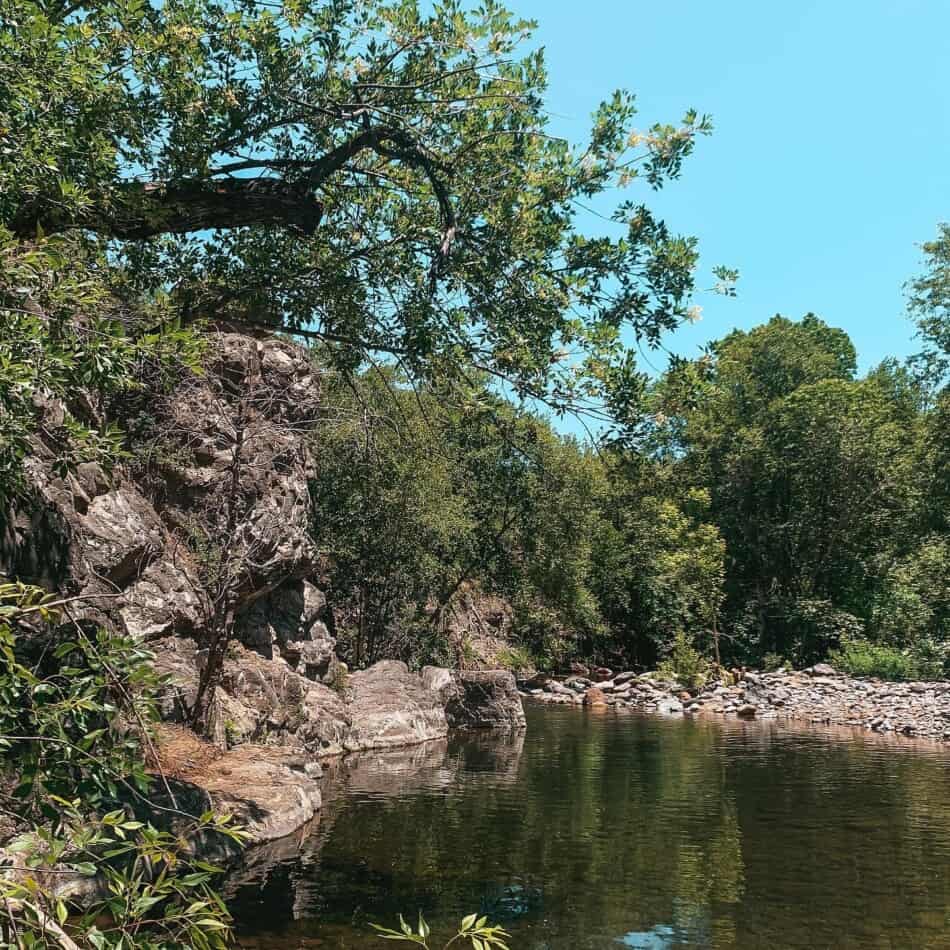 Everyone can enjoy swimming, sunbathing, jump from a rope swing, and cliff dive or cliff jump! This beautiful swimming oasis is perfect to escape the heat, to have fun, and to spend time with family and friends.
There are several swimming holes to choose from, if privacy is much preferred, and is accessible on the same trail that leads up to Bull Pen itself. 
Slide Rock, Sedona, AZ
Known as the ultimate getaway destination no matter the weather, Slide Rock offers fun, sun, and excitement right at Sedona, Arizona.
The swimming hole itself is beautiful with the contrasting colors of the red rock formations and the clear blue waters of the swimming hole itself.  There are many swimming pools to choose from with different depths that would suit even children or adults who prefer to wade in shallow waters.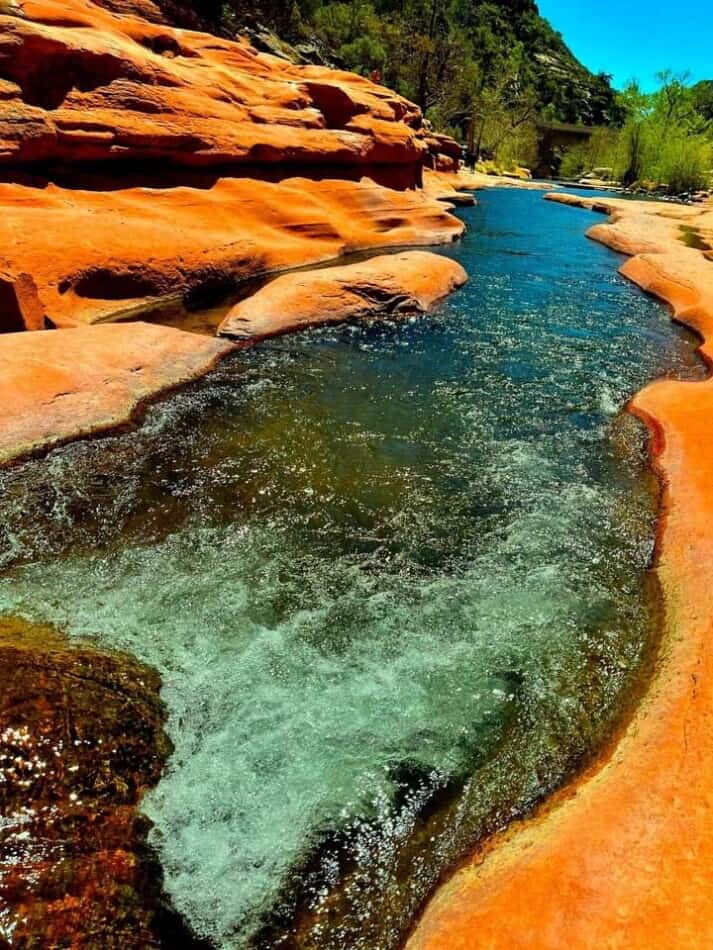 Aside from swimming, guests can also enjoy sliding in Oak Creek, an 80 foot long slippery chute that is worn into the sandstone.
There are different cliffs of different heights that can be used for jumping off into the cool waters. Slide Rock is surrounded by gorgeous landscapes of the Slide Rock State Park, making the entire experience unique and so Instagram-worthy no matter the angle.
Seven Falls, Tucson, AZ.
For both a hiking and swimming experience, head on over to Seven Falls. Located in the Sabino Canyon near Tucson, Seven Falls is a great hike and a fun swimming hole and is popularly known as one of the best recreations in the State.
The hike is scenic as it passes through lush forests and the Bear Canyon inside the Colorado National Forest and finally crosses through seven small streams before arriving at the actual Seven Falls.
Guests can enjoy swimming, lounging, and wading in the clear waters of the Seven Falls. The waters are cool and refreshing on warm summer days and are deep enough for swimming.
Aside from swimming, Seven Falls is popular for its hiking trails that take guests through picturesque views of lush greenery, majestic forests, and breathtaking scenery. Seven Falls just has it all.
Fossil Creek, Phoenix, AZ.
Welcome to Fossil Creek! Listed as one of the only two creeks in Arizona, Fossil Creek is known for its crystal clear waters and enjoyable swimming holes and waterfalls.
Fossil Creek is located along the northern part of the rugged Mazatzal Mountains, a remote area with one of the largest wilderness areas in the state.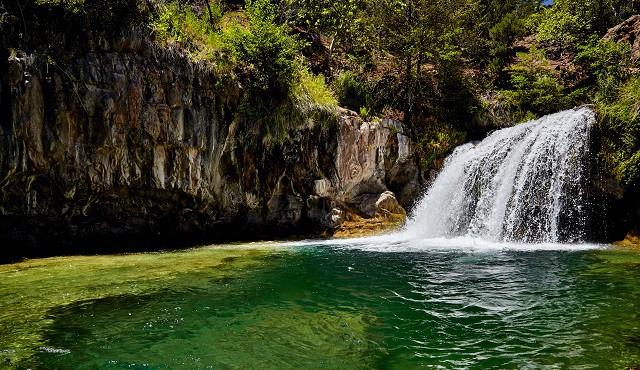 Guests enjoy various fun recreational activities in Fossil Creek's steady flow of warm waters such as swimming, floating, kayaking, and snorkeling.
Other than water recreational activities, Fossil Creek has hiking paths, namely Flume-Irving, Fossil Springs, Mail, and Deadman Mesa Trails, that are well-loved by locals and tourists alike. The hiking trails are popular for their stunning views of the landscape, wildlife, vegetation, and colorful wildflowers. 
Crescent Moon Ranch, AZ
When in Sedona, visiting Crescent Moon Ranch is an absolute must. Packed with a swimming area, picnic grounds, stunning views, and great ambiance, Crescent Moon Ranch is a one stop destination for all things fun and exciting.
Crescent Moon Ranch was established in 1880 and is currently serving as a day use facility for the U.S. Forest Service. The location itself lies below Cathedral Rock, one of the most iconic towering monuments found in Sedona.
Swimming is a popular recreation for locals and guests, as well as camping, picnicking, barbecuing, and photography.
There are several swimming holes to choose from whether upstream or downstream and the waters are clean and warm. Hiking is also a go-to activity in Crescent Moon Ranch as the views from the top are stunning. There is always something to do in Crescent Moon Ranch, making it one of the best getaway spots for any occasion. 
Wet Beaver Creek, Sedona, AZ
With the unique name it has, Wet Beaver Creek a.k.a. The Crack is one of Arizona's best and secluded natural swimming holes.
Although the trip and hike to Wet Beaver Creek is a little long, the location itself is definitely worth it. Red rock formations perfect for cliff diving, beautiful swimming waters, and an amazing view is everything that you could ask for in Wet Beaver Creek.
The long hike to the swimming hole makes it less likely to be visited by large crowds. That's why guests may enjoy the place to themselves and a handful or other people and may even solo the location.
Locals and tourists enjoy camping, picnicking, and just sunbathing in Wet Beaver Creek. 
Clear Creek Reservoir, Winslow, AZ
Beautiful blue waters and stunning mountain landscapes greet you in Clear Creek Reservoir. Located in McHood Park in Winslow, the creek is sometimes dubbed as "Little Lake Powell" with its beautiful landscape, deep blue waters, and amazing views that any one would definitely love.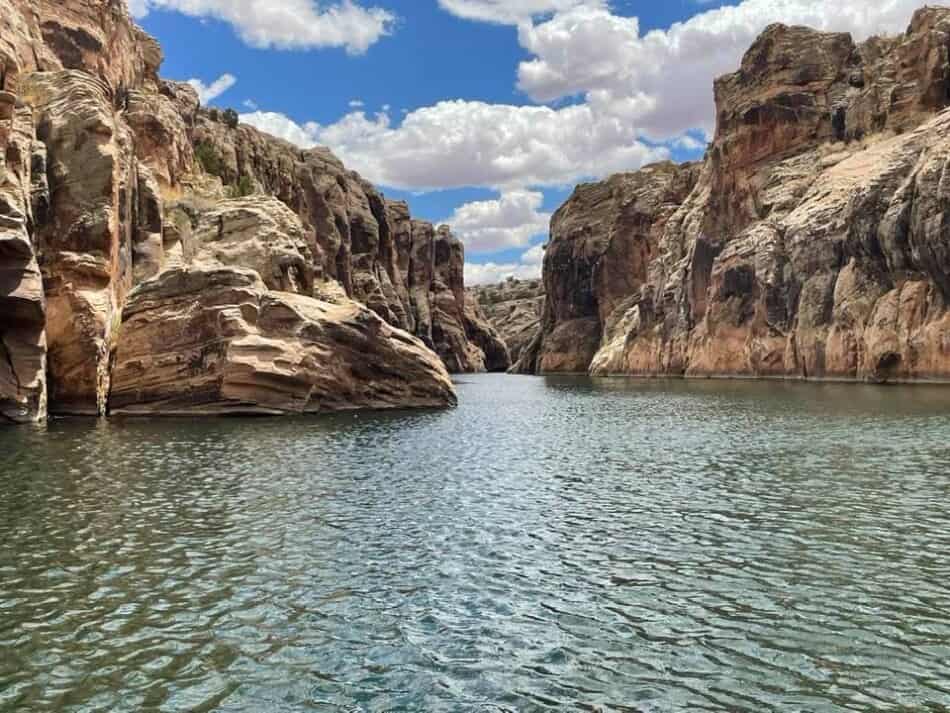 There is always something to do in Clear Creek Reservoir whether it's on the waters or on the grounds such as swimming, kayaking, paddling, boating, jet skiing, and fishing. Guests can enjoy picnicking, barbecuing, strolling, sightseeing, rock climbing, and camping on the grounds. The place itself is well loved and is perfect for a quick weekend getaway trip or just to chill and slip into a relaxed state no matter the occasion.
Ellison Creek Cascades, Payson, AZ
Waterfall lovers rejoice! Ellison Creek Cascades is one of the perfect destinations in Arizona that includes an amazing waterfall, glorious rock walls, and blue waters.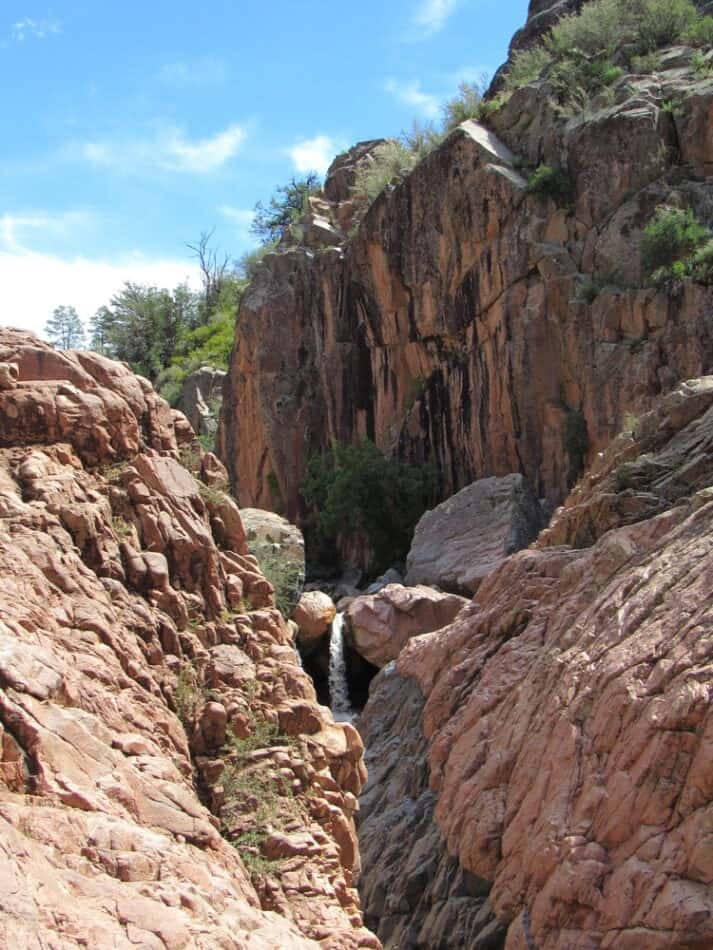 Historically, Ellison Creek was named after Jesse W. Ellison, a rancher and colonel, who herded his cattle in the area giving the creek the name it now has.
The hike to the location is easy and can be enjoyed by any one of all ages and is filled with picturesque views of greenery and the distinct sound of the waterfalls leading to Ellison Creek Cascades itself.
The swimming hole is clean, stunning, and well maintained. In the heart of the pool lies an old log, washed there because of flooding, that is carved into a makeshift staircase and is now known as Ellison Creek's landmark. Guests can picnic, hike, and cliff dive.
Water Wheel Falls, Payson, AZ
Cradled in between Payson and the base of the Mogollon Rim rests the beautiful picturesque landscape of Water Wheel Falls.
It's easy to locate since it's upstream Ellison Creek Cascades and is an easy short trip for all ages. Primarily, Water Wheel Falls is known for its hiking trail but the waterfall adds a touch of beauty to the already picturesque trail.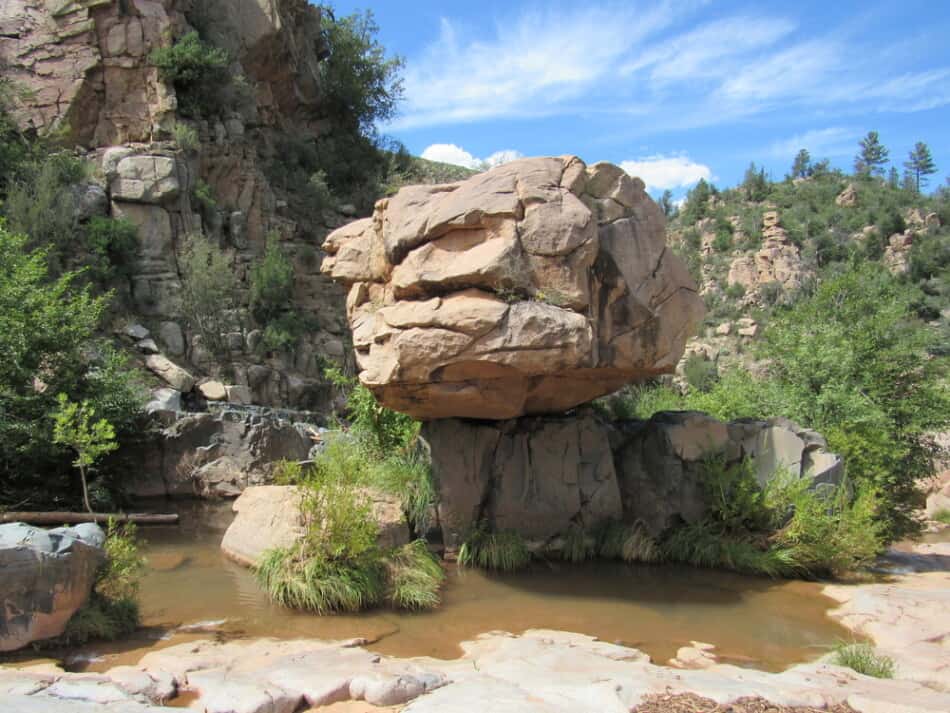 Water Wheel Falls features cold spring waters, picnic grounds, and majestic waterfalls. The crowds are thinner here since it's much more secluded and if luck is with you, you'll have the entire swimming hole to yourselves.
Encinoso, Oak Creek, AZ
Encinoso swimming hole may be small but its features pack a punch! Tucked away in Oak Creek, Encinoso swimming hole is perfect for a relaxing weekend or midweek getaway trip. Scenic and picturesque are some of the words fit to describe the area with the stunning landscape of Oak Creek Canyon and its beautiful green waters.
Not only does Encinoso have gorgeous waters, guests may also picnic, sunbathe, and lounge around in the area.
There are hiking trails around the area that feature the stunning views that Oak Creek has to offer. Birdwatching is also a popular activity to do around Encinoso as the area has various and diverse species of birds that flock towards the lush vegetation in the area.
Roper Lake, Tucson, AZ
Blue, wide, and bright. Roper Lake is stunning in its own right. Like an oasis in the desert, Roper Lake is invigorating, inviting, and is a favorite destination for locals and tourists. Enjoy swimming, fishing, camping, sunbathing, and boating on the beautiful waters.
Roper Lake not only has various water recreational activities but also offers fun things to do in the area.
Enjoy a nice soak in their natural hot springs, hike up the trails near Dankworth Pond, and be amazed by the various wildlife in the area such as birds and small mammals. Roper Lake also offers camping, picnicking, barbecuing, and other fun activities that can be enjoyed by everyone.
Recent Posts