25 Things to do in Las Vegas with Kids – Family Friendly No One Will Be Bored!
Vegas with Kids: Las Vegas can be a family-friendly destination as there are plenty of things to do in Las Vegas with kids.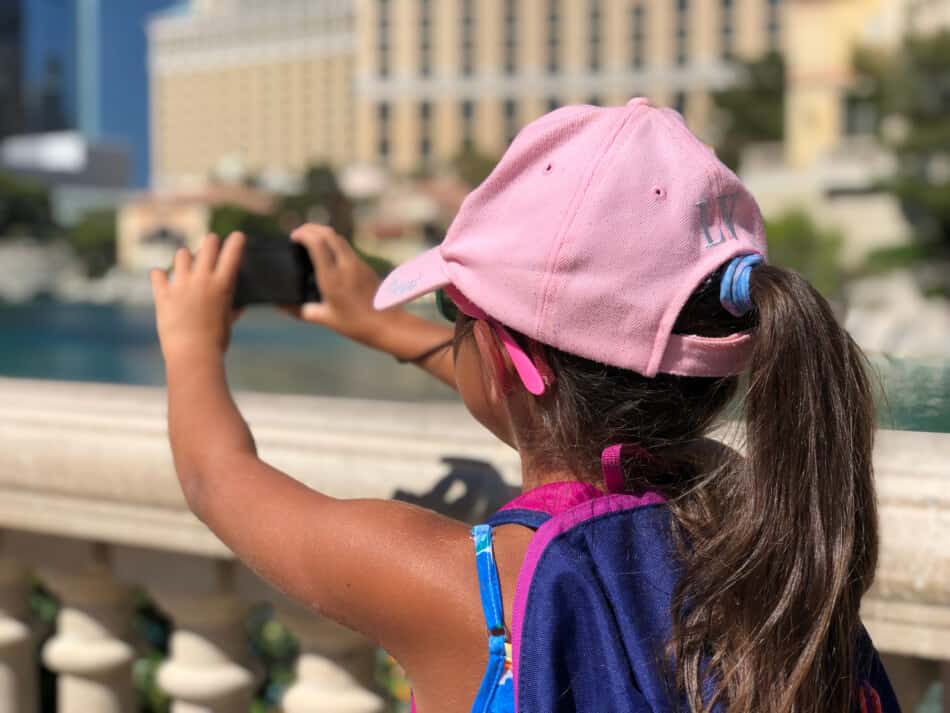 There is more to Vegas than nightclubs and slot machines. Now there are beautiful parks, awesome pools, art exhibits, amazing shows, and museums. There are so many places to take kids in Las Vegas.
Many of the kid attractions in Vegas are actually free. I have included a lot of free activities for kids in Las Vegas on this list.
I have also included the following on this list:
family activities in Las Vegas
Las Vegas things for kids to do
kid things to do in Vegas
activities in Las Vegas for kids
fun things to do with kids in Las Vegas
Feel free to use this list to plan your Las Vegas vacation with family and find all of the Las Vegas attractions for families. I have included all the best things for families to do in Las Vegas. There are so many cool Las Vegas attractions for families you have to check them out!
Thank you for supporting this website written by an American. This post may contain affiliate links. This means I earn a small commission on these links at no extra cost to you.
Fly Over the Grand Canyon – Las Vegas activities for families
Helicopter rides at Grand Canyon will take you to the south rim of the canyon and will give you an unforgettable and beautiful view that will surely make your trip a memorable one.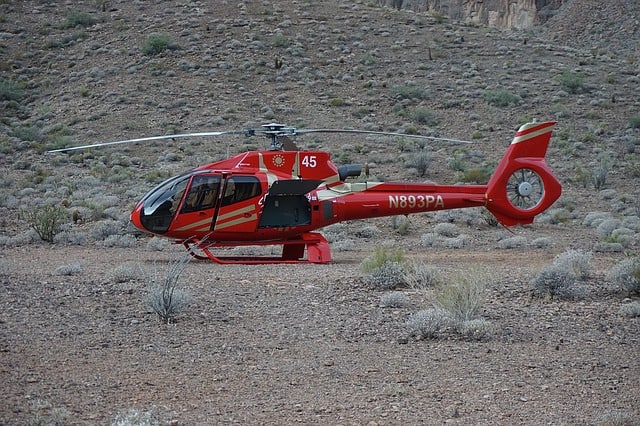 Travelers will fly from South Las Vegas on a Maverick Beechcraft 1900D aircraft in a 40-minute flight and will arrive at the Grand Canyon's South Rim.
Upon arriving, you can choose two itineraries. The first one is the Grand Canyon Explorer that will take you to a short ground transportation ride to the Grand Canyon National Park that highlights the natural wonders of the canyon.
Also included in the land tour are the Mather Point and Bright Angel Lodge. Second, is the Canyon Dream, they will also get to experience the same but there will be a 25-minute helicopter ride over the Grand Canyon before the Grand Canyon National Park land tour. Either way, both tours are a great way of experiencing the Grand Canyon Tour.
Price: US $ 349 per person
Duration of Activity: 5 Hours
Las Vegas Indoor Skydiving – kid friendly activities in Las Vegas
This is a family-friendly adrenaline-pumping experience. If you've always wanted to experience the excitement of skydiving but are afraid of jumping out of a plane, Vegas Indoor Skydiving may be the answer.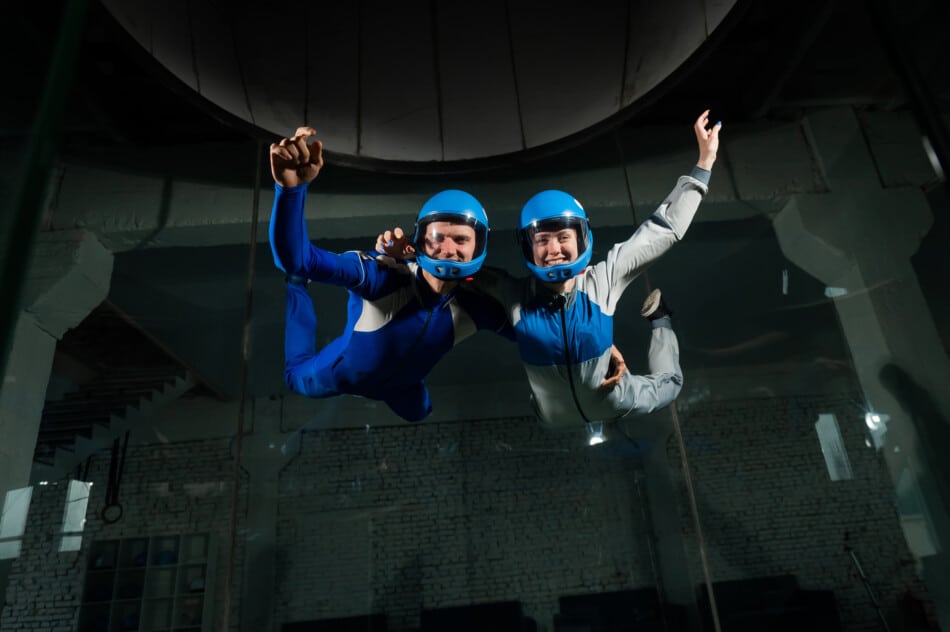 It may be intimidating for some individuals, but it is absolutely safe, and there is a training session. Each session lasts about 15 minutes, and you can get a discount on repeats if you schedule it right away.
Your body must meet certain minimum and maximum weight requirements in order to produce the appropriate lift. In either case, anyone taller than 5'6″ and weighing more than 160 pounds should be alright.
After a brief training session, you'll be fitted for your flying suit. It's best to dress comfortably, with a short-sleeved shirt and tennis shoes (it gets hot in there!).
Inside a cushioned box with a fan that delivers vertical gusts of up to 120 mph, you'll soar up instead of down.
Each person gets two minutes in the tunnel, and the whole thing takes roughly an hour. Don't worry if you've never done anything like this before.
It's a blast for people of all ages, and you won't need any prior expertise because you'll be guided by a flight instructor.
Enjoy a Gondola Ride at the Venetian – fun places in Las Vegas
A gondola ride at the Venetian is one of the ridiculously awesome must do things in Las Vegas.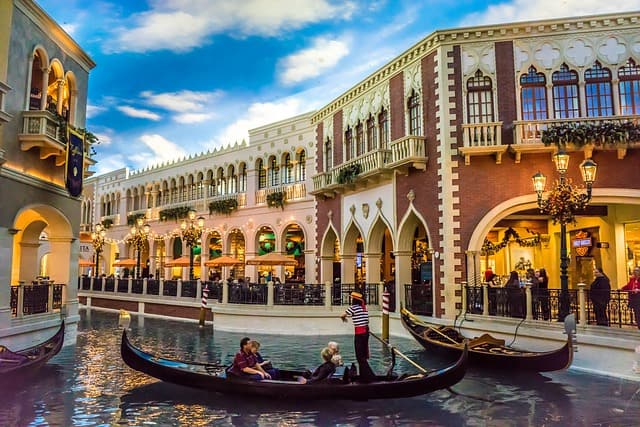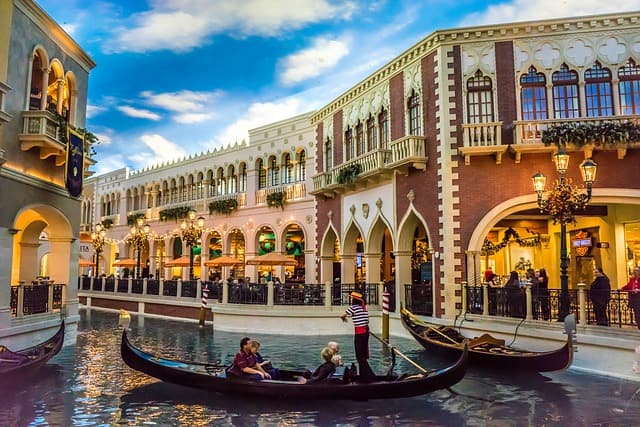 You can choose from the three popular sailing routes including the San Luca, the Grand Canal and Marco Polo.
They play Italian opera songs as you cruise along the turquoise water. Its another great place to take photos and create memories. The gondola carries a maximum of four passengers. It is so entertaining and will probably be one of the most unforgettable experiences in your life.
Attend a Cirque du Soleil Show for Families
When there's a circus in town, going to Vegas with kids may be a lot of fun. And what better way to see a show than Cirque Du Soleil?

This is the world's only city with seven resident productions. The Las Vegas Strip is bordered by several resorts, and several of them have shown up.

Stunts, music, comedy, acrobatics, and other elements are included. It's one-of-a-kind and exotic. The graphics are fantastic, and the greatest part is that they're completely free. You could even teach your kids how to enjoy a show without putting animals in risk. You'll be blown away by the sound system. Before continuing, make sure you double-check the times.

Cirque du Soleil performances are among the most highly regarded in the world. Cirque du Soleil productions such as K, Mystère, "O," Michael Jackson ONE, and The Beatles LOVE show are now available in Las Vegas.
Check out all the different shows on the Cirque du Soleil Website
Topgolf Las Vegas
It's not about having a passion for golf as a sport. Topgolf is an entertainment venue with a three-level driving range located directly behind the MGM Grand resort.
Regardless matter how good or horrible you are at golf, the view of the Strip from here is magnificent. Beginners can take an hour-long golf instruction before diving in.
Topgolf Las Vegas has four floors of climate-controlled hitting bays, a sleek pool with private cabanas and VIP suites, five bars, and a 900-seat concert theatre, as well as a beautiful swimming pool with private cabanas and VIP suites. Top Golf is unlike any other entertainment venue you've ever seen, and it's for individuals of all ages!
Other activities include shuffleboard, cornhole, swimming, and exploring 105,000 square feet with your friends while they all try to get that ace.
It's a family-friendly environment with plenty of zones where you don't have to be 21 to enter, making it a great playground for both kids and adults.
There are over 200 television sets and dining areas for people of all ages to enjoy.
Fly Linq Zip Lining between Two Hotel Towers
You can't afford to miss this thrilling experience. The ride sends you soaring to 400 feet above the Strip hotel-casino. As you ride, you'll enjoy a 360-degree view of the Strip.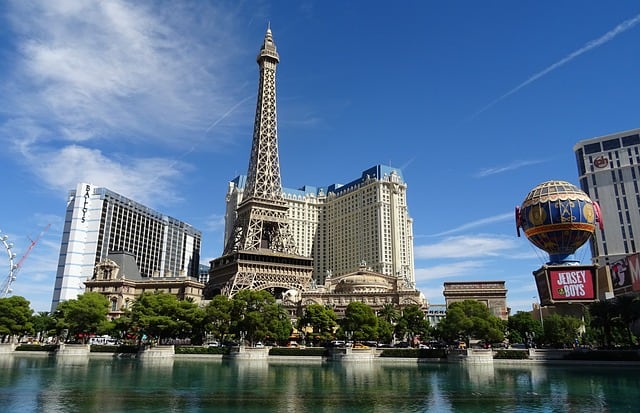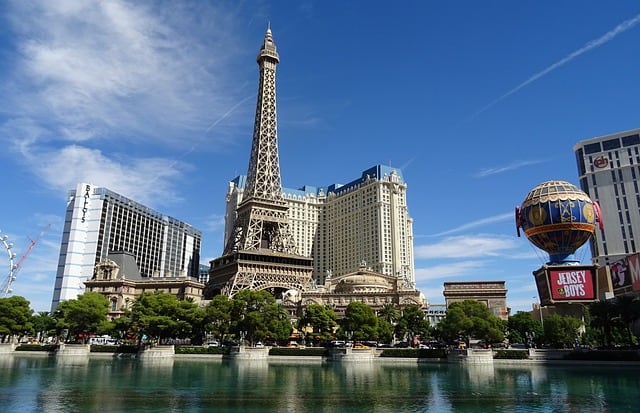 Every rider is belted in chairs which makes the ride both comfortable and safe. Riders are pushed at speeds of up to 35 miles per hour right to the top of Ipanema Tower then back to the starting point. It is not just like any other typical zip lining experience.
The ride is open from noon to midnight every day. You can also take great pictures as you enjoy the ride. Cost is $25. Book your Tickets Here
High Roller Observation Wheel
One of the most rewarding aspects of travel is the opportunity to see the world from a different perspective. Observation decks are one of the best places to have that experience.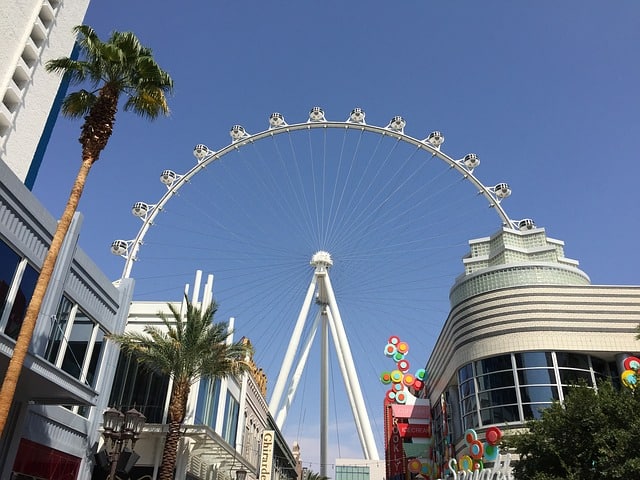 This 550-foot-high observation wheel is one of the most popular Vegas kid's activities. It is the world's tallest structure, with cabins that can accommodate up to 40 people at a time.
It gently revolves, providing a panoramic view of the airport, mountains, and, yes, the Strip. Here's where things get a little crazy. The High Roller never stops rolling, allowing guests to enter and leave while the platform is in motion.
It's one of the most beautiful sights to view, particularly after 5 p.m. You may have to pay a little more, but toddlers aged 4 to 12 receive a discount. You can even go in for free if you have kids under the age of three.
From atop this gigantic Ferris wheel, which is taller than the famous London Eye, you'll be able to see all of Vegas' sights from afar! The Bellagio Fountains, the Eiffel Tower in Paris, and other attractions are all close by.
You can book your tickets here
Attend the Mirage Volcano Eruptions show
The Mirage Volcano show is a fantastically coordinated fire and music show! It first opened in 1989 and quickly became one of the most popular performances on the Strip!
The Volcano Show times are Monday – Sunday: 7:00pm – 11:00pm every hour (7pm, 8pm, 9pm, 10pm and 11pm)
The show is nearly 5 minutes long. The show has been cancelled if there is a flashing red light on top (usually due to wind). This is a free activity in Vegas for kids.
Tournament of Kings
The Tournament of Kings at Excalibur Resort is a spectacular display of medieval soldiers wielding shields and swinging chains. It's a fantastic lesson in the value of athleticism and choreography.
The Knight will play in the Tournament of Kings' 900-seat arena, which will be transformed into a festive wonderland. There will be the legendary Merlin, as well as snowfall!
During this short engagement, the Tournament of Kings Arena magically transforms into a winter wonderland, ensuring that everyone has a 'holly jolly time.
However, the fight for honor must continue. The future of King Arthur is in jeopardy. While you cheer on your country's hero and eat a joyous three-course feast, knights will ride, charge, and joust their way to victory! It's the ideal way to eat, drink, and celebrate the holidays.
It's one of those enjoyable activities that the whole family can enjoy. Excalibur is the single largest buyer of Cornish game chickens, therefore you can anticipate them to be part of your meal.
Explore the LINQ Promenade
LINQ Promenade is the ultimate spot that brings many people together through open-air gatherings.
It is pedestrian-friendly and has been lined with trees. The area is free from traffic and offers retail, dining and entertainment options. It is a nice spot in case you're traveling with your family or looking for things to do in Vegas with a toddler.
Here, you can also stop for cool photo sessions with the fountains or High Roller. There is also the Sprinkles ATM that will make a nice background for your photos. Additionally, there are many holiday events to indulge in. Anyone can walk around LINQ Promenade. Don't forget to step into one of the souvenir shops to buy something memorable.
Marvel Avengers S.T.A.T.I.O.N.
Assemble the Avengers! If you've ever wanted to say this to your entire family, you must go to Treasure Island's Marvel Avengers S.T.A.T.I.O.N.
It's a museum dedicated to today's most popular superheroes from throughout the world. They offer authentic Marvel movie costumes as well as interactive exhibitions. A large number of original items and costumes from the Marvel Avengers films are on exhibit.
It's a museum dedicated to the world's most well-known superheroes of today. They include both original Marvel movie costumes and interactive exhibits. The display features a great number of genuine items and costumes from the Marvel Avengers flicks.
This is one of the most fascinating family activities in Las Vegas, and it will certainly keep your kids occupied for a long time! Children under the age of three are free.
Lion Habitat Ranch
The ranch has been here since the mid-1970s, but it was only in 2012 that visitors were allowed. If you're looking for things to do with kids in Las Vegas, this should be at the top of your list. This is your opportunity to see exotic creatures from a safe distance.
This isn't your ordinary zoo. There are currently around 30 lions, ostriches, emus, and a baby giraffe on the premises. You will be able to take photographs with the animals and may even have the opportunity to feed them.
Children under the age of four are admitted free, while those under the age of 14 must be accompanied by an adult. Ozzie the giraffe also does some humorous artwork with his mouth, which you get to keep.
This lion sanctuary is just a short drive from the strip in Henderson. The Lion Habitat Ranch is a non-profit organization that allows people to view the animals and support their conservation efforts. Visit their website for family group rates.
Wet'n'Wild Las Vegas
On the outskirts of Vegas, Wet'n'Wild is a big water park. Wet'n'Wild is a great place to cool off from the Nevada heat and enjoy the water slides, wave pool, and lazy river if your hotel does not offer a kid-friendly pool.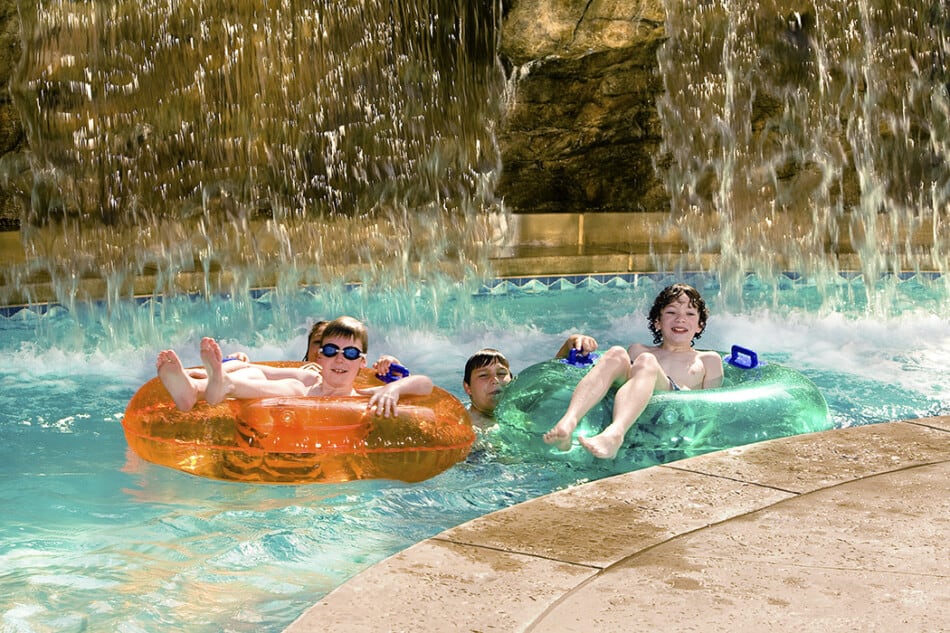 It's especially enjoyable in the summer if you live in the Summerlin neighborhood. It's appropriate for all ages. So, here's your chance to have some fantastic outdoor fun with your family.
This is ideal for a day out with the kids, with over 25 slides and some truly unique attractions like the Tornado and Canyon Cliffs. Yes, Wet'n'Wild doesn't leave any stone unturned, so you're in charge of your own safety. If a child is experiencing an adrenaline rush, they must be supervised by an adult.
During the summer, it is open for about half of the year and closed in the winter. Prices vary depending on when you visit, so check them out ahead of time. Season passes are available for its sister sites, which are located in Hawaii and Houston, among other places.
Check out my post on the Best Water Parks in Las Vegas for more options.
Visit the Neon Museum – museums in Las Vegas for kids
This is the place to go if you want to learn about the history of casinos in Las Vegas, Nevada. The Neon Museum is situated on a two-acre plot of ground known as the Neon Boneyard.
Some restored artifacts can be seen on a walking tour around downtown Vegas. Paul Revere Williams, the architect, is recognized in some of the exhibits. You'll have to expose them to the concept of gambling before you can explain the worth of the exhibits, so this isn't exactly for toddlers.
Nevertheless, it is ideal for children above the age of ten, and tours can be taken at any time of day or night. Since, you know, neon, the night tours are more thrilling. However, be wary of shards of glass and rusted metal edges.
You can Book your tickets here
Visit Valley of Fire National Park
About an hour away from Vegas is the Valley of Fire National Park. Driving through the Valley of Fire is the easiest way to enjoy the view. Pink, red, and orange sandstone rocks create amazing vistas that you can see from your car.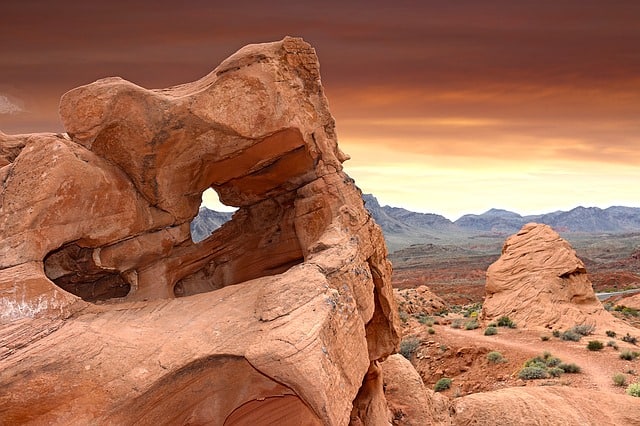 I really enjoyed the beehives and the petroglyphs that are found in this park. Check out my post on How to get from Las Vegas to Valley of Fire .
Seven Magic Mountains
Seven Magic Mountains is an art installation located 10 minutes south of Vegas. It is created by Internationally renowned Swiss artist Ugo Rondinone.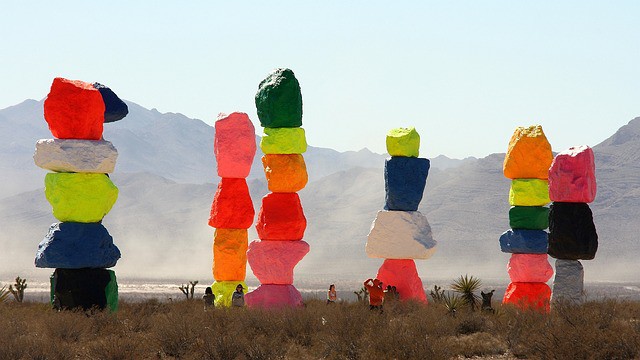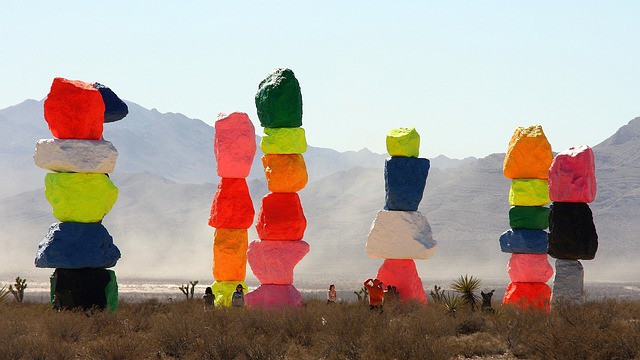 This is a popular instagram spot for people to go and take pictures. The art installation was only supposed to be open for two years but due to the popularity it remains open.
The Underground at The Mob Museum – Las Vegas museums for kids
Located in the basement of a museum, there are no signs on the green side door outside The Mob Museum. You press the buzzer and say the password and the door is unlocked.
The Mob Museum opened in April 2018 and the underground speakeasy is a cool little attraction.
Entrance is free with Mob Museum admission or free on its own after 5 p.m. through the side entrance with the weekly password posted on Instagram.
The Bellagio Conservatory & Botanical Gardens
Discover the most grandiose and commanding water feature ever built! With opera, classical, and whimsical music, Bellagio's world-famous fountains will speak to your heart while playing with your playful nature through their meticulously orchestrated movements.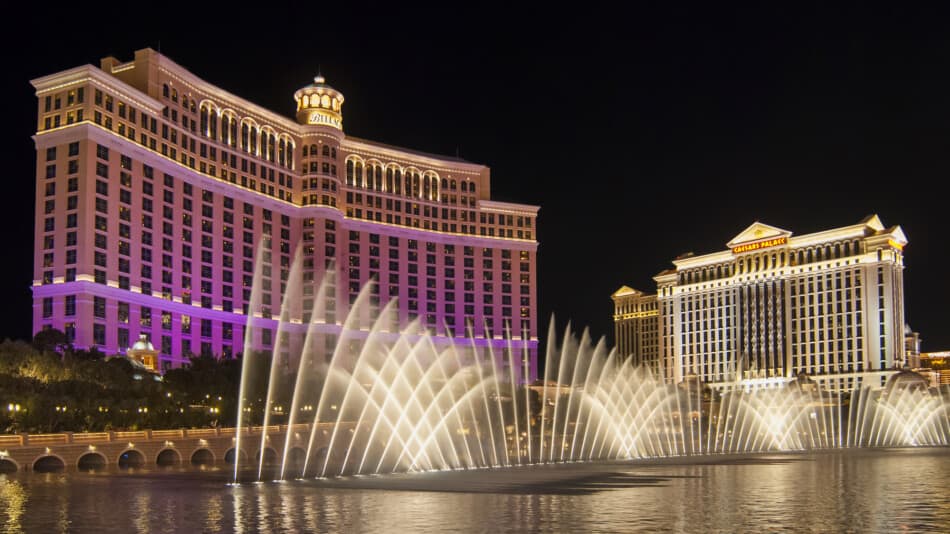 If you're looking for indoor activities for kids on a hot summer day, this is a good bet. It's free and changes with the seasons and holidays in the Bellagio's lobby. Thousands of plants and flowers are carefully organized into different color themes.
Hundreds of people labor hard to keep these plants in good shape, and the location is adjacent to the famous Bellagio fountains. Seeing the water rise hundreds of feet is a delight. This is something you can do even if you aren't staying at the hotel. You will, however, be charged for parking and valet services.
The Bellagio Fountains are free and run every 30 minutes from 3 pm to 8 pm Monday through Friday, and every 30 minutes from midday to 8 pm on Saturdays, Sundays, and Holidays.
Shark Reef Aquarium at Mandalay Bay
Walk under the iconic Shark Reef tunnel and see more than 2,000 animals, including sharks, giant rays, endangered green sea turtles, piranha, and Komodo dragons.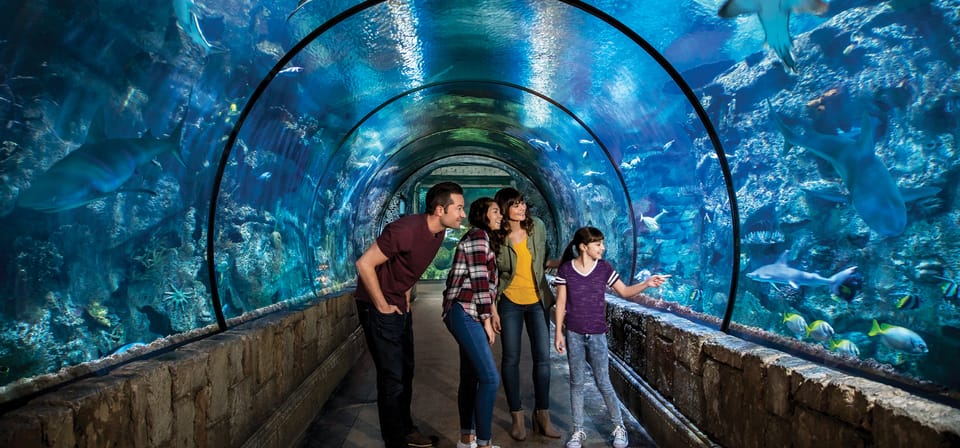 Experience a fascinating underwater world at the Shark Reef Aquarium in Mandalay Bay. See 14 exhibits, including a touch pool with sharks, rays, and horseshoe crabs and a 1.3 million gallon shipwreck with 360-degree views.
I loved the Shark Reef Aquarium. The walk through tunnel and seeing the sharks swim over you is amazing.
Check out avilability and book tickets here
Downtown Container Park
If you're looking for some souvenirs from Vegas, the Las Vegas Downtown Container Park is the place to go. The outdoor shopping mall made of shipping containers is a great spot for visitors to support locally owned businesses in Vegas.
This location is equally suitable for a photoshoot as it is for entertainment. What makes this place unique is that the stores, bars, and restaurants are all made out of old shipping containers, making for great holiday photos.
For the children, there's an interactive playground with stairs and slides, while for the adults, there's a grassy area with games, outdoor movies, and a stage. It's also close to several hotels, as well as the Fremont Street Experience. Parking is inexpensive, and there is plenty of entertainment.
While nibbling on some hot dogs, this is one of the most affordable family activities in Vegas.
Madame Tussauds
Madame Tussauds' artistic tapestry is found in only a few sites around the world. The one in Vegas is the first of its kind in the United States. It is located at The Venetian Resort and is open all year.
There are nearly 100 celebrity wax figurines in some of the shows, which are quite huge.
With her lifelike wax creations of over 100 celebrities, Madame Tussauds, the world's most popular attraction, allows you to "grab hold" of your favorite celebs.
You'll have photos of everyone you met in Vegas, from Brad Pitt, Will Smith, and George Clooney to Britney Spears, Sandra Bullock, and Angelina Jolie. While this is fantastic, you should keep an eye out for The Hulk or Spider-Man. That's what makes it unique.
There's someone in the family who excites everyone, whether it's Michael Jackson or Lady Gaga. A 4D cinema is also available, where you may experience water, wind, and even smell while watching a 3D film.
In addition to the wax museum, Madame Tussauds has incorporated a Virtual Reality experience that requires guests to move about, find stuff, and collaborate with others. The virtual reality attraction is only for children aged 12 and up.
You can check availability for Madame Tussauds and book tickets here
Ethel M Chocolate Factory
To the east of the Strip, head towards the Henderson border. The Mars family founded the Ethel M chocolate factory, which will put your mind at ease. It's been around for almost 40 years and is well-known for its gourmet chocolates, which are a must-have in any decent gift basket. That is if you don't mind chocolates.
A tasting room has now been upgraded to the factory. You can take a self-guided tour and see how the chocolates are made for yourself. Later, take a stroll around the Botanical Cactus Garden, which spans four acres of desert landscaping. There are about 300 plant species in this area.
From 8:30 a.m. until 7:00 p.m., the Ethel M Chocolate Factory Tour is open. Admission is free, and tours are self-guided for your convenience.
The Adventuredome
The Adventuredome is one of the country's largest amusement parks and the only one of its kind on the Las Vegas Strip. It is ranked among the top 30 indoor amusement parks and family entertainment centers in the world by Hotelonline.com.
Five acres of clean indoor fun await you and your family, with 25 thrilling rides and a variety of other adrenaline-pumping activities such as bungee jumping and rock climbing. The Adventuredome also has a variety of more tamer activities, such as arcade games, miniature golf, and two 4D-theatres, so there's something for everyone.
This is a five-acre indoor park with roller coasters, bumper cars, and a ton of other entertaining things. You can purchase an all-day pass or pay as you go while you explore the space. Regardless of which route you take, the kids will thank you for bringing them here.
It's especially exciting during Halloween when The Adventuredome transforms into Fright Dome, which features many haunted house adventures. It is part of MGM Resorts International and is located in Circus Circus on the Strip. That means there'll be no charge for parking!
It is open seven days a week, with varying working hours on different days. Before leaving your hotel, you might want to double-check the schedule.
Discovery Children's Museum
Discovery The Children's Museum is a 58,000-square-foot structure that houses a variety of themed exhibitions (some of which are permanent and others which are temporary).
Small children of all ages (from birth to five years) will love Toddler Town, where they may load "rocks" and "boulders" into an overhead bucket system, learn about Nevada's animal fauna, and play train engineer.
This is an excellent location for children. It consists of three levels and numerous interactive exhibitions. Eco City showcases how renewable energy may be integrated into city life. Water World displays a scale model of Hoover Dam and shows how it operates.
Then there's Young at Art, a 70-foot-tall tower featuring an interactive exhibition of Dr. Seuss-inspired science experiments. Toddler Town is a great place for kids under the age of five to have a good time.
For a themed birthday, you can also reserve a party room. Everyone between the ages of 2 and 99 must pay a $15 entrance fee. Outside, there's a food truck serving up some delectable fare. To be clear, this isn't your average museum food.
kids things to do las vegas las vegas things for kids to dolas vegas things to do with kids things for kids to do in las vegas things for kids to do las vegas things to do for kids in las vegas things to do for kids las vegas things to do in las vegas kidsthings to do kids las vegas things to do kids las vegasthings to do with kids in las vegas things to do with kids las vegas things for kids to do in vegas
Recent Posts