How to get to the Valley of Fire from Las Vegas and Exploring this area.
Are you looking to visit the Valley of Fire from Las Vegas? Valley of Fire State Park is a hidden gem close to Las Vegas and worth a visit if you want to get off the strip.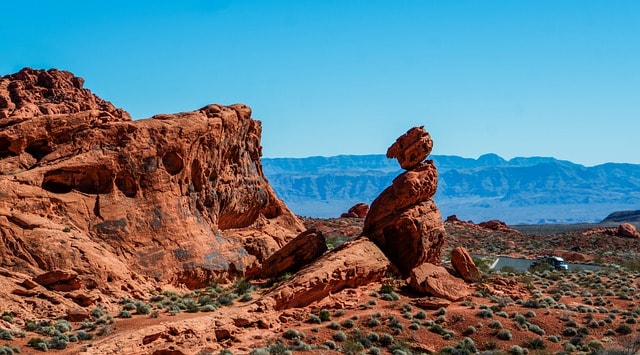 Valley of Fire is located just one hour north of Las Vegas and makes for a great day trip from Vegas. When in Las Vegas, Valley of Fire is a popular day trip.
It is called the Valley of Fire (or Ring of Fire Las Vegas) because of the red rocks in the park. When the sun is shining down on the rocks it looks like they are on fire. As you can imagine, from Vegas to Valley of Fire is quite a different landscape.
How to get from Las Vegas to Valley of Fire – directions to Valley of Fire from Las Vegas
How far is Valley of Fire from Las Vegas? Driving to Las Vegas from the Valley of Fire is 56 miles, or approximately 1 hour and 4 minute drive. And if you wanna take a break from playing Slots or Roulette, this a great place to spend whole day or even half of a day.
How to get there: (Driving Directions) Ring of Fire Las Vegas
Start on S Las Vegas Boulevard then head toward Flaming Road and then head West towards the I-15 freeway. Take 1-15 North for about 33 miles.
Take exit 75 and then continue for 18 miles on the Valley of Fire Highway. Next you will be at the Valley of Fire State Park in Nevada and can check out the beautiful park and Valley of Fire trails.
Tips for Hiking in Valley of Fire
Valley of Fire is perfect for outdoor enthusiasts. There is a hike for everyone on this list and for different fitness levels. Also, note that it is dry and hot (in the summer) and make sure you know what you are getting into before you start. Here are a few tips for Valley of Fire hiking:
Bring a reusable water bottle and lots of water! Remember you are in the sun and you will need to drink lots of water. I love my LifeStraw Filtered Water Bottle. I can refill this bottle anywhere and it comes with a carabiner to connect it to my daypack.
Check the Weather – days over 100 degrees are very common. On top of that there is quite a bit of air pollution in Phoenix which can make it suffocating. Make sure to check.
Hiking boots or sandals that will protect your feet! I love good shoes. I need all the support and help I can get. I actually love these sandals for hiking and have a whole post on Merrell vs Keen shoes for hiking. I also love these hiking boots which I used for Hiking in the Grand Canyon.
Bring hiking poles for balance and to protect your knees. I know many experienced hikers (and even amateur ones) think that hiking poles are for old people who lose their balance. Actually, hiking poles can help when going down steep inclines or when scrambling over rocks. They are great to hike with even for the most experienced hiker.
Wear a sunhat. I feel like this whole post is about how high you are in the mountains and how much closer you are to the sun but it is so true. At elevation, you are closer to the sun and more likely to burn. Wear sun protection such as a sun hat and sunscreen.
Be aware of the wildlife. This is the Southwest and you will need to watch out for snakes and other wildlife. Please stay away from wildlife and do not feed them.
Start Early – If you want to avoid the traffic and the heat you will need to start your hike early. That way it will be nice and cool and the smog will not affect you either.
Leave no trace. If you are new to the concept of Leave No Trace it is all about preserving the environment to ensure it is in the same or better condition when you leave it. This means that you should stick to the trails and carry out everything that you carried in. This is a great explanation of the Leave No Trace principles!
Bring Bug Spray and a snack: Be sure to bring everything you need including a snack like a protein bar plus BUG SPRAY.
Best Things to do in Valley of Fire – You Won't Want to Miss
Visit Elephant Rock by the entrance
Elephant Rock is a peculiar rock formation just off Valley of Fire Highway, next to the east entrance of Valley of Fire State Park. During the last Ice Age, this area was a habitat for a lot of animals that are now extinct such as saber-tooth cats, giant, ground sloths, to name a few.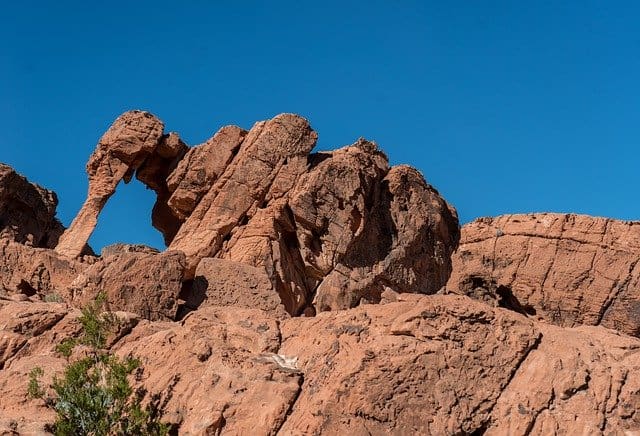 You can take a short hike to Elephant Rock that will probably take for only 5 to 10 minutes or so. If you want to get the best views and photos of the arch, you can climb above and behind Elephant Rock. The first trail begins at the parking zone just east of a parking area and a small covered pavilion.
Just follow the cairns and in less than ten minutes, you'll be in front of Elephant Rock. You will be amazed by the stunning landscape of the area. It is definitely worth a stop, especially if you are visiting Valley of Fire and want to go hiking in Valley of Fire State Park.
Explore the Fire Wave
There is so much to see in the canyon of fire Las Vegas and one of my favorite ways to explore is to go hiking valley of fire. The First wave is one of the highlights of Valley of Fire State Park and it is considered a paradise for both photographers and hikers because of its amazing sandstone formations abraded by wind and water.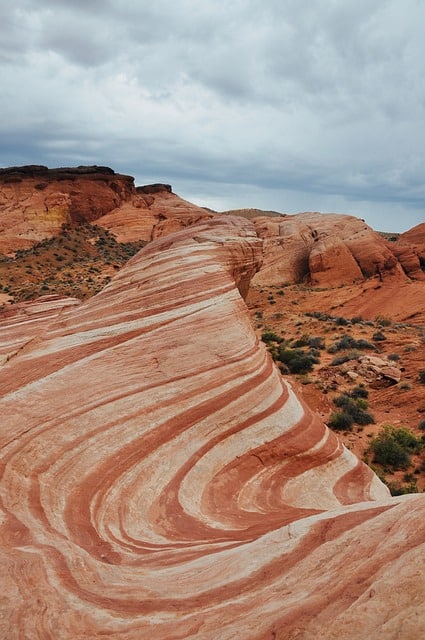 The area is surrounded by yellow, orange, pink, and red rocks that have various and amazing shapes. The most beautiful time to go to this place is an hour before sunset or an hour after sunrise and a great time to go on one of the Valley of Fire hikes.
The First Wave is easy for almost everyone to trek the 0.6 miles one way. It is well-marked and easy to follow so you won't get lost easily. The difficult part is probably the beginning because you will be encountering a deep red sand before you hit some solid rock slopes. But after that, the rest of the hike would be easier and before you know you it, you have already reached the summit.
You will be amazed by the stunning scenery and it is a great hiking trail for experienced and novice hikers. There are some amazing petroglyphs in the area so make sure to take the time to appreciate them also. Valley of Fire hiking is a great way to see the state park.
Visit the Beehives
The Beehives at Valley of Fire are sandstone formations created by geologic cross bedding. To put it simply, it means the layers were deposited over the years to form the structure or arrangement that you now see today. The layers or beds constitute different layers of silt that are deposited at different times and the beds show the angle of the wind or water was moving at the time the material was deposited.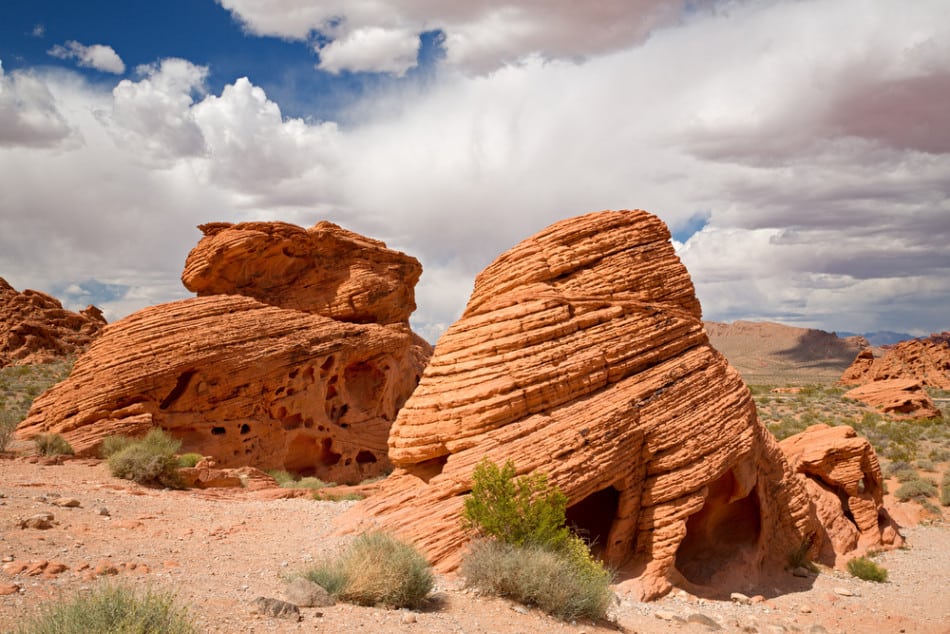 There is limited parking space and picnic tables available at the Beehives so make sure to come there early. There are three campgrounds in the are that can each accommodate up to 50 people.
White Domes
White Domes, just like the Beehives, are sandstone formations with dazzling contrasting colors that combine sweeping desert vistas, a slot canyon, caves, windows, and a historic movie site. It is located within Valley of Fire State Park.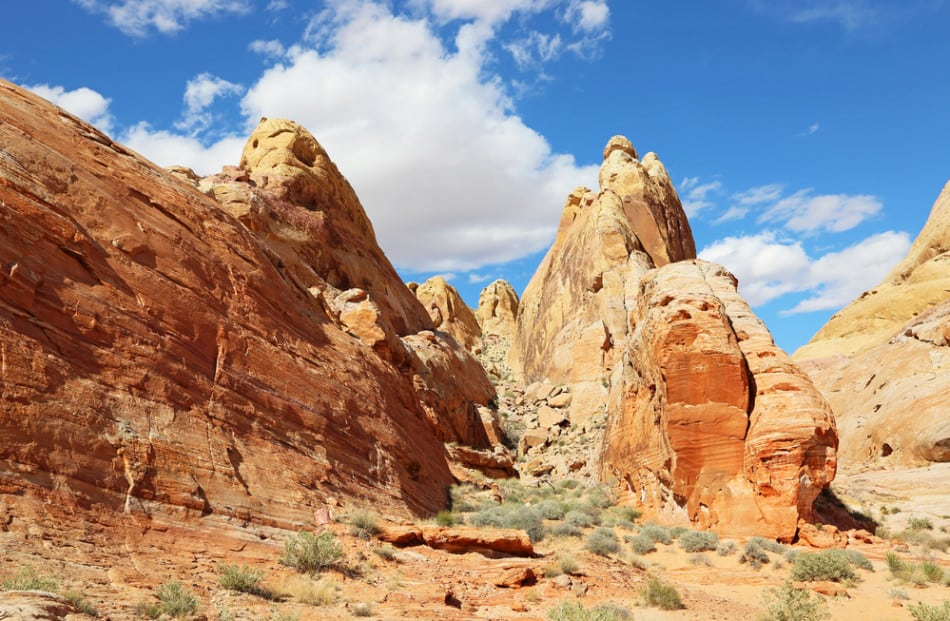 The 1.0-mile loop hike has little cumulative feet of elevation gain and it will only take an hour for you to complete the entire hike. But if you are strong and fast enough, you can even finish it in less than an hour.
This is a short loop trail that lets you wander through short slot canyons and tall sandstone formations. The trail itself is so beautiful and take your sweet time as you will want to stop throughout and take lots of pictures and marvel at the beauty of the park. And what is amazing is that you can also take your pets with you but they must be on leash.
To start your journey, from the parking lot, head south down the sandstone steps. At the bottom, you will see the remains of the movie set The Professionals. And from there, just follow the signs through the wash leading into a short slot canyon. Once you are out of the slot canyon, just turn right and take the trail looping back to the parking lot.
See the petroglyphs at Atlatl Rock
Atlatl Rock is a single, large boulder that sits precariously on the top of a sandstone outcrop. It features a collection of petroglyphs on a boulder about 50 feet off the ground.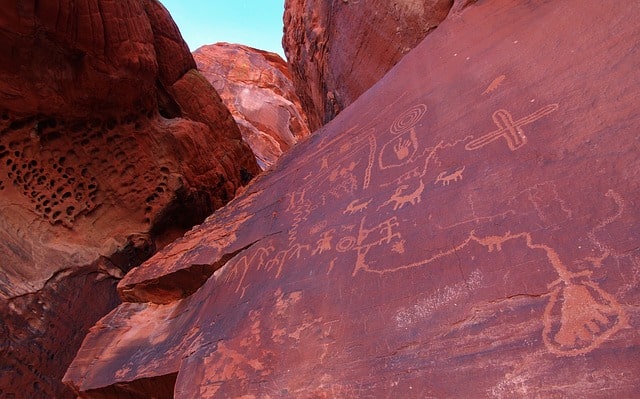 There are metal stairs installed going to the top that can be used to climb up and witness the petroglyphs at the Atlatl Rock. A lot of visitors including campers go to this place for a quick attraction because the rock formation itself is just breathtaking.
From the parking area of Atlatl Rock, the stairs are ahead and to the left. Just continue walking along the base of the rock past the stairs and there you will see a lot of petroglyphs.
Pink Canyon
Pink Canyon is an unmarked canyon located in Valley of Fire State Park that features one of Nevada's most beautiful geological displays. Although Pink canyon is a lesser known attraction, still it is equally stunning. The canyon walls glow soft shades of pink hues in every direction. It also boasts all kinds of abstract of shapes that will delight your eyes.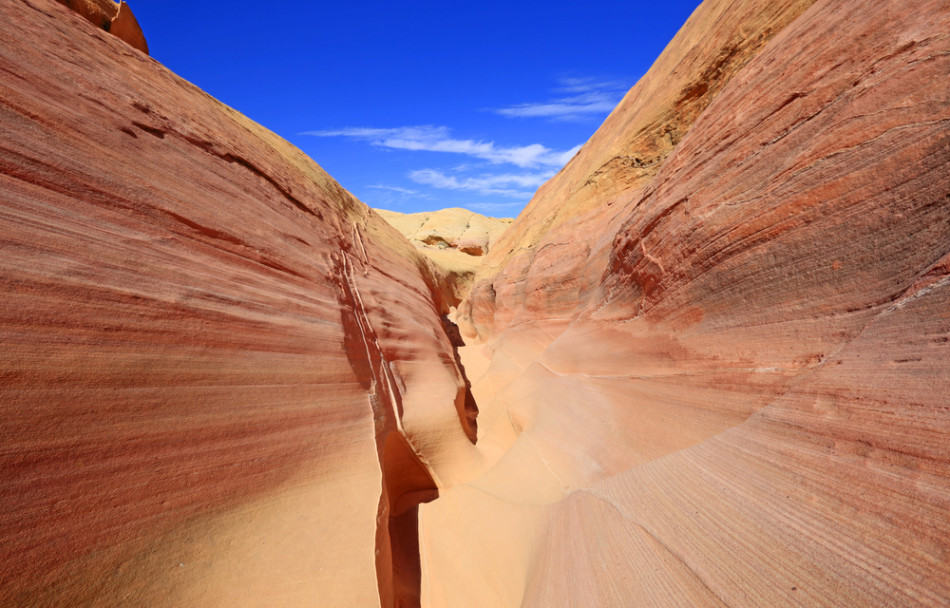 The hike itself to Pink Canyon is short and easy. But there are spots that are very narrow so you have to walk on walls or gear up. The canyon goes for miles and gives a beautiful sandstone hike that can be sandy at times. And take note that there are no trail or markings on the area, you can go as far as you want but keep track of where and how far you are going or else you may get lost.
Mouse's Tank Road
Mouse's Tank acts as a natural basin in the rock where water collects after each rainfall. According to its history, it was named for a Southern Paiute Indian renegade who used Valley as a hideout back in the 1890s after he was accused of killing two prospectors and other crimes in the area. Today, Mouse's Tank Road is a paved scenic drive that features narrow canyons, colorful rocks, petroglyphs, and hiking trails.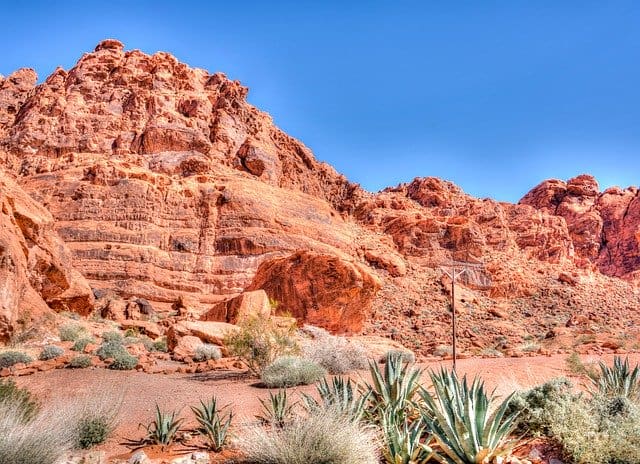 The Mouse's Tank Trail us one of the most-used hiking trails in the park because of its soft sand. However, bring lots of eater because the soft sand and airless conditions of the trail can make it difficult in the desert heat.
Rainbow Vista
Vibrant and fiery are the best words to describe Rainbow Vista. It is a popular hike in Valley of Fire State Park with great view of the vibrant valley to the north. The trail itself is short and scenic. However, hiking during the summer may be dangerous because there is no shade in the area and the temperature may spike up to 100 degrees.
But if you decide to hike, the roundtrip is about a mile and three quarters. There are directional markers in the are to point where you should be heading. You will come across a marking that says "Trail", that should be your starting point to the Fire Canyon or Rainbow Vista. And from there, the trail is going to be easy to follow.
You will also come across some animals such as Desert Iguana. And as you walk through, you will also see a narrow side trail and more beautiful red rock scenery. Take every opportunity to explore the are and don't forget to take lots of pictures!
Seven Sisters
Seven Sister is a cluster of seven tall, red, eroded boulders surrounded by the sandy desert. It is considered as a stop-off from the road where you can have picnic in the covered and uncovered picnic tables. There is a fee of $10 for entering the park and there is small parking lot if you decide to stay in the area for a while. It is a dog friendly place must they must be kept on a leash.
Tips for visiting Valley of Fire
Visiting hours for the Valley of Fire are from sunrise to sunset but the visitors centre is open from 8.30am to 4.30pm.
It costs $10 per vehicle to visit the Valley of Fire
Make the most of one day and enjoy the hiking
Bring lots of water and snacks there is nowhere to buy food in the park.
Wear Sunscreen as the sun is strong here.
If you decide to bring your dogs, bring their leash and a dog bag.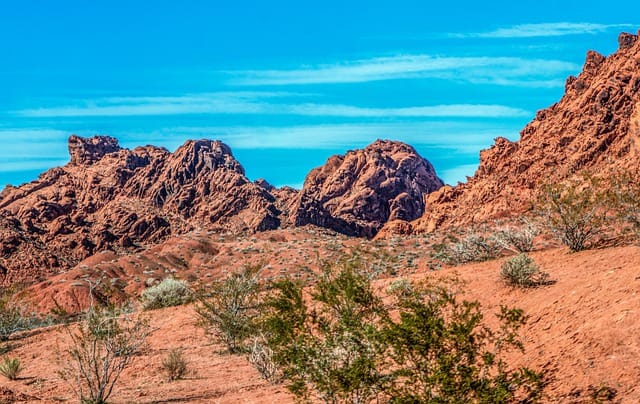 Valley of Fire Tours
If you are looking for a tour of the Valley of Fire, these are some of the best day trips from Vegas.
From Las Vegas: Valley of Fire Tour
One way to discover the Valley of Fire is to take on a day tour from Las Vegas. On this day tour, you will see geological wonders, ancient petroglyphs, and spectacular desert landscapes. You will also visit a hidden desert oasis with beautiful crystal clear water. You can also enjoy a picnic lunch in a beautiful desert surroundings.
The first stop is a travel from Las Vegas towards the Valley of Fire, then travel along Lake Mead where you will discover the beautiful crystal clear water flowing in the middle of a desolate region in Nevada. The next stop is the entrance sign to the Valley of Fire State Park and you will discover the breathtaking red rock formations.
Las Vegas: Premium Valley of Fire Day Tour
Start your full-day tour of Valley of Fire from your Las Vegas resort. Then you will be heading to your first stop which is the Hoover Dam, then continue onwards to the shores of Lake Mead where you will be enchanted by the lake's beautiful surroundings.
After that, the final leg of the journey would be the Valley of Fire where you will be visiting the famous landmarks such as Elephant Rock, Rainbow Vista, the White Domes, Arch Rock, and Valley of Fire visitor center and museum.
Valley of Fire Guided Hiking Tour from Las Vegas
You will be spending your day hiking at the Valley of Fire State Park and your guide will personally pick you up at your hotel. As the entrance of the park, you will have views of the Lake Mead Recreation Area. You can choose from easy, moderate, or difficult hiking options depending on your preference. During the tour, your guide will explain the historical information about the Valley of Fire as well as the geology of the area.
Where to stay near Valley of Fire
Valley of Fire makes for a great weekend escape. Fresh air, beautiful scenery and being in nature does a world of good for the soul. I recommend staying as close to the park as possible and even treating yourself with a cabin with a spa pool to relax at night.
There are lots of fantastic Airbnbs near Las Vegas. There are many beautiful places to stay near the park and this allows you to spend most of your time experiencing the park instead of driving to the park.
If you are taking a road trip remember to reserve a car in advance using Discover Cars .
Conclusion: Valley of Fire Las Vegas
Driving from Las Vegas to Valley of Fire is well worth the trip. I hope you enjoyed this list of Valley of Fire things to do and hiking Valley of Fire.
Visiting the Valley of Fire State Park in Nevada will surely be a highlight of your trip. This hidden gem is the perfect day trip from Vegas.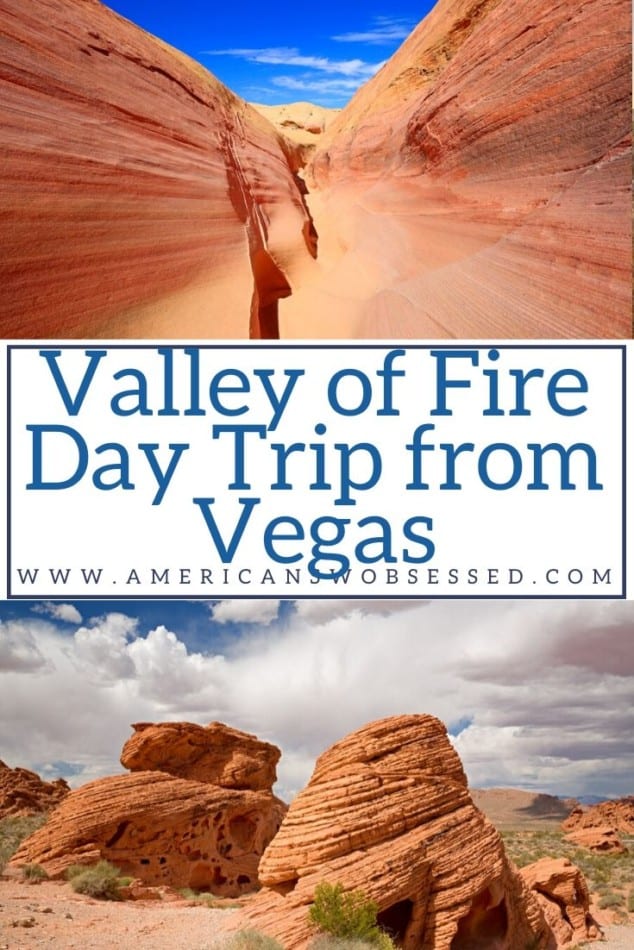 Recent Posts