17 Fun things to do in St George Utah
Are you looking for fun things to do in St George? This list of activities in St George, Utah are the best things to do in St George!
There are so many fun things on this list from visiting State Parks to finding out how Utah was settled and did I mention dinosaurs? Check out the list below for St George attractions.
Things to do in St. George, Utah
Visit Snow Canyon State Park
Get amazed by one of Utah's treasured attractions, the Snow Canyon State Park which is located at the edge of the Mojave Desert. This place is known as a haven for road cyclists because of the park's scenic drive and for hikers who love to explore the web of trails through the main canyon. Kids and kids at heart will also love this place because of the park's sand dunes just off the main road.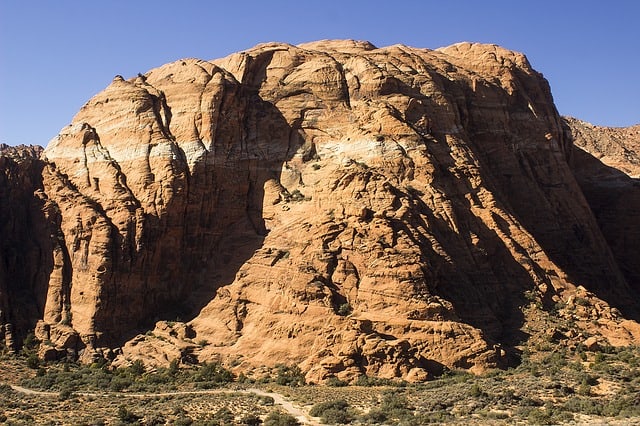 Snow Canyon also serves as a natural habitat for animals such as coyotes, kit foxes, quail, and roadrunners and you can get a sight of them when it's feeding time. There are also other species of wildlife animals but are harder to find like tortoise, peregrine falcons, and Gila monsters.
Zion National Park Hiking
Zion National Park isn't just any typical park that you can see in other places. Inside the park, you can find a visitor center and a museum which is accessible to all visitors year round. In addition to that, you can do a million things inside the park such as hiking trails, off-road, camping, tours, and horseback riding.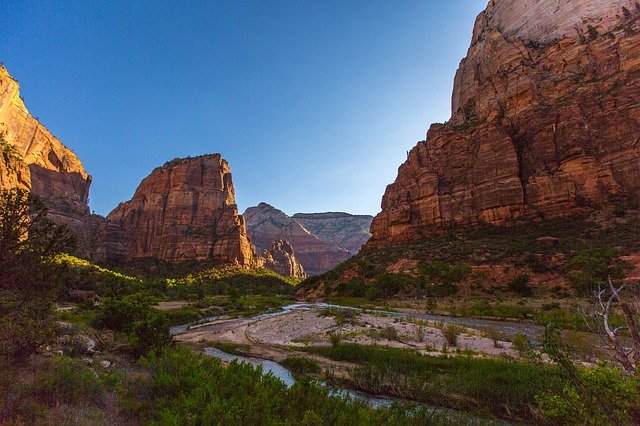 Out of all the various activities that you can do around Zion National Park, the most famous one would probably be hiking trails. Zion is so big, beautiful, and accessible to visitors and it offers a wide range of hiking opportunities. The iconic hiking trails are Angels Landing, Observation Point, and Emerald Pools. If you want a simpler and less litigious time, I suggest you take the Angels Landing.
And after a whole day pounding the trail in the canyon, you can dig in some good post hiking meals inside the park. Zion has a lot of good restaurants that can fill your stomach that ranges from family-friendly restos to frugal and fancy ones.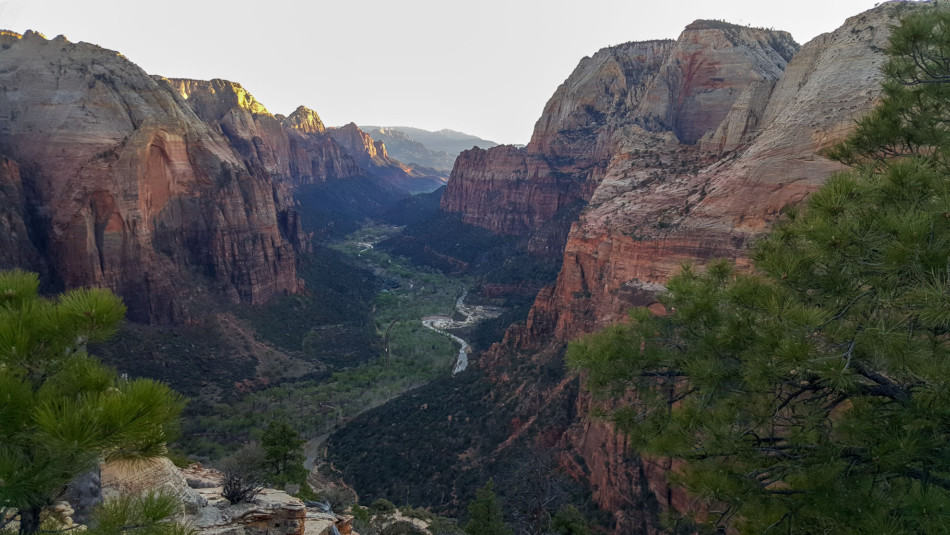 You can read my full post on hiking in Zion that has all the best hikes. I also have a post on the best hikes in Utah for all activity levels.
Sand Hollow State Park
Sand Hollow is a very famous and scenic state park in Utah. It is composed of red rocks, sandy beaches, and warm water. It is located near Hurricane, and approximately 297 miles south of Salt Lake City. 
The main attractions inside Sand Hollow are tours, ATV, hiking, and camping. While the other additional attractions are mountain biking, fishing, horseback riding, golf, boating, and more. The park also has a 1,322 acres of warm-water reservoir that allows you to swim, skii, and boat.
There are two campgrounds that you can choose from inside Sand Hollow; first is Sandpit Campground, which offers 19 dry camping sites, 6 power sites, and 5 group site, and the second one is Westside campground, is larger than Sandpit because it has 50 sites with full hookups and it has covered picnic tables and fire rings. But both campgrounds have restrooms and showers.
Red Cliffs National Conservation Area
Red Cliffs is a sprawling 60,000-acre property that is composed of a very unique convergence of multiple desert ecosystems, astonishing scenery, and protected species that you can only seldom see elsewhere. The reserve was particularly built to protect endangered species, desert tortoise, and as well as reptiles, birds, and mammals.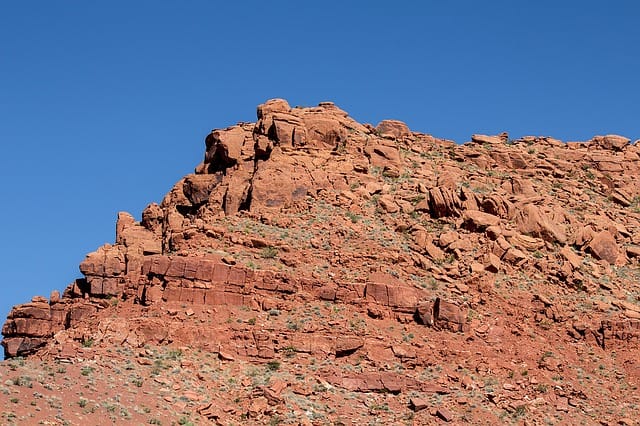 Inside Red Cliffs, you can expect a lot of hiking trails ranging from very easy to very strenuous. The three famous and favorite hiking trails by visitors are Babylon Arch Trail, Yellow Knolls Trail, and red Cliffs Nature Trail.
Mountain biking adventures are also famous in Red Cliffs. In fact, mountain biking is the perfect way to explore the beauty and solitude of Red Cliffs. The popular trails are Dino Cliffs and Church Rock Loop. Broken Mesa Rim Trail, and Icehouse Trail.
There are also other unique outdoor adventures inside Red Cliffs that do not require you to sweat buckets such as taking a guided Jeep tour or soaring above in a hot air balloon.
Red Hills Desert Garden
Red Hills Desert Garden is one of Utah's pride and joy because it is the very first interactive desert garden wherein it features water-efficient landscapes, endangered species, prehistoric tracks. This one-of-a-kind desert garden offers a plethora of wonderful things to do such as ATV rides, ziplining, canyon exploring, and more.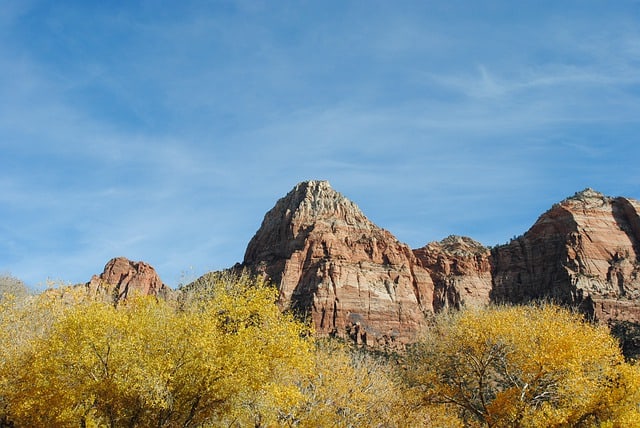 The Washington County Habitat Conversation had an idea that they wanted to build an educational center so that the public can learn about the desert life. The park has a nearly 5-acre garden that features 5,000 water-efficient plants, and a 1,150-foot stream stocked with native and endangered fish species.
St. George Temple
St. George Temple is a temple built by The Church of Jesus Christ of Latter-day Saints which was completed in the year 1877. It is the oldest temple that is being actively used by the LDS church and currently it has three ordinance rooms and 18 sealing rooms.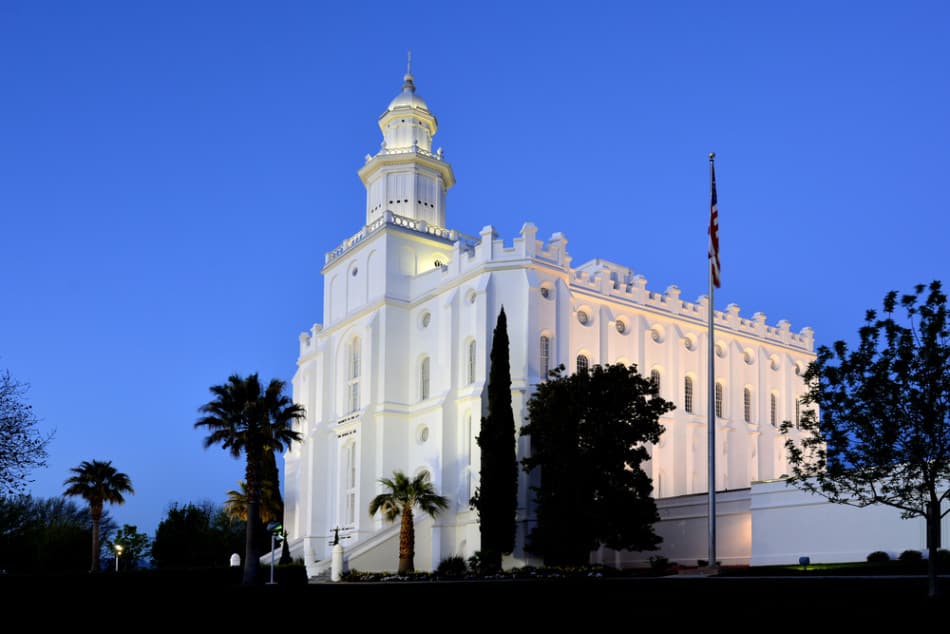 This sacred and peaceful place has a beautiful temple grounds that you can stroll around. Currently, the temple is under renovation for three years and it will re-open in 2022.
St. George Dinosaur Discovery Site at Johnson Farm
The main attraction inside the St. George Dinosaur Discovery is that you will enter a 200 million-year-old ecosystem that was once a habitat to dinosaurs, fishes, plants and more. The mission of this discovery site is to preserve and exhibit the fossil resources of the area so that people can awaken and educate themselves about the natural world and humanity's place in it.
They have an extreme collection of replicas of dinosaurs.Currently, they have a juvenile Dilophosaurus, Megapnosaurus, DImorphodon, Scutellosaurus, and a Postosuchus. You can also play in the Dino Park that features a sandbox and a climb-on dinosaur, along with a picnic table, and an exhibit called "Walk Through Time".
Mountain Meadow Massacre Memorial
Mountain Meadow Massacre Memorial is a large monument in Veyo Utah in honor of the brutally massacred people back in 1857 by the early Mormon settlers. Just going to this place and knowing about the history of what happened in 1857 is already an interesting experience. 
What makes the experience more interesting is the drive to this beautiful place. When you arrive, you will have to do some walking but it's definitely worth it. And it's nice that Utah has preserved this monument in order for future generations to learn about the tragedy. 
Pioneer Park
Pioneer Park is the most unique park that you will ever see in Utah. It has no playground, grass, water, nor beach. However, you will still be amazed with tons of fun things to do in this park.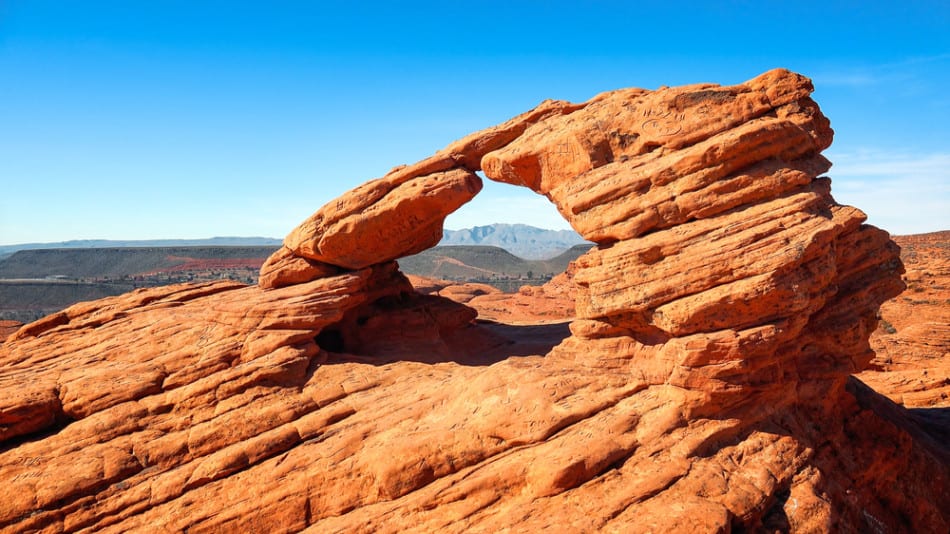 This park allows you to get near St. George's red rock sandstone. You can take lots of worthy shots around the area. In addition to that, there are places wherein you can hike, climb, crawl, and explore!
One of the amazing features of this park is the Crack. It is actually a very narrow split in the rock that once you reach the top, it offers jaw-dropping views of St. George. However, the Crack is not for the claustrophobic and for people who are plus sized.
Brigham Young Winter House
Brigham Young Winter House was once a home to then President Brigham Young from 1870 to 1877. Today, this home is already a historic site which is open to all for public viewing.
The tour around the house will enrich your minds about Brigham Young's interesting family life in St. George and his role in directing the settlement of southern Utah.
Kayenta Art Village
The Kayenta Art Village is a thriving enclave of art galleries, studios, theater, art festival, gift shop, restaurant, and coffee shop in Utah. It is considered as heaven on earth for people who love anything artsy.
Its famed Coyote Art Village is a tranquil place that showcases the area's famous red clay and they then turn into amazing pots by using local materials. The Coyote Gulch Art Village can also be found in this area. It is a hub of cultural and social activity for locals and visitors. There are galleries and art studios wherein you can even meet artists and create inside their studious.
After exploring the art galleries and ships. You can grab a good cup of coffee or a bite at Xetava Gardens Cafe which is also in this area.
Little Black Mountain Petroglyphs
The Little Black Mountain is a site nestled south of St. George and it features more than 500 individual drawings dating back 6,000 years ago. An extensive petroglyph panel sits at Little Black Mountain that is believed to have existed for hundreds of years. The various petroglyphs are associated with the Great Basin, Ancestral Puebloan, and Lower Colorado cultures.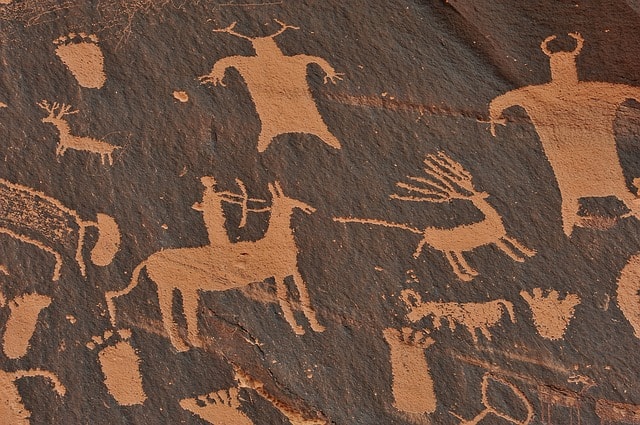 In order to witness the petroglyphs, you need to hike for an average of an hour in order to reach the site. But the hike is very short and easy. But if you are visiting the area during summer, make sure to bring lots of water because the area can be pretty hot.
Western Sky Aviation Warbird Museum
Western Sky Aviation Warbird Museum is a non-profit organization that aims to preserve, restore, and display some of the aircraft for educational benefits of current and future generations.
In the museum, you will learn anything about aviation including the Warbird history and its contribution to all those who flew these historic aircraft. They are open to all visitors from Wednesday to Saturday from 10:00 AM to 4:00 PM. Although admission is free, they highly encourage donations of at least $2 per person in order to preserve the museum.
Quail Creek State Park
Some of the recreational activities that you can do in Quail Creek State Park are camping, picnicking, boating, and fishing. The campground has the most beautiful views of southern Utah and you just admire the worldly landscapes surrounding the park. 
The park also boasts that it has some of the warmest waters in the state and it attracts boaters and anglers. You can spend the whole day on the water boating or kayaking, and then get some rest at the campsite that has a spectacular red rock desert setting.
Jacob Hamblin Home
This historic residence of Jacob Hamblin showcases his life and his dedication to serving American Indians. Before, the home served as an accommodation for Mr. Hamblin's enormous family.Today, the perfectly restored Hamblin home is open for public viewing and guided tours performed by Mormon missionaries. It is open from 9:00 am to 5:00 pm.
See a Show at Tuacahn Amphitheater
Tuacahn Amphitheater is located in The Tuacahn Center for the Arts that brings "Broadway in the Desert" in Utah.
This theater company showcases Utah's finest actors. But what makes this amphitheater unique and amazing is that it is an outdoor theater that has the red rock as backdrop. Today, the Tuacahn theater continues to surprise guests with amazing productions, new performances, and actors. 
Town Square Park
If you are looking for a place where you can be alone and read a book, this is a great place to be. You can either do picnic dates here or splash around in the splash pad or winding river. This park is also a fantastic area surrounded by grass and trees and you can walk along the paths of water and get your feet wet. 
Conclusion: The best things to do in St George
I hope you've enjoyed this list of fun things to do in St George. Its a great place to visit and it has amazing access to state parks and national parks. I hope you enjoy your time in St George!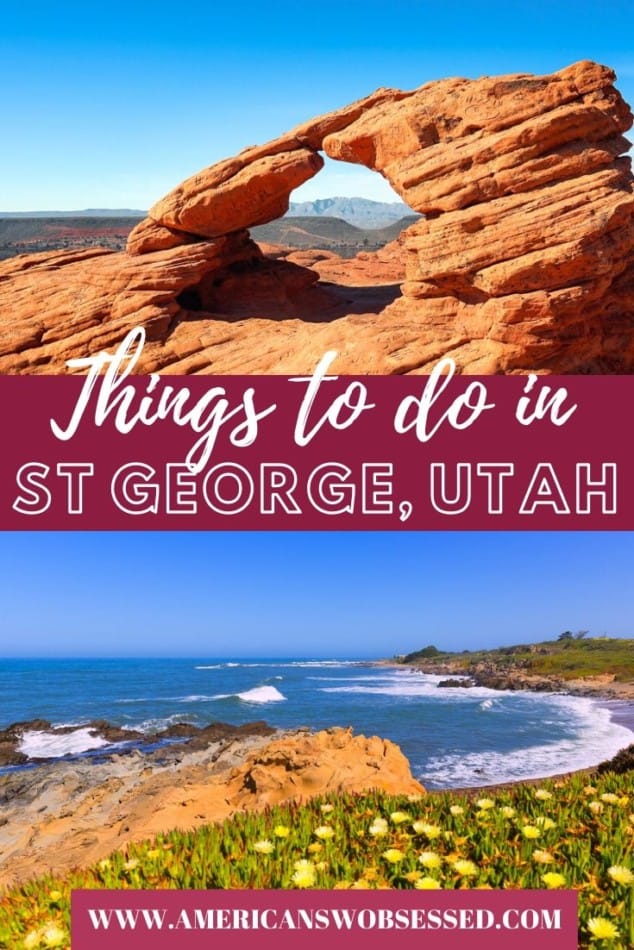 Recent Posts