The Best of Hiking in Utah
So you're thinking of hiking in Utah? Utah hiking offers a lot from beautiful landscapes and red rocks to amazing national parks.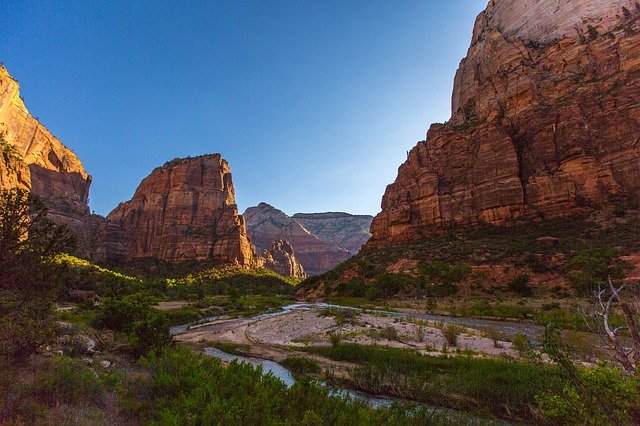 That's why I've put together this list of the best hikes in Utah. Utah trails have a lot of amazing scenery and are well marked even for novices.
I hope this list of Utah hiking trails will inspire you to get out and hike some trails.  Most of these are southern Utah hikes but I've also included some easy hikes in Utah.
To visit any of the National Parks in the USA, I recommend buying a National Park Pass. The America the Beautiful Pass is valid for one year and costs $80. Plus 10% of sale proceeds go to the National Park Foundation.
If you are looking for hiking in the Mighty 5 National Parks you can check out Utah Hikes Posts:
Best Hikes in Zion National Parks
Hikes in Capitol Reef National Park
Hikes in Bryce Canyon in one day
One Day in Canyonlands National Park Hikes
Tips for Hiking in Utah
Utah is perfect for outdoor enthusiasts.  There is a hike for everyone on this list and for different fitness level.  Also, note that it is dry and hot (in the summer) and make sure you know what you are getting into before you start.  Here are a few tips for Utah hiking:
21 Best Hikes in Utah
Angel's Landing – Zion National Park
Distance: 4.1 – miles round trip
Difficulty: Hard
Angel's Landing is the most popular hike in Zion National Park. This hike is very crowded and very difficult. Only attempt it if you have hiked this type of trail before.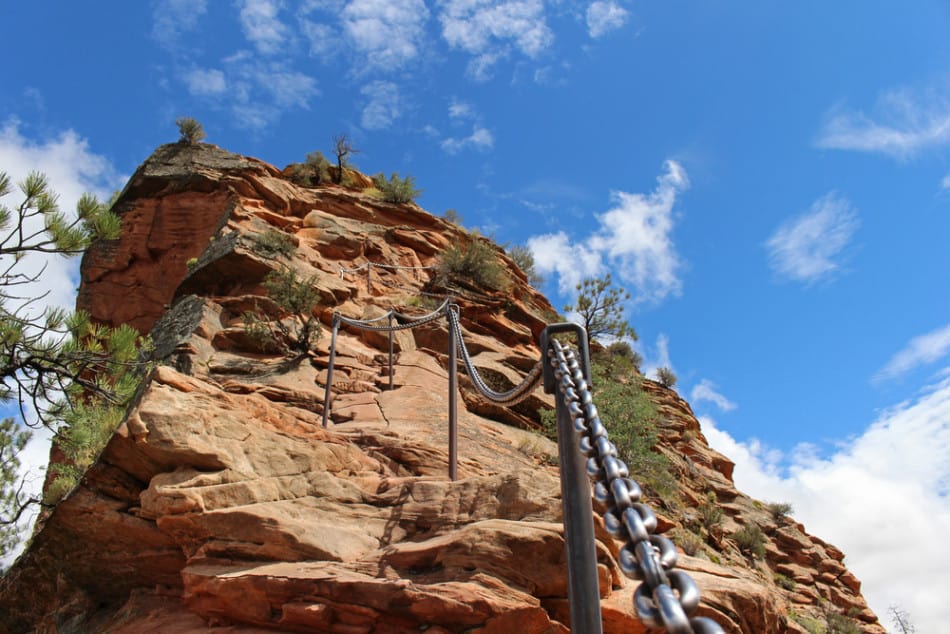 The hike begins in Zion Canyon and there are a series of switchbacks for you to climb to get to Angel's Landing. At the base of the landing you will notice there are chains to hold onto and on either side there are thousand foot drops. This is not for the faint of heart or those who are afraid of heights.
Emerald Pools – Zion National Park
Distance: 3-miles round trip
Difficulty: Easy to Hard (dependent on which 'pool' you want to get to)
Emerald Pools is one of the most popular hiking trails in Zion National Park in southern Utah. This hike has three major viewpoints and stops along it: the lower emerald pools, the middle emerald pools and the upper emerald pools.
The hike initially starts off being easy but gets more difficult the further you go. It is a .6-mile round trip to the lower emerald pools which is a perfect hiking trip for those wanting to experience the beauty of the emerald pools without straining themselves too much. The emerald pools are at the bottom of the beautiful waterfalls. This trail is an easy, beautiful and must-do on any trip to Zion National Park.
Calf Creek Falls (lower) – Zion National Park
Distance: 5.8-miles round trip
Difficulty: Easy
Located near the city of Boulder, Utah is the calf creek falls hiking trails. The trail to the lower falls is much more accessible to the public, easier to hike, features a larger waterfall, and hence, the more popular trail of the two.

The trail is a generally flat trail that leads to a large 120-ft waterfall that has a pool at the bottom. Visitors and hikers of the trail are welcome to take a dip and swim around the crashing fall.
Calf Creek Falls (upper) – Zion National Park
Distance: 2.2-miles round trip
Difficulty: Moderate
The sister trail, the hike to the upper falls is a much shorter hike but includes some steep elevation and difficult terrain along the path. This trail is the lesser popular of the two meaning less foot traffic and more time to experience the beauty and serenity without crowds of others around. This moderate trail also leads to a beautiful smaller waterfall, also crashing into a pool below. This is a well worthy trail, mostly due to the shortness of it and the amount of beautiful scenery you get in the short amount of time.
The Subway
Distance: 10-miles
Difficulty: hard
The Subway is a unique trail in Zion National Park. the trail involves hikers to hike down the trail that at some points requires you to get in the water and swim.
This difficult trail involves people having to complete unique tasks on a hike, such as climbing down waterfalls, climbing over boulders and many other strenuous tasks, not fit for the weak. Due to the uniqueness of this trail, it is commonly completed from the top to the bottom and you will need a permit in order to attempt and complete this hike.
Although it is difficult if you manage to do it, it is worth it. the trail has beautiful views all through out and it is such a unique experience, you will never forget. The trail is located along the parks shuttle bus route, so is easy to get to if you choose to take up the challenge.
Zion Narrows
Distance: 16-miles
Difficulty: hard
The Zion Narrows is a slot canyon in Zion National Park. Different to many other slot canyons, the narrows are a common hiking trail on many hiker's bucket lists and are often seen as the perfect slot canyon.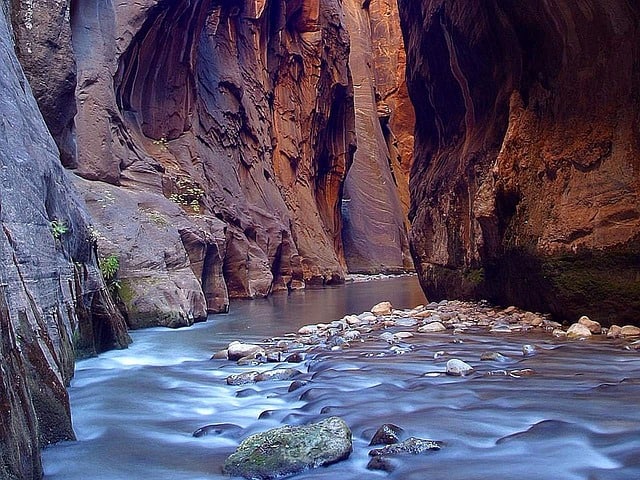 Despite its challenges, the canyon provides beautiful breath-taking views and is a memorable experience for anyone who attempts it.
You can complete the trail in various ways. Firstly, you can start from the bottom and hike as far as you can up before turning around and heading back down. This is a relatively moderate hike and can be easily completed in one day.
The alternative is to complete the entire route, in which case you start from the top and work your way down. This is a more difficult hike and can either be done in one day or as a back-packing trip over the course of 2 or more days.
Whichever way you choose to complete it, it will be a great adventure filled with beautiful scenery all around. A permit is required to hike the entire trail (top to down) which makes the alternative route (starting at the bottom and turning around) the more popular trail.
Provo River Waterfall
Distance: 15.2-miles roundtrip
Difficulty: Moderate
Located in Provo, Utah this trail is a popular one in Northern Utah. This trail, according to many, is a nice Riverwalk, due to much of the trail being parallel to a beautiful river.
This trail is unique to other waterfall trails as there isn't just one, but many waterfalls along the way, through the river. It is common to take a dip in the river and swim among the falls during the summer months, however the water is still cold and there is sometimes a moderate current, so be careful at this waterfall Utah.
Kanarraville Falls
Distance: 4.8-miles round trip
Difficulty: Moderate
Located in the small town of Kanarraville, in southern west Utah, this is a beautiful hiking trail that cannot be fully completed without the hiker getting wet, as this is a water hike!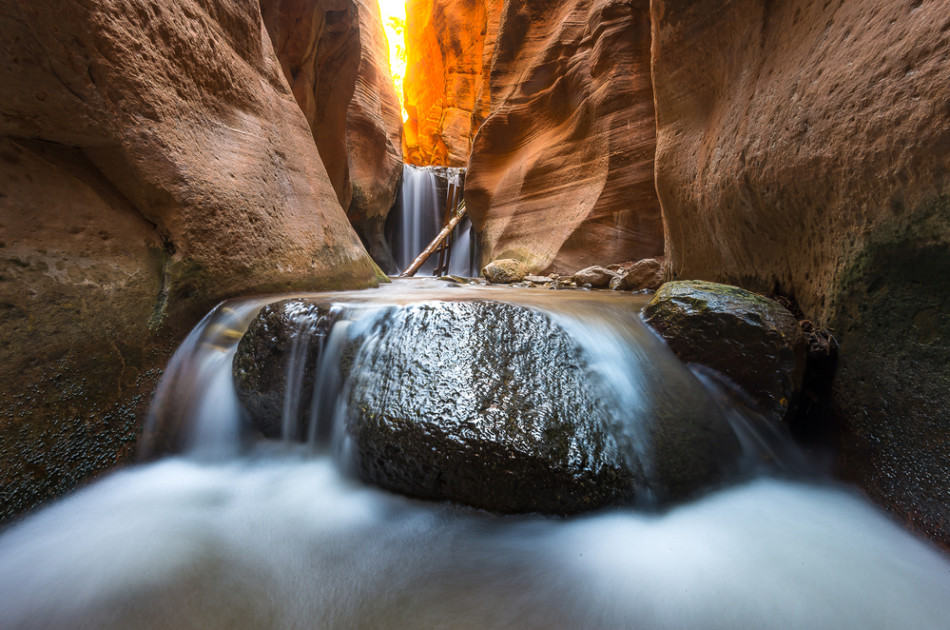 Along the trail there are many parts in which you must walk through a water creek, before coming to a slot canyon in which you must travel through the water (usually around 3-ft deep) to be able to access the waterfalls. The trail itself is beautiful, filled with lush scenery, making the entire trail an enjoyable experience. unique to some other waterfall hikes, a permit is required in order to attempt this one.
Hickman Bridge – Capitol Reef National Park
Distance: 1.8-miles round trip
Difficulty: Easy
One of the most interesting things about Hickman Bridge is that it is well marked, so people would not have to worry about losing their way. It is also very easy to reach, with less than two miles from the Visitor Center. This 0.9-mile trail remains the most popular hike because it offers hikers a chance to witness a stunning trek.
The trail is not difficult and it provides access to some amazing sites including a large arch, the small arch, and a Fremont pit house ruin. The spot is crowded during the spring and fall seasons, so if you happen to visit it during these seasons, you should arrive early in the morning. This way, you will be able to avoid crowds, and you will also manage to get parking space.
Sunset Point – Bryce Canyon National Park
Distance: 1.1 – miles round trip
Difficulty: Easy
Sunset Point is an ever popular hike in Bryce Canyon. Sunset Point is home to some of the most overwhelmingly beautiful limestone rock formations in the area. With red, yellow, and orange hues, the hike features Thor's Hammer, a longtime favorite rock formation amongst visitors.
Sunset Point is also a great place for bird watching. Catch ravens and hawks as they soar throughout your hike, along with several different swallows and swifts for your viewing pleasure.
This hike runs 1.1 miles and isn't as heavily-trafficked as some. It is an out and back trail, meaning that once you get to the end of the trail you will need to return the same direction to get back to the starting point.
This trail is dog-friendly provided that they are leashed and is good for all skill levels.
Queens Garden – Bryce Canyon National Park
Distance: 1.8-miles round trip
Difficulty: Easy
Queens Garden is a trail within the Bryce Canyon National Park that is one of the two most popular routes within the park. This hike will lead you into a visually stunning descent down into the rock formations.
The trail will eventually continue to descend into a forest-like area, if you choose to continue on that far. Eventually the trail links up with the Navajo Loop to take you back to where you started.
Starting near Sunrise Point, this 1.8 mile trail is better accessed between the months of April and November and proves to be an easy walk for most. Along your path, you will eventually run into the Queens Garden itself, which features sundry rock formations in a variety of colors said to look like Queen Victoria, hence the name.
Mesa Arch – Canyonlands National Park
Distance: 0.5 -miles round trip
Difficulty: Easy
Mesa Arch is located in Canyonlands National Park which can be reached as you drive U.S. Highway 101 north of Moab for ten miles. You then turn left on Utah highway 313 for the 22-mile-drive to the Islands in the Sky entrance of Canyonlands National Park.
Mesa Arch is a 45 minute drive from Moab. That last 22 miles into Canyonlands is quite a boring drive but once you get there it is well worth it.
Don't worry if the park is not open yet you can still continue into the park and they will confirm your pass or ticket when you leave.
Once you park at the Mesa Arch parking lot it is a 10 minute walk to the Arch. If you are arriving before sunrise it will be dark and the path is rocky and uneven so make sure to bring a flashlight.
Visiting Mesa Arch at Sunrise is one of the highlights of Canyonlands. The color of the sun hitting the arch in the morning light is just amazing. And it just keeps getting better and better.
You can read more on my website about visiting Mesa Arch at Sunrise.
Grand Viewpoint – Canyonlands National Park
Distance: 0.5-miles round trip
Difficulty: Easy
Grand View Point is one of the most spectacular views of Canyonlands and one of the easiest hikes in the park. Located 15 minutes down the road from the Island in the Sky visitor centre this is the grand view of the park.
The Island in the Sky sits at 6,080 feet elevation, and from the view point you can see distant mountains, canyons, basins, and the White Rim Road.
From the parking lot you will walk about 100 years along a paved trail. There is a sign pointing out the Needles in the distance and also the different mountains.
There is an unpaved trail that continues on another mile. Continue on down the stairs and along uneven surfaces and cliff edges to a second viewpoint. If you follow the trail you can see the Green River. Allow about 90 minutes round trip to hike the longer trail.
Delicate Arch – Arches National Park
Distance: 3 miles round trip
Length of Time: 1.5 to 3 hours
Delicate Arch is the symbol of Utah and you can see it on the Utah State license plates. This is the most popular hike in Arches and the arch is free-standing arch at 46 feet high and 32 feet wide.
The arch only became known as Delicate Arch in 1943 because of the way that it looks to have been delicately chiseled out of sandstone.
There are three ways to see Delicate Arch. The first is through a 3 mile hike to see the arch up close. The second is a short half mile hike up to a upper viewpoint and the third is 100 metres to the lower viewpoint.
The trail to Delicate Arch is only three miles round trip but it is quite difficult. We didn't do this hike because it takes anywhere from 1.5 hours to 3 hours to complete. It is also fairly crowded, especially at sunset.
The second hike is to the Upper Viewpoint. This is the hike we did because we were short on time. From the parking lot it is only half a mile away but it is very steep at the end.
It takes 15-30 minutes to get to the top of the viewpoint. This is a great way to see the arch up close. Obviously not as close as the hike to the arch but you still can see it well.
The third is the lower viewpoint which is simply walking 100 yards to the viewpoint area. There are a few binoculars there so you can see the arch. This is not a recommended viewpoint as you really do not see the arch up close at all or get a feeling for just how big the arch is in real life.
Landscape Arch – Arches National Park
Round trip to Landscape Arch: 1.6 miles
Length of Time: 1 hour
Landscape arch is the longest arch in the Arches National Park at 306 feet long and one of the largest arches in the world.
Landscape Arch is in the Devil's Garden area and can be reached by doing the Primitive Trail (another hike mentioned below) which is a 7.2 mile loop and takes you to several different arches.
You can also hike directly to Landscape Arch which is a round trip 1.6 mile trail. This easy hike is a great way to stretch your legs and see one of the most photographed arches in the national park.
It is called landscape arch because it stretches 306 feet across and is very narrow in places. In 1995, a huge piece of the arch the size of cars fell down and they had to close the trail that went under the arch. This is quite a site to see as this arch has been carved out over years of erosion.
Double Arch – Arches National Park
Round trip to Double Arch: 0.5 miles roundtrip
Length of Time: 10 minutes
This is my favorite spot in the whole park. Double Arch is just that, two arches in the same spot. To get to the arch it is only a half a mile hike round trip from the parking lot.
Corona and Bowtie Arch
The hike to these arches is one of the best short hikes in Moab. The hike is only 3 miles long and is an extremely popular hike in Moab.
To get to Bowtie Arch you need to climb a ladder and go up the stairs before starting the trail. From Bowtie the trail continues onto Corona.
It is pretty easy to follow the trail, with the last part before you reach Corona Arch being the trickiest section. The arch is 140 feet across and 105 feet high and many hikers like to lay beneath it.
Morning Glory Arch Canyon
Morning Glory Arch is located at the end of Grandstaff Canyon which was previously known as Negro Bill Canyon. The Morning Glory bridge trail is 4.65 miles long and it makes for a pretty amazing hike. Out of all the Moab hikes, this one is a little tricky but it is definitely worth it.
Tower Arch along the Klondike Bluffs Trail
Tower Arch is a secluded arch that is found just northwest of Arches National Park behind Klondike Bluffs. This remote hike feels a lot longer than its actual 2.5 miles in length due to hiking up and down along the trail. In some parts it is somewhat unsteady terrain in certain places.
Broken Arch
This is a pretty simple trail for all different skill levels and is actually recommended for beginners looking to take one of their first hikes around the area. At just 1.7 miles in length, the trail is clearly signposted and along the way, you can expect to see many beautiful wildflowers and other appealing pieces of nature.
You can actually see the arch from the parking lot but I am not recommending you see it that way. You really need to get up close to see the details of the arches. Its also a great way to sit and enjoy some shade in the park which is rare as there isn't much shaded area.
It is an easy hike, and anyone can enjoy it. We visited Doubles Arch in the afternoon. This was really nice as it was extremely hot outside and this was a short hike so once we got to the top we were able to sit in the shade and just take it all in. Once you are up there you are able to explore around and take in the view.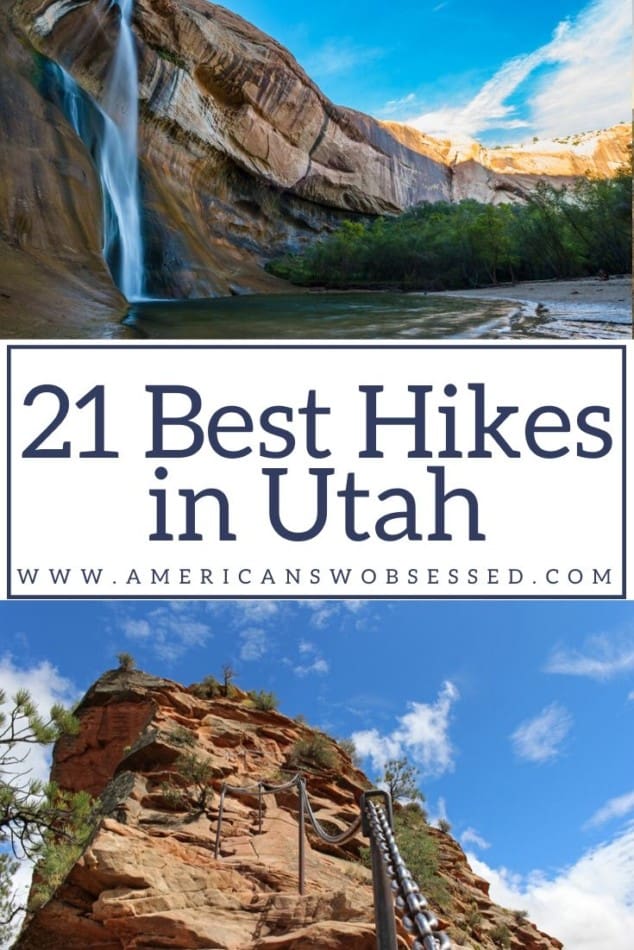 Continue Reading more on my website:
50+ American Southwest Bucket List Places
Hikes in Moab Utah for adventure junkies
Recent Posts