Zion in Winter: Visiting Zion National Park in Winter
Winter in Zion National Park is a great time to visit. As you can imagine it gets a bit cold, but there are also a few things you should know about visiting Zion in Winter. I will outline what to pack, what to do, and what kind of weather to expect in Zion during winter.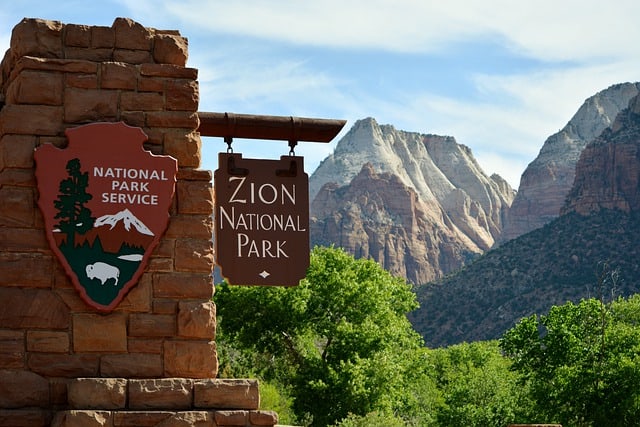 Visiting Zion National Park in December is a very popular time.  The weather is warmer than in January or February. You will find a lot of people from Utah visit Zion in December because there are a lot fewer crowds.
Where to stay near Zion National Park
Zion makes for a great weekend escape. Fresh air, beautiful scenery and being in nature does a world of good for the soul. I recommend staying as close to the park as possible and even treating yourself with a cabin with a spa pool to relax at night.
There are lots of fantastic Airbnbs near Zion National Park. There are many beautiful places to stay near the park and this allows you to spend most of your time experiencing the park instead of driving to the park.
The closest city to Zion is Springdale, Utah. This is a great place to stay for restaurants, shops and access to the park. Check out my guide to Airbnbs in Springdale, Utah for the best places to stay.
If you are taking a road trip remember to reserve a car in advance using Discover Cars .
Why Should You Visit Zion National Park During Winter?
Winter is the less popular time of year to visit Zion, but this does not mean it is a bad time visit either. because of many people opting to not visit during winter, this makes it a perfect time for people who want to experience the beauty of the park without all the crowds.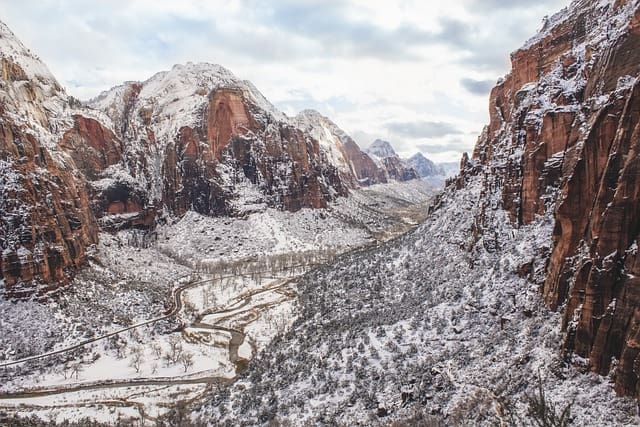 Another benefit of visiting Zion during winter is the ability to be able to drive private vehicles around the park. The parks' shuttle bus system does not operate as often during these months which gives visitors much more freedom to plan their trip to suit their specific wants.
It also allows visitors to only visit the points they want to, while spending as much time as they want at those points before moving on.  Visiting Zion National Park in December, visiting Zion National Park in January and visiting Zion National Park in February just takes a little preparation.  Here are my tips for visiting zion national park in the winter.
What is the weather like in Zion National Park in Winter?
As you can see from the temperatures below it stays in the 50s during the day and then gets below freezing overnight. It is best to wear layers and put them on or take them off during the day.
December Temperatures for Zion: High of 53°F and a low of 30°F
January Temperatures for Zion: High of 52°F and a low of 29°F
February Temperatures for Zion: High of 57°F and a low of 31°F
Tips for Visiting Zion National Park
Zion is perfect for outdoor enthusiasts.  There is a hike for everyone on this list and for different fitness levels.  Here are a few tips for visiting Zion :
Bring a reusable water bottle and lots of water! Remember you are in the sun and you will need to drink lots of water. I love my LifeStraw Filtered Water Bottle.  I can refill this bottle anywhere and it comes with a carabiner to connect it to my daypack.
Check the Weather – in the summer there is a shuttle to take you around the park but in the winter you can drive. Make sure you know the conditions
Wear Hiking boots that will protect your feet! I love good shoes.  I need all the support and help I can get.  I have a whole post on Merrell vs Keen shoes for hiking.  I also love these hiking boots which I used for Hiking in the Grand Canyon.
Bring hiking poles for balance and to protect your knees.  I know many experienced hikers (and even amateur ones) think that hiking poles are for old people who lose their balance.  Actually, hiking poles can help when going down steep inclines or when scrambling over rocks.  They are great to hike with even for the most experienced hiker. 
Be aware of the wildlife. This is Utah and you will need to watch out for wildlife such as moose or a bear.  Please stay away from wildlife and do not feed them. 
Leave no trace. If you are new to the concept of Leave No Trace it is all about preserving the environment to ensure it is in the same or better condition when you leave it.  This means that you should stick to the trails and carry out everything that you carried in.  This is a great explanation of the Leave No Trace principles!
Things to do in Zion National Park in Winter – December, January, February
Check in at the Visitor Centre
An important stop to any trip to a state or national park is the Visitor Centre! Here, you will find out all the information you need to know about your trip through Zion. Its an important step if you visit in winter in Zion National Park.
Due to wintery conditions, many viewpoints and trails might be temporarily closed or too dangerous to visit. Yes, you can go hiking Zion in winter. It is at the visitor centre, you learn this as well as what viewpoints, trails and activities are the best and safest options for the weather conditions that day and to check for Zion National Park snow.
Visitor Centre Winter Opening Hours: 8am – 5pm
Drive Zion Canyon Scenic Drive
This 6.5-mile scenic drive runs parallel to the Virgin River and offers beautiful views of Zion's landscape and the stunning rock formations located all around the park. There are many short hikes, viewpoints, and plenty of photo opportunities along this drive, so be sure to take advantage of as many as you can.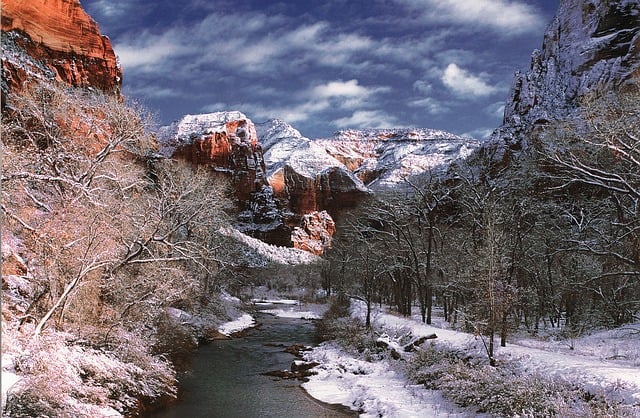 This road is open year-round, but winter is the only time of year where private vehicles are permitted to drive it. Visiting in the winter gives you the freedom to take your time along this route.
You can either drive straight through, admiring the beauty from within your car or take every opportunity to jump out of the car and brave the cold to be within nature.
Stroll Down to Riverside Trail
Distance: 2.2-mile roundtrip
Difficulty: easy
The Riverside walk is an easy hike in Zion, as suggested in the name, the trail follows along the Virgin river and provides beautiful views of the river and the cliff walls that also run along the river. This is a paved trail, so perfect and easily accessible for those with strollers, wheelchairs or those wanting a simple flat easy walk.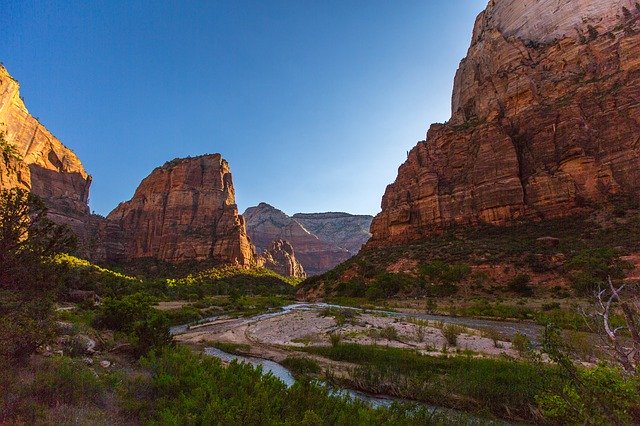 There are many species of wildlife that are often seen along this trail which further heightens the experience of the trail. Almost the entirety of this trail is flat which makes it easy and doable for almost anyone visiting the park.
Angels Landing Hike
Distance: 5.4-mile round trip
Difficulty: hard
Angels Landing is arguably Zion National Park's most famous hiking trail. Although popular, it is a difficult hike. So, the trail is often limited to visitors of the park as many people are not prepared for the strenuous adventure of this trail.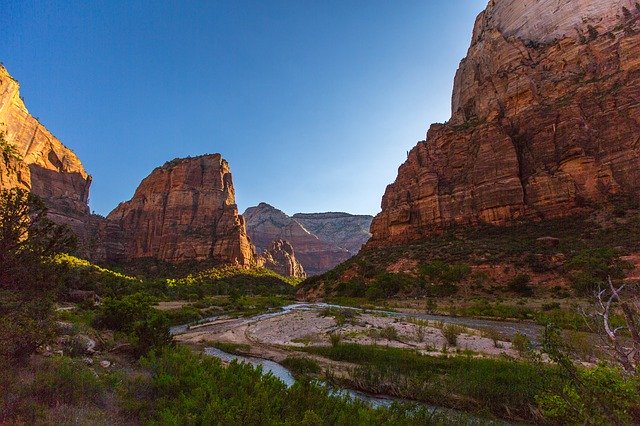 However, if you do decide to attempt Angels Landing, it is well worth it. Once at the summit, you are rewarded with one of a kind 360-degree views of the canyons below. Getting to this point is no walk in the park, however. This hike takes visitors up the side of a mountain that has some serious elevations and narrow walkways involved.
Due to the difficulty of this hike, this trail may be temporarily closed or deemed too dangerous during the winter. So be sure to stop by the visitors centre, to make sure.
I have an entire post on the Best Hikes in Zion National Park so you can plan your visit.
Kolob Canyon
The Kolob Canyon section of Zion is a 5-mile scenic drive through beautiful landscapes with plenty of trails and scenic viewpoints along the way.  This is my favorite part of Zion and it is often left off of the itinerary for many people.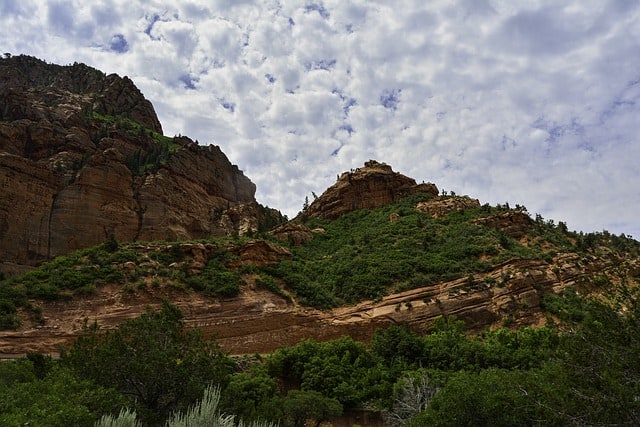 The Kolob Canyons are full of cliffs, Navajo sandstone canyons, deep canyons and so much more to discover. This section of Zion NP isn't the most popular or well-known section of the park; however, that does not take away from the fact that it is stunning, filled with so many little gems waiting to be discovered.
Kolob Canyon is also home to so many species of plants and wildlife that are particularly visible during the winter months. There is even a visitor centre located in this section of the park with all the information you will need you about exploring Kolob Canyon.
Hike the Narrows
Distance: 16-miles
Difficulty: hard
The Zion Narrows is a slot canyon in Zion National Park. different to many other slot canyons, the narrows are a common hiking trail on many hiker's bucket lists and is often seen as the perfect slot canyon.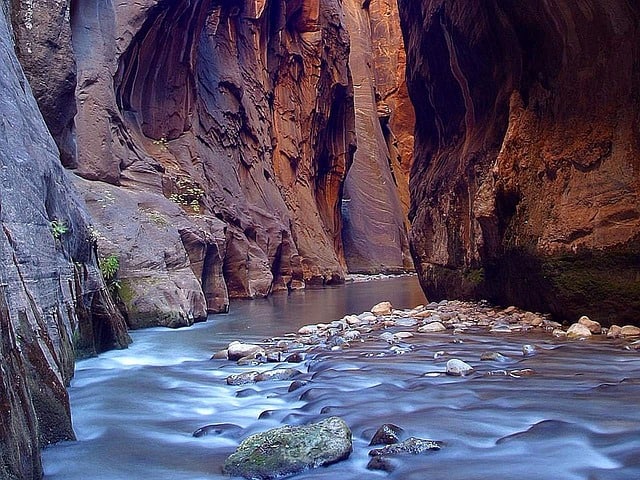 Despite its challenges, the canyon provides beautiful breath-taking views and is a memorable experience for anyone who attempts it. you can complete the trail in various ways. Firstly, you can start from the bottom and hike as far as you can up before turning around and heading back down.
This is a relatively moderate hike and can be easily completed in one day. The alternative is to complete the entire route, in which case you start from the top and work your way down. A permit is required to hike the entire trail (top to down) which makes the alternative route the more popular trail.
Due to the difficulty of this hike, this trail may be temporarily closed or deemed too dangerous during the winter. So be sure to stop by the visitors centre, to make sure.
You can read my post on other Utah Slot Canyon you should visit.
Canyon Overlook Trail
Distance: 1-mile round trip
Difficulty: easy to moderate
The trail starts with some steep elevation but once past the initial steps, the trail is relatively flat for the remainder of the hike.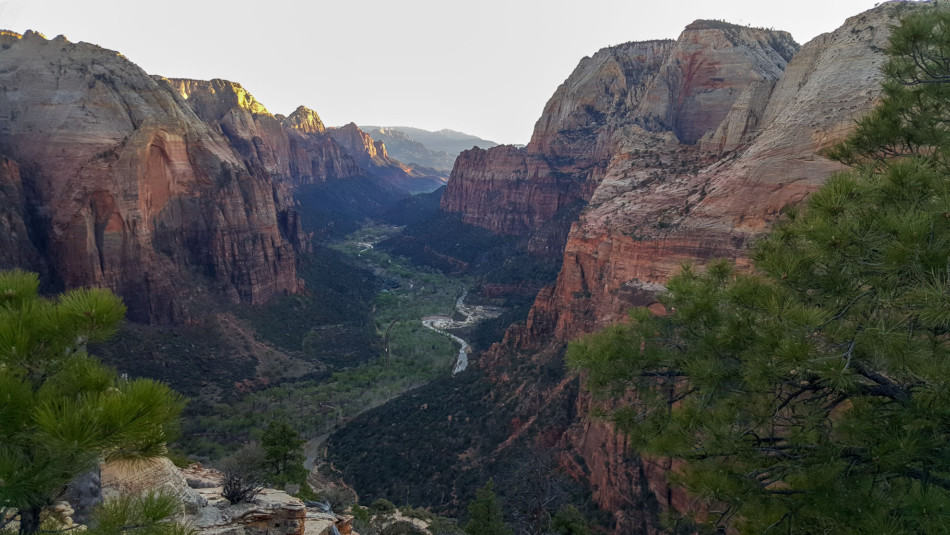 The trail is moderately easy however at some points it can be narrow and have little to no barrier between the path and the nearby drop. This makes the trail unfit for families with children and people who may be uncomfortable with these conditions.
The trail itself is just as much part of the attraction as the final view point destination. On one side of the trail is the cliff walls of a mountain, and on the other side is a large drop (mostly guarded by railings and barriers) that overlook the beauty of the park.
Observation Point
Distance: 8-mile round trip
Difficulty: hard
This is one of the more challenging hikes in the park, although with challenge also comes big rewards. Once at the summit, hikers will enjoy gorgeous views over the park, including views over Angels Landing!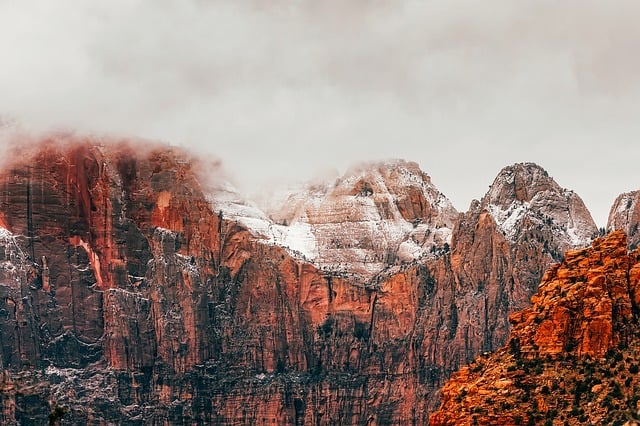 This hike consists of 2,300 ft of consistent uphill climb, making this trial more difficult than others. Due to the difficulty of this hike, there are rarely any crowds so hikers can enjoy the serenity during this strenuous hike through beautiful canyon scenery on the way to the top. Due to the difficulty of this hike, this trail may be temporarily closed or deemed too dangerous during the winter. So be sure to stop by the visitor's centre, to make sure.
View the Wildlife
Many animals that live in this region have adapted to the colder climate, so during the chilly winter months wildlife can be seen all around. Mule Deer's are particularly popular during winter, with visitors being able to spot them foraging around the forests and trails almost every day.
Other species are also commonly seen during winter at Zion too, such as wild rabbits, different bird species and many small mammals. Winter time is the best time to view the wildlife roaming around the park as they are far less common to spot during the warmer months.
Things to Know About Visiting Zion National Park During Winter
Some Hikes will be closed. 
Due to the weather conditions during the winter months, it is highly possible and likely that there will be some trails closed to the public. This is for the safety of the parks' visitors and staff.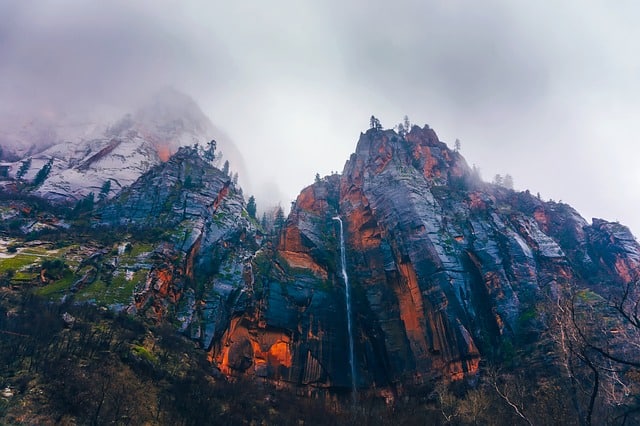 They could be closed for a variety of reasons such as the weather negatively impacting the trail, or it simply begin too dangerous during that day's weather conditions. All this information is available at the visitors centre upon arrival to the park.
Its' Cold.
Weather temperature in Zion during winter can range anywhere from 24°(F) to 50°(F). So be sure to be prepared for cold temperatures and dress accordingly!
December Temperatures for Zion: High of 53°F and a low of 30°F
January Temperatures for Zion: High of 52°F and a low of 29°F
February Temperatures for Zion: High of 57°F and a low of 31°F
Hikes can be Difficult and Slippery
Although many hikes may be closed off for safety reasons, there are many that will likely remain open. A number of trails that remain open could become more difficult and at times be dangerous if not prepared. It's important to take extra care when hiking during the winter months. information regarding difficult trails etc. is available at the visitors centre upon arrival to the park
Many Shops may be Closed due to Seasonality
Because winter is the quietest time of year in Zion, many of the shopping centres and stores located around the park are either closed for the season or have much shorter, limited opening hours. Look up the stores beforehand to get an idea of their opening hours or whether they're open at all to get an idea before heading in.
There is limited Daylight. 
During winter months, come shorter days and limited time with daylight. This leads to having to accommodate trips to national parks as the timeframe to hike and explore, naturally gets limited in itself. Many of the longer strenuous hikes are already closed during winter months, so it is recommended to do the smaller ones during this time. This way, you will get to explore more of the park in the limited time and take advantage of the daylight you can.
It is important to have the right gear. 
Having the right gear during a hike is important for any experience, specifically for winter months. it's important you dress for the occasion and the weather as wearing the wrong things can cause many problems.
Both, a puffy down jacket with an attached hood or water/wind proof jacket with an attached hood are good choices. Fleece thermals, pullovers, and jerseys to wear under jacket are also good choices.
Lightweight fleece gloves will make a good addition as well as insulated hiking boots with good traction to provide the support needed for hiking difficult tracks. It's' also a good idea to bring extra layers in a backpack in case it gets too cold, or the alternative and you need to take a layer off.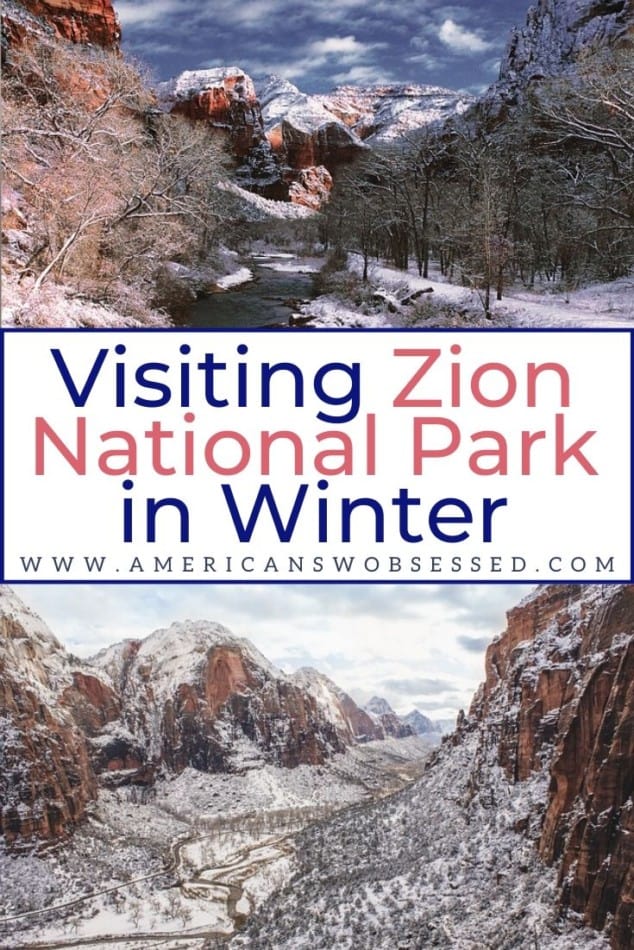 Recent Posts