Winslow, Arizona: Are you looking for the best things to do in Winslow, Arizona? There is a lot to see and do in Winslow. This small Arizona town has a lot to offer.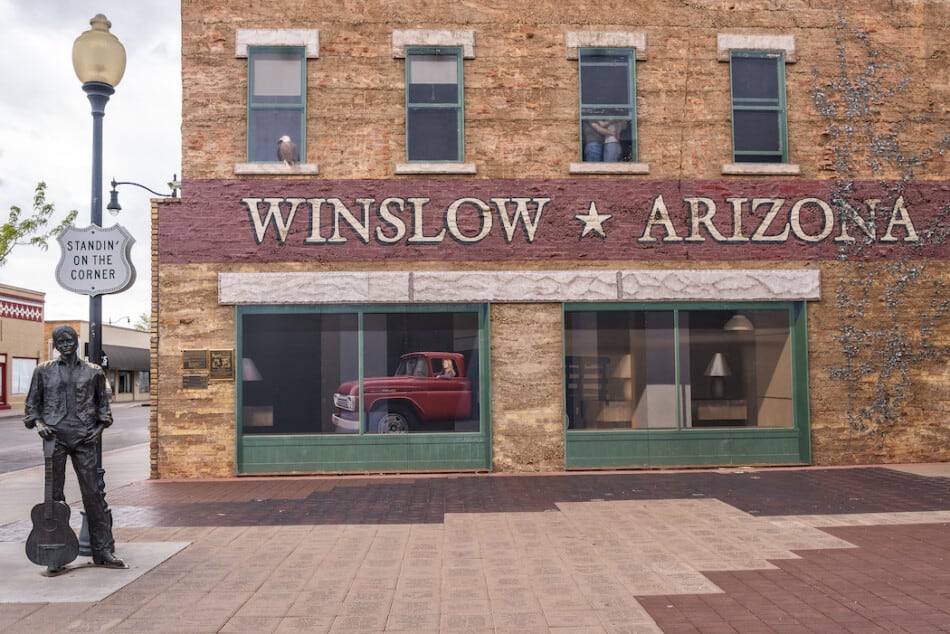 I've also included things to do near Winslow, AZ as there are a lot of intriguing experiences and historical places near Winslow. If you are looking for more to do in Winslow, check out my post on the best restaurants in Winslow.
15 Best Things to do in Winslow, Arizona – Take it Easy!
Standing on the Corner Park
This popular spot pays homage to the song "Take it Easy" by Jackson Browne and Glenn Frey. It is located downtown on the corner of Kinsley & 2nd Streets.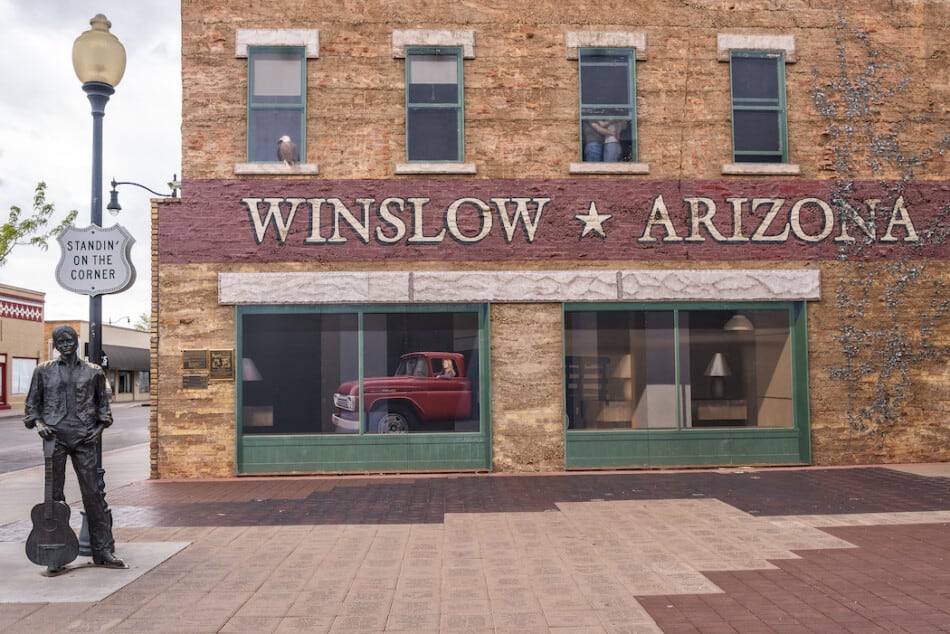 There is a bronze statue of the singer and a sign saying Standin' on the Corner.
Meteor Crater
One of the best things to do in Winslow, Arizona, for a thrilling and intriguing experience is to visit Meteor Crater. Just outside of Winslow is the 50,000-year-old wonder known as the Arizona Meteor Crater.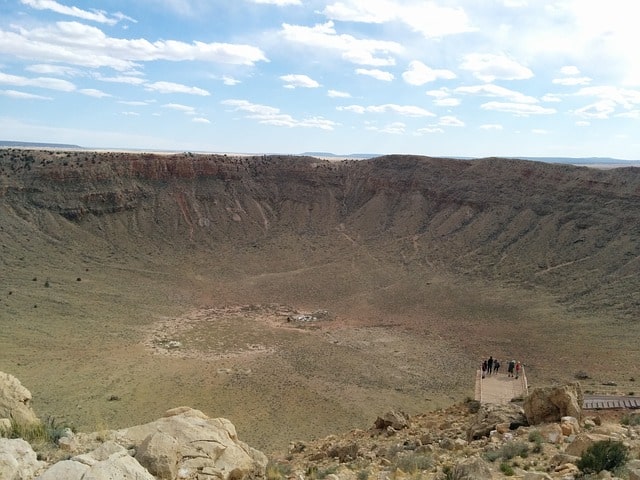 Each year, a sizable number of space enthusiasts visit the crater to view it, but you do not need to be interested in space to be astonished. The crater, which is around 4,000 feet broad, may be seen from the vantage point.
Relevant information about the incidents that caused the crater is provided during daily visits. Restrooms and showers are close to the RV parking, so you can set up camp there if you have an RV or a tent. A Mexican restaurant and a gas station are among the additional amenities.
Relic Road Brewing Company
Relic Road Brewing Company may be the perfect choice for you if you're looking for a casual dining establishment but aren't looking for fine dining. It is child-friendly and makes sure they have lots to do while they wait for their burger and enjoy the western ambiance.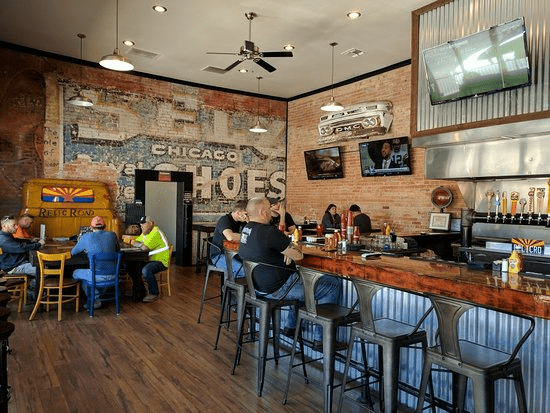 Some of Winslow's greatest locally made beers and beverages with distinctive and premium flavors are served by Relic Road Brewing Company. A wide variety of tasty beers are available from them, including Left Hand Milk Stout Nitro, Borderlands Noche Dulce, Dragon Dragon IPA, SanTan Epicenter Amber Ale, and many more.
A wide variety of delectable foods are also available at Relic Road Brewing Company, including grilled cheese sandwiches, fresh fish tacos, Phillys with Relic Chips, Canyon Diablo Burgers, chicken sandwiches with Relic Reubens and onion rings, patty melts, and more.
For your convenience, they have indoor and outdoor patio seating available. The business also welcomes pets, which makes the ambiance for the visitors exciting.
Old Trails Museum
If you want to understand more about what is now Arizona's history and culture, this museum is a great place to go. The meteor crater, the extinct mammoths that once roamed the area, and the first settlers like the Hopi, Laguna, and Navajo are all recorded in the earliest writings.
In addition, the museum features historical relics related to early settler trails, Columbia mammoths, railroads, and prehistoric meteor craters. The Old Trails Museum also has a sizable collection of old books, pictures, artifacts, and textiles of significant historical value.
Oral histories that have been contributed by people and their families, as well as artifacts like documents and photos, are undoubtedly beneficial to the museum.
Homolovi State Park
The remnants of a Homolovi village are located not far from Winslow.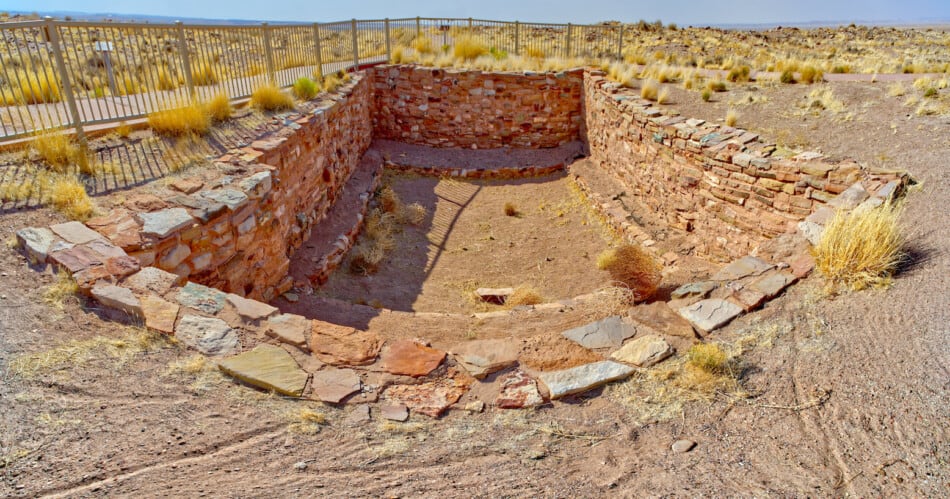 The Homolovi lived here before going north to live with the Hopi. Stone tools, petroglyphs, pottery, and traditional pit homes can all be found strewn across Homolovi State Park, which serves as a historical site.
The Hopi community's cultural center continued to be the lush flood plains and sandy banks after the Hisat'sinom people moved into the area in the fourteenth century.
This park offers year-round camping, a visitor center, a museum, and several trails. Using the interpretive signs, you can stroll along the path and discover at least two ruin sites, as well as the breathtaking surroundings of the desert.
McHood Park
Swimming in McHood Park is one of the enjoyable things to do in Winslow, Arizona, for an unforgettable experience. Lakeside access to Arizona's outdoors is provided through McHood Park.
A noteworthy aspect of McHood Park is that visitors can stay there for free for the first two weeks. The campground there has many secure, well-maintained campsites.
The park also has a fully functional playground where kids can play and explore. There are pathways perfect for strolling and hiking, and going in groups makes it more enjoyable.
Since it has a reservoir, McHood Park is a great place to go boating, kayaking, or canoeing. The park is frequently visited by several bird species, so keep an eye out you might find an ostrich.
China Town Restaurant
China Town Restaurant is a fantastic restaurant serving delectable China delicacies in Winslow. Many families frequent China Town Restaurant, which is a testament to how delicious and flavorful their meals are.
Sesame Chicken, egg rolls, chicken with mushrooms, egg drop soup, beef with broccoli, and other dishes are some of their most well-known dishes. Delicious dumplings, steaks, fried wontons, lo mein, chicken donair, honey chicken, and other dishes are also available at China Town Restaurant.
The restaurant's staff is welcoming, provides top-notch customer service, and allows takeout. In addition to the quiet atmosphere, the environment is clean.
La Posada's Unique Gift Shops
Shopping is one of the fun things to do in Winslow, Arizona. Visit some of La Posada's Unique Gift Shops for a delightful shopping experience.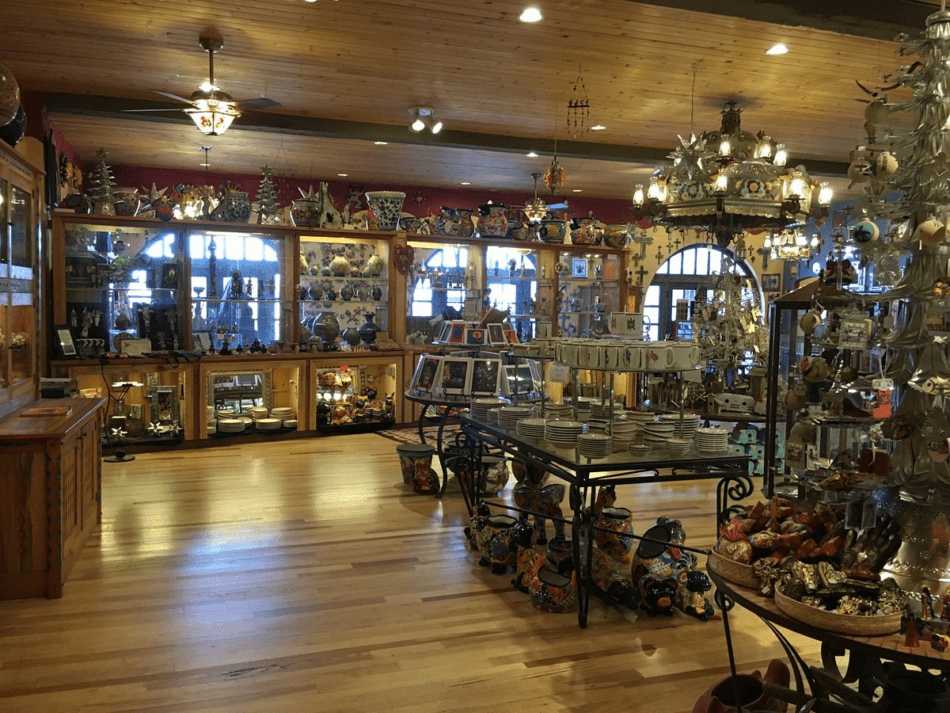 The Santa Fe Railway established the final rail hotel, now a historic property, La Posada Hotel & Gardens in 1929. In 1997, the hotel underwent further renovations.
Several gift shops were installed as part of the renovation, allowing hotel guests to shop for unique products there.
There is also a book store and trading post that has a large selection of books for readers of all ages and interests as well as an amazing array of carefully chosen presents. The stores also sell handmade crafts by well-known regional American artists, including jewelry, hand-woven Navajo rugs, vintage Route 66 memorabilia, and more.
Additionally, hand-carved Kachina dolls, nichos mirrors, Zapotec pottery, and other distinctive products are on display at La Posada's Unique Gift Shops.
Two Guns
In the early 1800s, Daniel B. Oldfield and his wife ran a modest trading post that is now known as Two Guns, originally known as Canyon Lodge.
Following the settlement of the area by a few additional western settlers, the National Trail Highway through the town was chosen as the main crossing of Diablo Canyon. As more settlers from the West moved into the area over time, the National Trail Highway route that crossed Diablo Canyon gained popularity.
A ten-year agreement between the Cundiff's and Spanish-American soldier Harry Miller gave them access to the location. Later, Two Guns and its community experienced a tragic phase. The zoo and gas station are still there, but Two Guns is now referred to as a ghost town.
Winslow Chamber of Commerce and Visitor Center
A historical site in Winslow, the Winslow Chamber of Commerce and Visitor Center, aids in the promotion of Winslow's history. It provides spacious halls or rooms for rent for any event, including baby showers, birthday parties, wedding receptions, and more.
You are given booklets on the area, and tour guides are available to teach visitors more about the history of the city. The facility as a whole, including the restrooms, is kept up properly. Behind the center, there are trails perfect for long hikes.
The Winslow Chamber of Commerce and Visitor Center are fantastic resources for knowledge and local history. There is a parking area on the site as well.
Rock Art Canyon Ranch
Private cattle ranch Rock Art Canyon Ranch has covered Anasazi huts and a Navajo hogan. Moreover, you may see well-preserved Native American petroglyphs, making Canyon Ranch a pristine zone.
Numerous archaeologists are among the many tourists attracted by the ancient petroglyphs at the Rock Art Ranch each year. There aren't many places in the world with a collection like this of historic art.
While exploring the canyon, you will come across artwork created by Arizona's native inhabitants as well as wildlife, mysterious symbols, and people practically everywhere you turn.
Don't forget to go around the ranch's museum, where you may find ancient relics that have been around for a very long time. Visitors are free to roam around the facility as much as they like without being restricted by the employees or the owner of Rock Art Canyon Ranch.
Winslow City Parks-Recreation
Spending the day with your traveling companions at Winslow City Parks and Recreation is one of the best things to do in Winslow, Arizona.
Several recreational amenities are available for everyone to explore and enjoy at Winslow City Parks & Recreation.
The park has a softball field, a little league field, tennis courts, volleyball courts, basketball courts, racquetball courts, a baseball field, and Girl Scout houses. Two beautiful playgrounds with all the necessary amenities are also located in this park for the enjoyment of the little ones.
There are lovely picnic places where you and your traveling companion can enjoy lunch. There is also an indoor pool and an outdoor pool where you can unwind.
Apache Death Cave
Visiting Apache Death Cave is arguably one of the best things you can do in Winslow if you like creepy, scary, and spooky stories. The underground cavern below the ghost town, The Apache Death Cave is full of adventures and features two guns in addition to walls covered with dark scorches.
Three members of the Navajo camp were killed by Apache raiders in 1878, and three further teenage girls were kept hostage. This catastrophe resulted in the formation of the cave.
When the Navajos learned that the three teenage girls had died, they headed out in search of revenge, which made everything worse.
When the Navajos discovered the Apache in the underground cave, they built a fire inside. The smokey air that was inhaled caused the 42 Apache's who were within the cave to perish.
When visitors approach the cave, whispers and groans are allegedly made by the vengeful spirits of Apache's who perished there.
Arizona 66 Trading Company
Shopping is one of the fascinating things to do in Winslow, Arizona. Visit Arizona 66 Trading Company for a fantastic shopping experience. There is always something for everyone at Arizona 66 Trading Company, a one-of-a-kind store that is open to everyone.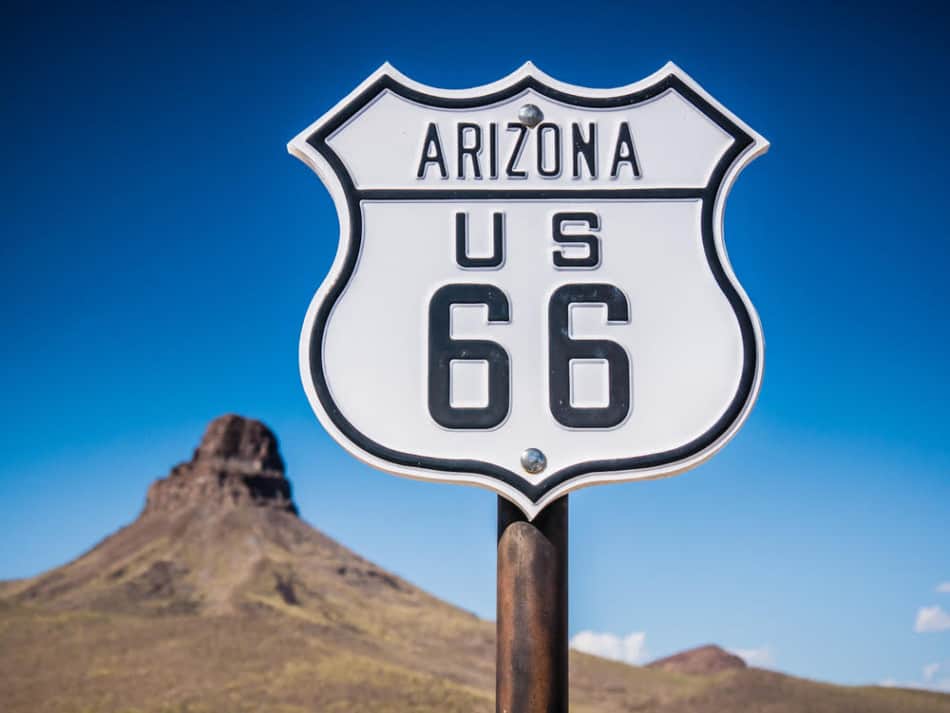 For a fair price, the store offers a variety of stickers, puzzles, T-shirts, and other items in various styles and colors. You can buy locally created presents for yourself and keepsakes for your loved ones at Arizona 66 Trading Company.
The proprietors and employees of the business are kind and accommodating; they help you scan the items and even offer discounts.
Every day of the week, Arizona 66 Trading Company is open.
9/11 Remembrance Garden
One of the many memorial facilities created in remembrance of the terrorist attack on September 11, 2001, by unaffected communities is the 9/11 Remembrance Garden.
There is a nearly undetectable replica of the original twin towers in the garden. However, it has a break from the World Trade Center.
The 9/11 Remembrance Garden is made up of two 14- and 15-foot steel towers that are connected by a plaque that represents the nation's unified reaction to the attack.
Clear Creek Rentals
A truly hidden gem in Winslow, Clear Creek Rentals goes unnoticed and isn't as widely publicized as it should be.
Clear Creek is a great location for kayaking, boating, swimming, and fishing. Whatever activity you choose, the equipment rental includes paddles and a life jacket. They provide canoes, kayaks, SUPs, tubes, and other types of watercrafts, so you don't have to bother about finding any
When you go boating, kayaking, or engage in any other water sports, you may take advantage of the clear creek's stunning water and its amazing scenery.
Simply schedule an appointment, and Clear Creek Rentals will provide the necessary equipment and pick it up once you're finished. Don't forget to bring your camera so you can capture the moment in amazing shots.
Recent Posts