Hikes in Utah with waterfalls
Looking to go on hikes in Utah with waterfalls? I've put together this list of my 15 favorite waterfalls in Utah that you have to see to believe.
Utah is known for its dramatic landscape but you really need to go 'inside' to see just how beautiful it is there. These waterfalls are quite unexpected when you see what is around you.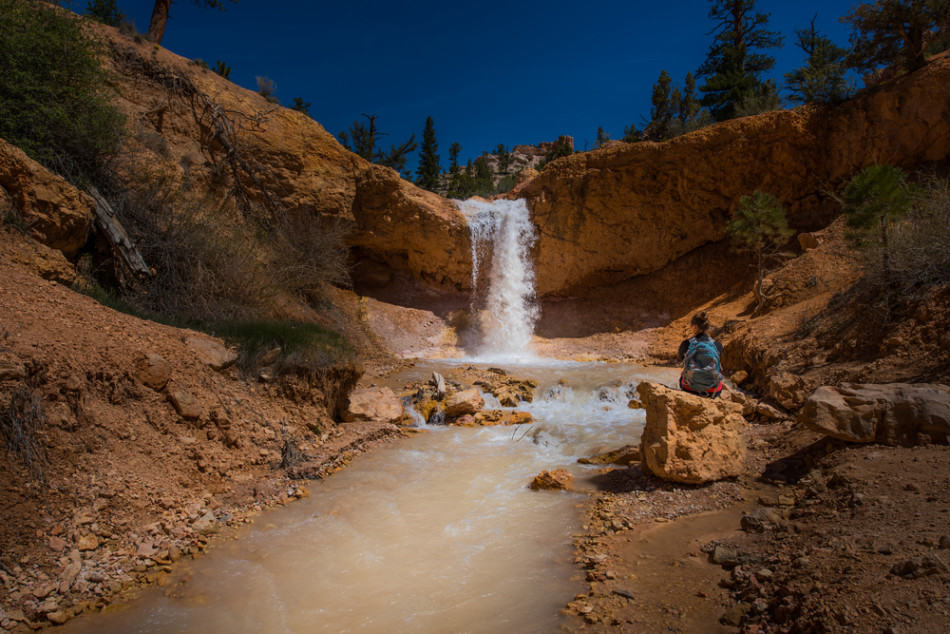 Which is the best waterfall in Utah? You'll have to read till the end to find the answer. We cover Salt Lake City waterfalls, waterfalls in southern Utah and all the Utah hikes with water.
You might also want to check out my posts on the Best Hikes in Utah National Parks:
Best Hikes in Zion National Parks
Hikes in Capitol Reef National Park
Hikes in Bryce Canyon in one day
One Day in Canyonlands National Park Hikes
Battle Creek Falls
Distance: 1.2-miles round trip
Difficulty: Easy
Located in the Utah city, Pleasant Grove, this easy hiking trail is great for families or those wanting a relaxing easy hike to a beautiful waterfall. The attraction to Battle Creek is the beautiful 50-foot waterfall at the end of the trail. Although, the path to get to the waterfall also provides great scenic views of both the nature around you but some views over the city.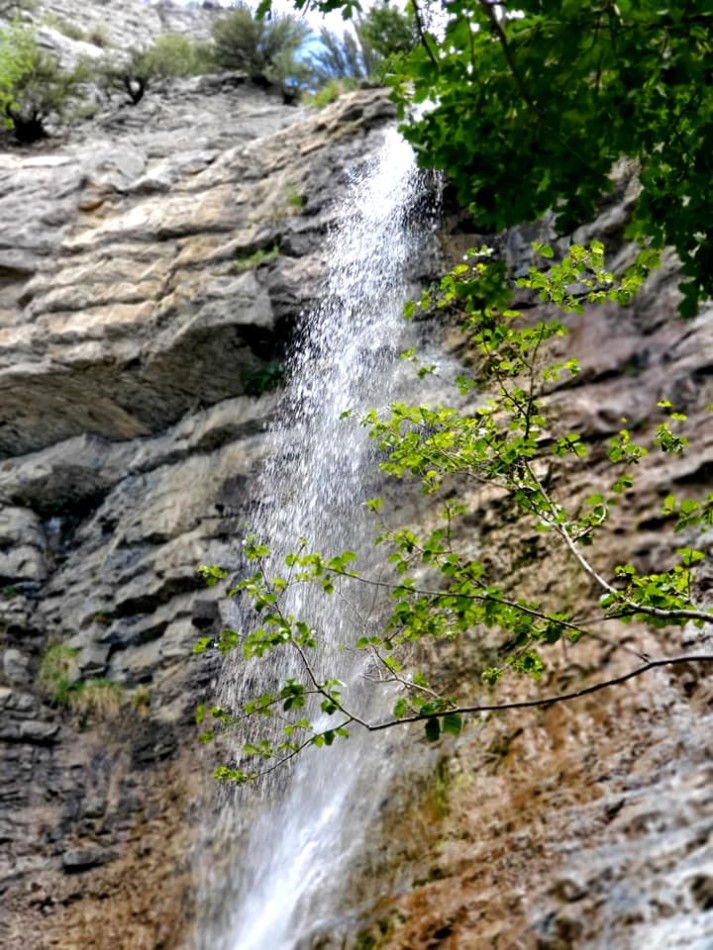 Bell Canyon to First Waterfall
Distance: 4.6-miles round trip
Difficulty: Moderate
Located south of Salt Lake City in Sandy, Utah is the Bell Canyon Hike. The trail to the first waterfall is a popular trail in the area that is great for people of all ages. There is a beautiful lake along the trail which is a spot where many people stop and turn around.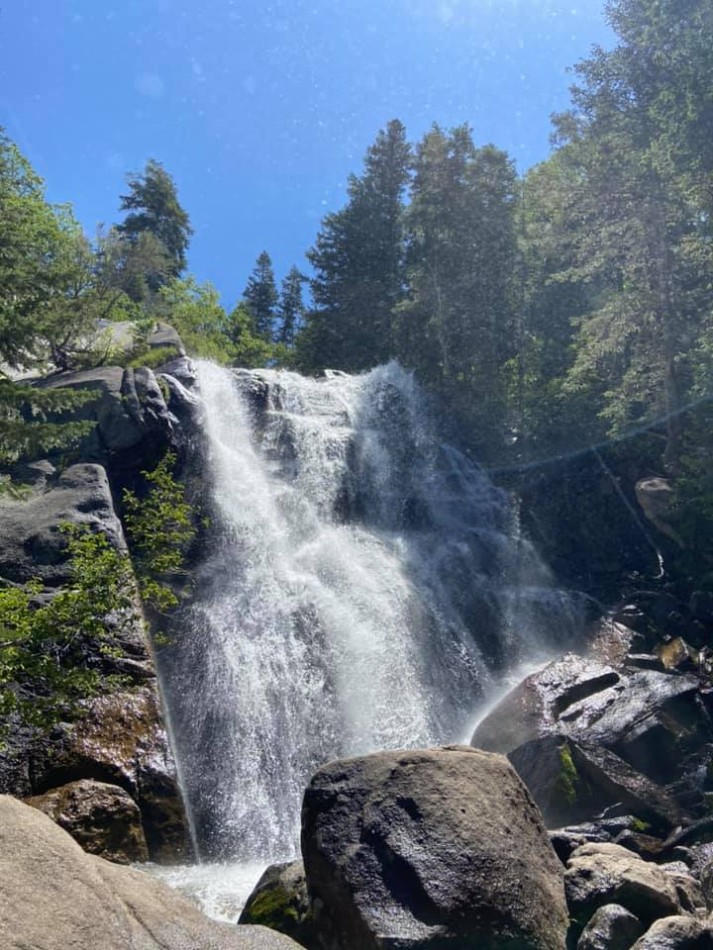 However, if you do choose to continue to the waterfall, it will be well worth it. The trail from the lake to the fall is a bit trickier and involves rocky paths and steep elevations but doesn't last too long before arriving at the beautiful tall heavy crashing waterfall.
Calf Creek Falls (lower)
Distance: 5.8-miles round trip
Difficulty: Easy
Located near the city of Boulder, Utah is the calf creek falls hiking trails. The trail to the lower falls is much more accessible to the public, easier to hike, features a larger waterfall, and hence, the more popular trail of the two.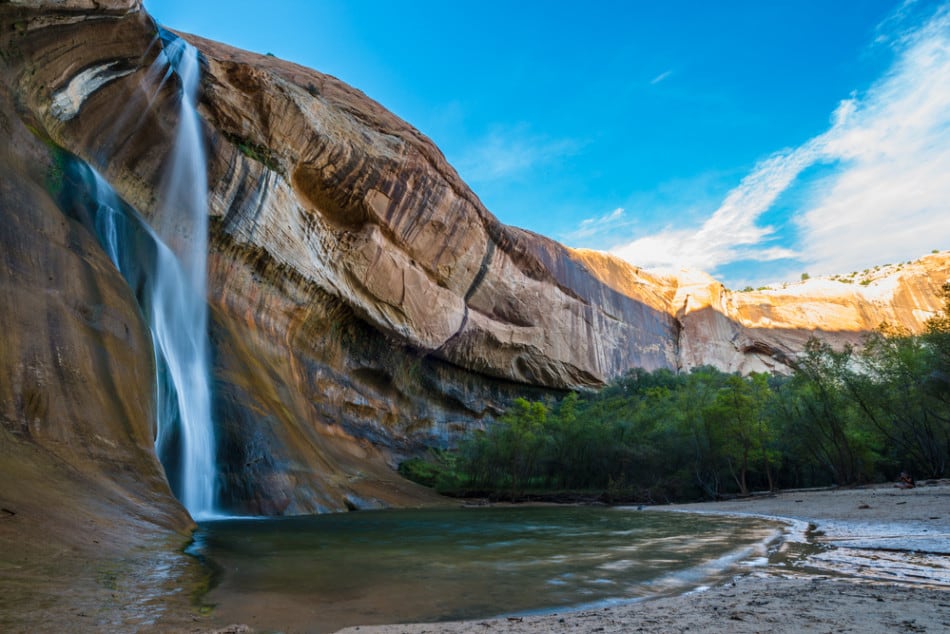 The trail is a generally flat trail that leads to a large 120-ft waterfall that has a pool at the bottom. Visitors and hikers of the trail are welcome to take a dip and swim around the crashing fall.
Calf Creek Falls (upper)
Distance: 2.2-miles round trip
Difficulty: Moderate
The sister trail, the hike to the upper falls is a much shorter hike but includes some steep elevation and difficult terrain along the path. This trail is the lesser popular of the two meaning less foot traffic and more time to experience the beauty and serenity without crowds of others around.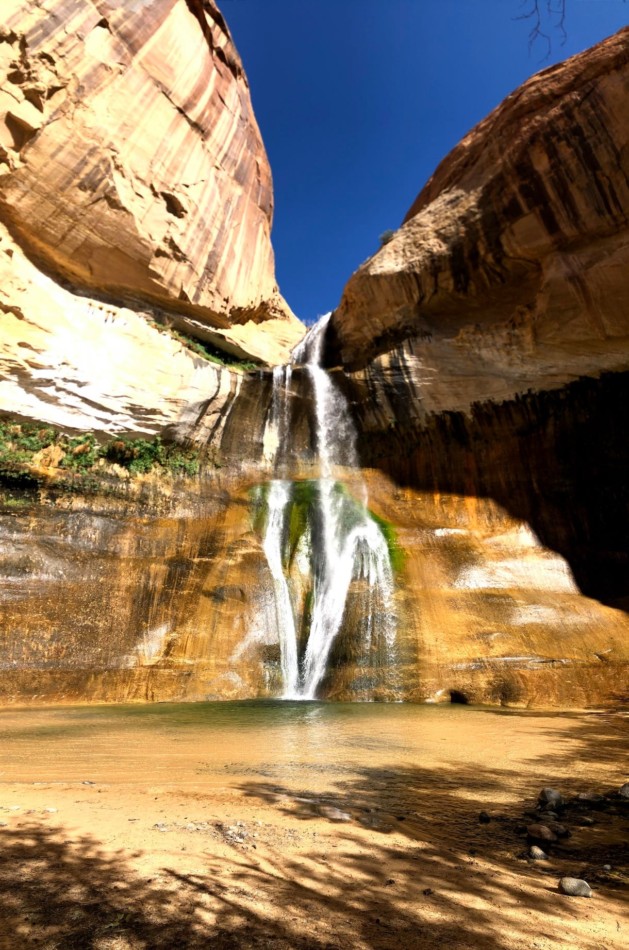 This moderate trail also leads to a beautiful smaller waterfall, also crashing into a pool below. This is a well worthy trail, mostly due to the shortness of it and the amount of beautiful scenery you get in the short amount of time. 
Emerald Pools
Distance: 3-miles round trip
Difficulty: Easy to Hard (dependent on which 'pool' you want to get to)
Emerald Pools is one of the most popular hiking trails in Zion National Park in southern Utah. This hike has three major viewpoints and stops along it: the lower emerald pools, the middle emerald pools and the upper emerald pools.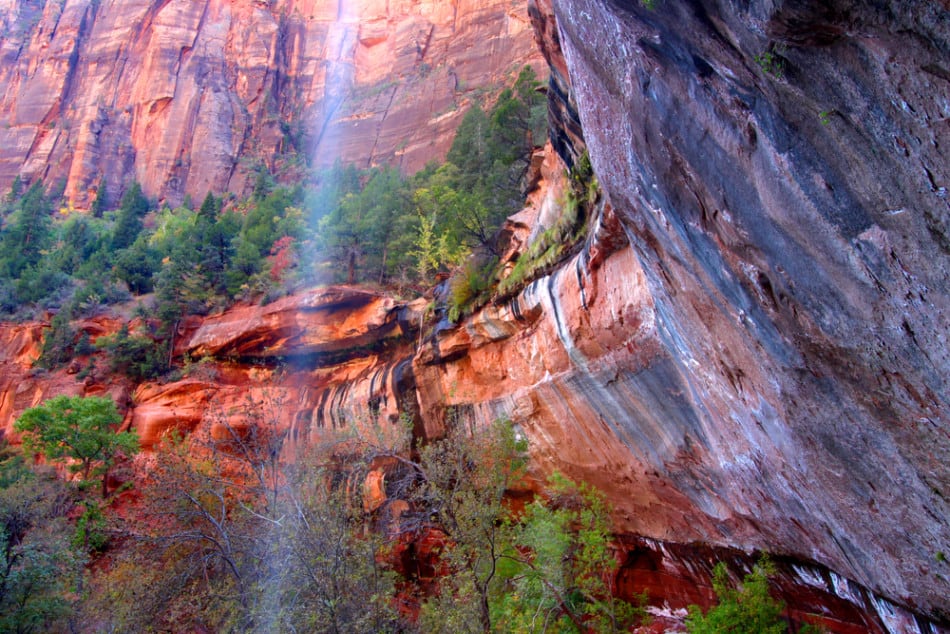 The hike initially starts off being easy but gets more difficult the further you go. It is a .6-mile round trip to the lower emerald pools which is a perfect hiking trip for those wanting to experience the beauty of the emerald pools without straining themselves too much. The emerald pools are at the bottom of the beautiful waterfalls. This trail is an easy, beautiful and must-do on any trip to Zion National Park.
Stewart Falls
Distance: 3.5-miles round trip
Difficulty: Easy
This trail is east of Pleasant Grove, Utah. Many hiking trails also start at this point, so be sure to follow the correct signs and you should be on your way!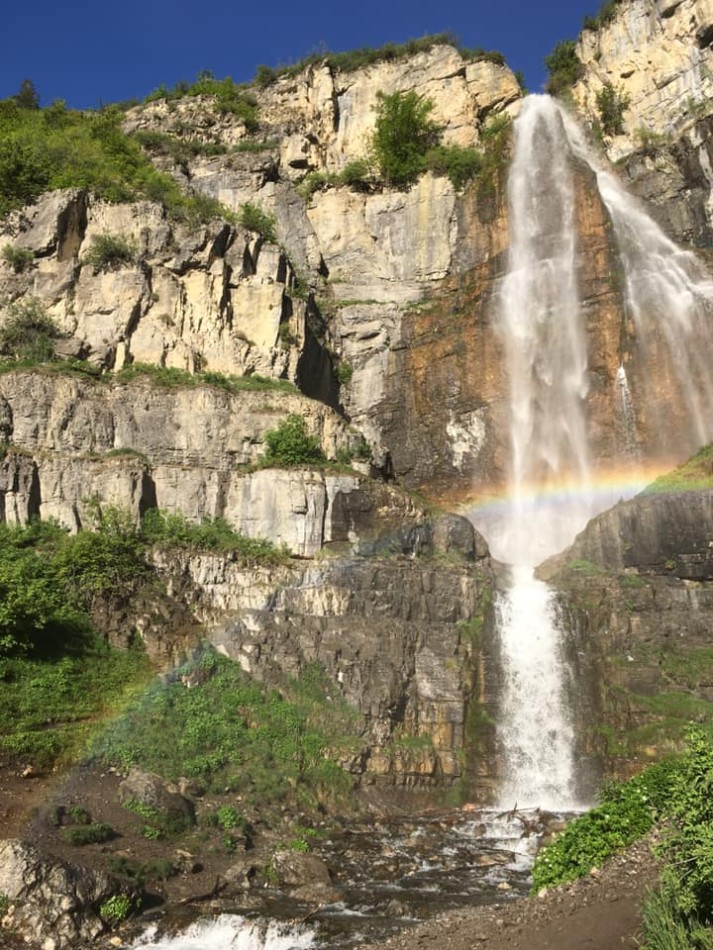 The Stewart Falls trail is an easy hike and also has good signage around to ensure you don't get lost. Stewart Falls is known by many as one of the most beautiful and scenic waterfalls and waterfall trails in northern Utah. The waterfall is over 200-feet tall and is perfect for any Instagram snap. 
Adams Canyon Waterfall – Salt Lake City waterfalls
Distance: 3.8-miles round trip
Difficulty: Moderate
Located north of Salt Lake City, Utah, this trail is a nice and beautiful hike through the valley and canyon before reaching a beautiful 40-foot waterfall that crashes into a small pond of water below.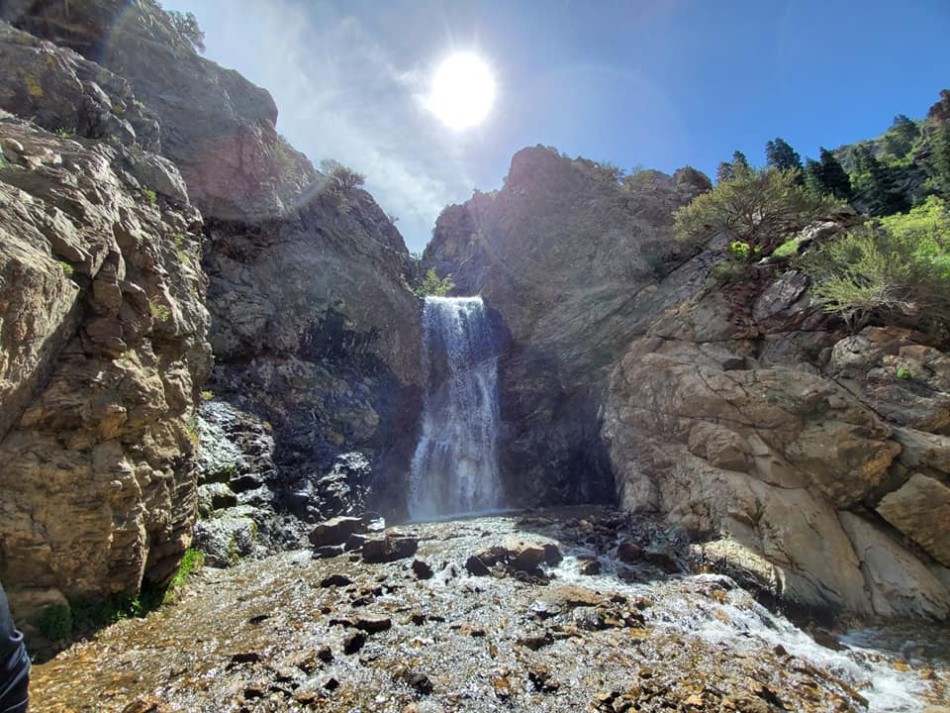 Before reaching the canyon on the trail, the path provides beautiful scenic views over the valley and of the nature surrounding. At points during the hike there are steady uphill climbs and moderate terrain although it is a suitable hike for all ages. 
Provo River Waterfall
Distance: 15.2-miles roundtrip
Difficulty: Moderate
Located in Provo, Utah this trail is a popular one in Northern Utah. This trail, according to many, is a nice Riverwalk, due to much of the trail being parallel to a beautiful river.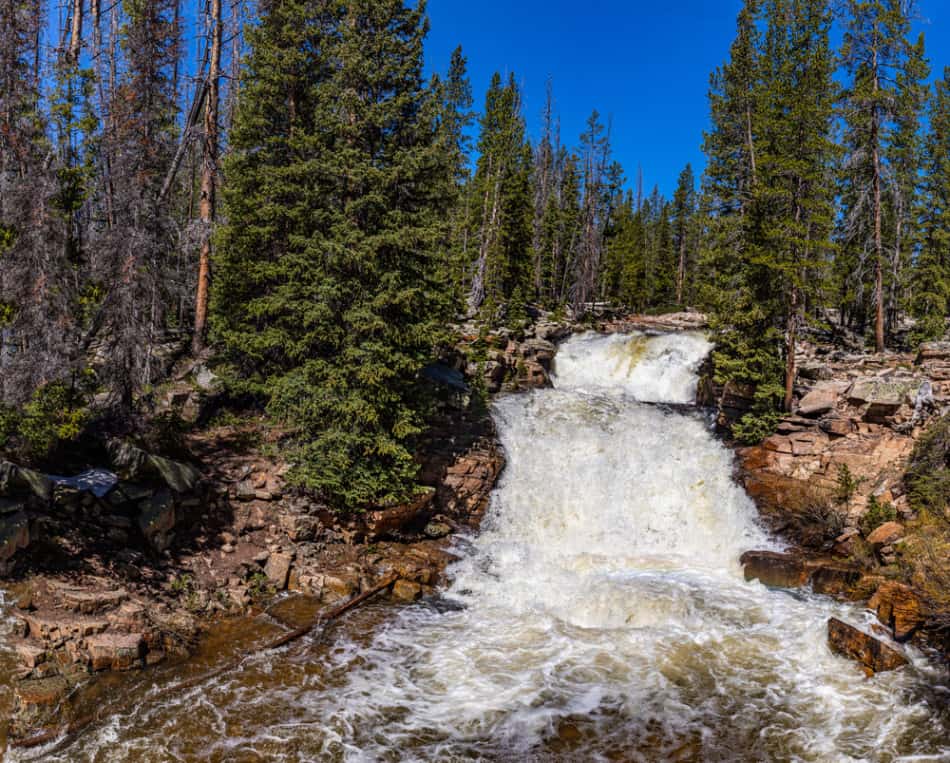 This trail is unique to other waterfall trails as there isn't just one, but many waterfalls along the way, through the river. It is common to take a dip in the river and swim among the falls during the summer months, however the water is still cold and there is sometimes a moderate current, so be careful at this waterfall Utah.
Kanarraville Falls
Distance: 4.8-miles round trip
Difficulty: Moderate
Located in the small town of Kanarraville, in southern west Utah, this is a beautiful hiking trail that cannot be fully completed without the hiker getting wet, as this is a water hike!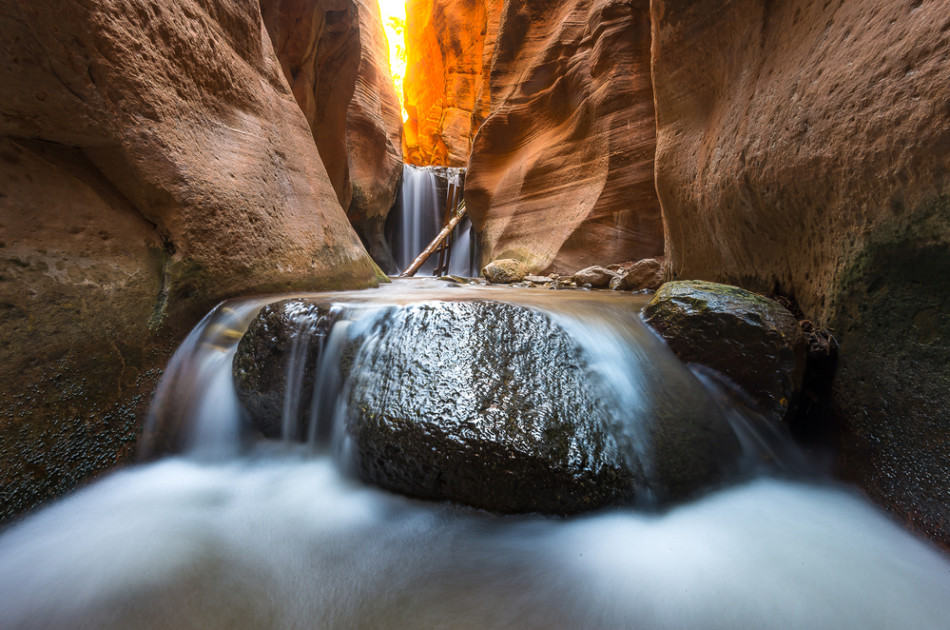 Along the trail there are many parts in which you must walk through a water creek, before coming to a slot canyon in which you must travel through the water (usually around 3-ft deep) to be able to access the waterfalls. The trail itself is beautiful, filled with lush scenery, making the entire trail an enjoyable experience. unique to some other waterfall hikes, a permit is required in order to attempt this one. 
Fifth Water Hot Springs Waterfall
Distance: 4.5-miles round trip
Difficulty: Easy
Located in Mapleton, Utah this is one of the more popular hiking trails in northern Utah. This trail includes three beautiful waterfalls and many hot pools along the way. These hot pools are very popular among this area of Utah and tend to bring in large amounts of people.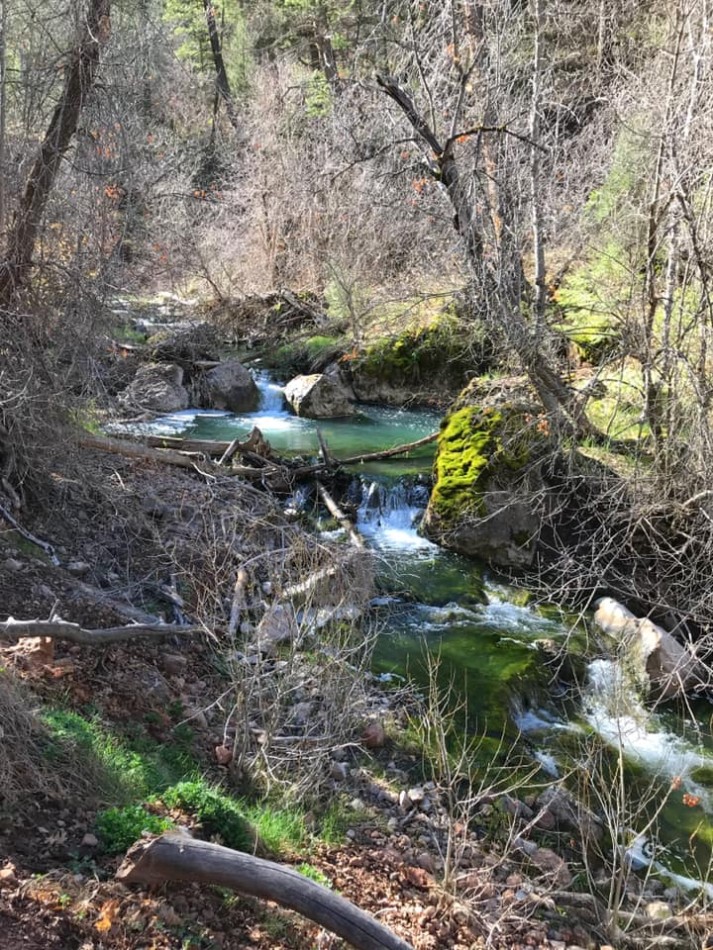 The hot pools feature clear water and varies in temperature; however, it is a very relaxing experience and something you wouldn't want to miss if in the area. The three waterfalls are all located at different spots along the trail, they are all amazing sights but the second specifically is truly spectacular.
Donut Falls
Distance: 3.5-miles roundtrip
Difficulty: Easy
Located in Northern Utah, close to Park City, is Donut Falls. This hiking trail is an immensely popular trail, particularly for families with small children. This easy trail leads it's hikers to a unique waterfall, in which the water falls through a hole in a small cave; hence the name 'donut falls.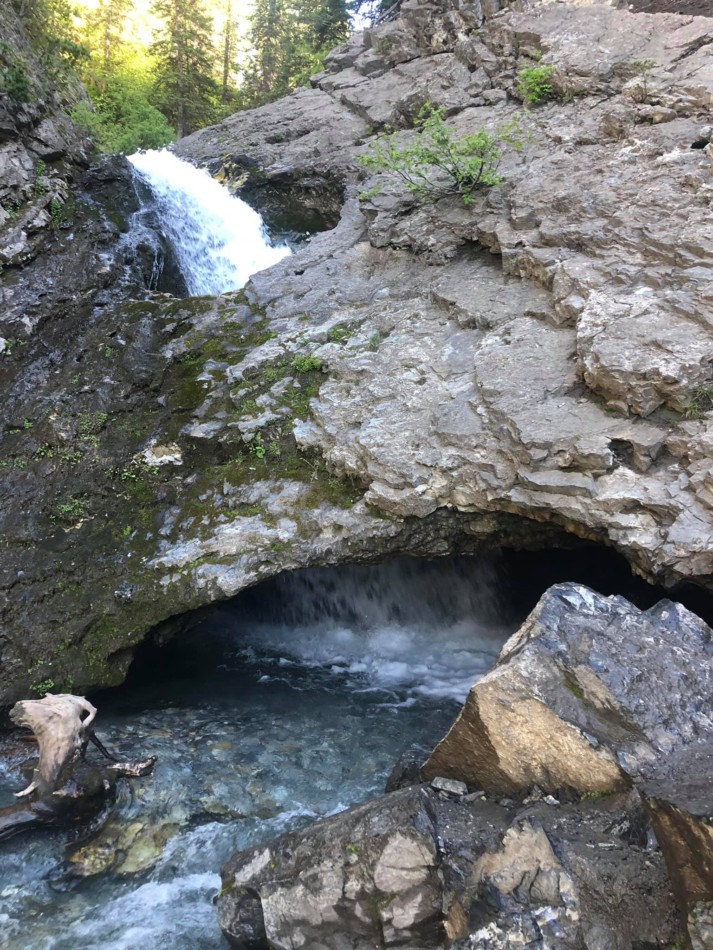 This trail is primarily flat with very little elevation throughout making it an easy hike for people of all ages and abilities. Because of the unique waterfall, the easy flat hike and the beautiful scenery around this trail is usually flooded with people eager to see the donut falls. Therefore, it is best to visit this trail in the early morning or during weekdays when it is a little less busy.
Archangel Falls
Distance: 10-miles round trip
Difficulty: Hard
Located within Zion National Park in southern-west Utah. The Archangel Falls is visible from the Subway hiking trail. This is a unique and strenuous hike in the national park. The trail requires its hikers to get in the water and swim at some points as well as perform unusual tasks for a regular hike. These tasks include climbing down waterfalls and over boulders as well as many others.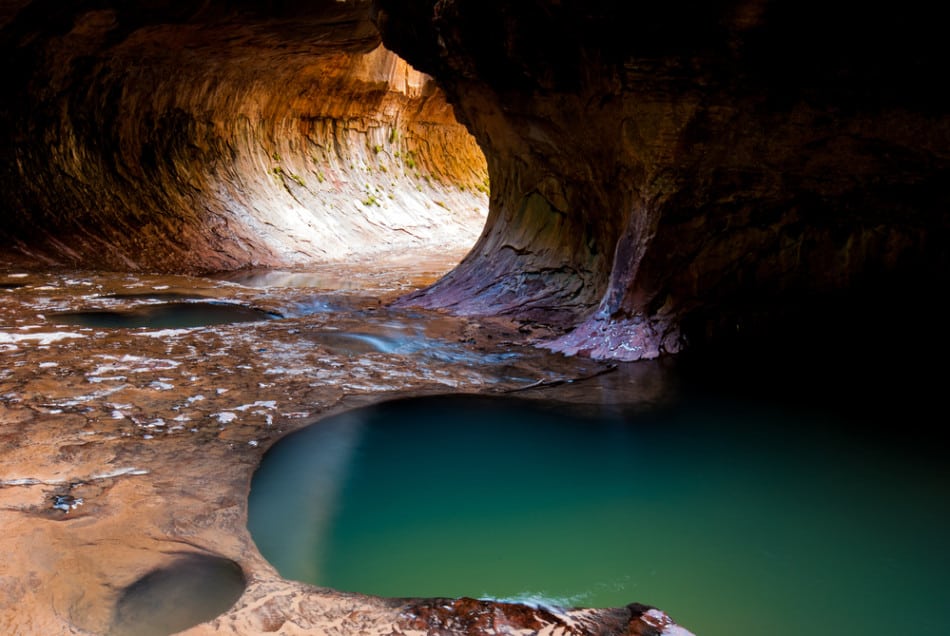 One of the main attractions to the Subway hiking trail is the subway shaped tunnel which formed due to many stints of flash flooding over time. However, another fabulous attraction is the Archangel Falls, visible on the trail just before reaching the subway. This waterfall is pretty spectacular and provides a great reward for the difficult path to get there.
Bridal Veil Falls
Distance: 1.2-miles round trip
Difficulty: Easy
Located in Provo Utah, this is another popular waterfall trail in Northern Utah. access to the trail is easy as the entrance is right off a parking lot.
The trail is also relatively flat, only gaining around 100-feet in elevation; however, at some points the trail does get narrow with steep drops on the side so be careful if hiking with children or those less abled. But due to the location and easy hike, this trail is generally packed with hikers out exploring so it'll be best to head here in the early mornings when the trail is less populated.
At the end of the trail is a large, spectacular waterfall standing at approximately 600-feet tall. This wonderful waterfall provides for a fabulous reward after an easy hike.
Cascade Falls
Distance: 1.2-miles round trip
Difficulty: Easy
Located in Kane County, Southern Utah is the Cascade Falls trail. This trail is an easy hike for all ages and abilities and is often considered more as a casual walk rather than a hike.
This is a well-maintained trail with paved pathways and signage throughout. At the end of the trail is the beautiful waterfall as well as a viewing platform. The water from the falls originally comes from a nearby lake in which the water leaves the lake through sinkholes and appears as a waterfall along the limestone cliff.
This is also an immensely popular trail, filled with many people also eager to see the spectacular waterfall.
Cataract Gorge
Distance: 3.5-miles round trip
Difficulty: Moderate
Located east of Park City, Utah is a remote area with a wonderful mountain lake and a spectacular waterfall. This also serves as a great swimming hole for its hikers at the end of the trail. There is no official trail, so getting to the waterfall could be a bit difficult for some; however, it is mostly flat with minimal elevation of around 100-feet.
Due to the remote location and the unofficial trail, this is a waterfall and trail not many know much about so its a great alternative to the much more popular trails in the nearby areas. The Cataract Gorge is also not the only waterfall located along the trail so there are many other great sights along the way too.
Conclusion: waterfall hikes Utah
Has this post given you some inspiration to visit these waterfalls in Utah? If you have done any of these hikes, which one is your favorite?
I really enjoy hiking to the waterfalls at Emerald Pools. So beautiful.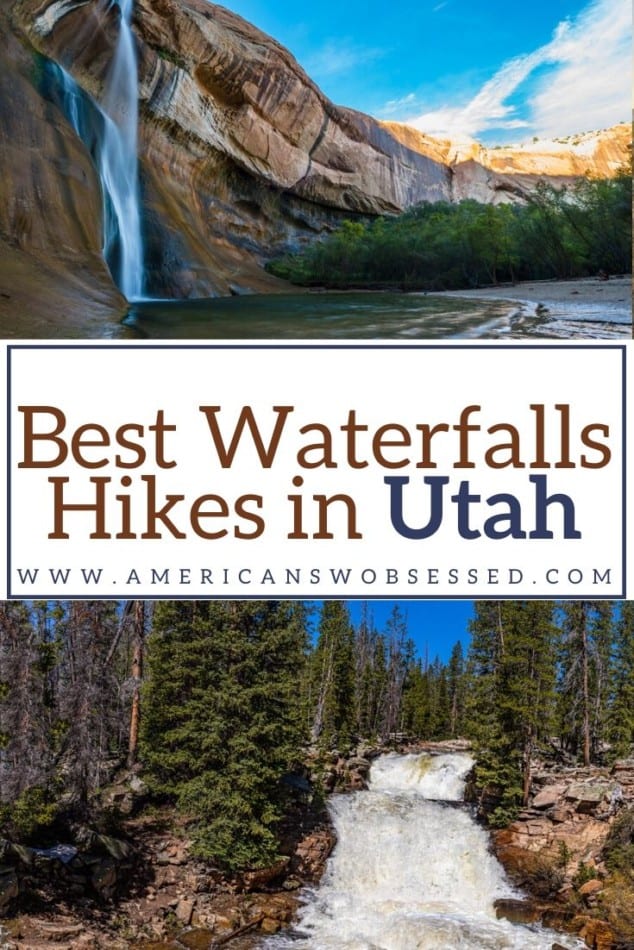 Continue Reading more on my website:
Hikes in Moab Utah for adventure junkies
Recent Posts