Hiking in Capitol Reef National Park – Capitol Reef hikes
This Capitol Reef hiking guide is perfect for anyone who visits Capitol Reef National Park. Hiking is a perfect way to see the park.

I've put together a list of my favorite hikes in Capitol Reef so if you're short on time and only have a day in the park these are the best things to do in Capitol Reef.
Capitol Reef is a hidden treasure and a national park that most people just drive through but it is full of amazing places to visit.  Capitol Reef is a hiker's dream from the cliffs to the canyons and domes and of course the most popular sight – Hickman's Bridge.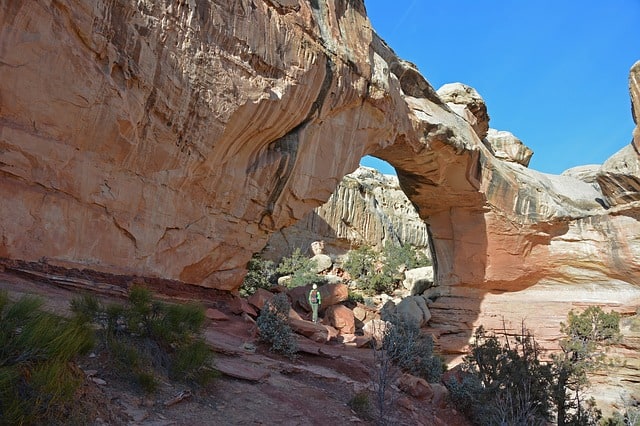 I thought the name Capitol Reef was a bit weird but then I learned that the capital was for the white domes of the Navajo Sandstone found in this area that resembles the state capitol building domes.  The reef was the barrier to travel from the rocky cliffs that surround this area – like a coral reef.
The visitor's center is located in Fruita and from there you can do a 10 mile scenic drive through the park. You will be able to see the amphitheater and the fruit orchards.
Tips for Hiking in Capitol Reef National Park
Capitol Reef is perfect for outdoor enthusiasts. There is a hike for everyone on this list and for different fitness levels. Also, note that it is dry and hot (in the summer) and make sure you know what you are getting into before you start. Here are a few tips for Capitol Reef hiking:
The top things to do in Capitol Reef and Hikes you won't want to miss!
Cassidy Arch Trail
The name Cassidy comes from the infamous outlaw Butch Cassidy who used to hide in the crannies and nooks of the canyons with Sundance Kid. It is located in the central region of Capitol Reef National Park, within the western walls of Grand Wash. After passing the Grand Wash Trail parking area, you will see the sign for Cassidy Arch Trail on your left just a few hundred yards further.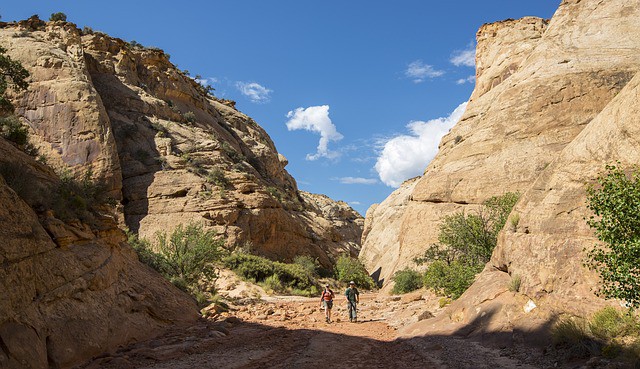 This trail is especially famous because of being family-friendly. While the hike is fun and easy, it can be exhausting for some people because of the rapid elevation gain, which is about 550 feet in a half-mile, steep inclines, and some rocky terrain. If you are visiting with your kids, then it is recommended that you give them safety tips before you start the hike.
Hickman Bridge
One of the most interesting things about Hickman Bridge is that it is well marked, so people would not have to worry about losing their way. It is also very easy to reach, with less than two miles from the Visitor Center. This 0.9-mile trail remains the most popular hike because it offers hikers a chance to witness a stunning trek.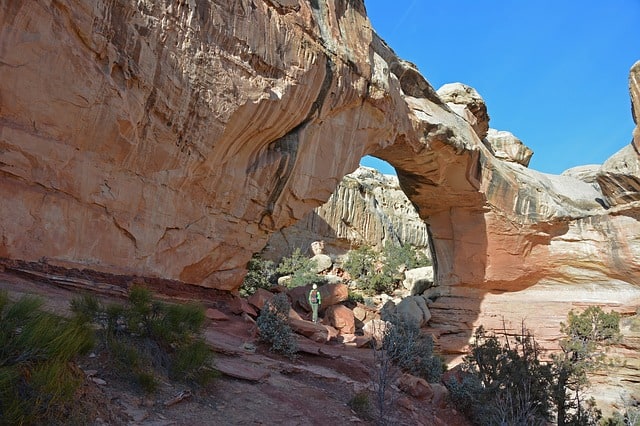 The trail might not be specifically long or steep, but it does provide access to some amazing sites including a large arch, the small arch, and a Fremont pit house ruin. The spot is crowded during the spring and fall seasons, so if you happen to visit it during these seasons, you should arrive early in the morning. This way, you will be able to avoid crowds, and you will also manage to get parking space.
Frying Pan Trail
The Frying Pan Trail is often used as a connector- either it connects to Hickman Bridge trailhead or Cohab Canyon trailhead when you take the scenic route to Grand Wash. Though the hike itself is excellent, it can be a terrible experience during the summer season. A lot of people assume that's where the name comes from — sizzling in a frying pan during the summer season.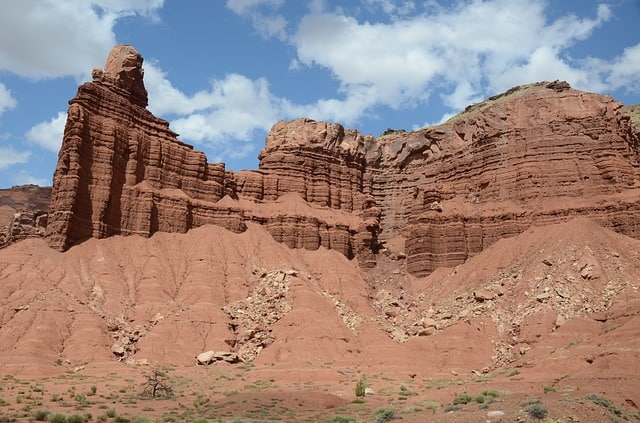 The ideal time for hiking this trail should be in the fall/spring, or winter provided there is no snow. If you want to explore all the overlooks and spur trails, it will take you about 5 hours because the trail is roughly 7 miles. Navigation is really easy in this trail and hikers do not need to carry special gear other than comfortable hiking shoes.
Brimhall Natural Bridge
To reach Brimhall Bridge, you would have to cross Halls Creek, continue along the sandy beach until you find a major side canyon on your right. You will be able to notice the difference between both the spots; while the Halls Creek consists of wide and dry benches, Brimhall Canyon consists of narrow and shady confines.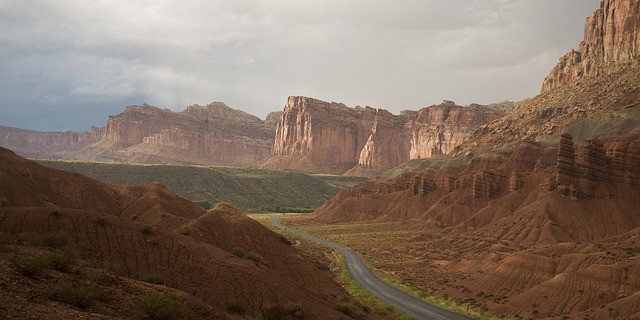 You can also get a view of Brimhall Bridge from Halls Overlook. While the sporty nature of the Brimhall Natural Bridge might attract you, but this spot is only for experienced hikers. As it is mostly unmarked, it is recommended that you carry plenty of water with yourself since water pockets along the route are not reliable enough. If you start the hike from Halls Creek, the distance if 4.6 miles for a round trip.
Halls Creek Narrows
Halls Creek Narrows is situated within Capitol Reef National Park, just a few miles north from Lake Powell. The park area sits between the high cliffs of Hall Mesa on the east and Waterpocket Fold on the west. They stretch almost 3 miles, and as opposed to other spots, they are quite welcoming during the summer season.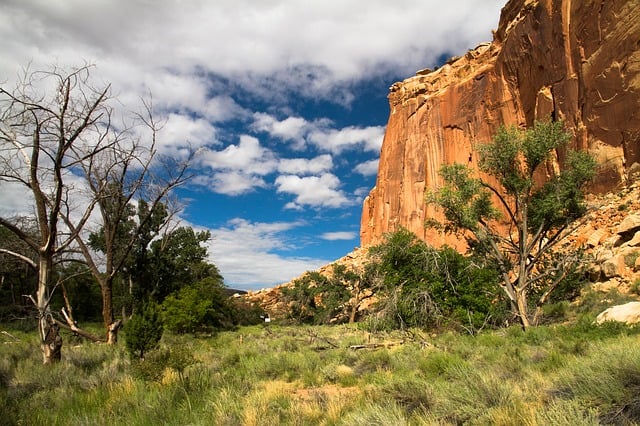 While there is no freshwater along the trail, there is water in the bottom of the narrows which requires wading, and it stays there throughout the year. Visitors usually tackle this as a 2 or 3 days camping trip since it is long and can be exhausting. This time period, however, is enough for hikers to explore the dozens of side canyons in the area. Moreover, they can also visit Brimhall Natural Bridge and Muley Twist Canyon during this time.
Capitol George
Capitol George is especially famous because it played a huge role in the area's human history. Even though it is extremely narrow, Mormon pioneers used to pass through the towering, 100-mile long Waterpocket Fold. In fact, before 1964 when Highway 24 was built, this was the principal route through the national park.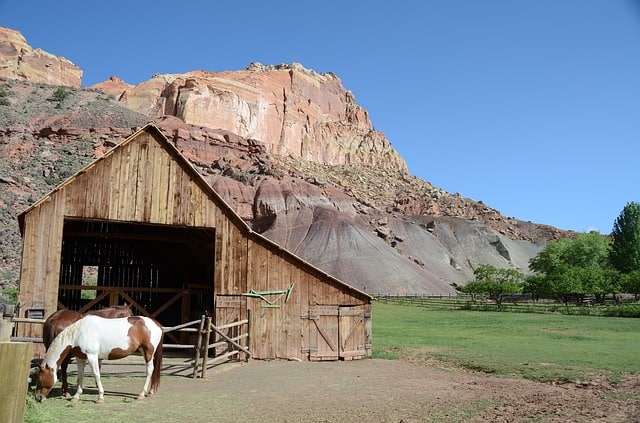 It can be reached by driving south on the Scenic Drive for about 8 miles from the Visitor Center and then turning left onto the unpaved Capitol George Road. There are two trails that take off from Capitol George Trail: one is a steep, and moderately tedious climb to a viewpoint of the Golden Throne and the second one is an easier stroll through the George. The Golden Throne has become an icon of the park.
Sulphur Creek
Often considered the subway or narrow so the Capitol Reef National Park, Sulphur Creek provides visitors with a beautiful water hike through a narrow canyon. The water is barely ankle-deep, and there are three waterfalls you can easily pass through. One of those waterfalls forces you to slide down its 5-foot drop.
While the water is not shallow, it is recommended that you ask the condition of the water from a guide beforehand in case you are traveling with a child. The hike stretches 5.5 miles. Even though hiking is legal and permitted, it is not recommended. The best time to visit this place is from April to October when the day time temperatures are slightly warmer, and the water is at a moderate temperature.
Cottonwood Wash
Located 9.1 miles south of Highway 24 on the Notom-Bullfrog Road, Cottonwood Wash is one the many slot canyons that run through the big white Navajo sandstone peaks. They make up the highest parts of Capitol Reef. Just like the other slot canyons in the area, Cottonwood Wash is relatively shorter but deeper in some places.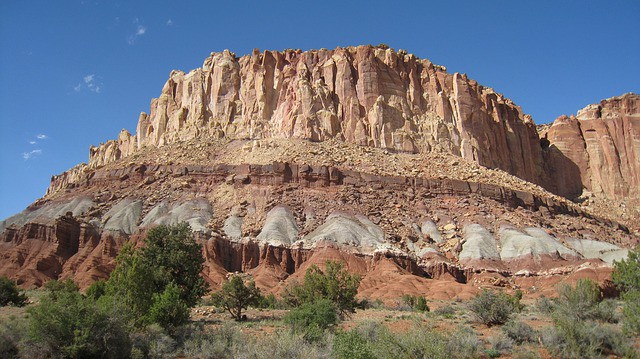 The most interesting thing about this spot is that you can find four hikes in place of one. There is the flat open path, the paths that go up through the mountain, the rocky part and the slot canyon. Since there might be pools of water along the path, it is recommended that you wear shoes that are comfortable to walk in water and clothing that dry rather quickly.
Surprise Canyon
If you are looking for a route that your whole family can enjoy, then Surprise Canyon should be on your list. Situated along the Waterpocket Fold of Capitol Reef National Park, it is a short and convenient canyoneering route. While it may be narrow, it cannot be categorized as a slot canyon.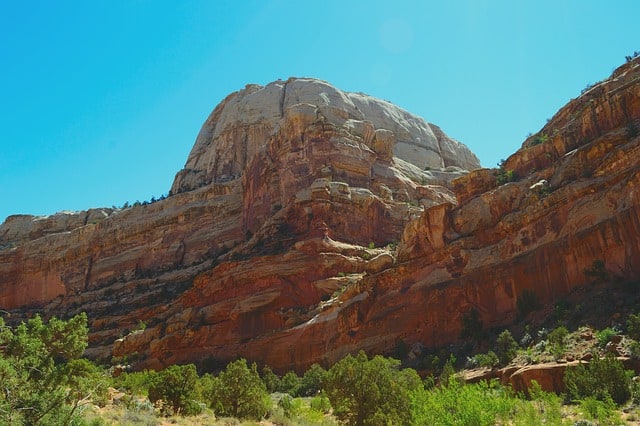 Visitors visiting this place often combine it with Headquarters Canyon for a perfect half-day adventure. It does not have any serious obstacles which make it a good place for children to visit. While the canyon is typically dry, but you may expect some wadding if it has rained heavily in the area.
Grand Wash
Another popular spot with the families on this list is Grand Wash. It offers a safe and pleasant family-friendly activity in a small package. Although the round is 4.4 miles, if you have two vehicles, it can be done as a 2.2-mile one-way hike.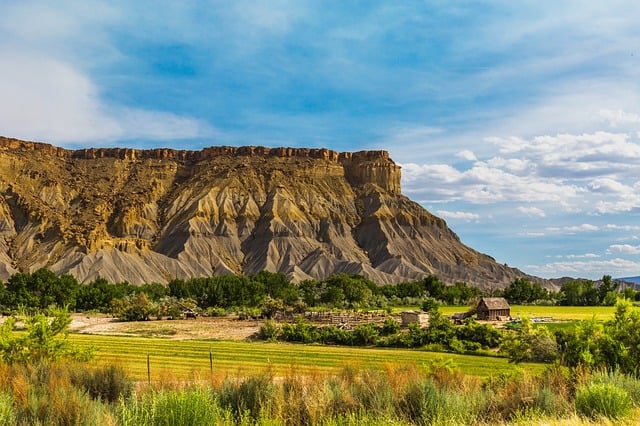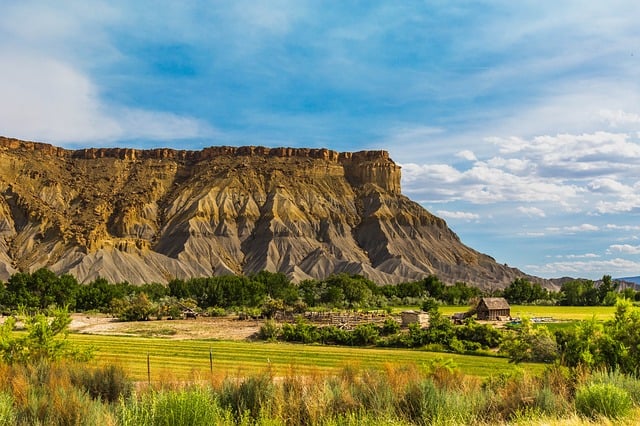 To reach this trail, you would have to drive southward at the scenic drive from the Visitor Center and continue driving 3.5 miles until you reach the Grand Wash road. Turn left from there and keep driving until you reach the trailhead at the end of the road.
Jump to top
Conclusion – Capitol Reef National Park hikes
We really enjoyed our time in Capitol Reef National Park. We also check out the fruit orchards in Fruita and the amphitheater there too.
I had no idea there were fruit trees there and I had some of the most delicious apricots ever. So sweet and juicy.
What is your favorite thing to do in Capitol Reef?  I know Hickman's Bridge is high on everyone's list!
Sharing is Caring! Pin this article to save for later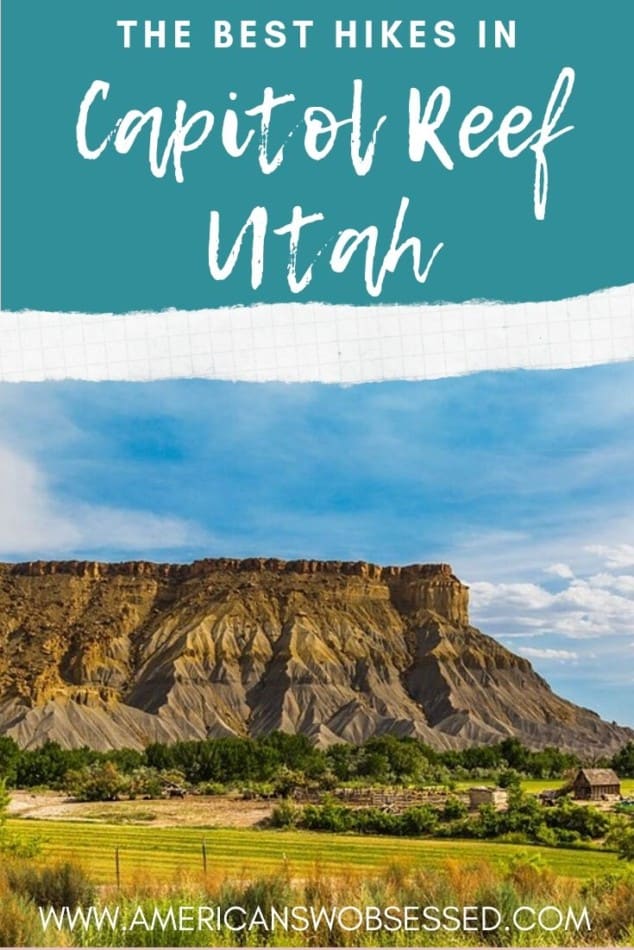 Continue Reading more on Utah on my site:
These are the best hikes in Capitol Reef National Park Utah you won't want to miss
Recent Posts