15 Best Hikes in Arches National Park
Are you looking to find the best hikes in Arches National Park? Well, you've come to the right place.
After several visits to the Southwest, hiking Arches National Park was my favorite thing I did in Utah. There is so much to explore and the best thing is that all of the hikes on this list are to the famous arches of the park!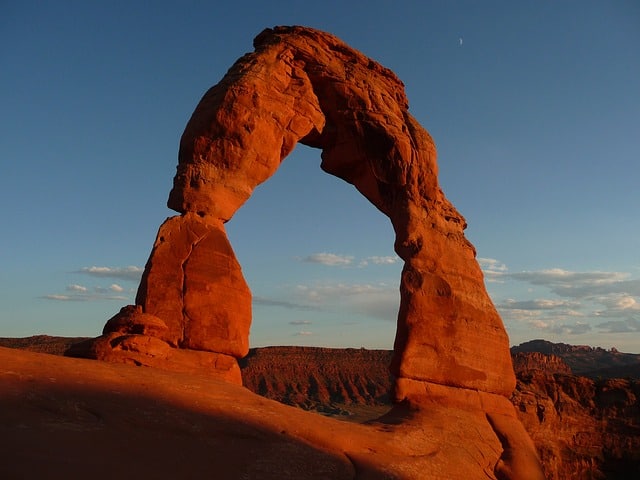 There are over 2000 arches in the park covering the landscape of the area. You can see a lot of the scenery on the scenic drive through Arches National Park but the real beauty is when you get off the trail and head to the Arches around the park.
This hiking guide to Arches NP will cover the best arches in Arches National Park to visit. We spent a whole day in Arches trying to do as many hikes as possible in the park.
Arches is the most popular park in Utah and it will be crowded. There are a few things you can do to avoid the crowds and I'll put tips and tricks under each hike. The one thing to remember is to bring plenty of water as there is not a lot of shade in the park.
Thank you for supporting this website written by an American. This post may contain affiliate links. This means I earn a small commission on these links at no extra cost to you.
The best arches in Arches National Park Hikes
This guide to hiking Arches National Park covers all different types of hikes. All of the hikes I have included are rated easy to moderate. We did not do any difficult hikes while we were there.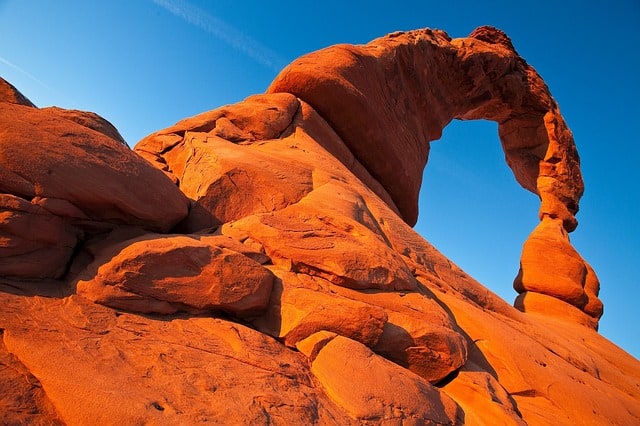 We also wanted to keep our hikes short because did not want to be doing difficult hikes in the heat of the day. Like I said before, Arches does not have much shade. Also, Utah in the summer reaches temperatures over 100 degrees. Its a dry heat, but its still hot.
We only had a day in the park so I wanted to hit all of the major spots. If you are short on time, I would recommend visiting Delicate Arch, Double Arch, and Landscape Arch as these are the most popular hikes in Arches National Park. Those are the hikes you do not want to leave the park without doing.
One thing I love about Arches is that it did not feel crowded until you went to a parking lot. You can judge how popular a hike is or a spot is by how many cars are in the parking lot. Even if you visit in summer, you will still find plenty of spaces to park.
Arches National Park is made up of red rock formations including arches, pinnacles, balanced rocks, and gigantic fins.
Remember to bring plenty of water as temperatures reached over 100 degrees when we visited. There are no drinking fountains in the park but there were plenty of restrooms (with long drop toilets).
Tips for Hiking in Arches National Park
Arches is perfect for outdoor enthusiasts. There is a hike for everyone on this list and for different fitness levels. Also, note that it is dry and hot (in the summer) and make sure you know what you are getting into before you start. Here are a few tips for Arches hiking:
Bring a reusable water bottle and lots of water! Remember you are in the sun and you will need to drink lots of water. I love my LifeStraw Filtered Water Bottle. I can refill this bottle anywhere and it comes with a carabiner to connect it to my daypack.
Check the Weather – days over 100 degrees are very common. On top of that there is quite a bit of air pollution in Phoenix which can make it suffocating. Make sure to check.
Hiking boots or sandals that will protect your feet! I love good shoes. I need all the support and help I can get. I actually love these sandals for hiking and have a whole post on Merrell vs Keen shoes for hiking. I also love these hiking boots which I used for Hiking in the Grand Canyon.
Bring hiking poles for balance and to protect your knees. I know many experienced hikers (and even amateur ones) think that hiking poles are for old people who lose their balance. Actually, hiking poles can help when going down steep inclines or when scrambling over rocks. They are great to hike with even for the most experienced hiker.
Wear a sunhat. I feel like this whole post is about how high you are in the mountains and how much closer you are to the sun but it is so true. At elevation, you are closer to the sun and more likely to burn. Wear sun protection such as a sun hat and sunscreen.
Start Early – If you want to avoid the traffic and the heat you will need to start your hike early. That way it will be nice and cool and the smog will not affect you either.
Leave no trace. If you are new to the concept of Leave No Trace it is all about preserving the environment to ensure it is in the same or better condition when you leave it. This means that you should stick to the trails and carry out everything that you carried in. This is a great explanation of the Leave No Trace principles!
Water shoes are great for water hikes– If you don't have a pair, I highly suggest it as they are affordable. I have an article on the pros and cons of several pairs of water shoes.
Bring Bug Spray and a snack: Be sure to bring everything you need including a snack like a protein bar plus BUG SPRAY.
Arches National Park Hikes
Delicate Arch is the most famous arch in the park
Delicate Arch is the symbol of Utah and you can see it on the Utah State license plates. This is the most popular hike in Arches and the arch is free-standing arch at 46 feet high and 32 feet wide.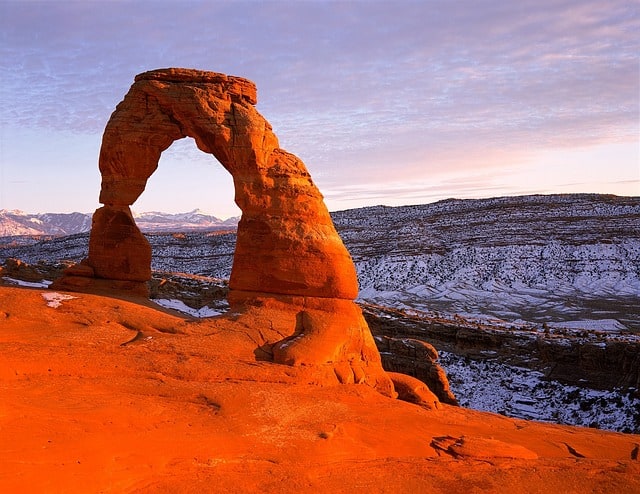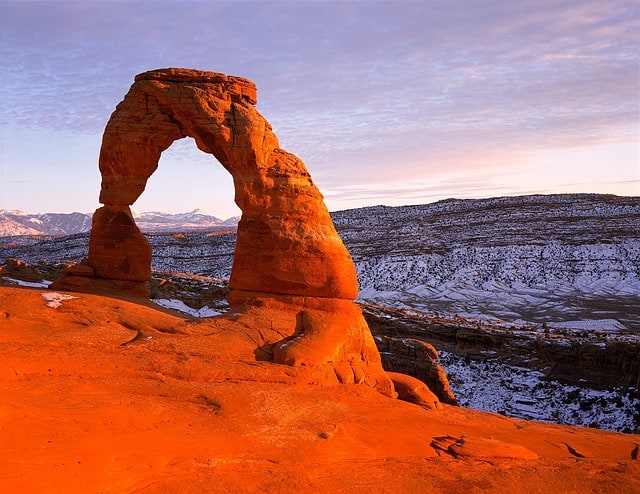 The arch only became known as Delicate Arch in 1943 because of the way that it looks to have been delicately chiseled out of sandstone.
There are three ways to see Delicate Arch. The first is through a 3 mile hike to see the arch up close. The second is a short half mile hike up to a upper viewpoint and the third is 100 metres to the lower viewpoint.
The trail to Delicate Arch is only three miles round trip but it is quite difficult. We didn't do this hike because it takes anywhere from 1.5 hours to 3 hours to complete. It is also fairly crowded, especially at sunset.
The second hike is to the Upper Viewpoint. This is the hike we did because we were short on time. From the parking lot it is only half a mile away but it is very steep at the end.
It takes 15-30 minutes to get to the top of the viewpoint. This is a great way to see the arch up close. Obviously not as close as the hike to the arch but you still can see it well.
The third is the lower viewpoint which is simply walking 100 yards to the viewpoint area. There are a few binoculars there so you can see the arch. This is not a recommended viewpoint as you really do not see the arch up close at all or get a feeling for just how big the arch is in real life.
Distance: 3 miles round trip
Length of Time: 1.5 to 3 hours
Landscape Arch is the longest arch in the park
Landscape arch is the longest arch in the Arches National Park at 306 feet long and one of the largest arches in the world.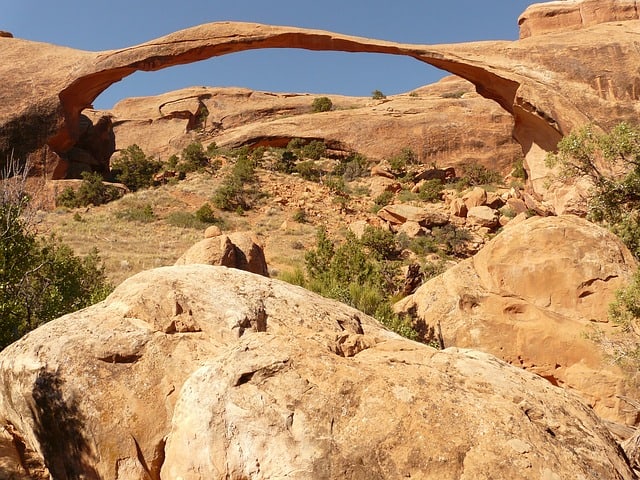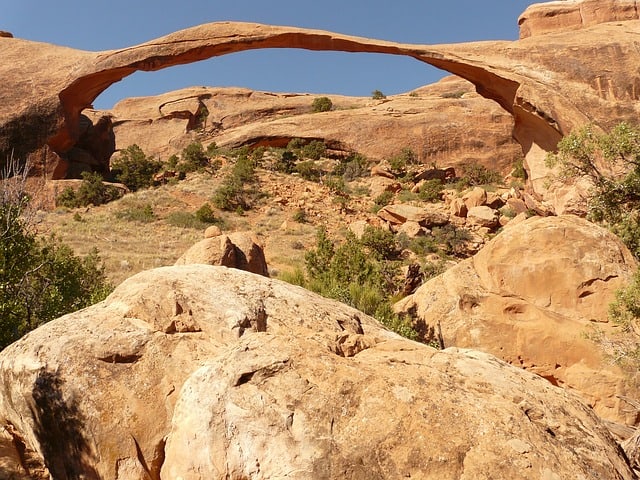 Landscape Arch is in the Devils Garden area and can be reached by doing the Primitive Trail (another hike mentioned below) which is a 7.2 mile loop and takes you to several different arches.
You can also hike directly to Landscape Arch which is a round trip 1.6 mile trail. This easy hike is a great way to stretch your legs and see one of the most photographed arches in the national park.
It is called landscape arch because it stretches 306 feet across and is very narrow in places. In 1995, a huge piece of the arch the size of cars fell down and they had to close the trail that went under the arch. This is quite a site to see as this arch has been carved out over years of erosion.
Round trip to Landscape Arch: 1.6 miles
Length of Time: 1 hour
Double Arch my favorite hike and arch in the park
This is my favorite spot in the whole park. Double Arch is just that, two arches in the same spot. To get to the arch it is only a half a mile hike round trip from the parking lot.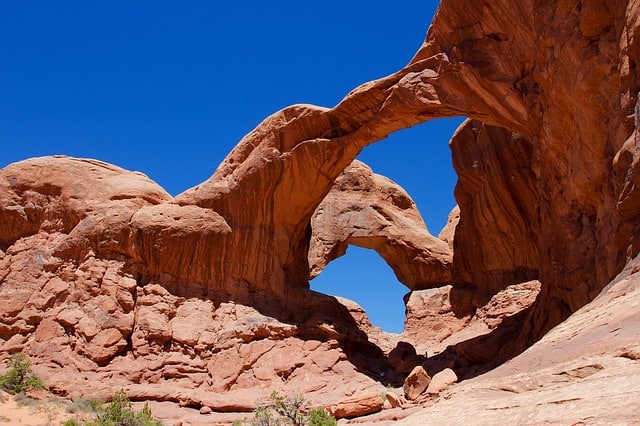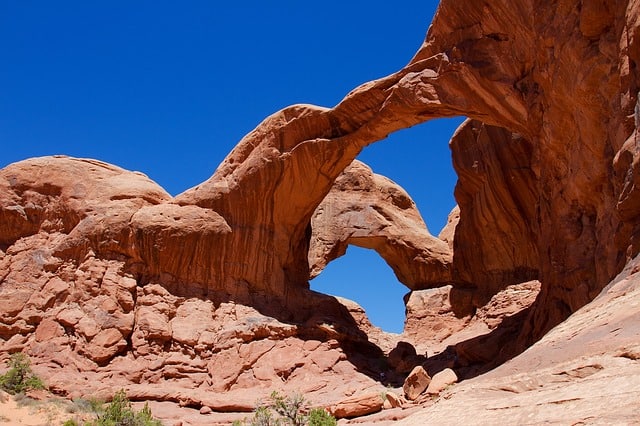 You can actually see the arch from the parking lot but I am not recommending you see it that way. You really need to get up close to see the details of the arches. Its also a great way to sit and enjoy some shade in the park which is rare as there isn't much shaded area.
It is an easy hike, and anyone can enjoy it. We visited Doubles Arch in the afternoon. This was really nice as it was extremely hot outside and this was a short hike so once we got to the top we were able to sit in the shade and just take it all in. Once you are up there you are able to explore around and take in the view.
Round trip to Landscape Arch: 0.5 miles roundtrip
Length of Time: 10 minutes
Windows Loop
The parking lot for the Windows Loop is shared with Double Arch. When we pulled into the parking lot there were not any spaces to do the Windows Loop so we parked down by DOuble Arch. That should tell you just how popular this hike is to do.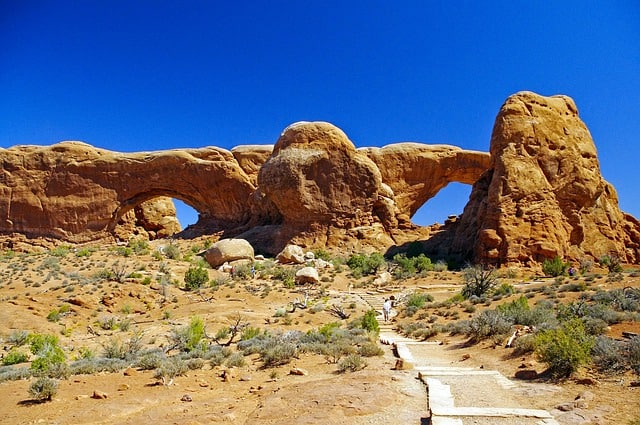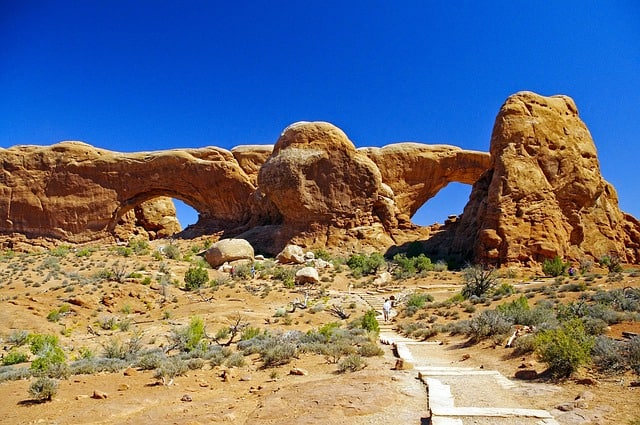 Don't let the crowds put you off. This trail is less than 1 mile and will take you to the North Window and the South Window. If you prefer an easier climb go in a clockwise direction. This is the easiest way because the incline is spread out over a larger area.
Distance: 0.7 miles round trip
Length of Time: 30 to 45 minutes
Turret Arch
On the Windows Loop Trail, you can also see another arch – Turret Arch.  This is the smallest of the arches compared to the North and South Windows but it also has a spire like formation which makes it look like it belongs on top of a castle.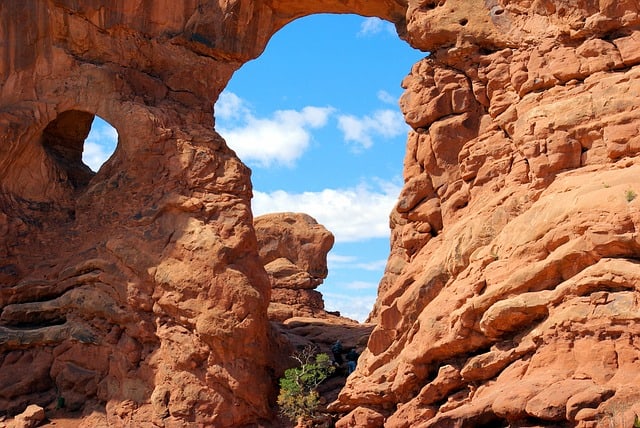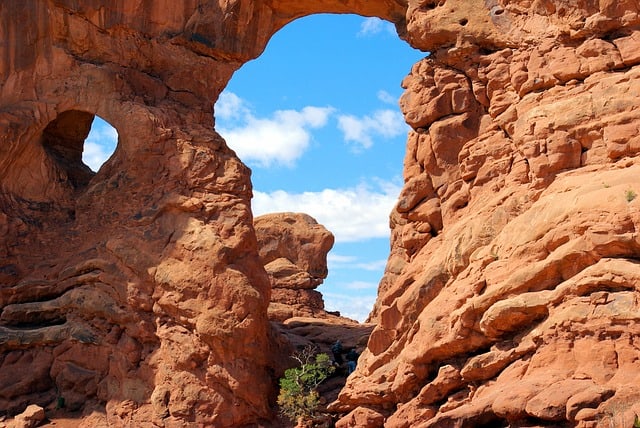 If you are there to take pictures you will want to make the hike early morning. The site is breathtaking in the early morning light.
Distance: 0.7 miles round trip
Length of Time: 30 to 45 minutes
Devil's Garden Loop a great way to see several arches
This is another popular hike in the park because it takes you to seven different arches.  Along the 7.2 mile hike, you will see different arches such as the Landscape Arch, Pine Tree Arch, Tunnel Arch, Partition Arch, Navajo Arch, Wall Arch, and Double O Arch.
This hike can be a bit difficult in places but it is rated moderate. Devil's Garden is near the end of the park so it may be worth going here first thing and then hitting the other arches on the way back.
Distance: 7.2 miles round trip
Length of Time: 2 hours
Skyline Arch
The Skyline Arch spans 71 feet wide and is 33 feet high. This hike is a short, out-and-back hike to see the Skyline Arch.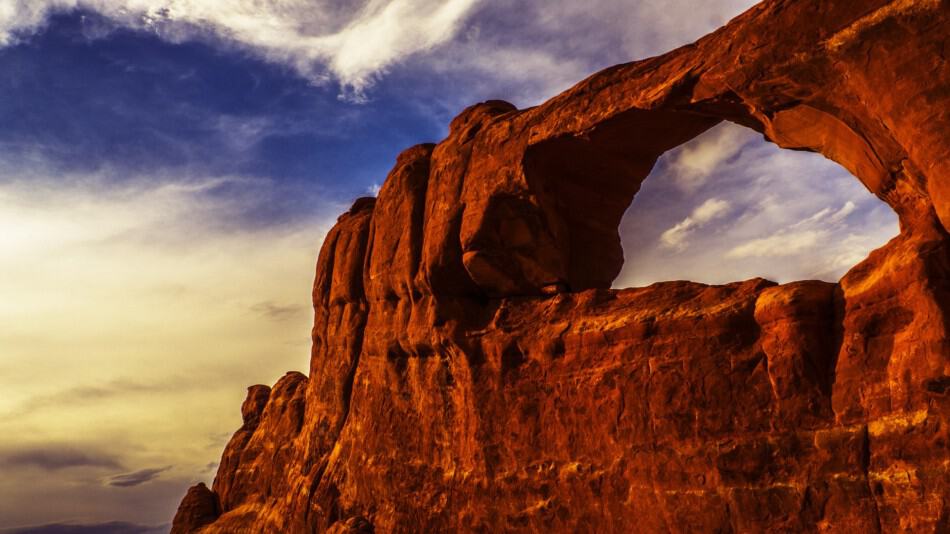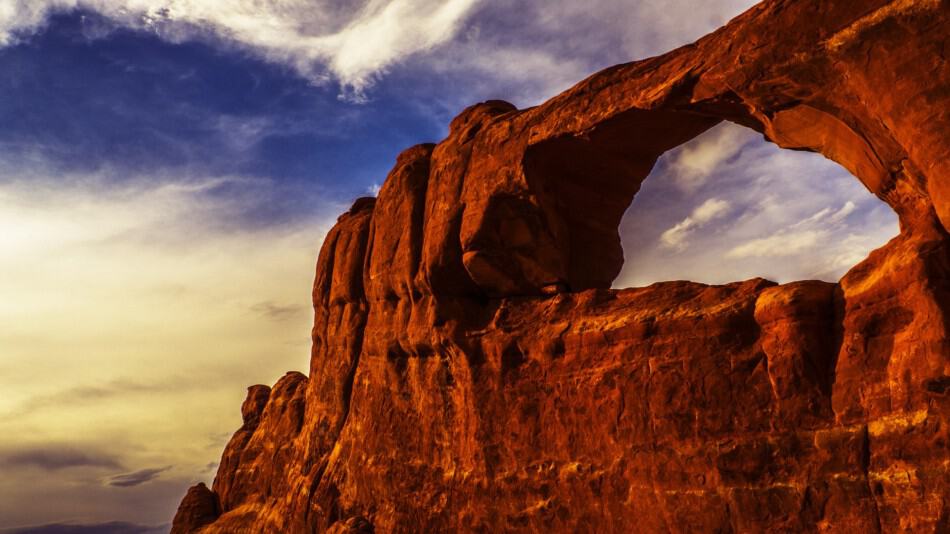 It is on a well defined trail that leads to an arch in a high wall. A gentle, rocky uphill slope at the beginning of the trail continues along a relatively flat path to the base of the arch.
If you do this hike take notice of the rocks that are at the bottom. These rocks are from 1940 when a boulder fell out of the arch creating an opening twice the size it had been.
Distance: 0.2 miles round trip
Length of Time: 20 minutes
Balanced Rock
It is a short hike around the base of Balanced Rock.  It gets its name from the fact that it looks like it is a rock being balanced up high but it is all one rock.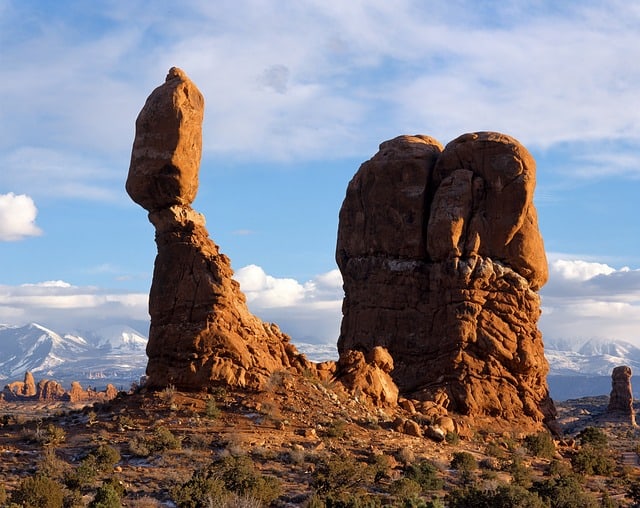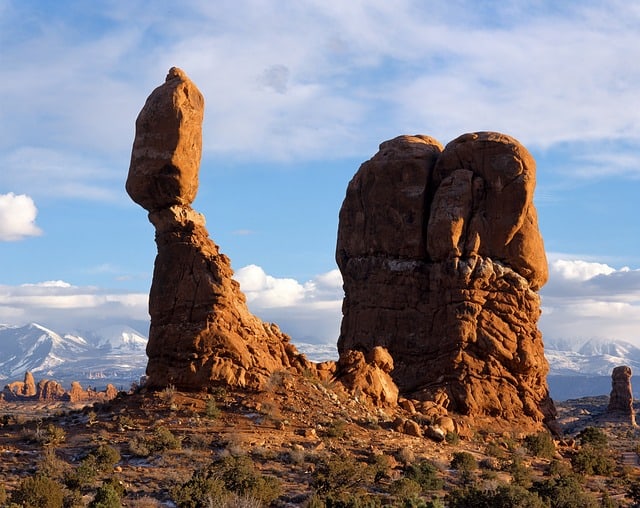 The rock stands at 128 feet tall. They do expect it to start eroding more and look like it is up there even more precariously then it is now.
Balanced rock can be seen from the road along the scenic drive in the park but it is a short hike around the base of this rock.
There is a picnic area across from the Balanced Rock which has tables and toilets. A perfect place for the family to end the day.
Distance: 0.3 miles round trip
Length of Time: 20 minutes
Park Avenue
When you first arrive in Arches National Park you will follow a 19 mile scenic drive around the park. The first stop on this drive is called Park Avenue. This is where you will see a stunning view of the park and the scenery that can be found there.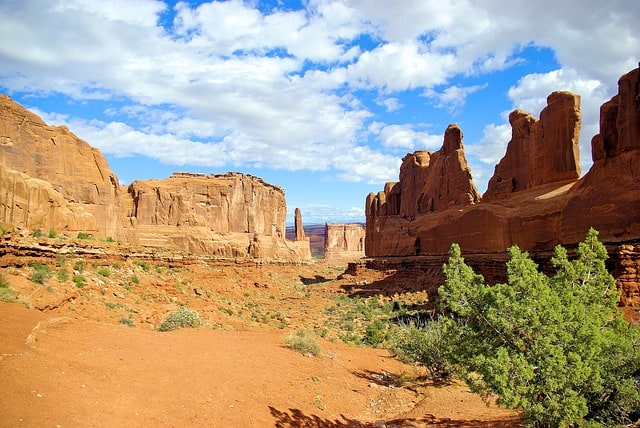 The Park Avenue trail is a two-mile round-trip hike that is fairly easy. While you can get a good view of the arch from the lookout, you need to hike the trail to get a feeling of how this trail was created.
On the trail you will walk between the huge monoliths which are the reason why they named this Park Avenue after the skyscrapers in New York.
Distance: 2.0 miles round trip
Length of Time: 45 minutes
Sand Dune Arch
This is the perfect arch to take the kids to. It is only a. 3-mile hike which is easy for anyone to walk. The kids will love this arch because of the bottom of the sandstone which looks like a sandy beach.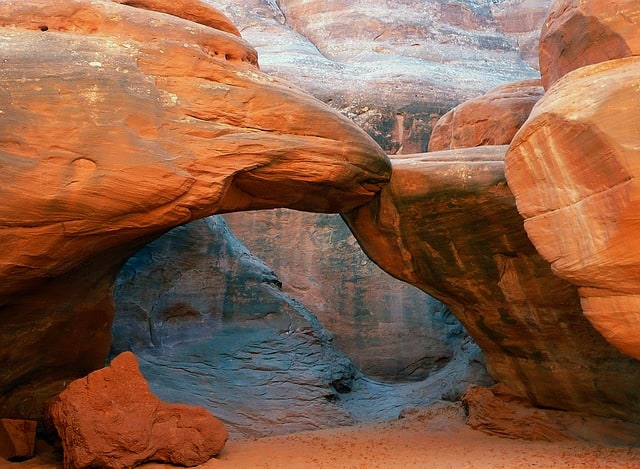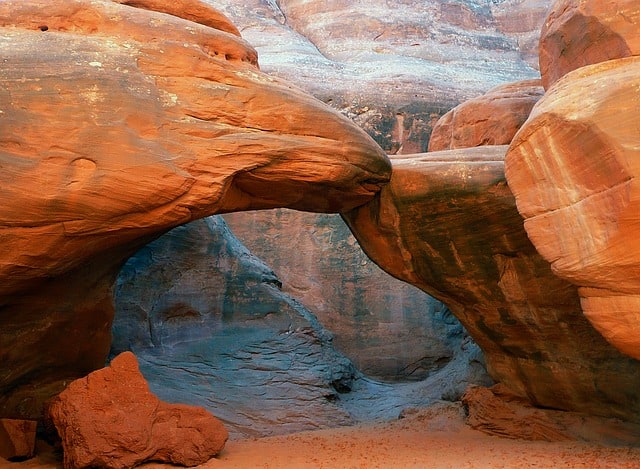 The kids will love playing in this sand and playing hide and seek in all the hidden crevices. While alone it would only take your fifteen minutes to be in an out expect to stay a lot longer if you have kids with you.
There is even a route you can take where you will find a pothole that is filled with water after it rains. This another one of the best hikes in Arches National Park.
Distance: 0.3 miles round trip
Length of Time: 20 minutes
Info about Arches National Park
One of the things that surprised me the most about Arches National Park is how steep the entrance to the park is when you drive in! You just keep going up and its a little bit scary to drive the first bit into the National Park. After that it is fine. I just found it weird that you are driving straight up to enter the park.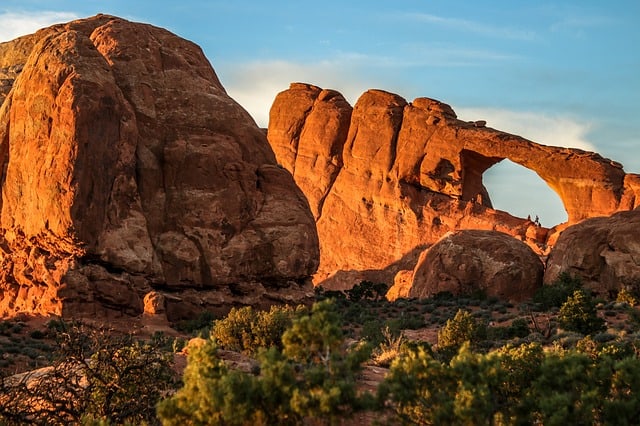 Also, due to the popularity of Arches National Park, the turn off to the park can be backed up and you can't actually turn. From Moab, you drive north on US 191 for five miles. If the turn off is back up you will need to continue driving and wait for it to clear. That's just how popular this park is to visit!
Entrance Fees: It costs $30 per vehicle to enter the park and this is good for seven days. For $55 you can purchase a Southeast Utah parks pass, which also gets you into Canyonlands National Park.
To visit any of the National Parks in the USA, I recommend buying a National Park Pass. The America the Beautiful Pass is valid for one year and costs $80. Plus 10% of sale proceeds go to the National Park Foundation.
With this annual pass you can visit over 2,000 federal recreation sites. This is worth it if you also plan to visit more of Utah's Mighty 5, including Canyonlands, Capitol Reef, Zion, Bryce Canyon, or any other US National Park within the year.
Where to stay near Arches National Park
Arches National Park makes for a great weekend escape. Fresh air, beautiful scenery and being in nature does a world of good for the soul. I recommend staying in Moab as it is as close to the park as possible. You can even treat yourself with a cabin with a spa pool to relax at night.
There are lots of fantastic Airbnbs in Moab. There are many beautiful places to stay near the park and this allows you to spend most of your time experiencing the park instead of driving to the park.
I stayed at the Holiday Inn Express. This is one of the best Moab Hotels and it has amazing amenities and is close to everything. I have an entire post on the Best Hotels in Moab, Utah for more options.
If you are taking a road trip remember to reserve a car in advance using Discover Cars .
Which Arches National Park Hike would you choose?
If you are short on time please do check out Landscape Arch, Double Arch and Delicate Arch. Even doing the 19 mile scenic drive through the park is a great activity.
Sharing is Caring! Pin this article to save for later.

Continue Reading more on my website:
Recent Posts