How to Spend One Day in Canyonlands National Park -Hikes
Are you looking for things to do in Canyonlands in one day? Are you looking for the best Canyonlands National Park Hikes? We spent a day at Canyonlands exploring the Island in the Sky section of the parks.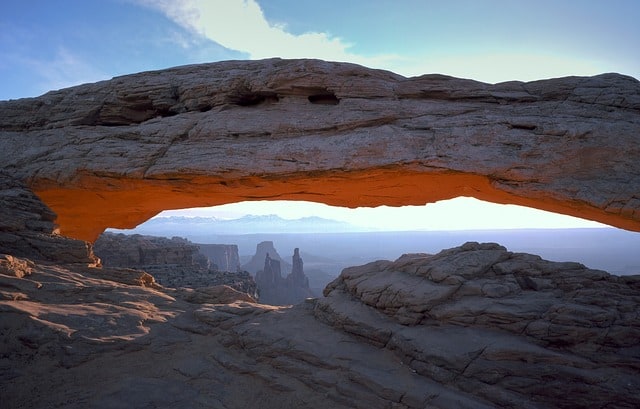 If you only have one day in Canyonlands National Park you'll want to pick a few of the best things to do there. That's why I've put together the best hikes in Canyonlands National Park that you will not want to miss. These hikes are just for the Island in the Sky part of the park.
Canyonlands Hikes
There are three sections where you can go on Canyonlands Hikes – Island in the Sky, Needles, and The Maze. Island in the Sky is the most popular part of the park followed by the Needles. The Maze is a bit harder to get to and the least visited.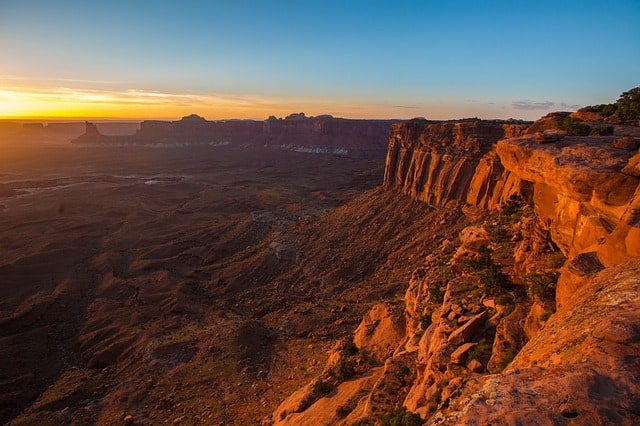 Island in the Sky is the closest section to Moab, Utah. Island in the sky looks like an island as there is a rim around this section of the park and the rest is thousands of feet below. We will focus on hikes in this area.
The Needles section has a lot of popular hiking trails through the desert and the land is decorated with rock spires.
The Maze section is very isolated and it is known for its solitude. There are no rangers stationed in this part of the park.
Tips for Hiking in Canyonlands National Park
Canyonlands is perfect for outdoor enthusiasts. There is a hike for everyone on this list and for different fitness levels. Also, note that it is dry and hot (in the summer) and make sure you know what you are getting into before you start. Here are a few tips for Canyonlands hiking:
Bring a reusable water bottle and lots of water! Remember you are in the sun and you will need to drink lots of water. I love my LifeStraw Filtered Water Bottle. I can refill this bottle anywhere and it comes with a carabiner to connect it to my daypack.
Check the Weather – days over 100 degrees are very common. Make sure to check.
Hiking boots or sandals that will protect your feet! I love good shoes. I need all the support and help I can get. I actually love these sandals for hiking and have a whole post on Merrell vs Keen shoes for hiking. I also love these hiking boots which I used for Hiking in the Grand Canyon.
Bring hiking poles for balance and to protect your knees. I know many experienced hikers (and even amateur ones) think that hiking poles are for old people who lose their balance. Actually, hiking poles can help when going down steep inclines or when scrambling over rocks. They are great to hike with even for the most experienced hiker.
Wear a sunhat. I feel like this whole post is about how high you are in the mountains and how much closer you are to the sun but it is so true. At elevation, you are closer to the sun and more likely to burn. Wear sun protection such as a sun hat and sunscreen.
Be aware of the wildlife. This is the Southwest and you will need to watch out for snakes and other wildlife such as moose or a bear. Please stay away from wildlife and do not feed them. I recommend carrying bear spray as well.
Start Early – If you want to avoid the traffic and the heat you will need to start your hike early. That way it will be nice and cool and the smog will not affect you either.
Leave no trace. If you are new to the concept of Leave No Trace it is all about preserving the environment to ensure it is in the same or better condition when you leave it. This means that you should stick to the trails and carry out everything that you carried in. This is a great explanation of the Leave No Trace principles!
Water shoes are great for water hikes– If you don't have a pair, I highly suggest it as they are affordable. I have an article on the pros and cons of several pairs of water shoes.
Bring Bug Spray and a snack: Be sure to bring everything you need including a snack like a protein bar plus BUG SPRAY.
Mesa Arch – the best of all the Canyonlands Hikes
Mesa Arch is located in Canyonlands National Park which can be reached as you drive U.S. Highway 101 north of Moab for ten miles. You then turn left on Utah highway 313 for the 22-mile-drive to the Islands in the Sky entrance of Canyonlands National Park.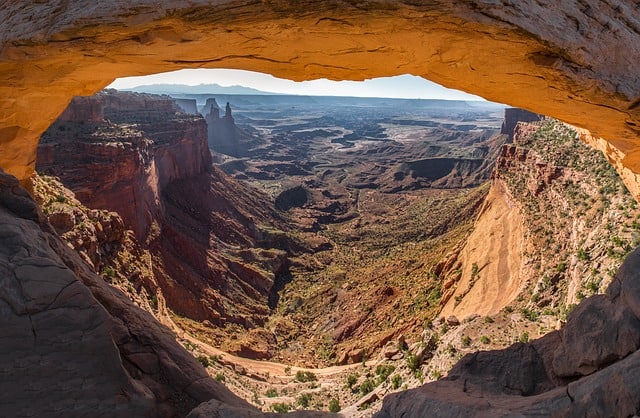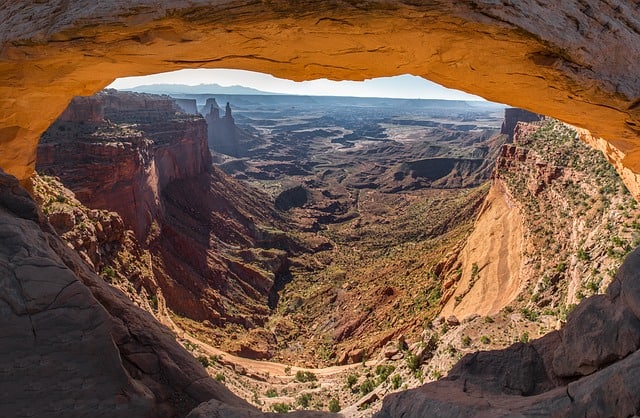 Mesa Arch is a 45 minute drive from Moab. That last 22 miles into Canyonlands is quite a boring drive but once you get there it is well worth it.
Don't worry if the park is not open yet you can still continue into the park and they will confirm your pass or ticket when you leave.
Once you park at the Mesa Arch parking lot it is a 10 minute walk to the Arch. If you are arriving before sunrise it will be dark and the path is rocky and uneven so make sure to bring a flashlight.
Visiting Mesa Arch at Sunrise is one of the highlights of Canyonlands. The color of the sun hitting the arch in the morning light is just amazing. And it just keeps getting better and better.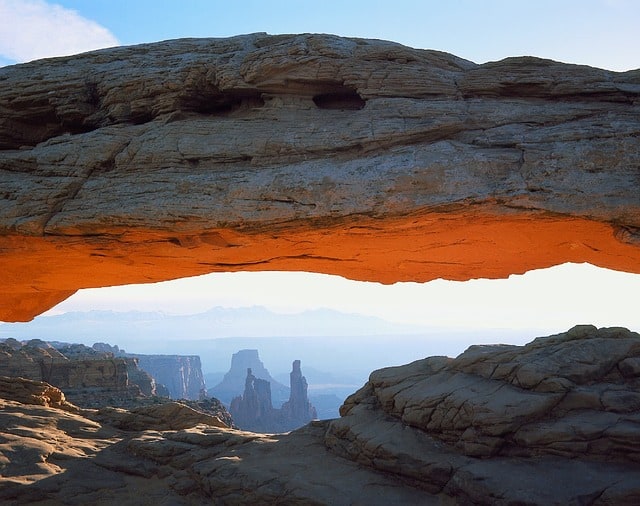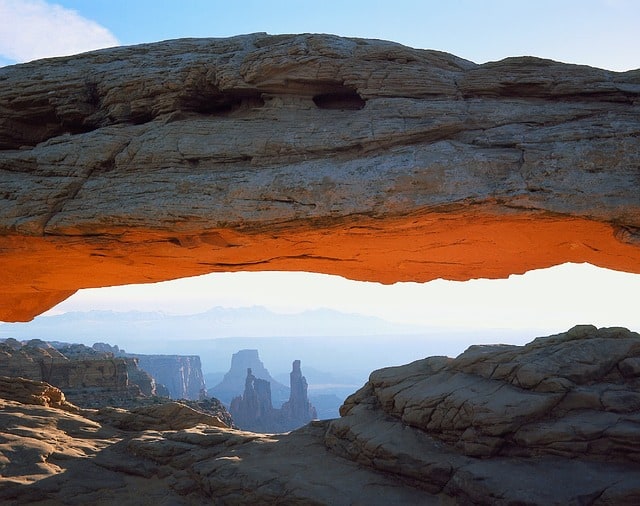 You can read more on my website about visiting Mesa Arch at Sunrise.
Grand Viewpoint
Grand View Point is one of the most spectacular views of Canyonlands and one of the easiest hikes in the park. Located 15 minutes down the road from the Island in the Sky visitor centre this is the grand view of the park.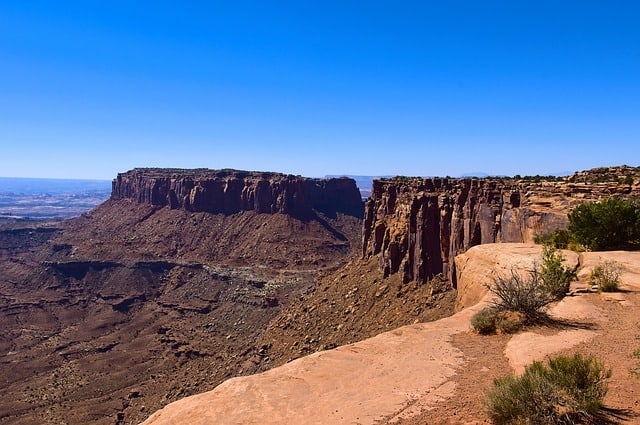 The Island in the Sky sits at 6,080 feet elevation, and from the view point you can see distant mountains, canyons, basins, and the White Rim Road.
From the parking lot you will walk about 100 years along a paved trail. There is a sign pointing out the Needles in the distance and also the different mountains.
There is an unpaved trail that continues on another mile. Continue on down the stairs and along uneven surfaces and cliff edges to a second viewpoint. If you follow the trail you can see the Green River. Allow about 90 minutes roundtrip to hike the longer trail.
Buck Canyon Overlook
This trail is so short that it can't even really be called a hike at just 0.1 miles, but the stunning views still give it a place on this list nonetheless.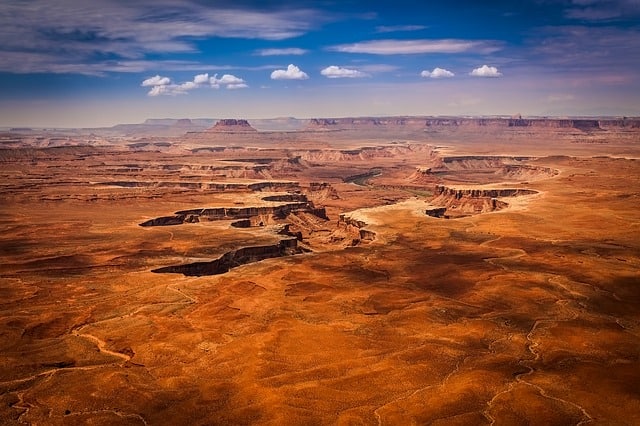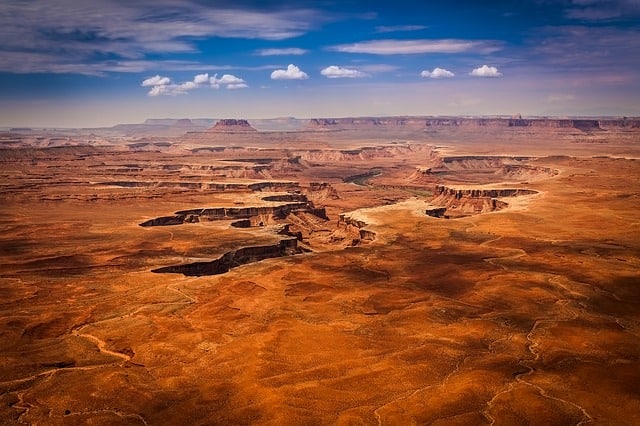 This is a beautiful overlook to visit if you are short on time. You can see stunning views of the canyon and it is a peaceful part of the park to just take it all in.
White Rim Overlook
This is a relatively short trail of just 1.8 miles and is perfect to do during the early evening and particularly during the warmer months of the year. The elevated views allow you to look 300 degrees amongst the canyon below.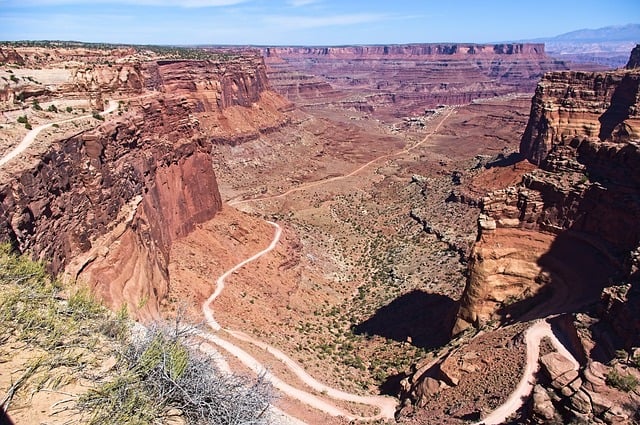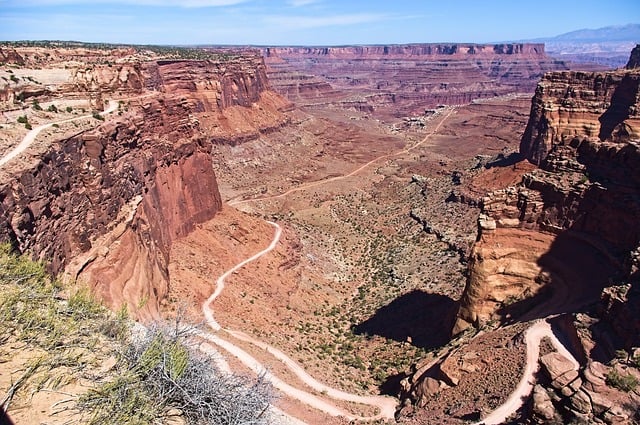 This is an amazing peninsula in the sky and it is fairly easy to get to. There is a picnic area around a mile from the end of Giants View Road, from here you need to hike east before turning left at the junction. There is then a single track to the right and this is the one you need to follow to take you all the way to the White Rim Outlook.
Upheaval Dome
Upheaval Dome gets its name from that fact that in the center, the rocks are pushed up into a circular structure called a dome. It's actually quite an intriguing place in Canyonlands National Park because, despite its beauty, nobody knows how it came to be.
Upheaval Dome is a hike that has two possible outlook points. This is a moderate hike that is one mile long to the first viewpoint. A short but steep trail leads to a clear view into Upheaval Dome. If you continue on to the second viewpoint it will be a mile further on the trail.
Whale Rock
Whale Rock surfaces above Upheaval Dome. If you've always wanted to walk over a rock that looks like a whale, well now is your chance.
Whale Rock resembles a giant beached whale and is long sandstone formation. It is a one mile hike round trip hike ascends 250 feet to the top of Whale Rock for a fun view of Upheaval Dome and the surrounding canyons.
Follow the sandy trail to the east side of the rock and then you will see the route upwards which include convenient handrails. It does not take long to climb and then you can walk along the whale rock quite easily.
Aztec Butte
Along this trail you can see the Anasazi granaries and built in alcoves below the rim of a steep-sided mesa. This is a proper historical hike that will allow you to see structures left from the Ancient Ancestral Puebloan people who lived here many years ago.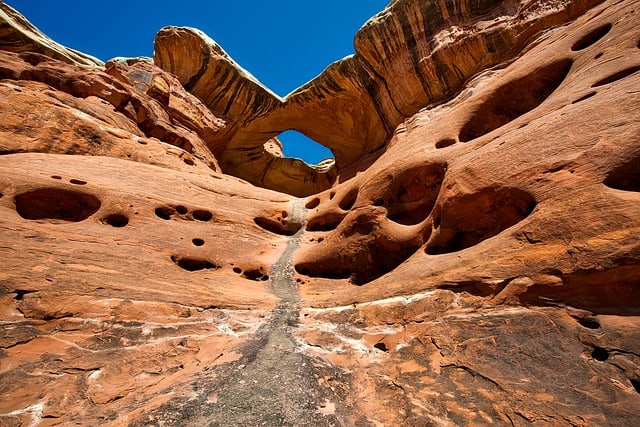 In addition to the interesting rocks along the way, the end result of this easy 2-mile round trip hike is magnificent views over the surrounding area of canyons.
You should start this trail at the Aztec Butte Parking Area which is on Upheaval Dome Road. From here the trail is signposted and super simple to follow. The hike ends up at the summit and you can take the same route back. The hike doesn't take long and is ideal if you just want to do a little more exploring of Canyonlands National Park in Utah.
Where to stay in Moab
There are many places to stay in Moab for all budgets. Staying at an Airbnb in Moab is a great idea. The main thing you will need to decide is what area you want to stay in while you are there. Here are some posts I have written on where to stay in Moab.
Best Hotels in Moab Utah – Places to Stay near Arches National Park
Best Things to do in Moab Utah
Hikes in Moab Utah for adventure junkies
21 Best Resorts in Utah: Luxury Hotels to Spoil Yourself
Castle Valley Inn
Castle Valley Inn offers a family-friendly environment hotel for travelers who are visiting Moab. It is perfectly situated in the heart of the American west, and a spectacular scenic drive just 16 miles outside of Moab. And did you know that Castle Valley Inn is well-known for its home-away-from-home hospitality and delicious breakfast? Plus, they share their popular dishes on their website, you should definitely check it out.
The rooms at Castle Valley Inn are also exceptional and you will be able to experience tranquility at their 5-acre oasis. The guests rooms feature free internet access and wi-fi, air conditioning and fans, a DVD player and monitor, coffee and tea, refrigerators, hairdryer, and luxurious bathrobes.
And inside the property, you can also enjoy the following amenities: a hot tub located at the end of the garden, homemade treats every afternoon, organic coffee from their local roaster, hammocks hidden underneath tall trees, BBQ grills for all the guests suites, and a lot
CHECK AVAILABILITY ON BOOKING.COM
MainStay Suites Moab near Arches National Park
If you are looking for a long or short term accommodation in Moab, MainStay Suites is a great choice. It offers an apartment-style living with all the benefits of a hotel stay. It is conveniently located on Moab's Main Street, thus giving you easy access to a lot of local sites and attractions in Moab.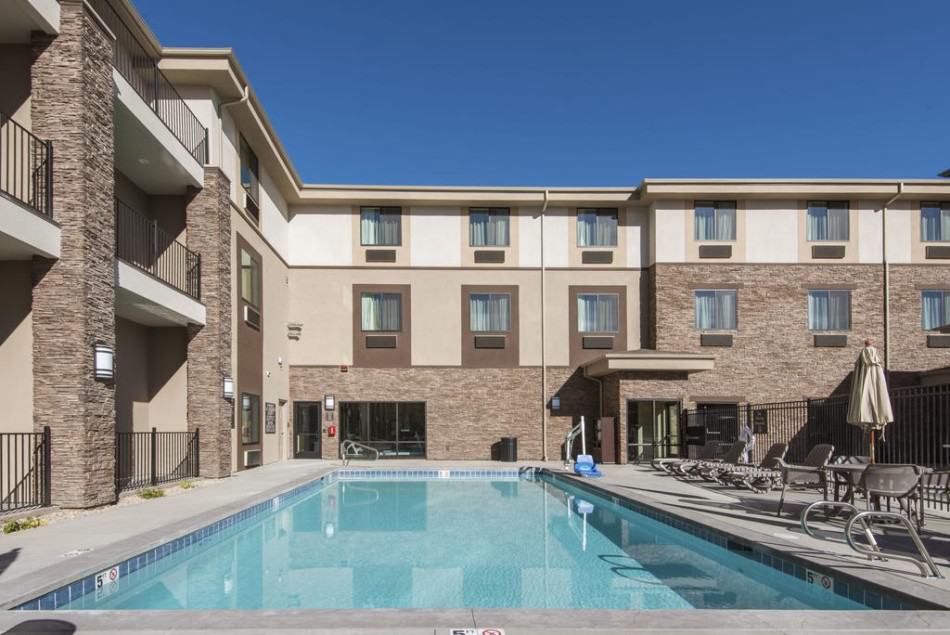 Their spacious and homey guest rooms offer basic kitchen facilities, luxurious bedding, USB ports for easy charging, a flat screen TV, and a coffee maker. You can also take advantage of the hotel's amenities such as a business center with copy and fax services, on-site convenience store, fitness center, guest laundry facilities, and more.
CHECK AVAILABILITY ON BOOKING.COM
Conclusion – Canyonlands Hikes
If you only have one day in Canyonlands National Park you can still see quite a bit of the park. The Island in the Sky section as this is closest to Moab and it is also just down the road from Arches National Park.
Also, when you arrive at the visitors centre I would make a stop here to use the restrooms and fill up on water. Also, there is a great look out across the street of the canyon that you shouldn't miss!
If you have a National Park Pass and want to just one or two things in Canyonlands I would recommend visiting Mesa Arch and also taking in the Grand View overlooking Canyonlands.
Sharing is Caring! Pin this article to save for later.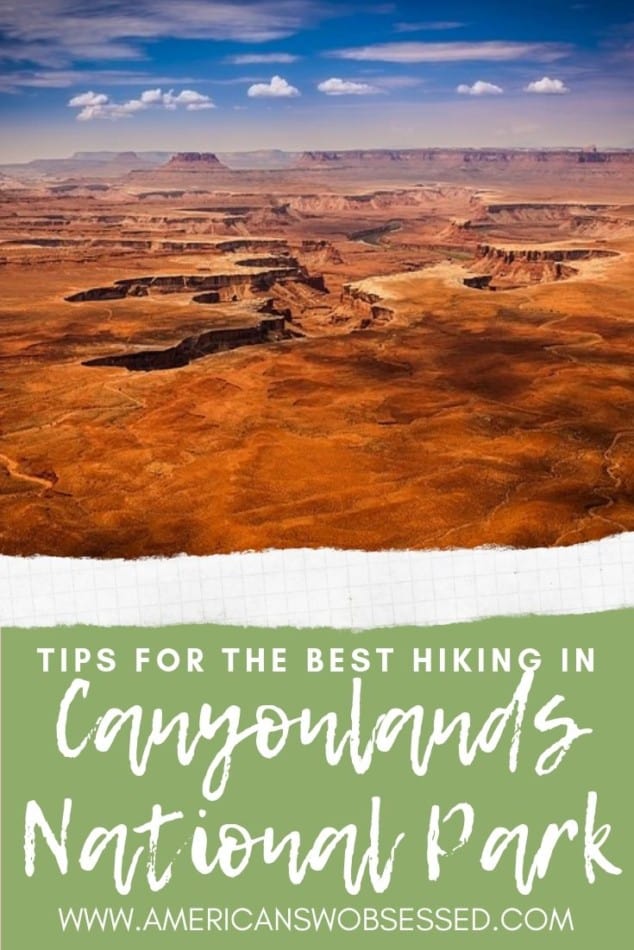 Continue Reading more articles on my site:
Recent Posts