15 Best Airbnbs in New Mexico
Best New Mexico Airbnb: Are you looking for the perfect Airbnb in New Mexico? Visiting New Mexico is a great trip and you need the perfect place to stay while you are there.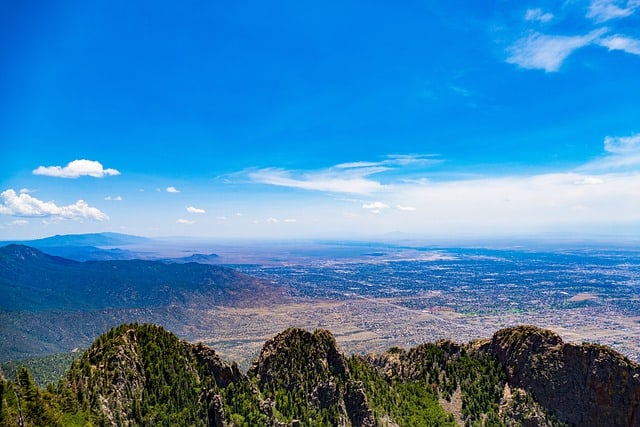 Finding the perfect Air B and B New Mexico is not difficult and I've put together this list to make it easy for you. These are unique Airbnbs in New Mexico – caves, domes, lofts, and even places with a spa pool.
There are places for every budget and area in New Mexico. All of these places are hosted by super hosts and the perfect place to stay.
I have a post on the Best Airbnbs in each city in New Mexico if you would like more options.
15 Awesome Airbnb Albuquerque Rentals
15 Best Airbnbs in Santa Fe, New Mexico
25 Best Places to Visit in New Mexico
This post may contain affiliate links. This means I earn a small commission on these links at no extra cost to you.
15 Unique Airbnbs in New Mexico
Modern Taos House – Taos, New Mexico
Guests: 6
Bedroom: 2
This modern Taos home has been recently featured in Wall Street Journal and Huckberry and was described as a "masterpiece"because of its contemporary off-the-grid vibes. It has been designed and furnished to give you maximum comfort and to make you feel at home. The house itself has an open layout design and fully furnished with great amenities.
Photo Courtesy of Airbnb
This home is powered by solar energy and it is very environmentally sustainable as it lets the warm and natural morning light come in. And as you wake up in the morning , the sun cresting over the Sangria De Cristo Mountains will greet you together with a good cup of coffee. And you are welcome to the entire property and the BLM is just located behind the backyard.
Click Here To Check Rates On Airbnb
Secluded Boho Adobe near Nature Trails – Taos, New Mexico
Guests: 3
Bedroom: 1
This secluded boho adobe was originally a dance studio built by a renowned flamenco artist, Maria Benitez. And now, this studio house has been reimagined as a semi rustic, romantic getaway in a private park-like setting in Taos. And although there have been a lot of trend details that were introduced on this studio house, it still has maintained its functionality and comfort.
Photo Courtesy of Airbnb
It has everything you need for a relaxing and hassle-free vacation. Aside from the basic amenities provided, it also features a yard and porch that is so spacious and surrounded by large trees that will make your mornings more peaceful and cool.
Click Here To Check Rates On Airbnb
Taos Studio with Shared Hot Tub in Historic District – Taos, New Mexico
Guests: 4
Bedroom: 1
From its classic southwestern decor to its cozy furnishing, it's so hard NOT to love this lovely Taos Studio located in the historic district. Its amenities include a well-equipped kitchenette, flat-screen cable TV, free wifi, private deck, shared hot tub, full bathroom, and many more. This house also has a nice view of the mountains that you can enjoy any time of the day.
Photo Courtesy of Airbnb
And if you are an adventure junkie, you'll have easy access to some of the sites in the area. You can go on an adventure in the Taos SKi Valley or visit the Rio Grande Gorge Bridge.
Click Here To Check Rates On Airbnb
Louise – Hotel Luna Mystica – Taos, New Mexico
Guests: 3
Bedroom: 1
Louise is a trailer/camper van that has been transformed into a hotel-like accommodation and you won't ever feel like you are sleeping in a camper van.
Photo Courtesy of Airbnb
It's very cozy and it is complete with basic essentials such as a kitchen, wifi, air conditioning, free parking, and more. And it is situated in a very private property and everything is clean, stylish, and even better than what you would expect in a camper van. Worth every penny.
Click Here To Check Rates On Airbnb
Hip Adobe Haven with Magnificent Glass House and Garden
Guests: 2
Bedroom: 1
This newly built large glass house is one of the most beautiful Airbnb rentals that you can stay in Taos. This house is perfect for a romantic getaway with your loved one as you can watch the evening stars in the cozy glass where you can also have a spectacular view of the Taos Mountain Range.
Photo Courtesy of Airbnb
The glasshouse was designed by an architect and an artist and you can really tell that they have put a lot of effort into building this house from its adobe mud walls to its open floor plan with a communicative kitchen, and great outdoor spaces. And you can have access to the entire house including the entire garden, outside patio, fountain area, and walled-in courtyard. To say that this is the best is an understatement.
Click Here To Check Rates On Airbnb
Southwestern Inspired Industrial Two-Story Loft – Albuquerque, New Mexico
This spacious and budget-friendly loft is centrally located in the university area and it instantly feels like a home away from home in Albuquerque, New Mexico. It is very private, spacious, two-story, and it boasts of high ceilings. The design of this loft is modern contemporary and guests can really have a quality R&R time here.
Photo Courtesy of Airbnb
And since it is centrally located in a university area, it is very close to some restaurants, coffee shops, boutiques, local bars, and breweries. Basically, everything you need is comfortably close by. Historic sites such as Route 66 is just a block away from this property, as well as Popejoy Hall and Los Poblanos. This place is perfect for travelers who love to experience the southwestern culture in Albuquerque without going over the budget.
Casa Mia – Albuquerque, New Mexico
If you are looking for a spacious house that can fit all your family, this Casa Mia is a great option for you. It has three bedrooms and can totally fit eight people inside. The whole place is very pristine and well-stocked that you will instantly feel at home.
Photo Courtesy of Airbnb
The kitchen is fully-stocked with stainless-steel appliances, and it offers good views while preparing meals for the whole family. There is also a backyard where you can grill on the propane BBQ while still giving you an unobstructed and amazing view that this property has.
Casa de Cacti – Albuquerque, New Mexico
This entire townhouse can be enjoyed by four people and it has two bedrooms with three beds, and two baths. This is perfect for families or groups of friends who are visiting the beautiful South West. The master's bedroom has a queen sized bed and balcony, while the downstairs bedroom can be converted into a king sized bed.
Photo Courtesy of Airbnb
The interior of this townhouse is very aesthetically appealing. The floors are made of red clay concrete and you can find natural woods all throughout the home. Guests can also have access to the backyard/courtyard where you can sip coffee while basking in the sun. Garage is also provided in the property.
Eye-Candy Loft – Santa Fe, New Mexico
The Eye Candy Loft is a delightful and luxurious place that you can stay in Santa Fe. The space is very bright and lets the natural light come inside because of its many windows and skylights.
Photo Courtesy of Airbnb
It has a contemporary modern design without breaking away with Santa Fe style. The relaxing living room will give you a great pleasure of sitting and enjoy your morning coffee, and the kitchen is equipped with modern appliances.
This loft is located near to downtown Santa Fe Plaza where you can dine, shop, and tour at the art galleries.
Mid-Century Home – Santa Fe, New Mexico
This place is ideal for a week long trip in Santa Fe with friends or family. The place is very pristine and modern home and has an amazing location too.
Photo Courtesy of Airbnb
The home is equipped with all the amenities that you need for the trip like towels, kitchen stuff, hot tub, to name a few. It can accommodate up to four guests and it has two bedrooms in it. If you are looking for a place that isn't too small or too big and can give you an intimate vibe with your friends or family, then I highly recommend this place.
Stunning Creekside Hideaway – Santa Fe, New Mexico
Nestled in the heart of Santa Fe is this stunning home that can be used for family vacations, quiet getaways, or any type of stay. This beautiful home has an area for barbecuing, an amazing ridge with a full view, and is just steps away from the trailhead of Windsor Trail.
Photo Courtesy of Airbnb
The house has two full bathrooms, TV room that contains a pull out couch with a memory foam bed, and enough parking space for two vehicles. And it can accommodate up to six guests inside this rustic home. This is really everything that you are looking for for your next Santa Fe getaway.
Shipping Container Home With Mountain Views – El Prado, New Mexico
The Steel Pueblo comes in the form of a boutique lodging experience where your stay will be a focal point of your travels rather than a place to simply rest your head.
This 1 bedroom, 1 bath home capitalizes on the beauty of Taos with a living area that flows right onto the patio. Enjoy your cup of coffee with the sunrise over the mountains or your wine with a cool breeze under the stars.
The Steel Pueblo has been made to put a modern spin on the Pueblo houses. It boasts the same silhouette of the traditional houses with the sharp 90 degree angles giving it its signature rectangle shape. To pay homage to the earth colored abode of the pueblo homes the exterior has naturally rusted Corten steel giving it the earth color patina.
Click Here To Check Rates On Airbnb
Lux Mini Farm House Stay – Los Lunas, New Mexico
This beautiful home dates back to the 1820s and has been updated to offer a charming experience. Wake up under the wood beam vaulted ceilings before heading outside to the beautiful patio to fire up a delicious BBQ.
The farm produces fresh, organic foods and grass-fed beef which feature in the on-site restaurant and European-styled coffee house and shop.
Click Here To Check Rates On Airbnb
Radiant, Pueblo-Revival Home in Downtown – Albuquerque, New Mexico
Cook breakfast in a warm kitchen with light wood cabinetry and dine at a timeless hardwood table. In the evening, visit with friends over a glass of wine in a relaxed living room featuring modern furnishings, vibrant artworks, and grainy wood floors.
This is an excellent and clean place to stay in a convenient location for foods and shops. Very easy check in and great communication. This Host happily addresses all travel concerns and has wonderful, thoughtful touches.
Click Here To Check Rates On Airbnb
Brand New Studio Earthship – Taos, New Mexico
Brand new studio Earthship as seen on Off Grid Build! This house is called an Earthship, a totally off grid house that catches its own rain water, generates its own electricity and stays at a steady 72 degrees all year round without the use of any fuel or electricity what-so-ever!
One Reviewer said: Dan's earth ship made our visit to Taos extra special. It provided a unique experience into sustainable living and was a wonderful home base that we looked forward to returning to each night. The temperature remained perfect inside despite the cold weather. A big storm blew in one night, which was extra loud on the metal roof but fun to watch through the wall of windows. Dan and Marquita were excellent hosts and very responsive!
Click Here To Check Rates On Airbnb
Sharing is Caring! Pin this article to save for later.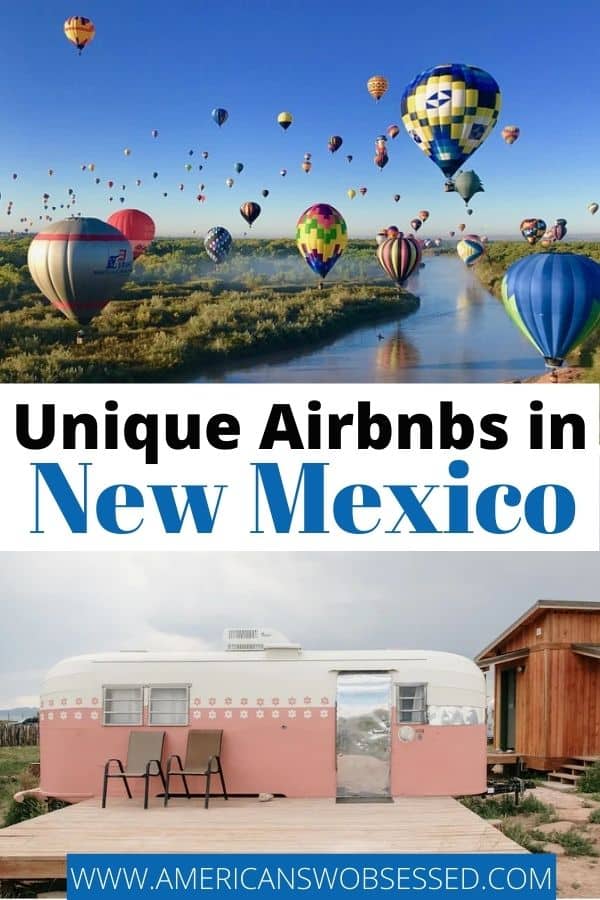 Recent Posts