15 Best Airbnbs in Taos, New Mexico
Airbnb Taos, NM: Are you looking for the perfect Taos Airbnb? This list has the perfect Airbnb Taos and will help you find the perfect Airbnb in Taos for any budget.
Taos is located in northern New Mexico and is known for its ski fields.  Although winter is popular there you can visit any time of year for the perfect getaway.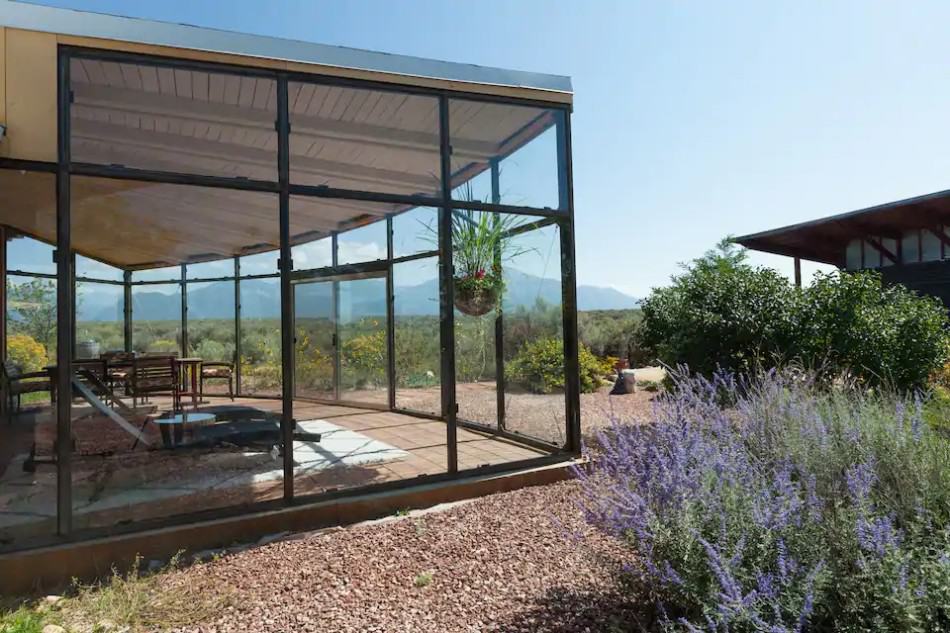 If you are looking for more places to stay in New Mexico, check out my other guides:
15 Awesome Airbnb Albuquerque Rentals
15 Best Airbnbs in Santa Fe, New Mexico
Thank you for supporting this website written by an American. This post may contain affiliate links. This means I earn a small commission on these links at no extra cost to you.
Now let's find the best Airbnb in Taos, NM!
Peaceful Apartment in Historic Hacienda with Private Hot Tub
Guests: 4
Bedroom: 1
If serenity is what you are after in looking for an airbnb rental in Taos, this peaceful apartment will not fail you. This apartment is located in a historic hacienda and it was built over a century ago and it still embraces its old charm.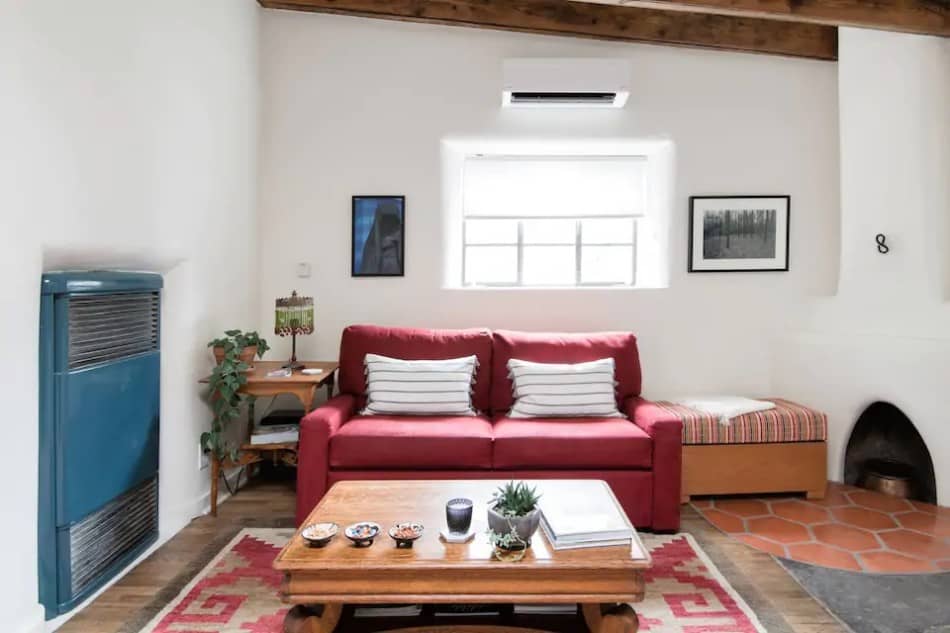 But the apartment has undergone renovations and now it features concrete countertops, high ceilings, a private backyard with a BBQ dining area, and a shared interior courtyard. It also has a kitchen that has everything you need to make and serve meals for everyone. Overall, this peaceful apartment has all the charm you can expect of a small artist town like Taos.
Secluded Boho Adobe near Nature Trails
Guests: 3
Bedroom: 1
This secluded boho adobe was originally a dance studio built by a renowned flamenco artist, Maria Benitez. And now, this studio house has been reimagined as a semi rustic, romantic getaway in a private park-like setting in Taos. And although there have been a lot of trend details that were introduced on this studio house, it still has maintained its functionality and comfort.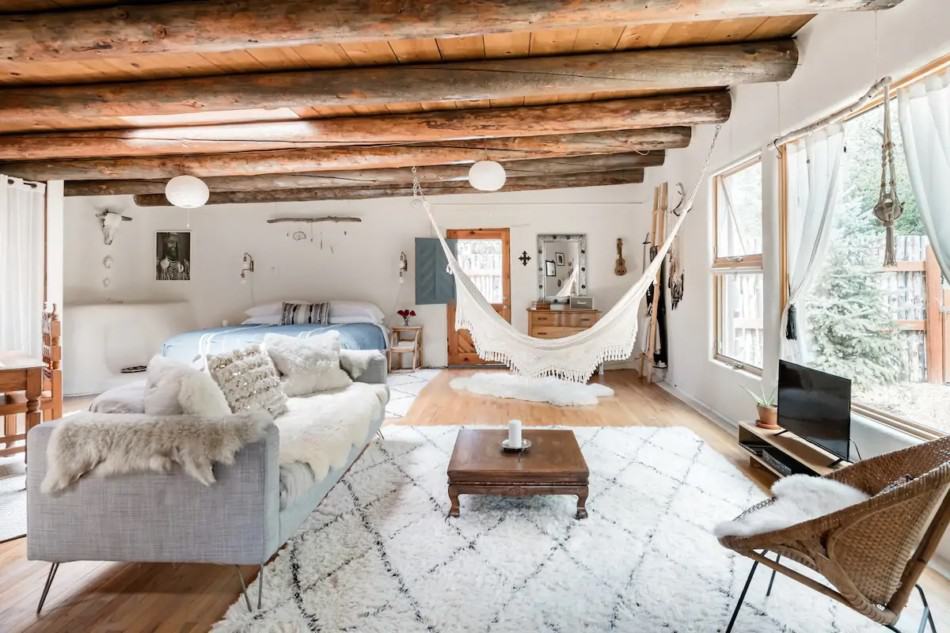 It has everything you need for a relaxing and hassle-free vacation. Aside from the basic amenities provided, it also features a yard and porch that is so spacious and surrounded by large trees that will make your mornings more peaceful and cool.
Click Here To Check Rates On Airbnb
Charming Lodge with Jacuzzi
Guests: 4
Bedroom: 1
This charming, two-story lodge features a million-dollar view that lets you enjoy gorgeous sunsets right from the hot tub off the master's bedroom on the second floor. It's finely furnished in true Southwest New Mexican charm with its rustic wooden materials with lots of natural lighting and it is located in a picturesque village, just minutes away from many shops, galleries, restaurants in the area.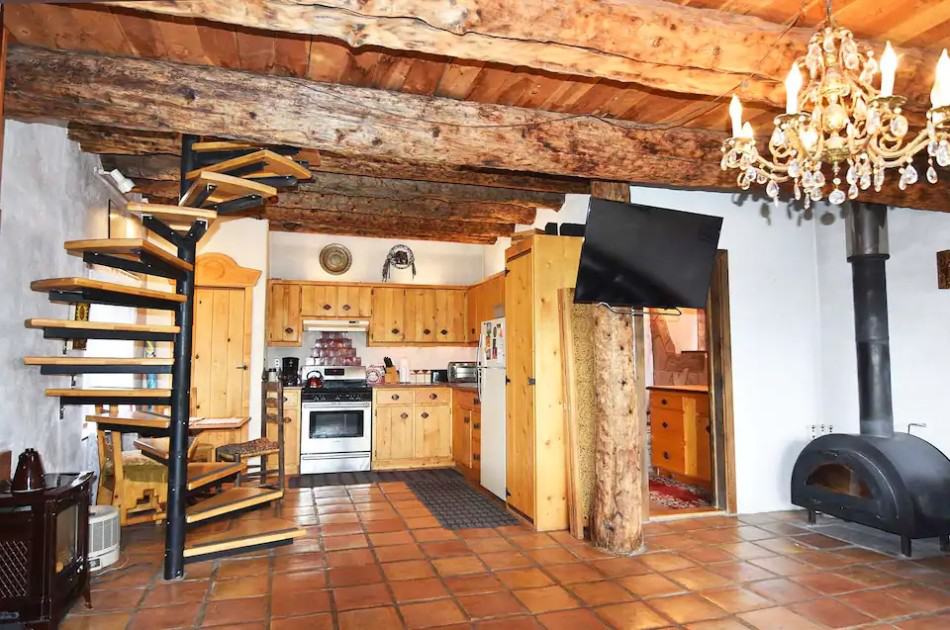 This property has a lot to offer to all its guests aside from the basic amenities. It has a lot of cool spots to chill at. You can enjoy a nap or read a good book in the lazy hammock hanging in the shady apple orchard, or maybe pick up some fresh fruits and veggies that you can eat or make for a salad, or sit in the jacuzzi and watch all the stars and the Milky Way.
Chic Waterfall Suite at Lumina Gardens
Guests: 2
Bedroom: 1
The Waterfall Suite is an elegant retreat situated between Taos and Taos Ski Valley and it provides a tranquil and unique getaway for all guests.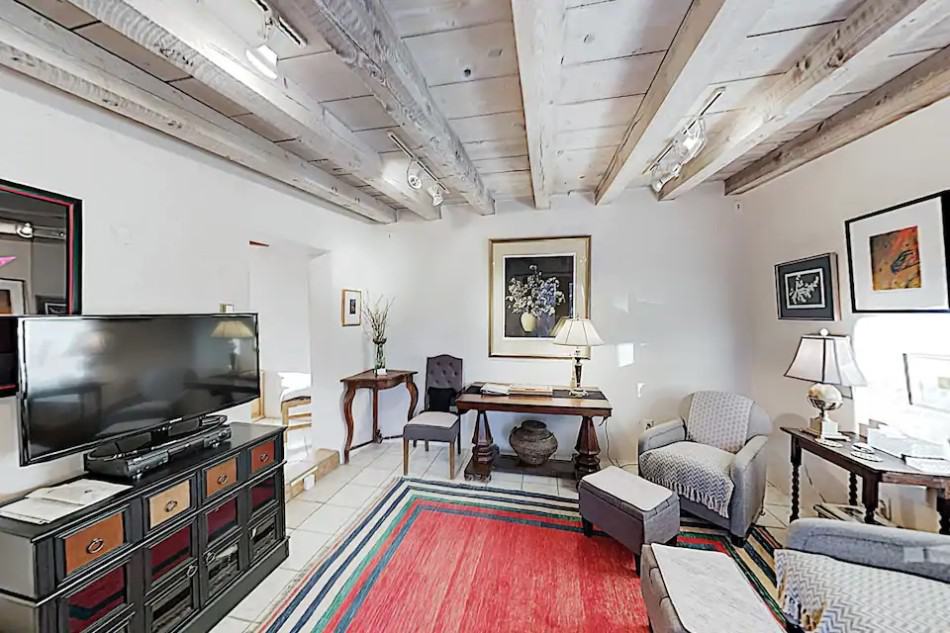 This studio house has a living area with smart TV, kitchen and dining with appliances, plush king bed and sparkling bathroom, and a renowned sculpture garden that surrounds the property. This place is perfect for solo travelers or couples looking for a romantic getaway in Taos.
Casa Blanca Studio at Lumina Gardens
Guests: 2
Bedroom: 1
Casa Blanca is a traditional adobe casita located within a historic nature preserve that provides a peaceful getaway in Taos. This studio home is very wonderful and the grounds are very beautiful.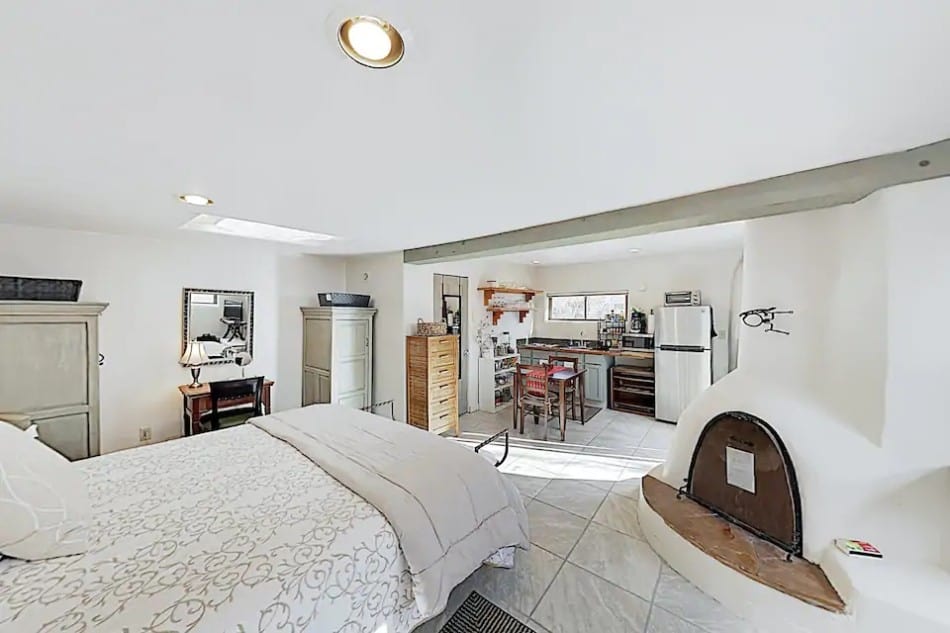 The guest amenities include complimentary wifi, shared washer and dryer, and parking space good for two vehicles. This is a great space with easy access to town and skiing spots in the area.
Kiva Cottage on Martyrs Lane
Guests: 3
Bedroom: 1
Kiva Cottage is a serene and secluded enclave situated in the heart of Tao's vibrant Historic Districts and it's just a few blocks away from shops, market places, and holiday events in the area.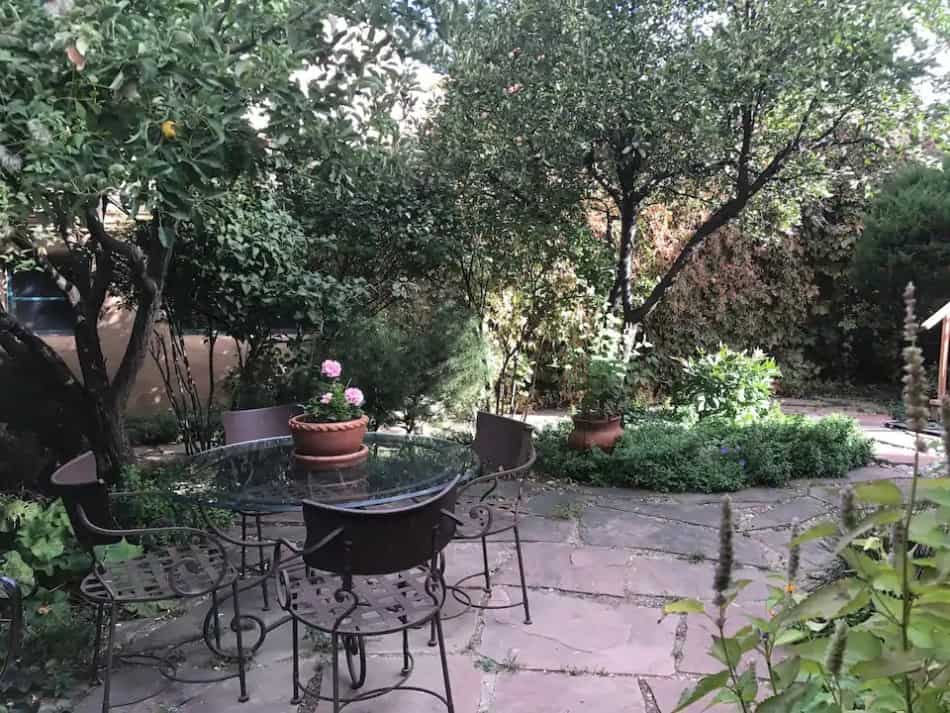 This cottage features thick adobe walls, artisan grill work on the windows, and Mexican tiles in the kitchen and bath. Additionally, it has a fully equipped kitchen that lets you cook sumptuous meals for everyone and Kiva Fireplaces in the sitting room to keep you warm and cozy during cold nights. You can also access the two courtyards which is a quiet spot where you can have your meals, drink cocktails, or just simply lounge. However, it is shared with other casitas and suites so you will see and hear other guests. But overall, this is a heavenly and welcoming space in an amazing location in Taos.
Taos Earthship: Amazing Mountain Retreat
Guests: 2
Bedroom: 1
If you're giving off the grid accommodation a shot for your next trip to Taos, New Mexico, then this Taos Earthship Mountain Retreat is definitely the one for you. It is one of the best Airbnb rentals in Taos and the amenities offered will totally amaze you.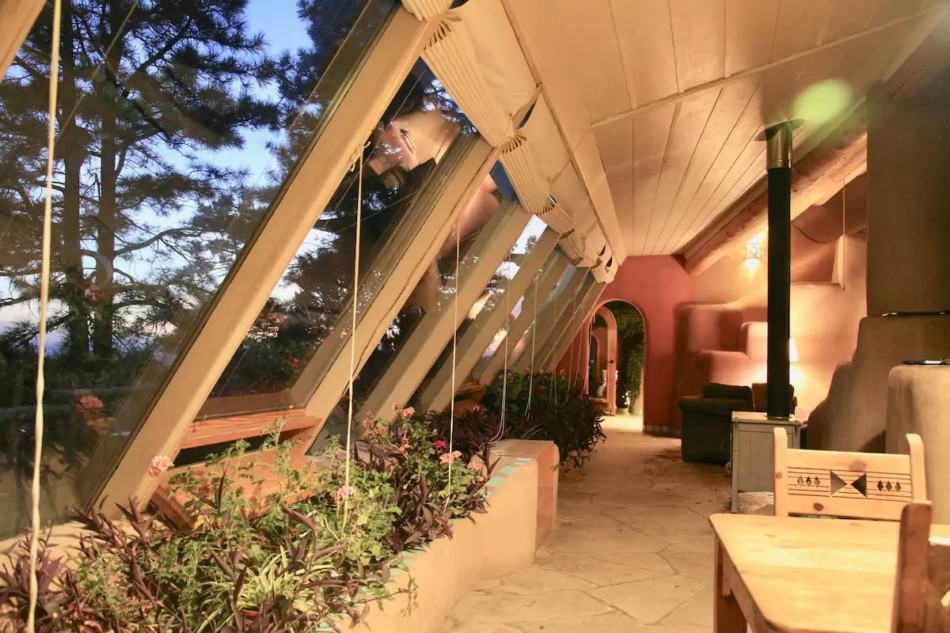 It has a flat screen TV with Netflix and HBO Now, high-speed internet, a fully outfitted kitchen, and a very beautiful outdoor place with a grill and chairs that overlooks the beautiful mountains. And if money isn't an issue for you, then you shouldn't think twice when booking this place.
Modern Taos House
Guests: 6
Bedroom: 2
This modern Taos home has been recently featured in Wall Street Journal and Huckberry and was described as a "masterpiece"because of its contemporary off-the-grid vibes. It has been designed and furnished to give you maximum comfort and to make you feel at home. The house itself has an open layout design and fully furnished with great amenities.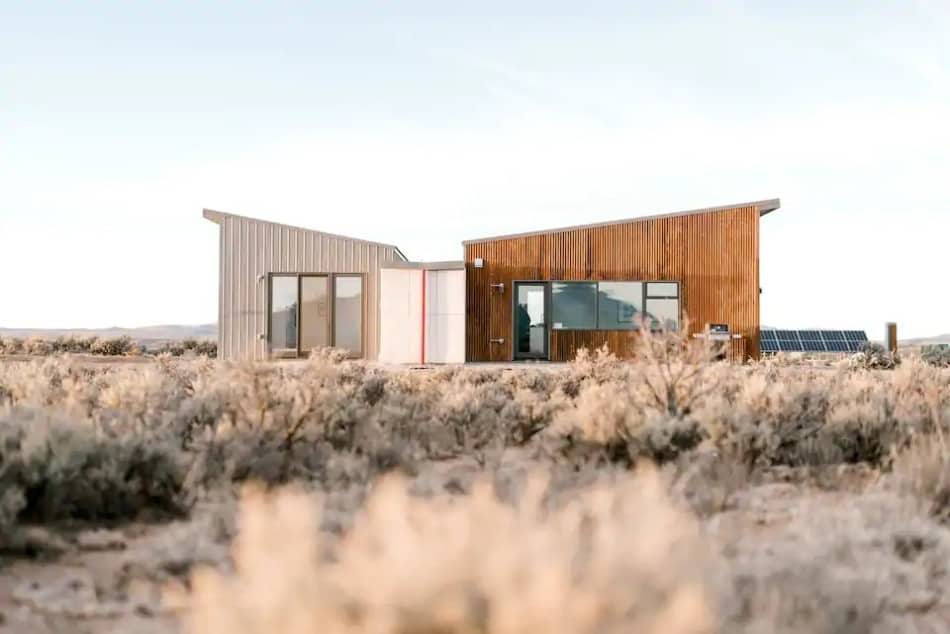 This home is powered by solar energy and it is very environmentally sustainable as it lets the warm and natural morning light come in. And as you wake up in the morning, the sun cresting over the Sangria De Cristo Mountains will greet you together with a good cup of coffee. And you are welcome to the entire property and the BLM is just located behind the backyard. 
Middle Yurt Nestled in the Trees
Guests: 1
Bedroom: 1
If you are looking for a cheap yet gorgeous home in Taos, then don't miss the chance of staying at this fully insulated yurt nestled in the trees. This yurt will let you experience living in a small dwelling and giving you a quiet and peaceful vacation that you deserve. It comes with a fully equipped kitchen, BBQ/porch, high speed internet, TV, and more.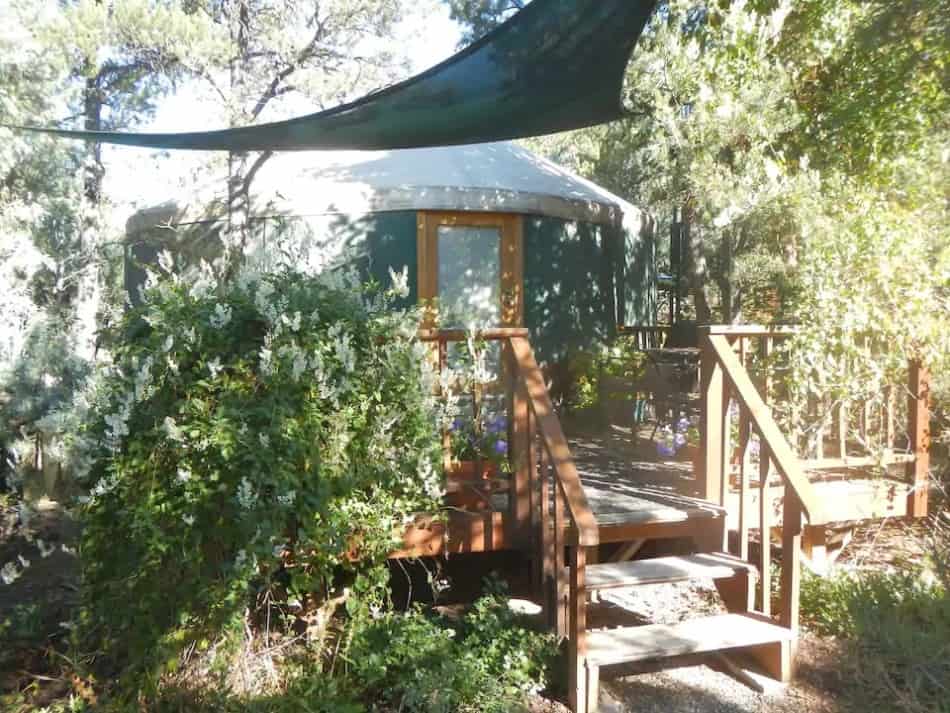 And you'd be lucky to stay here because it borders the national forest and a lot of outdoor activities await you such as hiking and biking. Overall, this is a quiet spot with a view of the sky throughout the skylight and it's perfect for solo travelers and outdoor junkies.
Cozy Taos Studio with Patio
Guests: 3
Bedroom: 1
With sleeping enough for 3 people, a full bathroom, a private courtyard, and a shared hot tub deck, this cozy Taos studio house is a perfect home base for travelers who wish to explore all that Taos can offer. You can spend the entire day visiting numerous historic sites, go hiking or skiing, or just discover the Rio Grande.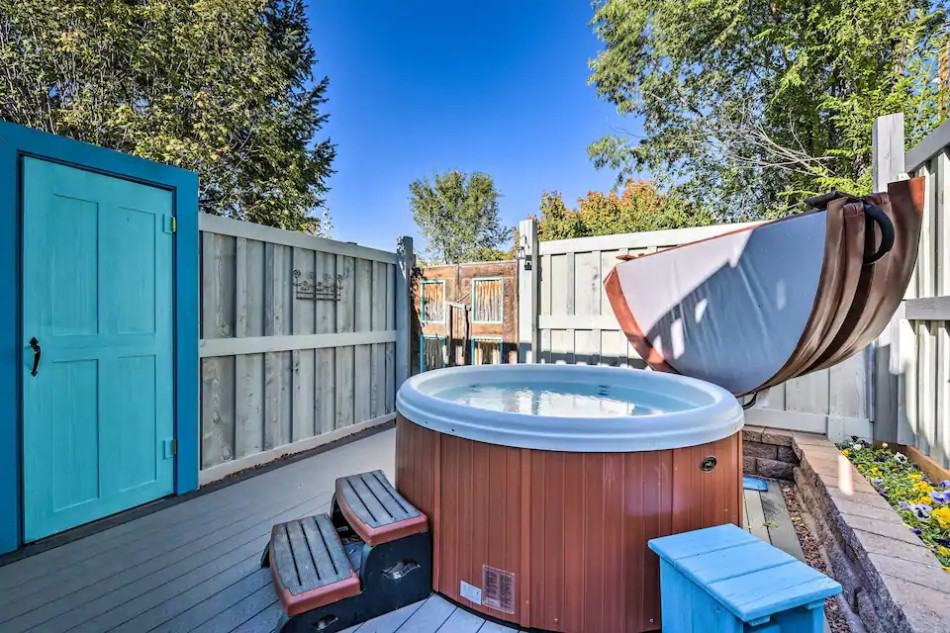 And after a full day, this cozy studio house awaits you with its complete amenities such as a well-equipped kitchen, cable TV, free wifi, covered parking, and more. You can also soak in the hot tub for complete relaxation. You can't help but fall in love with this beautiful and cozy place in Taos.
Taos Mountain Sunset Tipi
Guests: 4
Bedroom: 1
If you don't mind living off-the-grid and share some of the amenities with other guests, then this real tipi is the one for you. This tipi has a 20's Sioux style that features modern amenities as decorated with calming colors and natural scenery that will give your eyes some vitamins. Inside the tipi is a queen size bed, new bedding and memory foam topper, microwave, mini fridge, fire pit, propane camp stove, pure aquifer water, and more.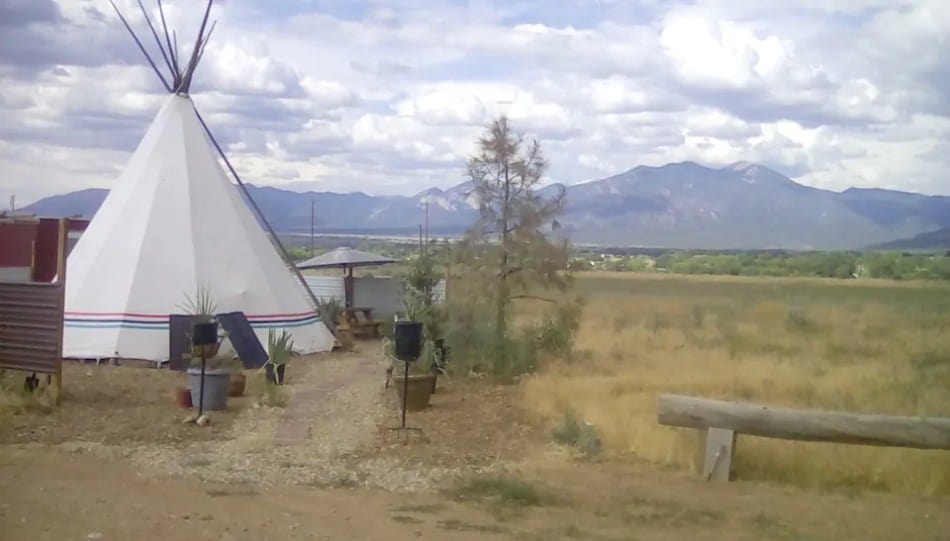 But what makes this tipi even more amazing is that you'll have the best and most stunning views including surrounding peaks, unparalleled sunset, and nighttime Milky Way. Its definitely worth the price and experience.
Taos Studio with Shared Hot Tub in Historic District
Guests: 4
Bedroom: 1
From its classic southwestern decor to its cozy furnishing, it's so hard NOT to love this lovely Taos Studio located in the historic district. Its amenities include a well-equipped kitchenette, flat-screen cable TV, free wifi, private deck, shared hot tub, full bathroom, and many more. This house also has a nice view of the mountains that you can enjoy any time of the day.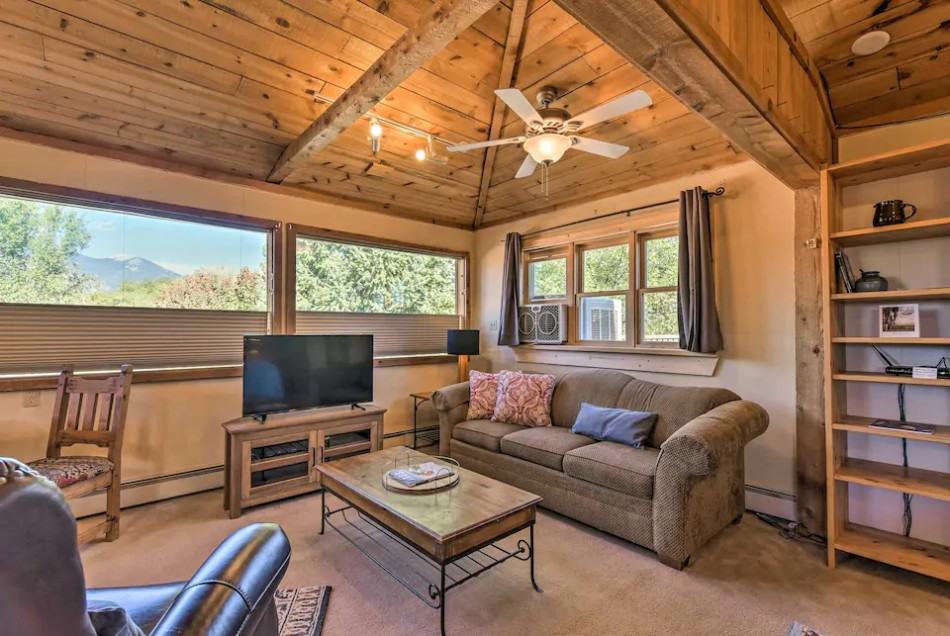 And if you are an adventure junkie, you'll have easy access to some of the sites in the area. You can go on an adventure in the Taos Ski Valley or visit the Rio Grande Gorge Bridge.
Louise – Hotel Luna Mystica
Guests: 3
Bedroom: 1
Louise is a trailer/camper van that has been transformed into a hotel-like accommodation and you won't ever feel like you are sleeping in a camper van.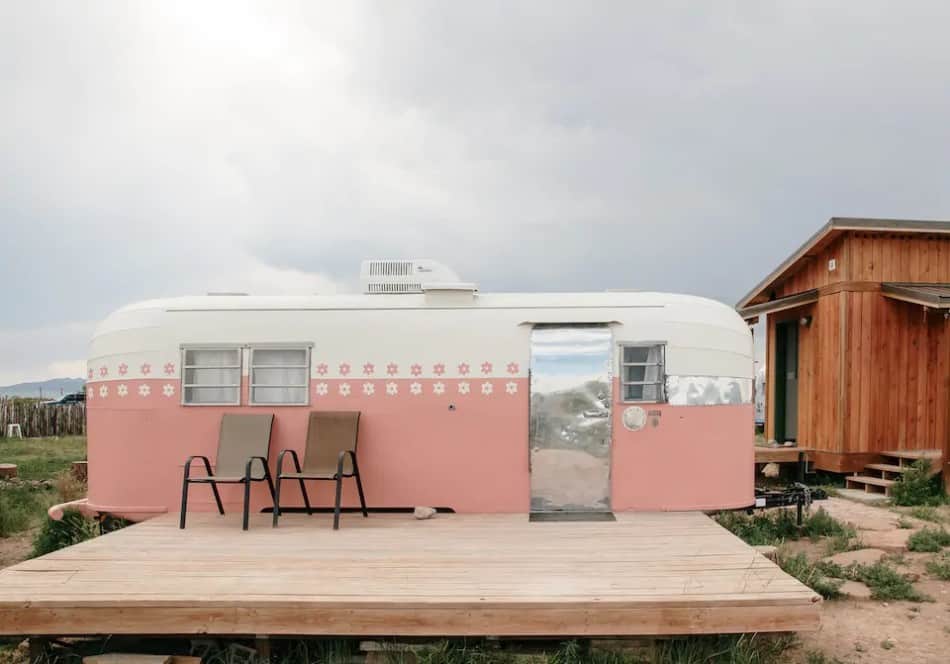 It's very cozy and it is complete with basic essentials such as a kitchen, wifi, air conditioning, free parking, and more. And it is situated in a very private property and everything is clean, stylish, and even better than what you would expect in a camper van. Worth every penny.
Artsy Earthship – Taos Mountain View
Guests: 6
Bedroom: 2
The Earthship is ideal for people who are looking for an escape into the southwestern countryside. The house has a lot of character and unique charm and it has a beautiful view of the Arroyo Hondo Mesa and Taos Ski Mountain right from the windows.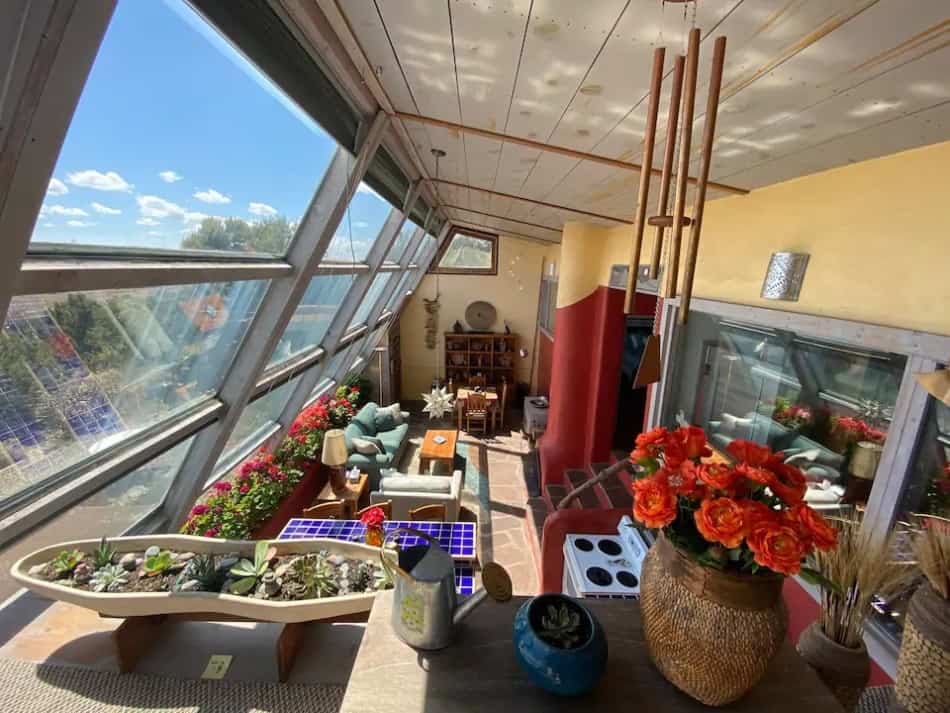 It has everything you could possibly need for a stress-free vacation – a fully equipped kitchen, two queen size beds, a lounging area with wide windows, ample parking space, and more. And in case you love to spend time outdoors, the nearest ski mountain is about 20 minutes drive, while downtown Taos is just 15 minutes away. 
Geodesic Earth Dome
Guests: 3
Bedroom: 1
The Geodesic Home is popular for its extraordinary architecture and artistic space. It has a bedroom loft space and an open floor plan and it's ideal for solo travelers or couples. It is such a charming place and set in a great location just outside of Taos.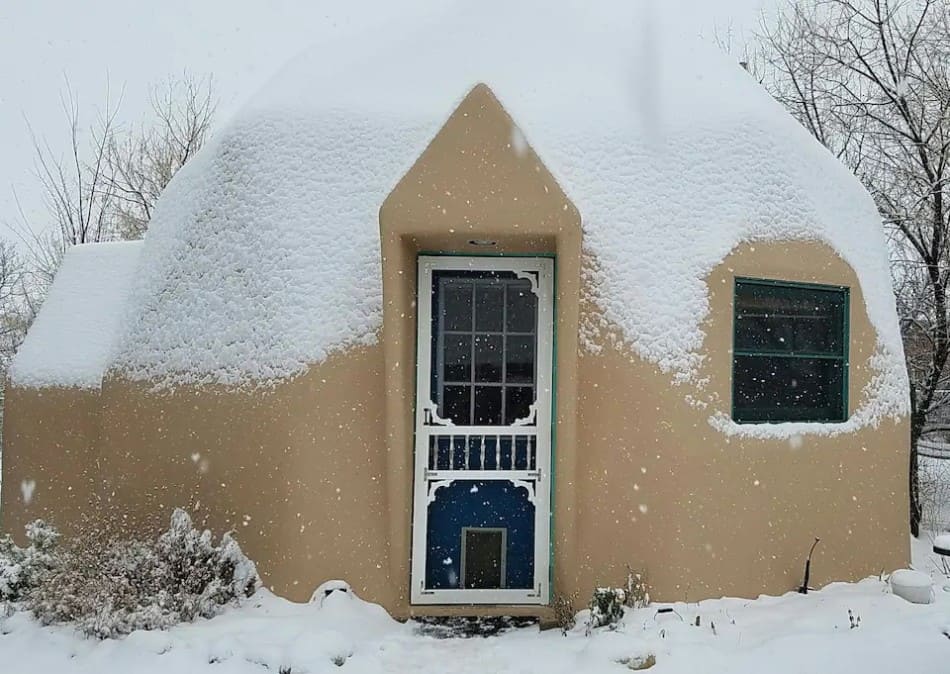 In fact, it offers easy access to all areas of Taos such as The Gorge Bridge, Taos Pueblo, The Plaza, and Ski Valley. So if you are looking for a sweet and peaceful place with great amenities, this is highly recommended.
Hip Adobe Haven with Magnificent Glass House and Garden
Guests: 2
Bedroom: 1
This newly built large glass house is one of the most beautiful Airbnb rentals that you can stay in Taos. This house is perfect for a romantic getaway with your loved one as you can watch the evening stars in the cozy glass where you can also have a spectacular view of the Taos Mountain Range.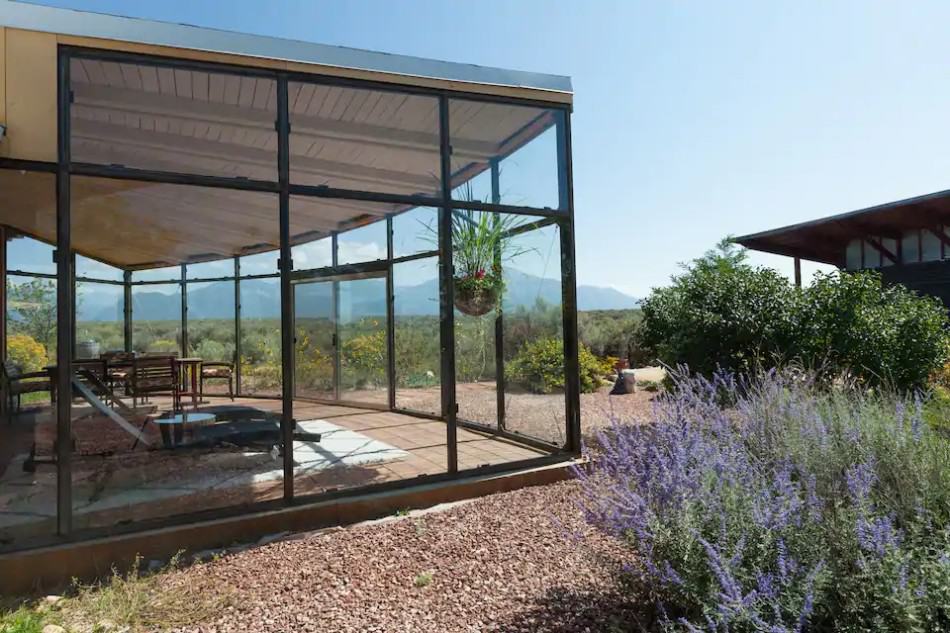 The glasshouse was designed by an architect and an artist and you can really tell that they have put a lot of effort into building this house from its adobe mud walls to its open floor plan with a communicative kitchen, and great outdoor spaces. And you can have access to the entire house including the entire garden, outside patio, fountain area, and walled-in courtyard. To say that this is the best is an understatement.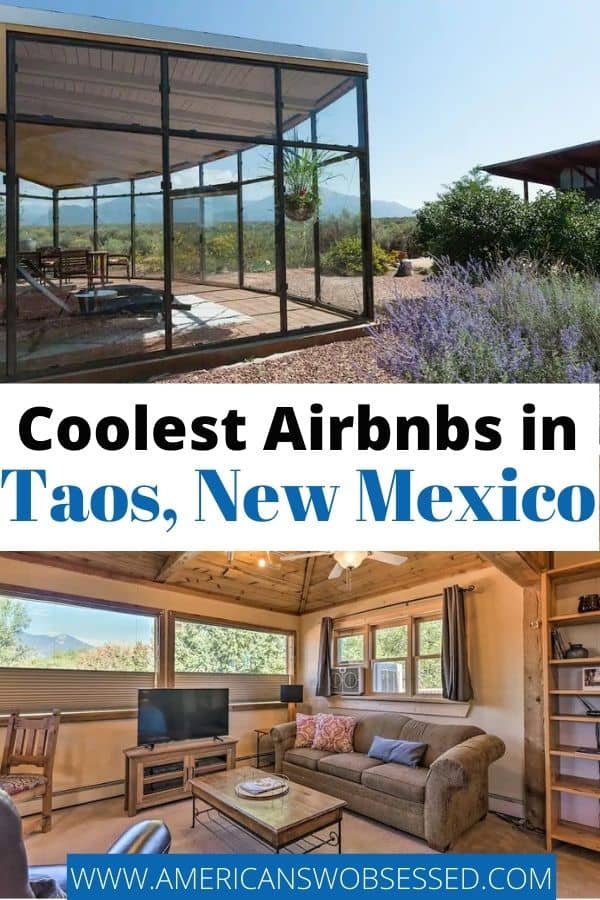 Recent Posts