Airbnb Palm Desert: Are you looking for the perfect Airbnb in Palm Desert, CA? You're in the right place because this guide will help you find the perfect Palm Desert Airbnb.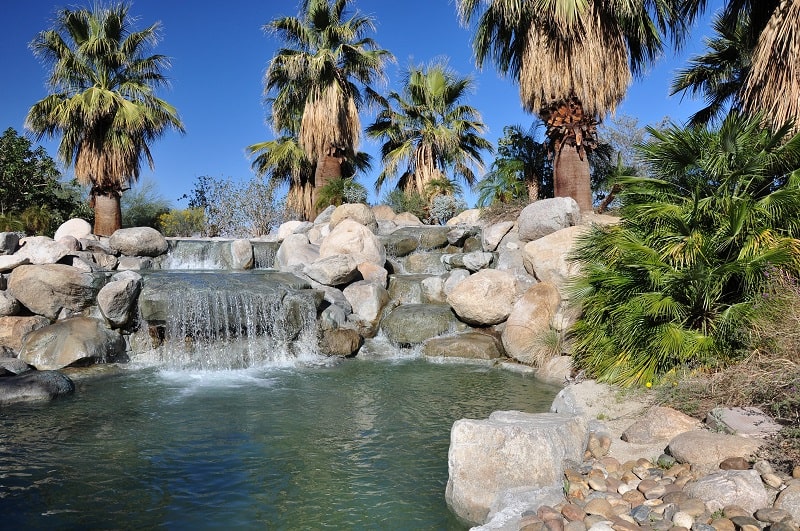 This list contains a lot of Palm Desert Airbnbs with pools and even hot tubs. This is all about relaxing in the perfect Palm Desert vacation home rentals and enjoying yourself.
If you're not sure if a Palm Desert Airbnb is right for you, you can also check out my guide to Airbnbs in Palm Springs.
And if you are planning to visit Joshua Tree while you are in the area, here are a few more of my guides:
The Coolest Joshua Tree Airbnbs
Where to stay in Joshua Tree National Park
Thank you for supporting this website written by an American. This post may contain affiliate links. This means I earn a small commission on these links at no extra cost to you.
15 Palm Desert Airbnbs that will blow you away!
Eclectic Style and a Fresh Feel at One Chic Desert Retreat
Guests: 8
Bedroom: 3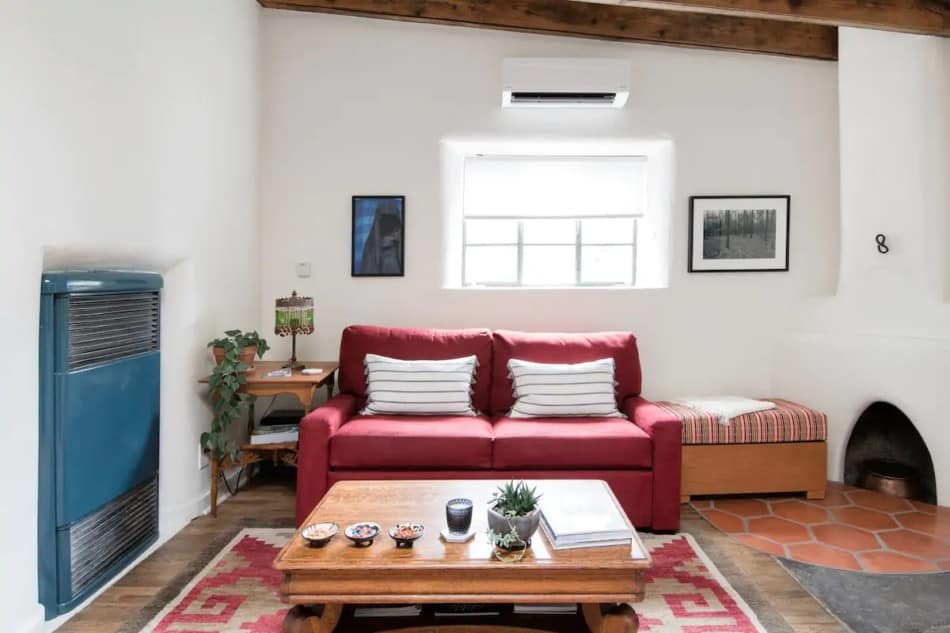 This eclectic- style townhouse is your ultimate desert getaway in Palm Desert. It has a total of 12 sparkling pools and 11 hot tubs where you can soak in and enjoy some California sunshine. You can also read your favorite book in the hammock garden, or enjoy a glass of wine while watching the stunning views from the shaded patio.
This house has a lot of perfect spots where you can lounge coupled with perfect decors throughout the entire house that you would never want to leave. Hands down to one of the most beautiful Airbnb rentals in Palm Desert.
Click Here To Check Rates On Airbnb
Deluxe Resort Villa with Mountain Views, Pool, Fitness, Clubhouse
Guests: 6
Bedroom: 3
Palm Desert has a lot of beautiful resort-like accommodation and this Deluxe Resort Villa is no exception. Staying at this villa will surely spark a joy on your trip. It has a pool surrounded by trees to give you some shade and a 4-poster parasol awning by the pool.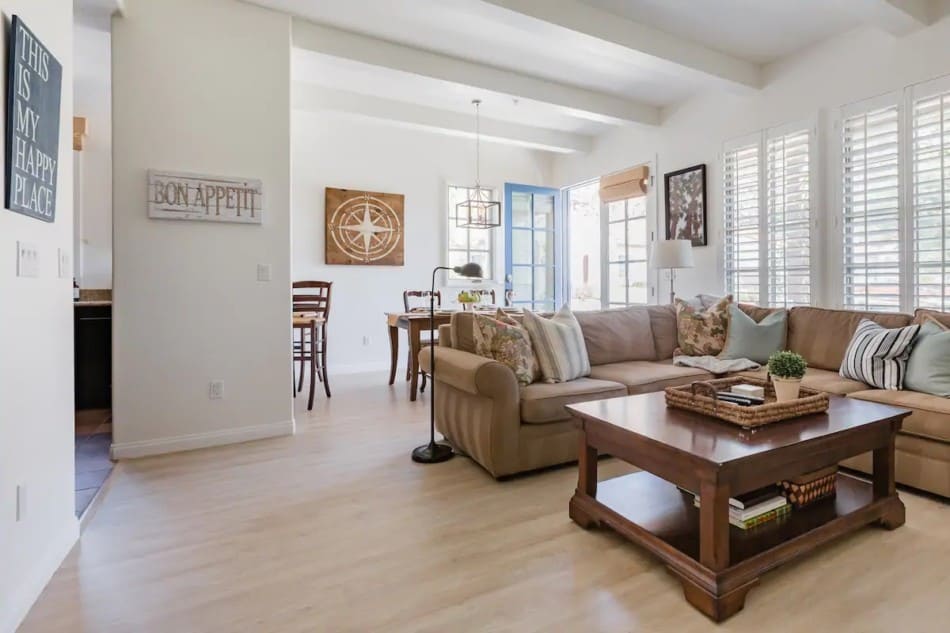 Inside the house is a stylish, neatly arrayed interior that is so homey and gorgeous coupled with a lovely fitted kitchen for cooking sumptuous meals. And you'll be able to enjoy serenity in this house because the property is situated in a community that is so quiet and relaxing.
Click Here To Check Rates On Airbnb
Luxury Villa in Picturesque Mountain Cove Resort
Guests: 6
Bedroom: 2
This warm and luxury villa is one of the best Airbnb rentals in Palm Desert. This luxury villa is worth it in every which way.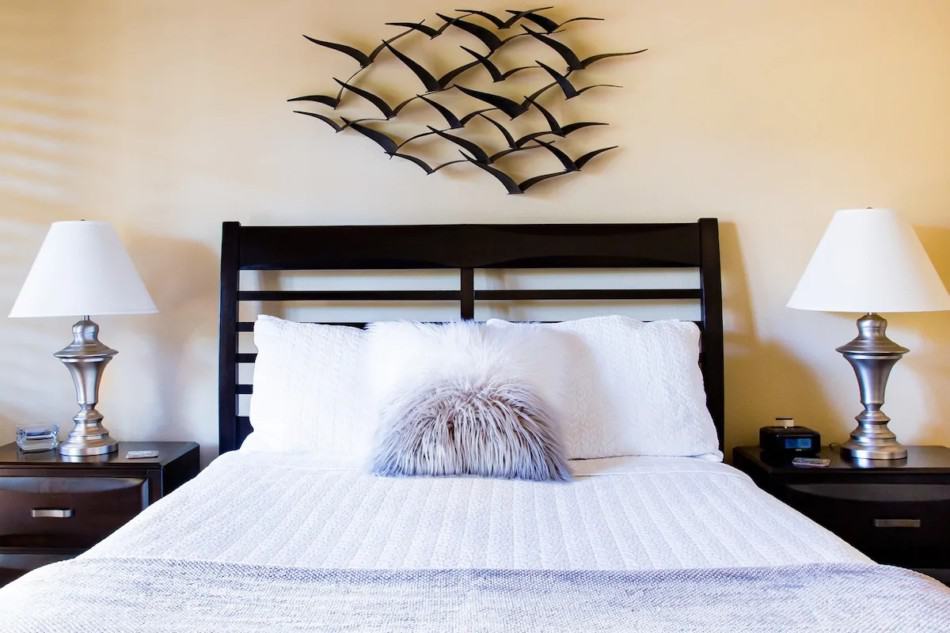 It has an open floor concept with dramatic 10 foot ceilings, two terraces, two fireplaces, and a living room with 3 TVs. You can also make use of the amenities available in the villa such as the gym, clubhouse, and poolside BBQ.
Click Here To Check Rates On Airbnb
El Paseo, 'the Rodeo Drive Of Beverly Hills' In Palm Desert
Guests: 2
Bedroom: 1
You'll instantly love the bright open space that this private room has, as well as its gourmet kitchen and gorgeous bedroom decor. The exterior of the house may look simple but once you get inside, the interiors will blow you away.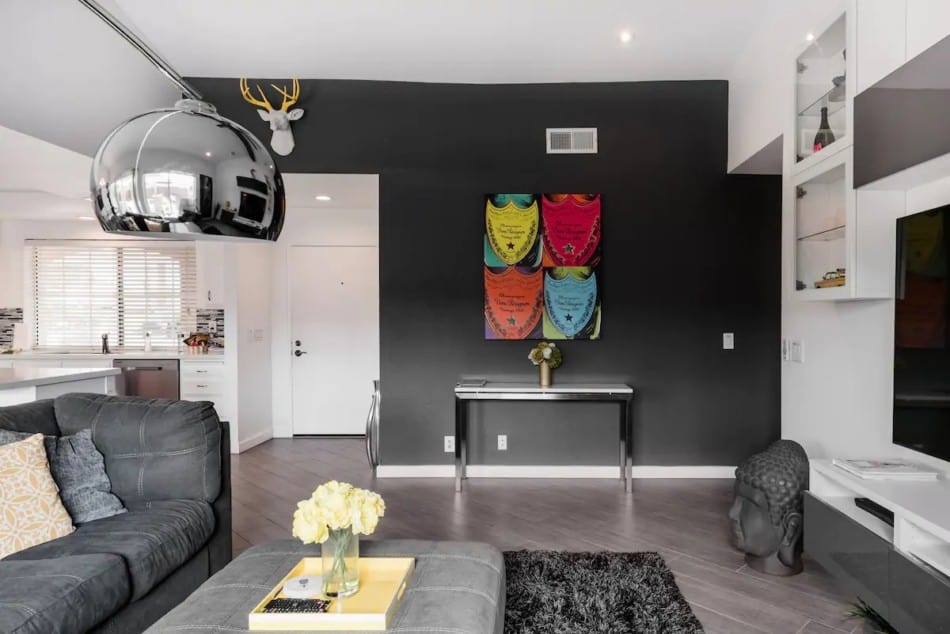 It's very clean and you can really tell that the owners put much thought into the decors. Each corner is beautifully designed and full of character that makes your stay worthy and memorable.
Click Here To Check Rates On Airbnb
Pools Are OPEN! 5 STAR RATED
Guests: 2 
Bedroom: 1 
Sleeping eight, this mid-century home is a perfect place for a retreat in the desert. It is located right on the border of Palm Desert and Indian Wells and it has so many great golf courses and resorts nearby.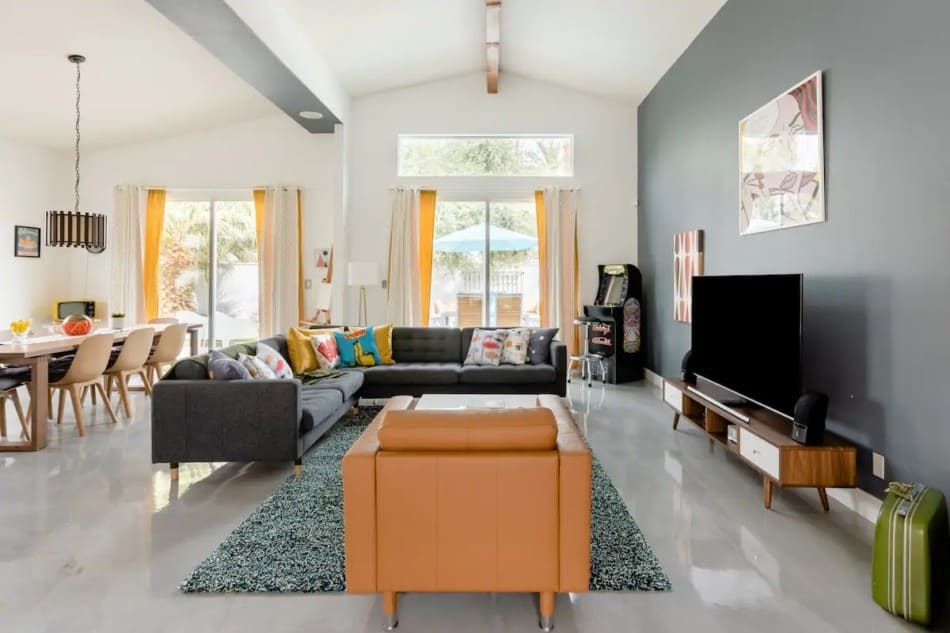 The home decor was a fun pop of change and it showcased the funky Mid-Century modern vibe. But the highlight of this epic house is the outdoor space that features a pool and well-maintained landscape with epic mountain views. This is a perfect house for a relaxing weekend getaway with family and friends.
Click Here To Check Rates On Airbnb
Updated Modern Décor with Enviable South-Facing Location!
Guests: 4
Bedroom: 2
Leave all your worries behind and enjoy a stress-free vacation at this tastefully designed and modern two-bedroom house in Palm Valley Country Club.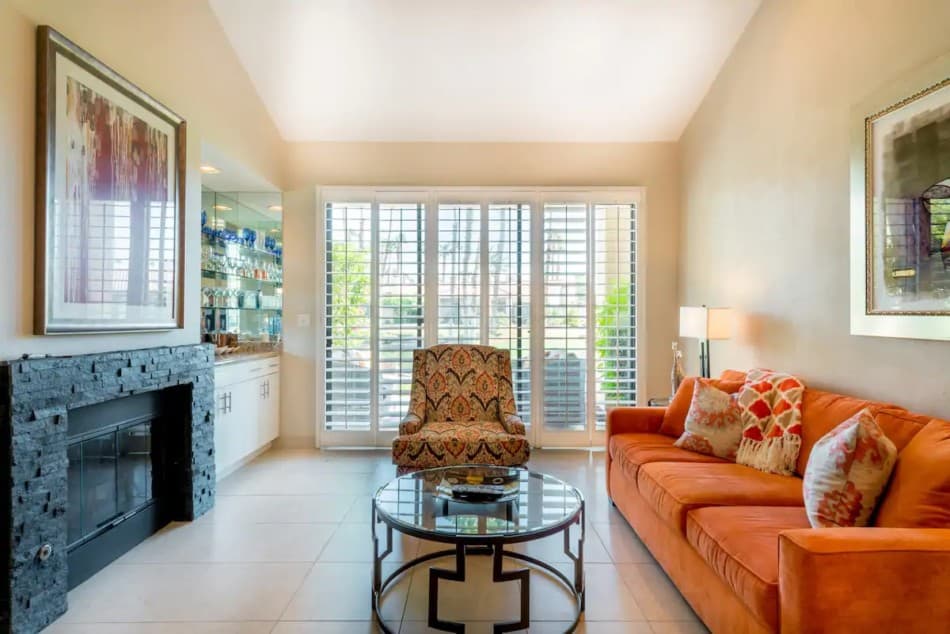 This space has a total area of 1330 sq ft and if you are up for an upscale comfort, this one is a great choice. The living room and patio were designed for guests to enjoy the sun and admire the gold course grounds while lounging on the comfy couches. Overall, this is a stunning property with a fantastic and helpful host that will really look after your needs.
Click Here To Check Rates On Airbnb
Bright and Beautiful! Western Fairway Views! 2 bed/bath Updated Monterey CC Condo
Guests: 4 
Bedroom: 2
If you are in a hunt for the perfect place to unwind and recharge, look no further because this mid-century style bungalow home will give you exactly what you need.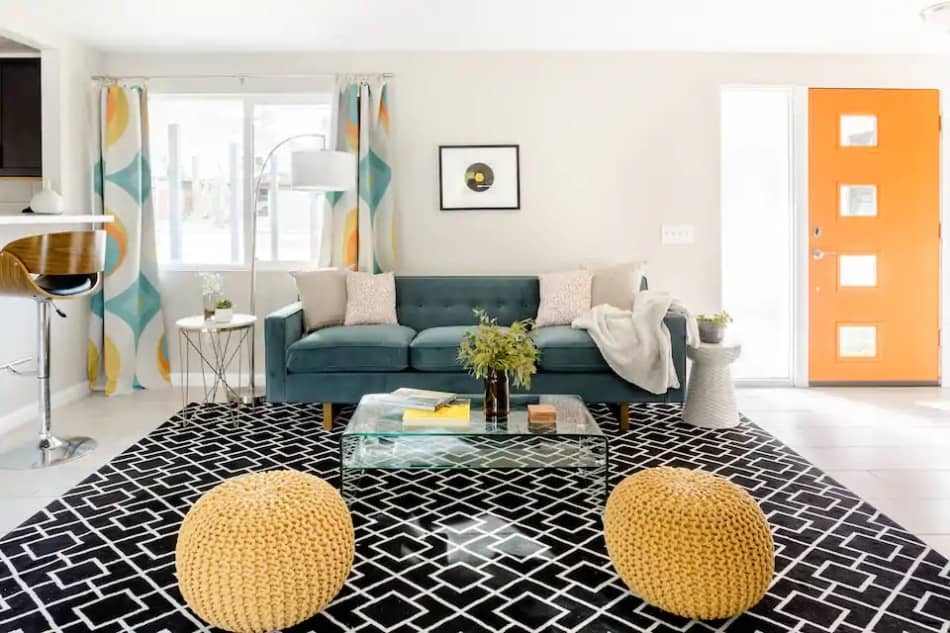 You can stargaze under the multi-colored lights from the 6-seater hot tub with 72 jets or enjoy some privacy at the garden with white walls and tall greenery, or lounge on the basket chairs on the giant poolside patio while drinking a cup of tea or coffee. You can bring along your friends or family and experience extraordinary comfort in this house. 
Click Here To Check Rates On Airbnb
Drop-Dead Gorgeous Condo With Stunning Mountain Views
Guests: 6
Bedroom: 3
This bright and airy mid-century modern townhouse offers the best desert living in Palm Desert. It's an amazing sanctuary that will make you instantly feel at home with its open concept living and dining room that is bathed in natural light. It is located in a friendly gated community that features 4 heated pools, hot tubs, tennis and pickleball courts, paved walking trails, and manicured landscaping which by the way you can totally make use of.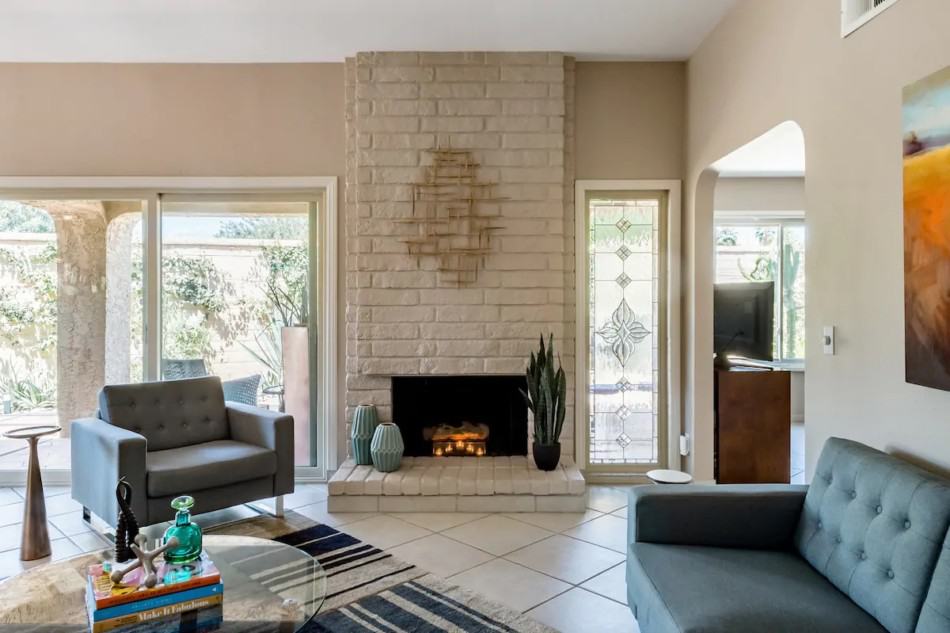 In addition to the amenities, this house also features a private wraparound patio with outdoor dining that is surrounded by gorgeous landscaping and mountain views, a mini library, fireplace, and many more.
Click Here To Check Rates On Airbnb
Luxurious House at Palm Desert Getaway
Guests: 5
Bedroom: 2
If you are looking for a luxury stay in Palm Desert, you should stay at this luxurious house that is perfect for hosting dinner parties with family or friends. Every corner of this architecturally designed house is so chic and comfortable. The sofa in the living room allows you to lounge and witness the spectacular mountain views through picture windows and the scenery is even better when you are on the patio or on the pool.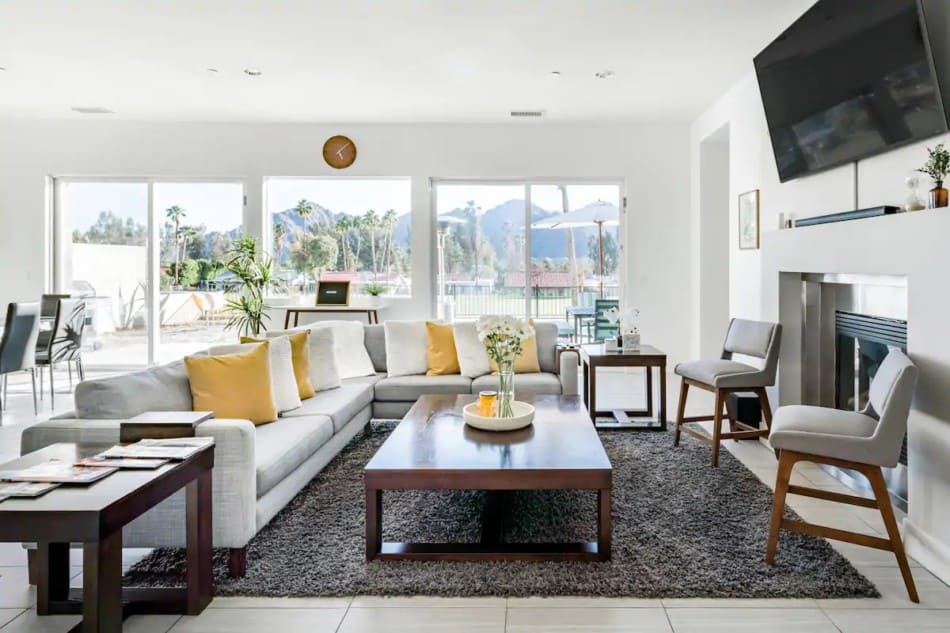 This house is designed for entertaining and it is an amazing property that will exceed all your needs and expectations.
Click Here To Check Rates On Airbnb
Stunning elevated mountain and lake views at Palm Valley Country Club!
Guests: 8
Bedroom: 3
Looking for a luxurious Airbnb rental without hurting your bank account? Well, this luxury villa at rustic desert heaven is the one for you. It features a full kitchen, a living room with a super comfy sofa, three bedrooms, a dining room, family room, common space, recreation area, patio, and front yard.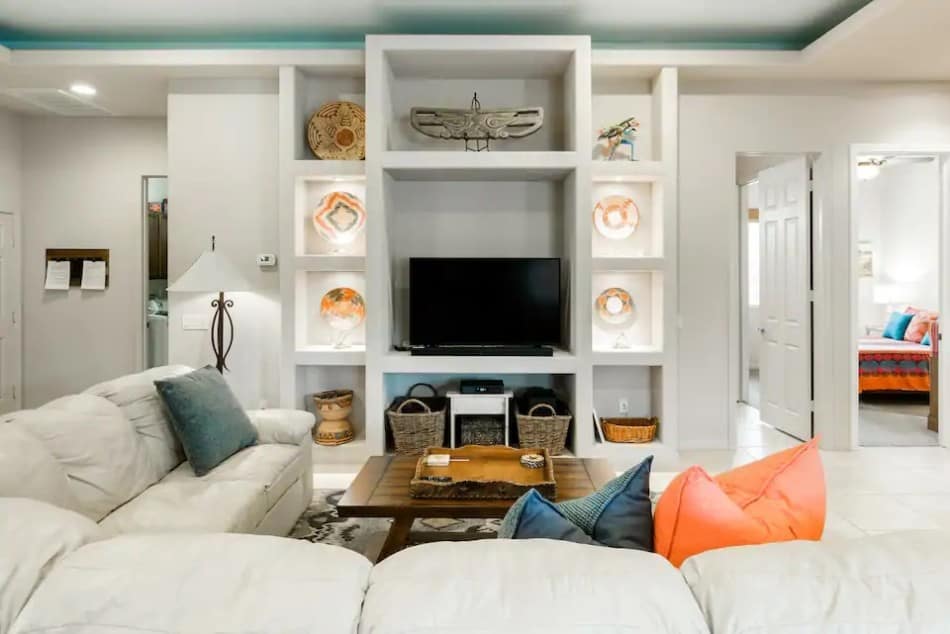 You'll absolutely love the outside space of this villa as it features a pool and spa that are perfect for day and night use and you can also have glimpse of the majestic Santa Rosa Mountains. Everything about this house is just lovely and stunning.
Click Here To Check Rates On Airbnb
Palm Valley Country Club
Guests: 6
Bedroom: 3
This serene desert house is a great hidden in Palm Desert that is very close to everything and near to all El Paseo attractions, including numerous art galleries, installations, boutiques, and restaurants.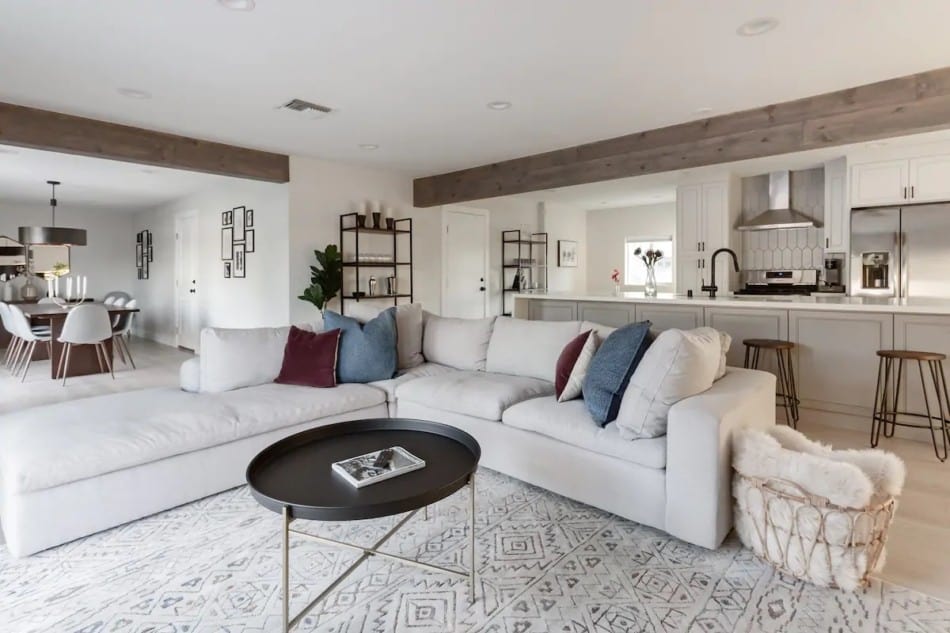 The house itself is a total dream that features big sliding windows, new pool with an adjoining spa, outdoor kitchen, fire pit, fully stocked kitchen, dining area, and a lot more. This has everything you could hope for and more. This is a highly recommended place for family getaway and bonding with friends. 
Click Here To Check Rates On Airbnb
Relaxing Desert Vibes!
Guests: 2
Bedroom: 1
Situated in a private property with a separate entrance, this stunning luxury private suite features a stunning lush green lawn, mountain views, and overlooking the pebble tech pool. This is perfect for couples who want to enjoy and relax in the marvelous city of Palm Desert.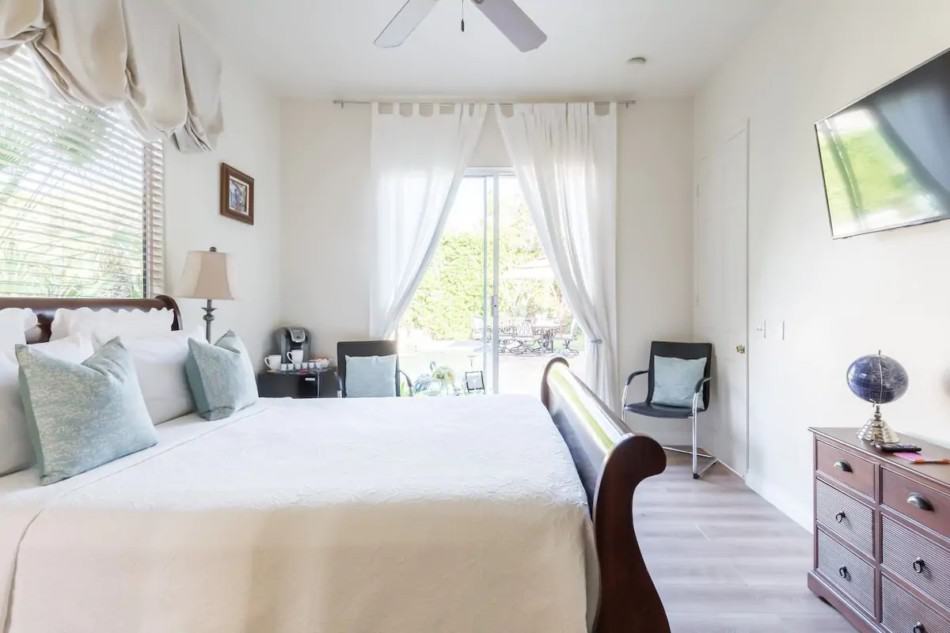 This suite has also its own attached bathroom, white soft cotton linens for a comfortable sleep, wifi, coffee maker, microwave, and a lot more. And you don't need to worry when you need to buy stuff because it has a close walking distance to markets, malls, restaurants, and shopping centers.
Click Here To Check Rates On Airbnb
Marriott's Desert Springs Villas Studio
Guests: 4
Bedroom: 1
Marriott's Desert Spring Villas boasts of its top notch-service and amazing location near Palms Springs. Staying in this beautiful guest villa lets you enjoy a peaceful and comfortable vacation with amazing views from the balcony. The room itself is very clean and cozy.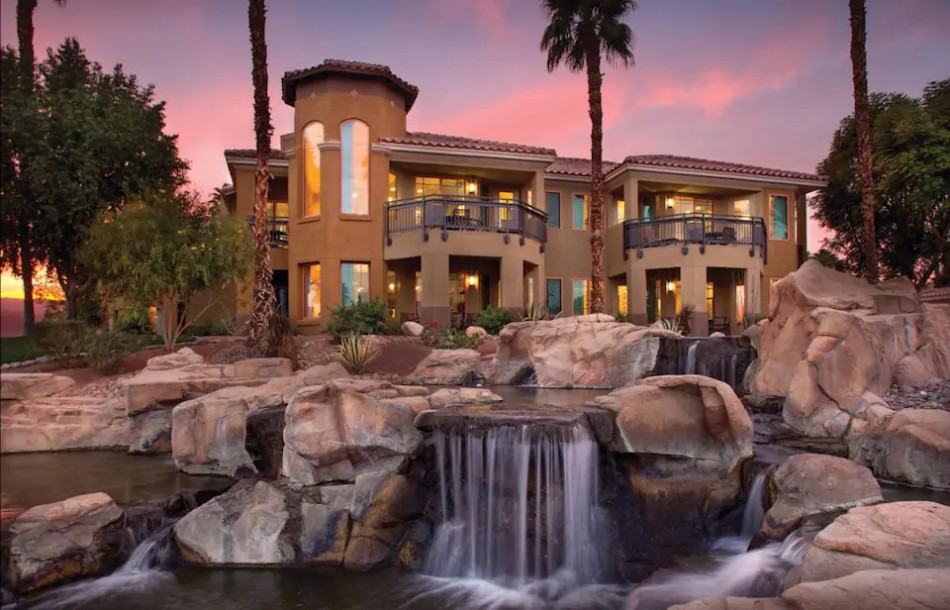 You are entitled to complimentary wifi and you can make use of the seven outdoor pools, shared playground, movie theater, state of the art gym, rock climbing wall, bike rentals, activity center, and many more. This villa has everything you got and you don't need to leave the property just to experience fun activities. 
Click Here To Check Rates On Airbnb
Classy Clean Casita with Pool and Heated Spa
Guests: 2
Bedroom: 1
This classy casita is perfect for a nice and private vacation in Palm Desert that will let you feel all the comforts of home and with an additional gorgeous pool and heated spa. Just like most Airbnb rentals in the area, it has everything you need for a hassle free stay.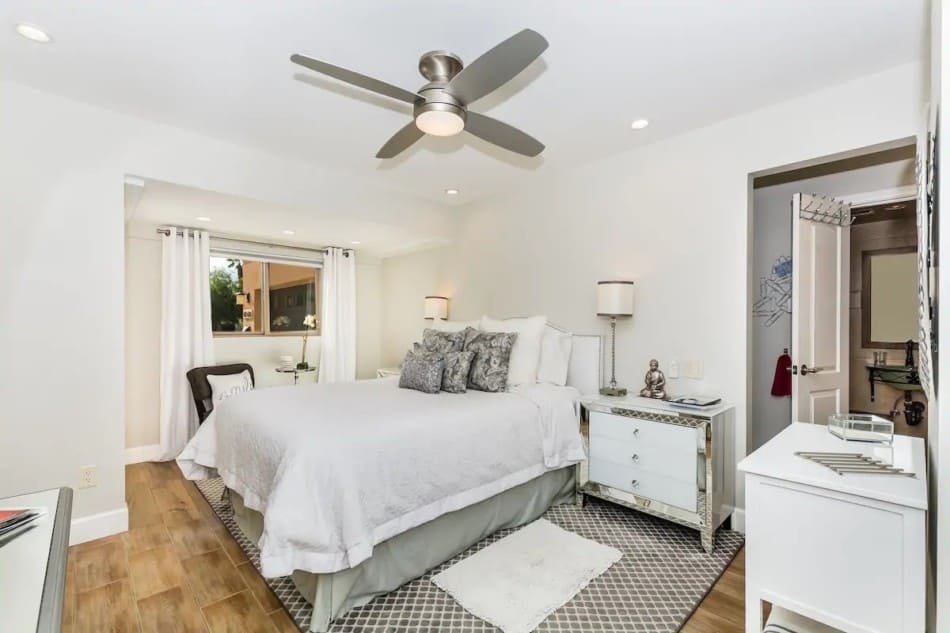 Aside from being a 25-minute drive to Coachella, what makes this casita unique is that it is close to the river and it is within minutes drive from famous and phenomenal restaurants, golf courses, casino, mountain range, and many more. This casita makes it ideal for a relaxing getaway for lovers, families, and friends.
Click Here To Check Rates On Airbnb
Stunning Home on 18th Hole of PDCC
Guests: 7
Bedroom: 3
This stunning home located in the 18th hole of Palm Desert Country Club is perfectly equipped for a great stay or vacation. The pool and views of the golf course are just some of the highlights of this home.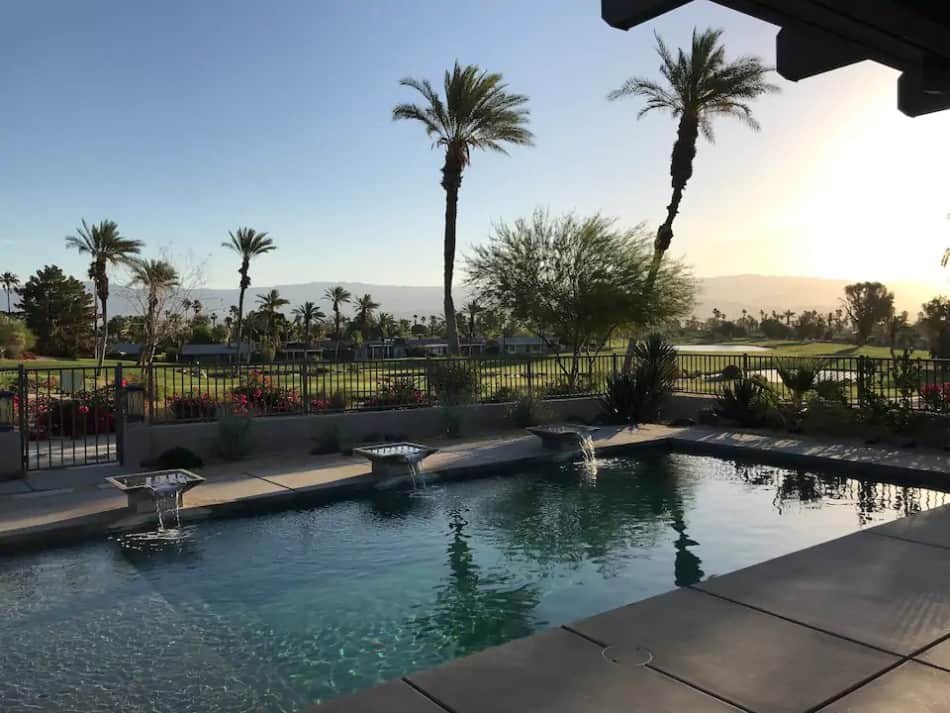 Inside the home has a master's bedroom with a king size bed, while the 2nd bedroom has two queen size bed, and the 3rd bedroom has full bed which in total can accommodate 7 guests. Everything about this house including the amenities is top notch and you won't regret staying in this comfy and stunning home.
Click Here To Check Rates On Airbnb
Cozy Casita in the Heart of Palm Desert
Guests: 2
Bedroom: 1
This beautiful upscale casita is peacefully situated in a private and quiet neighborhood. Once you arrive in the property, you will be entering through a private entrance and walkway. You will be entering the casita through the private patio and sitting area with fountain and flickering solar lights.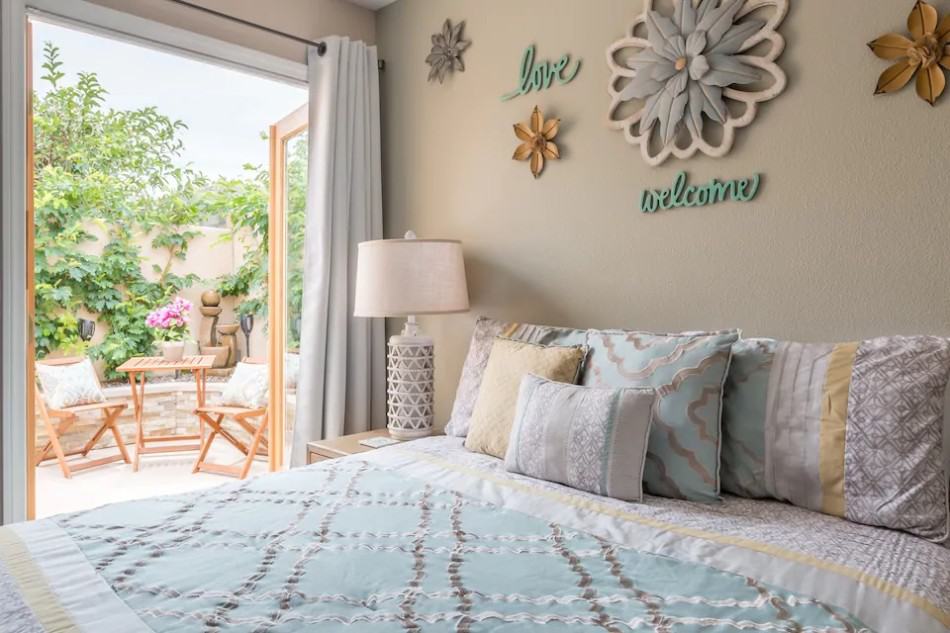 Everything about this casita is brand new and you can expect to experience total comfort and rest. It is equipped with a kitchenette, table good for two people, TV, comfortable living space, elegant and cozy bedroom, and many more. And what makes this casita even more amazing is that it is a pet friendly home so you don't need to leave your pets at home and they can enjoy a great vacation just like you.
Click Here To Check Rates On Airbnb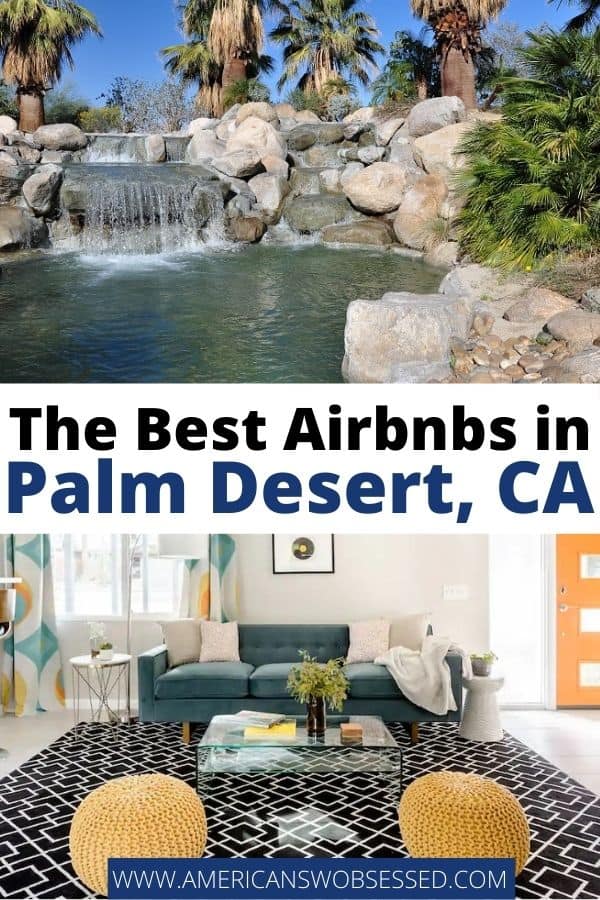 Recent Posts