There are numerous Flagstaff Cabins to choose from and that's why I have put together this guide to the best cabins in Flagstaff, Arizona.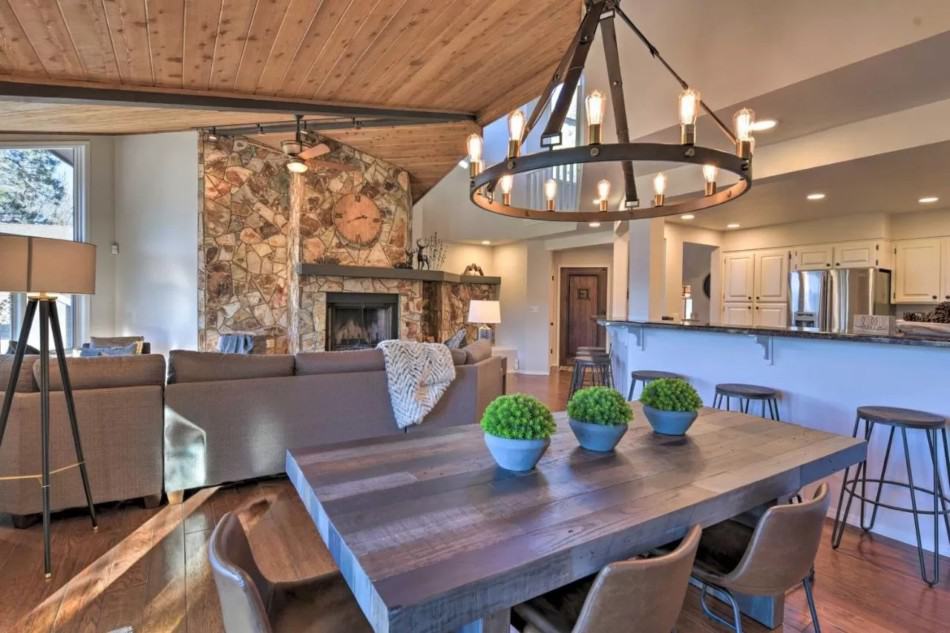 Flagstaff Arizona is the home to many popular tourist destinations such as the Grand Canyon and the Walkup Skydome. It is also close to the seven National Parks and Monuments. And if you want to enjoy skiing and winter activities during the holidays, then Flagstaff is the destination.
Flagstaff, Arizona is home to many tourist destinations with lots of things to do in just a visit. If you wanna visit the charm of this city, it is highly recommended that you go to their museums such as The Museum of Northern Arizona. This museum will surely amaze you of what Arizona can show you and it is more than just its image of being a hot desert.
I have several articles on Flagstaff from where to stay to where to hike if you want to check them out:
15 Best Hikes in Flagstaff, Arizona
Best Places to stay in Flagstaff, Arizona
17 Coolest Airbnbs in Flagstaff, Arizona
And if you are planning to go to Flagstaff, Arizona, here are some of the best places to stay and great Flagstaff cabins to experience a great trip!
Disclaimer: This post may contain affiliate links so if you make a purchase through one of the links we might earn a small commission ( it's at no extra cost to you)

15 Best Cabins in Flagstaff, Arizona – the perfect escape
Pristine Flagstaff Cabin with Decks & Mountain Views
Jaw dropping views, prime location, and great amenities – these are just some of the things that you will get while staying at this Pristine Cabin. It was designed with family gatherings and high-end Arizona escapes in mind and it is one of the best Cabins you can rent in Flagstaff.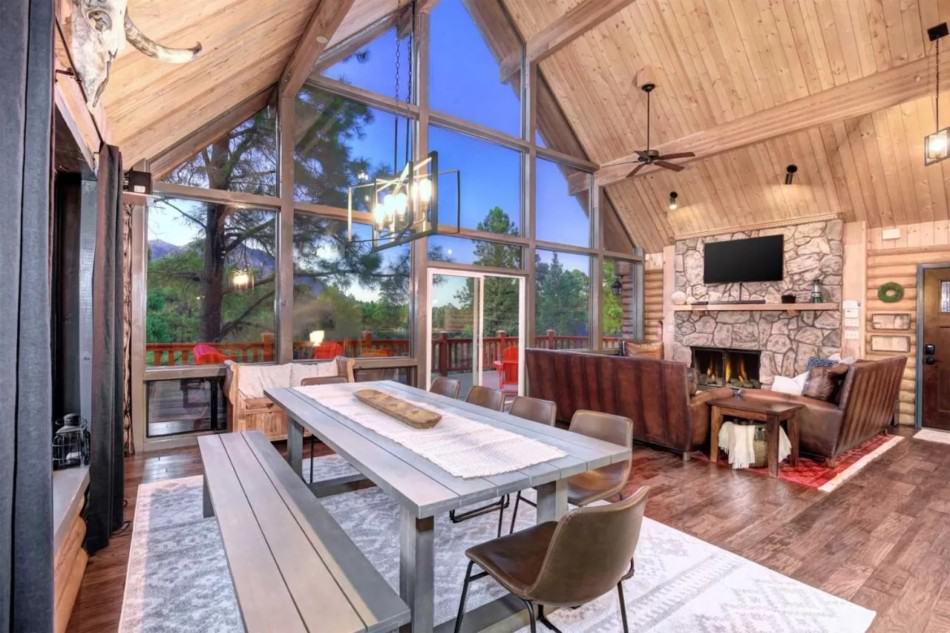 This 6-bedroom vacation rental cabin is nestled on the 11th hole of the Continental Golf Club and it features a rustic-yet-polished interior with modern amenities. It has a kitchen, 2 stone fireplaces, a game room with billiards, and a wet bar.
This family-oriented and spacious cabin can accommodate up to 12 guests so it's very perfect not just for family gatherings but also for any kind of large gatherings. Both kids and adults will love this place because there is a children's playground available on site as well and a ski resort is within close proximity.
Check Availability on Booking.com
Flagstaff Cabin with Fireplace and Pit on 5 Acres
If you want to sneak away for a little bit from a very busy week and have a relaxing and memorable trip to Flagstaff, you shouldn't miss out staying in this "Flagstaff Cabin".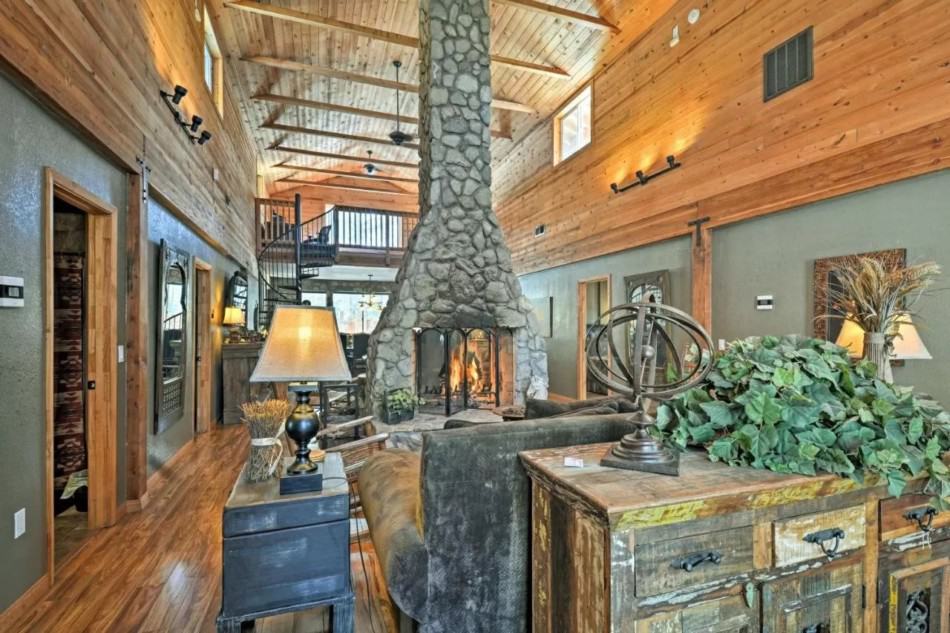 This rustic 4-bedroom cabin is located in a secluded 5 acre heavily wooded land and it ensures full privacy for all guests. It boasts of its very private location, barn-style architecture, and lavish living space that makes it perfect for any type of gathering whether it be with your family or friends, or even both.
This upscale cabin has an indoor fireplace, outdoor fire pit, chic interior, patio, fully equipped kitchen, and a whole lot more. The cabin itself is very stylish and comfortable and it features high ceilings, spiral staircase, loft overlook, wood and stone accents, and of course modern decors.
Check Availability on Booking.com
Flagstaff Chalet
If you've never stayed in a Cabin before, now is the great chance for you to experience it and stay at this Flagstaff Chalet. This vacation cabin has 3 bedrooms, 2 bathrooms, flat screen TV with cable channels, dining area, fully equipped kitchen, and a beautiful patio with garden views.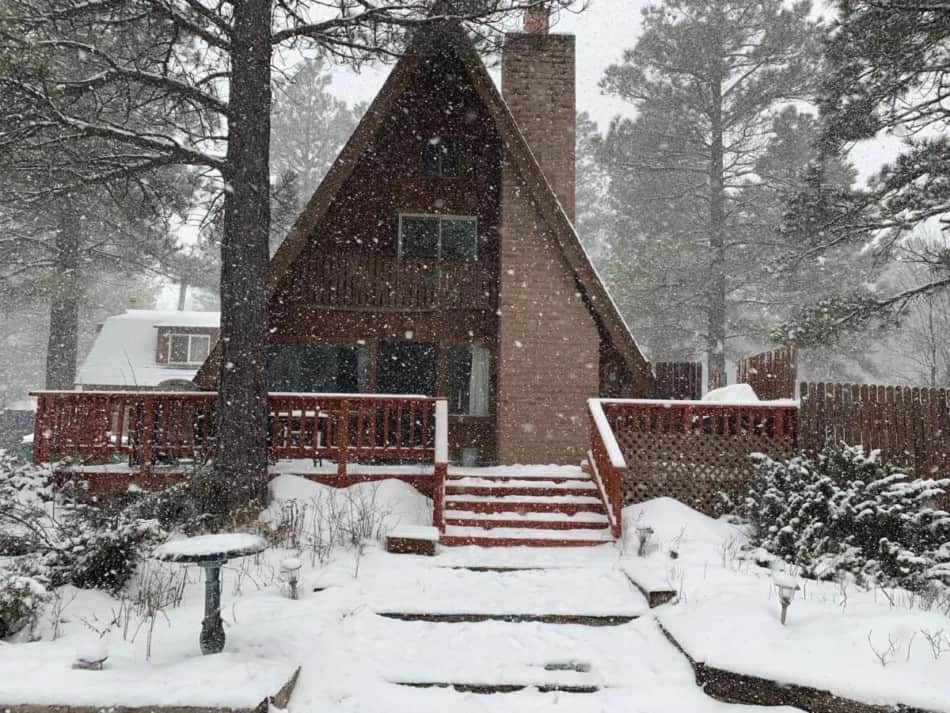 This property is very spacious and also great for family gatherings as it can accommodate up to 10 guests. You can do a lot of activities here such as ping pong, pool, foosball, and other games. You can also hike and ski in the area.
This is a perfect place for family reunions or gatherings with friends, or if you are just looking for an alternative to a hotel with more rooms to spread out.
Check Availability on Booking.com
Log Cabin with Loft
This log cabin is everything that you can expect from a cabin and even more. Just by starting your day in this cabin, you get to see beautiful views all the way into the night. If you enjoy activities at night like star and moon gazing, this is the ideal setting for you.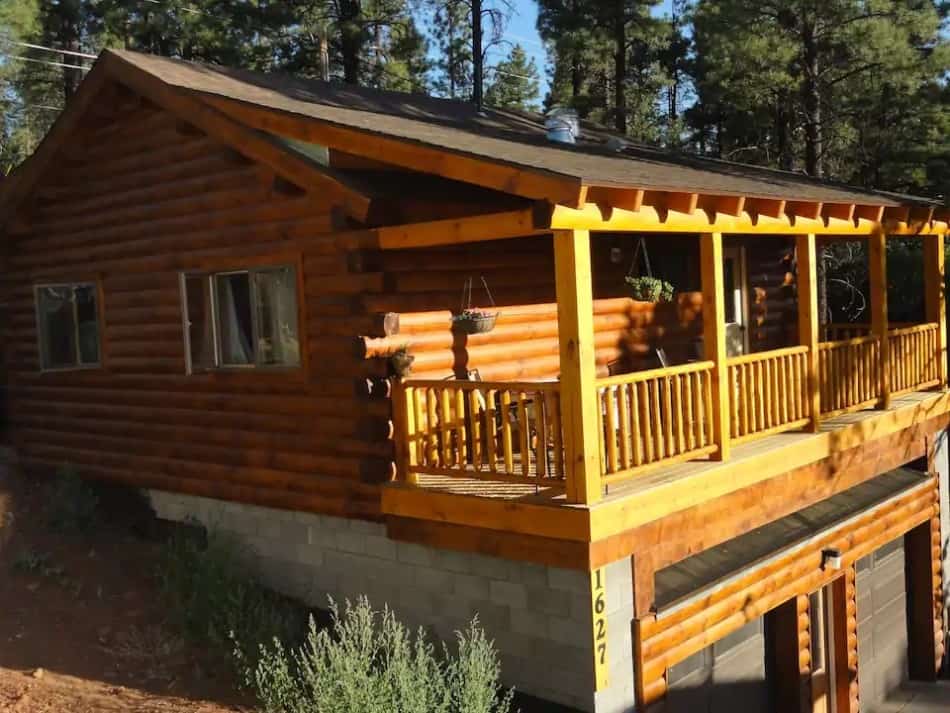 The cabin is composed of total wood walls that will make you feel cozy and warm. It also has amenities that you need for a hassle free vacation. It also features very quaint two bedrooms and there is a lot in the one bedroom where kids can play and climb up to their own hideaway.
A-Frame Mountain View Cabin in a National Forest
This A-Frame Mountain Cabin is one of the most popular cabins that you can find in Flagstaff. Well, you can recognize this cabin if you have been a fan of reading lifestyle magazines because this has been featured in Travel + Leisure, Real Simple, and Sunset Magazines.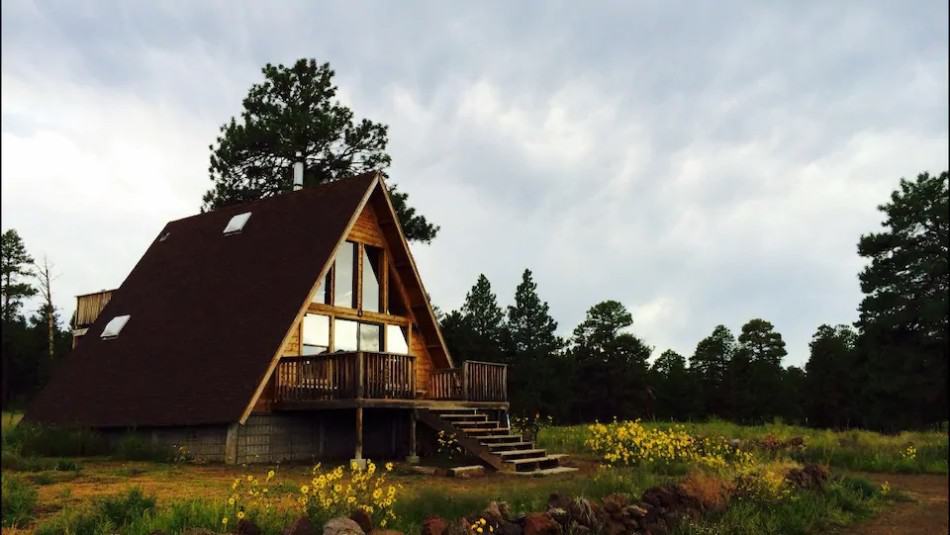 But more than its Instagram-worthy place, this cabin has got you covered for a memorable and comfortable stay. It's very close to some of the scenic areas in Arizona and you don't need to spend a lot of time on the road just to go to the prime tourist areas in Arizona.
Although this cabin takes you the old times because it has no TV, no internet, and no AC, you can still do plenty of fun things with your family or friends. You can play board games, horseshoes, mountain bikes, and even hike. It's a great place to bond with your family or friends and have quality time together.
Up North! A-Frame Cabin
This completely remodeled cabin is surrounded by beautiful and tall Ponderosa Pines of Arizona. The interior is very clean and well decorated with tasteful and modern furniture and it features a lot of outdoor areas to lounge around and relax.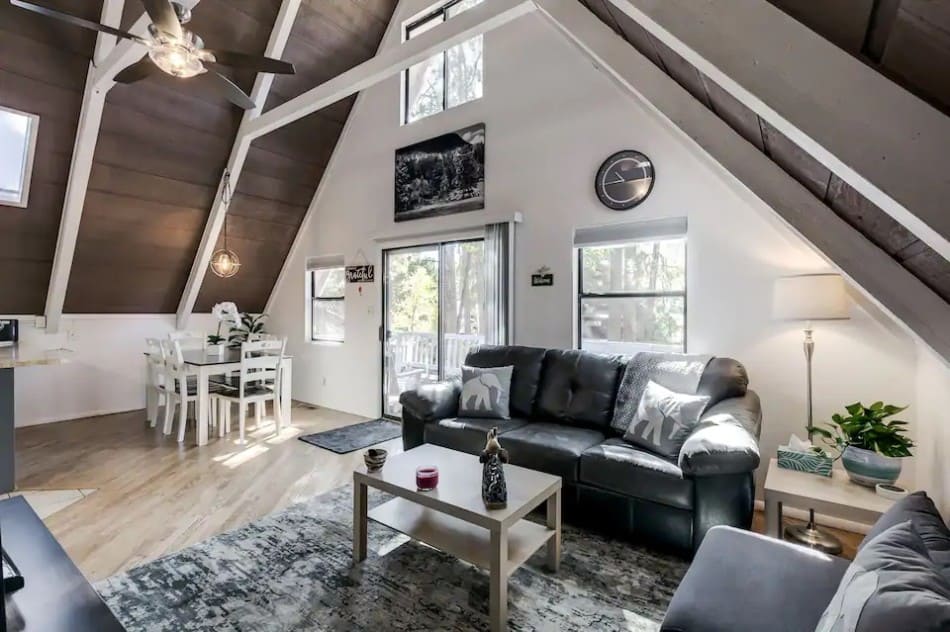 The cabin is also well equipped and fully stocked with great amenities such as a kitchen stocked with everything you need for cooking, a living room with a gorgeous sofa, bathroom with towels and toiletries, and a lot more,
There is nothing like this cozy place that is set in a quiet neighborhood and surrounded by large pines and wooded atmosphere.
Cozy Private Cabin within Flagstaff City Limits
All the conveniences of a home are here in this cozy and private cabin. It is located on the east side of Flagstaff and just right when you walk out of the front door you will be able to enjoy a great hiking adventure in some of the popular trails in Arizona.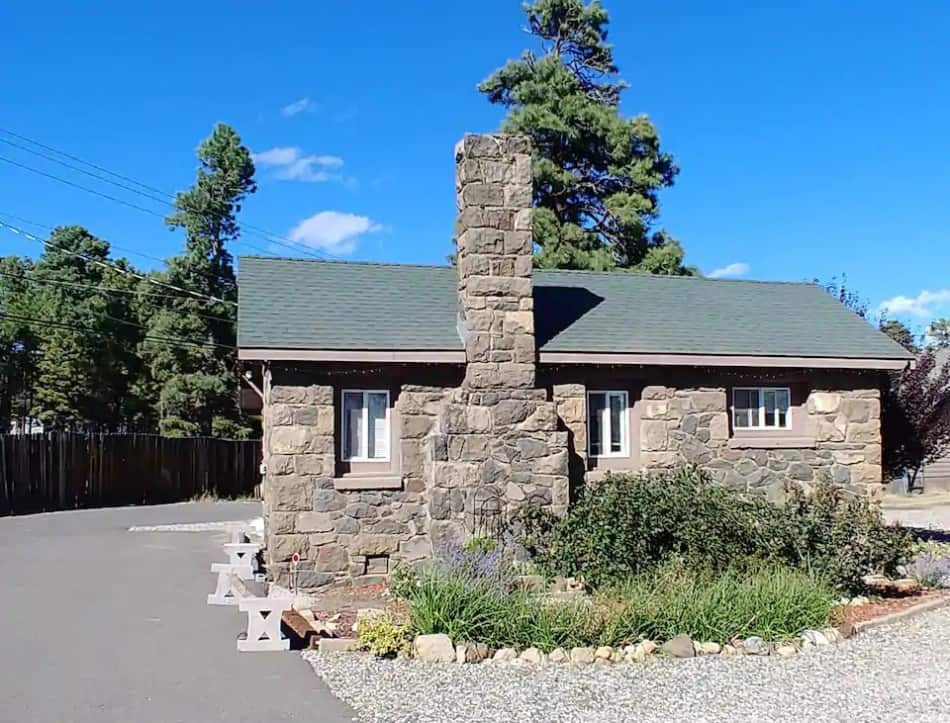 The house is set in a residential neighborhood that features views of Mount Elden and Sheep Hill. The cabin may be a bit small but it has a nice covered porch that adds more living space and if you visit during the summer, it is a perfect spot to relax out of the sun.
Tiny Mountain View Sauna Cabin in a National Forest
This 1940s-built cabin has a rustic vibe but with a very open and functional space. It features incredible views of the forest and the mountains even in all the rooms and two decks. The property is a combination of a serene rural area with great vistas but still close to town.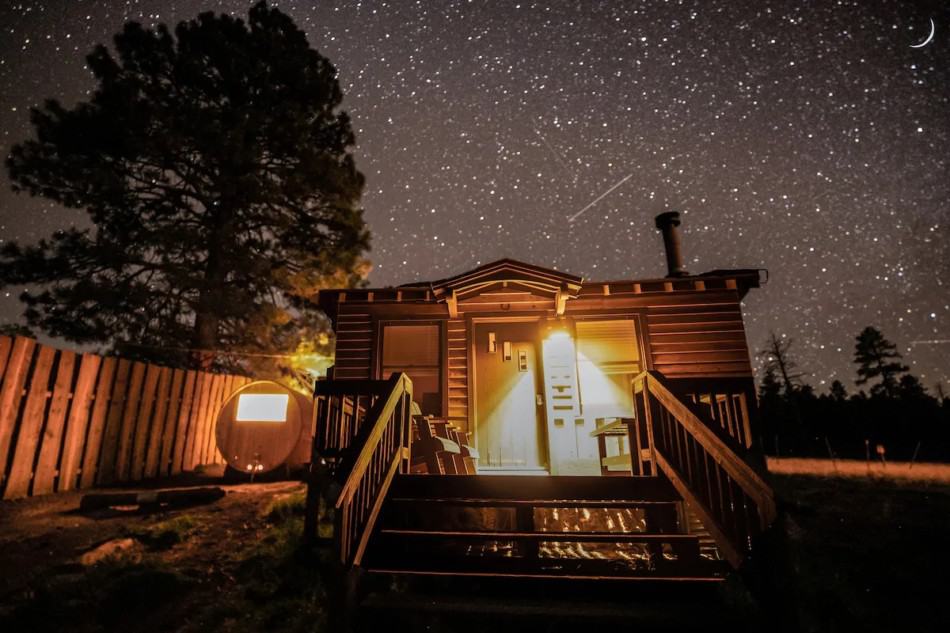 You can have an exclusive use of the studio cabin including the full kitchen and dinette, bath, back patio, and of course the 1.4 acres of natural meadow shared with other cabins. Although the cabin has no telephone, no AC, no TV, and no internet, you can still do a lot of things here and in that way you can truly bond with your family or friends.
Juniper Cabin in the Forest
Juniper Cabin isn't like your ordinary cabin in Flagstaff. It's a uniquely beautiful, off-grid cabin that is equipped with a full bed, two twin-size sleeping pads, linens, and more. It is located in Arizona Nordic Village that has an off-grid facility which means it is not connected to any public or private utilities. But water and electricity are both accessible in the Lodge at all times.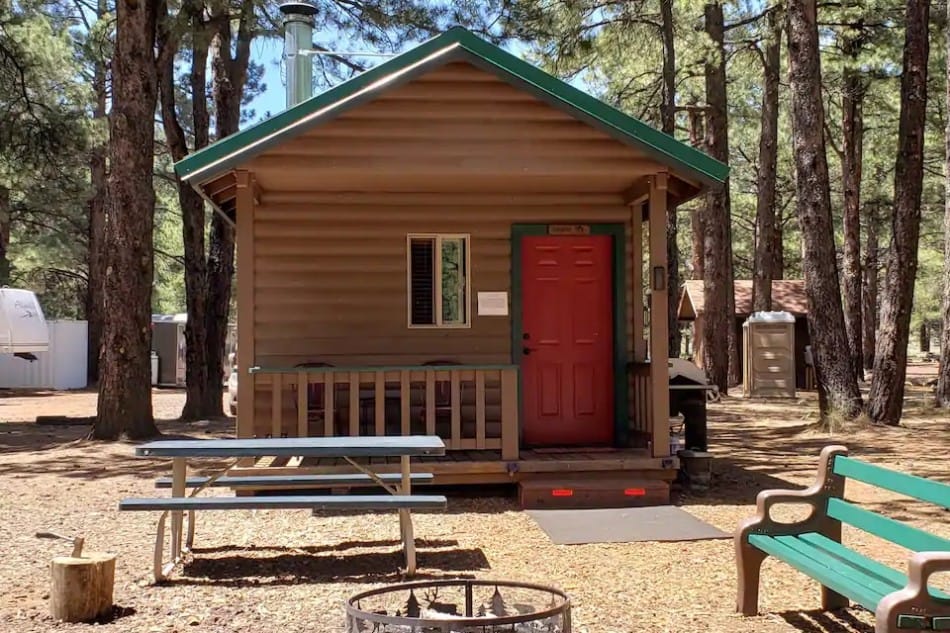 There are restrooms and token-operated showers available in the lodge, as well as a complimentary coffee, tea, and hot chocolate by 9 am every day. You can also borrow board games and bring it to your own lodge like monopoly, scrabbles, apples to apples, or chess.
So if you are looking for a cute yet a well kept cabin in Flagstaff good for 4 guests, you should definitely check this one out.
Buffalo Trail Treetop Retreat with Indoor Sauna
If you love to be surrounded by nature while staring at the pine trees swaying and dancing magically, then this cozy A-Frame Treetop cabin is for you. With its spacious three bedrooms, it can definitely sleep 7 people here.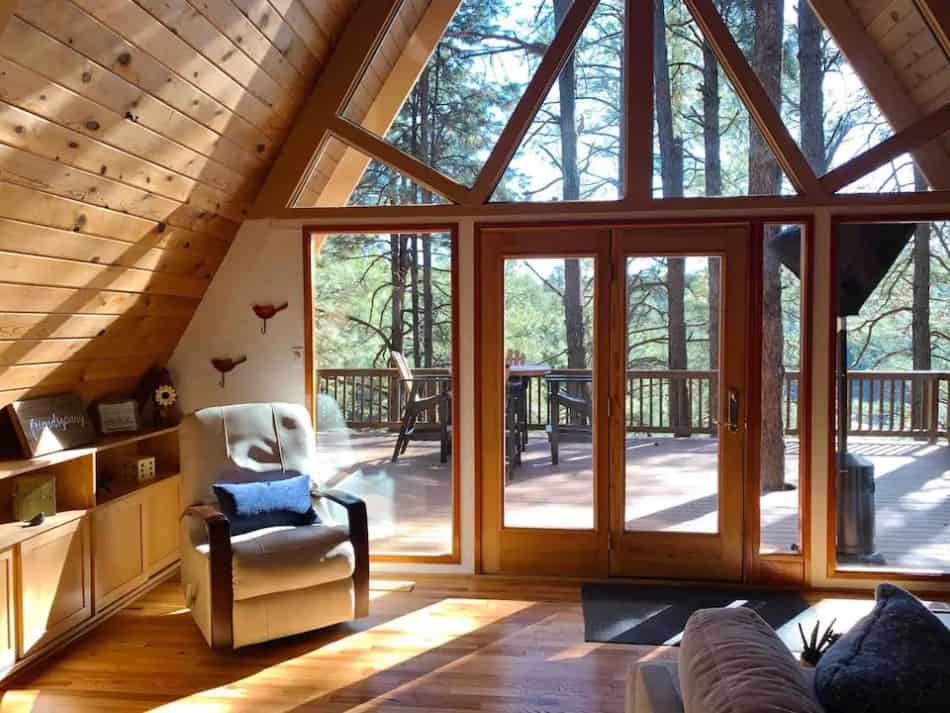 This serene cabin will help you ease all your worries and relax on the huge beautiful deck under the pines. In fact, this is a perfect place to cozy up in the winter months and enjoy the gorgeous surroundings.
Aside from the gorgeous deck, it also has a kitchen, two spacious bathrooms,TV, heater, bathroom essentials, bath tub, and more. Great place, super clean space and plenty of amenities, what more can you ask for?
Lazy Bear Cabin with Hot Tub
One of the most perfect and beautiful places to relax and unwind in Flagstaff is this Lazy Bear Cabin. It is set in a serene and gorgeous Ponderosa Pine Tree setting and it is equipped with great amenities.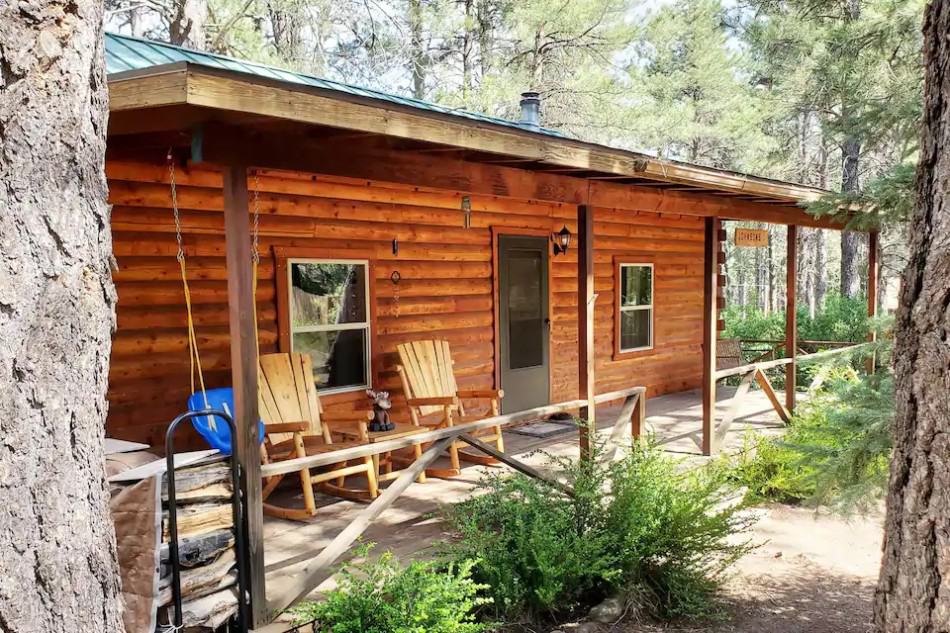 It features a private hot tub for total relaxation, fully stocked kitchen for cooking meals, TV, Wifi, and more. And at 7000 feet of elevation, you'll be guaranteed fresh air and privacy during your stay in this cabin. It's so hard not to love this incredibly almost perfect cabin in Flagstaff.
Kylies Kabin
This pet friendly A-frame cabin is hailed as one of the cutest cabins in Flagstaff. It is located in the eclectic, country community of Mountainare just a few minutes South of Flagstaff. Here, you can experience the feel of a small mountain community yet still close to town.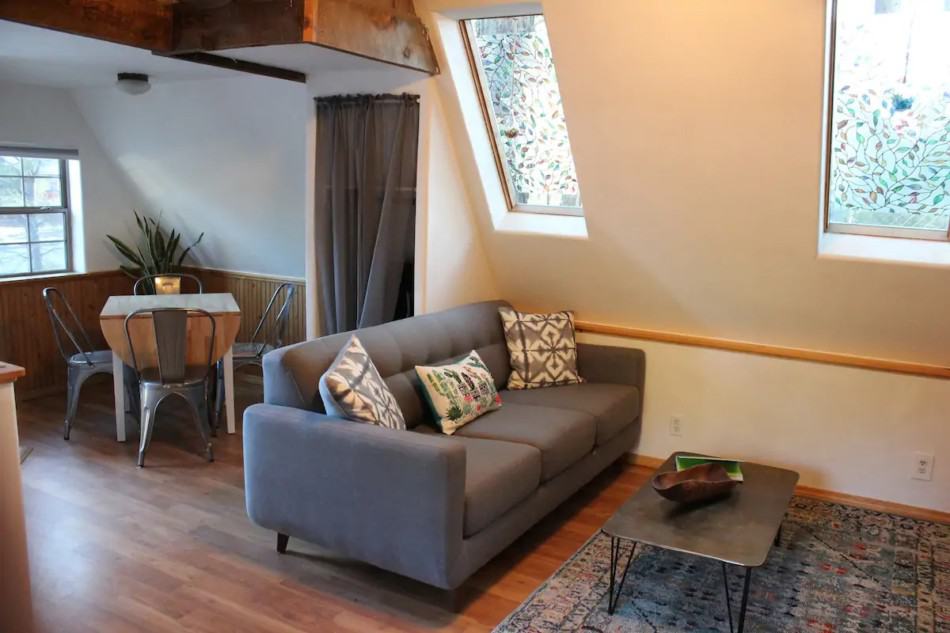 The cabin has all new furniture including a new and comfortable bed and mattress, full kitchen, huge and beautiful deck, yard, and more. Basically, this place has everything you need and it's very close to Grand Canyon and Sedona which makes it a perfect home base. You'll love this very cute little place in the woods.
A-Frame of Mind
You'll surely experience Flagstaff like never before in this spacious and stunning A-Frame cabin. This cabin can comfortably sleep 10 guests with its 1,800 square feet space.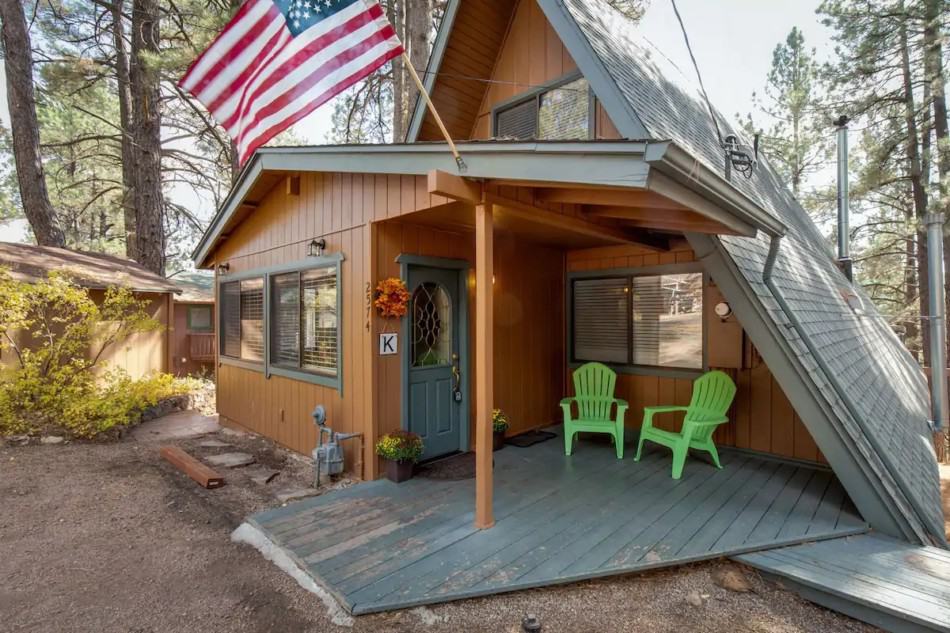 Upon entering the main floor of the cabin, you'll see the large living room with a flat screen TV for watching movies. There Is also a kitchen and a dining area. And if the space isn't enough, there is a back portion of the cabin where you can find the second dining area and the second living area.
But you'll also gonna love the back patio that has a million dollar views, gas fireplace, tables, and chairs.
Genuine Log Cabin with Hot Tub
Escape the city life for a bit and head to this cozy and genuine log cabin in the Pins of Munds Park, Arizona. This place has a great location for a quick getaway or even a longer vacation.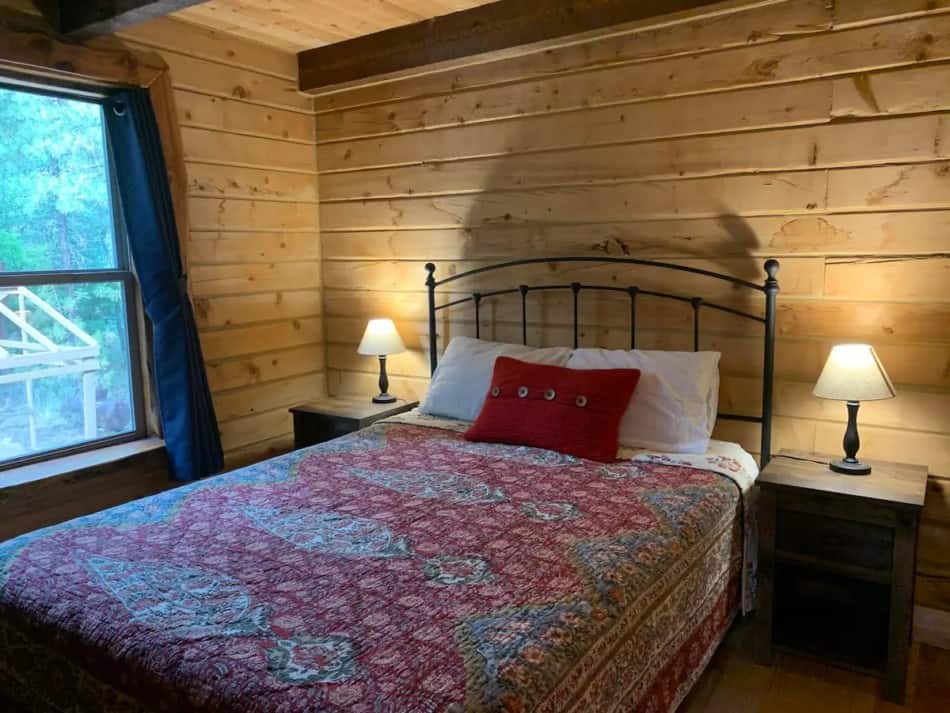 This traditional log cabin has two bedrooms and a spacious loft with a private bathroom. There are two outdoor seating areas that include a large picnic table, gas fireplace, and gas grill. This is definitely a great cabin to unwind and de-stress.
Cute A-Frame Center of Munds Park with Large Park
This brand new and cute A-Frame cabin has two bedrooms good for 6 guests and a perfect place to be in the woods and forest. Both adults and kids will have a great time here because this place has a lot to offer.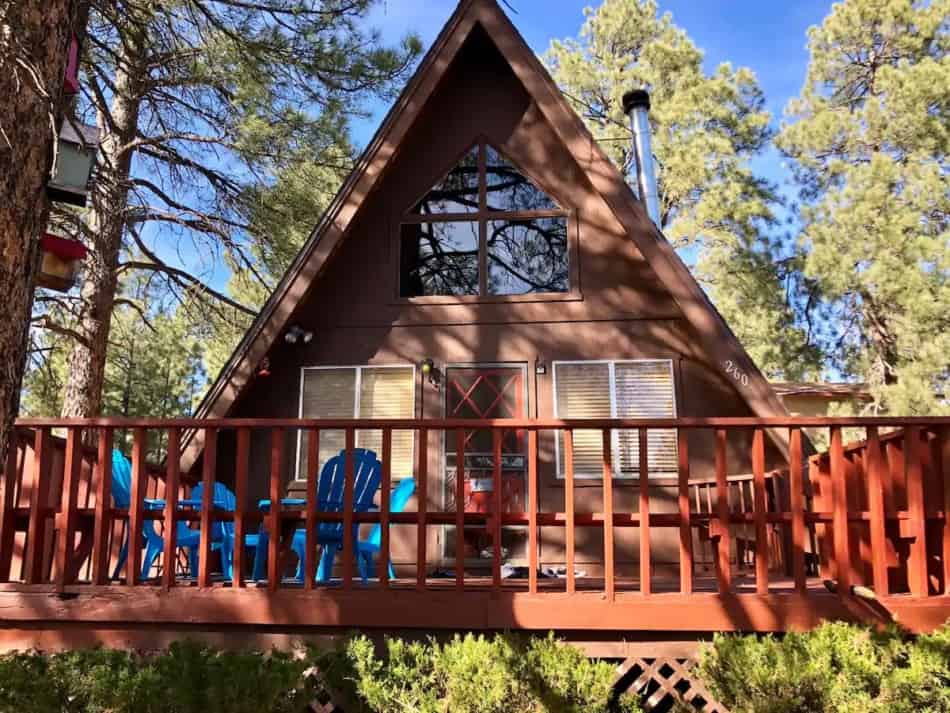 Aside from its great amenities, this cabin has a lot of board games and 4 snow sleds for the winter. It also has a beautiful and large deck that lets you breathe the fresh pine air. Plus, it is very close to hiking, biking, and motorcycling trails. Truly, this place has a lot to offer and even more.
Cabin with Mountain View and Hot Tub by Continental Golf
This holiday cabin is perfect for 11 guests with its 4 bedroom and 2.5-bath amenities. This place has been completely updated with modern furnishings and central air conditioning. It also features a pristine yet cozy atmosphere that is perfect for people who are after outdoor adventures in Flagstaff.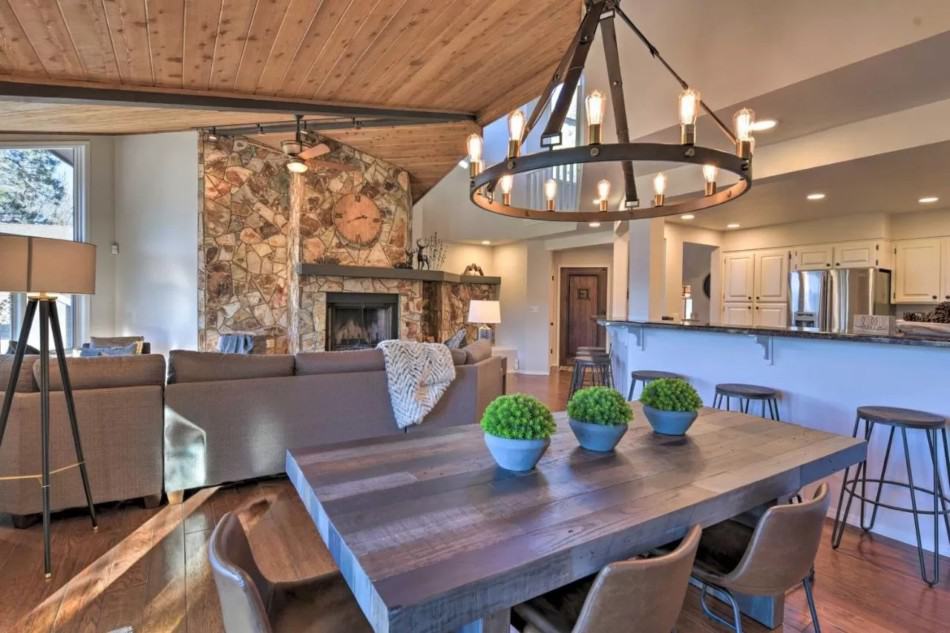 Aside from its beautiful indoor living space, this cabin also has a great outdoor space that features decks with golf course views, gas grill, hot tub, fire pit, and outdoor dining table. All in all, this is a great place for families to get together.
Check Availability on Booking.com
Sharing is Caring! Pin this article to save for later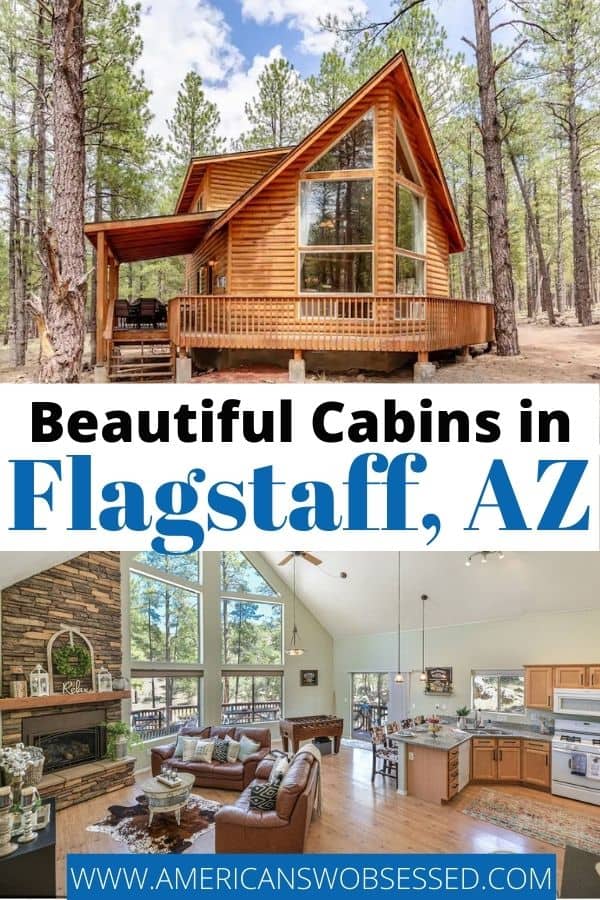 Recent Posts
link to 15 Best Airbnbs in Logan, Utah
Airbnb Logan Utah: Are you looking for the best Airbnbs in Logan, Utah? I have put together this list of the best Logan Airbnb's for any budget. St.John's Episcopal church in yellow brick and...
link to 101+ Grand Canyon Quotes to inspire your trip
101+ Grand Canyon Quotes and Grand Canyon Captions Are you looking for Quotes about the Grand Canyon? This list of Grand Canyon Quotes are some famous and inspirational quotes about the...