15 Best Hikes in Flagstaff, Arizona – Easy, Moderate, and Difficult Hikes
Flagstaff Hikes: Hiking in Flagstaff is a great activity to get out and explore this city.  The weather is great to get out on the Flagstaff hiking trails and get back to nature.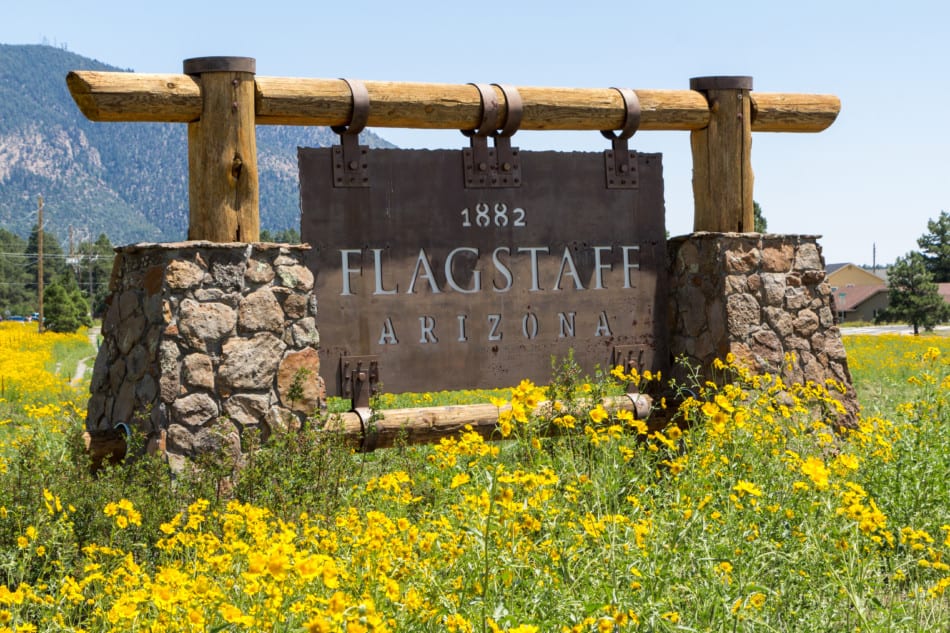 This list has the best hikes in Flagstaff for all fitness levels and I have included the difficulty and the length of these hiking trails in Flagstaff.
These are great places to hike in Flagstaff and are some of the best hiking in northern Arizona. I've also included hiking around Flagstaff as well and I know you will enjoy these hiking trails near Flagstaff.
Tips for Hiking in Flagstaff, Arizona
Flagstaff is perfect for outdoor enthusiasts. There is a hike for everyone on this list and for different fitness level. Also, note that it is dry and hot (in the summer) and make sure you know what you are getting into before you start. Here are a few tips for Flagstaff hiking:
15 Flagstaff Hiking Trails you'll want to check out
Griffith Springs Trail
Length: 1.1 Miles
Difficulty: Moderate
Griffith Springs Trail is a shaded one mile loop trail in Flagstaff. It is a well-maintained path and you will be walking through a Ponderosa pine forest so expect to see lots of beautiful sites and landscape.
It is a great place for a morning stroll, picnic, or even a field trip. 
The spring-fed wetland portion of this trail attracts various birds and unique insects which makes it a heaven for photographers who love to take shots of wildflowers and soaring raptors overhead.
To get to this trail from Flagstaff, just drive south on Highway 89A then continue south and look for road signs for the Griffith Springs parking area.
Arizona Trail (Walnut Canyon)
Length: 14.5 miles
Difficulty: moderate
The Walnut Canyon Trail begins at a well-marked trailhead along Old walnut Canyon Road. The trail is a combination of rock and dirt and the floor is covered with a lot of pine cones.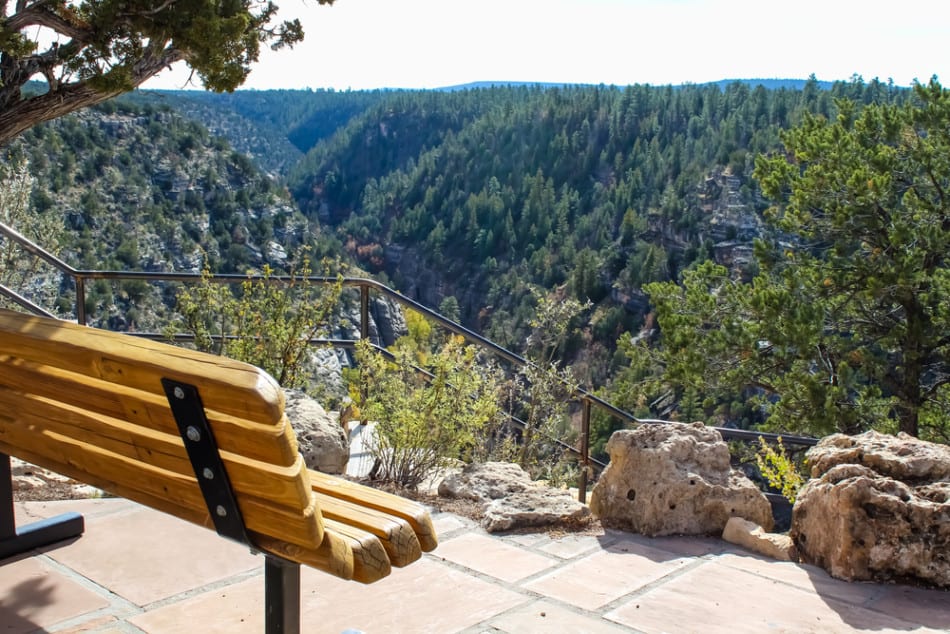 The first mile of the trail is mostly traversing through open pine and oak forest, before descending steeply into a headwater of Walnut Canyon. And after 2.2. miles, there is a great detour that you can take. Just look for a signed intersection to a lookout spur trail. This scenic viewpoint offers a beautiful look into Walnut Canyon.
And back on the main trail, you will be offered with the majestic vies of Humphrey's Peak where you can also settle in. There is another scenic viewpoint in the area where you will see some Gambel oaks and ponderosas.
And just a few minutes later, as you advance your way up, you will start to have a glimpse of the Walnut Canyon.
Abineau-Bear Jaw Trails
Length: 6.8 mile loop
Difficulty: difficult

The Abineau-Bear Jaw Trails is a favorite hike for many locals. It actually represents two trails on the northern side of the San Francisco Peaks.
And what makes this trail great and unique is that it highlights the grassy meadows, dark timber, pure aspen groves, and some wildlife in the area, plus you can also take a glimpse of the wonderful Grand Canyon. 
The trail itself is well-maintained and easy to follow. It is strenuous but if you are up for a great adventure and love moderate to difficult hikes, then this trail is for you.
Sandy Seep – Heart Trail
Length: 2.7 mile
Difficulty: easy
The Sandy Seep-Heart Trail offers a great hiking experience for people who love to go to places that are less traversed.
This area on the eastern slopes of Mount Elden serves the winter range for mule deer and a valuable recreation resource in the Flagstaff Area. 
As you hike this area, you will notice that Mt Elden is surrounded with dead trees due to the disastrous fire that burned down many trees back in 1977. In fact, as you climb higher, you will see a lot of burned out snags and the remains of old fire breaks. But the area is slowly and naturally regenerating and so you will enjoy the lush green saplings in the area.
O'leary Trail
Length: 9.6 miles
Difficulty: difficult
O'Leary Trail earns the favorite status of many hikers because it offers epic views of the San Francisco Mountains and Sunset Crater.
It is just located 20 miles north of Flagstaff and with each step and climb that you get, the views also get more spectacular. 
For starters, they may find this trail extremely difficult. But one of the great features of this trail is the crazy volcanic formations. And after the first mile of the trail, that's when the climbing begins. And gradually, the vastness of the frozen Bonito Lava Flow will come into view.
Weatherford Trail
Length: 15.3 miles
Difficulty: difficult
The Weatherford Trail is a less-traveled alternative trail if you want to reach the highest point in Arizona.
Compared to the popular Humphreys Trail, the Weatherford is a more pleasant hike because it offers better scenery and more varied terrain. 
Although it offers more varied terrain, it is worth noting that this is a difficult and long trail. The long trail begins in Shultz Pass and it starts uphill. Along the way, you will be passing through dense forests of spruce, aspen, and fir that gives stunning views of Flagstaff and Mt. Elden.
But once you reach the summit of Humphreys, you will be rewarded with a beautiful view of Arizona. Experienced hikers will surely love this trail especially if they want a change of scenery and escape the crowds.
Fisher Point
Length: 4.5 miles
Difficulty: moderate
The Fisher Point Trail is a short trail that heads down into a small side canyon and links the JWP Trail and a Forest Service trail.
The route starts on the Flagstaff Urban Trail where a wide and smooth graveled path follows the bottom of Sinclair Wash under steep canyon walls. 
This place is also a favorite spot among mountain bikers because it gives them a little bit of adventure traversing this beautiful place full of pines, grass, and landscapes.
Kendrick Park Wildlife Trail
Length: 0.1 mile
Difficulty: easy

Kendrick Park Wildlife Trail is a kid friendly hike in Flagstaff, Arizona. There are two loops that you can take in this area. The short sloop is a paved one to allow access to wheelchairs, while the longer loop is a 4-feet wide with native surface and flat terrain. 
Aside from hiking, this trail is also a great location if you wanna experience the presence of wildlife. There is a wide variety of birds, insects, and animals on this unique trail such as Steller's jay, northern flicker, pygmy nuthatch, mule deer, porcupine, and a lot more. Both kids and adults will surely love this place.
Wood Memorial Trail
Length: 0.5 miles
Difficulty: easy
Wood Memorial Trail is another easy trail that you can take in Flagstaff, Arizona. It is open year-round and it links Lakeview Campground with Lake Mary Narrows Picnic Area which makes it a great place not only for hiking, but also for other outdoor activities.
The Lakeview Campground can be found via the Wood Memorial Trail where you can access to a lot of lakes in the area such as Ashurst, Kinnikinick, Marshall, and Lower Lake Mary. The lakes are also considered as a habitat for a variety of fish such as trout, bass, and channel catfish.

Bonito Vista Trail (Sunset Crater National Monument)
Length: 1.0 mile
Difficulty: easy

The Bonito Vista Trail is a short and easy trail that has a paved path onto the Bonito Lava Flow. It has an entrance fee of $5 per person and it is collected at the visitor center.
You will see a basalt in this area which is a solidified lava and it has a dark and contorted shape. The basalt is believed to have flowed from the earth and cooled in the open air less than 1,000 years ago. So, if you wanna experience a different kind of trail, then you should definitely head out to Bonito Vista Trail at the Sunset Crater Volcano National Monument.

Lava Flow Trail (Sunset Crater National Monument)
Length: 0.8 mile
Difficulty: moderate

Another trail that you can take located at the Sunset Crater National Monument is the Lava Flow Trail. It has an elevation gain of 90 ft and it only takes 30 minutes to finish the trail.
There are a few pumice rocks in the trail so you need to be careful as you might trip over. But generally, this trail is a fairly smooth and easy trail. The entire park is surrounded by pumice because of the lava flow from years ago and it is also a great place to chill and relax in Flagstaff.
Rim Trail (Walnut Canyon National Monument)
Length: 0.7 mile (round trip)
Difficulty: moderate
The Trim Trail is nestled in the Walnut Canyon National Monument that protects over 300 cliff dwellings. The trail is a favorite among hikers and visitors because it gives the opportunity to see the canyon and have a great view of the cliff dwellings from above.
The trailhead is just located east of the Visitor Center where it has a gift shop and museum and you can learn about the ancient inhabitants of Walnut Canyon. The Rim Trail has a lot of relaxing spots where you can take a break and sit and just enjoy the scenery and history of the area. Plus, it is a fairly easy hike so kids and adults will enjoy this place.

Nate Avery Trail (Buffalo Park)
Length: 2 mile loop
Difficulty: easy

The Nate Avery Trail is Flagstaff's most popular urban trail around Buffalo Park. Most part of the trail is on open and native grassland and it provides a panoramic view of the mountains such as the San Francisco Peaks, Dry Lake Hills, and Mount Elden.
It is worth noting that this trail has a dirt road path and there are no shades during the hike. So it is highly suggested that you bring protective gears and lots of water to quench the thirst during the hike.
Route 66 Trail (Park at visitor center)
Length: 4.2 miles
Difficulty: Moderate
The Route 66 Trail is one of Flagstaff's urban trails and today it is one of the most heavily used trails for commuting and recreation. The total length of the trail is 4.2 miles and 100 percent of the trail has a concrete surface. Parking is very convenient here and you can just visit the visitor center.

Since the route is paved, there are a lot of bikers who take this trail. And the sights along Old Route 66 are so cool.
Recent Posts