21 Flagstaff Hotels – The Best Places to Stay in Flagstaff, AZ for all budgets
Wondering Where to Stay in Flagstaff, Arizona? Here are the Best Hotels in Flagstaff!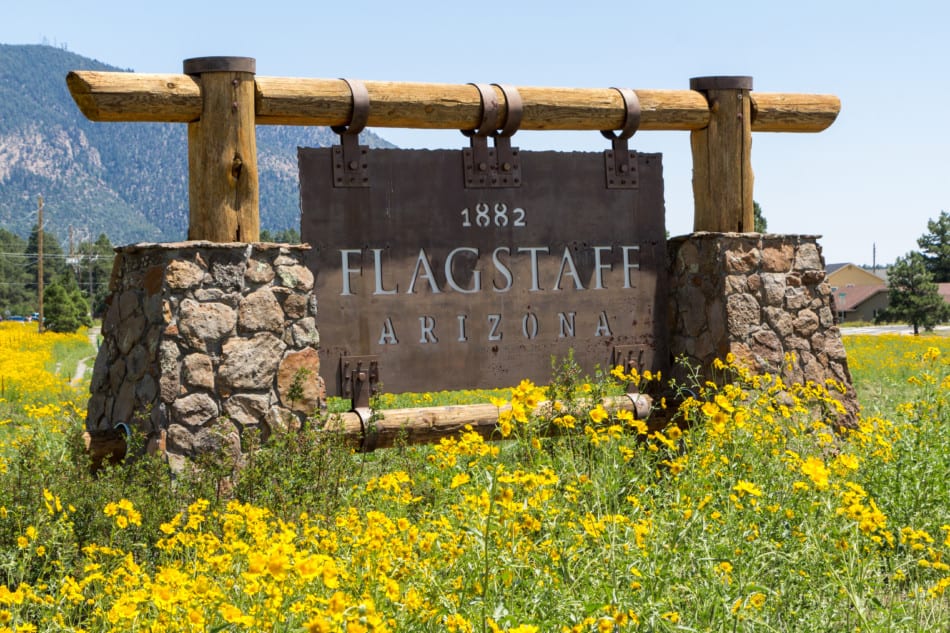 There are numerous Flagstaff Hotels to choose from and that's why I have put together this guide to where to stay in Flagstaff, Arizona.
With so many choices in Flagstaff Lodging it can be hard to know where to start. Whether you are looking for downtown Flagstaff hotels, Flagstaff luxury hotels, or Flagstaff accommodation for the family; you will find the perfect accommodation in Flagstaff for you in this guide to Flagstaff places to stay
Flagstaff Arizona is the home to many popular tourist destinations such as the Grand Canyon and the Walkup Skydome.
It is also close to the seven National Parks and Monuments. And if you want to enjoy skiing and winter activities during the holidays, then Flagstaff is the destination.
Flagstaff, Arizona is home to many tourist destinations with lots of things to do in just a visit. If you wanna visit the charm of this city, it is highly recommended that you go to their museums such as The Museum of Northern Arizona.
This museum will surely amaze you of what Arizona can show you and it is more than just its image of being a hot desert. 
And if you are planning to go to Flagstaff, Arizona, here are some of the best places to stay and great Flagstaff hotel rooms to experience a great trip! 
You can also check out my other posts on Flagstaff:
15 Things to do in Flagstaff with Kids – Top Rated Attractions
15 Best Cabins in Flagstaff, Arizona 2021 Ultimate Guide
17 Vacation Rentals, VRBOs and Best Airbnbs in Flagstaff, Arizona 2021 Ultimate Vacation Rental Guide
15 Best Hikes in Flagstaff, Arizona – For All Fitness Levels
15 Flagstaff Pet Friendly Hotels to Bring your Fur Baby
The Best Flagstaff, AZ Hotels
1. Little America Hotel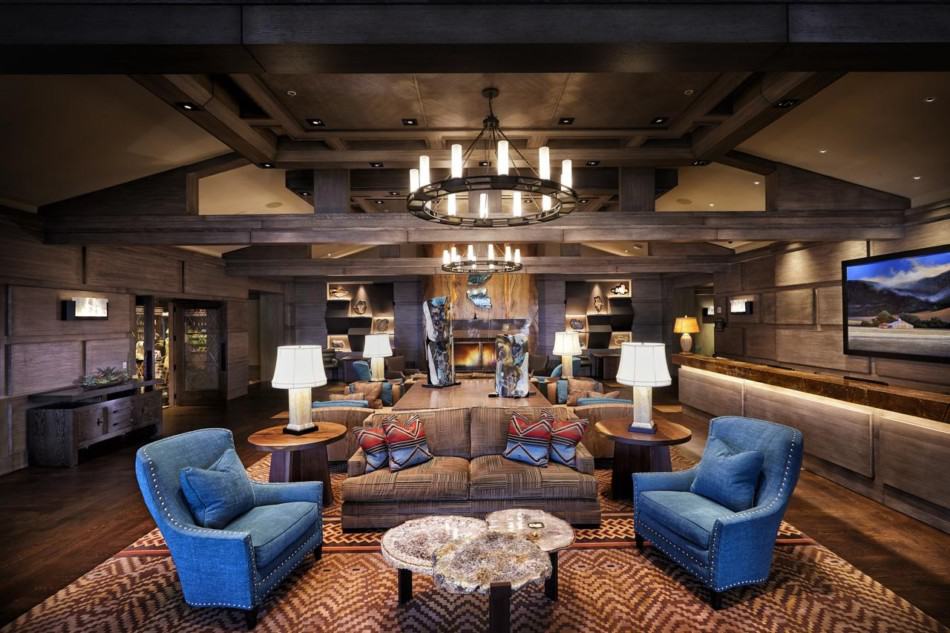 And if you are looking for a place to stay in Flagstaff, you can try at The Little America Hotel. It is situated on 500 acres of Ponderosa Pine forest and is just 80 miles away from the famous Grand Canyon Arizona.
Flagstaff Arizona is known for its plethora of museums and galleries. And if you wanna enjoy your vacation away from the busy and fast-paced life of the city, Little America Hotel is a great choice because it is located right off the main area highway.
You can also bring your kids along with you because they will surely enjoy the snow-covered forest with all the Christmas lights illuminating at night. 
When it comes to their accommodation, all air-conditioned rooms have a seating area where you can relax while watching a flat-screen TV with cable channels. Plus, the room has a small fridge where you can stock your favorite juice drink or beers.
Each room has also an exclusive bathroom with a hairdryer so no need for you to bring one for the trip because they've got you covered. I love how their rooms are exquisitely clean, spacious, and comfortable.
The design and décor of the hotel is a combination of traditional and modern and inspired by the land and native culture of Arizona. 
2. Drury Inn and Suites
One of the best things to do in Flagstaff is just to wander around and explore the place. There are plenty of historic places that you can go especially in the downtown area.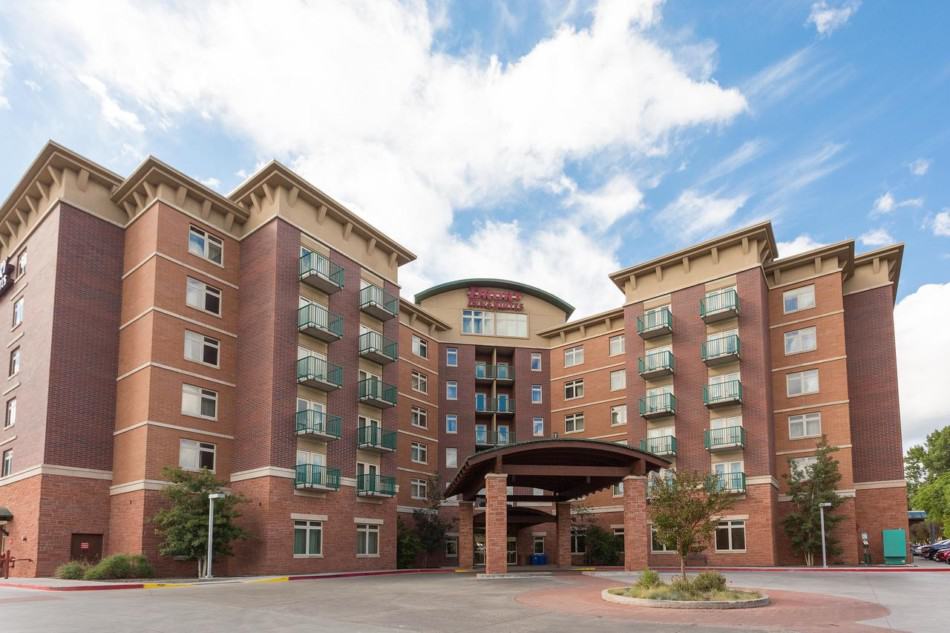 A lot of the late 19th to early 20th century buildings there are now transformed into house galleries, shops, restaurants, or bars.  
And if you are looking for a place to stay in Flagstaff, Drury Inn and Suites in Flagstaff Arizona is one of the best hotels that you can find in the area.
The moment you enter the room, you can already feel the relaxing feeling accompanied with complete room facilities such as free wifi, flat-screen TV with cable channels, microwave oven, fridge, ironing clothes with a board, hairdryer, and a coffeemaker.
And if you want to take a dip at their indoor swimming pool, you may do so! Plus it has accessible entry and exit points for guests with disabilities. But if you want to have quiet privacy of your own, you can relax and take a dip in a hot tub.
I enjoyed my time in this hotel and I love the fact that they provide free dinner and breakfast. Not only that, but they also serve free snacks and cold beverages every night.
Drury Inn and Suites have enough parking spaces for their guests who wish to bring their cars with them for their trip. And if you are coming from Flagstaff Pulliam Airport, this hotel is very accessible because it is just only a 10-minute drive to and from the airport so you won't surely miss your flight! 
3. SpringHill Suites by Marriott Flagstaff
SpringHill Suites is an all-studio hotel in Flagstaff, Arizona. The location of SpringHill Suites is conveniently located at the crossroads of I-40 and I-17 and is just across the street from Northern Arizona University.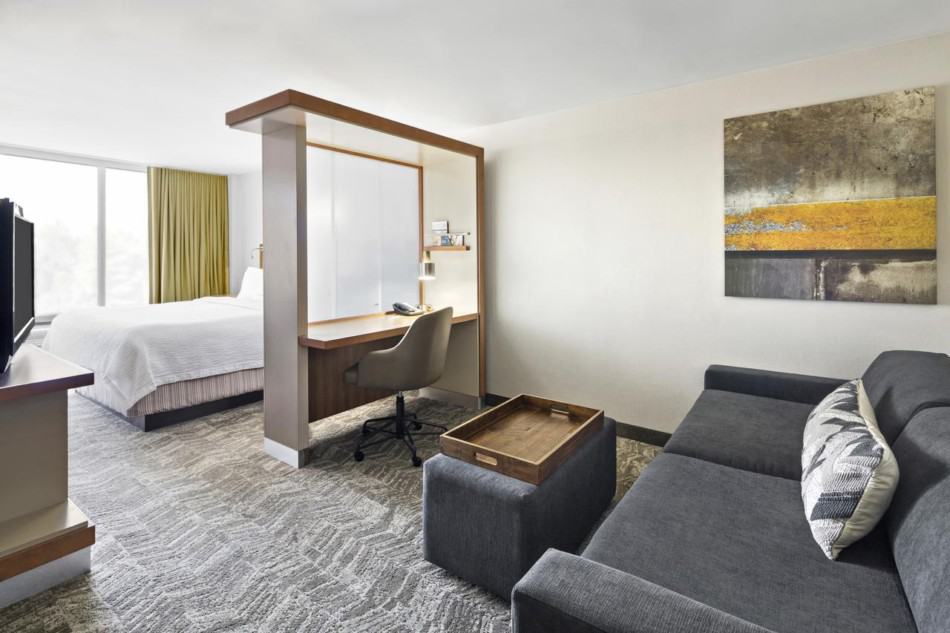 This hotel by the Marriott Group International has a 24-hour market and free wifi access to all guests. And what is impressive with this hotel is that they are a pet-friendly hotel in Flagstaff which means guests can bring along with them their pets with care and supervision.
You can take advantage of their key amenities such as their buffet breakfast, fitness center, and high-speed internet. They also have spacious and newly renovated studio suites that will enrich your travel experience.
Plus, senior citizens can take advantage of their 15% discount provided they are 62 years old and above. 
On our first day at SpringHill Suites, the receptionist was very kind enough to inform us of some of the tourist spots and destinations near the area of the hotel.
We immediately went to The Walkup Skydome where it is the home to the Lumberjacks football team and enjoy the scenery in the area. After that, we went to Sherwood Forest Shopping Center and did some splurging and eating at the BBQ place. 
What I love about this hotel is that they have comfortable beds and sofa and is a great location for an early start in the Grand Canyon which is a famous tourist spot in Arizona.
4. Hampton Inn Suites
Hampton Inn Suites is a 3-star accommodation located in Flagstaff, Arizona and is just 9km away from Northern Arizona University.
This hotel by the Hilton Group is just 10 minutes away from Flagstaff Pulliam Airport and a few minutes away from Arizona's top tourist spots such as Sedona, Grand Canyon National Park, and Petrified Forest. And if you want to get the best view of the San Francisco Peak Mountains, then this hotel is a great choice for you.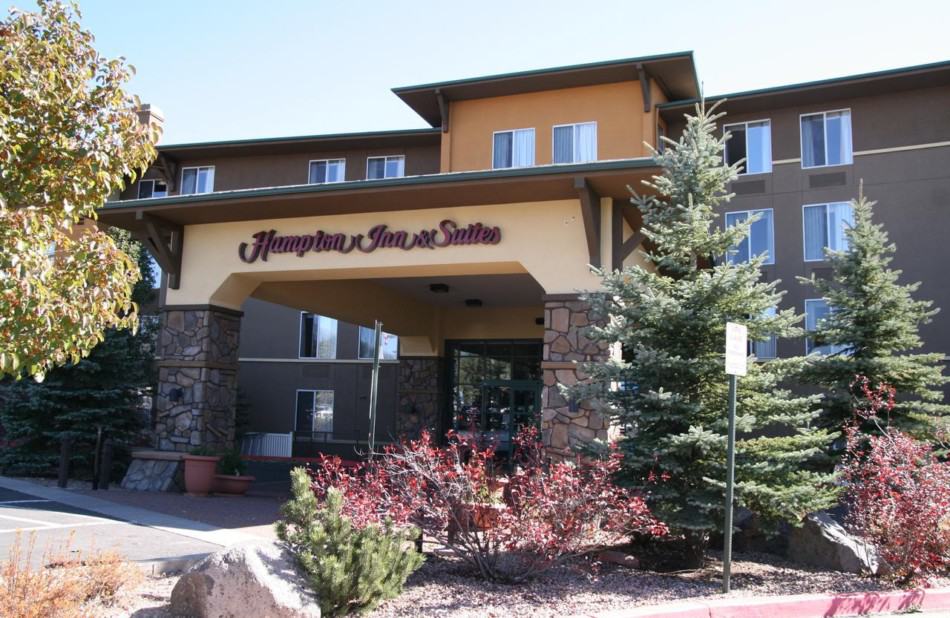 Since we brought our sedan for this trip, we didn't experience any hassle with parking because Hampton Inn and Suites has a free private parking area for all their guests, as well as a business center and a 24-hour front desk.
When we got into our hotel room, I was so amazed at how spacious and comfy it is! Each room has a desk, flat-screen TV, wardrobe, WiFi, private bathroom, and an air-conditioned room. Guests can also take advantage of their free continental breakfast served daily and you shouldn't miss their fresh-baked waffles and hearty oatmeal toppings.
5. Comfort Inn I-17 & I-40
Traveling can be fun and expensive at the same time. And if you are looking for a hotel, make sure that is worth every penny that you spend. If you choose to spend your nights in Flagstaff, you can check out Comfort Inn.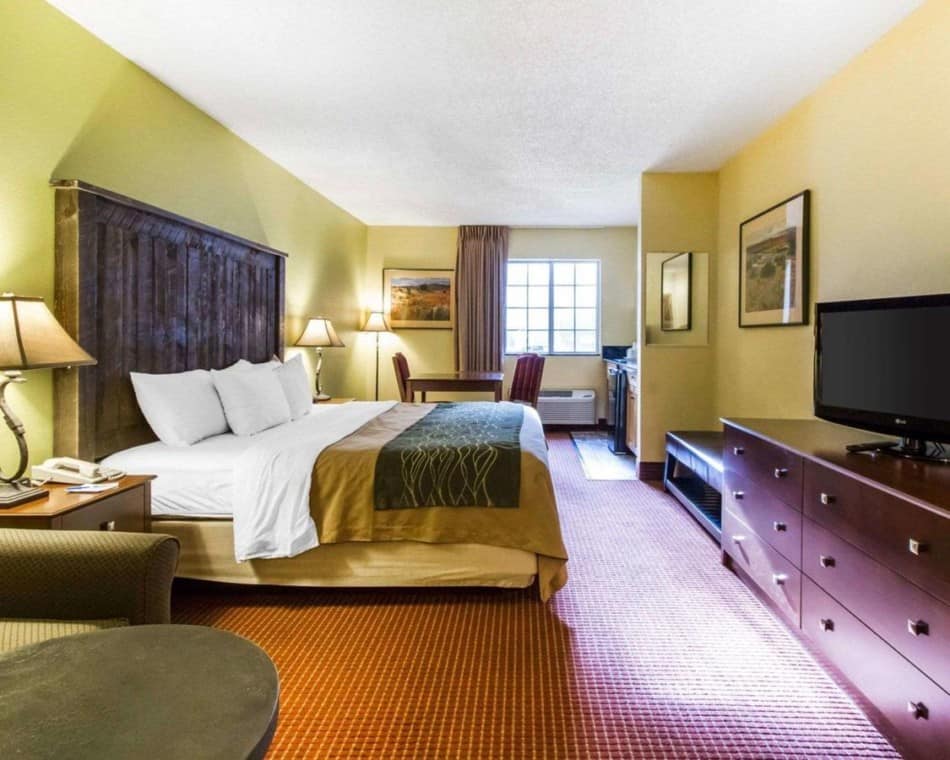 Comfort Inn in Flagstaff, Arizona is an ideal hotel for two travelers. This 3-star accommodation is strategically located to a lot of tourist spots in Arizona such as Walkup Skydome and Lowell Observatory.
You will surely feel at home with their 85 fully air-conditioned rooms with refrigerators and flat LCD screen television with cable channels for your entertainment. You can also relax at their en suite bathroom with a hairdryer.
They also have recreational activities such as their outdoor swimming pool and fitness center. And no need to worry about your used clothes because they also offer dry cleaning and laundry services!
I love how the room is very clean and large enough for us to fit and move around in. They have complimentary breakfast from 6 am to 10 am so don't miss it out!
6. Country Inn & Suites by Radisson
This hotel is located in the heart of downtown and is only a few steps away from some of the best restaurants and shopping places in Flagstaff, Arizona.
There are a lot of outdoor activities that you can do in Flagstaff such as skiing, fishing, or hiking. And if you are looking for a hotel to stay in Flagstaff where it has close proximity to some of Arizona's famous tourists' sites, then Country Inn & Suites is the perfect place to stay.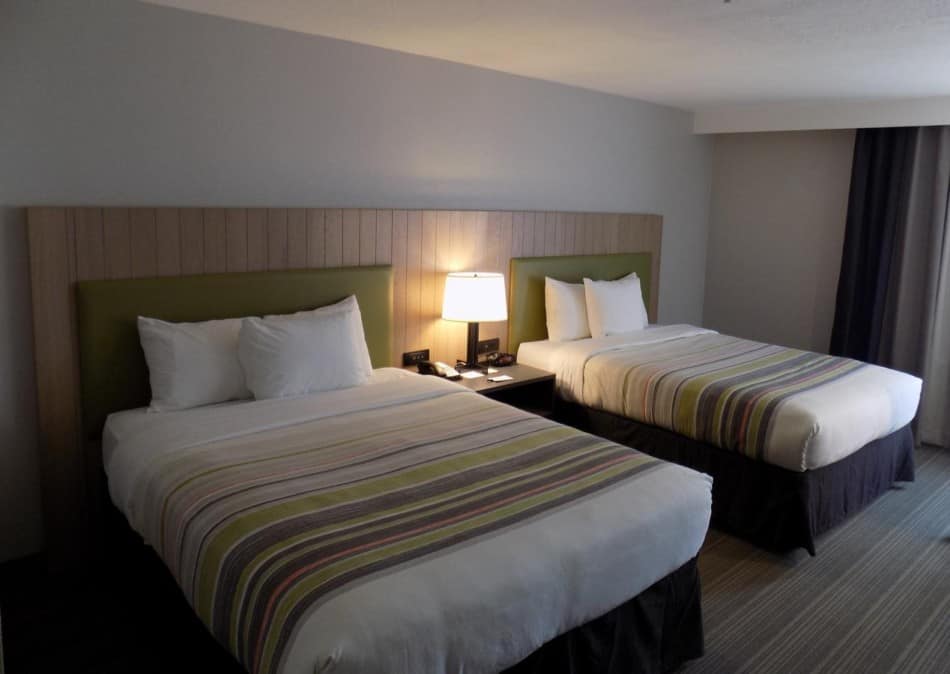 Guests can enjoy their fully air-conditioned room, free WiFi, and private bathroom. They can also enjoy Country Inn's indoor pool, fitness center, and a 24-hour front desk.  
Overall, this hotel is a warm and inviting place, and you can fully enjoy your vacation with quietness and cleanliness.
Their rooms are spacious, big, and has a modern design and you get to enjoy a complimentary breakfast! All in all, they have 51 hotel rooms equipped with amenities such as microwave, mini refrigerator, and a high speed internet connection. You can also opt to upgrade your stay with a studio suite that has a seating area and a sofa.
7. Courtyard Flagstaff
To anyone who is looking for a hotel that has a great value in terms of price, star rating, good reviews, and facilities, this hotel is definitely for you!
With just a few minutes away from downtown Flagstaff and less than 10 miles away from Arizona Snowbowl Ski Resort, this is perfect for adventure junkies who wish to explore more of Arizona's tourists spots.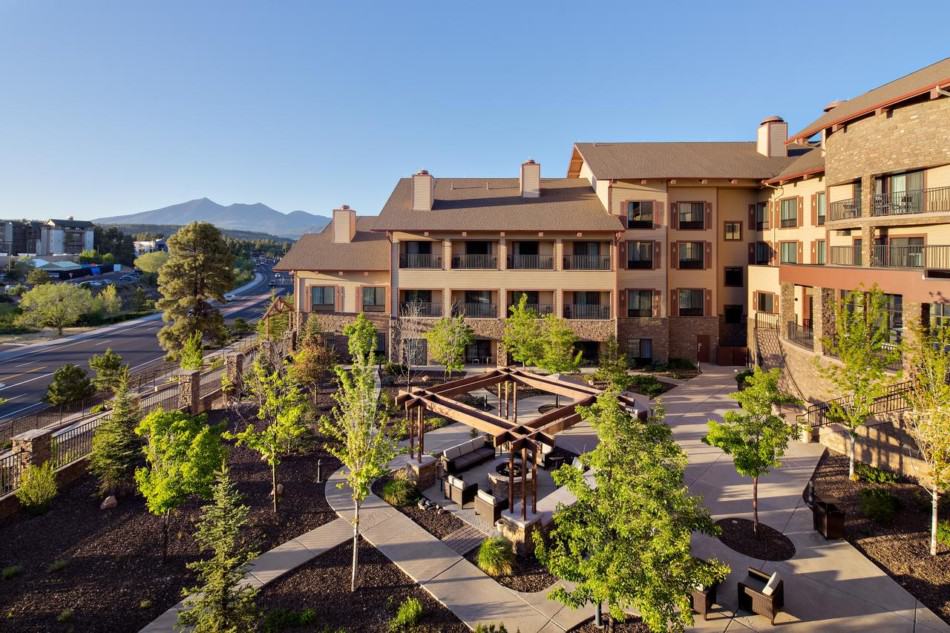 All guests can indulge in their various amenities such as an indoor heated swimming pool, hot tub, and a 24-hour fitness center.
They also have a lobby lounge bar where guests can enjoy handcrafted cocktails by the fireplace and beverages made with Starbucks coffee.  And if you want to have a spectacular view of the San Francisco Peak, Courtyard Flagstaff has got you covered!
You can book one of their selected room that have private balconies where you can enjoy the serene courtyard. Plus, the whole area has a high speed internet connection where you can stay connected with your loved ones! This hotel is definitely ideal for business and leisure travelers.
8. La Quinta by Wyndham Flagstaff
It is nice to spend some time relaxing in a place where you can still feel it's home and at the same time get your money's worth.
And if you are looking for a hotel where you can truly enjoy their convenient amenities to relax and recharge, this hotel is a great choice. You will start your day with their complimentary Bright Side Breakfast that is composed of eggs, waffles, and a lot more.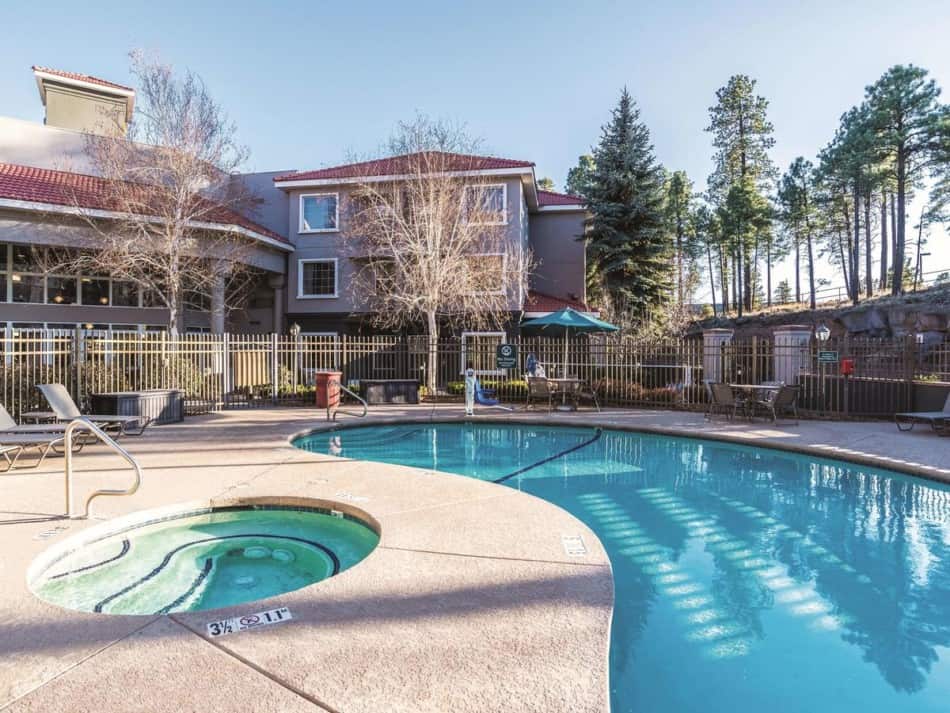 You can also choose to unwind with your friends on their relaxing outdoor swimming pool and hot tub. And if you are a fitness enthusiast, they also have a fitness center where you can work out alone or with your friends and make sure not to skip leg days!
Their pet-friendly rooms have free WiFi where you can update your family or friends, a flat0screen HDTV, mini-fridge, microwave, desk, coffee maker, and ironing amenities.
According to one of the guests who recently stayed in this hotel, "The property is well maintained, the staff were very professional and courteous. Our room was well designed and comfortable. The bed was comfortable and I liked the breakfast!" 
9. Fairfield Inn & Suites by Marriott Flagstaff
Who wants to stay in a hotel where it has stunning mountain views of Arizona? If you are that person, then Fairfield Inn & Suites is calling for you!
This is a brand new hotel in Flagstaff East that has quiet surroundings, and lots of recreational activities for all adventure seekers out there!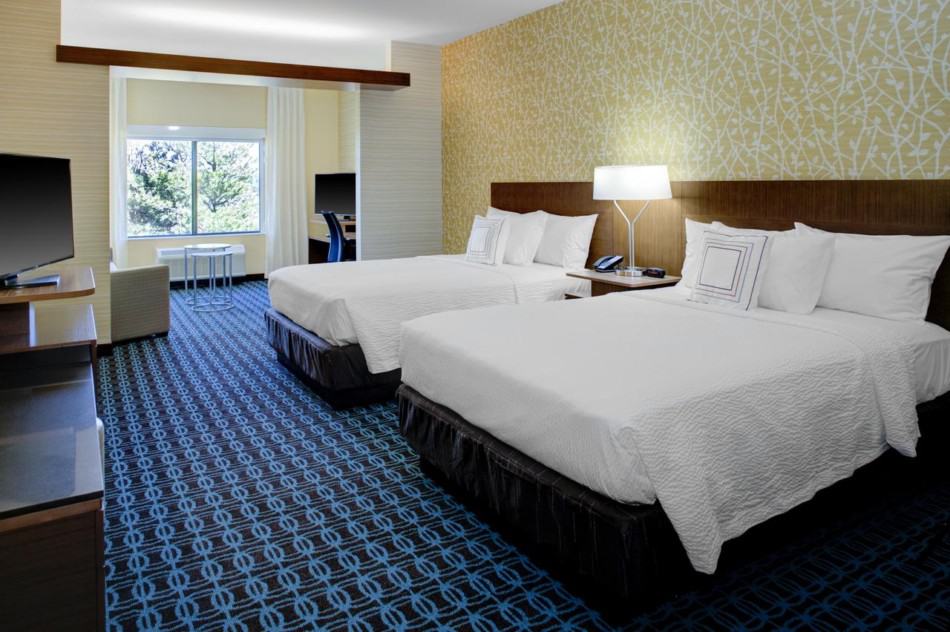 You won't regret booking this hotel because they have courteous service that you truly deserve and ample amenities for you to enjoy. You can jump-start your day with their complimentary breakfast from hot to healthy choices such as but not limited to eggs, sausages, oatmeal, and fresh fruits.  
Their rooms have TV, desk, and a private bathroom complete with toiletries. Guests can also enjoy on their heated swimming pool, as well as entertainment & family services such as board games and puzzles so your kids will surely enjoy their stay in this hotel. Free public parking areas is also available with no prior reservation needed.
10. DoubleTree by Hilton Hotel Flagstaff
For all adventure seekers out there, DoubleTree Hotel is the perfect hotel for all your activities! Located near downtown Flagstaff, this hotel has easy access to a lot of leisure activities in Arizona such as hiking, fishing, and skiing.  
You will surely feel at home with the hotel amenities such as HDTV with premium satellite channels, work desk, coffee maker, and a lot more.
You can also take a dip in the on-site tub or sauna. And if you enjoy Japanese cuisine, you can dine at Sakura Restaurant serving only Japanese food and has an extensive cocktail list.  
And if you want to host an event in this hotel, you may do so. Their function space can hold up to 450 people, plus they have a grand ballroom and gazebo perfect for couples who wish to have their wedding in this fantastic location.
One guest even wrote a perfect review about this hotel and said: "Everything was clean, everyone was nice, and the hotel itself was pretty. It is located near everything so that was very convenient."
Conclusion: Where to Stay in Flagstaff
There are a lot of good places that you can stay in Flagstaff, Arizona and I hope the list above will help you choose which one to book for a great travel experience!
Sharing is Caring! Pin this post to save for later.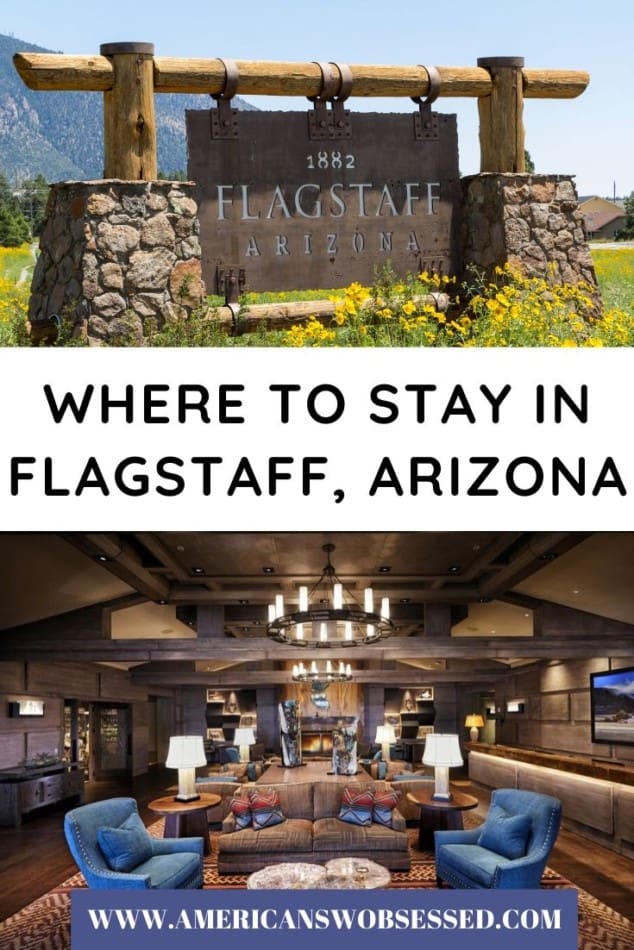 Continue Reading more on my site:
Grand Canyon North Rim vs South Rim – which is best?
The 21 Best National Parks in Arizona you won't want to miss!
15 Best Grand Canyon Viewpoints you won't want to miss
Grand Canyon National Park Hiking Trails
Recent Posts