Hot Springs Utah: 15 Best Hot Springs in Utah
Are you looking for natural hot springs in Utah?  Look no further, this list includes a Utah Hot Springs Map, hot springs near Salt Lake City, Moab hot springs, hot springs northern Utah and hot springs in Southern Utah.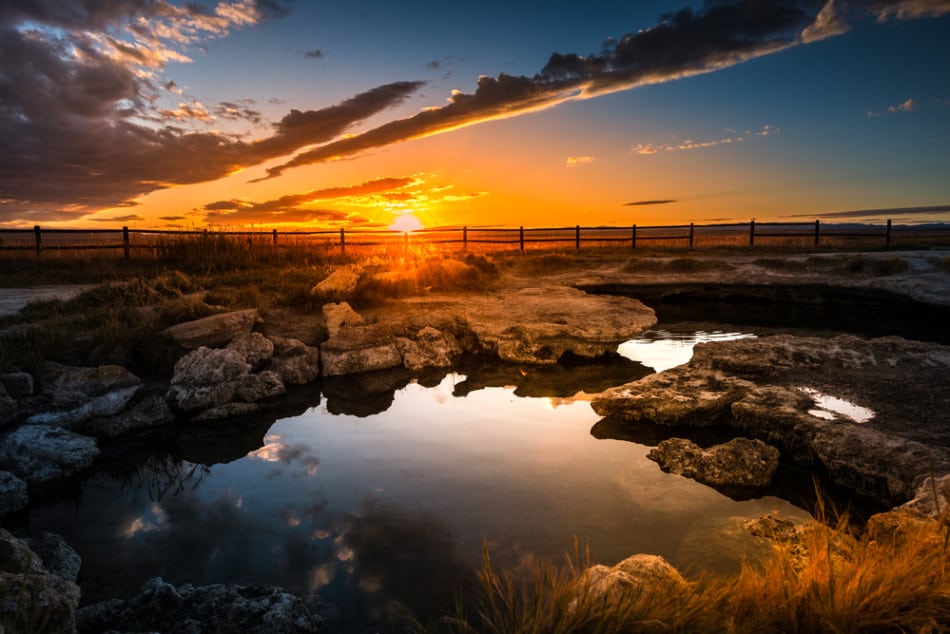 These Utah hot springs are some of the best natural hot spring in Utah. As you will see from the pictures, these are really beautiful areas you can visit and go for a soak. Its a great place to warm up.
So put on your bathing suit and grab your towel – let's visit the best Utah hot springs! And make sure you check out the map of hot springs in Utah to see where all of these hot springs are located.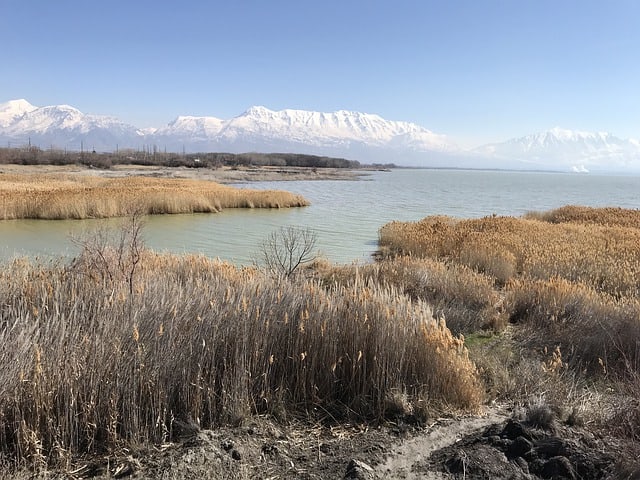 Visiting these Utah Hot Springs is a great way to get out in nature and relax. There is some beautiful scenery near these hot springs and often you will have them all to yourself. Utah is a vast, beautiful state and there is so much to see and do so get out and visit these hot springs in Utah.
Utah Hot Springs Map
I've put together this map to show you where each of the hot springs are located in Utah. A lot of the hot springs are near Salt Lake City and easy to get to.
The Best Hot Springs Near Salt Lake City:
Homestead Crater – Salt Lake City hot springs
Homestead Crater is one of the must-see natural hot springs in Salt Lake City and all of Utah.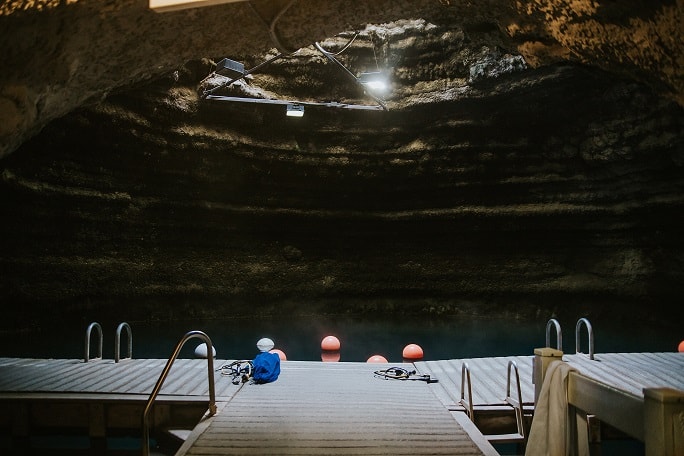 This 10,000 years in the making crater was formed when melting snow on the Wasatch Mountains flowed slowly deep within the earth.
And two miles below the surface, the earth heated the water and it filtered upward. As a result, it picked up minerals which were then deposited and accumulated on the surface and eventually forming a volcano-shaped limestone deposit. 
Warm water and beautiful scenery are the two things that you will experience at Homestead Crater. And you don't need to get wet to experience this majestic crater.
Plus, you don't need to rappel through the top of the dome to enjoy it. You can find a tunnel through the rock wall at ground level that will give you access to the custom-built decks and a soaking area where visitors can enjoy the crystal-clear mineral water.
In fact, you can also enjoy a self-guided tour if you want to have a deep dive on the history, geology, and archaeology of the crater.
Homestead crater is available to all guests from Monday to Thursday at 12:30 pm to 6:30 pm, Friday and Saturday 10:30 am to 6:30 pm, and Sundays from 10:30 am to 4:30 pm.
Saratoga Hot Springs Salt Lake City
A little piece of heaven is what will truly describe the Saratoga Hot Springs. It is one of the best places to chill out especially during winter because of its perfectly heated hot spring.
The water is just hot enough to give you that extra heat that you need and escape from the cold weather. 

Saratoga Hot Springs seep spring water from several sources that feed into the main pool. The water has a comfortable temperature, normally just below 100 degrees.
If you are not going to soak in the spring, you can look for the narrow path through the reeds out of the edge of Utah that allows you to do bird watching and have a snap of the mountains. 
To visit this hot spring, you need to hike 1/4 mile from the trailhead. But for hike lovers and adrenaline junkies out there, this would be a perfect opportunity for you to strengthen your leg muscles and enjoy the majestic Saratoga Hot Springs. 
The place is very public and not supervised so make sure to take care of your belongings. And you might also want to consider bringing your own garbage bag and pick up some trash and haul it out to maintain the cleanliness of the hot spring. The Saratoga Hot Springs is open daily from 6 am to 10 pm.
Crystal Hot Spring Salt Lake City area
At the end of a tiring yet fun day of exploring the area, nothing beats the refreshing feeling of submerging your body in the warm waters of Crystal Hot Springs.
This hot spring is so unique because it sits at the convergence of a hot and cold spring and it is considered as the world's largest natural hot spring!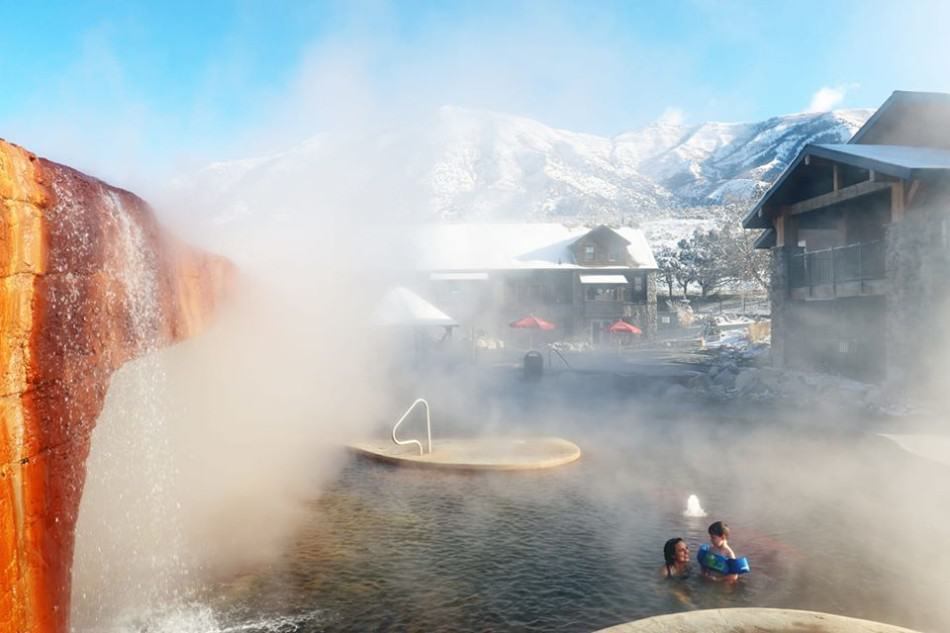 Can you believe that Crystal Hot Springs is open year-round and it includes three hot tubs, a large soaker pool, a cooler freshwater swimming pool, two water slides, and a lap pool? Yes, you heard it right!
And not only that, there is also a campground onsite that offers tent and RV sites. And for furparents out there, you can bring your furbabies with you but only within the campground provided they must be kept on leash. 
A large stone lodge at the entrance of Crystal Hot Springs provides changing rooms an meeting spots where people can get-together.
And on the far end is a sand volleyball court where kids or adults can play. And surrounding the pool area, you will find a beautiful grass-covered and tree-lined campground that is suitable for tents and there are over 100 sites available. Truly, this place has so much to offer to all its guests.
Meadow Hot Springs
If you're headed from Zion National Park to Salt Lake City, you'll pass right by Meadow Hot Springs that sits on a private property, but the owners don't mind if you soak or SCUBA there.
In fact, you can even camp, but make sure to leave no trace. There are three pools available on the private property where people can take a dip and it is open all night.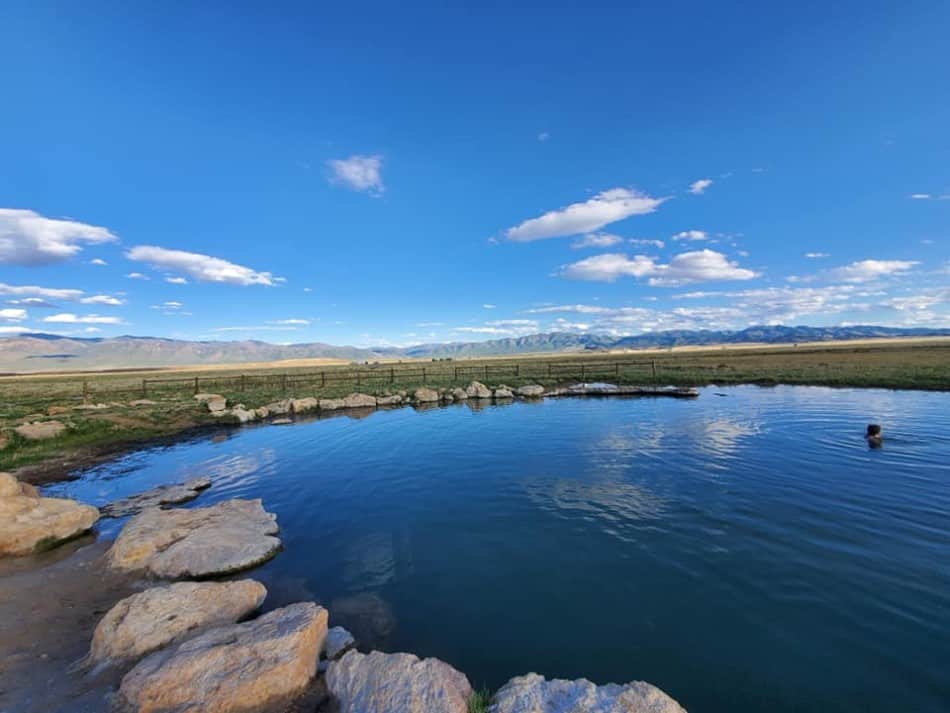 The first pool is crystal clear with a temperature of about 100 degrees. The pool is very deep with limited edges to sit and soak so make sure you take a dip carefully, or bring a life vest for protection. An adult can stand about chest deep around most of the perimeter.
The next two pools are not as warm as the first pool, so if you wan a nice soaking, it is recommended that you go to the first pool.
Fifth Water Hot Springs in Utah – my personal favorite Utah Hot Spring
Fifth Water is located in Diamond Fork Canyon and also known as Diamond Fork Hot Springs, Fifth Water can be one of your most coveted places to see and visit in Utah.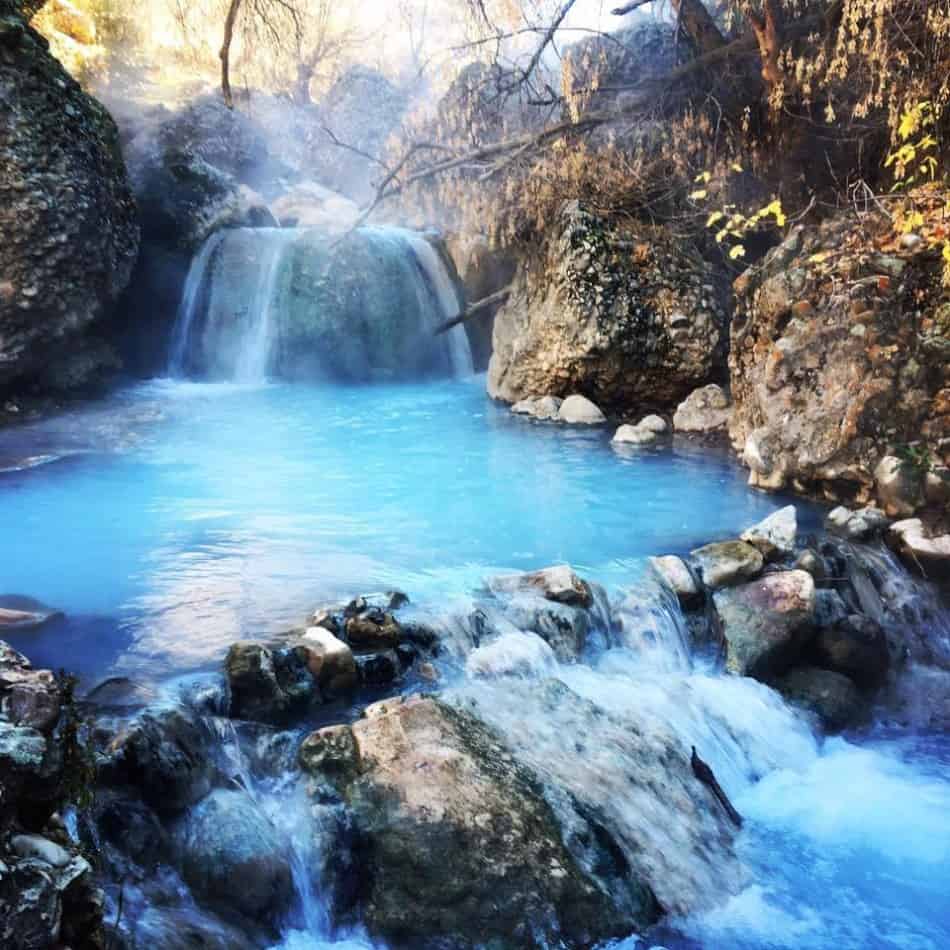 But before you can reach this amazing hot spring, you will have to hike for about 4.6 miles round trip. But it is an easy hike for sure and once you reach the area, it will be worth it.
It features deep soaking pools, majestic waterfalls, and fantastic mountain scenery. However, during the winter, the hike may probably take 13.2 miles round trip because of seasonal road closures. 
Don't be intimidated by the long hike because the whole experience will surely be worth it. The hike will lead you to 3 scenic waterfalls to Diamond Fork's natural pools.
The lower pool is visible from the main pool and if you want to continue the journey up to the creek, you will run into the second fall, which is considered as the most picturesque of them all. There are two more pools en route to the second fall, and should you decide to continue a little bit further, you will reach the last waterfall. 
As a tip, be mindful of some individuals who choose to soak nude in the pools, but it's actually against the law. And make to pick up your trash and leave no trace.
Other Hot Springs in Utah:
Mystic Hot Springs (located near Monroe, Utah) – Most Popular Utah Hot Spring
The whole place is just what it sounds like — mystical! If you want to experience the raw beauty of Utah. There are around eight soaking pools of varying heat, and also a pair of larger pools for visitors to take a dip in.
The Mystic Hot Springs has an exciting history. It was established by Mike Ginsburg who stumbled upon the resort while on his way back from Las Vegas. Because of his artistic drive and free spirit, he was able to transform the area and created numerous soaking and floatation areas, including their iconic soaking bathtubs.
And for visitors who wish to camp or stay in an RV, you may do so. There are also a handful of cabins and fitted buses that you can stay in, but regardless where you stay, you will surely have a mystic experience here.
Baker Hot Springs
Baker Hot Springs provides three tubs for soaking. Although it is small compared to other hot springs that you can find in Utah, you will still have a great and enjoyable time.
The spring source bubbles to the surface at 180 degrees Fahrenheit and you can have a complete control over the temperature of the pools because it can be adjusted by varying how much hot water flows into the pool.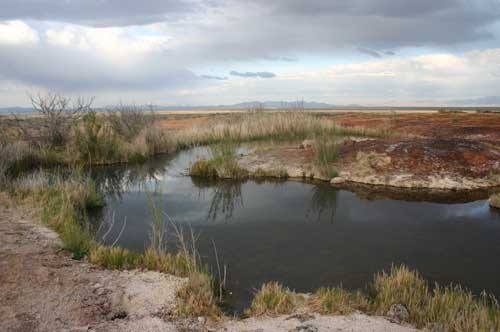 The area is well-known to locals in the Delta Area and it can get too crowded so beware of skinny dippers. Sitting on public land and camping is permitted so you can bring with you your camping tents! And when it comes to accessibility, Baker Hot Springs is an off-road hot springs so better know the road conditions before going there.
Ogden Hot Springs
Ogden Hot Springs is situated at the mouth of the Ogden Canyon and it is a man-made miracle and are fed by a hose from a concrete collection system. Be cautious because the water is extremely hot, but if you are visiting during cold weather, you may take a dip and warm your bodies.
Families and children are more frequent during spring, so beware of skinny dippers. Spring and summer are very popular among tourists and visitors so expect a lot of crowd. Parking is available in the area, but it can only accommodate few cars. The hot spring is located on the south side of the mouth of the canyon and you can park across from the waterfall located n the north side of the road.
Pah Tempe, Hurricane 
The Pah Tempe is considered a beautiful sacred place tucked inside the Zion Canyon. After enduring a 5.8 magnitude earthquake in 1993, the structure of Pah Tempe Hot Springs paved a way, and made the springs within the tunnel more accessible to a lot of visitors. It flows at 107-degree water and 110,000 tons of salt into the Virgin River every year.
However, a legal clash rose between the government and the owner. As a result, the Pah Tempe was closed down for public access. It is now managed by the Washington County Water Conservation District.
Conclusion: Utah Hot Springs
If you are in the Salt Lake area or taking a road trip around Utah, you should definitely make a stop at one of these hot springs in Utah.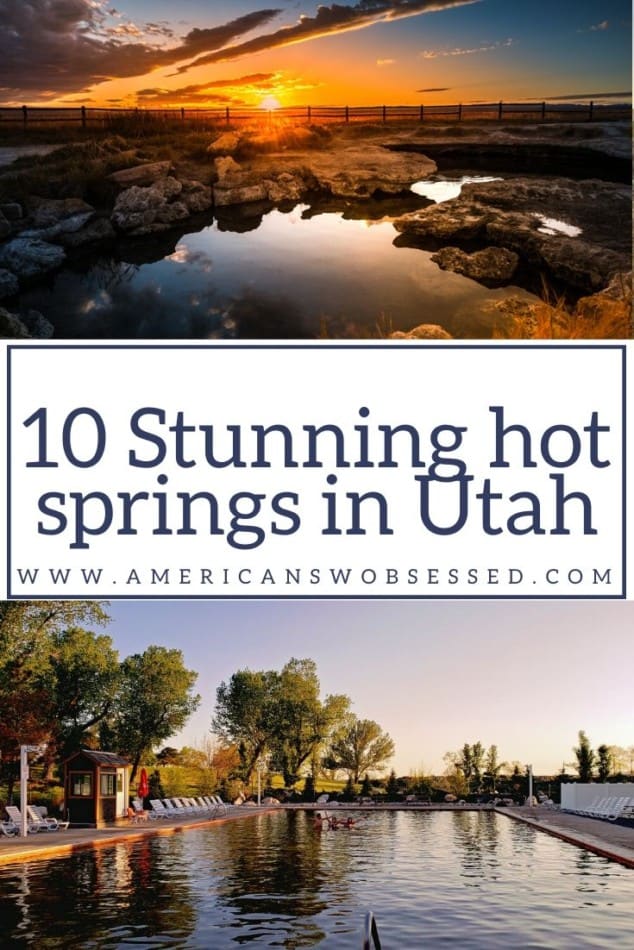 Continue Reading more on my website:
Best Hikes in Utah: 21 Epic Hikes to Add to your Bucket List
50+ American Southwest Bucket List Places
Best Hikes in Zion National Parks
Recent Posts