15 Best Restaurants near Arches National Park in Moab, Utah
Arches Dining: Are you heading to Arches and wondering where to eat nearby? I've put together this list of the best spots for dining around Arches National Park.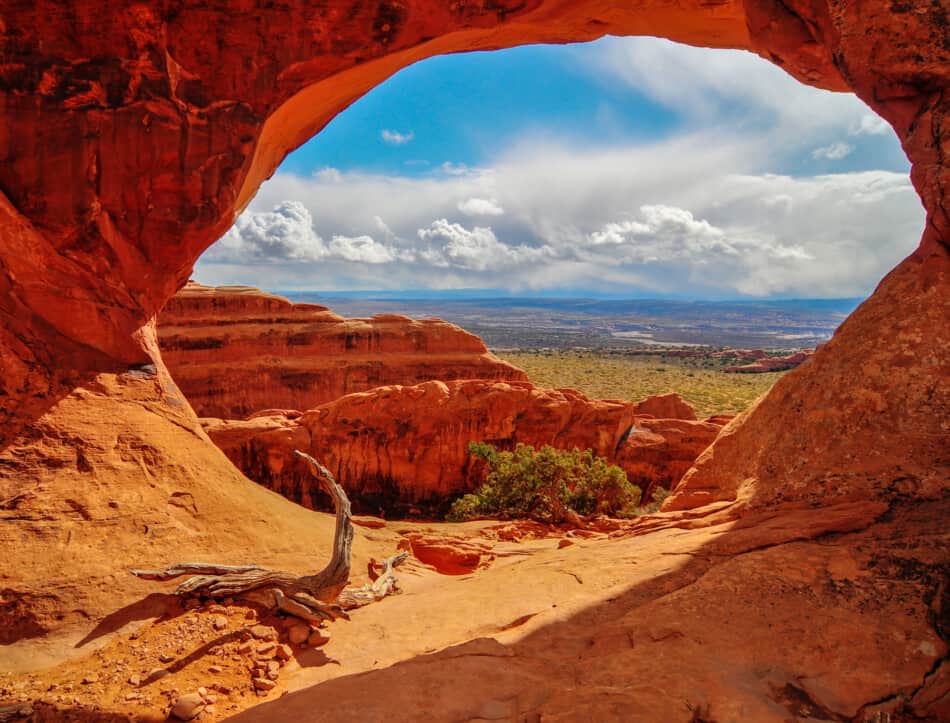 Quick Tip: There are no restaurants inside Arches National Park so it's important to figure out where you want to eat during the day. With the crowds at Arches, you don't want to be leaving for lunch so pack a picnic and get your food in Moab ahead of time.
The best places to eat in Moab Utah are usually busy so you will want to book ahead.
You can also check out my other posts on Arches National Park:
One Day in Arches National Park Itinerary When you are Short on Time
15 Best Things to do in Arches National Park to Plan Your Trip
Best Hotels in Moab Utah – Places to Stay near Arches National Park
15 Best Arches National Park Hikes – For All Fitness Levels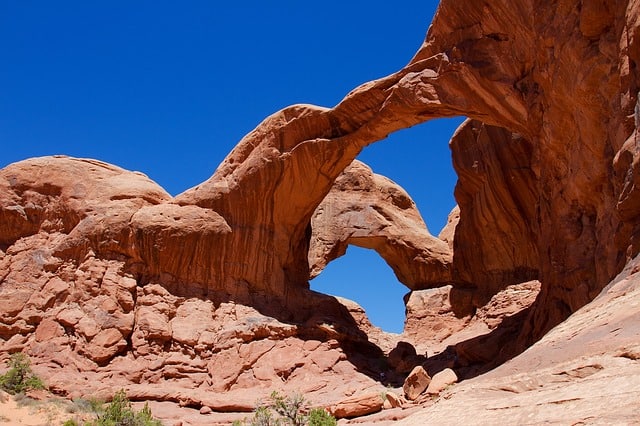 Thank you for supporting this website written by an American. This post may contain affiliate links. This means I earn a small commission on these links at no extra cost to you.
To visit any of the National Parks in the USA, I recommend buying a National Park Pass. The America the Beautiful Pass is valid for one year and costs $80. Plus 10% of sale proceeds go to the National Park Foundation.
Arches New Reservation System for 2022
As you know, Arches is an incredibly popular national park and this leads to the park hitting their maximum number of cars by 9am. To prevent and control overcrowding, Arches are implementing a pilot timed entry system.
If you are planning to visit Arches National Park in 2022, there is a new reservation system. If your visit is between April 3 and October 3, 2022, you must have a reservation. Arches are implementing a pilot timed entry system as part of its measures to control overcrowding.
Reservations are on a first come, first served basis. You can apply at Recreation.gov
You must apply for a reservation 3 months before you plan to visit. Each months' lottery opens on the 1st of the month at 8am MST. For example, if you plan to visit in June – you need to apply on March 1st.
If you are visiting between April 3 and April 30 2022: reservations open at 8am MST on January 3 2022.
If you are visiting between May 1 and May 31 2022: reservations open at 8am MST on February 1 2022.
If you are visiting between June 1 and June 30 2022: reservations open at 8am MST on March 1 2022.
If you are visiting between July 1 and July 31 2022: reservations open at 8am MST on April 1 2022.
If you are visiting between August 1 and August 31 2022: reservations open at 8am MST on May 1 2022.
If you are visiting between September 1 and September 30 2022: reservations open at 8am MST on June 1 2022.
If you are visiting between October 1 and October 3 2022: reservations open at 8am MST on June 1 2022.
Once you have a reservation you will be granted a timed entry slot into the park between 6am and 5pm. You can enter the park during your one hour time slot. You can then stay in Arches for as long as you would like.
If you miss out on the early reservation tickets, there are a limited number of tickets released at 6pm MST on the day prior to entry.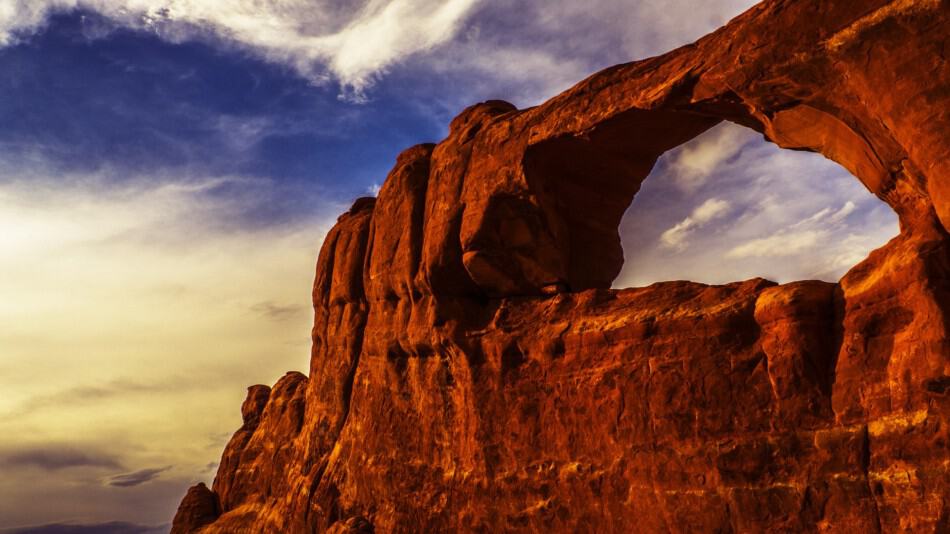 Where to Dine near Arches National Park, Utah – Food Moab, Utah
Desert Bistro
The Desert Bistro is a delightful dining restaurant that was founded in 2001 by restaurateurs Michelle and Karl Kelley on Moab's Center Street.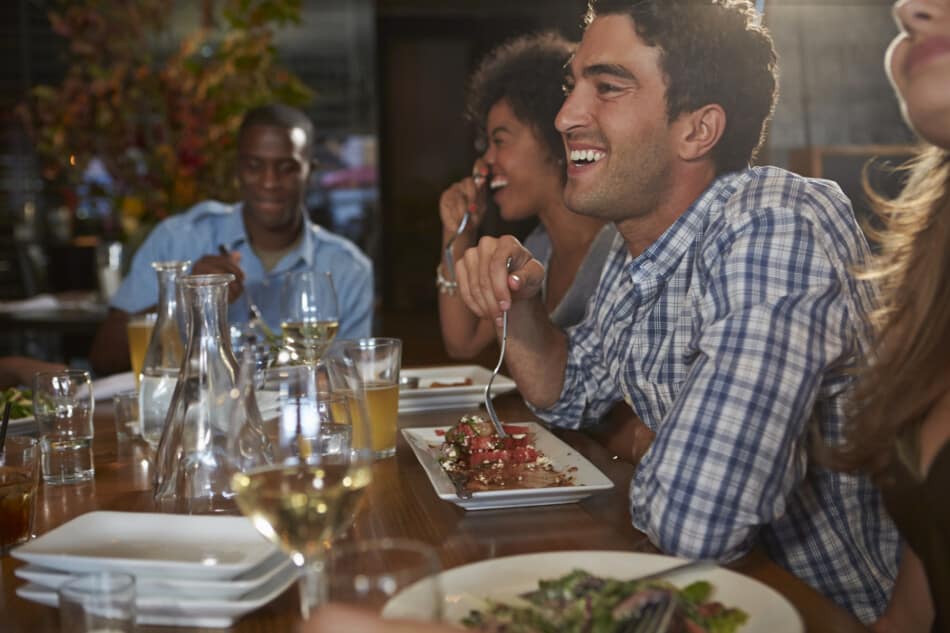 The restaurant has been located in a beautifully restored location in the city's downtown center since 2012, featuring a covered outdoor terrace and seasonal al fresco dining.
Fresh-baked bread and delicious pastries are among the menu items cooked daily on-site. Throughout the week, couples can take advantage of spectacular nightly dinner specials, which include game meat and fresh seafood is flown in daily from the Pacific Northwest, Alaska, and Hawaii.
Gorgonzola-crusted beef tenderloins with roasted tomato demiglace, baked oregano polenta with homemade pion-walnut-pistachio butter, and panko-breaded duck confit served over a shallot and ancho chile stock reduction are just a few of the signature meal selections.
There are plenty of vegan and vegetarian choices, from vegan towers packed with Anasazi beans, roasted yellow peppers, and organic quinoa to Mediterranean-style mezze plates with baba ghanoush, housemade tabbouleh, and squash-carrot salad. Due to the sheer restaurant's popularity in the area, reservations are strongly advised.
Cowboy Grill Restaurant at Red Cliffs Lodge
The Cowboy Grill Restaurant is the distinctive dining experience of the spectacular Red Cliffs Lodge, which is surrounded by Arches National Park's 2,000-foot cliffs.
The restaurant is set in a grandiose ambiance with dramatic 20-foot ceilings, natural wood paneling, and rustic log design, and offers unrivaled views of the stunning Colorado River.
Throughout the week, hearty all-American cuisine is provided for breakfast, brunch, lunch, and dinner, with an emphasis on fresh game and seafood specialties.
Farm-fresh staples such as smoked BBQ pork ribs, elk medallions, and slow-roast prime rib are available, along with superb shareable such as Rocky Mountain oysters, Southwest-style ceviche, and Utah cheese and charcuterie plates.
From April to October, barbecue buffet lunches are available, as well as a take-and-go picnic lunch service for local adventurers visiting neighboring national parks.
River Grill at Sorrel River Ranch
The River Grill at Sorrel River Ranch is located on 160 beautiful acres of ranchland just minutes from Arches National Park, which is nestled along the banks of the Colorado River.
The restaurant serves exquisite farm-to-table dishes produced with vegetables grown right in the ranch's gardens and prepared by the ranch's culinary team in a modern, sophisticated style.
On constantly rotating menus, local American staples are served at lunch and dinner throughout the week.
Couples may usually enjoy favorites like Colorado rack of lamb with cherry apricot glace, cast-iron-seared diver scallops with shaved Italian black truffles, and pecorino. Or you can try the American wagyu New York strip steaks with Colorado wild mushrooms, even if the menu changes throughout the year.
Following dinner, couples may unwind in style at the ranch resort, which features upmarket amenities such as a spa, equestrian center, and hiking trails.
Sunset Grill
The Sunset Grill, which has been owned and operated by Laurie and John Clayton since 1993, is Moab's oldest restaurant.
The restaurant, which serves classic Western games and food with modern, inventive twists, is a favorite dining location for visitors from all over the world visiting the region's stunning national parks.
House specialties include grilled Hawaiian ahi tuna with amaretto mushroom sauce, raspberry half duck over basmati rice, honey pecan grilled chicken with sweet honey butter sauce, and famed Idaho Snake River trout sautéed with a house blend of herbs and spices, to name a few.
Local microbrews, excellent wines, and house cocktails are featured on the extensive bar menu.
With a kid-friendly menu and a laid-back, casual ambiance, the restaurant is a fantastic alternative for couples traveling with children.
Broken Oar
The Broken Oar is a fantastic dining place in downtown Moab, named after a local legend about a travel group that survived a flash flood on the Colorado River.
During the summer months, the seasonal restaurant is open to the public for lunch and dinner Monday through Saturday, featuring great Western-style American fare.
St. Louis-style baby back ribs with Texas rub pulled pork butt platters, and hand-rubbed tri-tip roasts are just a few of the dishes produced with meats and game smoked in-house daily.
Fish & chips, as well as a wide variety of gourmet sandwiches, wraps, and burgers, are among the casual pub favorites on the menu.
Couples may also share innovative appetizers such as jalapeno artichoke dip, battered mozzarella cheese curds, and the restaurant's famous buffalo wings smothered in sriracha bourbon sauce.
98 Center
Alex Borichevsky and Frankie Winfrey opened 98 Center, a lovely restaurant and lounge in Moab's downtown district, in 2016.
The restaurant specializes in fresh, organic foods made with locally sourced products, and all of its operations support local merchants and food artisans.
During the day, it serves as a lunch cafe, serving hearty soups, salads, and sandwiches, as well as Fresh Moab Coffee beverages.
The restaurant converts into an elegant lounge at night, serving a variety of global fusion specialties such as delicious housemade pho made with grass-fed meats and Japanese yam noodles.
From Chinese five-spice kettle corn to pork belly platters and loaded bánh m nachos, the clever shareable are plenty. A full variety of local Utah craft brews is available in bottles and cans to complement the signature drinks and mocktails.
Arches Thai
Arches Thai is Moab's most authentic Thai restaurant, serving delectable Southeast Asian fusion cuisine in a romantic, spacious setting.
All of the restaurant's entrees are made with fresh, healthful ingredients, with a focus on favorites like fried rice, curry, and noodle dishes.
Couples can have unique entrees such tom yum soup-style fried rice, mango and basil leaf curry, wok-fried kua gai, or volcanic beef topped with crispy onion rings served with Thai lava sauce.
A variety of authentic Vietnamese-style pho dishes are also offered, with meat, seafood, or vegetarian protein options for diners to choose from.
Gluten-free options are available upon request, making the restaurant an excellent choice for those with special diets.
Red Rock Bakery & Café
The Red Rock Bakery has been serving up wonderful, crafted baked goodies since 1997. Excellent coffees produced by another local company, Fresh Moab Coffee, round out the experience.
Supersize bagel sandwiches, espresso drinks, and sweet and savory cinnamon pastries are popular among locals.
Come in and relax in a warm and welcoming environment with prompt and genuine care from a staff dedicated to making you feel more at ease.
Moonflower Community Cooperative
Moab's only natural foods shop and Utah's first member-owned food cooperative is Moonflower Community Cooperative.
They provide as many local and regional products as possible and provide a friendly, welcoming atmosphere for all of their customers.
They also include a large range of local, organic fruit, as well as bulk herbs, teas, spices, grains, legumes, and other foods; a deli with grab-and-go sandwiches, pastries, snacks, and treats; and a wellness area with vitamins, tinctures, and salves.
Moonflower serves a hot breakfast every morning at 8 a.m. and a freshly prepared hot lunch every day at noon. You are welcome to sit in their café, eat, and look at the artwork of local artists who are featured on a rotating basis.
Red Cliffs Lodge Cowboy Grill
Nothing comforts the soul like a big meal with a wonderful view of the Colorado River and its towering red rock cliffs from a terrace seat after a full day of adventure and exploration.
From April to October, the restaurant is open for lunch every day and serves a BBQ buffet lunch on the River Deck on a covered patio.
Bacon, sausage, scrambled eggs, cowboy potatoes, yogurt, fresh fruit, assorted bagels, muffins, croissants and bread, and hot and cold cereal are all available at their all-you-can-eat hot breakfast buffet. Milk, juice, hot cocoa, different teas, and coffee were used to wash it all down.
You can also choose from a range of sandwiches that come with a bag of chips, fresh fruit, cookie, and a beverage if you require a picnic lunch for your day of adventure.
Fine dining is available at Red Cliffs Lodge, with a menu featuring superb food as well as ranch classics. Reservations are essential due to the limited number of seats available.
Sweet Cravings Bakery & Bistro
Sweet Cravings Bakery and Bistro serves still-warm pastries and employs local and regional products in its dishes. Breakfast and lunch options are available to complement an active day in Moab.
Start your day with a "Crave" breakfast burrito, one of their outstanding breakfast paninis, or warm cinnamon buns, scones, or monkey bread. Choose from a variety of wraps, sandwiches, paninis, or our vast and unique Build Your Own Panini menu, which includes a variety of toppings.
For vegetarians, the Garden Fresh is ideal, with tomato, artichoke, provolone, lettuce, onion, pepperoncini, and balsamic dressing on the side. Every purchase includes a sweet treat for dessert, which is excellent for hikers who could use a pick-me-up in the afternoon.
End the day with a few treats like fresh-baked pies, large cookies, lemon squares, fresh-baked bread, brownies, and cupcakes!
Their bakery items are created on-site and include a variety of "addictive" choices. There are gluten-free breakfast and lunch selections, as well as a small selection of desserts. Come in for breakfast or get a bite to eat before heading out on your adventures.
Eklecticafé
Eklecticafé provides a comfortable cafe ambiance and is a perfect place to start your day. Ideally, you may take a seat on the outdoor patio and enjoy the weather if the temperature is cool enough.
Meat is provided, however, vegan options are also offered. This quirky cafe with a funky atmosphere serves organic international cuisine and desserts.
Lights, flower pots, vintage decorations, and ancient wooden floors beautify this historic cabin. All of the morning recipes can be made with tofu instead of eggs.
You'll enjoy Eklecticafé's huevos rancheros, but they also have a large pastry variety. Furthermore, their coffee is excellent, making this a good morning option.
Twisted Sista's Café
Twisted Sista's Café, which specializes in tapas, can take diners on a culinary adventure across the world with small-plate selections like baked brie with garlic flatbread or baked shrimp wrapped in Jamon Serrano (a truly delectable Spanish cured ham).
The cafe also serves a full lunch and dinner menu, including unique dishes like seafood tom yum such as scallops and calamari in a Thai coconut broth and comfort food like pork tenderloin.
Microbrews from Utah are also available, making a great match for your varied meal.
You are not obliged to choose just one option. Their plates are created with fresh ingredients and flavors that complement one another perfectly.
Since the main courses are smaller than most, choosing a starter or switching things up and ordering a selection of tapas with soup or salad is suggested.
Quesadilla Mobilla
Quesadilla Mobilla is the place to go if you're looking for a casual meal that won't break the budget but will satisfy your appetite in the way that only authentically Southwest cuisine can.
This bright yellow food truck in Moab truly has something for everyone. They specialize in producing one-of-a-kind quesadilla creations that will make your mouth water.
Everyone goes home happy, with options for vegans, vegetarians, and even gluten-free eaters.
Your entire company will be satisfied and ready for their next trip, with everything from a huge wrap with everything to simple fundamentals for the pickier eaters. Allow the owners to work their magic using their tried and true specialties or customize your quesadilla.
After a hard day of adventuring and trekking in Moab, you can come here to rest. You'll appreciate the pleasant service and the fact that names were called out over the speaker when orders were ready.
Visit them the next time you're in town to see why they're a local favorite.
Moab Brewery
The Moab Brewery first opened its business in 1996. Moab Brewery is pleased to be Moab's only microbrewery, featuring beers including Dead Horse Ale, Derailleur Red Ale, Rocket Bike Lager, and Over the Top Hefeweizen inspired by its unique location.
Guests at the Moab Brewery may look forward to enjoying award-winning beer, distilled spirits, and dining at what has become recognized as Moab's most popular restaurant after a day of cycling, river running, or hiking. Their beer and distillery flavors are featured on their menu, which focuses on scratch cooking.
In the red rock terrain of southeastern Utah, next adjacent to the Moab Brewery, the Moab Distillery is surrounded by State and National Parks. This has become a popular tourist attraction for visitors from all over the world, as well as adventurers who dare to push their limits in Moab, Utah.
Recent Posts