15 Epic Things to do in Arches National Park – Must See
Best Things to do in Arches National Park: Are you wondering what to do in Arches National Park? Or looking for fun things to do in Arches National Park? Arches is a small but mighty National Park only 6 miles outside of Moab, Utah. This list of Arches National Park Attractions and the Best Things to do in Arches National Park has something for everyone.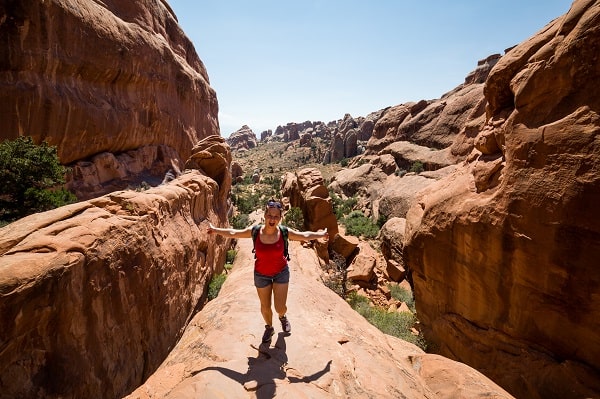 Must see in Arches National Park: Visit Arches to discover a landscape of contrasting colors, landforms, and textures unlike any other in the world. This red-rock wonderland will amaze you with its formations, refresh you with its trails, and inspire you with its sunsets.
Arches National Park is a national park in eastern Utah, United States. More than 2,000 natural sandstone arches are located in the park, including the well-known Delicate Arch, as well as a variety of unique geological resources and formations. The park consists of 76,679 acres of high desert located on the Colorado Plateau. The highest elevation in the park is 5,653 feet at Elephant Butte, and the lowest elevation is 4,085 feet at the visitor center.
I have visited Arches several times and every time I'm in Utah I try to make it to this beautiful park. Amazing scenery, beautiful hikes, its no wonder this is such a popular park. Make sure to arrive early – I like to get there around 7am. Some people even arrive around 5am in the summer.
During peak hours at Arches, between 9 a.m. and 2 p.m., you can expect long lines to join the park. Make preparations ahead of time. Before entering the park, use the toilet and bring snacks and drinks. Make sure you have a full tank of gas before you arrive, as there are no gas stations inside the park.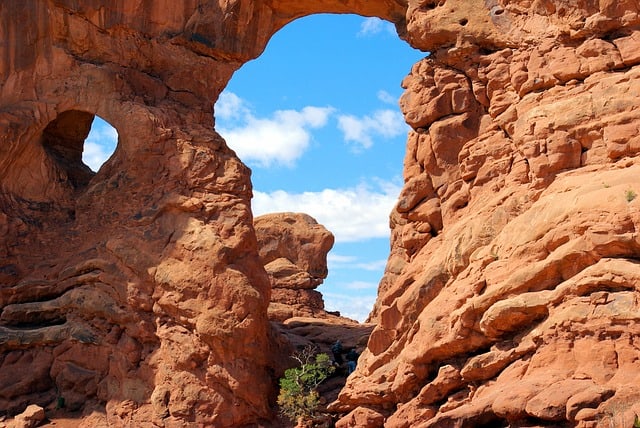 Thank you for supporting this website written by an American. This post may contain affiliate links. This means I earn a small commission on these links at no extra cost to you.
To visit any of the National Parks in the USA, I recommend buying a National Park Pass. The America the Beautiful Pass is valid for one year and costs $80. Plus 10% of sale proceeds go to the National Park Foundation.
Tips for Hiking in Arches National Park
Arches, Utah is perfect for outdoor enthusiasts. There is a hike for everyone on this list and for different fitness levels. Also, note that it is dry and hot (in the summer) and make sure you know what you are getting into before you start. Here are a few tips for visiting Arches:
Bring a reusable water bottle and lots of water! Remember you are in the sun and you will need to drink lots of water. I love my LifeStraw Filtered Water Bottle.  I can refill this bottle anywhere and it comes with a carabiner to connect it to my daypack.
Check the Weather – days over 100 degrees are very common.  Make sure to check.
Hiking boots or sandals that will protect your feet! I love good shoes.  I need all the support and help I can get.  I actually love these sandals for hiking and have a whole post on Merrell vs Keen shoes for hiking.  I also love these hiking boots which I used for Hiking in the Grand Canyon.
Bring hiking poles for balance and to protect your knees.  I know many experienced hikers (and even amateur ones) think that hiking poles are for old people who lose their balance.  Actually, hiking poles can help when going down steep inclines or when scrambling over rocks.  They are great to hike with even for the most experienced hiker. 
Wear a sunhat. I feel like this whole post is about how high you are in the mountains and how much closer you are to the sun but it is so true. At elevation, you are closer to the sun and more likely to burn. Wear sun protection such as a sun hat and sunscreen.
Start Early – If you want to avoid the traffic and the heat you will need to start your hike early.  That way it will be nice and cool and the smog will not affect you either. The park is often full by 9am and they do not allow any more cars in (YES, REALLY!)
Leave no trace. If you are new to the concept of Leave No Trace it is all about preserving the environment to ensure it is in the same or better condition when you leave it.  This means that you should stick to the trails and carry out everything that you carried in.  This is a great explanation of the Leave No Trace principles!
Bring Bug Spray and a snack: Be sure to bring everything you need including a snack like a protein bar as there are no restaurants in the park plus BUG SPRAY.
Best Things to do in Arches National Park
Arches National Park in Utah is a small but mighty place. Arches in Moab, or located just outside of Moab. Here are the things to do at Arches National Park.
Arches National Park Scenic Drive
The key route through Arches National Park is the Arches Scenic Drive. It starts just north of Moab, off of US191. The first section of the route, from US-191 to the Windows Road turnoff, is covered on this list. For coverage of the road's second half, from Devil's Garden to the end.
You can spend a couple of hours or the better part of a day driving through Arches National Park on the 36-mile (round trip) path. You can admire the brilliant artistry and beauty of Arches without having to leave your car, with plenty of places to stop and take photos and panoramic views for miles.
There are many stops along this 36 mile drive and several of the stops are listed in this article as bucketlist things to do in Arches. The best stops along the scenic drive are:
The Three Penguins
The Three Gossips
Balanced Rock
The Windows
The Fiery Furnace
Park Avenue
The first time we visited Arches National Park it was late afternoon and we didn't have much time. We decided to do the scenic drive that afternoon and then come back the next day. This was a great decision! We drove around the park leisurely and stopped when we wanted to along the drive. The next day we came back and went hiking in Arches National Park.
Park Avenue
The Park Avenue Trail is one of Arches National Park's first major attractions. You can find Park Avenue Trail at mile marker 3 from the entrance and there is plenty of parking there.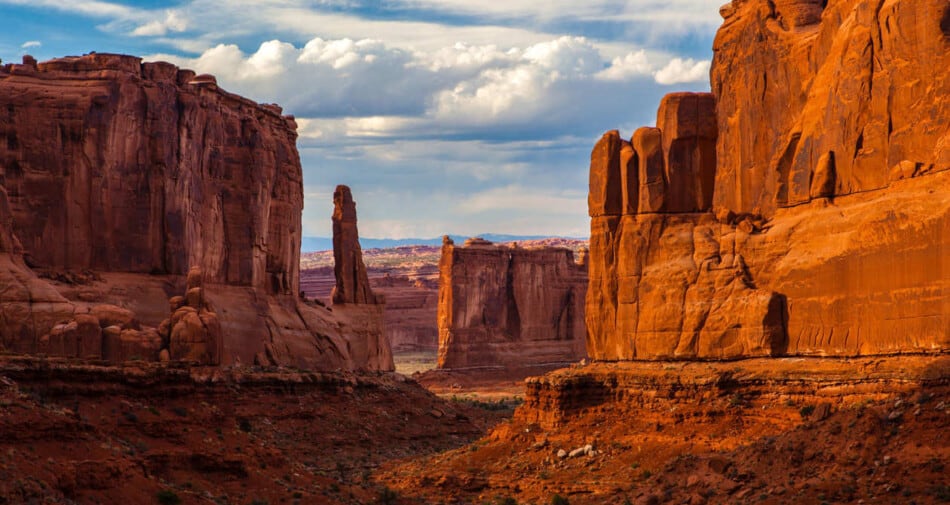 Park Avenue Trail a one-mile trail that winds its way through a canyon at the base of some of the park's most popular monoliths. These are the viewpoints that are visible from Park Avenue Trail:
The Three Gossips
Courthouse Towers
Queen Nefertiti and Queen Victoria Rock
The Organ
and the Tower of Babel
You can hike this two mile round trip trail or you can just pull over at this stop and take in the views. This was our first stop in Arches National Park and we were treated to a stunning view of the park.
Hike to Delicate Arch
Delicate Arch is the most popular arch in the park. It is also the most popular hike in Arches and a lot of people do this at sunrise or sunset. As long as you are not doing this in the middle of the day in summer when it is hot you will really enjoy this hike.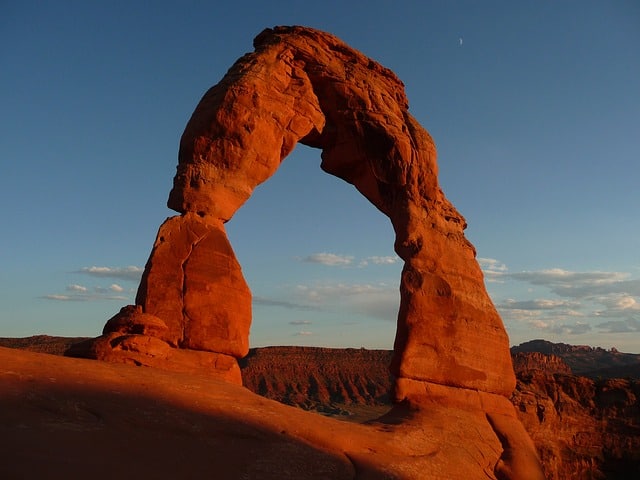 There are three ways to see Delicate Arch:
Delicate Arch Lower Viewpoint – is close to the parking lot, requires no hiking, but you are seeing the arch from a distance
Delicate Arch Upper Viewpoint – from the parking lot, requires 20 minutes steep hiking, still from afar but you are up higher and get a better view
Delicate Arch Hike – three mile hike and 500 feet in elevation, labeled as difficult but more of a moderate hike that takes 2-3 hours
No matter how you decide to visit Delicate Arch it is definitely a highlight of Arches National Park.
Devil's Garden
Devils Garden is both a hiking trail and a campground. The trail can be tailored to your needs in terms of distance and difficulty, and the campground is the only one within Arches National Park.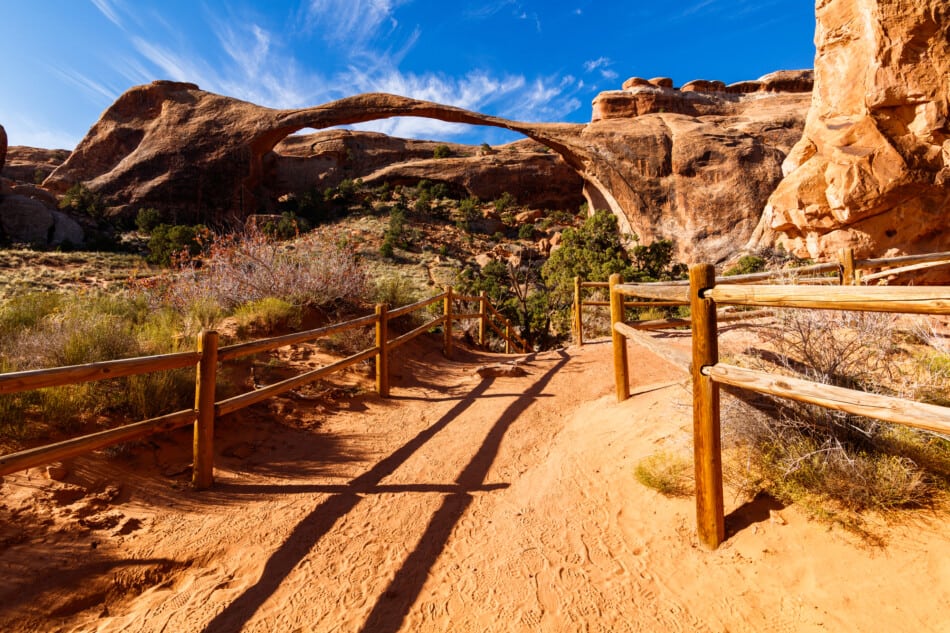 The Primitive Loop hiking trail is the most popular hiking trail in Devil's Garden at 7.8 miles long, but you can make it shorter or longer depending on your preferences. If you walk the entire loop, you'll come across seven natural arches:
• Tunnel Arch – 0.4miles
• Pine Tree Arch – 0.5 miles
• Landscape Arch – 1.6 miles
• Partition Arch – 2 miles
• Navajo Arch – 2 miles
• Double O Arch – 2.3 miles
• Dark Angel – 2.5 miles
• Private Arch
If you don't want to do the entire loop, I would recommend hiking to Landscape Arch. It is a 1.6 mile loop and you will get to see one of the most iconic arches in the park.
Devils Garden provides stunning views, as well as camping, backpacking, stargazing, and hiking for all levels of experience. In this famous park area, there is truly something for everyone.
Devils Garden is 18 miles north of the Arches Visitor Center, at the very end of the park lane. It takes about 45 minutes to drive from the visitor center.
Landscape Arch
Landscape Arch has one of the longest spans at 306 feet long. Over the ages, fragments of Landscape Arch have broken off, some as large as cars. The last chunk of the arch to fall off was 1991 and now the arch is only 11 feet wide at its narrowest part.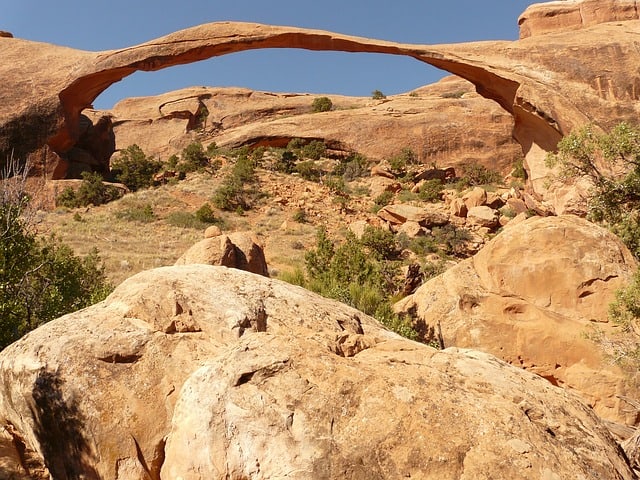 Getting to Landscape Arch on the Primitive Loop is the easiest section of the trail and highly worth the views.
Visit Double Arch
Double Arch is my favorite arch in the park. Located at the end of the Windows Road and right next to The Windows and Turret Arch this is a great place to take a bit of a break in the park.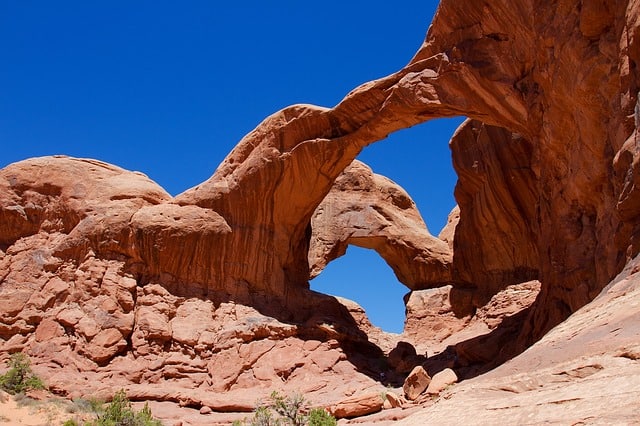 The 'hike' to Double Arch is less than half a mile a relatively flat. The reason I like Double Arch so much is that this is one of the few places to find some shade in the park. Not only that there are so many different beautiful views from this spot. Even climbing around on the rock you will take in different views of the two arches.
The Windows and Turret Arch
Located next door to Double Arch, you don't even need to move your car. This is another easy hike in Arches where you can see North Window, South Window, and Turret Arch all within a half mile hike.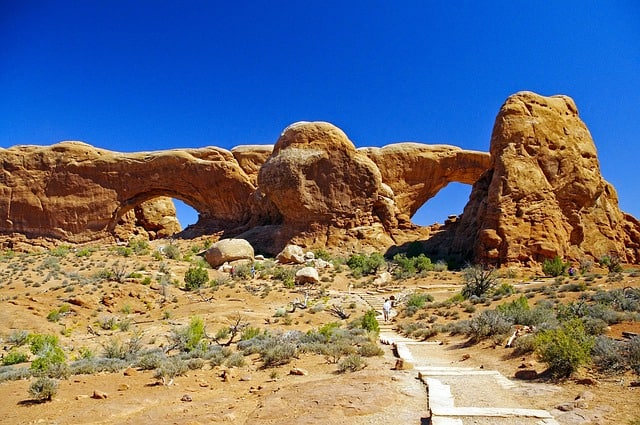 The Windows section of Arches is the most popular and for good reason – it is absolutely stunning. Take in the scenery, stretch the legs, and get out and explore.
Visit Sand Dune Arch
It takes about 30 minutes to hike to Sand Dune Arch along an easy and sandy trail. This trail is mostly in the shade so it is nice and cool to reach this arch.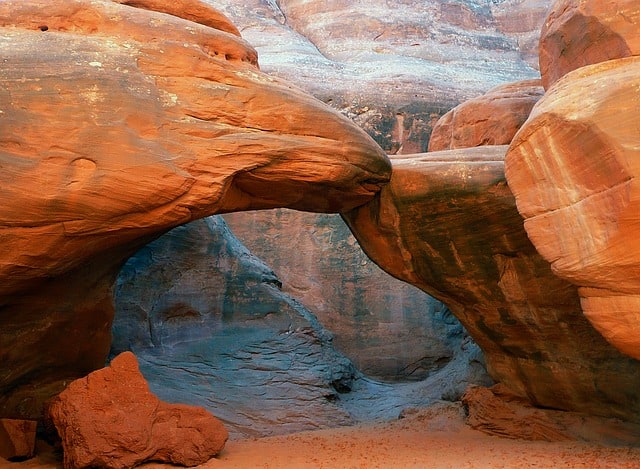 Sand Dune Arch is in Devil's Garden and at the very northern part of the park. As this arch is surrounded by sand and in the shade, a lot of hikers take their shoes off and enjoy walking around in the cool sand.
See Balanced Rock
Balanced rock is a famous landmark in Arches and well worth a stop along the scenic drive. Balanced Rock is just that – a rock balanced up high. It may look like this rock is just about to fall off but don't worry its quite sturdy.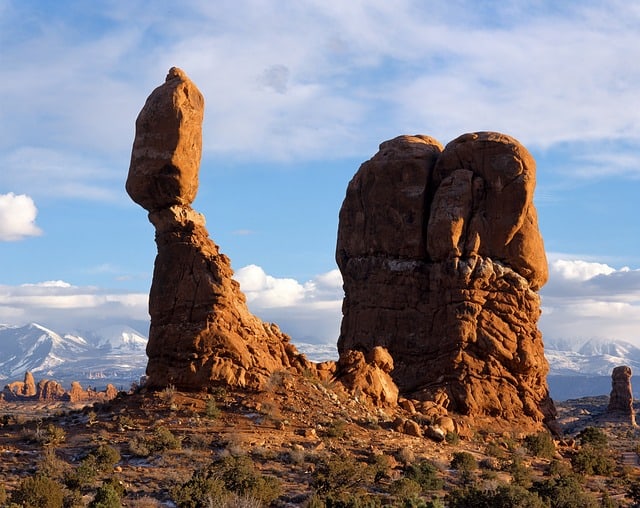 You can stop here and walk along the trail to get a closer view of balanced rock. It is only 0.3 miles to get a closer view of the rock.
Balanced Rock, one of the park's most iconic features, stands at a towering 128 feet (39 metres). Although this formation appears to be a masterful juggling act, it is anything but. The Entrada Sandstone boulder is firmly attached to its eroding Dewey Bridge mudstone pedestal.
Take a tour of the Fiery Furnace
Only a ranger or an individual permit are allowed to access the Fiery Furnace. Fiery Furnace hikes are available from spring to fall. Reservations are expected for these hikes because tickets are in high demand.
Everyone who goes on a Fiery Furnace hike should be mindful of the terrain's difficulty and be prepared for current conditions, including temperature extremes. You'll be walking and climbing on irregular and broken sandstone, narrow ledges over drop-offs, and loose sand during these physically challenging hikes.
This is something outside the norm to do in Arches and well worth it. You can reserve your ticket up to six months in advance and online to save you time.
Courthouse Towers Viewpoint
The Courthouse Towers are a group of tall stone columns that rise 4,800 feet above the desert floor in Utah's Arches National Park. Baby Arch, Three Gossips, Ring Arch, and the Tower of Babel are among the spires.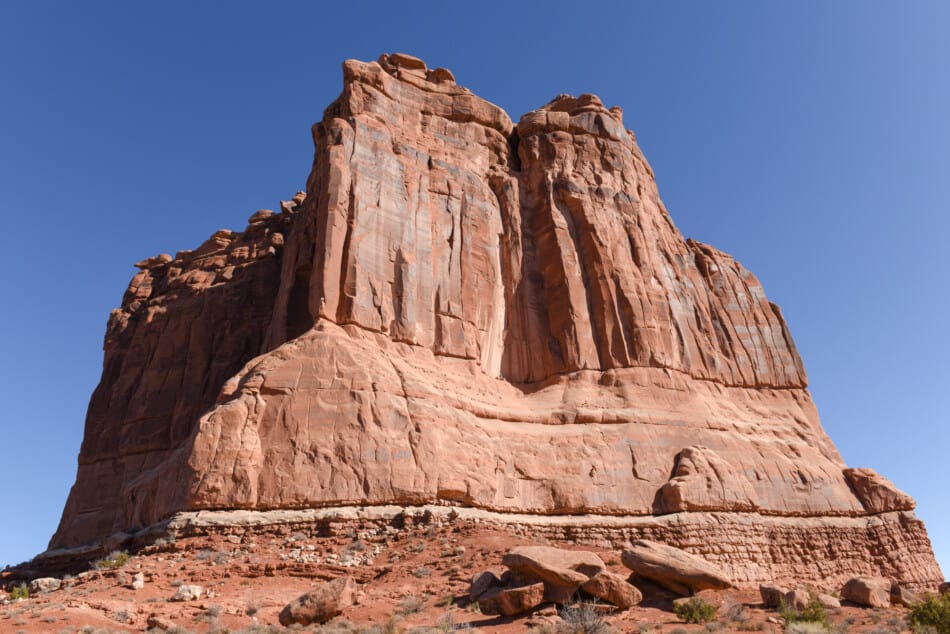 A one-mile hike along the Park Avenue Trail provides a close-up view of the towers. The trail is well-known for its scenic beauty as well as its excellent lighting.
The viewing area for Courthouse Towers is 4 miles from the park's headquarters.
Petrified Dunes Belvedere
Sand drifts have been cemented into rock after being covered by layers of sediment and then exposed by erosion in the Petrified Dunes region.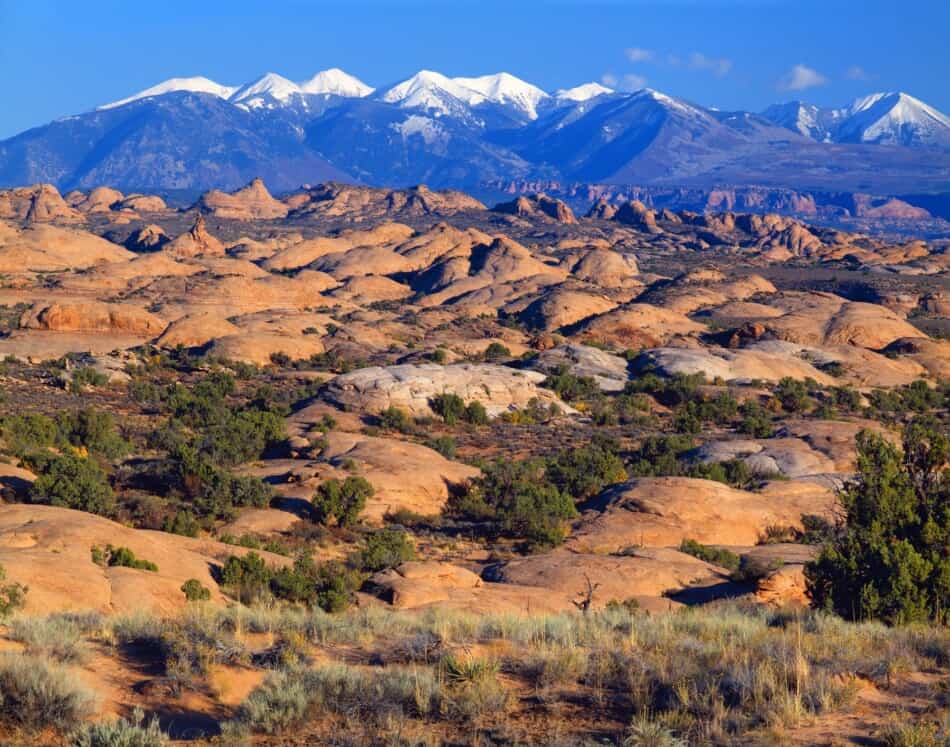 On the east side of the lane, they can be seen. In this area, there are no existing trails. There is a small turnout with a sign describing how the ancient sand dunes are being preserved. In the background, the La Sal Mountain Range can be seen.
The Great Wall and Rock Pinnacles
When visiting Arches National Park, it's natural to assume that you'll see a lot of arches. Although this is definitely true, the park also contains a number of other geological wonders that will astonish you.
The Great Wall, situated past the Courthouse Towers and the Petrified Dunes Viewpoint in Arches National Park, is a sandstone cliff wall. It can be seen from the main park road to the west.
La Sal Mountain Viewpoint
The La Sal Mountains Viewpoint is a short distance inside the park and provides an outstanding view of both inside and outside the park's red rock scenery.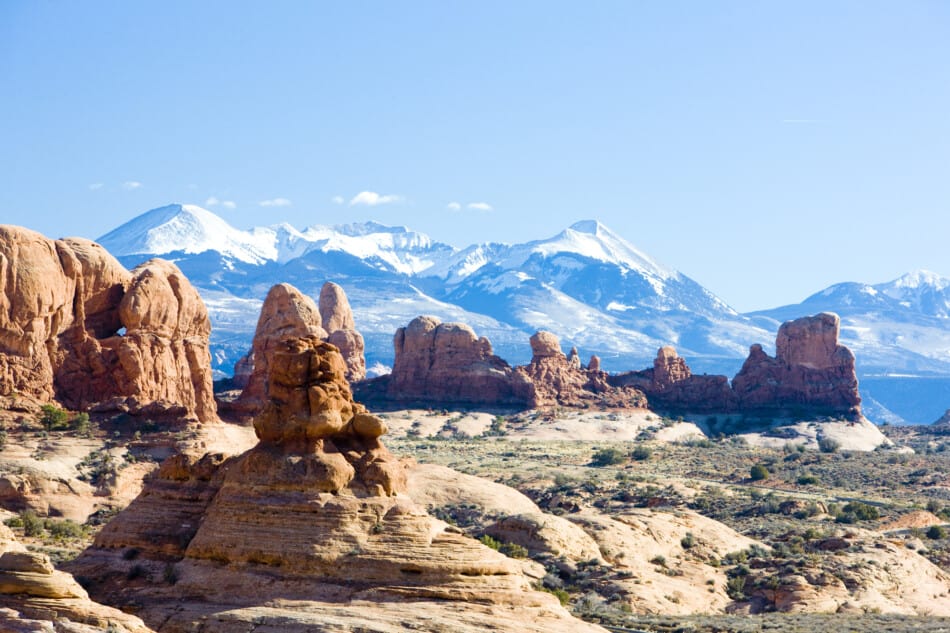 A parking lot with a sidewalk is available at the viewpoint. Outside the park, you can walk onto an uneven, rocky bench with views of the La Sal Mountains and the Courthouse Towers area, which includes named features such as Three Gossips, Sheep Rock, and The Organ. On the horizon, you can also see Balanced Rock and The Windows Section.
As you can see from the list of things to do there are quite a few within this one little area. I suggest coming to La Sal for sunrise and then exploring the rest of the Courthouse Towers area after that.
Garden of Eden
When you enter the Windows Section of Arches National Park, the Garden of Eden is the first stop on the left. On the way to the Windows Section, the Garden of Eden is an easy to overlook part of Arches National Park.
The Garden of Eden is an underappreciated part of the park but it also serves as an open trail where visitors can explore the rare sandstone features on the desert slickrock.
All over the Garden of Eden are medium-sized arches and tiny baby arches are just beginning to form. Enjoy the freedom to roam that this location provides, but stay away from the cryptobiotic soil while walking across this or any other desert landscape.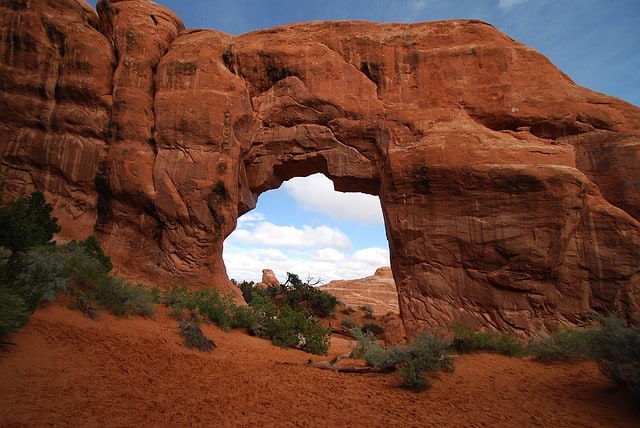 Top 10 Things to do in Arches National Park
Scenic Drive
Park Avenue
Delicate Arch
Double Arch
Windows Section
Sand Dune Arch
Devil's Garden
Fiery Furnace
Balanced Rock
Courthouse Towers
Where to stay near Arches National Park
Arches National Park makes for a great weekend escape. Fresh air, beautiful scenery and being in nature does a world of good for the soul. I recommend staying as close to the park as possible and even treating yourself with a cabin with a spa pool to relax at night.
There are lots of fantastic Airbnbs near Arches. There are many beautiful places to stay near the park and this allows you to spend most of your time experiencing the park instead of driving to the park. Check out my post on the Best Places to Stay near Arches National Park.
I stayed at the Hyatt Place Moab. This is one of the best Arches National Park Hotels and it has amazing amenities and is close to everything. Plus its reasonably priced.
If you are taking a road trip remember to reserve a car in advance using Discover Cars .
Don't Forget About Travel Insurance!
Before you leave for your trip make sure you have a valid Travel Insurance Policy because accidents happen on the road. I have used World Nomads when I travel since 2015 when I went to Africa and I love them.
Getting coverage is important as you never know what will happen and need assistance when you are more than a hundred miles from home in case of an accident, sickness, theft, etc.
Get a travel insurance quote for your trip here.
Sharing is Caring! Pin this article to save for later.
Recent Posts