15 Best Things to do in Moab-Utah's Adventure Town!
Wondering what to do in Moab, Utah? There are so many things to do in Moab it can be hard to know where to start. This guide to visiting Moab has all the best things to do in Moab to plan your trip.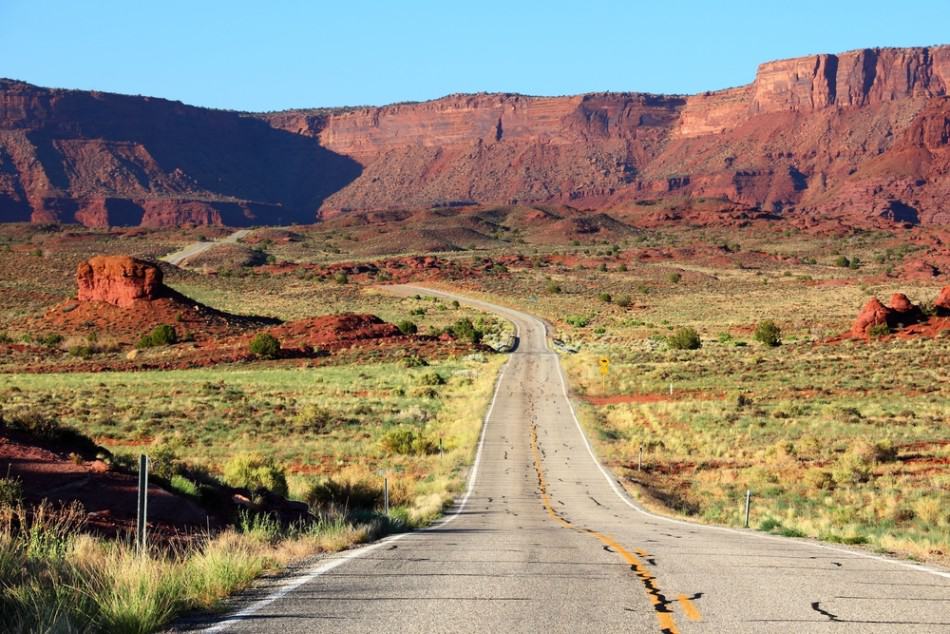 Moab is the jumping off point for so many things from hiking to the National Parks, mountain biking and boating as well. These are some of the best activities in Moab and there are so many fun things to do in Moab!
I've included some things to do near Moab and things to do in Moab at night as well.  These Moab sites are worth a visit too.
Now let's get planning your Moab Trip!
What to do in Moab, Utah
Corona Arch
Corona Arch is located right outside of Arches National Park in the south-eastern Utah city, Moab. The Arch is the final destination along the 3-mile round trip corona arch trail that also bypasses the Pinto and Bowtie Arches. Corona Arch is one of the most spectacular arches in Utah and one of the Best Hikes in Utah.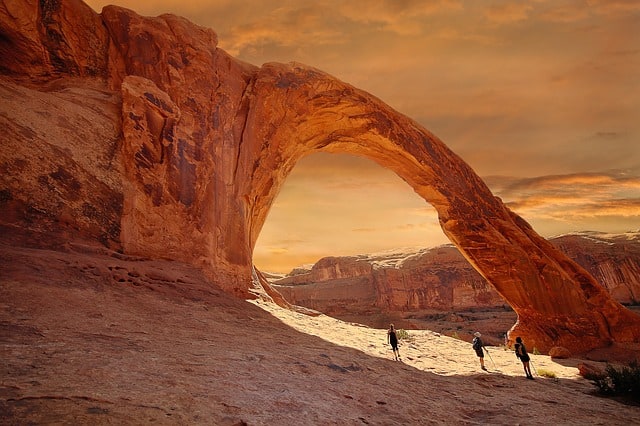 The Arch is naturally made from Navajo sandstone, the semi-freestanding arch is 105-feet tall and 140-feet wide. It used to be common practice for people to climb the arch and swing from the top; however, since 2015 all activities of this kind have been banned and made illegal. The arch is fragile and often has people wondering how it is still standing. The Arch is a beautiful sight, that gives a perspective into the true beauty that nature creates.
If this hike sounds like your thing, you will want to check out my post on the Best Hikes in Moab that aren't in National Parks. I also have guides to hiking in the National Parks under each of their sections.
Canyonlands National Park
This national park is over 330,000 acres of preserved colourful sceneries of canyons, buttes and mesas, which have been in formation through natural erosion over many decades. Both the Colorado and Green Rivers flow through the park, adding to the beautiful landscape.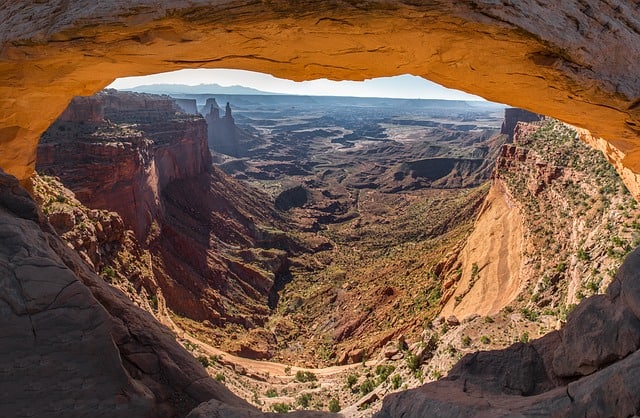 Because the park is so large and sectioned into four different districts, most people only have enough time to visit one area per visit, unless you choose to spend multiple days exploring this beautiful park. Island in the Sky is the most accessible and most popular district in the park.
I love the Island in the Sky district. One of the best hikes in Canyonlands National Park is visiting Mesa Arch. It is best to visit Mesa Arch at sunrise but really you can take this short hike at any time.
Arches National Park
This national park is much smaller than Canyonlands NP at just over 70,000 acres of land. However, it is a much more popular park to visit, bringing in almost a million more visitors per year. within Arches NP there are thousands of natural sandstone arches, including the famous 'Delicate Arch'. The eastern side of the NP also runs adjacent to the Colorado River and is located just a few miles north of Moab, Utah.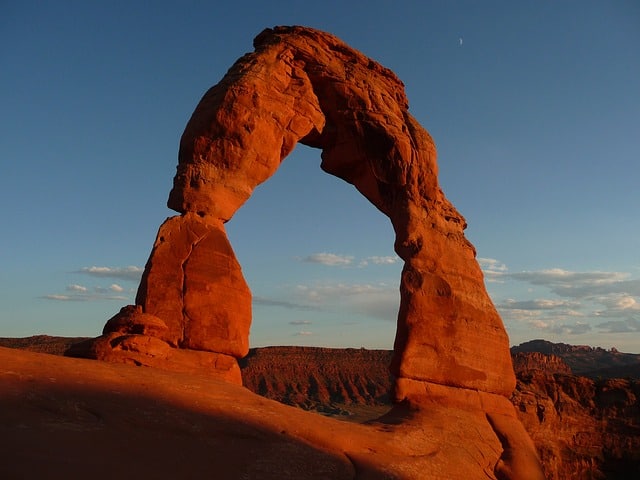 There are numerous hiking trails and attractions located around the park, some of the more popular include, Delicate Arch, Landscape Arch, Fiery Furnace, and many more! Much as the name suggests, Arches NP hosts the highest number of naturally made arches than any other place on Earth, so you will no doubt find many spectacular arches on your adventures through the park.
Check out my post on the Best Hikes in Arches National Park you won't want to miss!
Castle Creek Winery
An award-winning winery located right in Moab Utah! The winery is beautifully situated right on the Colorado River, overlooking some very impressive white-water rapids as well as stunning and dramatic red rocks cliffs. It is the perfect location to enjoy some yummy wine and good views.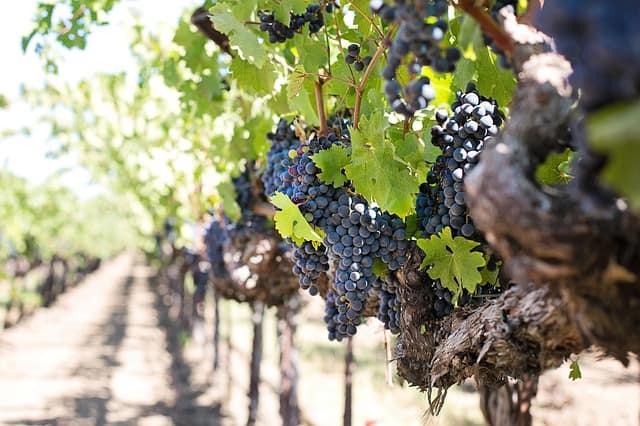 Most of the scenery around Utah consists of red rocks, canyons, and mesas, so the Castle Creek beautifully kept green lush vineyards is a nice contrast and provides a standout view. There are many gold, silver, and bronze winning wines among their locally grown wines, ensuring a great experience all round.
Moab Giants Dinosaur Park
Located in the southern region of the Dinosaur Diamond Prehistoric Highway in Utah, this museum has many exhibits all about the history of Dinosaurs. There are a large number of fossilized footprints, left behind from ancient dinosaurs millions of years ago.
You can either go on a self-guided tour or take advantage of the many guided tours available in the museum. There are many indoor and outdoor exhibits to see, as well as many photos and stories to fill you up on all the information you need to know about the dinosaurs that used to roam the area of Moab, Utah.
Dead Horse Point State Park
This state park covers just over 5,000 acres; although, small in size it still brings over half a million visitors per year. There are several picnic areas, campsites, a visitor centre as well as many viewpoints located around the park. There are also many trails suitable for both hiking and mountain biking.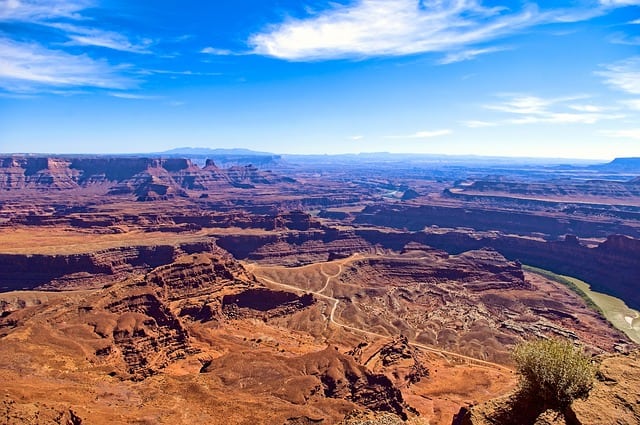 The views from Dead Horse Point are some of the most magnificent views and most photographed views in Utah. This small state park offers beautiful and dramatic views over both the Colorado River and the nearby Canyonlands National Park landscape.
With plenty to do and breath-taking views, this state park is definitely a must visit when in the area. Interestingly, the famous ending to the 1991 film, 'Thelma & Louise took place in this park. In the film, they were supposedly driving their car off a cliff into the Grand Canyon, however, the it was filmed in Dead Horse State Park!
Moab Museum of Film and Western Heritage
This museum is located within the Red Cliffs Lodge, which are both part of the Red Cliffs Ranch. This ranch has been a working ranch since the 1800s and not only serves as a place to raise cattle and horses, but also as a filming location for many films.
More notable films set on this ranch include, Warlock, Geronimo, and Thelma & Louise, as well as so many more films and commercials. The museum holds many things related to this ranch's rich history as a popular filming location, such as memorabilia and information about the filming of these popular films. The museum is self-guided, with pictures and notes located all around with interesting information of the filming experience. The museum is also open year-round and is free of charge
Bike the Slickrock Trail
This is a 10.5-mile popular mountain biking trail that has gained global acknowledgment as being the most popular bike trail in the world, bringing in over 100,000 visitors a year. The trail is also known as being one of the more difficult trails in Utah.
There is a much shorter 2.3-mile loop, located right next to the full trial which is recommended to beginners as it gives visitors an ease into the full strenuous trail. This shorter loop is not necessarily easier, it just gives visitors a taste of what the trail is like without having to go too far out from the beginning of the trail and risk something happening if they are not experienced mountain bikers.
Hike to Bartlett Wash Area
Bartlett Wash Trail is a popular mountain biking trail that is a 13.3 mile loop trail located 18 miles north of Moab, Utah. You can also hike the trail which features beautiful wild flowers and stunning views. This trail is rated as moderate.
The Entrada sandstone found at Bartlett Wash is a finer-grain stone than the Navajo Sandstone that lies beneath it. It weathers quickly and forms the smooth, slick sandstone found here today.
There is no marked trail, you will need to choose the best way up sandstone ledges to reach one of the largest open slickrock areas you'll ever see.
The trail is open year round and you are able to take dogs on the trail.
See Petroglyphs at Newspaper Rock
Newspaper Rock State Historic Monument features a 200-square-foot rock with the largest known collections of petroglyphs in the country. Native American Indians have been engraving messages into this rock for more than 2000 years, providing a long history of their stories. The petroglyphs tell the stories of their mythologies, crop circles and much more. It is an interesting experience, viewing this rock with all these ancient messages trying to decipher the meaning and the message these people were trying to express.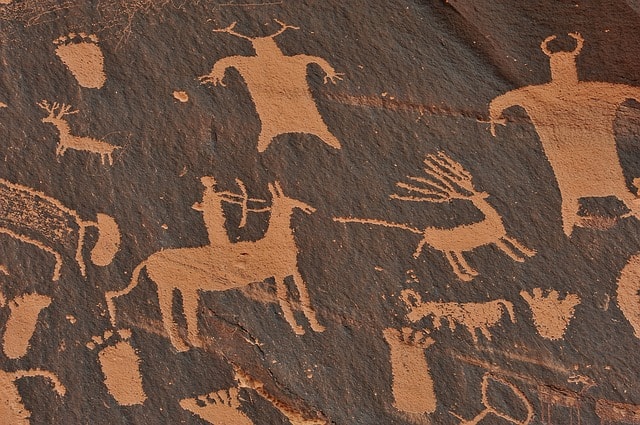 Newspaper Rock was designated as being a part of the over 70,000-acre Indian Creek unit, in December 2017, protecting and preserving the land. So once you've visited the Newspaper rock and soaked up what it has to offer, there's 70'000 more acres of ancient land nearby worth taking a look at to.
Go Rafting in the Colorado River
The Colorado River spans almost 1500-miles from northern Colorado and goes through Utah, Arizona, California and across the Mexican border. Rafting in the river is a popular activity, and one of the best places to do it, is in Moab, Utah.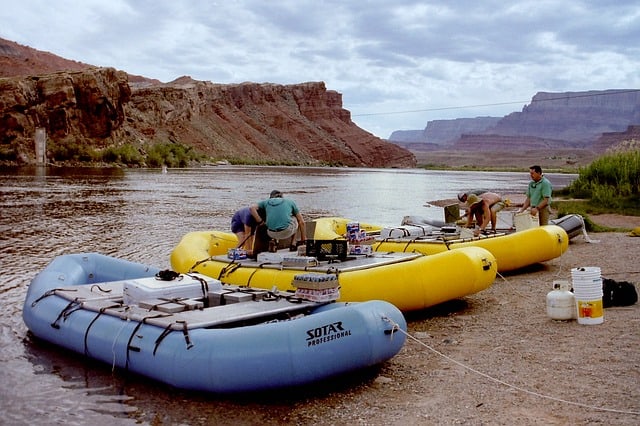 There's both a full day and a half day excursion, which takes visitors through the most famous stretch of the Colorado River, winding around beautiful canyons and river bends that are so gorgeous, they've been featured in many Hollywood films.
These are fully guided tours with very experienced water rafters, so you know you are well taken care of and in the best possible hands. The Colorado River is arguably one of the best places in the world to go rafting, so it is definitely an experience you won't regret.
Take a Jeep Tour of the Area
There are many companies in the area, offering jeep tours. These tours take visitors on a unique adventure when visiting the city. There are many routes to choose from that include everything from driving through the city to off-roading around the surrounding desert.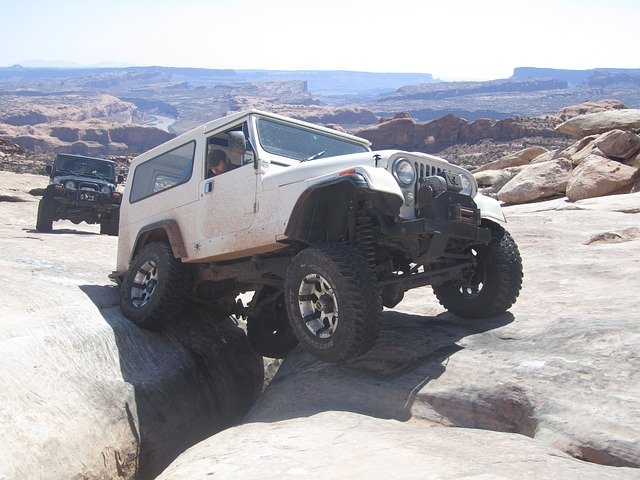 Exploring the desert and nearby routes, trails and overlooks through a Jeep, offers a different perspective and a one-of-a-kind experience. There are over 25 routes on offer to choose from, all of which are beautiful and are great to explore via a jeep tour.
Explore the Castle Valley
Castle Valley hosts some of the most famous and beautiful views in all of Utah. This relaxing oasis town is just north of Moab, and offers for a different, more quiet experience than the busy city. There are formations located around the town in the shape of castles, hence the town's name.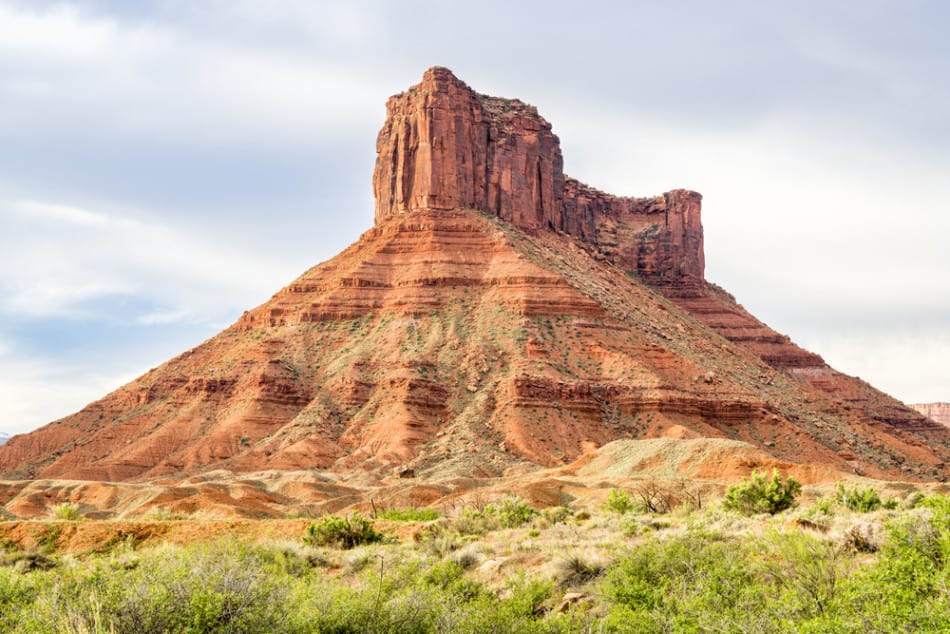 Castle Valley is a beautiful town offering some of the most stunning landscapes in Utah. Driving through Castle Valley is a common way to get to Moab, specifically if arriving from the north. Even just the drive through, offers scenic landscapes and many opportunities to pull over, explore the beauty or snap a pretty photo.
Jet Boat Tour on Colorado River
The Colorado River spans almost 1500-miles from northern Colorado and goes through Utah, Arizona, California and across the Mexican border. Jet Boating in the river is a popular activity, and one of the best places to do it, is in Moab, Utah.
These tours take you through beautiful Colorado River scenery, close to Canyonlands National Park and features stunning views of both the canyon, nearby parks, beautiful canyons and more. These are fully guided tours with experienced jetboaters, so you know you are well taken care of, and in the best possible hands. This is definitely an experience you will not regret.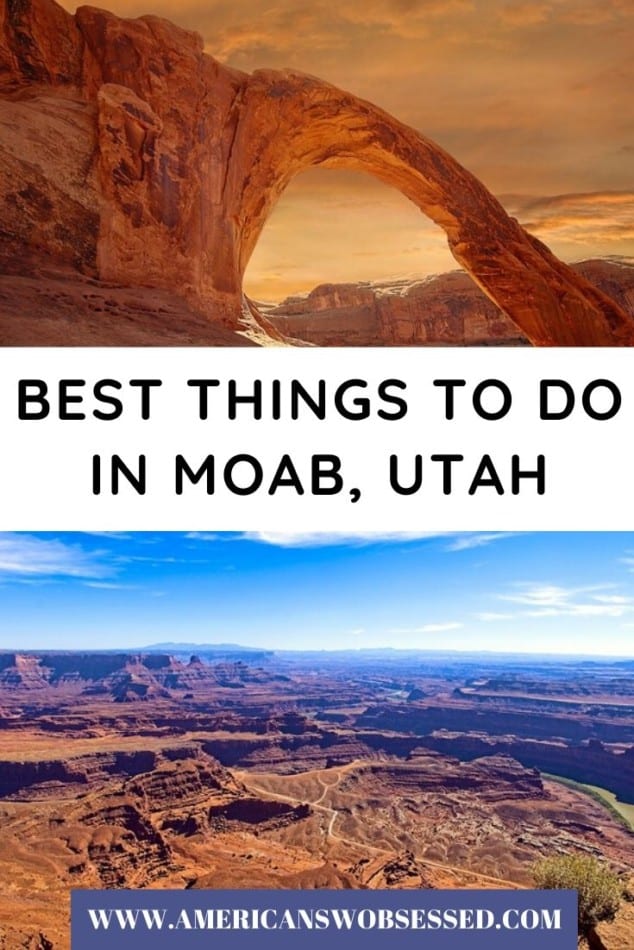 Recent Posts